Everyone wants to change our life. How to start it? We need to change the interior of the house. Change the color of the walls, ceiling.
You can also hang new wallpaper. Before it, we must measure the length and width of the room. Don't forget to measure angles of a slope to cut wallpapers right. Don't you have a special device for this? We have a solution.
We live in a world of high technology. Everyone has a smartphone. There is a lot of useful apps to measure everything. Why do we need to buy a real device for measuring the angle of a slope? By the way, it is called an inclinometer. You can download free apps to measure any angle!
We prepared the list of the top inclinometer apps. Look through the list and choose the perfect app.
Make your apartment even more comfortable using these best home planner apps.
Clinometer + bubble level
It a professional app with an inclinometer. You can easily measure any angle of the slope. You can use your camera and smartphone for it. Use the app to measure surfaces of any difficulty levels. It does not matter whether it is simple or sophisticated. All measurements are as accurate as possible. You will know any depression of an object.
The app helps you even to set angles while sharpening knives. Before using the app, you need to do a 2-step calibration. This will make the app the most accurate inclinometer.
Use your camera to measure things in real-time. It is an indispensable tool for the forester. The app simplifies the navigation in the forest and allows you to make useful measurements to protect the forest.
The app has a beautiful design. You will feel professional. The app is very popular. It has been downloaded more than 5 million times. Don't learn basic trigonometry to use physical inclinometer. Just download this app and forget about all the problems.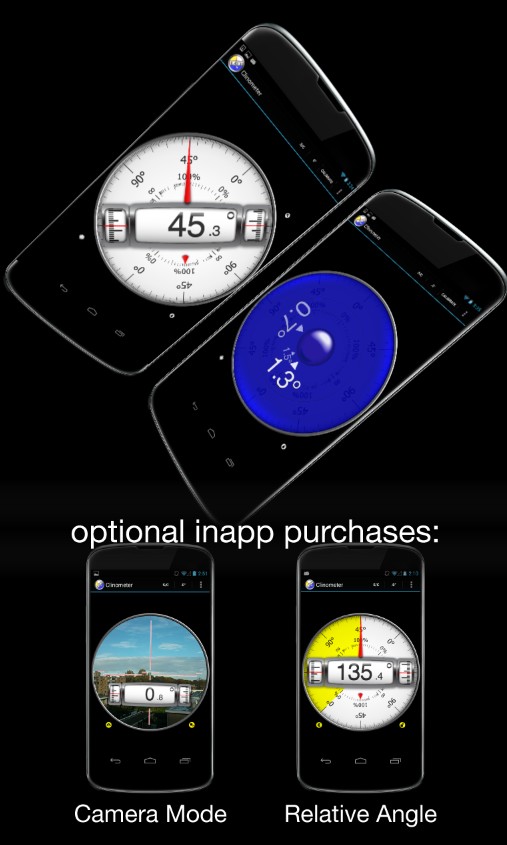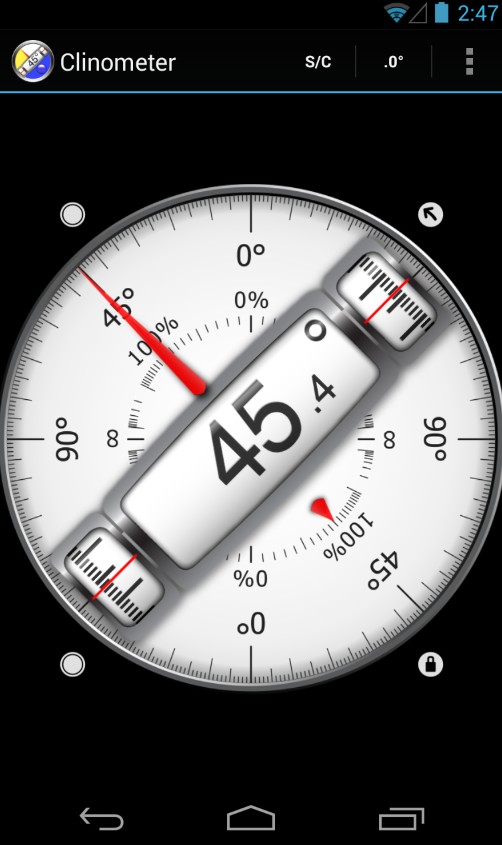 You may also like: 15 Best Measure Distance Apps for Android & iOS
Simple Inclinometer
Do you want to have the simplest inclinometer app? We present to you the most simplified inclinometer. You can measure any steepness of a slope. The app is really easy to use. The design of the app is as simple and pleasant as possible. White background and blue lines will help you to make the most accurate angle inclination measurements.
There is no unnecessary clutter on the screen, Only important information, and data. Using the app is very intuitive. You won't be puzzled, understanding how it works. You will be surprised at the accuracy of this app inclinometer. It doesn't take a lot of memory on your phone. It weighs only 2 MB. The advantage of the application is its simplicity and convenience.
You can also use the app as a bubble level, clinometer, and so on. Download your personal inclinometer on your phone. You won't regret the spent 2 MB. You will receive the measurement result as quickly as possible. Accelerate any measurement or manufacture of a part.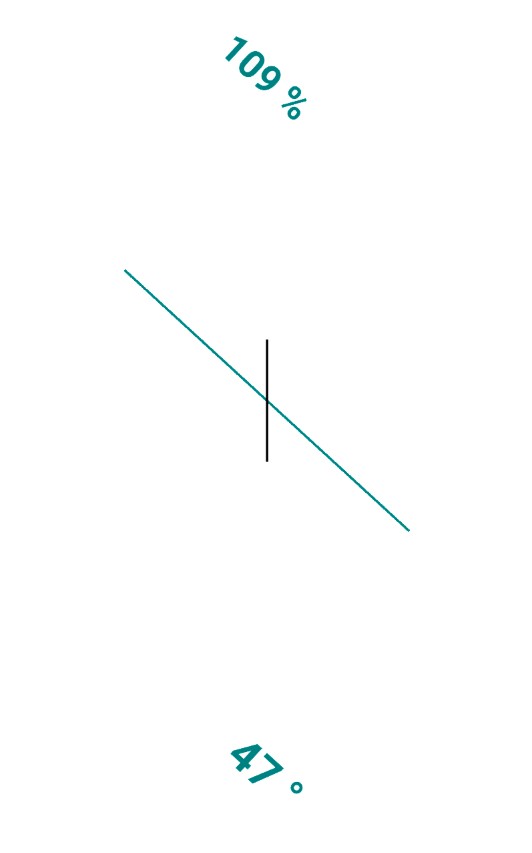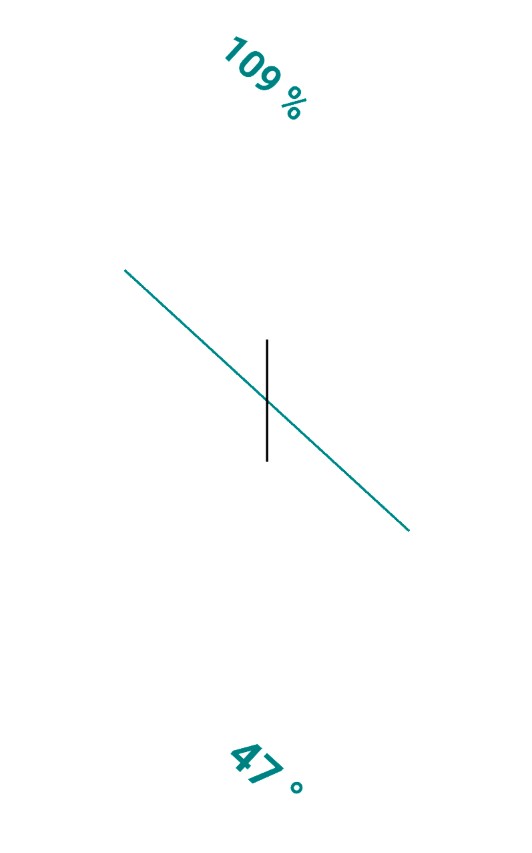 TiltMeter – Advanced Level and Inclinometer
Sometimes we need to make an accurate measurement of an object, but there is no time to go to the store for the necessary tool. We found a way out of this situation. Use this app to measure an angle of a slope. The app can make alignment using the camera. Any angles will be measured with this app. Download the app and you won't be upset.
There is no only an inclinometer in the app. It also has many other tools. You can use the app as a bubble level and motion-sensitive lock. Use this tool as you want.
Your friends will be surprised when they see so many tools in one app. The app will notify you if the measurement is done correctly and accurately. You can use the app in a full-screen regime.
The free version of the app contains the ads but don't worry about it. It won't bother you a lot. The app has a wonderful interface. Using it you will feel professionalism. The app works immediately. The app will allow you to measure anything easily and quickly.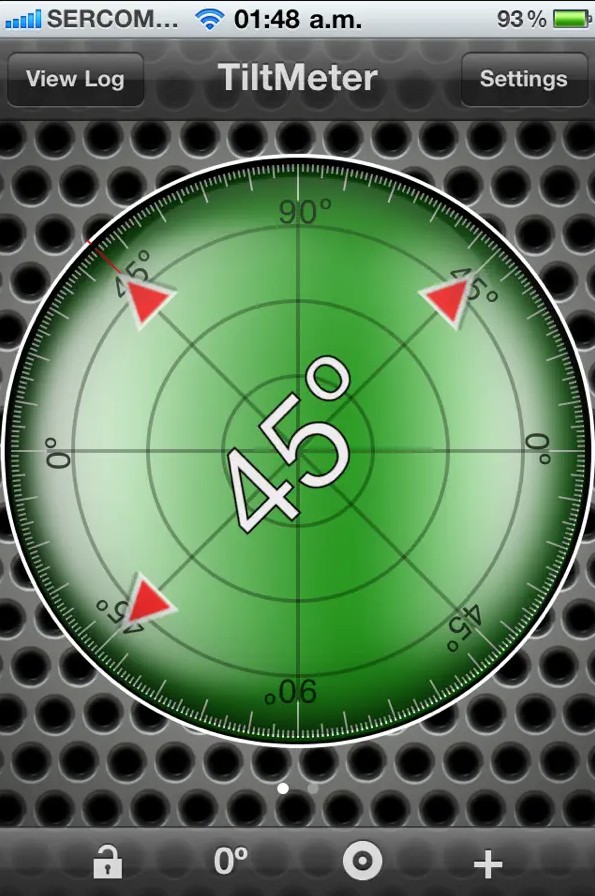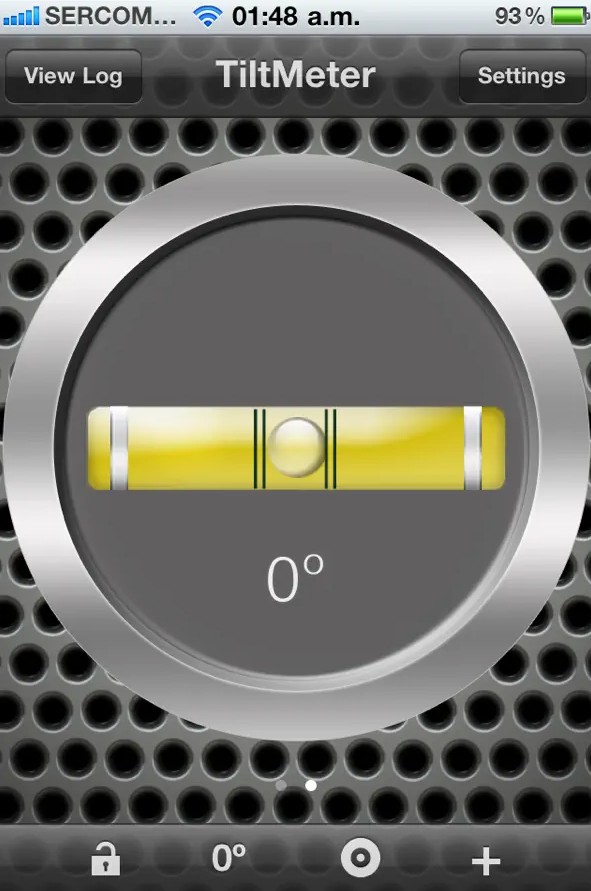 Inclinometer & Bubbel Level
This app can replace a real tilt meter. It gives you the most accurate data that allows you to know the slope of a corner or the correct elevation of another surface. With this app, you can find out the direction without using extra tools.
It works for free and does not have any paid features. Thus, anyone who wants to use it for their own purposes can do so.
The app has a built-in compass, which not only helps to know the angle of inclination or surface, but also its exact direction relative to the earth's axis.
The sensor measures the inclination of an object or surface relative to gravity. It can be used to learn about irregularities and inaccuracies in structure, object, and surface. It is possible to use the data obtained from this app for professional purposes.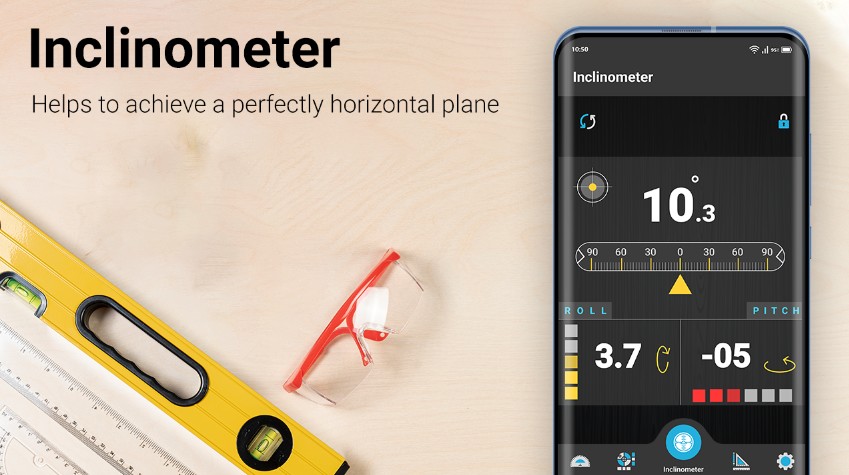 Digital Inclinometer
This app is a virtual inclinometer. It can be used to measure the angle of inclination of any object or surface relative to gravity. The app can be connected to the probe sensor using the Bluetooth function.
All information about the coil and the probe will be collected in the app, allowing you to track it in real-time. You can measure the displacement of the well and collect data about this process at different depths. The information is presented both in numbers and in a color chart for easy viewing.
The program has its own filter to sort through the data needed. The user can double-check and re-measure readings several times. If there are inaccuracies, the app itself prompts the user to measure again. All data can be transferred to another device via connection and synchronization.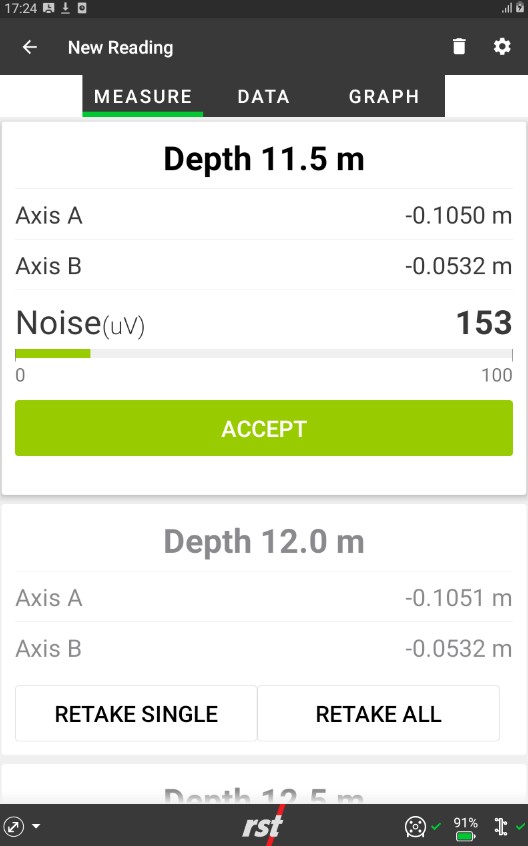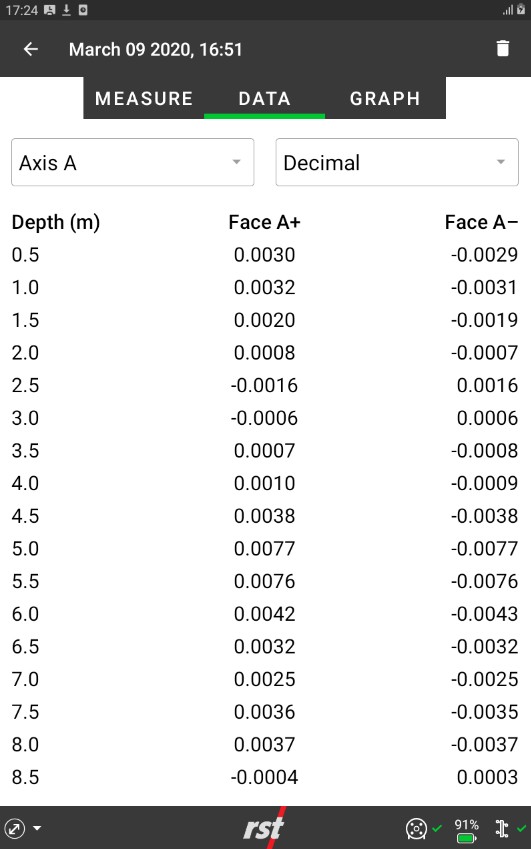 Off-Road Inclinometer
Have you ever wanted to combine business with pleasure? Add elements of the game to your work and it will be executed much faster. The app is the perfect inclinometer. You will always know the pitch and roll values of your car. It is easy to use. Just choose the vehicle and theme. Then you can use the inclinometer.
A lot of new car models are added to every update. This amazing app can measure any angle of slope anytime and anywhere. You can clean the layout of unnecessary and bothering icons and information. Any measurement made by this app is reliable and accurate.
You will know a lot of information about your car with this app. Many people are using the app. Download it to try. Remember that it is always very important to make the most accurate measurements. This app does an excellent job with measurements.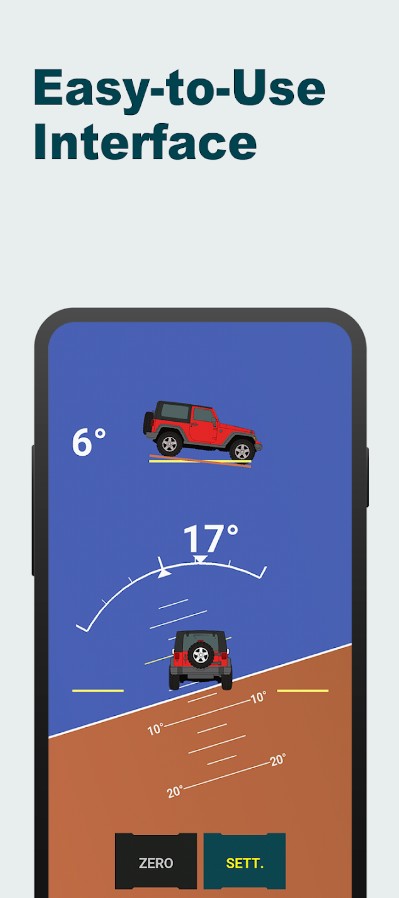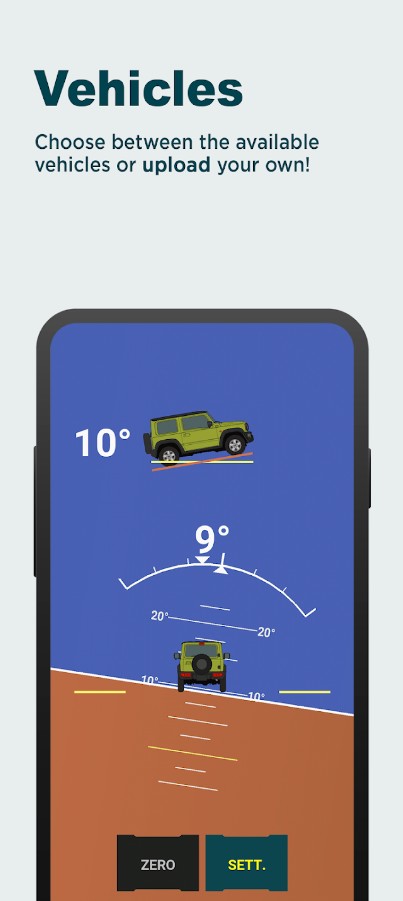 You may also like: 11 Best Home Renovation Apps (Android & iOS)
Clinometer
This app allows you to use any side of your smartphone to measure the angle of the slope. The app is very accurate to measure everything you want. You can use different measurement systems such as degrees or percentages. Choose the most convenient option. You can measure not only objects on a horizontal surface.
The app allows you to measure an object in any projection. The object doesn't need to on a parallel surface to the ground. Use your camera to make measurements. You can create a to-do list. You won't forget about your work. take a photo of the measured item and save it in your gallery.
You can see the history of your last measurements. It helps you to always know about the work done. The interface is very nice. Gray tones will help you to pull yourself together and do work quickly and efficiently.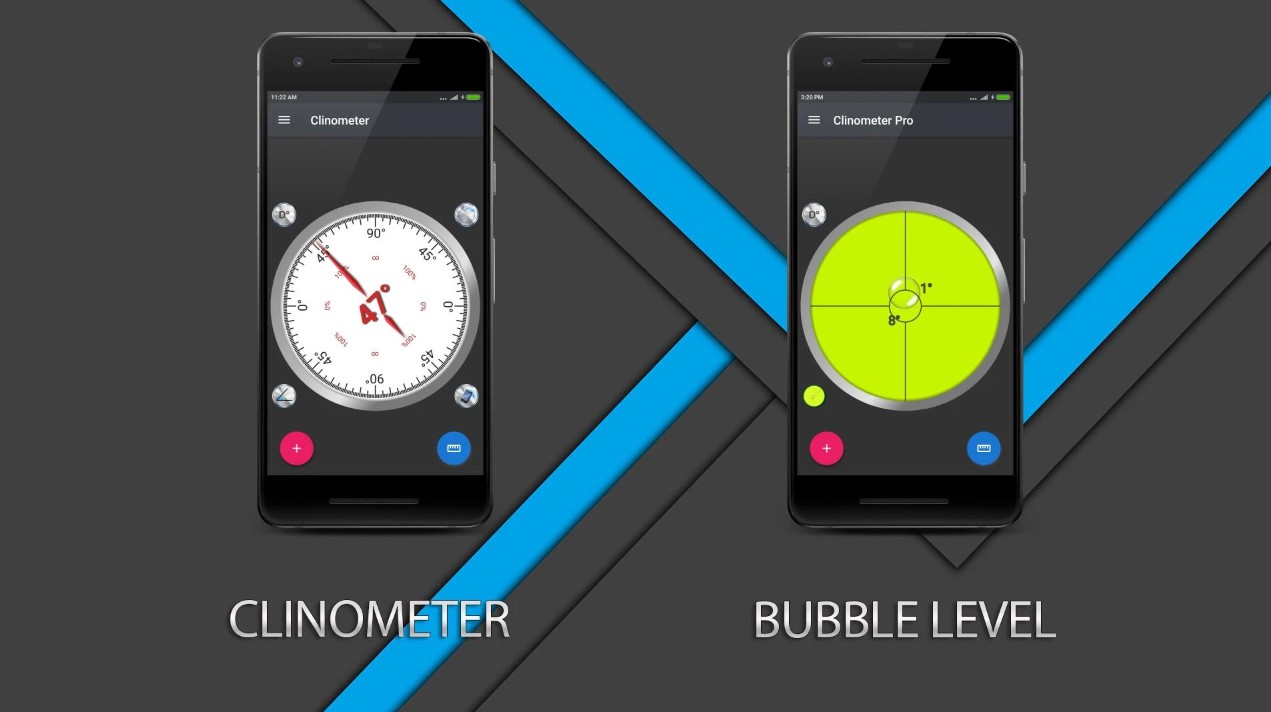 Inclinometer
Inclinometer allows users to measure the angle of incline from horizontal.
Inclinometer is extremely lightweight, therefore you will instantly download it. Plus, this application does not require a registration procedure.
But before you launch the app, you should align your device's edge with the surface.
If everything is done properly, the app will instantly show you the results. So, you will gain access to such data as incline, grade, last measure, Bldg height, etc.
At the bottom of the screen, you will also find a Menu section where you can customize various settings.
As for the app's interface, it is quite straightforward. Everything runs fast and steadily, as you will not find any redundant options there.
Inclinometer comes with free access, but you can also purchase the Pro version at a quite accessible price.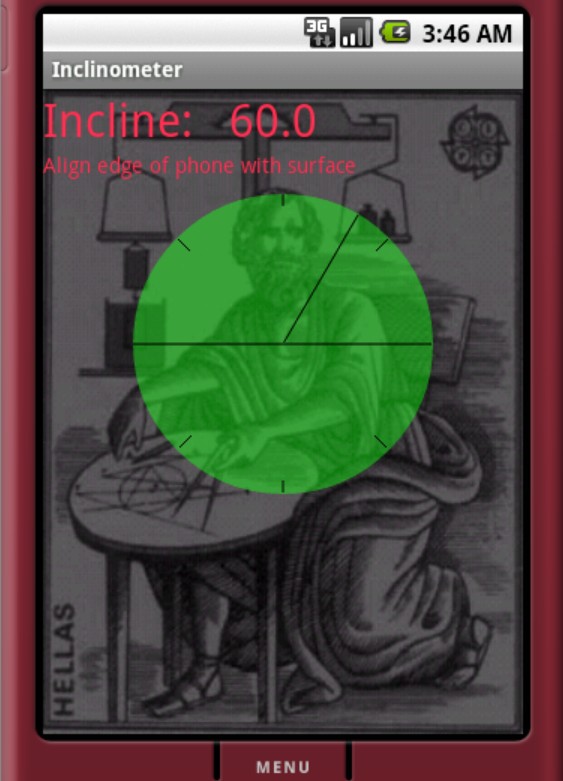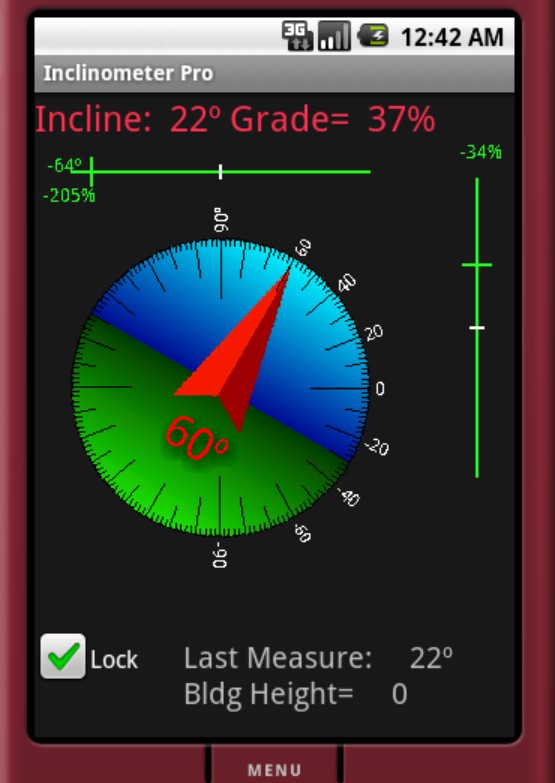 Clinometer
Clinometer offers a wide range of options and features to assist users in measuring angles accurately for various applications.
The app transforms the user's iPhone into a digital clinometer, enabling them to measure angles with utmost precision. Whether for DIY projects, construction, engineering, or outdoor activities, Clinometer ensures accurate measurements.
You can measure the angle of inclination or slope of surfaces, essential for tasks like roof installation, woodworking, or leveling.
Moreover, this app comes equipped with a bubble level feature, providing users with a visual representation of the surface's levelness for more straightforward measurements.
It allows users to calibrate the app according to their device's specific characteristics, ensuring even greater accuracy in measurements.
In general, I can recommend you this software for your phone as it is a useful tool for adventures and different activities.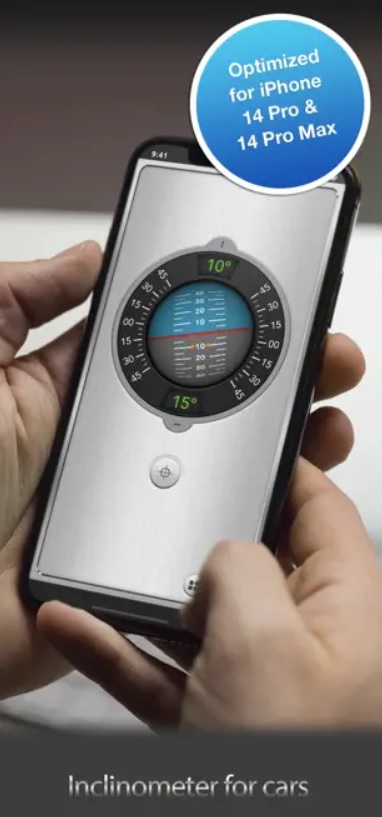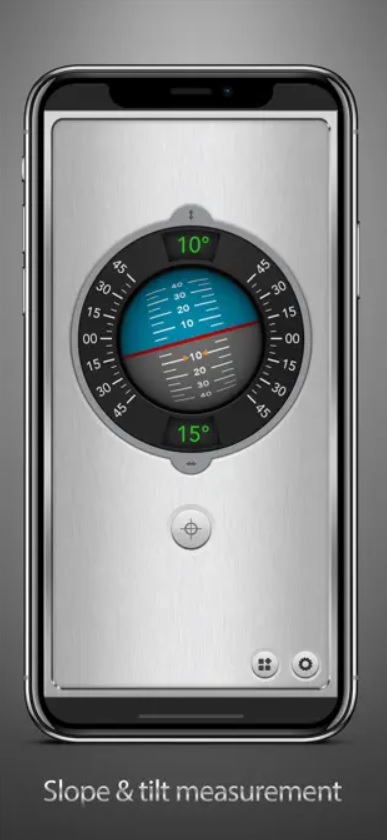 Inclinometer
Inclinometer allows you to measure the angle of inclination or slope of any surface accurately. Whether it's checking the pitch of a roof, evaluating the angle of a ramp, or aligning machinery, this mode is indispensable.
In addition to measuring incline, Inclinometer offers a level mode, enabling users to determine the levelness of surfaces for tasks like hanging picture frames, setting up furniture, or aligning construction elements.
The app boasts a dual-axis feature that provides measurements for both X and Y axes simultaneously, making it ideal for assessing inclines on uneven terrain or complex structures.
To sum up, whether it's for professional engineering applications, outdoor enthusiasts navigating rugged landscapes, or DIY enthusiasts working on home improvement projects, Inclinometer proves to be a reliable and valuable tool.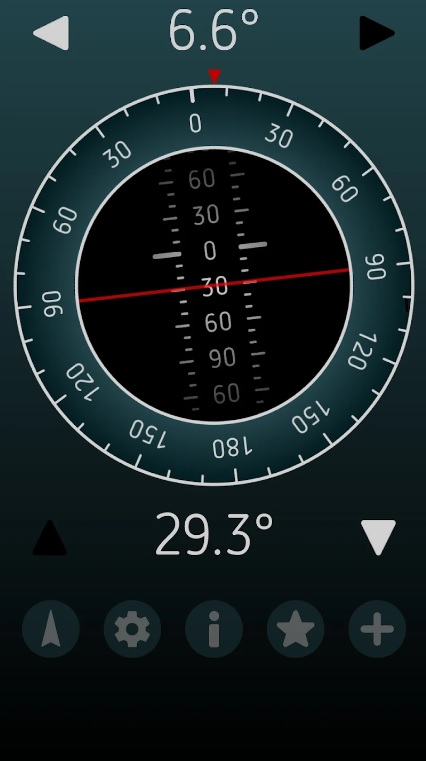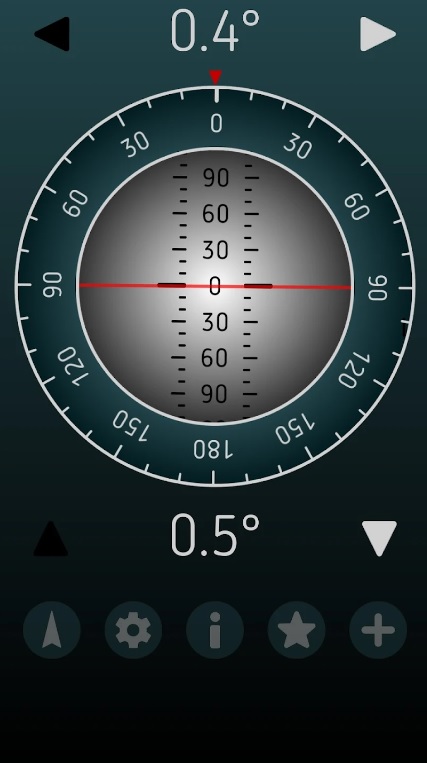 Angle gradient inclinometer
Are you looking for an inclinometer? Here it is. The app is so accurate. It has two ways of calibration. The advantage of the app is that it doesn't have ads. Nothing will bother you. Measure any angles of the slope. The app has a high resolution of the graphics. You will love the quality of it.
The app has modern navigation and a wonderful interface. You can change the style of the theme. There is also a bubble level in the app. Choose the unit mode. There is a degree rounded, degrees, percent, engineering, and roof slope. Use your camera to measure anything in real-time.
The app has been downloaded more than 100 thousand times! It is only 3 MB all and doesn't take a lot of memory on your phone. The app will notify you if the measurement is done.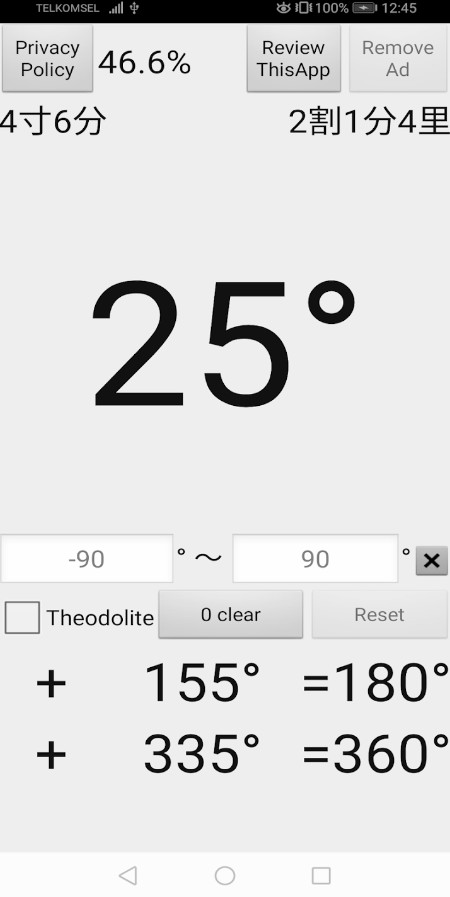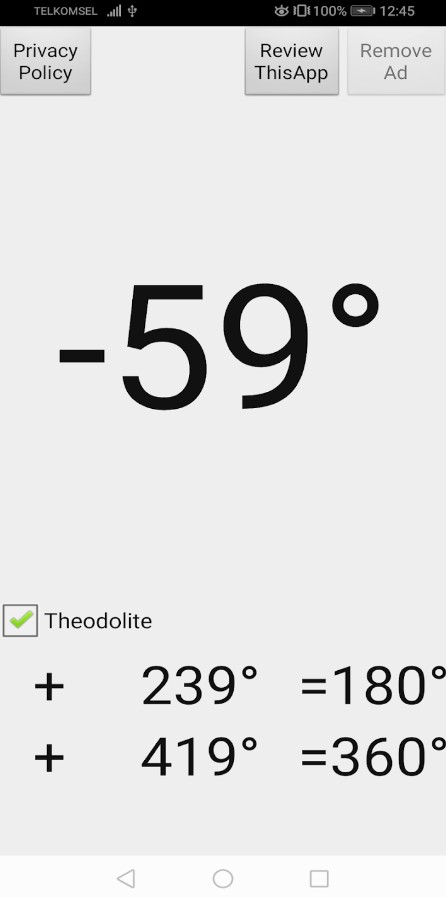 Smart Level
The first thing about this app is that it is really convenient in usage. The user-friendly interfaces make the navigation inside the app easy. All the functions are presented on the main page in a large font so it will take you a couple of seconds to understand how this app works.
When you launch you will be able to see three meters at once which are – surface meter, spirit meter, and round meter for level detection. In order to start the measurements, you need to place it on the plain surface or use the bar meter for horizontal and vertical plains.
You will get an accurate reading once you calibrate the app to zero. When the given tools get the perfect spot, the bubble inside them will turn red with the help of which you will get to know where to stop. Moreover, this app is customizable – you can choose the size of the font and the types of measurements (inches or cm).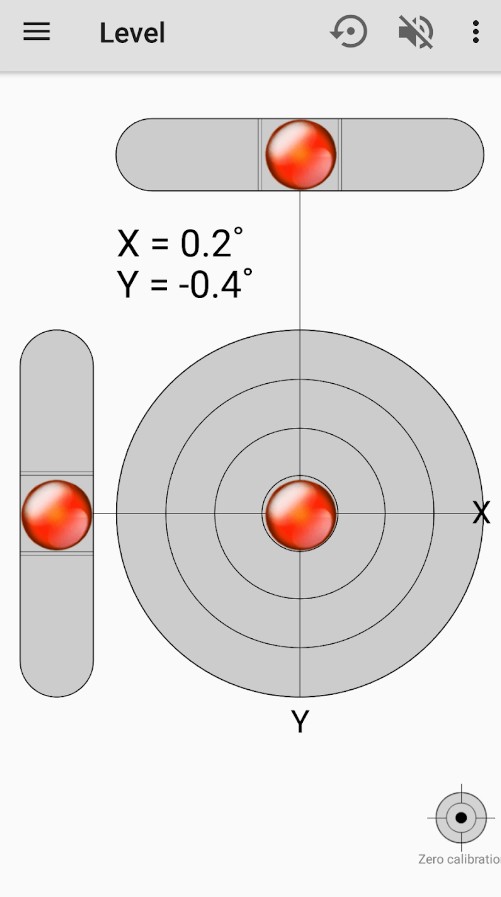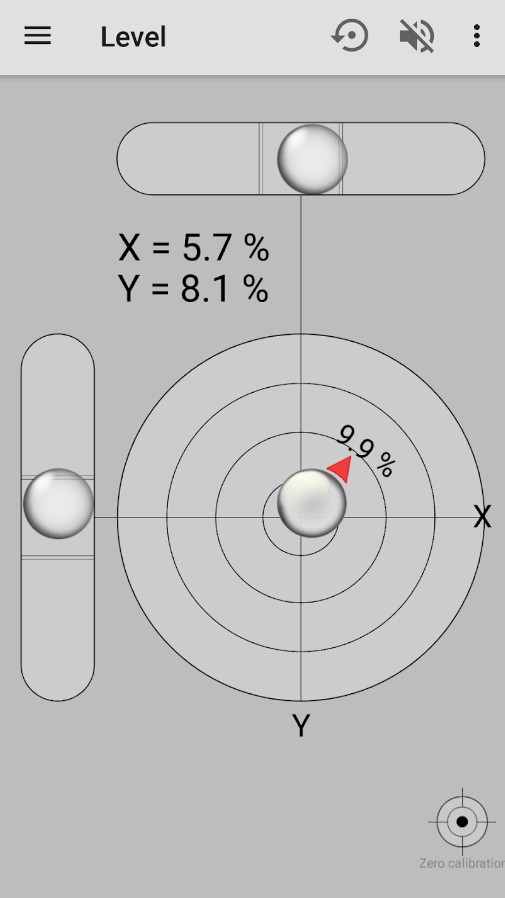 You may also like: 11 Free Pupillary Distance Measure Apps for Android & iOS
Jeep Inclinometer
Jeep Inclinometer enables users to measure your Jeep's angle of slope and roll. It does not take up much storage space, so you will install it in a couple of seconds.
However, before you start using this tool, we have to warn you that it requires Adobe AIR, otherwise it will not work.
Once everything has been correctly installed, the application will demonstrate to you the overall data via graphical indicators.
On the left side of the screen, there is also a Settings button. Here you can adjust device calibration, choose orientation, etc.
There is nothing difficult in this app, as Jeep Inclinometer boasts a convenient interface. The app is developed in a minimalistic style with a dark background. You will not find any excessive features there.
As for the drawbacks, we have to mention that this app comes with lots of ads.