Everybody can find a workout they like nowadays so not doing it doesn't really have an excuse. Another positive trend in this field is people acknowledge that everyone is special and needs a special approach, especially when doing physical exercise. And now you don't even have to hire a personal trainer – you can compile your own program using the apps you will find down below.
You may also like: 11 Free Weight Tracker Apps for Android & iOS
Seven: Home Workout & Exercise
If you are tired of routine and exhausting workouts, which most likely can lead to injuries, then this app is the perfect choice for you.
Instead of protracted and boring exercises, this app suggests you more easily approach maintaining your health.
Moreover, easier, does not mean less effective or useless for the reason that this app offers you over 200 types of exercises that will positively affect all the muscles of your body.
The best part of this app is that the total duration of the compiled training plan takes no more than 7 minutes of your time. It means that you will be able to complete all exercises in a short period.
This will be helpful for people, who don't have much time to care about their physical health. In addition, this app can create an individual plan and organize the marathon with clear instructions and advice. This is a perfect motivator for the reason that it explains the importance of activities that you do during the marathon.
The creative part of this app is also brilliant because you can change your coach's voice yourself if you are not satisfied with the original one. As an example, from a harsh voice to a more pleasant and affectionate one.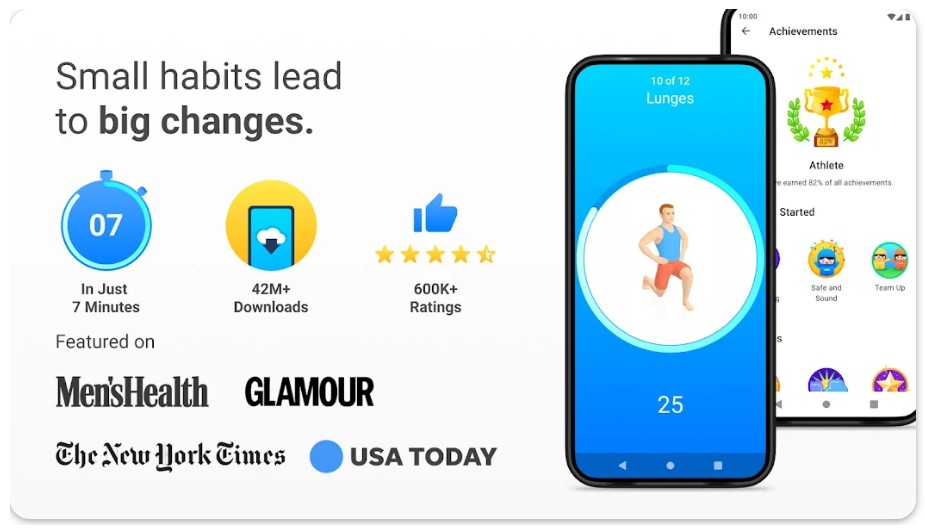 You can also like: 11 Free Crossfit Apps for Android & iOS
Zombies, Run!
Are you tired of the routine of running around without a goal? Then try this app that will make you run and give you more meaning in your actions.
Imagine that there was a zombie apocalypse in the world and civilization collapsed. People are now had to hide in their shelters in the hope of protection, but food and water supplies are not endless.
Now, you are the last hope of people for the restoration of human civilization in the world. Your task is to deliver resources to the bases, but not everything is so simple because the streets are full of monsters and you will have to run as fast as you can.
Probably, this looks scary and difficult, but you shouldn't worry because your companion is in touch and he will explain what to do. This app is only for running, nevertheless, the approach is pretty smart to make people feel they are a part of the responsible mission and that they do heroic actions.
It is also necessary to add that you can listen to your music but you are interested in full immersion then we recommend listening to radio conversations. Meanwhile, this app takes into account unexpected situations like a phone call, etc. In this case, the application will just automatically pause and will not interfere with your personal affairs. If you want to continue, then you will only need to log back into the applications.
Despite all advantages above, the app has serious trouble and this is phone charge. The app is extra energy-consuming and the phone charge can sit down quite quickly. However, not enough to discharge the phone in 2 hours.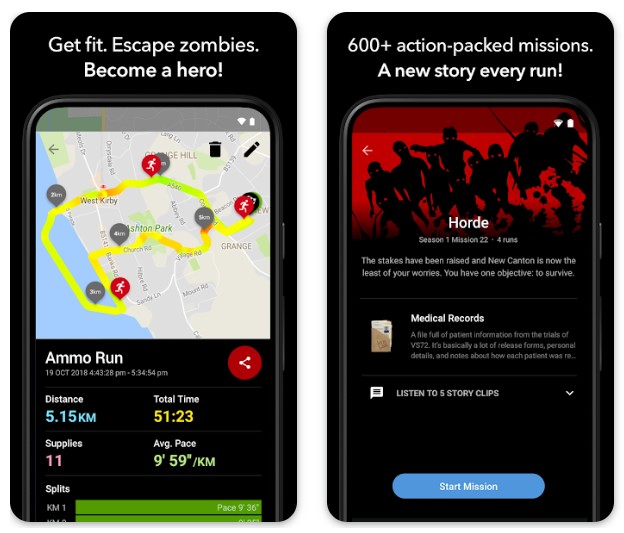 Titan – Home Workout & Fitness
In comparison with other apps, this one is more about full body cover which is guaranteed to change your physical condition internally and externally.
The app includes 8 sections and over 20 types of exercises which will positively affect each part of your body. Nevertheless, it should be noticed that in the initial version, the application is available only for one type of training for each section, therefore, the rest are available only for premium accounts.
However, this doesn't mean that basic workouts are inferior, because it is these basic workouts that cover all areas of the body and make the load distributed.
This application is also convenient in usage because it records your data and creates a chart based on it, which will help you track the progress of your workouts and how effective they are for you. It also evenly distributes the number of repetitions of one exercise to reduce all possible risks of injury and to increase the number of approaches that you do.
In addition, the app has video instructions, which clearly show how to do certain exercises. All video instructions are shot from different angles and thanks to this you can see all the movements.
There are only 2 main drawbacks like the presence of paid content, which is not necessary to buy, and at the same time, intense workouts that quickly exhaust. Also, some exercises will require the presence of some devices like a horizontal bar or a jump rope.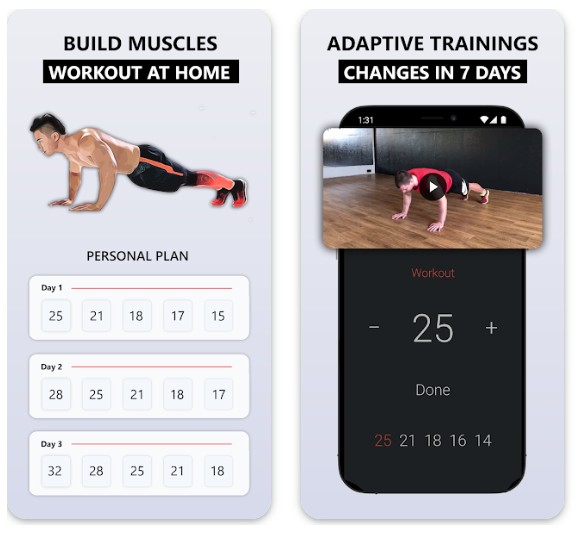 Nike Training Club
Nike produces products for the sports category, and this already speaks about their experience in this field. Thus, this application is perfect for people who are interested in intensive training sessions. This app is probably one of the famous due to the quality and varieties of exercises that will be incredibly effective in transformation.
First of all, there are 180 different types of exercises which you could do, from cardio workouts to yoga classes.
However, the most popular strength training and in comparison with the previous app this one doesn't have limits which you will have to unlock for additional cash. The app looks for individual training exercises by focusing on your current physical condition and it is necessary to mention that the application is flexible and will also adapt to where you are and what you have.
For example, if you are at home without sports equipment, then the application will look for workouts suitable for home conditions, therefore, if you are in the gym or the park, then the training programs will be adapted to these conditions.
Meanwhile, this app this application offers you to train with a special training package from famous athletes like Cristiano Ronaldo or Leonel Messi, which is a pretty good bonus. This is especially useful for people who don't know where they should start their workouts.
Unfortunately, the application will not allow you to make your training plan, because there is no such function here and this is quite a big minus for individual training. However, we mentioned this app in the article since the range of workouts that Nike Training provides is really wide and everyone will find something they like.
Also, the application is quite power-consuming and the device can run out pretty quickly.


Workout Trainer
Workout Trainer is probably the only application that creates a training plan by not generally prepared templates, which are mainly needed for a huge number of people but approaches this matter from a scientific point of view for which it became known.
This means that in addition to your goals, the application will also offer you additional plans that may be useful for achieving greater results. It will take into account your current condition to evenly distribute the load and find the types of training that are suitable for you.
There are a huge number of different types of training for home conditions, therefore, you do not need sports equipment, and training will also be effective for you. In addition, there are levels for sports, from amateur to professional, and this is not a limitation, but rather an attempt to protect you from possible injuries and exercises that can negatively affect you.
You are also able to download your favorite exercises which you prefer to save in the memory of your phone.
If you are more interested in saving the entire training plan, then this is not a problem because the application has such an opportunity to create and save individual training plans. However, the application has its drawbacks as mandatory authorization and registration for the possibility of using the program, as well as the availability of paid content that is not available for general use.
Otherwise, Workout Trainer is an ideal program that is often praised for high-quality audio and video support, which facilitates classes. In addition, the application also has the ability to create a professional trainer's profile, which could be a good chance for starting a career as a private trainer.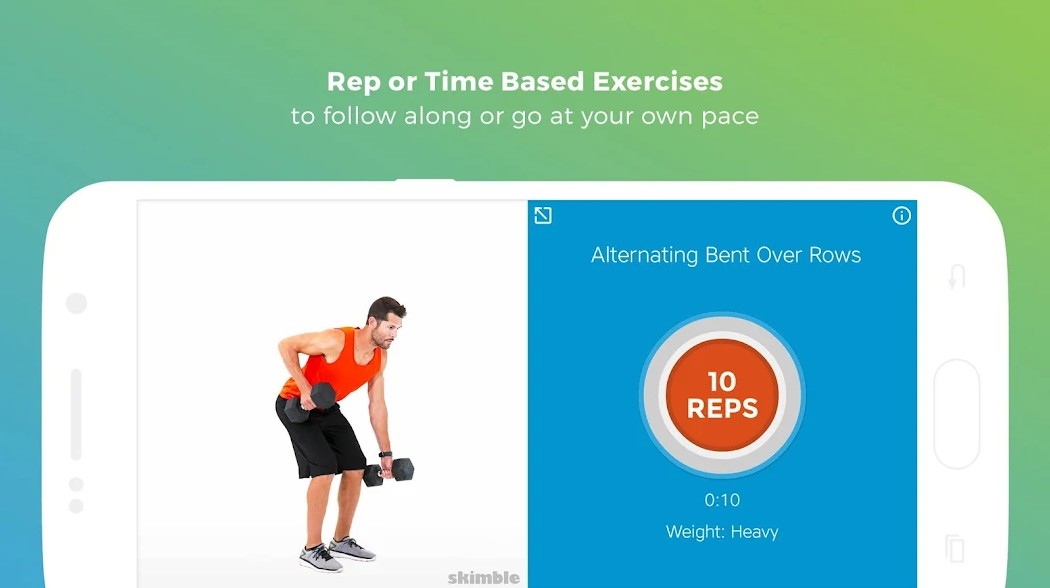 Fitbit
In comparison with other programs, Fitbit Coach is needed more for the initial stage of training and is suitable only for people who are more interested in improving their inner state or maintaining their health. The app is not really intended to give you a super-trained body image, so if you're looking for something like that, Fitbit is not exactly a suitable app for you.
The reason for this is that Fitbit Coach is divided into three packages, and initially only the "Basic" package is available to you, where only light exercises are indicated, such as a simple warm-up or charging, however, if you are willing to pay for the other two packages, then you can look for this application for yourself since most of the training packages are focused on effectiveness and safety.
The application is extremely popular not only because of the presence of good training complexes but it is also known for its creative part. Here, the training is done by using the "Face to Face" technology, and thanks to this, the effect of the presence of a coach in real-time is perfectly created, which produces the positive motivational and emotional effect.
In addition, the application monitors your condition and takes into account the condition of your body during training, moreover, the application also records the heart rate.
Consequently, the chances of getting any injuries (taking into account what was said above) are reduced to a minimum. The main problem of this application is the availability of paid content and limited access to full functionality. However, as it was said, paid content is not required to purchase because the "Basic" package that is enough to improve your current state of health.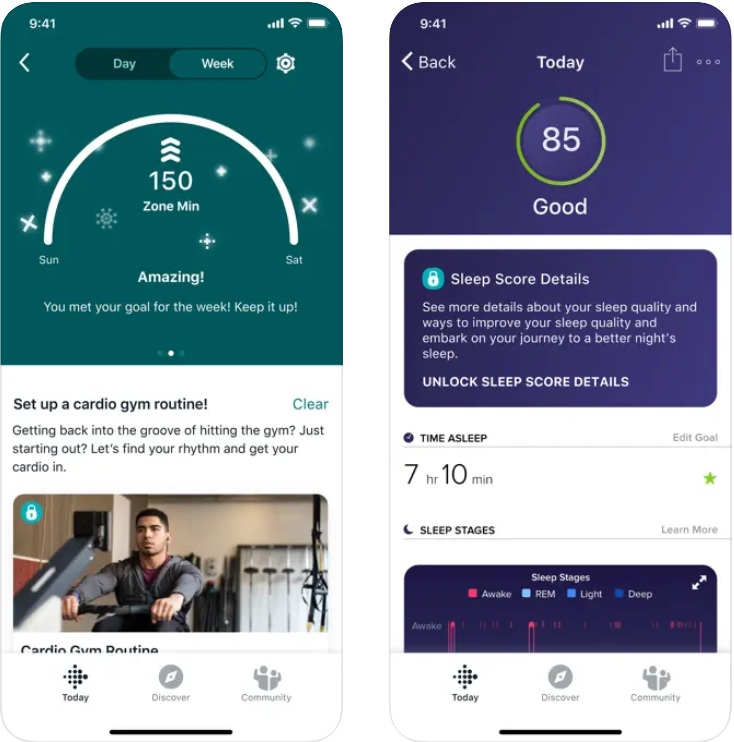 You can also like: 11 Best Calisthenics Apps for Android & iOS
Sweat
First of all, it is necessary to say that the app is more oriented for women, therefore, most of the exercises were made by taking into account women's physical capabilities. This means that the male part of the audience should choose another application, although there are extremely many good and time-consuming complexes of workouts in the application that force even professional athletes to feel tired.
By reflecting on the functionality of the application, then thinking from the word "SWEAT" it becomes clear that the task of this application is to squeeze out of you all the sweat that is possible.
This fact justifies why most of the exercises are mainly cardio and fitness. In addition, this application has special training complexes for women in the position of pregnancy, after childbirth, etc. which makes this application unique and safe for the health of themselves and the child.
Also, the application is extremely popular for the fact that it has a reminder function and it does not matter where you are. This is due to the fact that SWEAT is focused on classes at home without the presence of special sports equipment, which makes the application extremely convenient and comfortable.
What is more, SWEAT has a healthy eating function about which foods should be excluded from your diet, and which should be added. And this function has the ability for you to create an individual walkie-talkie plan with reminders and product descriptions.
As a drawback, we should notice that there is also a paid conflict in the application, which is not mandatory for purchase, but in case of purchase, you open access to more serious types of training, which not everyone can master.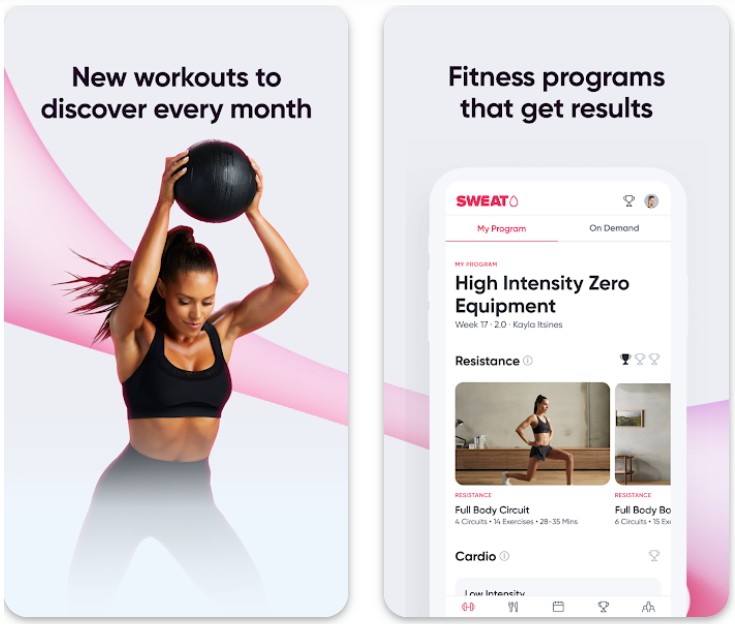 GymUp
GymUp is a unique application with a fairly impressive list of workouts for all muscles and body parts. However, it should be noted that this program is more suitable for professional athletes who have stable health and whose goal is to transform their bodies.
In general, GymUp is more of a personal training diary in which statistics are entered on which you can analyze the effectiveness of your workouts and see progress.
But this does not mean that there are no training complexes in the application, nevertheless, such exercises are not recommended for beginners since most of them make the bodywork above the norm and such an approach can lead to severe injuries to the body.
Among some pleasant features of this app, we can highlight the absence of ads and the fast registration process.
GymUp also has the function of creating your training package based on recommendations from GymUp and you can keep your photo diary to track the external changes in your body.
The flaws lie in the lack of video lessons for performing certain exercises, which can be a serious flaw for novice athletes. Besides, there is no audio accompaniment in the application that may simply force the motivation to disappear.
Nevertheless, this application is a great success among athletes of all categories, despite the limitations. The application has an incredibly high level of popularity in the market and extremely good reviews.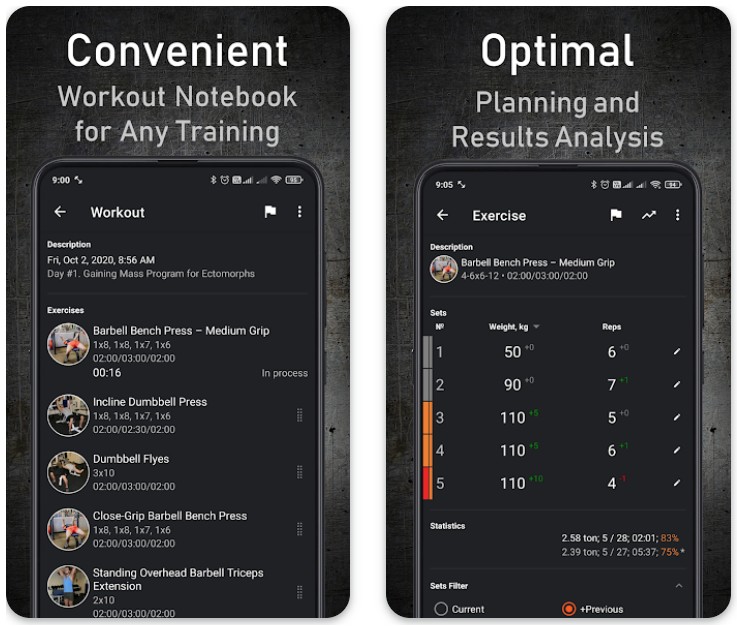 Jillian Michaels | The Fitness App
Jillian Michaels needs no introduction as she is one of the most famous coaches in the USA, and also very often appears in various American TV shows.
If you don't know then Jillian Michaels is a personal trainer from the USA, who is also a businesswoman and also an extremely media personality. She has an extremely large fan base in the field of fitness, as she has already helped millions of people achieve their goals in sports.
This application is mainly aimed at people who have just decided to take over and do sports, so most of her workouts are extremely simple to perform, but no less effective for maintaining and improving your health and transformation.
There are more than 800 training sessions in the application itself, but not all of them will be available for the reason that you will need to improve the status of your account to the premium level.
Nevertheless, the basic account is not inferior in any way, since most of the workouts here are focused on performing for 7-10 minutes without the presence of sports equipment, which makes this application extremely convenient to use anywhere. In addition, this application is essentially a pocket version of Jillian Michaels and during the training, it will tell you how to do the exercises correctly, at the same time.
If we talk about a premium account, then there is nothing to worry about for the reason that such status only creates a set of workouts that will take from 20 to 40 minutes of real-time to complete, which makes this application less convenient, but this opens access to all classes with her.
And from all the mentioned above you can realize that this app also doesn't quite allow you to fully customize your own workouts, but it allows you to create various combination of the already existing workouts so you get something unique at the end.
Finally, the app has a function for building a diet that is quite diverse and suitable for everyone, even vegetarians. This approach will help you not only to exercise properly but also to eat right what is also necessary to improve your body.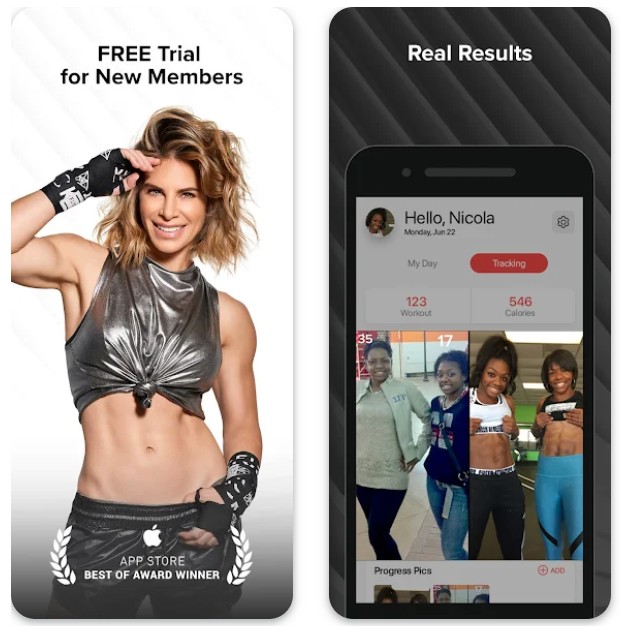 My Workout Plan
This fitness service is a useful assistant for all people who do sport and would like to become fitter.
It is very easy to use this app because the interface is not overloaded with other functions. The app provides a variety of exercises to choose from, and users can customize their workout plans based on their fitness goals and preferences.
It is also possible to track progress and record previous workouts.
Create personalized workout plans based on your fitness goals and preferences.
Choose from a variety of exercises to add to your workout plan.
Keep track of your progress and record your previous workouts.
User-friendly interface with easy navigation.
Accessible and downloadable for free on the Google Play Store.
These features make MyWorkoutPlan a helpful app for those who want to design their workout plans and stay on track with their fitness journey.
However, this service has not had enough proper explanations or demonstrations. This can be distracting for users who are new to fitness and need clear instructions.
What is more, there are only limited exercise options. Though the app does provide a decent variety of exercises, it may seem that it could offer more options.
This limitation may be a drawback for users who are looking for a more diverse range of exercises.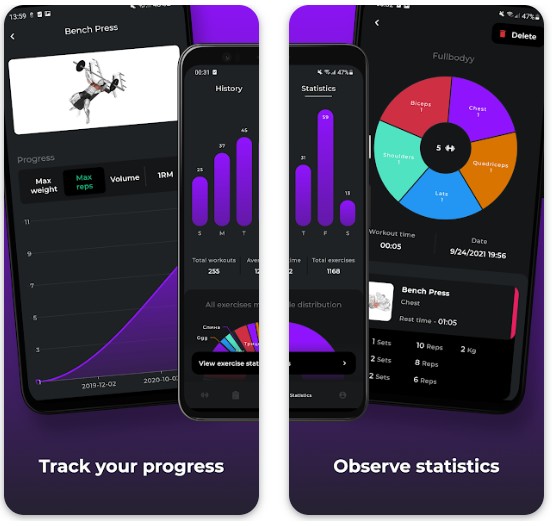 You can also like: 11 Free AB Workout Apps for Android & iOS
Fitbod Workout & Fitness Plans
It is possible not to pay a lot of money to a fitness trainer in the gym and get a personal workout plan for free just by using this app. The case is that you can there are functions to create your fitness plans.
You have an option to quickly set your fitness goals, select preferred exercises, and create workout plans in just a few taps.
Personalized workout plans based on the user's fitness goals, strength, and workout history.
Detailed exercise instructions and videos for each exercise.
Ability to adjust workout plans based on user's preferences, schedule, and equipment availability.
Simple and intuitive interface for easy navigation.
Option to track progress and view workout history.
Integration with popular fitness apps and devices.
A free trial period followed by monthly or annual subscription options.
Also, this service takes into account your abilities such as strength, fitness level, and workout history to generate personalized workout plans.
Adjust your plans based on your schedules, preferences, and equipment availability. There are detailed instructions and videos for each exercise, making it easy for you to perform them correctly.
Moreover, the app uses simple graphics and animations to demonstrate each exercise, but they get the job done. Some users might prefer more detailed and realistic animations, but that is subjective.