Many people remember the time when Horizon zero dawn was released in 2017. There is no doubt, with all the features that the game has, it has become the latest thing very quickly.
The game has Action-Adventure, Role-playing, and Combat elements. In the role of Aloy, you have to explore deadly locations, collect resources, craft items, and defeat enemy creatures with the help of various weapons.
The setting is the thing that everyone will surely like. Only here the wild world coexists with robotic machines. And it's up to you to decide if there will be a balance or disaster.
You may also like: 13 Best high graphic games for Android & iOS
If you are a fan of Horizon zero dawn, you have been probably searching for some alternatives. But the Freeappsforme team has done it instead. There are some similar games mentioned below. Some of them are paid. Nevertheless, if you are an Android-device owner, these games are definitely available for you on Google Play.
The Elder Scrolls: Blades
To begin with, we strongly recommend you to try this very game. The Elder Scrolls: Blades is a famous role-playing game developed by Bethesda Game Studios.
The pre-history is a dramatic one. You are returning to your hometown and find it destroyed by the conquerors. That is why your task is to rebuild your settlement, fight with the rivals, win in bloody battles, and gain a Leader status.
Now let's talk about the game's distinguishing features. Of course, it is the full freedom to choose. You will be able to choose the game mode (Town or Abyss), choose the character's appearance, choose what to do and when to do. The great collection of dozens of equipment, armors, and weapons are also available for you.
The setting is also something extraordinary. It will let you feel the atmosphere of the game and imagine yourself the character. If installed additional mode, it will become possible for you to have one-on-one Arena battles with friends. Install the game and learn if you are able to cope with all the difficulties. It will be a thrilling adventure!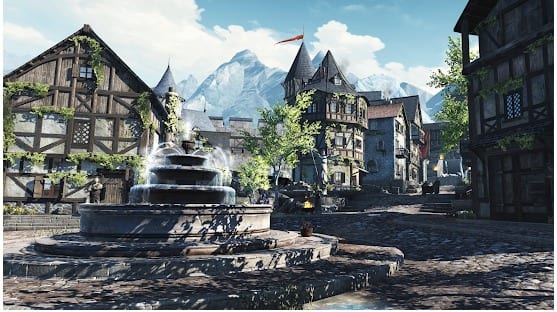 You may also like: 10 Best games like Final Fantasy for Android and iOS
Assassin's Creed Identity
In this part of the world-known franchise, the scene is laid in wonderful Italy. In this case, your task is to unravel the epic mystery of The Crows by completing dozens of missions and unlocking new locations or items.
It must be mentioned, that there are many advantages to Assassin's Creed Identity. For example, its perfect graphics with custom-made HD textures. It will let you see every little detail of the Italian Renaissance.
Also, the game gives you great freedom of action. Its extremely powerful but not complicated user interface will make your gaming process very simple. In addition, you can fully personalize your Assassin by choosing his class, outfit, equipment, etc. What about weapons, there is an enormous collection of swords and blades suggested for you.
As always, you will enjoy the game's music and sound effects. This very part of Assassin's Creed will afford pleasure to you for sure. That is why the game is worth being purchased.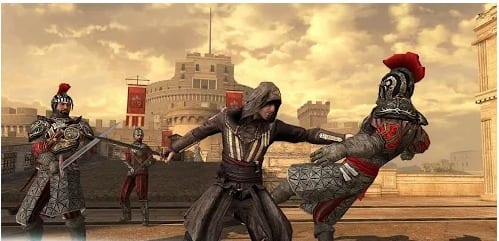 Ravensword: Shadowlands 3d RPG
It is one more game that must be included in the list of Horizon zero dawn alternatives. It all happens in the Kingdom of Tyreas. Your task is to complete various missions and do your best in order to become a hero. You will definitely experience admiration when playing this brilliant game. There are several reasons for it.
First of all, you will like dozens of weapons' types – Bows, Crossbows, Hammers, Swords, Axes, etc. Then, First Person and Third Person switching will make the gaming process more exciting. So, your combat with hundreds of enemy types including enormous prehistoric monsters will be very dramatic.
One more advantage of the game is a deep storyline that lets you feel the whole atmosphere. By the way, its realistic scenery has the same effect. And of course, the game wouldn't be so good without music by legendary composer Sean Beeson. The game is paid as well but be sure that your purchase will be economically feasible.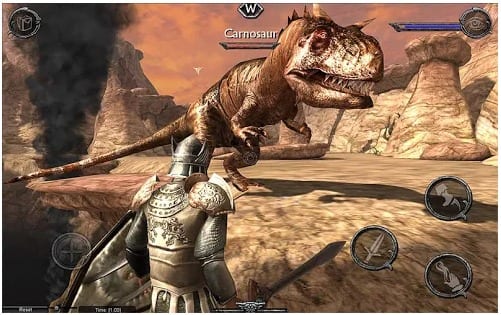 Takashi Ninja Warrior
If you like adventure and action games, Takashi Ninja Warrior is just a perfect option for you. It will take you to the unexplored world of samurai, where you will be playing for one, and you will need to gather all your courage and power of will to face all the obstacles you meet on your way.
Forst of all, the game is remarkable for its amazing and realistic graphics. The color filling is amazing as well. Animation of characters is more than at a decent level and it doesn't matter whether you can fighting the army of soldiers or one big monster boss, the atmosphere is going to stay as much realistic as possible.
Of course, this means that older smartphones won't be powerful enough to run this game – it is quite a heavy app, by the way. However, for true fans, this is an interesting story to play.
The main idea of Takashi Ninja Warrior is that you are playing a ninja fighting game where the legend of blades rises in medieval Japan. A samurai ninja assassin warrior fights with corrupted forces to save his people. He prepares himself for sword fight battles, engages in quests, and survive boss battles in the fighting arena.
The ultimate goal of the game is to become the legendary warrior of all time. So in general, everyone will find something interesting here – fans of high-end graphics will love the picture of the game, fans of action games will get captivating battles, fans of stories will get the intriguing background of the main character and story that develops during the game.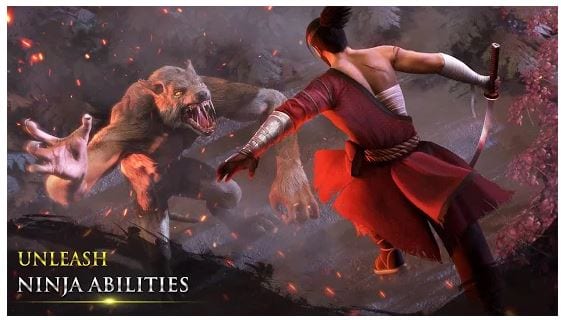 You may also like: 16 Best survival games for Android & iOS
Darkness Rises
One of the most popular games on Google Play. If you like mythical creatures and the abundance of exciting battles with bosses then in Darkness Rises you will find everything you need. The biggest advantage of this game is that it can brag for the console-alike graphics and realistic images of the main characters.
As you start the game you need to choose your clan – and in all the further gam you are going to play on their side. It will also define the look of the character which you're going to play for. There are dozens of individualistic characters to choose from – just go for the one that reflects your qualities in the best way.
By the way, here you can customize your character just like in the Sims game – choose the color of hair, eyes, choose accessories, and so on. In the game itself, you will need to fight against demons and protect your territory. Thus, Darkness Rises doesn't have any specific story, but in terms of atmosphere, it is really similar to the Horizon game.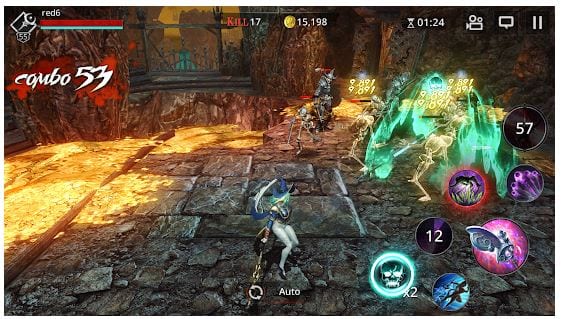 Ninja Samurai Assassin Hero IV Medieval Thief
This game has Action-Adventure, Role-playing, and Combat elements as well. The storyline is very deep. Someone has murdered the king. Your main task is to find out the traitor in order to revenge yourself on him.
No doubt, you will gain your aim by completing missions. But that's not the half of the story. There are dozens of traps, obstacles, and enemies on the way, so you must be extremely careful. The character's powerful weapons will help you to survive.
Apart from this, you will enjoy the game's realistic graphics, wonderful background music, and complete freedom of action. Here you can do whatever you want. More than 1 million users from all over the world have already tried this top-rated game. Now you have a chance to become one of them.
Check also: 11 Best games like Heros of Might and Magic (HoMM) for Android & iOS
Iron Blade: Medieval Legends RPG
It is one more fantastic game that is appropriate for those who are fond of medieval Europe filled with war, discord, and magic.
So, get ready for the intrigue and betrayal as you fight through this RPG game's challenging story missions. By the way, the game has settings that exist in real life. They differ so much: from the world-known Notre Dame to the forgotten dungeons. Anyway, the battle will be very cruel.
Develop your fighting skills, improve the war armor, upgrade a monster-hunter gear… All these actions are the key to success. Moreover, here we have an opportunity to compete with other players.
In this case, you can approve yourself as a leader. Just establish your own kingdom and build an alliance with your friends. After that make your enemies suffer by stealing their resources. Fortify your positions and become a winner.