Are you a fan of ancient times when gladiators battled in the arena for their life and glory? Well, you're in for a treat!
We've got the scoop of the best gladiator games for Android & iOS you could try. These let you test your power and try to become the greatest gladiator of all.
All of these provide intense combat experience, and some games cover city-building elements as well. Regardless of your gaming taste, these are sure to satisfy your thirst for blood and glory. Let's dive in!
Gladiator Heroes
This game lets you become the greatest gladiator of the Roman Empire. But it's not all it's about, really. You'll get to form and expand your empire, starting from a tiny little village. With time, you'll get to develop trade routes, expand it to become a city and upgrade residences as well
The game is all about clan wars, too. You'll get to enter the area to fight in gladiator combats against endless enemies. The difficulty will grow with each new contestant, so make sure to pay attention to training, too. Every warrior has unique abilities, so the strategy also plays an important role here.
Plus, you'll be able to join a clan of gladiators (it brings you some perks and lets you enter several competitions). There will be tons of clan battles and even full-on wards for you to indulge in thrilling combat experiences.
You can also hire and train several fighters and eventually turn them into champions. The more warriors you defeat, the more you rank up and the more bonuses you get.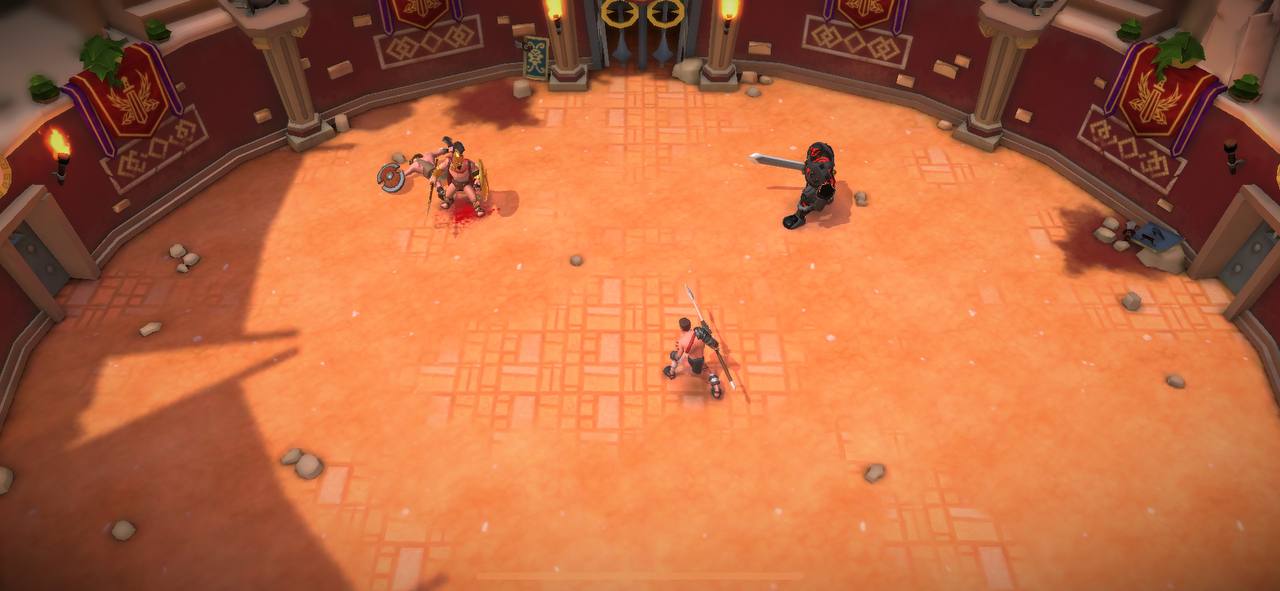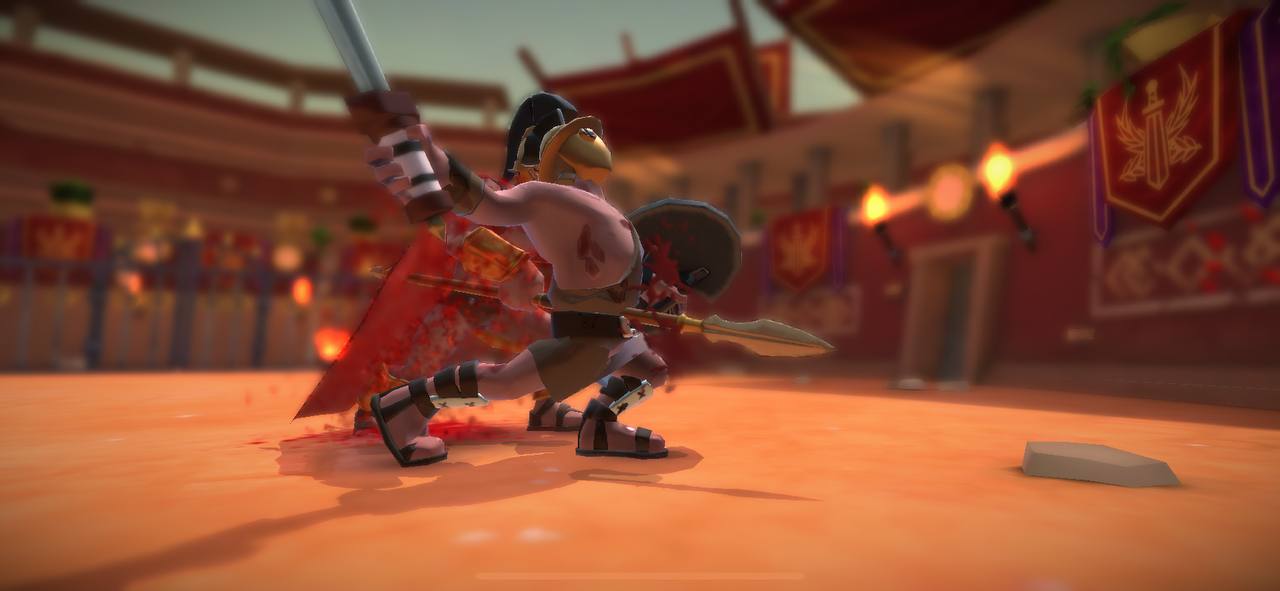 You may also like: 10 Best Naval Strategy Games
Gladihoppers
Ready to hop in gladiator sandals and test your combat skills? Cause that's exactly what this game is here for! It's an intense multiplayer game that lets you battle other users in order to become the ultimate champion.
As for the combat syst, it covers 2 battle stances. Each one has its own directional attacks and powers along with speed. It's your job to balance your strategy out and adjust it to fit every competitor you stand against. Of course, such a game couldn't be complete without weapons.
From javelins to swords and axes, there are over 90 items for you to collect here. Tray a few options to find out which one suits your combat tactics, and you'll be thriving in no time here. And don't forget to frequently upgrade helmets, gloves, and shows – they can save your life at some point (quite literally).
There's also a career mode that lets you seek the ultimate gladiator glory. And if you're into complex plots, there's a storyline that lets you try to save the emperor. There's even a full-on war mode if you're into that.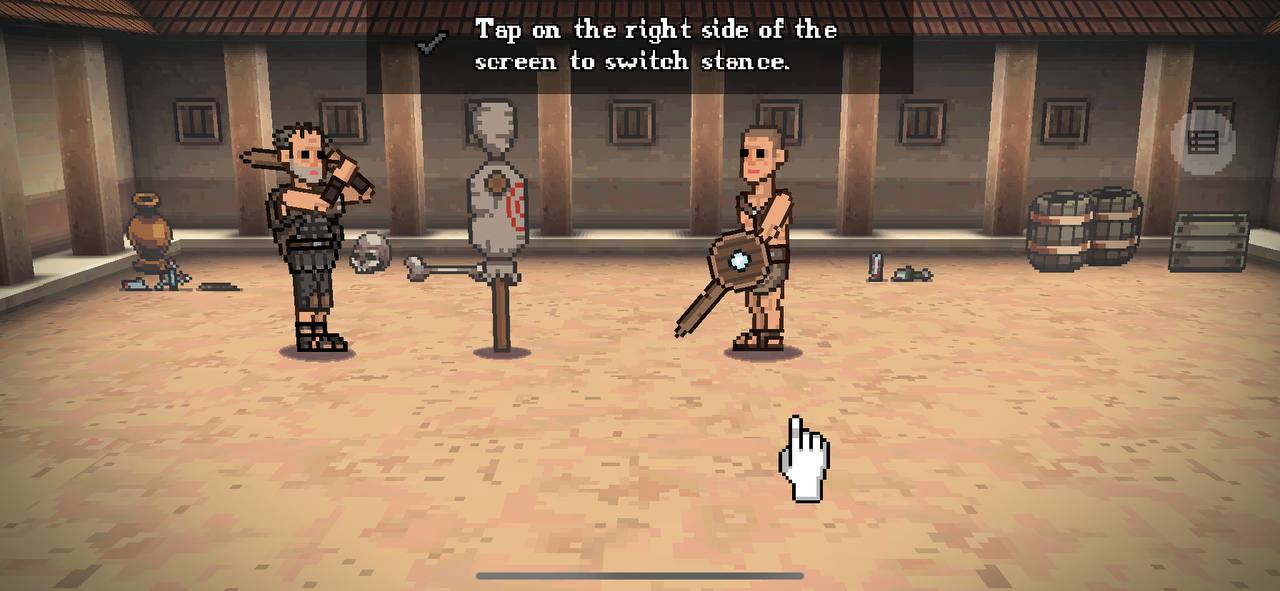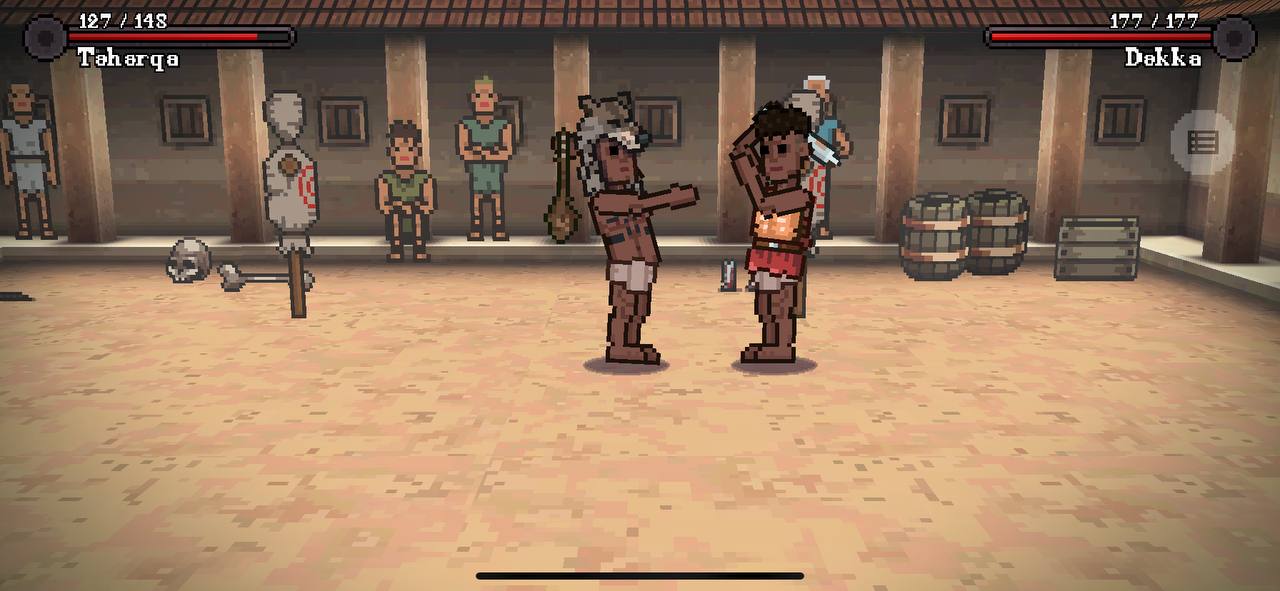 Gladiators Arena
It's a game that lets you step into the ancient arena and battle it out with your troops. Here, it's all about training your gladiators, upgrading weapons, and showing the world what you're made of. The strategy aspect plays a big role here, too, so keep that in mind.
The game is set in ancient Rome, and you'll take on the role of a nobleman. You're tasked with recruiting and training gladiators to fight in the arena. As you battle your way to victory, you'll earn resources and strengthen muscles, which will eventually lead you to victory.
Plus, there are tons of arenas to battle in. Tap to upgrade your troops and watch as they become more powerful with each conquest. But be warned, enemies will come at you from all angles, including bears, dragons, and captains.
It's up to you to pick the right team and strategy to come out on top. Recruiting the right gladiators is key to your success. Show them how it's done by leading the way on the battlefield. Collect coins as you battle your way to triumph and use them to upgrade your armor to become invincible.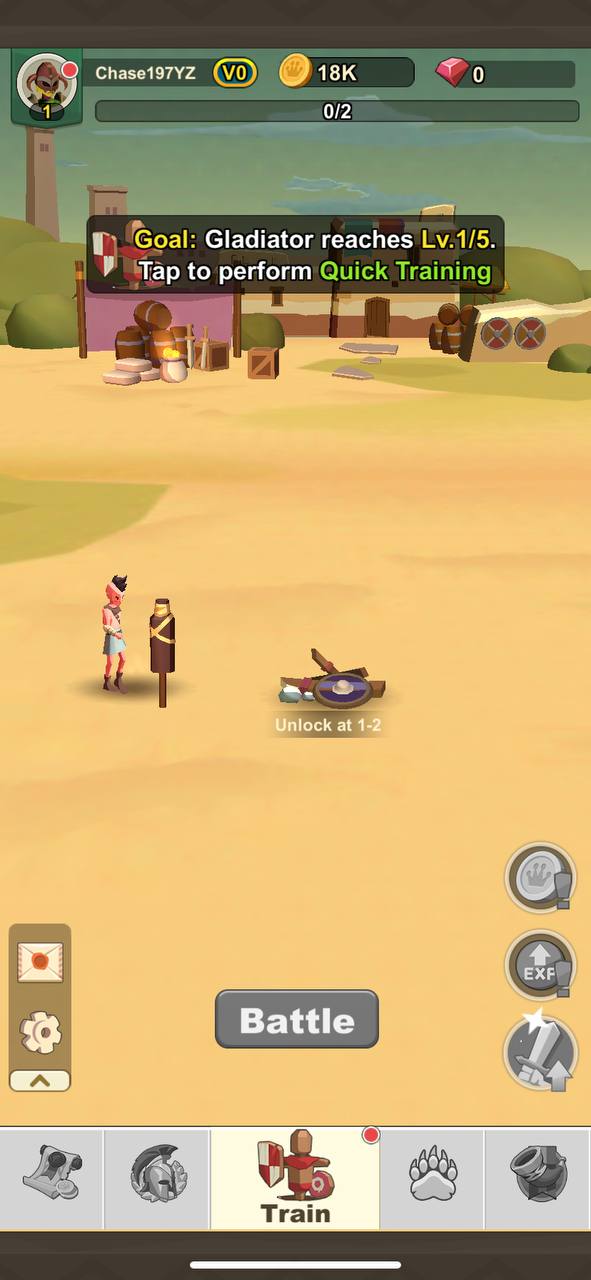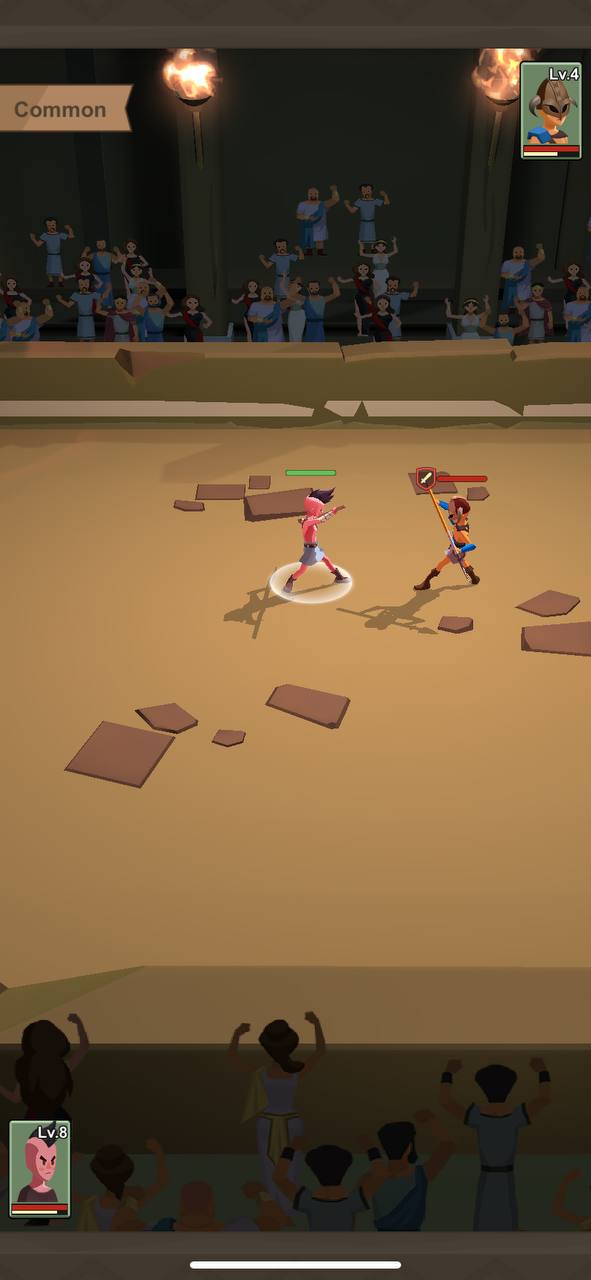 Gladiators: Survival in Rome
This one combines survival and city-building mechanics. Well, it's not exactly a standard survival game, it's a new take on it with a bunch of quests and challenges to go through. It also comes with an open world filled with adventures (and dangers).
It won't be fair to say you only have one goal. In fact, there are far too many here. You'll need to free the slaves, explore the secrets of the uncharted lands, and build a city for your people. Of course, the gladiator fights are included as well, and you'll need to craft weapons and armor for yourself.
There are also tons of competitive legionnaires longing to be recognized and appreciated by the emperor. You'll get to fight in the arena to prove you're the greatest gladiator to ever live.
The crafting system is pretty in-depth here. You'll need to harvest plants and other resources in order to equip your people with everything they need. It's all about historical fantasy, too, so you'll meet quite a few famous people on your way. Some of them will be friendly, some – not so much.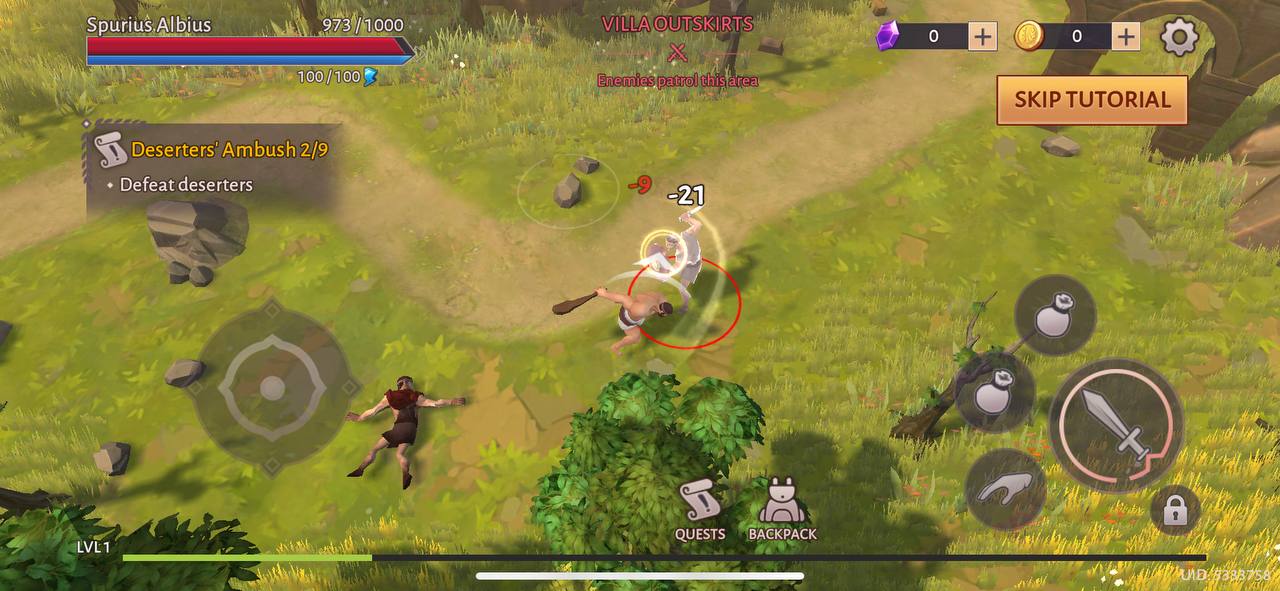 Tiny Gladiators
If you don't care much about the entire Roman gladiator vibes but still want to have combat fun, this game is right up your alley. That's an action RPG that lets you dive into a fun virtual world filled with unique characters.
The concept is pretty classic, though. You'll need to fight your way to the ultimate gladiator's glory by standing against powerful enemies. As you go, you'll get to explore several virtual worlds and the fighters that are not quite human at all. Will you be smart and strong enough to defeat them? Guess you're about to find out!
The combat syst is versatile enough to try out diverse tactics, and the range of armor and weapons is pretty impressive, too. There are 4 classes for you to try here, each with unique abilities and skills.
You may rather explore the single mode or stand against other users in the multiplayer one. The single one covers tons of challenges and quests to keep you occupied, so there's no place for boredom here. New events appear rather frequently, so you won't run out of opponents as well.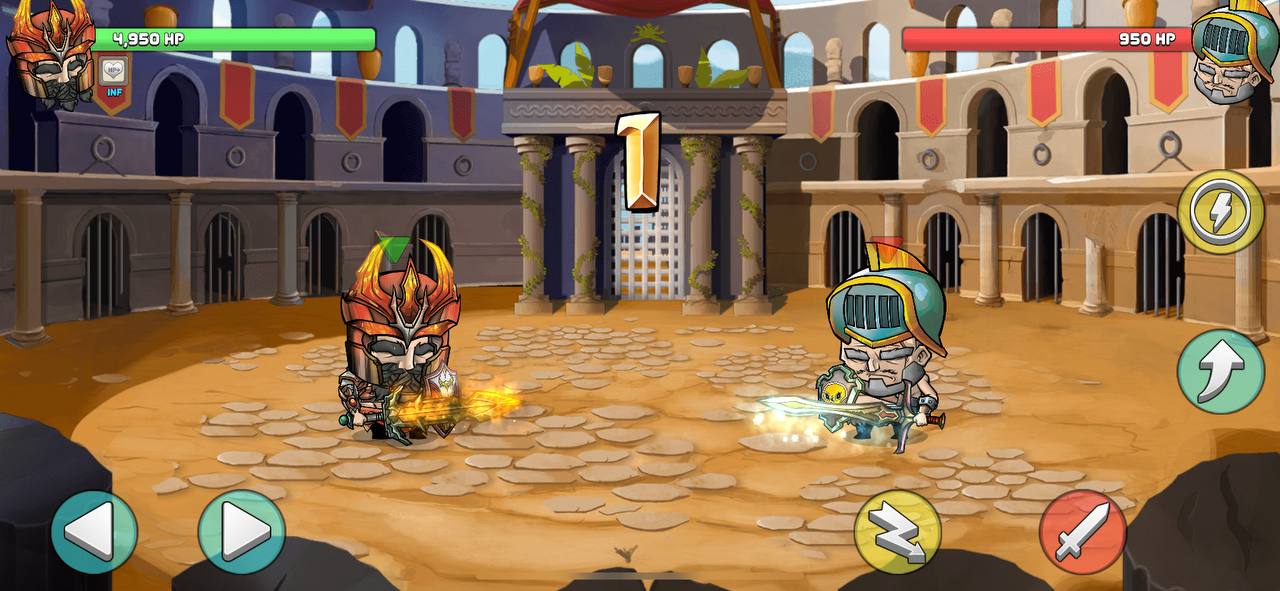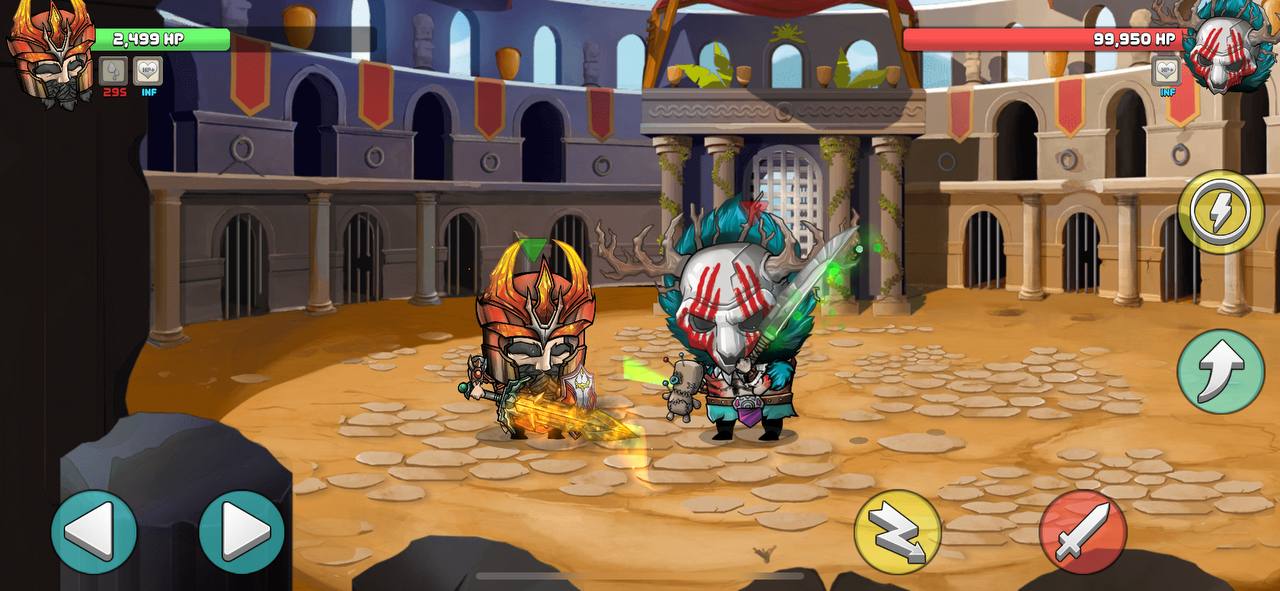 Gladiator Glory
This one is a gem for all the fans of gladiator fights. You'll get to become a warrior to fight for glory and try to honor the gods and showcase your bravery and strength.
It will take you back in time to the era of the gladiators where you will face brutal enemies and fight for glory and honor. The game offers both PvE and PvP modes. In the second one, you will have a fight with another gladiator in an epic battle. You can take an exciting journey through the ancient empire. You will fight in multiple arenas, facing challenges and opponents, all while upgrading your sword and armor to win all the battles.
The game covers a variety of gear to try, including swords, spears, knives, and more. You can train your skills, improve armor, and train to become the greatest gladiator in the land.
To succeed, you will need to pick the right characteristics for your gladiator, too. Strength, energy, and aptitude are just a few of the abilities that will influence your performance in the battles. Each of these will impact your critical damage, health, evasion, and other abilities.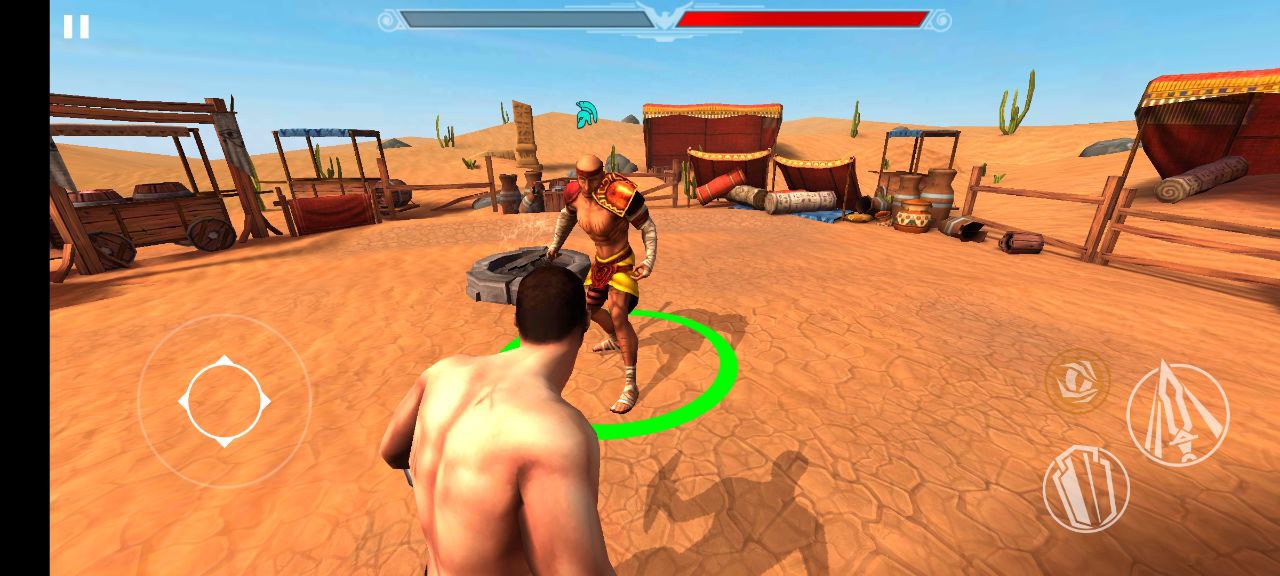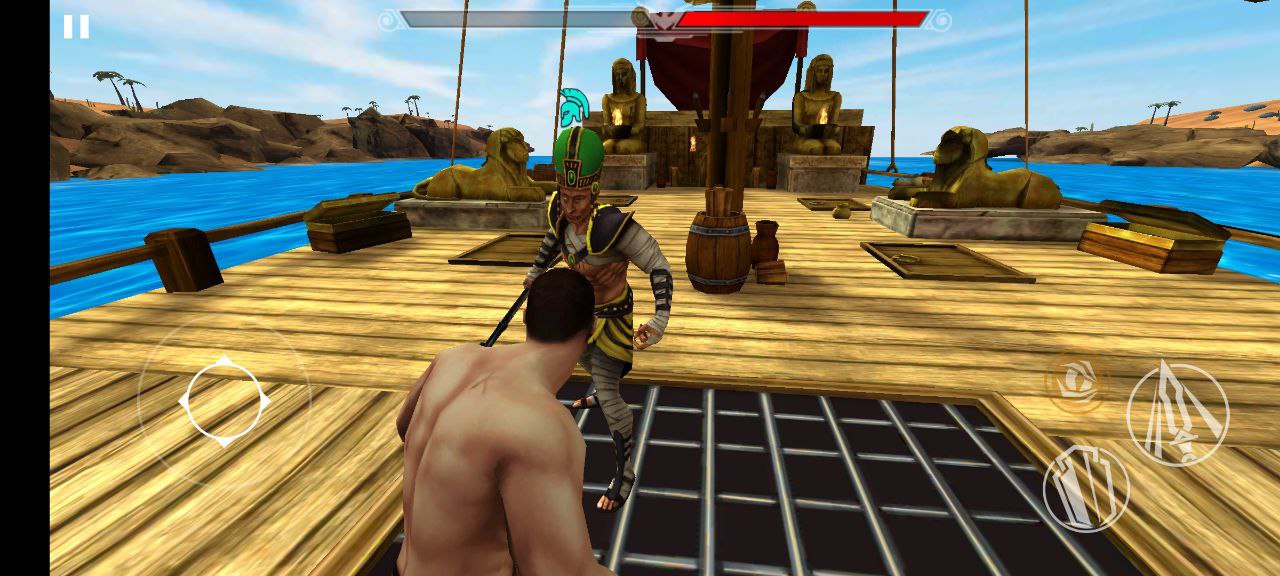 Check also: 13 Best Anime Fighting Games
Gladiator Games: Bloody Arena
This one lets you feel what it's like to be a Gladiator in ancient times. It lets you enter the bloody arenas of the Coliseum Coliseum and feel the rush of adrenaline as you emerge victorious. You'll bascially step into the gladiator shows at this point.
The game is all aobut PvP tournamnets. You can compete against other users from around the world and prove that you are the best fighter out there. With every victory, you'll earn rewards and climb the rankings, so make sure to bring your A-game!
In case you're not a fant of that, there's a gripping story mode where you can follow the journey of a gladiator as he rises through the ranks and becomes a champion. As always, there are tons of gear to unlock here, too.
And of course, what would a gladiator be without his? The game lets you adjsut your look, from your hairstyle to your beard to your armor. It even lets you become and archer at some point, adding a new dimension to the gameplay.With your bow and arrows, you can take out your opponents from afar and show off your skills as a marksman.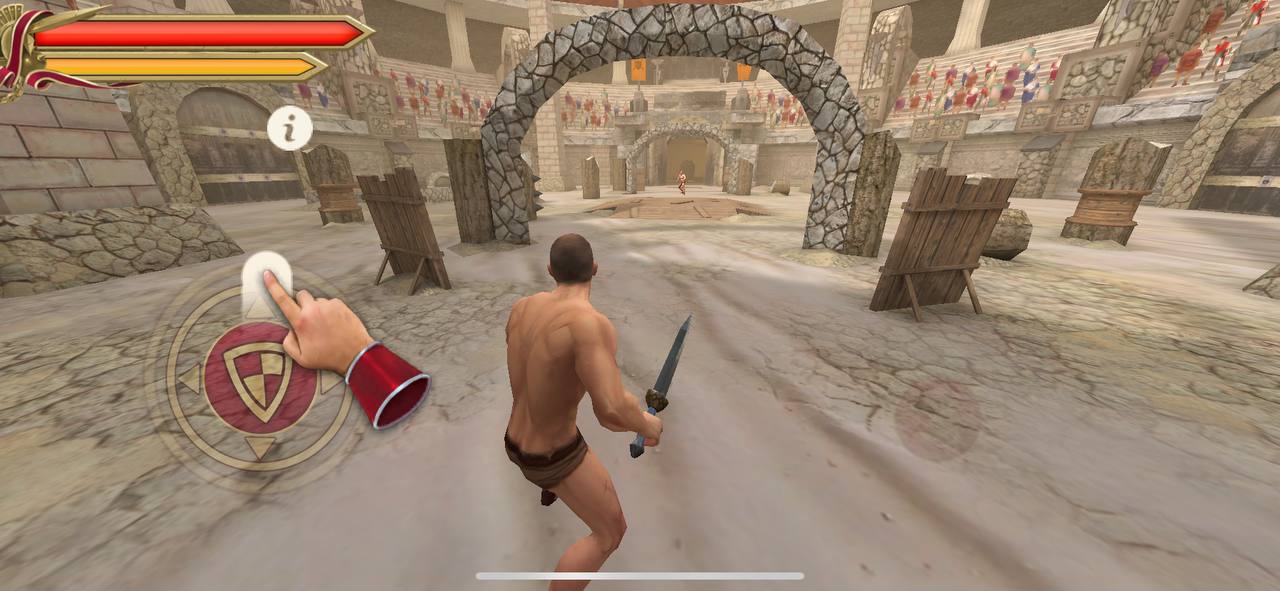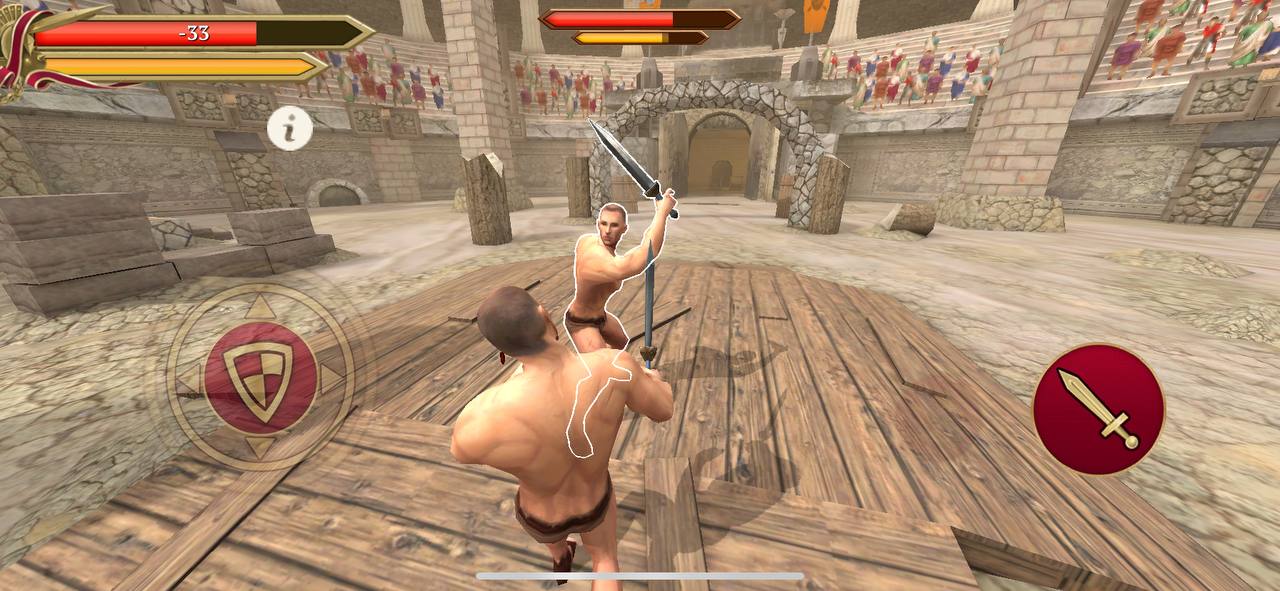 Tiny Gladiators 2
This game is a nice mix of RPG and fighting, and it lets you become a gladiator and fight your way to glory. It's all about immersive experience and lightning-fast combat, so you'll need all your reaction skills to succeed here.
As always, you start by making characters, and there are 4 classes to try here. Each one has unique abilities and weaknesses, so choose wisely and build your strategy around your strong points. Once it doesn't, it's time for the fun part: battling one fearsome warrior after another.
The gameplay is nicely paced. It's quite immersive and gives a white-knuckle, fun experience that gets better with each battle. The single-player and PvP options make it even more exciting, letting you dominate your mates and random users in epic tournaments. But the game is not all about winding, sometimes, you'll have to lose, too.
With time, you'll get to upgrade your hero with new skills and equipment. It gets rather addictive trying to gather all the weapons and talent points, and it's sure to keep you engaged.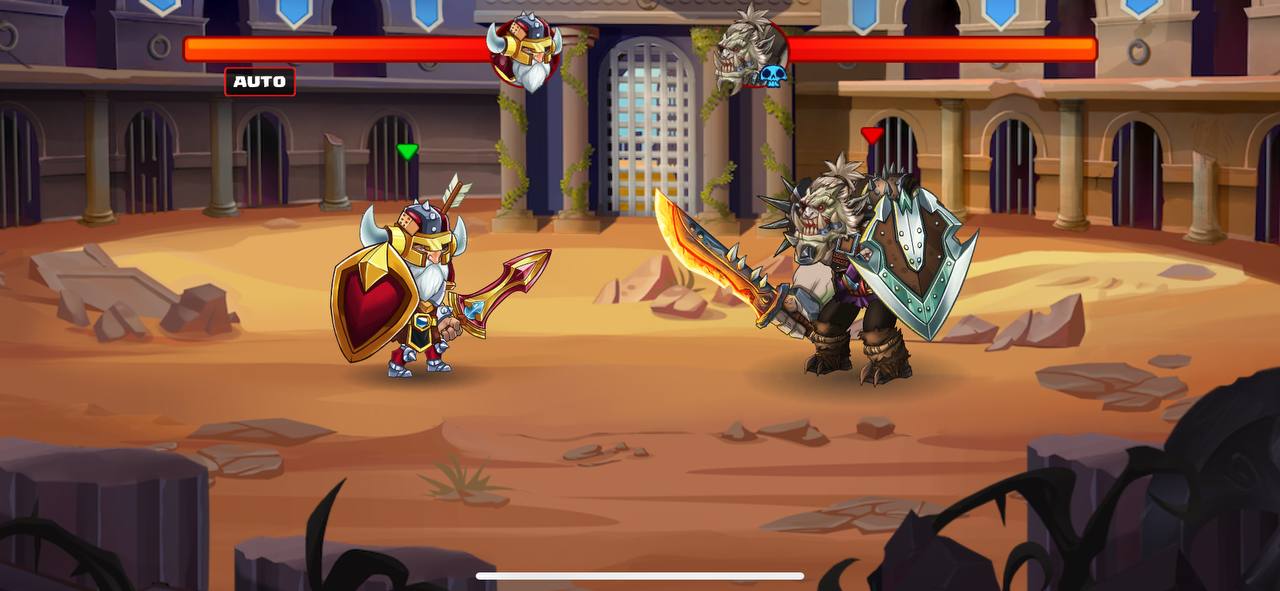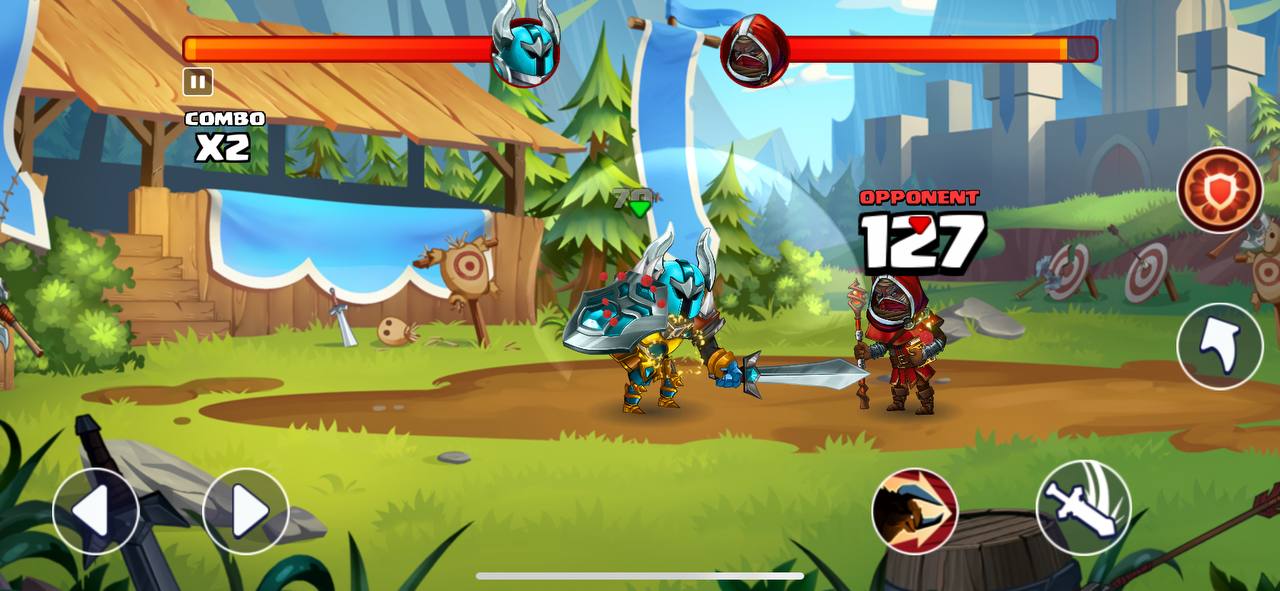 Idle Gladiator Empire Tycoon
Gladiator games are nothing new. You train, you fight, you upgrade, and then start all over again. There's nothing bad with it, of course, but what if you want the same vibes but a different concept? That's when this one comes in!
Have you ever heard about a gladiator tycoon? Because there is one for you right here. Your goal here is to keep your emperor happy and make sure the Roman Empire is growing and thriving. You'll need to help develop the empire and assist in training honored gladiators as well.
But it won't be that simple. In order to train warriors, you'll need to build the facilities for it first (talk about starting a journey from scratch). Once there are enough training areas, you'll need to make sure all of them are equipped and ready for the gladiators to come.
And don't forget about other facilities and regular buildings, it's not all about gladiators after all. You'll need places for people to hear, pray, and enjoy their life in general. They will also need to be well-rested and healthy, so don't forget about bath and rest houses.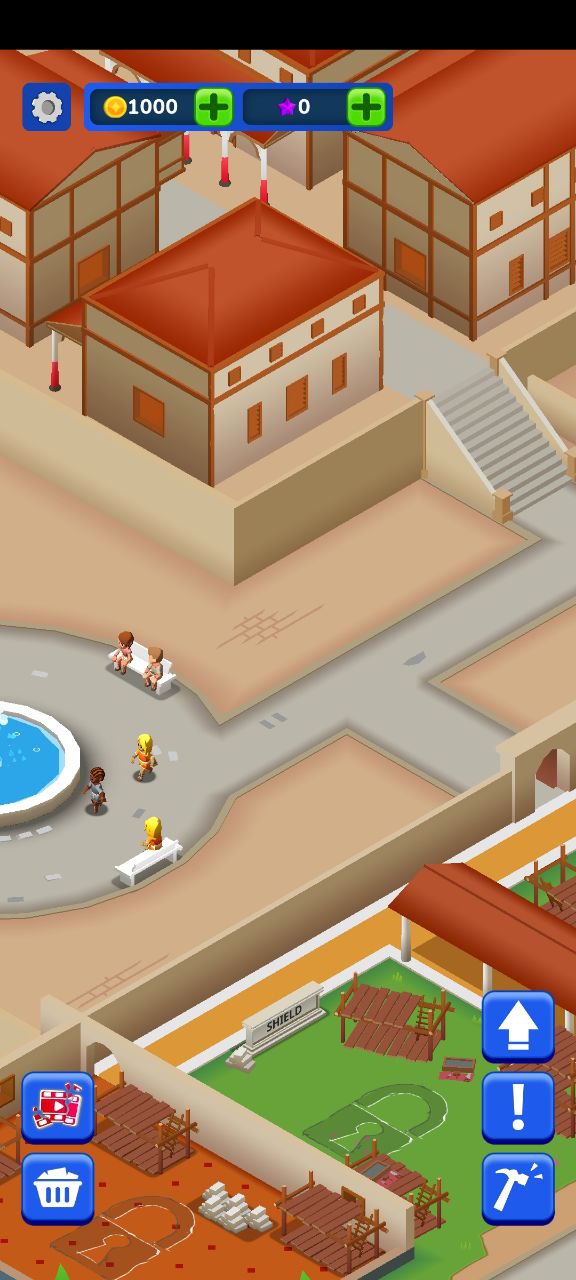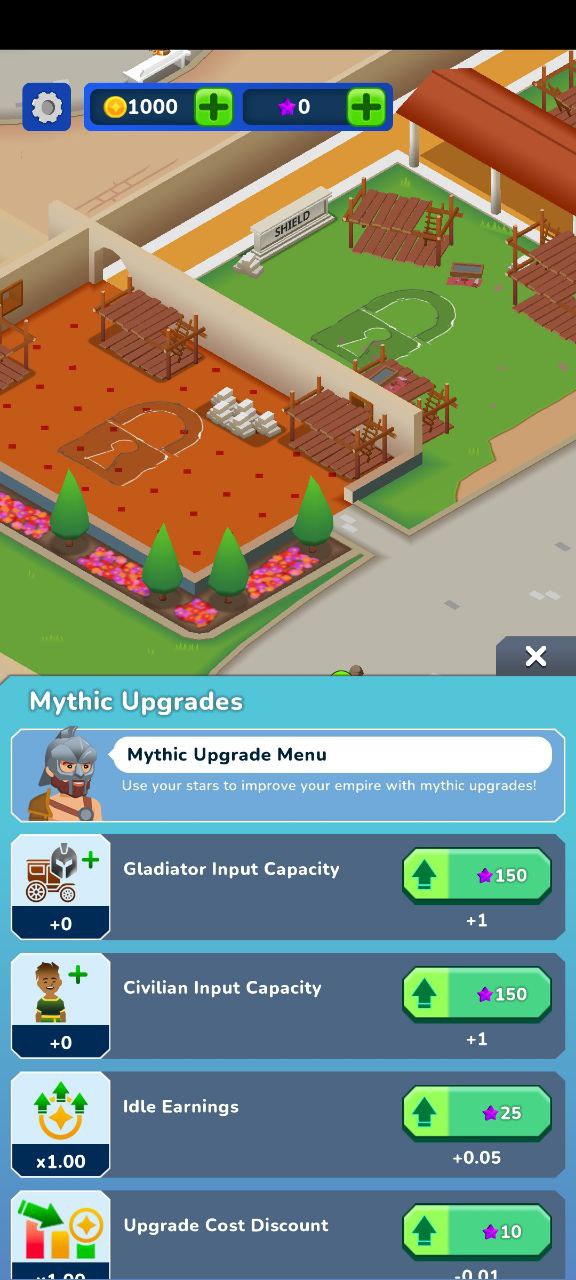 Gladiators: War of Rome
This game's premise is based on building and leading your own gladiator school to victory. You'll have a chance to make your name known on the walls of the Colosseum. But it's actually harder when you're ruling a school and not fighting yourself.
You'll need all your management and leadership skills, and you'll also need to pick the heroes to attend the school wisely. All of them have unique abilities, but they also have their drawbacks. Your goal is to form a balanced team and train them all according to their skills and combat styles.
The game covers a variety of challenges and modes, including PvP battles and PvE campaign missions. You may rather try your power against other users or immerse in the storyline. The game covers tons of gear to try, and the campaign mode comes with over 300 missions for you to go through.
You'll also take part in massive geopolitical battles, where six factions fight for supremacy. All that forms a sense of community and competition that keeps the game engaging and exciting.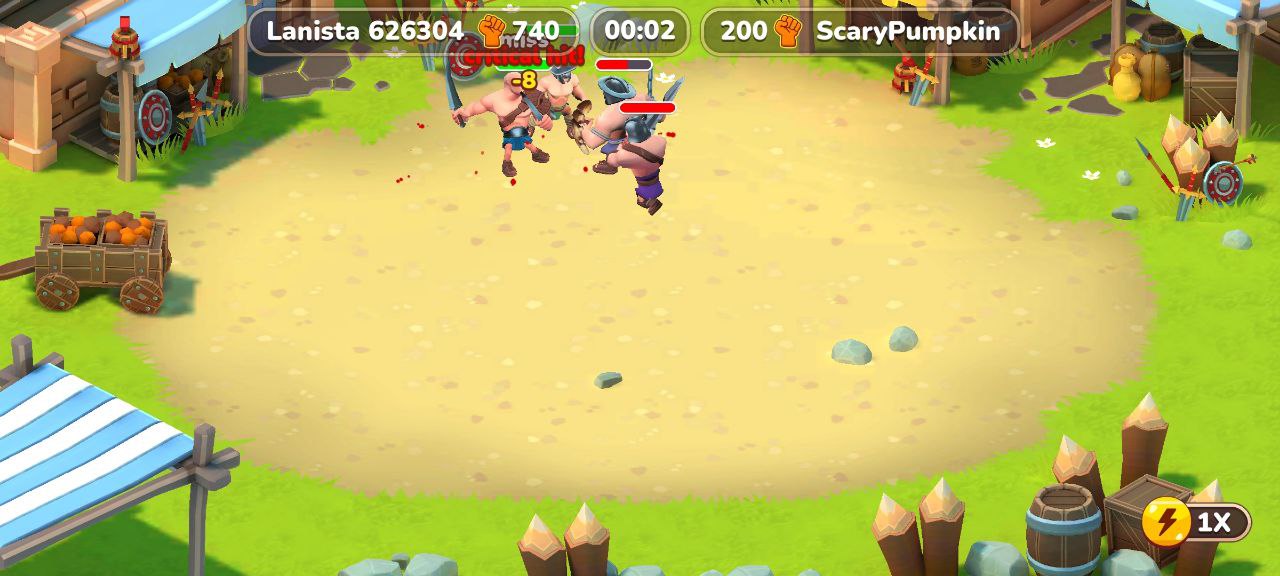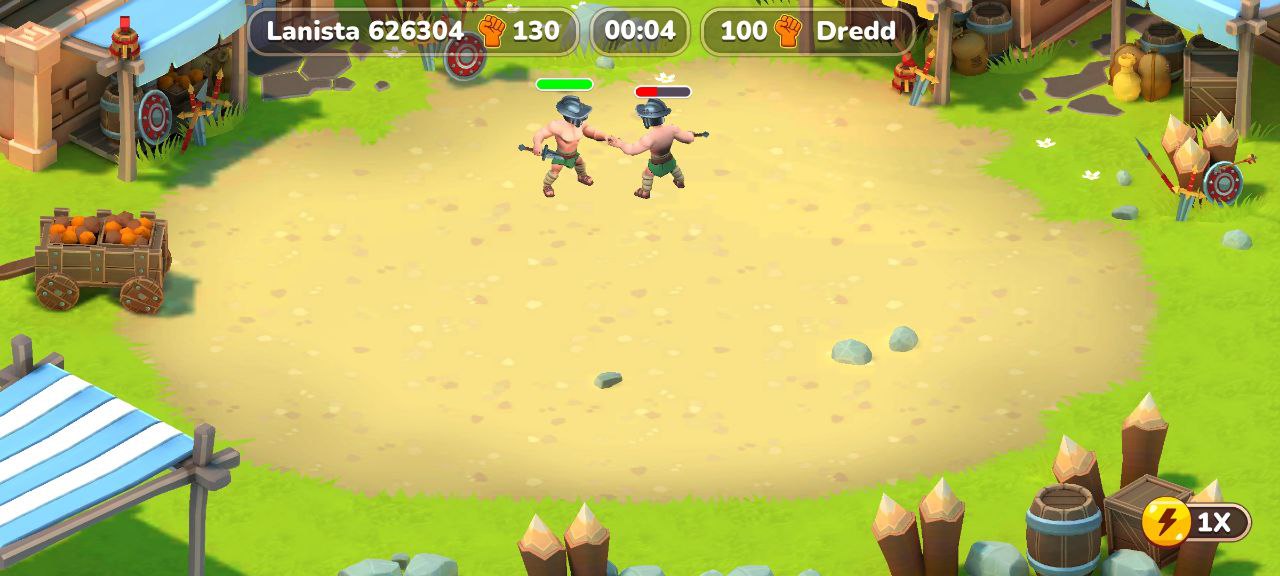 You may also check: 9 Free Fighting Games
Gladiator Manager
To wrap up, we have a gladiator management game that lets you gather your own team of warriors. The best thing about this one is that it's everything rather than monotonous.
You'll get to join arena battles standing against other teams, but it's not that simple. Who said you can't play dirty? The game lets you try to weaken your foes with poisoning or assassinations. The game's tournaments and unique challenges keep the gameplay fresh and exciting. And no one said you're safe from poison or murder attempts, so keep your eyes open.
Another major aspect of this one is the school building. The gladiators should be trained after all, and you'll need a place and equipment for that. You'll get to upgrade their stats and modify your team in the process.
You'll also get to ability to buy and sell gladiators from your competitors. This adds an element of strategy and competition, as you must carefully consider which warriors to add to their lineup.