With all that globalization who didn't notice that we obtained a huge need in learning foreign languages? Especially, the languages of the most economically developed countries, such as Germany.
By the way, this language is the 3rd popular studied language in the world. Which, of course, results in the occurrence of thousand ways created by thousands of people to learn it. Of course, not all of them are effective.
You may also like: 11 Best translation apps for Android & iOS
Moreover, the German language is known not to be easy so teachers here face a certain challenge: not only to teach the language in a classic way but also to make this process less stressful and interesting. Down below you will find the best 15 apps which combine all the innovations and old-style methods and help you on your way of studying German.
Duolingo
To start with, Duolingo is quite a cheesy app for learning languages, however, it remains of the most popular apps in this category even nowadays (taking into consideration the fact that it has been on the market for around 10 years already).
Duolingo will be a perfect tool for those who only start learning the German language, but for the more or less advanced level, it might seem like the extra hassle.
Here you learn a language according to the following scheme – you choose the topic, on which you want to learn the vocabulary and the app first gives you some words with the translation.
After that, you will have to do multiple choices in order to make sure you memorized the words. You will also need to fill out the missing letters in the words, or complete the sentences with the words that fit in according to their meaning. Such a method of learning the language is quite specific and will be suitable not for everyone.
The most significant disadvantage of Duolingo is the absence of grammatical aspect in the app. Especially for the German language, it is a very important detail that you cannot neglect while studying. On the other hand, Duolingo can serve as the side-learning app, as an addition to other German language learning apps.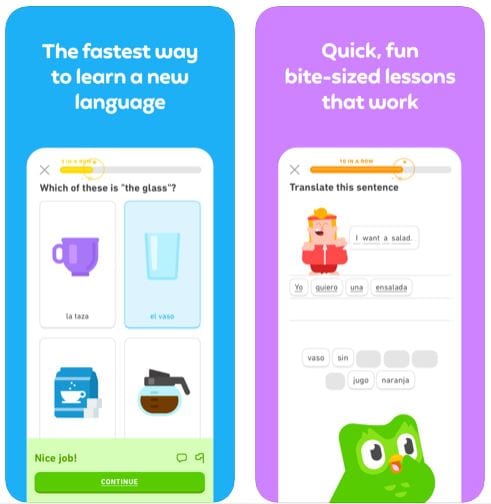 You may also like: 12 Best apps to learn French for iOS & Android
Rosetta Stone
Millions of people use this app every day to learn new languages, including German. The program has won an award for its prospectiveness. The app requires only a few minutes each day for you to study the new language. Using it you are learning new words through total immersion.
Each lesson is composed of pictures, text, sound, and real-time scenarios so new materials will stay in your memory forever. The aim of the app is to work with three main aspects of any language: speaking, reading, and listening.
It will also teach you to think and speak in a foreign language. Moreover, most people neglect the pronunciation aspect while learning, but here you will constantly be reminded to practice that part too.
In case if you need a break the app will stop at your last point and then will resume when you'll get back. By the way, you can still learn German here without the Internet connection.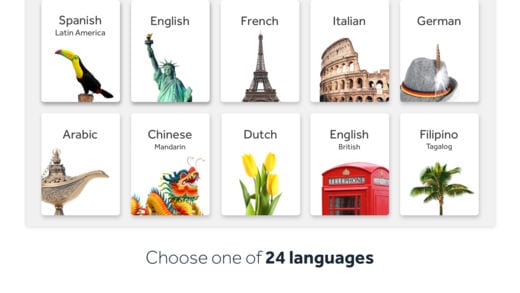 FluentU
With this app, you will get a chance to learn a language by watching videos, and more. The thing here is that it gathers all the media products in a language you're currently studying so you can watch it and remember everything as fast as you can.
Since from the start you see an example of the real native speakers you will remember how to use the stuff in the right way.
Watch TED talks in German. And it doesn't matter which level of knowledge you have – this app is suitable for everybody. Thus, you will get not only useful but also a fun experience of studying, However, you can always turn to the meaning of new words and practice your pronunciation and also work with your grammar.
After you watched a certain video you can switch the subtitles and see the translation below. The app also includes exercises on the vocabulary and grammar you've just learned.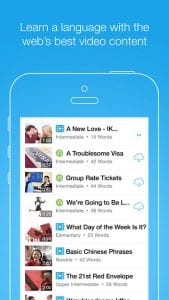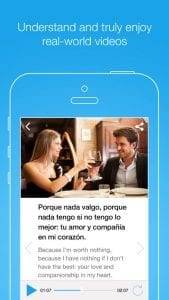 Memrise
This is the new generation app for learning languages. Already more than 15 million people use it in their daily routine, why don't you try? 2 million phrases and words are learned every day. Also, the app contains more than 30 thousand native speaker videos.
All the techniques used in the app are developed bu the leading experts in the industry. The quinte centum of mutual work of digital developers and best linguistic teachers makes this app extremely valuable for those who want to learn German without extra efforts and nerves.
The app has chatbots that give you a chance to practice your speaking skills with the machine 24/7. You can always choose which area of the language learning you want to improve – whether it's listening, reading, or speaking.
When you feel more confident and ready to take your skills to the next level you can use an option "native speakers" and find people speaking German.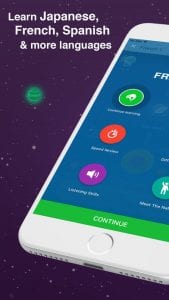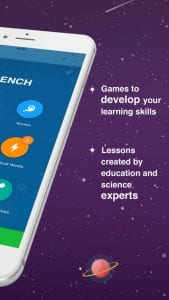 AnkiMobile Flashcards
For those who prefer learning a new language using flashcards, this app will become an excellent choice. It's multi-platform and open-source. One essential fact about this app is that it can synchronize your progress with its other versions, on PC, for example.
The same is for schedules. And every time you stop practicing or just forget about it the app reminds you of the necessity to keep going.  A flexible interface designed for smooth and efficient study.
You can set up AnkiMobile to perform different actions when you tap or swipe on various parts of the screen, and control which actions appear on the tool buttons. If you want you can even track your progress in statistical and graphic data. The app has more than 100000 cards.
What is more, you can download the media clips on your device and your cards will be accompanied by sounds even without the Internet. There is also a search bar for you to find a certain word. If you would like to remember a certain card you can mark it and it will be saved in your app.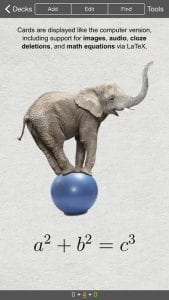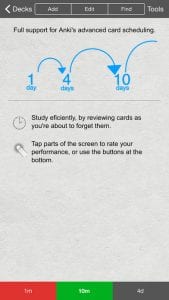 busuu
Can you imagine that more than 70 million people are using this app? You can easily join them and start learning German too! There are a lot of native speakers ready to help you with studying.
What is even more beneficial, you can help others who learn your native language. Many experts have claimed that this app has the best efficiency when it comes to learning languages.
If you need to learn new vocabulary for traveling or you want to improve your grammar, or, maybe, you want to feel more confident while speaking – you can train it all here.
You can even make friends using this app because you never know where a conversation may lead. The app includes tests, exercises, accent training, grammar training, and offline learning. You will find the vocabulary for any topics – from business to cooking. Next time you will have to chat in German you will become much more fluent in it.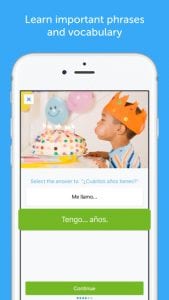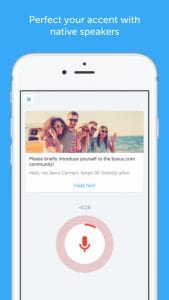 Learn German – Wie Geht's
If you prefer something more specific, here is the app created for learning only German. Many people consider that this language is not the easiest one, but Wie Geht's actually makes the process exciting and fun. In a short period of time, you will learn essential phrases, vocabulary, and basic grammar.
But don't think it is only for beginners – it embraces a wide range of students of all ages and professional categories. It has 96 lessons based on real-life situations so you could see immediately the practical convenience of the material you learn.
All the information for those, who learn German for traveling (flight and hotel reservations, dining out, shopping, exploring, and meeting new friends) is also included.
The vocabulary base is definitely impressive – more than 3000 words. For those who have to make a lot of effort making themselves study there are several games to involve you in the process.
Repeat words and phrases after native speakers to acquire accurate pronunciation. And, of course, different tests and exercises are available in huge quantities to help you remember the material.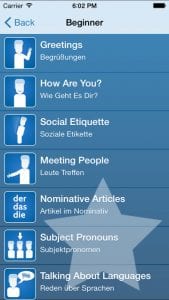 Learn German Phrases & Words for Travel in Germany
Going to travel to German-speaking countries soon, but don't know a word in German? Here is the app that will save your case. It is very funny to use because the main feature of this app is the parrot which will be your tutor for studying.
It will be all the way down to you while you are practicing your speaking skills, listening and reading. You won't notice how fast and effortlessly you're making progress. This app is mainly for those who don't need a deep knowledge of the language – only basics.
You will find out about the most common words and expressions in German, get introduced to the native-german pronunciation. Even if you are already on your way you can start learning a new language since this app doesn't require the Internet connection. All lessons are composed of funny pictures.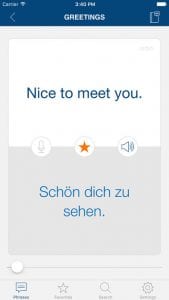 Learn German DeutschAkademie
This app is aimed mainly at those who prefer classic training to innovations. In other words, here you will find tons of grammatical exercises and vocabulary multiple-choices. Well, sometimes, they say, classic is the best way.
First of all, you need to note your level of German (there is a special test for it). Then the app will suggest you study with a textbook (yes, they are still in use). However, don't think that you are going to be too restricted with the methods.
You still can search for the necessary information about German in the app. And let the fact that it sticks to traditional old schools methods not scare you – the program is approved by the European Framework of Reference for Languages.
All the patterns and exercises were compiled by experienced teachers who love their job. So don't hesitate to try it!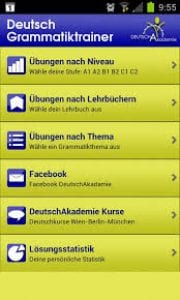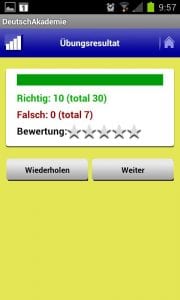 German Complete Grammar
Now we're going down to more specified apps to learn German. Or, being more precise, with the apps turning to its components.
Here is the one for those who wish to improve their grammar in the German language which is, by the way, is known to be one of the most difficult in European languages. Choose your language level and then go to different types of tests.
The higher your level is, the more exercise you will be offered. You will find more than 3.000 test for Verbs, Nouns, Sentences, or popular grammar structures in German. Or just choose the category of grammar that you would like to work on and start your practice.
There are no divided lessons so you can train until forever (or until they end up). All in all, this app would be a perfect completion for those who are already familiar with the German language but would like to have some more practicing.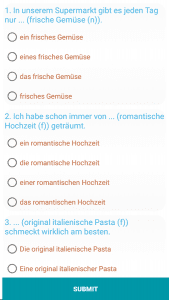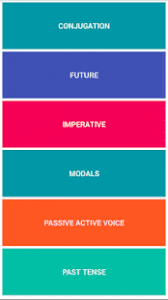 You may also like: 20 Best apps to learn Japanese for Android & iOS
Learn German by MindSnacks
Learning German has never been easier than with this app. Guess why? Because it mostly consists of games which will help you to improve your language skills.
And those games aren't made just for the fact, they are really extremely captivating and can make you stick to the screen of your gadget for hours. 9 games are designed to teach you basic vocabulary and grammar aspects of German.
They will be suitable for everyone, including kids. All those who are planning a journey to Germany can use this app. The point why learning a language through games may be more effective for you is that games are engaging while watching cards are not always useful as many people consider it to be.
Here, interacting with the natural language atmosphere, you will copy phrases and words from native speakers in relevant situations and take after their accent. The app includes more than 50 lessons. You can learn more than 1000 words from here. Even if you feel bored for any reason, additional quests & challenges will keep you motivated.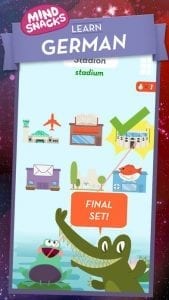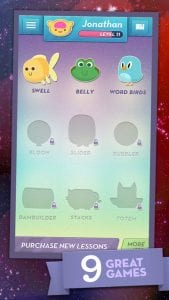 Mondly
This app gives you a chance to study all the languages, including German too. The sessions of lessons start with the memorization of the core words. A while after you will start taking part in the conversations and training other skills. Fun language lessons improve your vocabulary, grammar, and pronunciation like no other language learning method.
The app tracks your strengths and weaknesses making a specified learning program for you afterward. If you like, you can practice any kind of skills here – reading, listening, speaking, or writing. Read useful information, about the conjugation of the verbs, for example. In other words, this app is a personal tutor in your pocket.
Another problem while learning languages is that the audios for the listening part can be a bad-quality. Here the quality is great and all the texts are read by professional actors. The app also suggests useful vocabulary for every life situation. Follow the conversations to notice specific things that only native speakers in German use.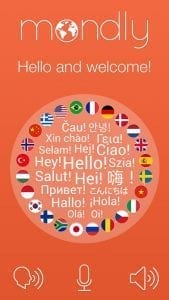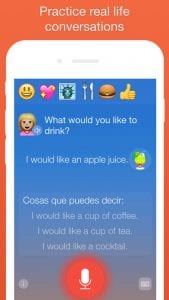 News in Slow German
This is a widely known fact that you can significantly improve your language just by regularly listening to it. What is more, it is always better to listen to the most "correct" sources of languages, for example, documentary movies or news channels. This is what this app offers you to do.
However, for those who only start learning the German language or who don't have the proficiency level yet, it might be difficult to understand the news in a foreign language and in this case, the motivation decreases significantly. This app is super cool in the sense that it only includes the slowed down version of german news.
The speech of the hosts is slowed down and there are also subtitles, so everyone will be able ot understand and think over the subject they are listening about. The app itself is simple, however, the contribution that it will make to your progress in German will be long-lasting.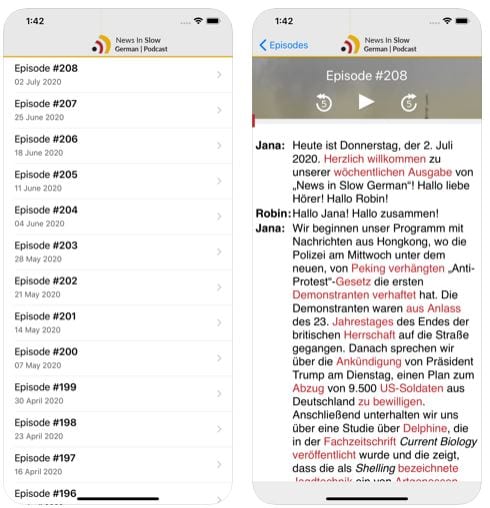 14 000 Deutsche Verben
This is a curious app for those who have already had some knowledge of German. Or, maybe not, but in this case keep in mind that this app is revolved around verbs and verbs. There are actually plenty of them (and even those who may be a discovery even for native speakers). So, as you can see, there is plenty of stuff to explore both for the beginners and fluent speakers.
You can access this app offline too. You can see the translation of a verb to any other language as well as its definition in German. Find out more about the possible conjugations and phrasal verbs which are so hard to learn. However, this app will be relevant to those who like simple interfaces with no extra attachments.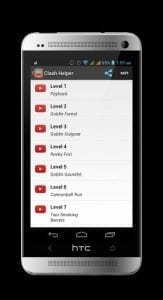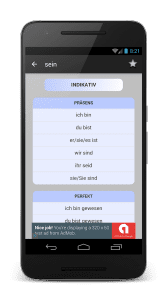 You may also like: 15 Best apps to learn Spanish for Android & iOS
Learn German Verb Conjugations
For those who already familiar with the German language, you probably know that one of the main things in this language that cause the biggest amount of difficulties is the conjugations. This is also the main part that distinguishes the German language from English, and that's why all this topic seems so odd to the English speakers.
This app will be your ultimate guide into the world of german verbs conjugations. Learn everything by heart and you won't face the problem again when you don't know how to use the verb correctly in the 3rd person conjugation. You will be learning verbs as the flashcards, and on these flashcards you will see all the possible conjugations of it.
In total, in this app, you will find more than 2000 flashcards, covering conjugations for the present, simple past, past perfect, present perfect, future, and subjunctive tenses of the 277 most commonly used verbs in German. Moreover, you can customize the algorithm of the cards' repetition, so it is convenient, first of all, for you.
There is an English translation for each verb. In order to better track your progress, after a while, the app will compile a colorful graph where you will see how many verbs you have already learned.