7 Free Apps to Measure Blood Pressure (Android & iOS)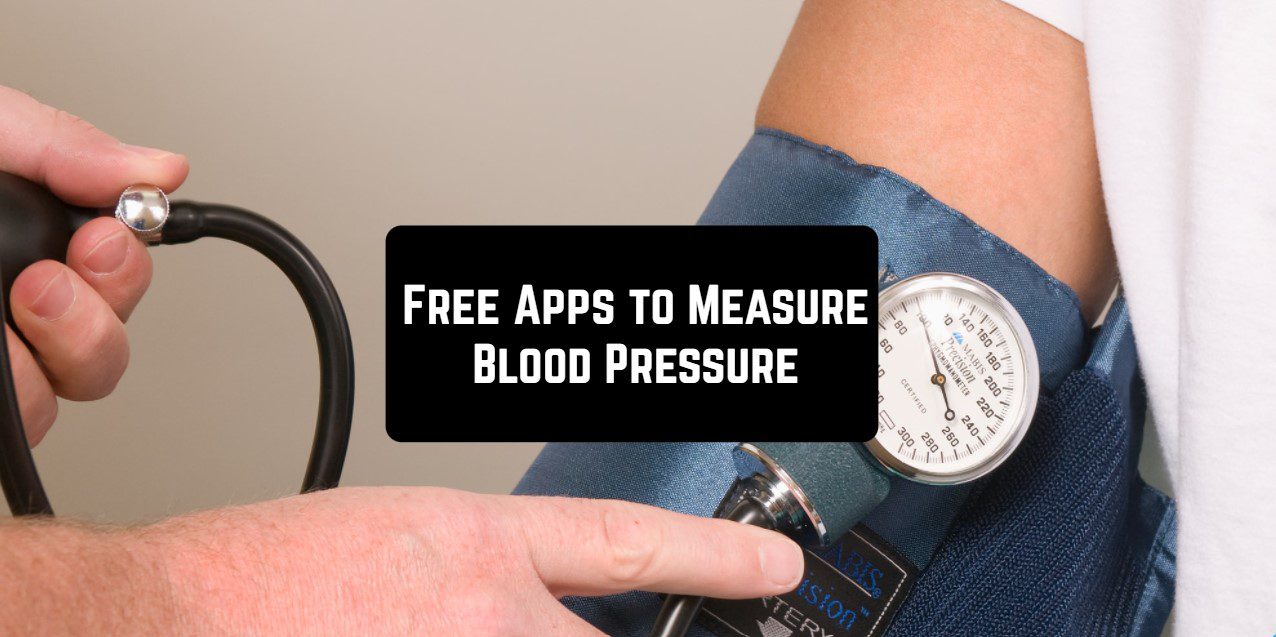 Health is a matter of paramount importance. Fortunately, today there is a large number of applications in the category "Health" available both on Android and iOS.
These apps can turn your smartphone into a valuable diagnostic tool, allowing you to learn about various diseases and improve your health condition. Seven applications for tracking blood pressure are described below. All of them are free, so you can choose one and install it right now.
It is worth mentioning that measuring blood pressure with a smartphone is of course impossible. You need a tonometer for that. The apps can only help you to keep and track the measurements.
You may also like: 9 Best medical records apps for emergency cases
Blood Pressure Companion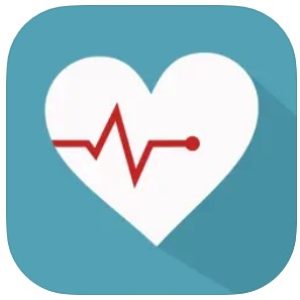 This is the multifunctional app for everything that concerns the measurement of blood pressure. Thanks to Blood Pressure Companion, you will be able to track your data, compile statistics and study your daily progress.
Despite its extended functionality Blood Pressure Companion has quite a simple interface. It's easy to use and navigate.
Moreover, this app gives you the chance to calculate the mean of each statistic. You can also create reminders in this app so you won't forget to measure your blood pressure. What is more, you can create doctor appointments using the same app.
It's even more convenient to check in for a doctor's appointment since thus you can share your statistics right from the app. Blood Pressure Companion contains lots of useful information about blood pressure classification and a bunch of comparative diagrams.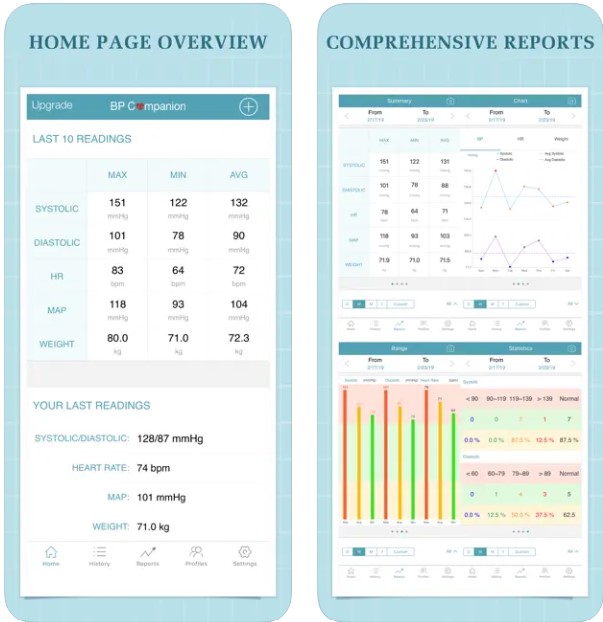 Cardio Journal
Cardio Journal is an excellent application for tracking blood pressure. Measure your pressure and write it down in the app. If you can do this regularly, the app will provide you with the statistics of the results.
The main advantage of the application is that it is easy to use. Everyone can figure out how to enter the blood pressure and where to view the history and statistics. The design of the app is simple and nice. There are gorgeous 'heart indicators' that show whether the measurements are alright or below/above the norm.
The app can separate night and day measurements. You can turn on notifications to get reminded to make a measurement. There are even free consultations with a specialist but it is always better to consult a real doctor. So, this is a solid five. Download Cardio Journal now and start taking care of your heart more seriously.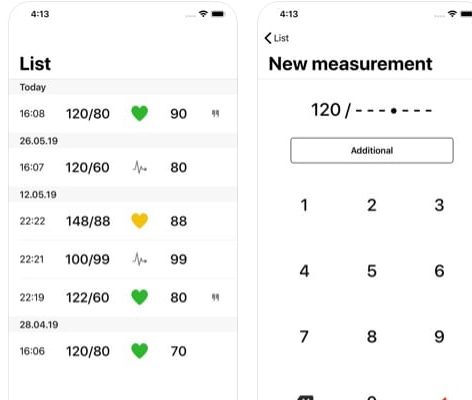 You may also like: 15 Best diabetes managing apps for Android & iOS
Blood Pressure – SmartBP
SmartBP is an app suitable both for iPhone and Android users. This application for monitoring blood pressure has an intuitive and user-friendly design. With its help, you can monitor the dynamics of blood pressure changes in various forms (e.g. graphs, statistics).
You can record your systolic and diastolic pressure, time of measurement, pulse, weight, pulse pressure. Manage the records with simple tools: charts, average calculation, and export of data via e-mail.
You can also use e-mail to keep your family, friends, and doctor up-to-date about your health. Sending the statistics to your doctor may help him or her to make rational decisions about your treatment faster.
Smart BP is designed to serve as a database tool for sharing information with your doctor. This application is not intended as a substitute for professional medical advice, diagnosis or treatment. The developers of the app warn that they are not responsible for any damage that can stem from the use of this application.
Main advantages:
simple, attractive, elegant interface;
recording systolic/diastolic pressure, pulse, weight and time of measurement;
easy data entering;
calculation of average arterial pressure and pulse pressure;
reports by e-mail;
built-in reminder – you won't miss the measurement time.
Blood Pressure
Blood Pressure is an Android app for people who want to monitor their blood pressure and successfully cope with hypertension. With this application, you can track the level of your blood pressure. All the measurements are stored in the database.
You will be offered additional information on the treatment of hypertension, which you can share with your doctor. A convenient interface allows you to quickly navigate the application.
You can edit, update, and describe the measurements. Write why there was an increase in blood pressure – maybe, you've got tired from a walk or have gone through a stressful situation. Create special markers for yourself such as brief descriptions of high figures results, measurement location, pulse, and weight.
Study visual graphs to see the tendencies of your health. In a special tab, you can find out detailed statistics about pulse and average blood pressure as well as a pressure indicator. There is an opportunity to measure the blood pressure of several users.
The data can be exported in two convenient formats – CSV and XML. It can also be saved in a PDF file. The program notifies you daily about the necessity to measure your blood pressure. You can use filters to remove the parameters that you don't want to be displayed.
The design of the app is beautiful but you can make it even more beautiful by choosing one of the app's themes. The developers warn that it is necessary to have a tonometer to check the results. It should also be kept in mind that the software does not replace the advice of a qualified specialist.
Blood Pressure Log
Blood Pressure Log is one more Android application with the help of which you can collect and analyze measurements of your blood pressure as well as some other parameters such as heart rate, exercise, weight, etc.
Graphs and statistics allow you to track the results and constantly monitor your pressure. Thanks to reminders, you will no longer forget to measure your pressure and take the appropriate medication.
The application Blood Pressure Log is used only for recording blood pressure measurements and related parameters. It does not replace doctor visits, so don't try to change your treatment without consulting a specialist.
You may also like: 11 Best heart disease apps (Android & iOS)
Blood Pressure Tracker
A one-time measurement of blood pressure is not always enough. In some cases, it is necessary to observe changes in blood pressure over a period of time. For some people, it is recommended to measure blood pressure daily. It is better to do it several times a day, because morning and evening results may differ.
Blood Pressure Tracker helps you to track the blood pressure and heart rate. The program automatically records systolic and diastolic blood pressure, heart rate, and measurement time. Blood Pressure Tracker is a very convenient data storage tool. In addition to the storage, the app analyzes the results. The analysis can help you and your doctor to make a proper schedule of medications intake and regulate the dosage.
Features:
intuitive interface;
recording systolic and diastolic blood pressure and heart rate;
viewing changes in blood pressure and heart rate over a long period in graphs;
saving the data in a text file in order to copy it to a PC or send to your doctor;
saving the data as a CSV file for archiving and backing up.
You may also like: 15 Best barometric pressure forecast apps for Android & iOS
Blood Pressure Monitor
Blood Pressure Monitor is an advanced pressure tracking app for iPhone users. The app lets you enter your blood pressure and weight as well as some other parameters. You can view the history and statistics of your measurements. There is also meal-type tracker that can find out the correlations between your eating habits and health condition.
You can see an input screenshot down below. It contains all the parameters that can be recorded. If you fancy the design and functionality of the app, why not to get it right now?
---
That was the list of the best apps for tracking blood pressure on the market. You will still need a tonometer to measure your blood pressure but the described apps will help you organize the results in the right way.