Humidity in the interior of the house is one of the most important indicators that affect more than just the indoor climate. Humidity can affect the condition of your skin and hair, as well as affect the materials from which the house or apartment is made.
Insufficient or excessive humidity is equally detrimental to humans, plants, and even food. You may not be aware of the fact that the humidity level in your home is far from normal.
If you notice condensation on the windows of your house or apartment or too much dust, it's time to take action. You won't find a special humidity meter in every home – that's why you should explore other ways to measure it. We found the 13 Best Apps to Measure Humidity in House for Android & iOS.
You may also like: 11 Free Apps to Measure Body Temperature (Android & iOS)
Galaxy Sensors by Alessandro Digilio
Galaxy Sensors is an app developed specifically for Samsung Galaxy smartphones that allows you to find out information about your environment.
Because of this detailed development, the app may not be compatible with other devices, so we recommend checking for compatibility before downloading. Galaxy Sensors ensures the accuracy of the data obtained, as the error margin is only 5% of the total figures.
The application allows the user to find out the percentage of humidity in the air around him, as well as to measure the temperature in Celsius degrees. It is recommended to check these indicators at least once a day.
It is worth noting that as soon as you open a window or the weather changes rapidly, these indicators may also change. In addition, Galaxy Sensors measures light intensity, atmospheric pressure, and even altitude.
You must admit that it is quite convenient to get all the information about the climate in your house with a single application.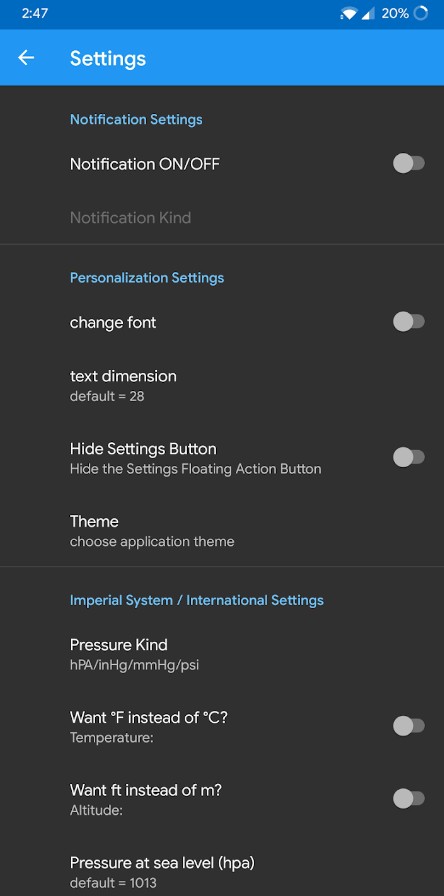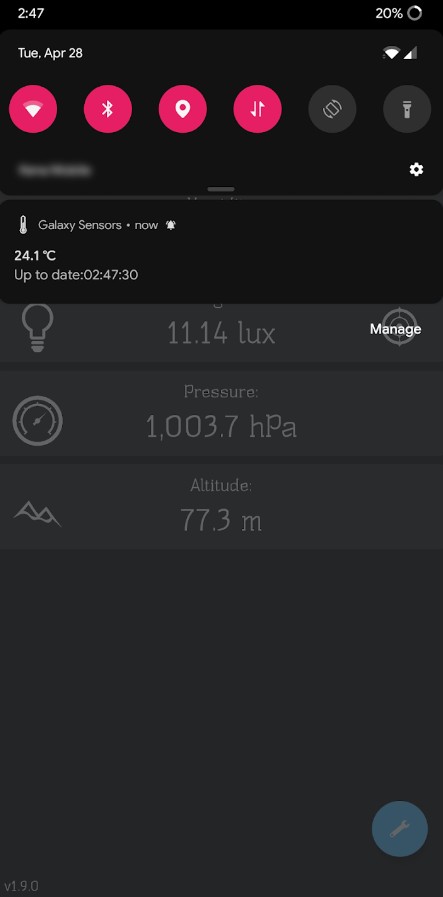 You may also like: 13 Best Severe Weather Alert apps
Thermometer Room Temperature Indoor, Outdoor by Switch To Future
The Thermometer Room app, as you may realize, was primarily designed to measure temperature indoors and outdoors.
Now, you can also measure humidity, making sure that all readings are within normal limits. Maybe your dry skin or sore throat is due to low humidity, and you should take care of it before more serious consequences occur.
The Thermometer Room also receives data about the outside temperature with your location. For more accurate measurements indoors – in your apartment, for example – it uses built-in smartphone sensors.
Basically, all readings are determined using your location, so you will need to provide all necessary permissions to the app to get the full information.
The developers of Thermometer Room also note that if you have been using your smartphone for a long time before the measurement, its battery may get warm and show a slightly higher value than it actually is.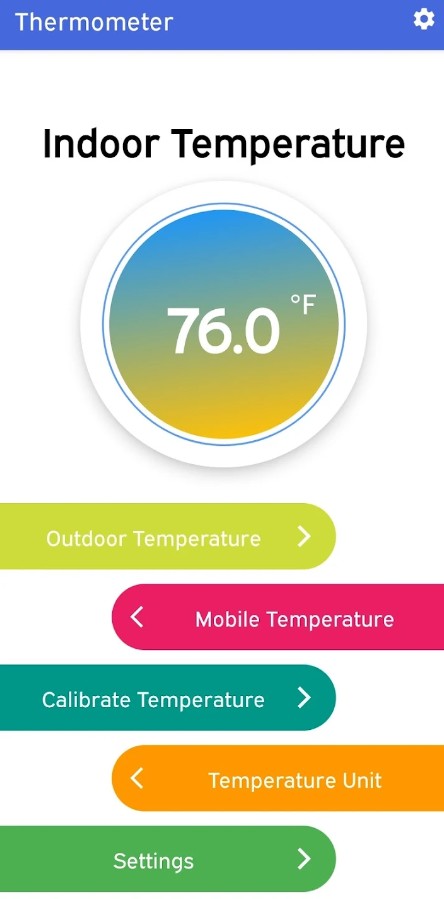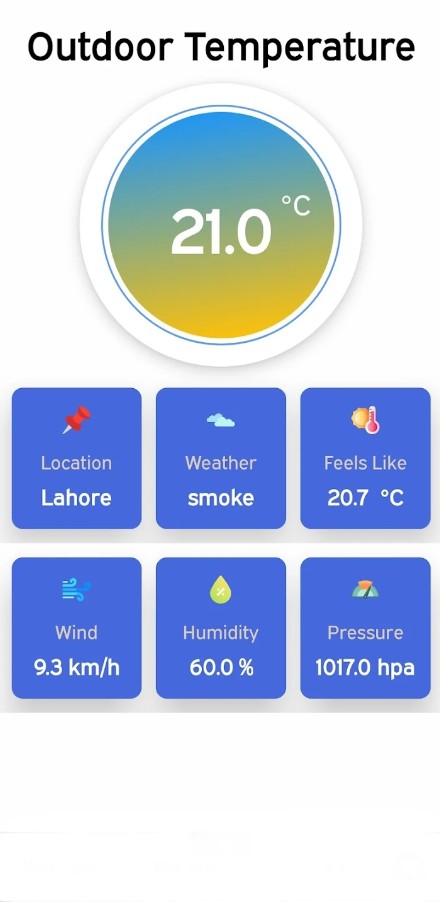 Thermometer – Hygrometer & Ambient Temperature app
Despite its name, the Thermometer app combines several functions to determine the current climate around you. You will always be able to check all the information about temperature, humidity, and even pressure before you leave the house or buy new furniture.
When you feel something is wrong with your air temperature, Thermometer will help you know if your fears are justified – it may be time to buy a humidifier or at least open a window in your house.
The app can be used not only for information during your daily routine but also for outdoor activities. For example, climbers or fishermen also need detailed information about humidity and pressure.
Note that the Thermometer automatically determines the discomfort index: it is calculated taking into account all temperature and air readings. To receive all of the data you need, you'll need to set the Thermometer to use your location – only then will the information be truly accurate.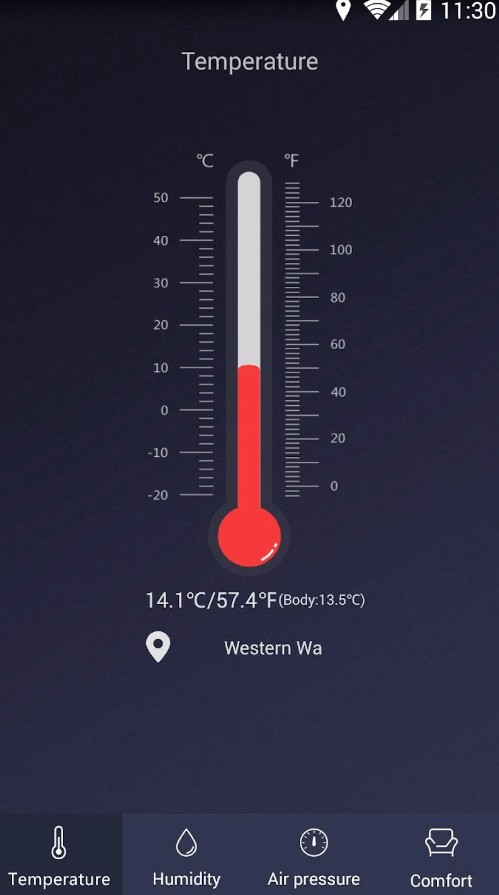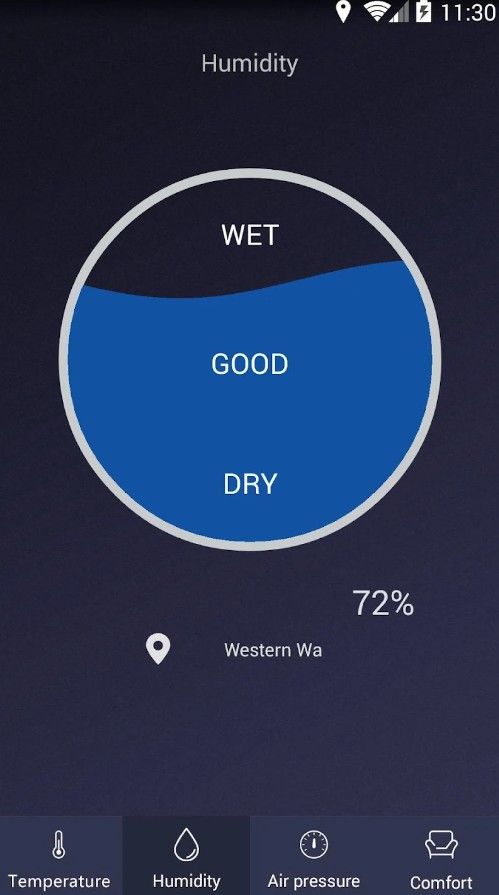 TE Sensor Tag
Some apps are designed to work with real devices that measure environmental readings. For example, TE Sensor Tag is a special app for wireless MEAS sensors that collect all the information about the indicators in your home.
Humidity is measured from 0 to 100%. You can also get information about temperature (-20 to 85 degrees Celsius) and pressure. Now with the help of your smartphone and smart device you will control your climate.
TE Sensor Tag automatically evaluates all indicators – if they are within normal limits or ideal for a person, you will see a rating of "Pleasant", otherwise, the rating will be negative.
You can also find out how high above sea level you are – for example, if you live in a mountainous area, that's very interesting. With TE Sensor Tag, your smartphone will become a real microclimate information station.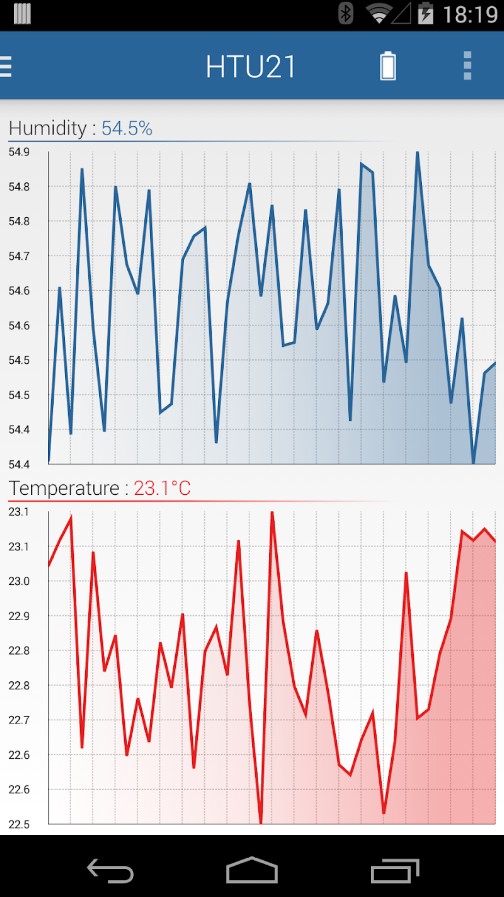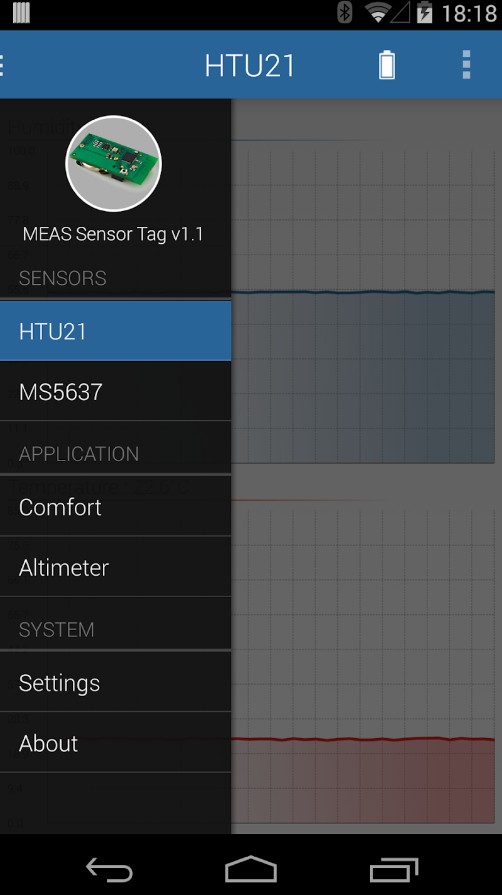 Humidity and Temperature Meter by SkyTechZone
If the basic weather forecast isn't enough for you, then you'll love this kind of analysis from this app.
Here you can find out all the data you need, right down to the humidity and temperature at a certain point in the world.
You can also look at the air temperature and the mercury mark. You can find out the weather wherever you need it, wherever you are.
For convenience, there is a feature that allows you to put tags for your permanent geolocation. This way you will see what weather is waiting for you outside.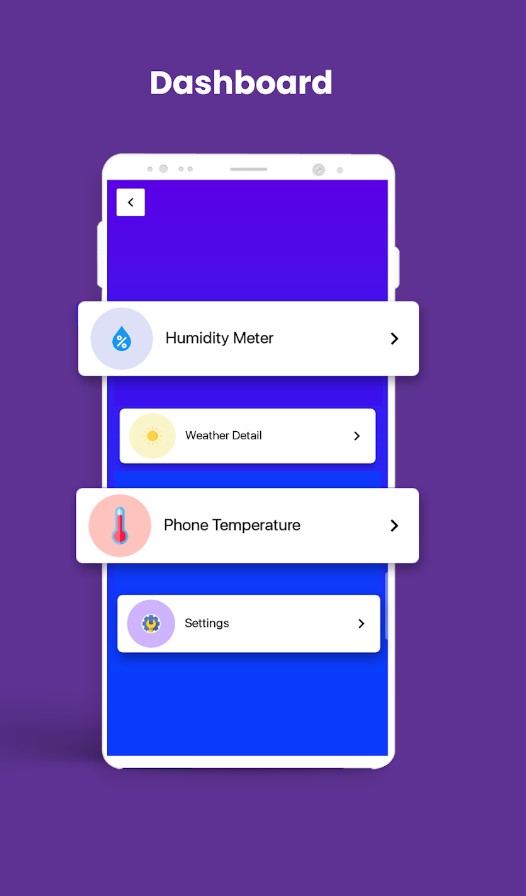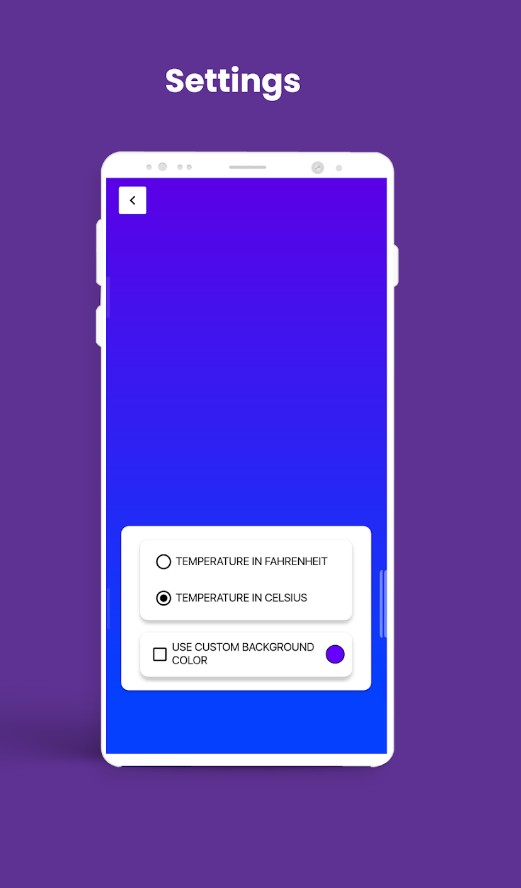 Home Humidity Control by Kair Studios
Keeping all the indicators in the ideal range is a very challenging task. It requires constant monitoring of humidity values. Deviations from the norm can lead to the possibility of viral infections and bacteria, as well as damage to your furniture.
Home Humidity Control is an app that will help you calculate the humidity in your home without the need for additional sensors or connected devices.
Depending on the area you live in, normal humidity readings may vary. Home Humidity Control captures the current weather conditions in your area as well as the temperature in your home and calculates the humidity based on that data.
For example, as soon as you open a window, the humidity in your home can increase, which means that getting too much air inside your apartment for too long can also be detrimental. Home Humidity Control helps you control all of these details without having to buy a real hygrometer.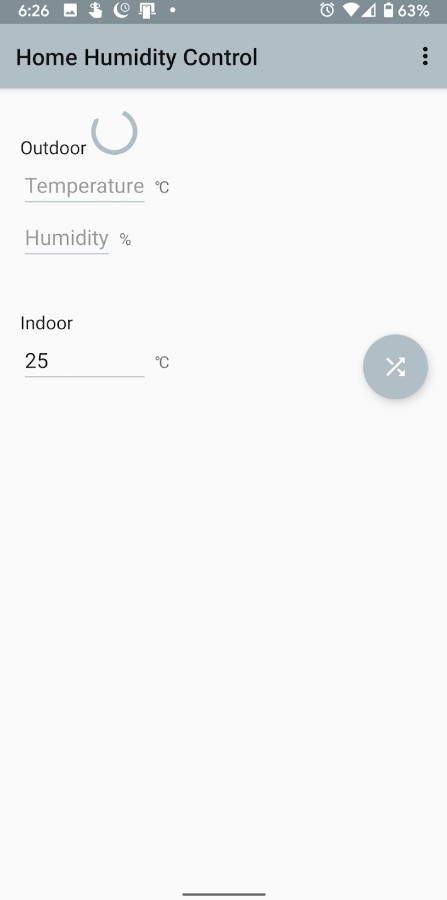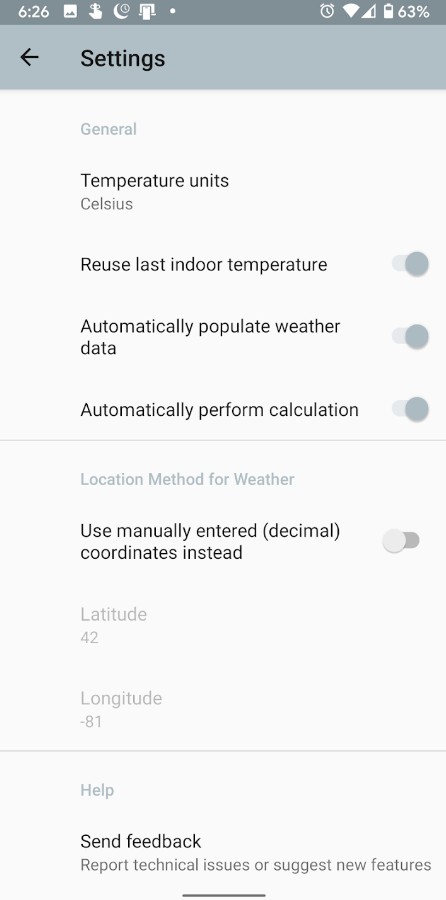 You may also like: 10 Best thermometer apps (Android & iOS)
Humidity Checker
Many people can't get enough of the data that comes from weather forecasts. That is why developers have introduced such a multifunctional app, the main task of which is to measure the humidity in the air.
A special sensor is not available everywhere, and often its data may not be quite correct. Yet, with this service, you will not have to compare indicators from other sources, as all the information will come directly to your phone.
The app can provide a detailed weather situation in your area with geolocation enabled. Thus, you will always be aware of what direction the wind has outside, how many degrees and what the humidity is now.
Besides, the data is presented both in degrees Celsius and Fahrenheit. Absolutely everyone will be able to track weather conditions with this service, regardless of their location.

You don't always need to measure the humidity exactly indoors. Some people who take care of cars or have a backyard with lots of furniture also need accurate humidity readings. We have found applications that give you the most accurate real-time humidity readings.
AccuWeather: Live weather maps & local forecasts
Humidity is an important weather variable and you need one of the most accurate and best services to measure it. That is exactly what AccuWeather is. This application is considered one of the most popular and accurate.
The service will also send you alerts when the weather changes drastically or there is a real danger. With AccuWeather you will always be aware and ready for sudden rain or strong winds.
The service is a collection of weather news and indicators that are updated in real-time. AccuWeather will tell you what the humidity and wind speed will be in the near future, and the special technology of the developers accurately determines the air temperature.
With the app you can find out the weather not only near you but all over the world – perhaps you are planning a trip and you really want to know what temperature and humidity are expected in a given region.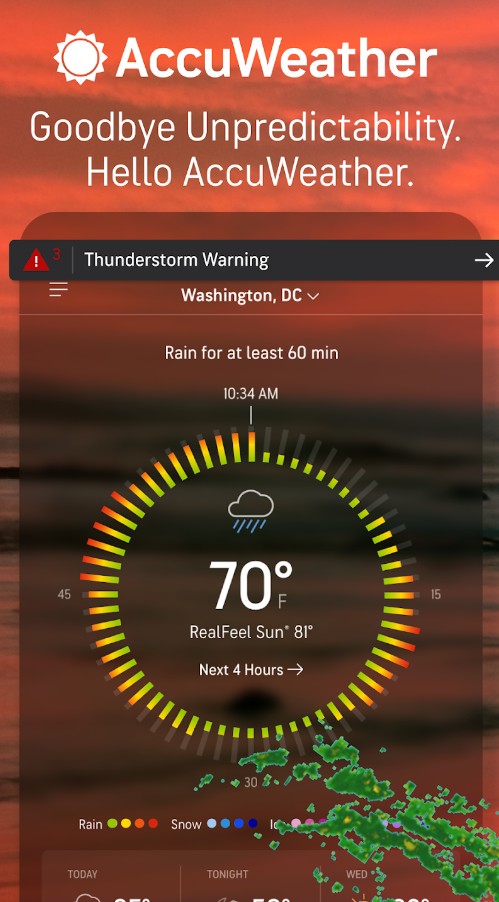 Humidity Monitor
Sometimes you urgently need to know the level of humidity in the nearest point of your location. That's why we recommend this app, which contains all the useful information about the weather in the location you specified.
The app allows you to follow the air humidity from any location because you can set your permanent residence in the app. This way, you will always know what the humidity is outside at any given moment.
The readings are constantly updated according to the latest information coming into the network. Such an app will allow you to determine the time to use humidifiers, check the stability of the air humidity and calculate your trips outside taking into account the latest weather conditions.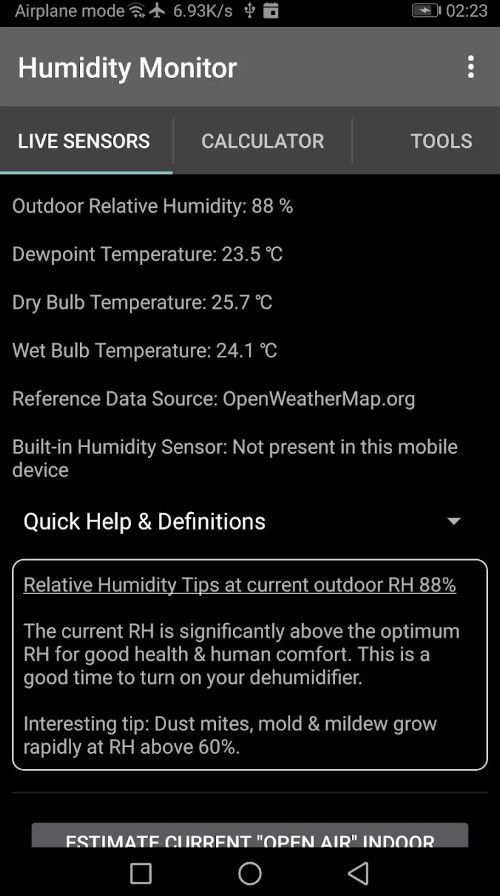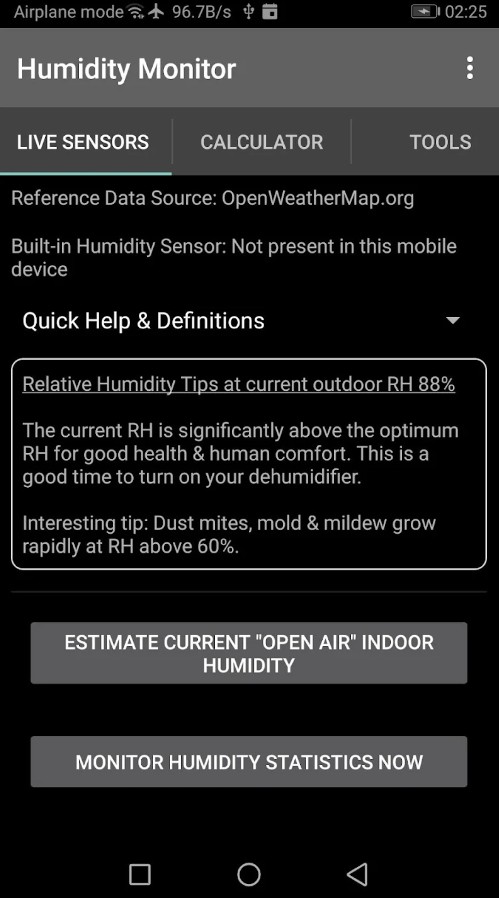 Barometer & Altimeter by EXA Tools
Barometer & Altimeter is a great app for measuring many environmental indicators. Depending on the model of your device, it can get all the readings either from the nearest weather station or from your smartphone's sensors.
For example, some devices have a built-in pressure and humidity sensor that allows you to get all the information you need. Barometer & Altimeter also requires your GPS coordinates for other weather details.
The app is easy to use and always provides you with only up-to-date data. For example, if there is a change in your well-being, you can simply launch Barometer & Altimeter and see if it is related to the weather conditions – perhaps the barometric pressure or humidity is low.
The service does a great job of identifying and predicting the weather so you're always prepared for rain, high winds, or even hail.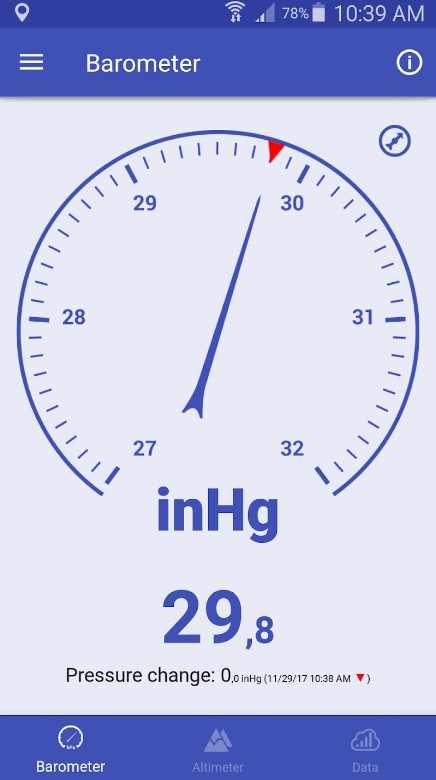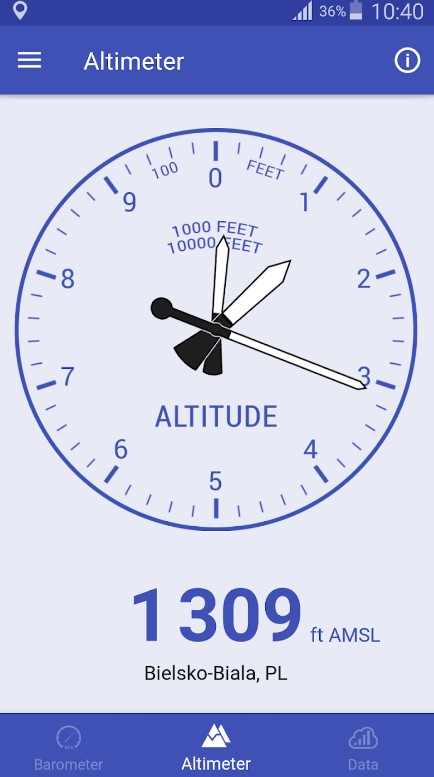 Hygrometer – Relative Humidity
The Hygrometer – Relative Humidity app is a powerful tool for anyone seeking to monitor and measure humidity levels accurately.
To measure humidity, just launch the app and allow it to access your device's sensor data. Once the app is active, it displays the relative humidity level, expressed as a percentage, enabling users to assess the moisture content of the air in any environment.
The app leverages advanced sensor technology to deliver accurate and real-time humidity measurements, ensuring users have access to the most reliable data.
Also, it caters to a wide range of applications, including indoor comfort assessments, HVAC system monitoring, and even optimal environmental conditions for their work.
Finally, whether you need to ensure ideal conditions for your home or workplace, monitor environmental factors for specific tasks, or simply satisfy your curiosity, the Hygrometer – Relative Humidity app delivers on its promise to keep you informed about relative humidity levels in any setting.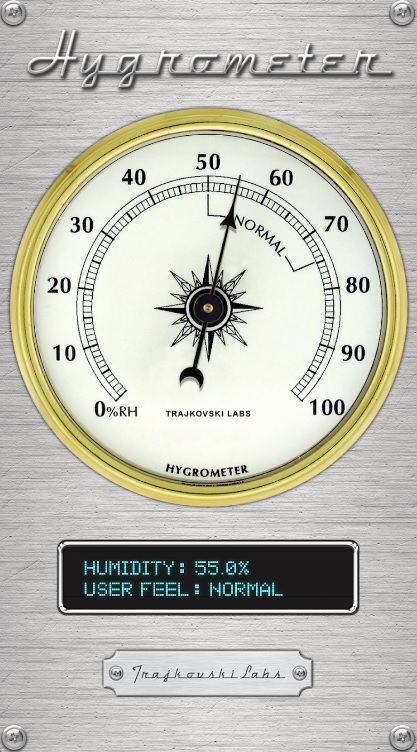 You may also like: 15 Best Barometric Pressure Forecast Apps for Android & iOS
Humidity and Temperature Meter by InTouch Studio
Now you don't need to watch TV shows and forecasts to find out the weather conditions outside. All data will be available in real-time with the most accurate readings.
This app will allow you to know the exact temperature data, humidity, and other information about the weather outside.
The data will be as accurate as possible because the app has access to your location points. Depending on the geolocation, the service will update the indicators and you will always be able to get a quality forecast on your gadget.
This program with modern technology allows you to use your smartphone or another device as a full-fledged hygrometer.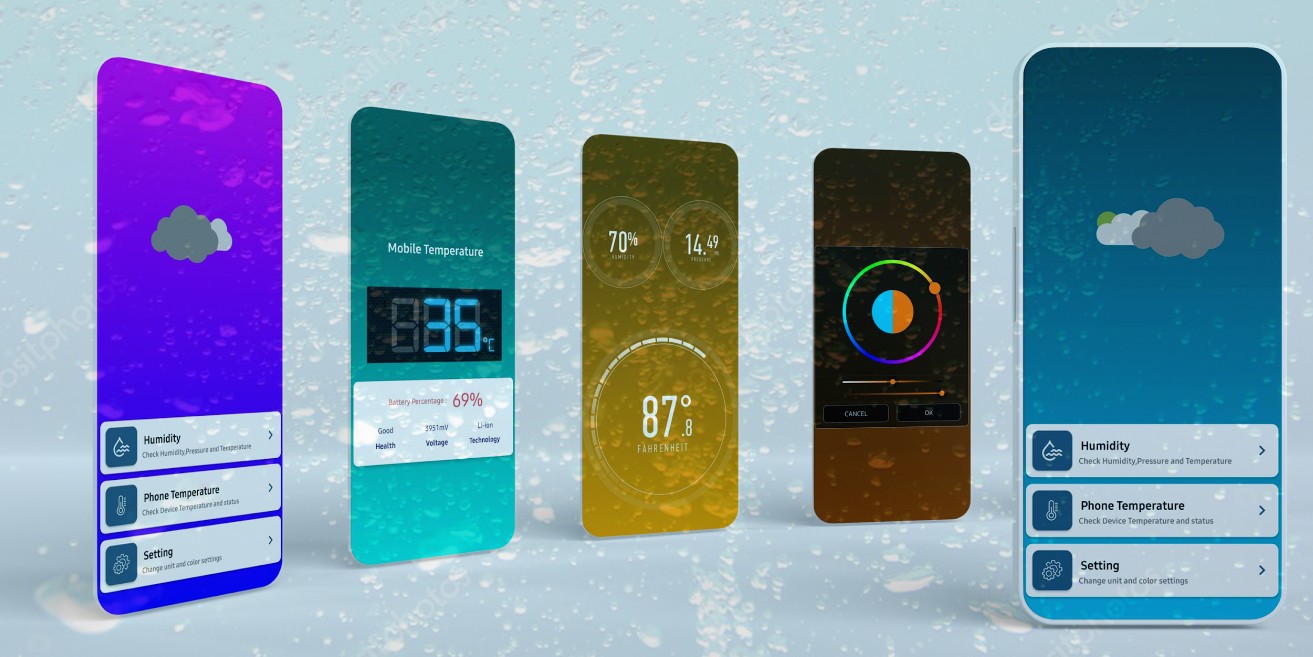 Hygrometer – Check the humidity
It's a must-have app for anyone seeking precise and up-to-date information about humidity levels in their environment.
The app swiftly displays the humidity percentage, providing instant insights into the moisture levels of the air.
Its cutting-edge sensor technology ensures that users receive accurate and reliable humidity measurements in real-time, empowering them to make informed decisions regarding their comfort and health.
Hygrometer app fosters environmental awareness by enabling users to identify potential issues like overly dry or excessively humid conditions, which can affect indoor air quality and personal well-being.
To sum up, Hygrometer – Check the Humidity is a valuable tool for individuals seeking a simple yet effective way to monitor and comprehend the humidity levels in their surroundings, ultimately contributing to enhanced comfort and well-being in any environment.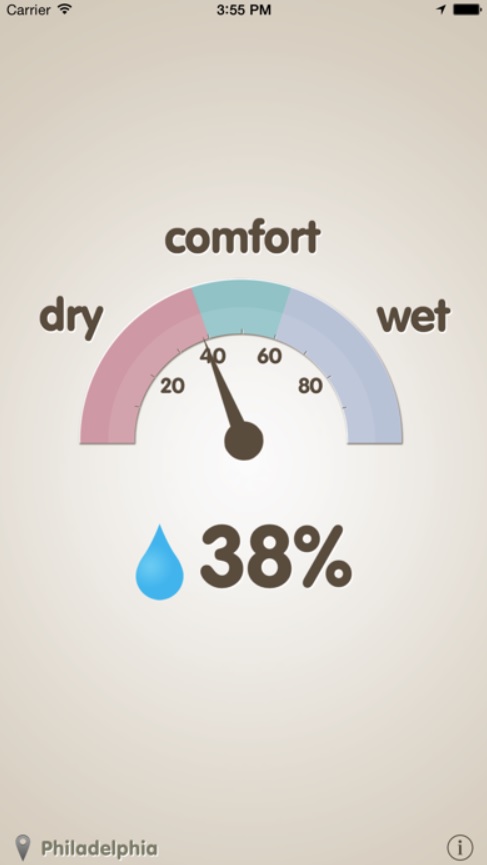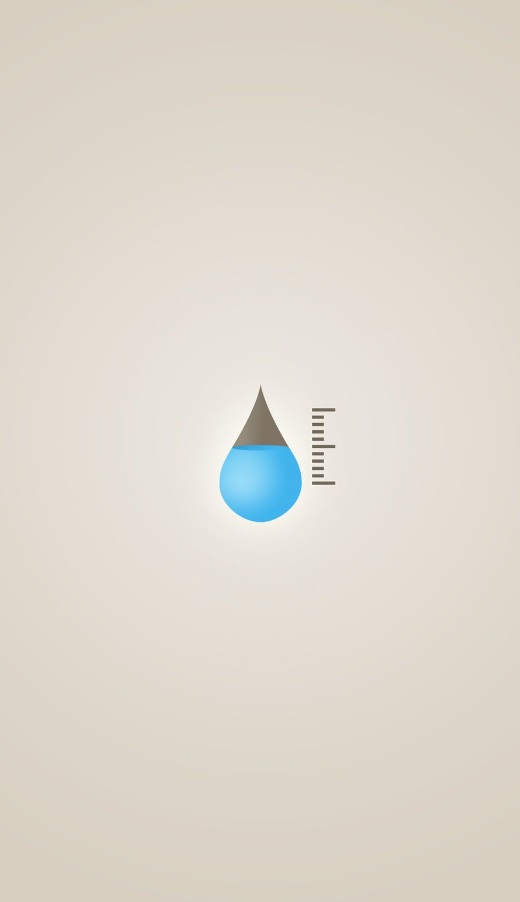 You don't have to have a hygrometer to measure humidity in order to approximate the figure in or around your home. Some smartphones have special sensors, while others make calculations based on outdoor ambient readings and weather forecasts.
Special apps can help you determine if the humidity reading in your home is within normal limits. Of course, you won't get perfectly accurate values without special devices – but approximate data will suffice for monitoring.
You'll be able to get local information on which you can base your measures. For example, if the humidity is low, you can install a special device at home – a humidifier. We hope that our article has helped you, because now you do not even need devices to determine such indicators.