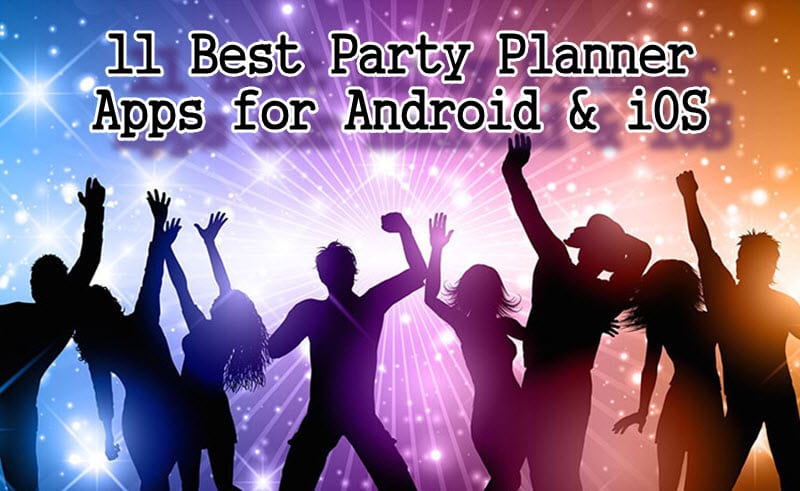 Having parties is an integral part of life, both today's youth, and older people as well. Parties can be different, you can organize it in nature, in a club, in your apartment, in the country. In general, a party can be organized in any place, the main thing is to gather a good company and back up the party with something that distinguishes it from fussy everyday life.
How to organize a good party?
Even experienced professionals in the event area will never give up assistance in preparing events. The choice of a place that meets all the criteria, compiling an entertainment program, logistics, budget calculation – all this takes a lot of time and effort. And when it is necessary to provide several variants in a short time to choose, the task does seem almost impossible.
Often in the process of their work, event managers use applications that magically simplify the life of the event organizer. We decided to make a selection of useful applications for organizers of events of different levels of complexity. Here is a list of top Party Planner Apps for Android and iOS.
Event Planner (Party Planning)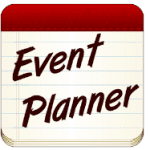 Event Planner (Party Planning) is an Android application that will help you to organize a party, a wedding, bachelorette party or any other important event.
A set of tools that will help you to organize a great party:
guest list (Create a guest list with such details as gender, age, invitations. You can prepare for more than one event at once and copy guest lists from one to another.)
todo list (You will not forget even small details with using todo list.)
shopping list (Don't forget to buy all you need for a party with a shopping list.)
budget list (The spendings will be under your control.)
All in all, this app helps to organize any event (from simple ones to more important).
Every detail will be under your control with Event Planner!
Price: free
back to menu ↑
My Party Planner – Lite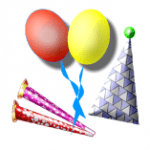 This application is your personal assistant in organizing amazing parties for you, your friends and relatives. A few touches and you can calculate your budget, how much you need food, what to buy for dishes and so on.
Lite version of the app contains 5 sections:
To do (All you need to do is in one place and are sorted by date. You will not forget anything as you can set notifications here).
Guest (There you will see the full list of guests. It is possible to import contacts on your device to the guest list).
Menu (All the dishes you'd like to have can be written here. It is possible to add recipes that you have found on the Internet.)
Shopping (Here you can see the list of needed products for every dish.)
Budget (plan your budget using this option.)
This version is completely free but contains Ads and some features are not available. To use other functions, upgrade from Lite to Full version.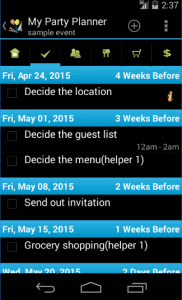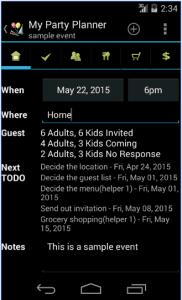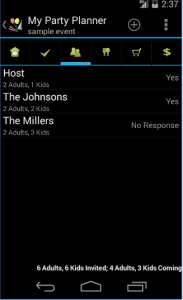 Price: free with in-app purchases
back to menu ↑
To:Day – Event planner, to-do list, date countdown & task manager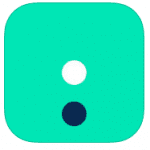 The To: Day – Event planner application is ideal for planning conservative corporate parties in the form of a banquet. It allows you to conveniently organize a list of guests, seating, registration and invitation.
Using the app, you can view all the tasks you need to do before the upcoming date and set reminders not to forget important details. The most important tasks can be marked as "Star", so they will be on top.  It is possible to count the remaining days so you can plan ahead.
You can archive the events that have already ended.
This app has a simple interface with elegant design and wonderful wallpapers. So, creating an event will be even more pleasant.
Price: free
back to menu ↑
myParties – Event Planner (Party Planning) Free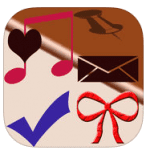 Now you have a personal assistant for planning events that will save time and completely free of charge will help to prepare a full-fledged project of the event. It allows you to make and send invitations, make lists of guests, menus, to-do lists and purchases.
myParties app solves the problem of seating the guests and the individual preferences of the guests in the meal.
Functions and features:
– you can choose a color for a party or change the whole style of the app;
– add photos for each party;
– create menu lists;
– create guest lists using your Contact library or add them from other parties;
– send emails with an invitation to party guests
The interface of the app is bright and pleasant.
Price: free
back to menu ↑
Pro Party Planner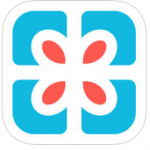 A great application that constantly gets on the lists of the best party planners. It helps to organize Meetings, Conferences, Tradeshows, Parties, and Fundraisers.
The Pro Party Planner application was created for professional event managers but quickly fell into the use of amateurs because of the user-friendly interface.
Here you can do everything: plan the budget and the list of guests, send invitations, plan seating arrangements, make to-do lists and shopping lists, delegate individual assignments to colleagues, track progress and much more.
Price: free
back to menu ↑
Party & Event Planner Lite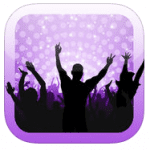 A good application, which is useful both in organizing small personal holidays and for small corporate parties. Party & Event Planner Lite helps to make a list of expenses, organize a to-do list, make a list of guests and mark who exactly will come. By the way, there is a built-in function for calculating the amount of necessary alcohol – a very useful thing that works with amazing accuracy.
With the help of this party planner, you can easily and effectively organize one or, if necessary, several events. Based on the chosen date of the party, the system will automatically make up your individual countdown, so you can prepare.
Price: free with in-app purchases
back to menu ↑
Party Planner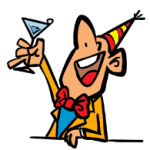 With Party Planner, you can easily organize your ideal party to the smallest detail. This application can be used to organize birthdays, anniversaries, family celebrations, corporate events, grill parties and gatherings with friends.
With the help of this application, making of the guest list will be easy for you. If necessary, you can not only change the number of guests but also distribute them by category (for example, "family", "friends", etc.) using a color system.
Price: free
back to menu ↑
My Party Free – Event Planner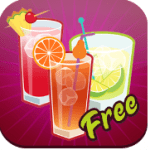 If you are going to have a party with friends, try this simple application.
Features and options:
– countdown to the party;
– budget list;
– to-do list
– push-notifications for unfinished business;
– guest list, categories for guests;
– individual alcohol calculator.
Price: free
back to menu ↑
AreYouIn – Event Planner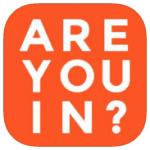 AreYouIn is an innovative and entertaining application that allows you to organize events for large groups of people.
Specify the limit of guests who can confirm the event and make the creation of the event automatic. Thus, you can invite even 30 people, but if you specified 6 people in the "Maximum Man" field, the invitation will automatically close when the limit is reached. In the world of communications, there has no been such an effective tool for organizing the event yet.
Now it's so simple:
1. Choose a category: Football, Poker, Yoga, or write your own.
2. Enter the name, place, date and time of the event.
3. Limit the number of guests.
4. Go and have fun!
Price: free
back to menu ↑
Plan-it Party Free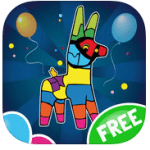 Plan-it Party is an application for quick organizing events with your friends. It is great for organizing your and your children's birthdays or family evenings. You will control the whole process: set time when the party should start/end, get notifications when a certain part of a party should start and so on.
In the app, there are party games with how-to-play instructions to choose from. There are 9 categories: classic party games, food-based games, messy games, musical games, outdoor games, physical games, team games, water games, younger games. Your party will be unforgettable!
Other features:
planning your budget
sending invitations
party themes
Price: free
back to menu ↑
EventAssist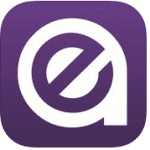 EventAssist app is a perfect tool in organizing a great party that will be remembered by all for a long time.
The event planner suggests making a budget, seating plan, and guest list. Here you can create a list of to-dos and budget list. When everything is ready, you can send invitations for guests with just one touch.
You can offer your guests to wear certain clothes to be in one style.
Also, you can make a schedule of events in order not to forget important dates.
Price: free
If you are full of creativity and are ready to take responsibility for the event – go ahead! These applications will help you in organizing a fantastic party!