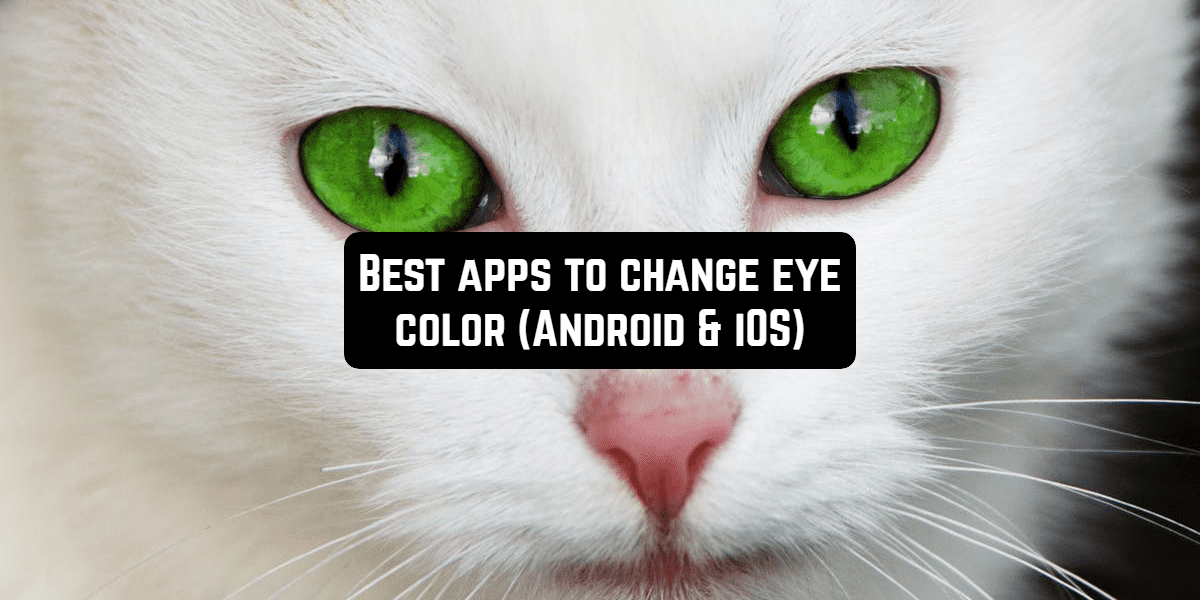 Have you ever played with Photoshop? It is a really funny thing, you know. Luckily, today a one does not need Photoshop to play with one's photos! There are plenty of apps that can pretty much substitute all the features of the famous editor. Below, you'll find 11 apps to change eye color. Would those lenses suit you? Or what would you look like if you were an alien? Get one of the apps below to find out!
Read also: 8 Best apps to choose your head color (Android+iOS)
Adobe Photoshop Fix
Adobe Photoshop Fix is for those who appreciate traditions. Besides, Adobe has so long been on the market that they really do produce one of the best software for such things as changing eye color. This particular app though has a much wider functionality than just changing eye color. You can use it to get rid of the drawbacks on your face, smooth uneven surfaces, heal, darken or lighten – anything to make your selfie look good. You can also play with the colors and other characteristics of the whole picture.
As for coloring eyes, you need to use the 'Paint' tool. It works in a tricky way, but if you have enough patience, the result will look so natural, that nobody will be able to say if you changed the eye color for real or just in the programme. The hardest part is to choose the right size of the brush. If you can do that quickly, then the overall process will not take you long. By the way, you can change not only the color of eyes but also of hair and other details. The 'paint' tool is kind of universal here.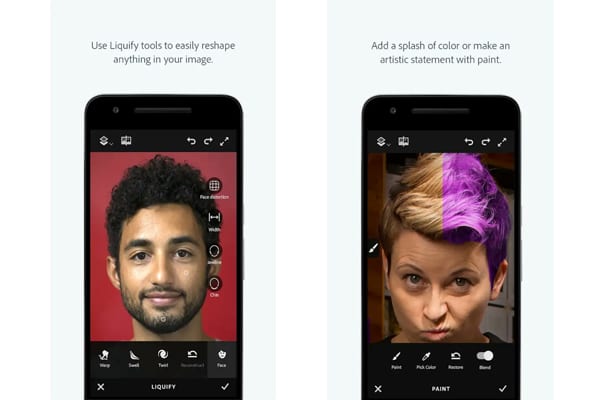 Just one tip before you rush into the creative process: changing size or intensity of the brush requires you to tap on the tool and pull it up or down. This is pretty much intuitive, so I'm sure you're going to learn it fast.
The app does not contain any ads, but requires you to go through a quick procedure of signing up. Upon the whole, Adobe Photoshop Fix is a useful app to have regardless of whether you want to change eye color or get rid of that pimple. Definitely recommended for a trial!
back to menu ↑
Eye Color Studio
Eye Color Studio offers over 150 eye coloring effects. It is not just about changing color – it is also about changing the shape. With the help of this app, you can see how you're going to look like with cat eyes, electric or golden eyes, reptile or alien eyes, and more. There is a truly big choice of effects. But first, the app makes you go through the calibration process. It is pretty much able to recognize where the eyes are on the picture, but you need to adjust the size of the eyeballs so that all the masks fit properly.
As you can see from the picture, there is even a possibility to apply different colors to each eye. One more cool feature of the app is that it gives you an opportunity to create your own effects that you will be able to apply numerous times in the future. Upon the whole, the app is quite good at its function. In the beginning, I thought that the effects didn't look natural, but then I figured out that all it takes to get rid of the 'unnatural look' is to decrease opacity a bit. If not for the ads, it would be a perfect app for coloring eyes. Well, it is certainly worth a download.
back to menu ↑
Facetune
Facetune is one more toolkit for making your selfie look perfect or, well, at least to get it rid of annoying drawbacks like blemishes, dark circles, yellow teeth, etc. One of the features of the app is connected with the eyes. Actually, there are three things you can do with your eyes using the app: remove the red and white-eye effect, emphasize your gaze, and change the eye color.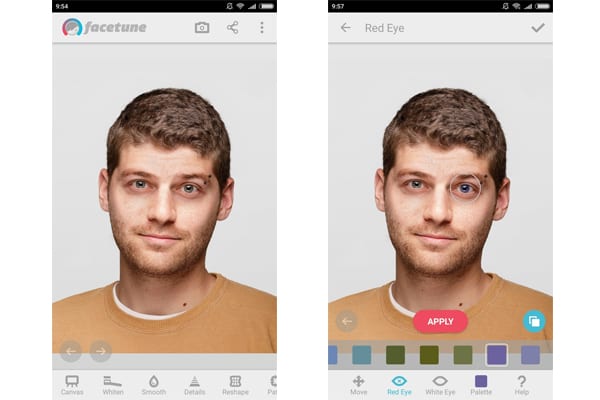 Here, it is all done with a brush, so you got to be precise with your finger's movements. In general, the eye-color changing tool lacks flexibility – it is round and no variations, as far as I am concerned, are pre-envisioned. The choice of colors is also limited, but at least they are all natural and will certainly suit anyone.
So, if you like the apps to be versatile and are alright with a simple yet workable tool, then this app is for you! It might not offer much, but all the essentials are present. What more can one wish for?
back to menu ↑
Eye Color Changer Makeup (iOS)
Eye Color Changer Makeup for iOS is a relatively new app for changing eye color. Actually, the app has been out there for 3 years, but its recent update was made in 2018, so we will consider it fresh. The app has over a hundred contact lenses to try on. Among those are some very simple ones and, on the contrary, very amusing ones.
What is remarkable of the app is its face recognition technology and calibration process. They let you make precise adjustments so that all the eye masks match the eyes just right.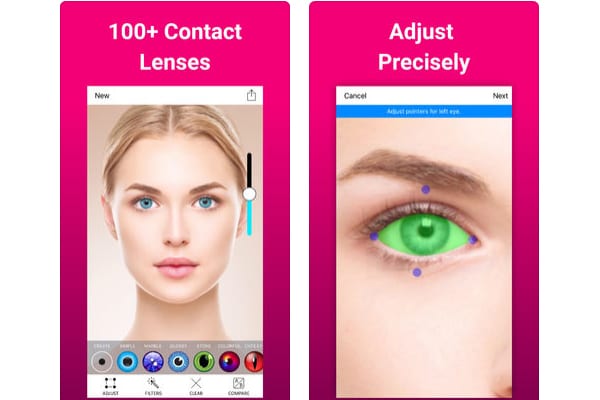 The downside of the app is its size. Over a 100MB is too much for such a little feature, in my opinion. Also, the app has some ads that can be deleted by buying a premium annual subscription. The price is not high, so if you really intend to use an eye coloring app that often, you can consider buying this one. As for all the other details, this iOS app is really great! The one that is worthwhile of our attention.

back to menu ↑
Eye Color Changer – Camera (Android)
Eye Color Changer for Android is both an editor for changing eye color and a camera, which means that it should be able to change the color of your eyes automatically – as soon as you turn on the front camera. In reality, however, this feature sucks. It will take you an eternity to match your eyes with those colored circles, so it is better to make a photo first and then edit it. You can try the camera anyway – who knows, maybe you will enjoy it!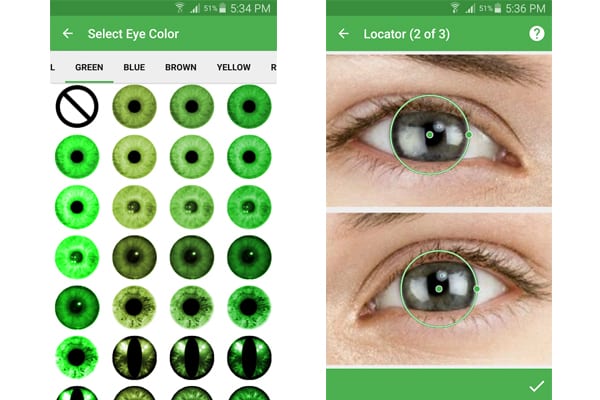 As an editor, the app provides you with a number of different eye masks. All the masks are grouped into special categories, such as orange, blue, green, grey, 2-tone, rainbow, and others. You can find the one you need after calibrating your photo. Here, you need to both determine where your eyes are situated on the picture and adjust the eyeball size as well as the whole eye size. The app is quite sensitive, so sometimes you just need to approve the adjustments. After that, you can try on anything you want to. Apart from eye color filters, there are also eyeshadow and background filters.
Upon the whole, the app is simple and handy. As for me, there are two small drawbacks. The first one is, as usual, advertising – you can get rid of it by paying. And the second one is that the app lacks naturally looking colors – most of the colors look artificial or unearthly. But if you are fine with that, then go for this download!

back to menu ↑
Eye Color Changer (Android)
This is one more app created by VysionApps. Eye Color Changer is basically the same as the previous app. The only difference is that it doesn't have those unnecessary frills like that camera feature or eyeshadow filters. The interface, the calibration, even the eye color filters are all the same.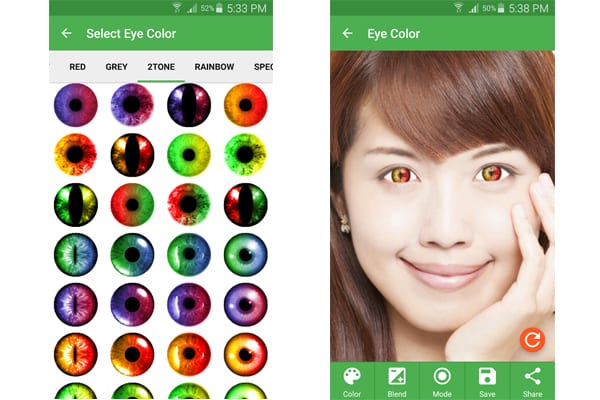 So, if you just want to try new eye colors on your eyes, then it is better to choose this app! It weighs considerably less, but gets the job done anyways. Tap that Google Play button and enjoy!

back to menu ↑
Photo Wonder
Photo Wonder app is an excellent editor for Instagram photos. It has lots of tools aimed at 'beautifying' pictures, including getting rid of dark circles, acne, yellow teeth; changing the shapes of your legs, and even making your breast look bigger. As you've probably understood from the previous reviews, I am not an advocate for such artificial changes. But you can't judge others, right? So, if you want to turn yourself into a perfectly looking doll, then this app is what you need!
Besides those beautifying tools, the app also has some useful stuff, like filters, an ability to make collages, editing tools including crop, rotate, sharpen, etc. This is quite a versatile app that may suit the needs of anyone! For those who want to change eye color, there is an instrument called 'bright eye'.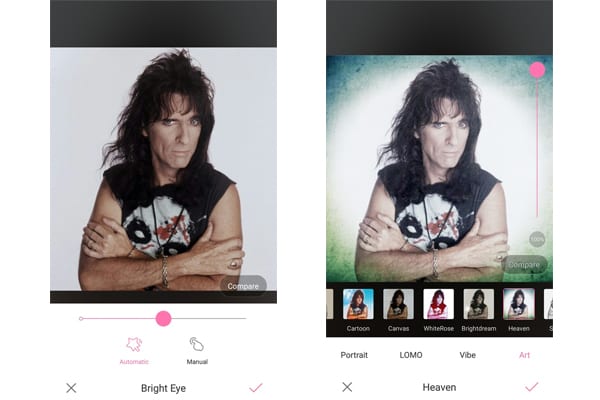 Well, it will not necessarily change your eye color, but it will certainly make your eyes sparkle. Also, with the help of this app, you can rid your photos of the red eyes effect and make your dark rims go away. So, if you want to experience with something unusual, Photo Wonder is out there waiting to be downloaded!
back to menu ↑
Perfect365
Perfect365 app is a makeup app, so there are lots of makeup tool, such as lipsticks, eye-shadows, liners, brushes, and so on and so forth. The app suits this list for it has lots of tools for dealing with the eyes, including changing eye color.
Here, you can choose not only the color itself but also the shape of eyes you'd like to have. The fact that you choose these details separately is a real advantage. The disadvantage of the app though is that there is no calibration and therefore sometimes round eye masks do not fit eyes properly. Apart from that, the app is pretty cool. You don't need to waste your time – just try one color after another or put on one type makeup and move to the next.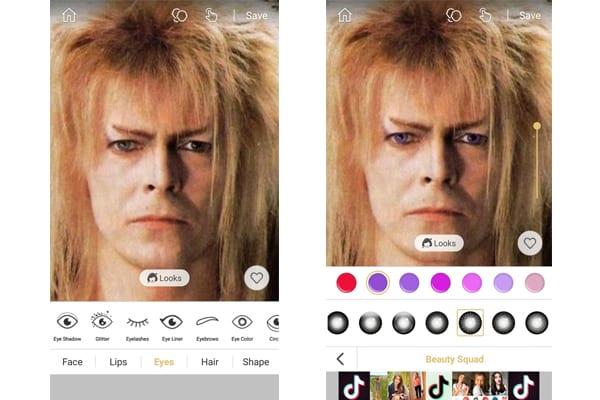 It all depends on your goal. If you want to create a cool naturally looking picture, it is better to choose one of the apps described above or below. But if you want to play with colors and shapes, then this is your best choice! Hopefully, ads won't ruin your pleasure. But they're everywhere, so it shouldn't be an important factor in the choice
back to menu ↑
Eye Color Changer – Face Makeup (iOS)
Eye Color Changer for iOS is something like an eyes makeup app. It does not have liners or shadows, but there is a complete toolkit for changing one's eyes. First, the app automatically determines where your eyes are in the picture. Then you are free to make some adjustments so that all the effects could be applied perfectly. With Eye Color Changer, you can obviously change eye color. But what you can also do is make eyes bigger, make them brighter, and remove dark circles.
There are 70 eye filters that you can try on. That should be enough, aye? There are some ads – how would we do without them! But upon the whole, the app is simple and nice. If you have an iOS device, give it a try!

back to menu ↑
Eye Color Changer (Android)
This is an eye color changer for Android. It is absolutely not the same as the previous app. They are very different and created by different developers. The goal is the same though – to change the details of eyes. This one is able to maintain the realistic look of your 'soul reflectors' at the same time applying new colors and shapes to them. Always a great feature to have in this kind of apps is opacity regulator – it lets you fine-tune the necessary level of opacity, which adds up to a more realistic look. This app has it, which is a plus.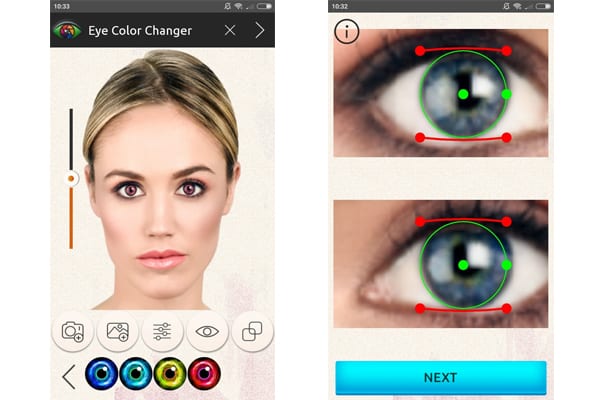 The app's calibration process is easy. It may exclude some areas, but it usually doesn't ruin the picture. The app allows you to change colors of right and left eyes separately. There is also a size changing feature, so you can try it as well. The collection of eye filters is truly amazing – there are lots of them and most of them look unusual or just good. If you use Android, trying this one out won't be a waste of your time. Download it now and have fun playing with filters!

back to menu ↑
FoxEyes – Change Eye Color by Real Anime Style
Look what we got here! A three hundred pieces collection of exotic eyes. Anime style, animal eyes, diamond eyes, ninja eyes… Whatever you choose. FoxEyes app is pretty cool in all of those effects. If some of the other apps described above put a greater emphasis on colors or realistic shapes, here you can find any shape you can think of. There are plenty of them!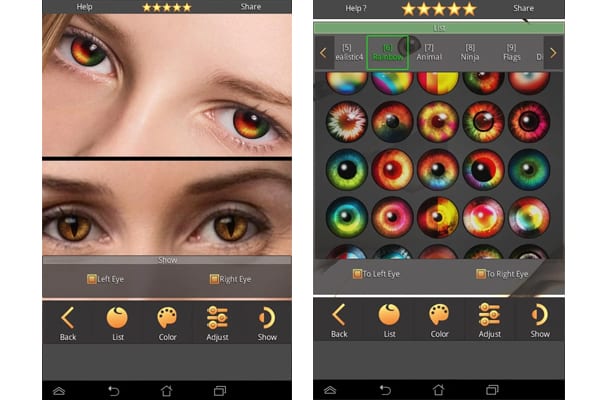 The app allows you to regulate not only opacity, but also brightness, darkness, and size of the lenses. As usual, as you start, you got to get through the calibration process – it is pretty much the same as everywhere here: the location, the eyeballs, the eyes. Then it is time to reinvent yourself, to reincarnate into a marvelous creature!
There is one big drawback though – the ads are popping up all the time. The most terrible part is that you have to watch a 20-second video in order to open up a new set of lenses. Although if you use the app once, you won't get annoyed. If you like anime or just want to open up more options of lenses, this is a great download to start with.

---
Those were 11 amazing eye color changing apps. Be smart in choosing apps and, I guess, be smart in choosing lenses!