Video making has become extremely popular nowadays. Each person from an early age holds the mobile device that is capable of making a high-quality video. Moreover, there are tons of different applications and platforms where you can upload your videos and even count likes.
Needless to say that there is also a huge amount of video editing programs for desktops and apps for mobiles and tablets. There are professional and amateur ones. There are paid and free. Everything is for one liking.
However, not each app features a number of possible tools for video editing. For example, there are apps that created just to make slow-motion videos. You can check them here.
In this article, we have decided to have a closer look at video editing apps featuring one of the most interesting and exciting tools -flipping or mirroring the video.
Such an effect is adding to the video unique sense, the outrageous impression, and will keep your eye on the video. You will make more outstanding videos for your own collection or to add to your video blog.
Here the list of the best apps to mirror or to flip video for Android and iOS.
Flip Video FX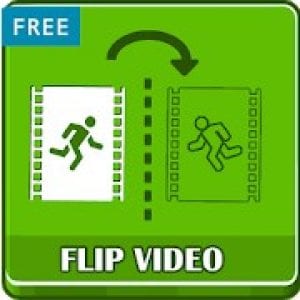 Flip Video app has occupied the first place in our list. The app was created by polish development just for Android devices for some reason we can't know.
Anyway, the app has gained huge popularity and can be proud of having a high rating. It is free with in-app purchases and advertisements.
The main feature of the app is to flip or mirror the video. It usually flips videos fast but it also depends on the size of the video. So, videos of high quality may take time to process the flipping process.
The app allows us to upload the video from the device library or to record it through the app itself.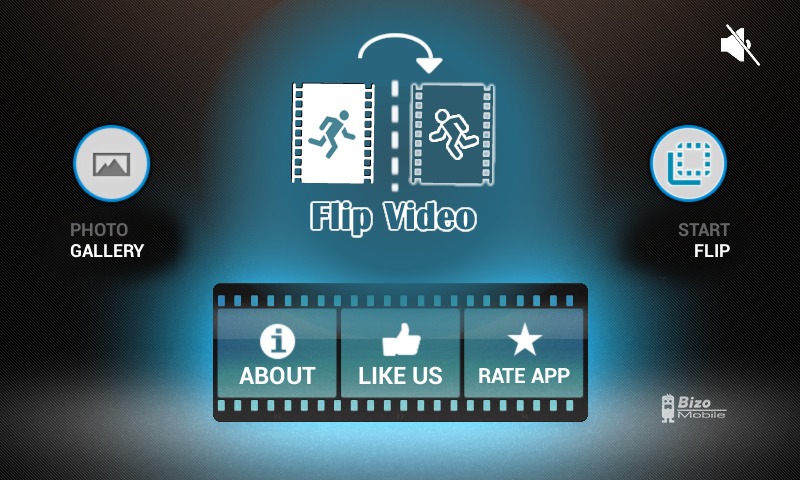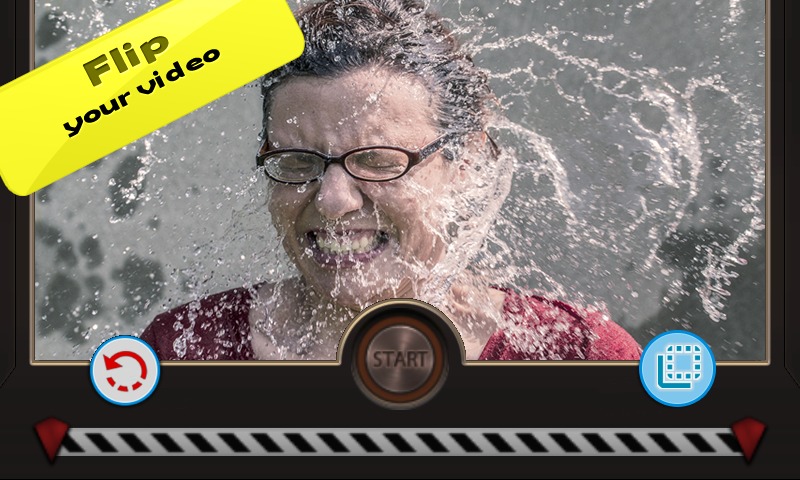 Besides flipping videos the app allows you to cut it in any way you like. So rotate videos and cut them to be used at any time for any of your personal purposes.

You may also like: 5 Free Reverb Video Apps for Android & iOS
RFV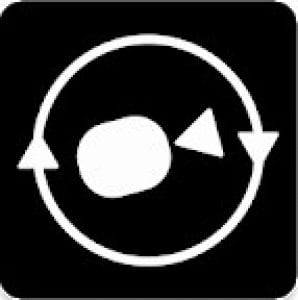 RFV is an app with just one simple feature. In case your video has the wrong orientation you can mirror it horizontally or even vertically.
If your recorded video has wrong orientation from the beginning. Or you didn't notice while was recording RFV can help you with this problem. Moreover, the app is free to download for iOS and Android devices.
The app has a very easy and user-friendly interface that has a dark mode. IF you recorded your video sideways this free app is a perfect solution.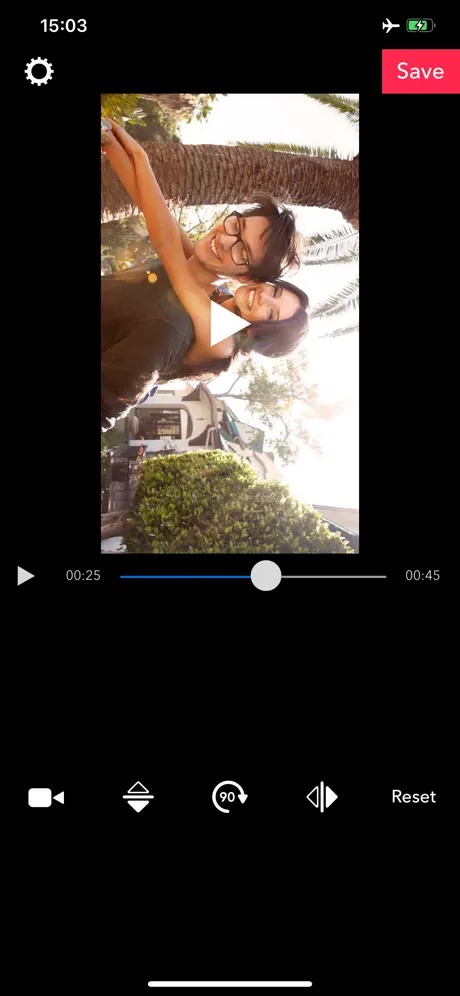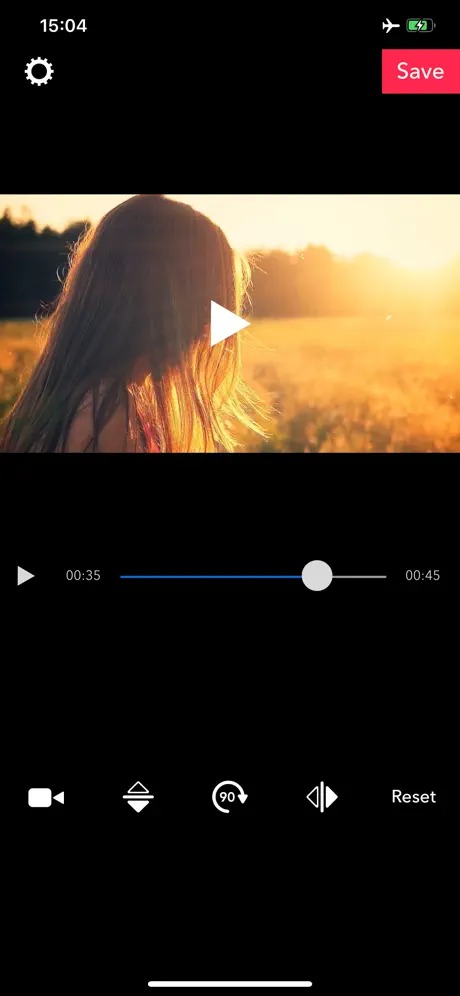 Many users found the app convenient due to its free service, a few memory spaces required, and the absence of annoying pop-up ads. There are no watermarks on videos as well.


Video rotate + flip video easy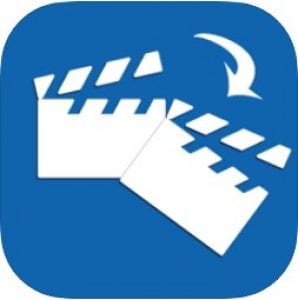 Video rotate + flip is an iOS platform based application for an easy video rotation. Fliping the video sometimes can be a matter of high importance.
Very often we record videos in a rash because the moment has to be captured fast. We do not notice the position of the device during recording and the final orientation of a video.
At the age of digital progress, we can't just simply leave our videos in a wrong orientation because there are many video editors that can help with it. However, they may be huge and expensive. While we need only one feature. Surely it should be free to use.
A video rotates app is an easy way to flip the video vertically or horizontally. It won't take much time to download the app and to flip the video itself.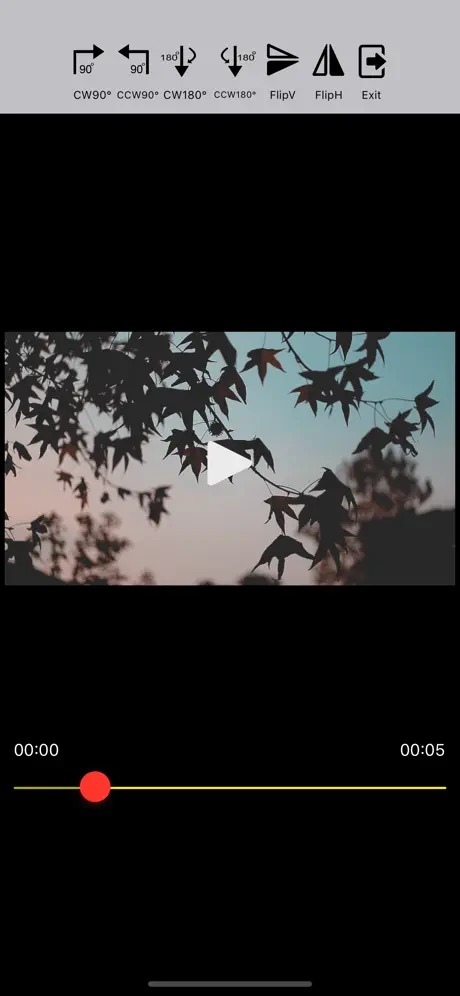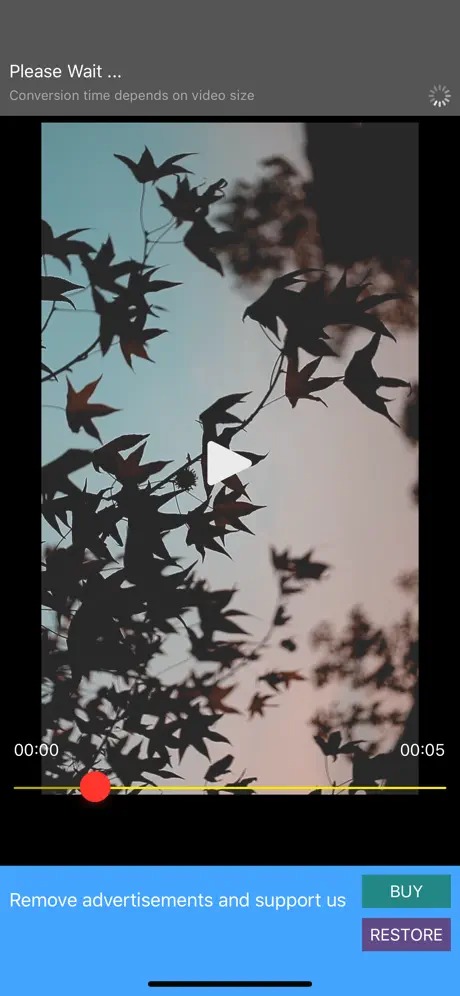 Most of the comments are positive praising the app and the developers for providing such an easy way to mirror videos.

Video Slimmer App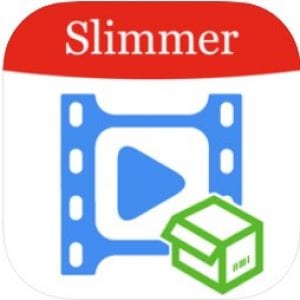 Video Slimmer App can be called a professional app video editor app due to the number of eminent features it offers,
The app allows to rotate video horizontally or vertically in case you recorded it in the wrong orientation or there are some problems with your device. Or you simply want to mirror the video thinking it will be much better.
However, besides flipping the app allows shrinking videos in case they are too heavy and occupies much space. This may be necessary if you keep them all on the device or you need to upload it somewhere with size restrictions. Compress your videos without losing the quality.
The app also allows us to customize the video, split it or merger, change the dimension ( height and width).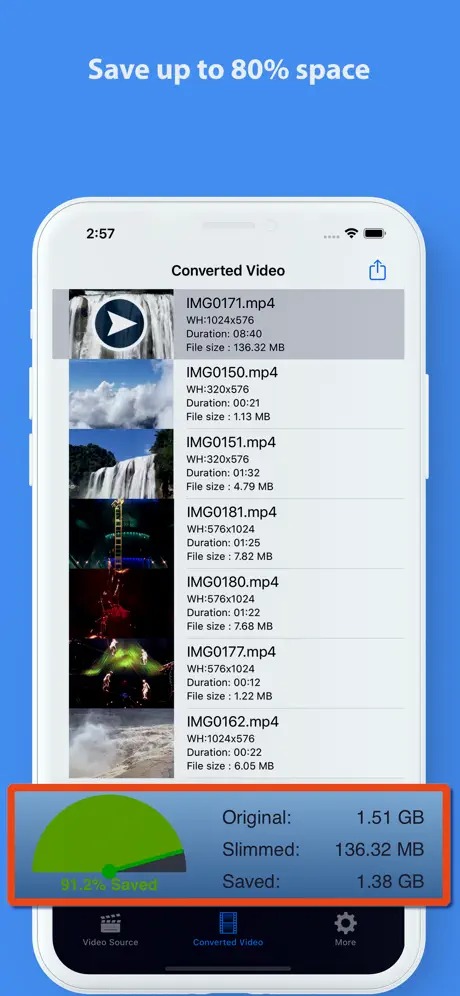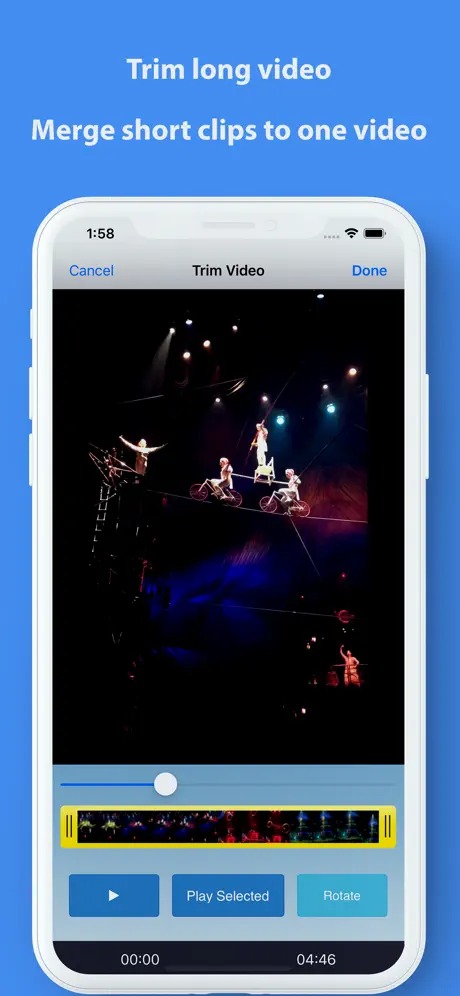 As you can see the app is powerful enough with all features you may need for enhancing the video characteristics. However, the app is not free and required a one-time payment that actually is too small to discuss it.

VideoFlip – Video Rotate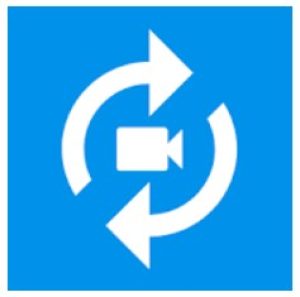 This is a simple, but convenient and easy to work with app in case you need to ONLY flip and rotate your videos.
The algorithm of using of VideoFlip is evident and you will get it as soon as you upload a video to the app. In the lower part of the screen, you will see the icons with the necessary actions that you want to apply on video.
When the video is ready you can click on the save button that is placed at the upper right corner of the screen. One disadvantage of VideoFlip is that it doesn't allow you to choose the quality of the video being exported.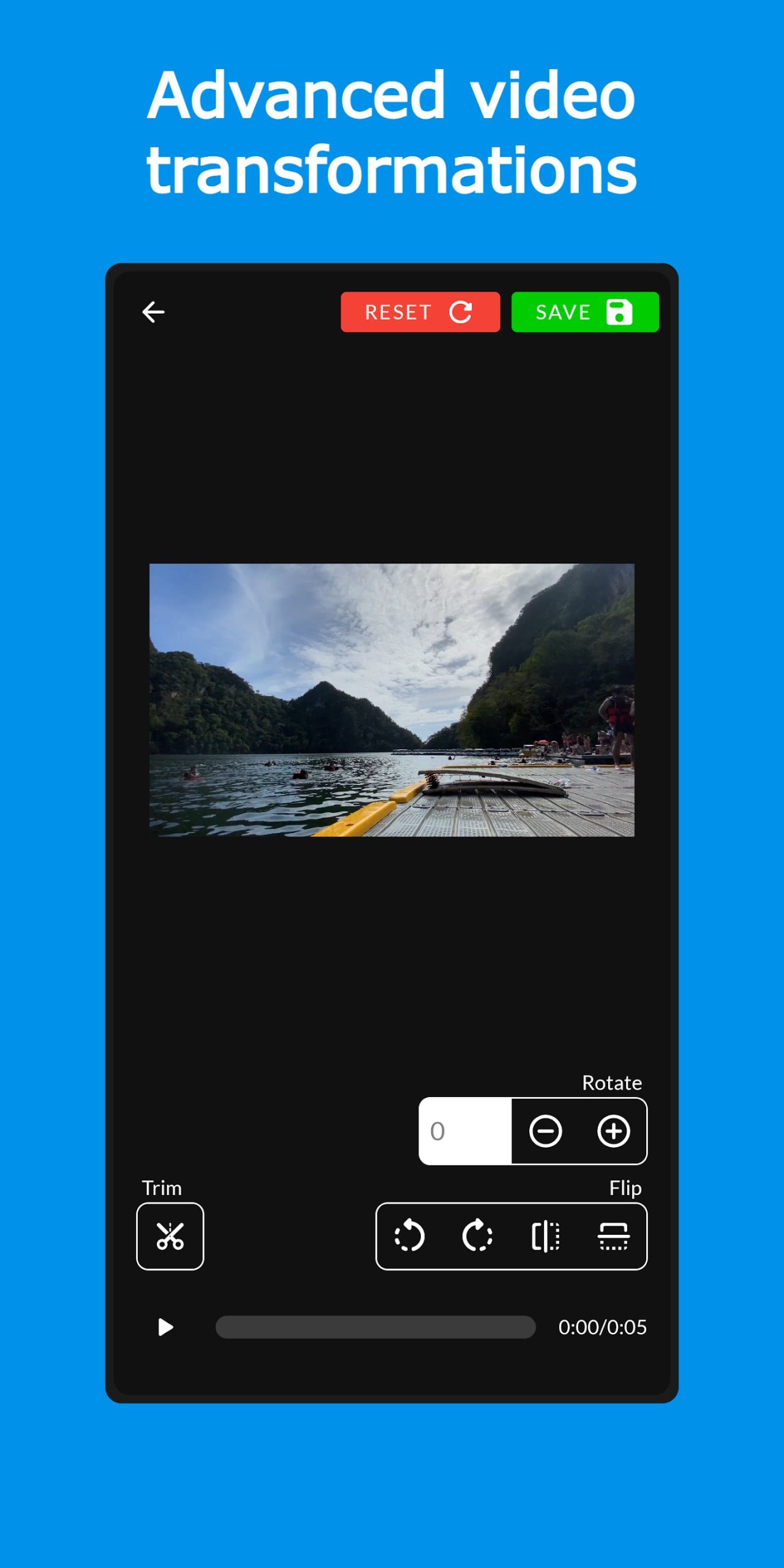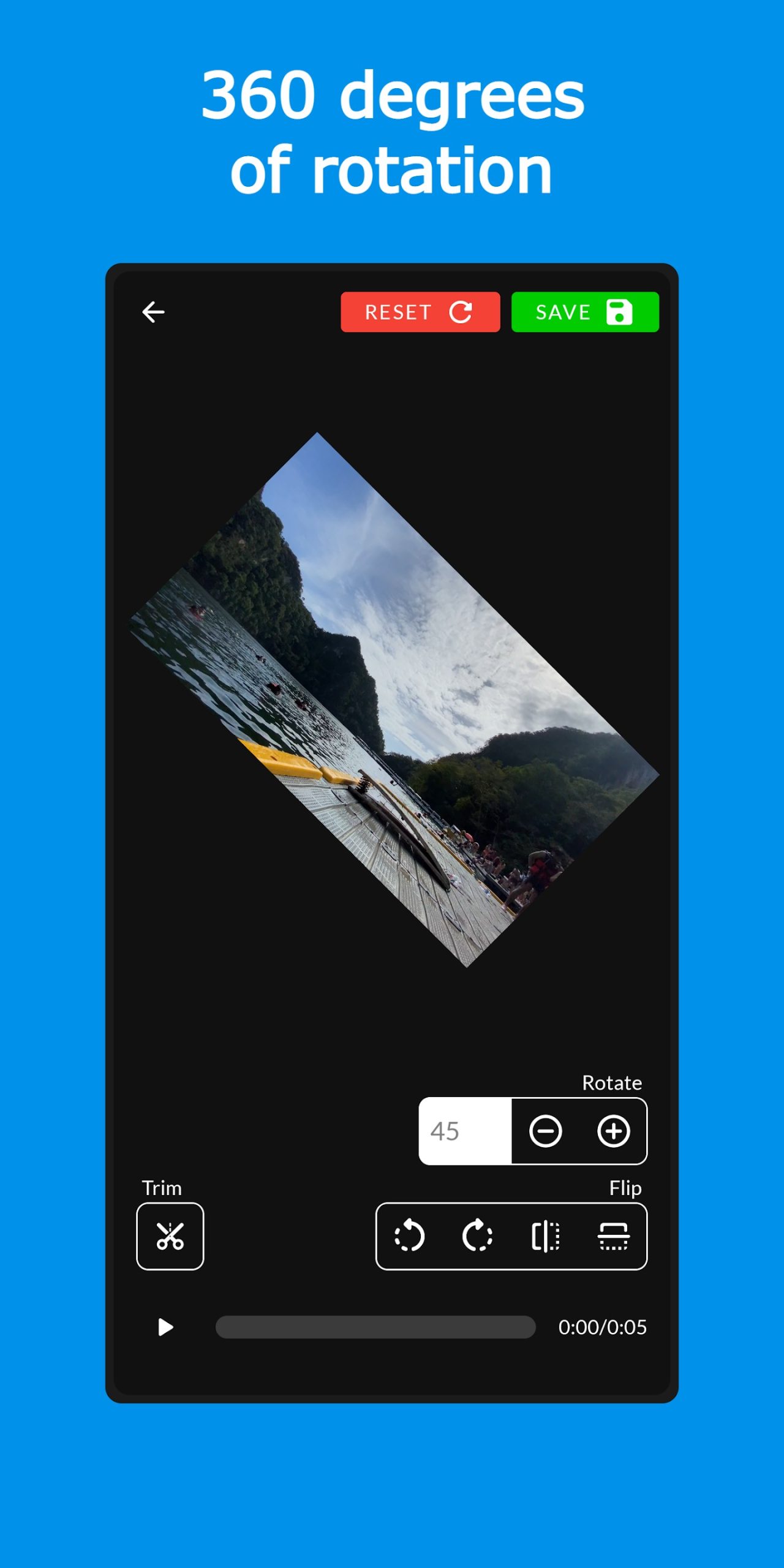 Moreover, the user reviews are quite mixed. Some people love it and say it works flawlessly, while others claim the app doesn't accept numerous formats of videos – we encourage you to try it on your Android device and see if it works for you.

Crop Video Square Editor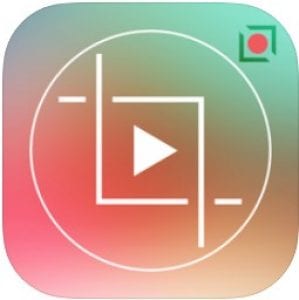 Crop Video Square Editor is yet another great application with not just one feature. OF course, it can rotate and flip videos upside down as we need. But it also can do other things like cropping, cutting, adding music and etc.
First of all, flipping the video became very easy with this app. Simply tap the video and rotate left or right. This way it allows you to flip the video by any degree not just 90 or 180.
It also can add a slow-motion effect to the video you have. Then cut it and add music and you have a ready video to upload to yu your Instagram account or TikTok.
Upload the video from your phone memory to the app and then start editing. Surprisingly the app lets also to zoom in or out videos.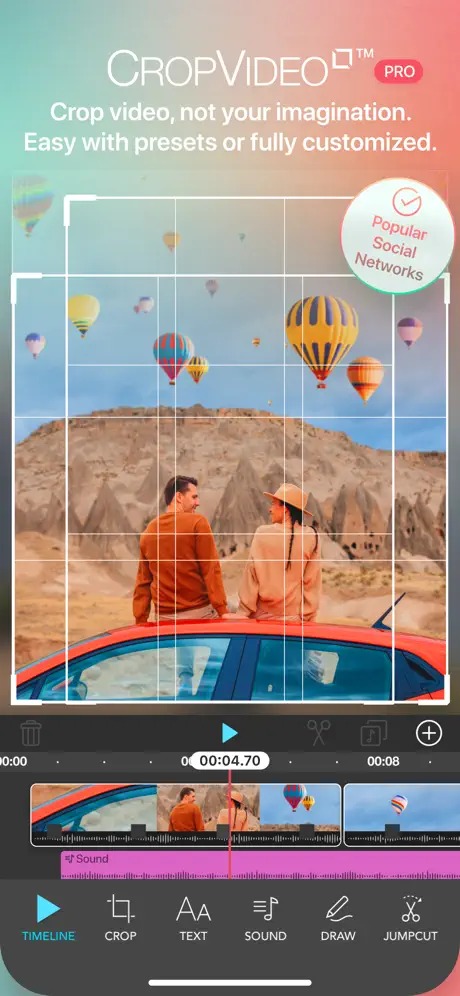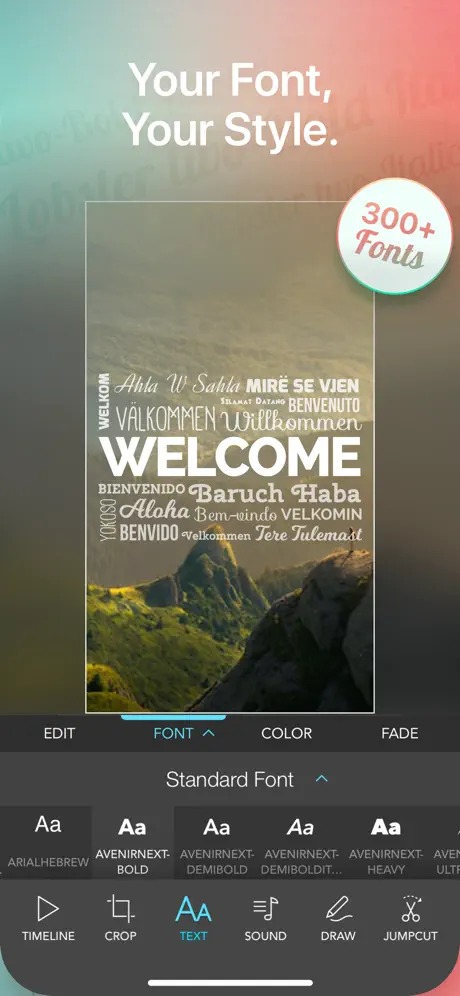 The app has ads and adds watermarks. In case you need to get rid of both of them proceed with the appropriate payment. There is a free version of the app but some features ar need to be paid in order to get them.

You may also like: 11 Best TikTok video editing apps (Android & iOS)
Smart Video Rotate and Flip – Rotator and flipper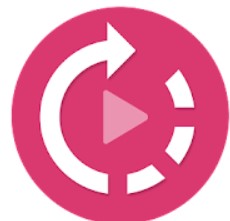 Smart Video Rotate and Flip is a simple tool to rotate flip videos. The application is suitable for socially active people who want to facilitate the video editing process.
When you enter the application, the home page opens with a button asking you to select a video (it is placed in the middle of the screen).
After that, under the selected media file, such functions as crop, rotate left, rotate right, flip vertically, and flip horizontally are available.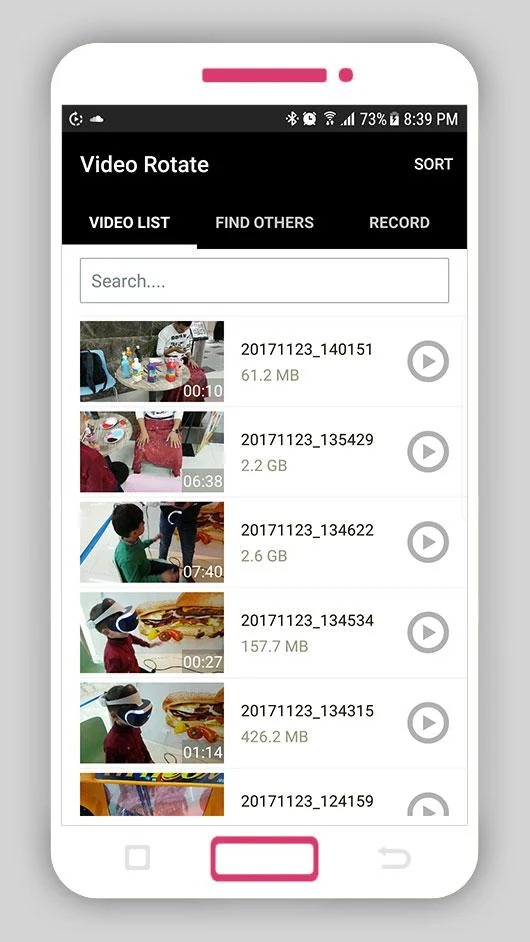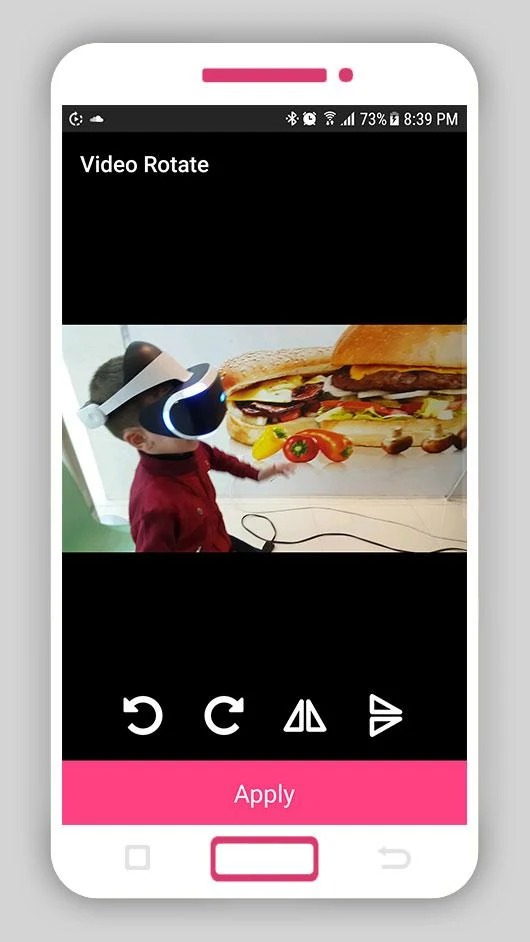 At the very bottom is the Apply button. After clicking on it, you can select Rotate options and export your video.

InShot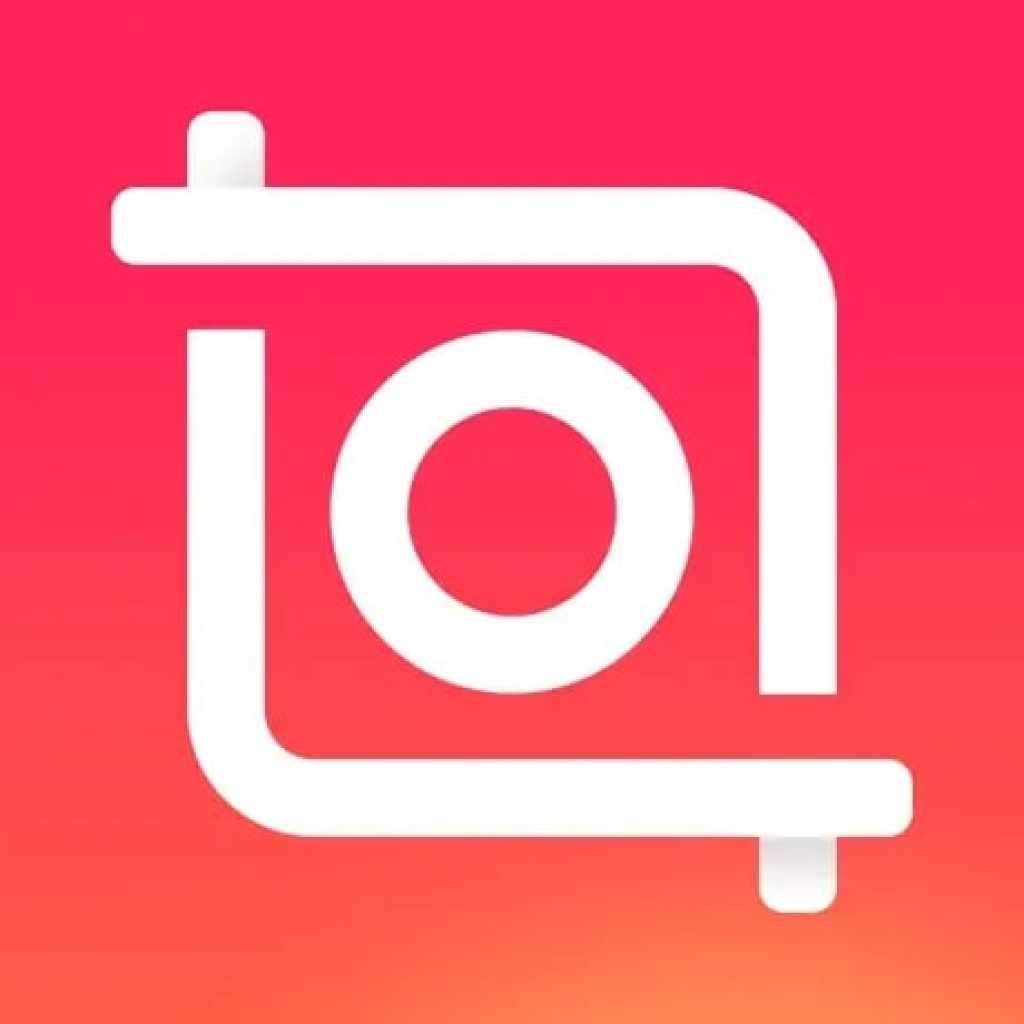 Another option that we can recommend to you is the InShot video editor. Currently, this is one of the most popular and multi-featured video editing apps on the market and it is capable of flipping or rotating videos as well.
If you want to flip or rotate the video, you need to first upload it to the app by choosing a new project and then you will see the timeline along with the tools that you can choose for that.
You can swipe on the line of tools until you see the functions "flip" and "rotate". By clicking on them, you will be able to do so.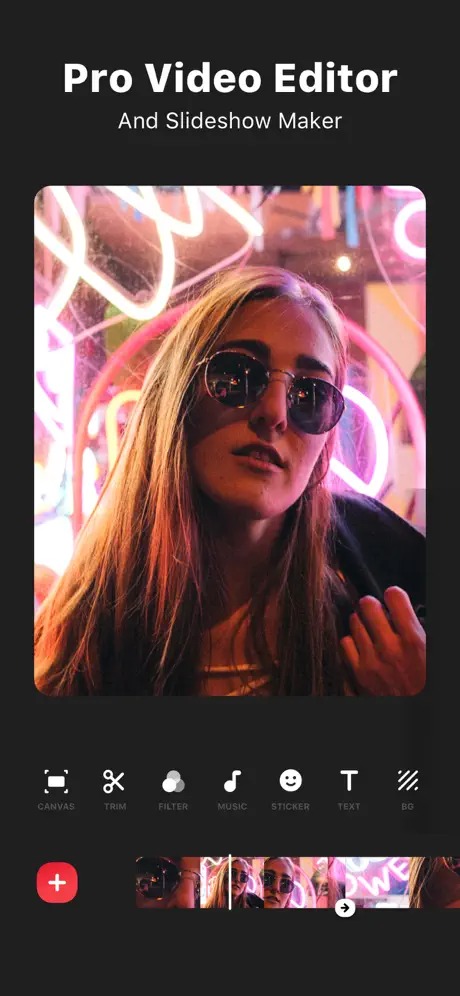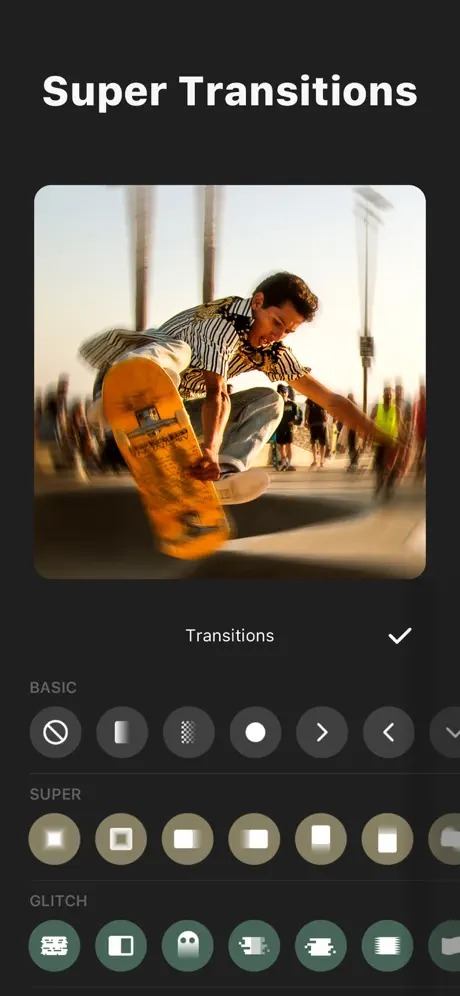 One essential feature of InShot is that it allows you to save the edited videos in HD and Ultra HD quality which means it can make your video look even better than it was before. In general, this app is extremely easy to use and is already trusted by millions of users. Try it!


Flip Video, Video Cutter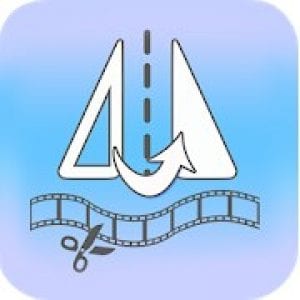 Flip Video, Video Cutter is a free app with just to features. You can either flip the video in any direction or crop the video if it is small.
The app is available for Android devices only. It has some ads and nothing more. It can turn or rotate the video horizontally or vertically.
The process is very easy and not time-consuming. Choose the video from your phone gallery, choose the rotation option, and save it back to your device.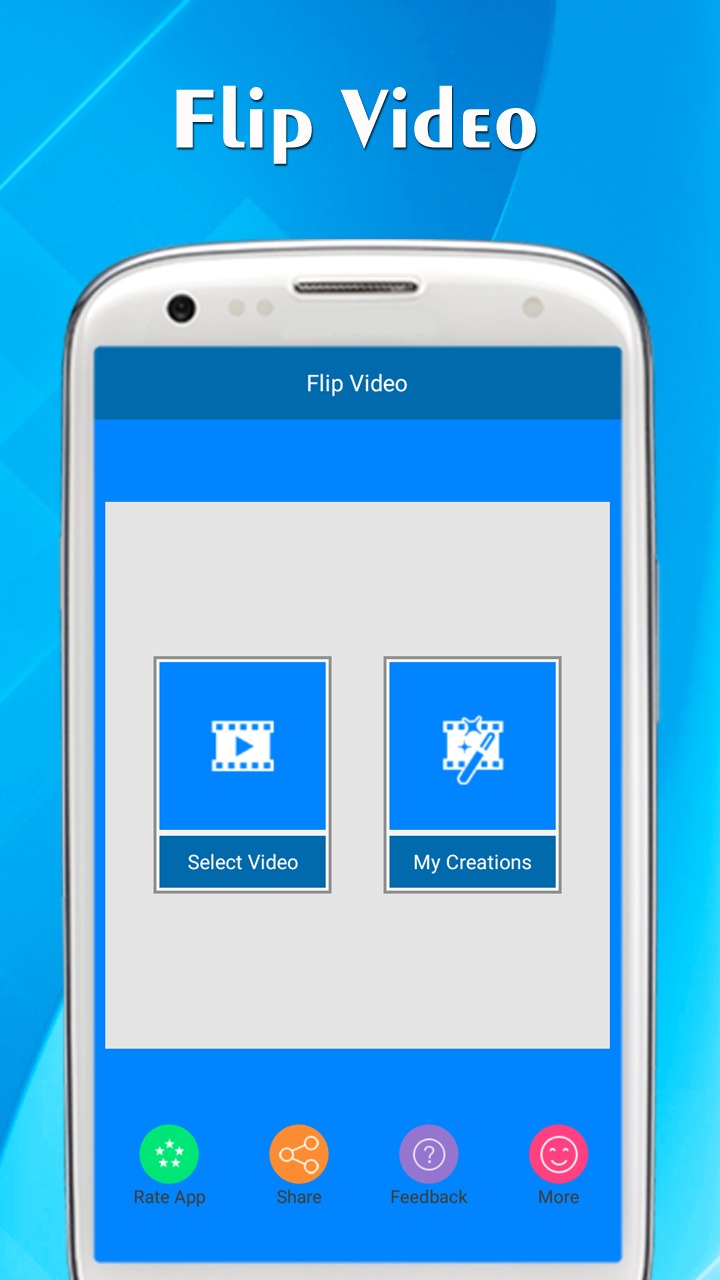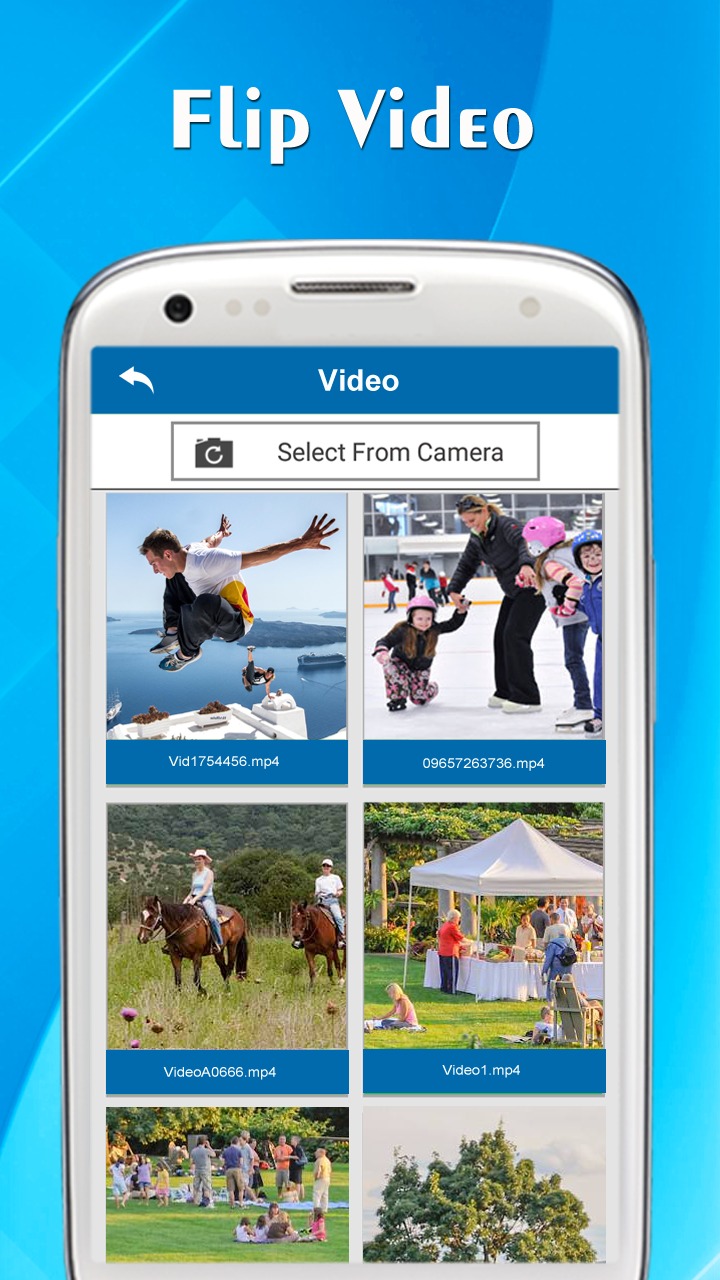 There is an option also to save video directly from the app to any social websites like Instagram.

Video editor – Flip video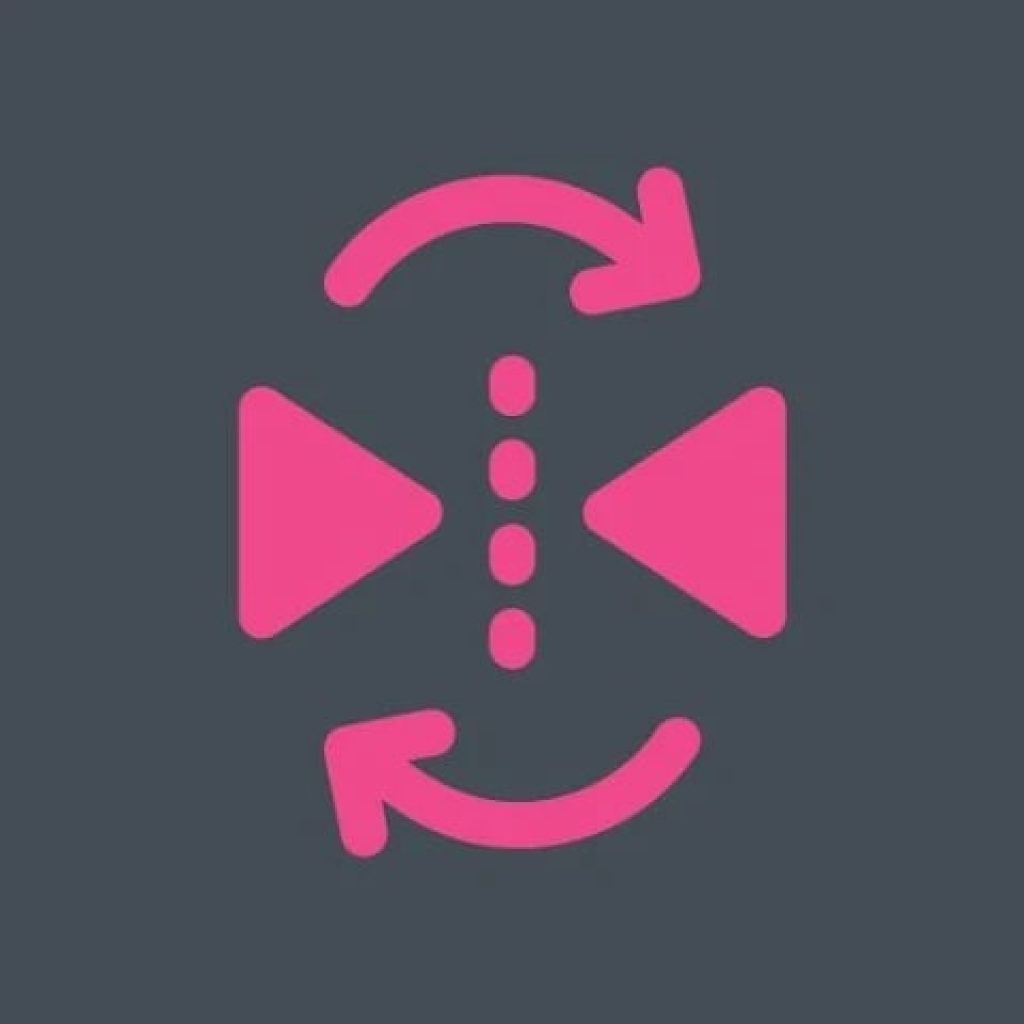 Clips can be edited using a variety of tools, including the mirror effect. This will create an unusual frame, which is sure to attract the attention of viewers.
The tools to create this effect are provided by the app absolutely free of charge. Thus, they can be used by anyone who has an account in the system.
You can apply the functions of the app both in the recorded video from the program itself and in the files downloaded from the outside.
You can try for yourself several types of such effects to get a modern and unusual video. Your work will be automatically put in storage, so you won't lose it.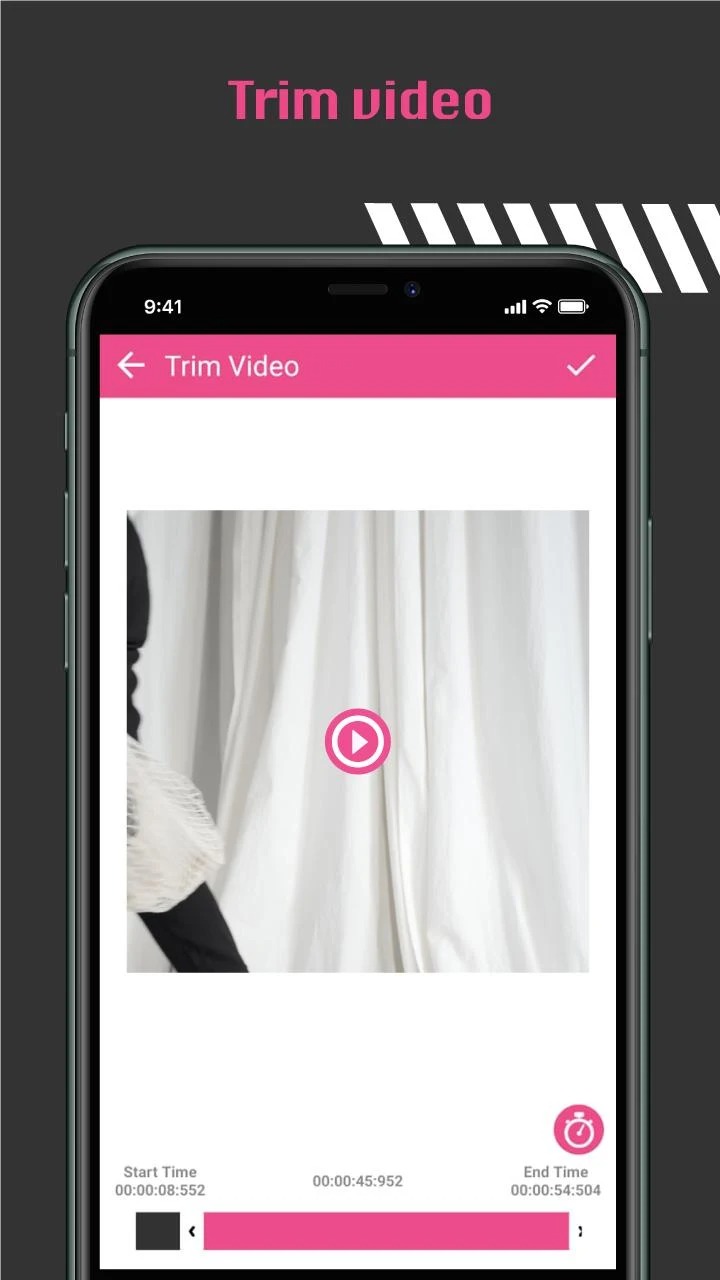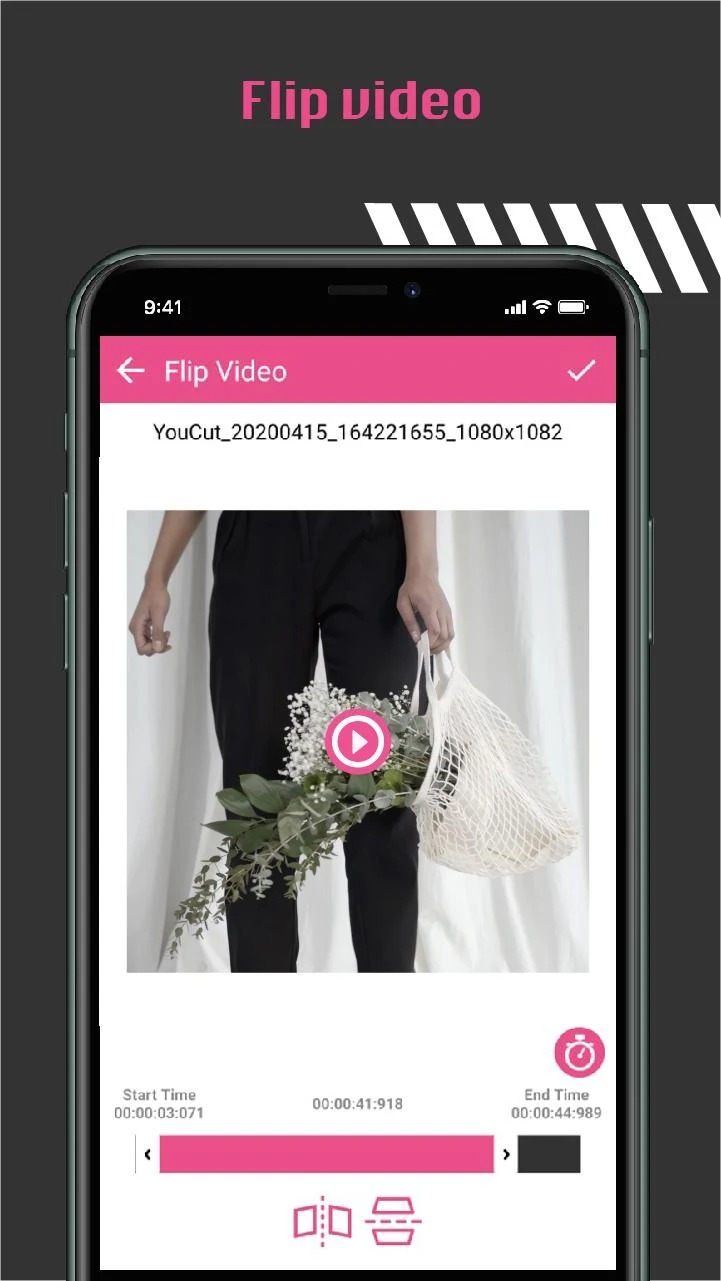 After you've done the editing, you'll be able to share it with everyone you know through any internet sites or online services.

You may also like: 6 Free Loop Video Apps for Android & iOS
Echo Mirror Video Effect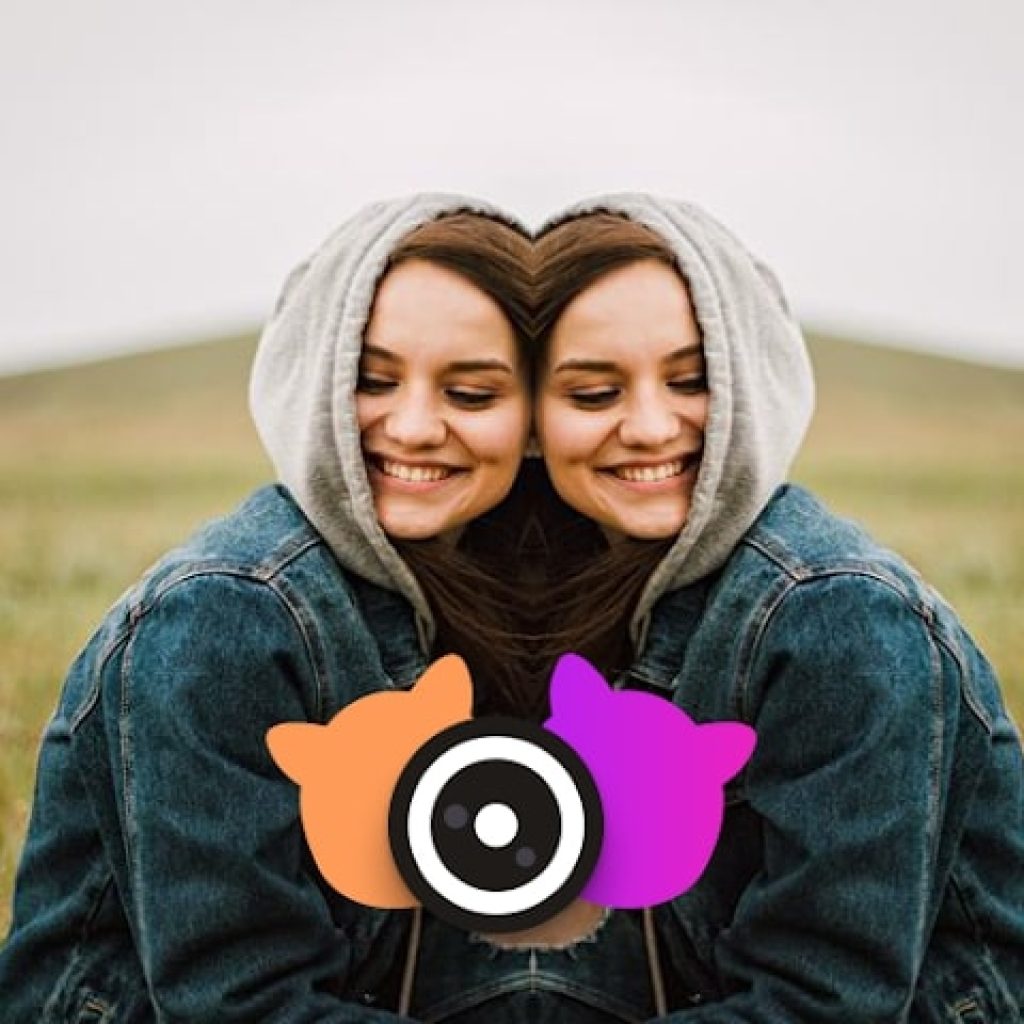 Now you do not need to learn how to edit videos professionally, because the help is this service. It will create video files, trim and crop them to your liking.
You can select the frames, making them the start or end. You can also edit the sides of several clips into one, and change the shooting position to horizontal or vertical.
Trimming will also be fast and of high quality. Choose the length of the clip to make it fit any publication format.
Preview all your footage so you can examine each frame in detail and correct any inaccuracies in time. Choose any format of video and files to upload to the system.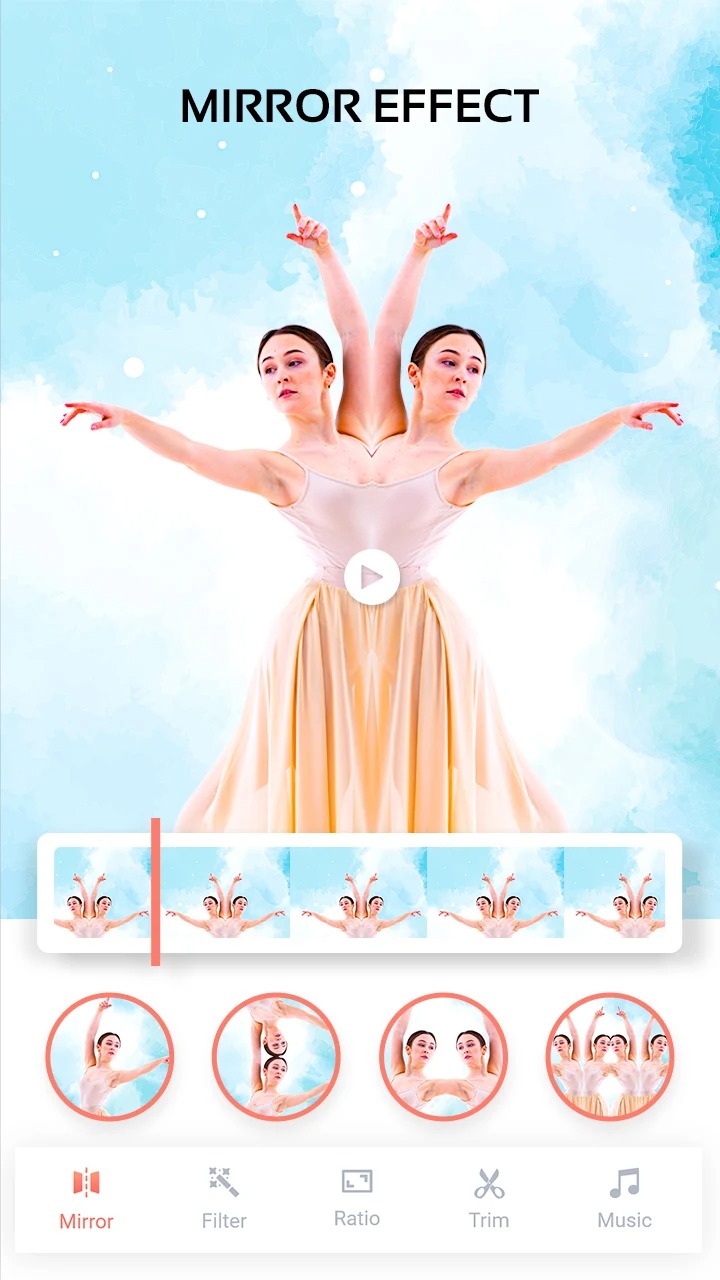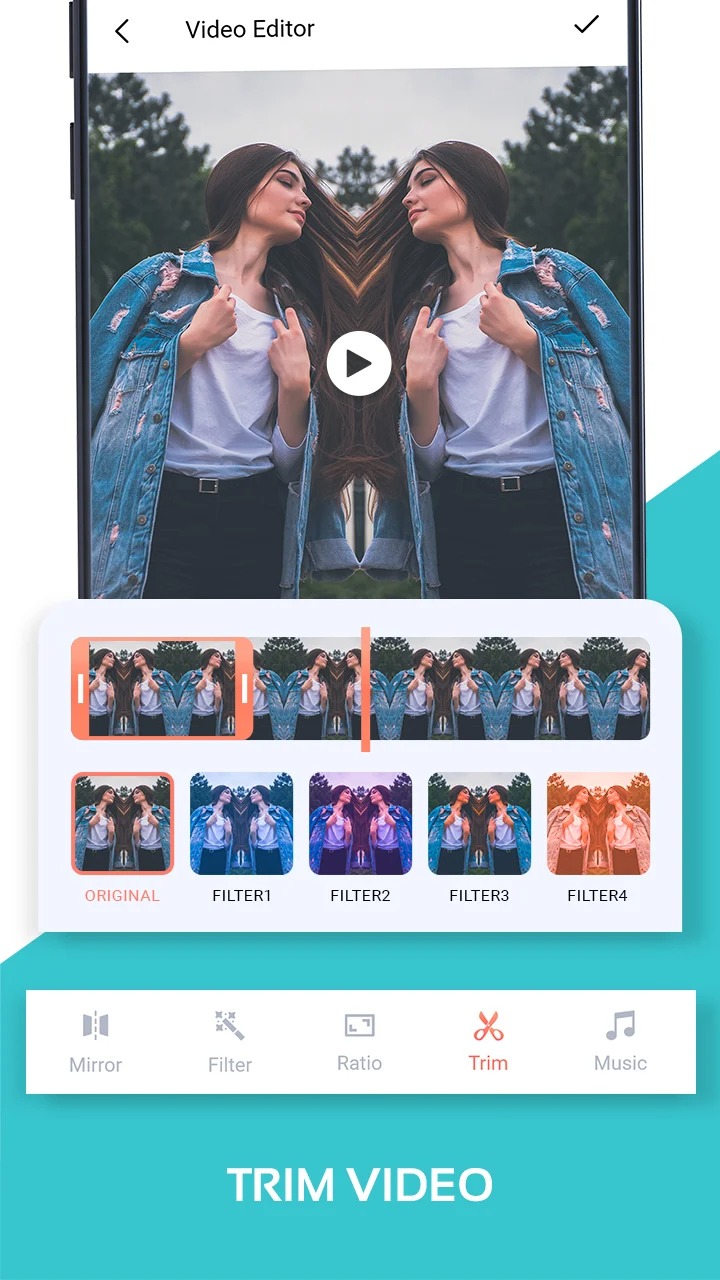 You don't have to decrypt and replace files, wasting your time and energy. The service guarantees the quality of the picture and the entire video clip.