We have this abundance of food nowadays so it's really easy to mess up. We don't track our eating habits, which has a negative effect on our overall health. Moreover, the product waste is enormous in some countries while in others people are dying from famine.
To help you to start a more responsible attitude to your meals we have collected the best apps to practice mindful eating. And in case you want to find fresh and interesting recipes, we recommend exploring the article about free recipes by ingredients apps & websites.
Shutterbite: Mindful Eating
The main goal of this app is to make your approach to your daily meals more systematic, meaning, more mindful. When you install Shutterbite, you need to first set your goals for using the app and identify your meal preferences. Thus, the app will be able to give you a more personalized approach.
Next, there are sections in the app, where you can put in all information about the meal that you eat, you can also set up a meal reminder and set up a meal calendar. After a while, the app will compile statistics about your meal schedule and the overall quality of your eating habits.
In general, this is a great app if you want to take full control of your eating habits and take your routine to the next level.
When you are just starting to use the app, the number of forms and reminders that you need to fill out might seem overwhelming, but you get used to it and then you will get a detailed analysis of your path to mindful eating. And, of course, the minimalistic design adds an exquisite touch to the app.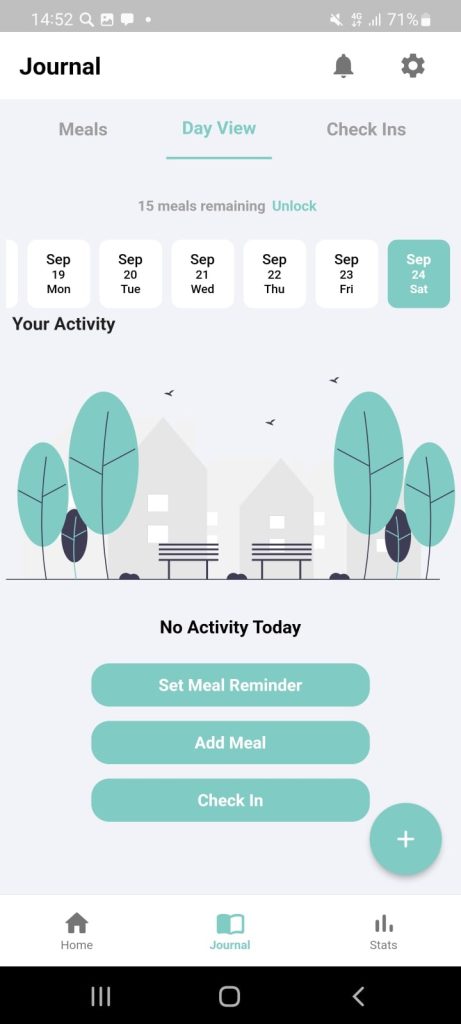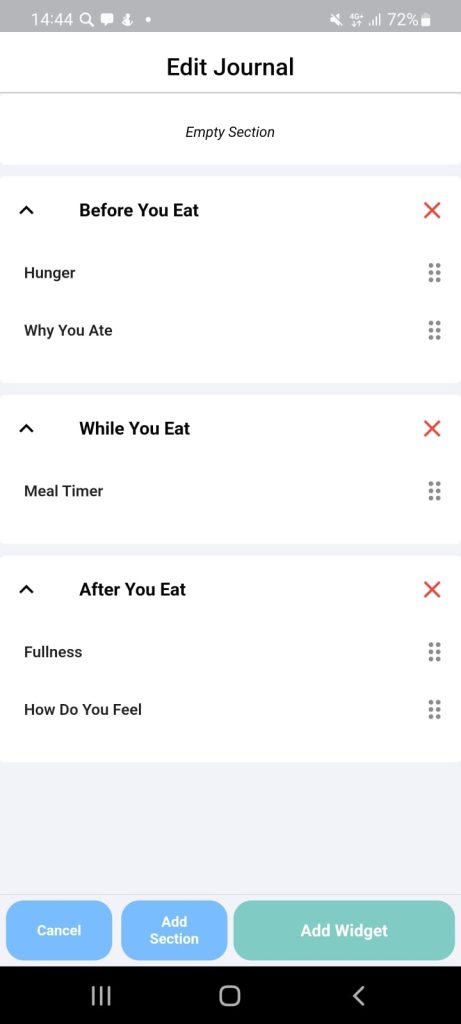 You may also like: 11 Best Recipe Finders By Ingredients You Already Have (Android & iOS)
Eat Right Now®
This app is like an educative course for those who want to start having more mindful eating. After you create an account here and answer some questions which are crucial for working with the app, it's cool that Eat Right Now considers your psychological aspects and whether you are comfortable with some things.
Then, you will be able to watch several lessons on how to form or change your eating habits (the contents of these lessons usually depends on the initial goal that you set at the beginning).
Moreover, there is a special section in the app that helps combat food cravings – it contains various techniques and tips on overcoming the lure.
And there is an interesting section which is called the "stress test" that evaluates your mental health condition and therefore helps you to figure out the ties between eating and psychology.
There is also a Want-O-meter where you can put in your daily preferences for food. And there are meditations, other lessons, and so on. In other words, the app is extremely interesting.
Overall, this is a really cool app, but be aware, that it has a free trial period that lasts 7 days.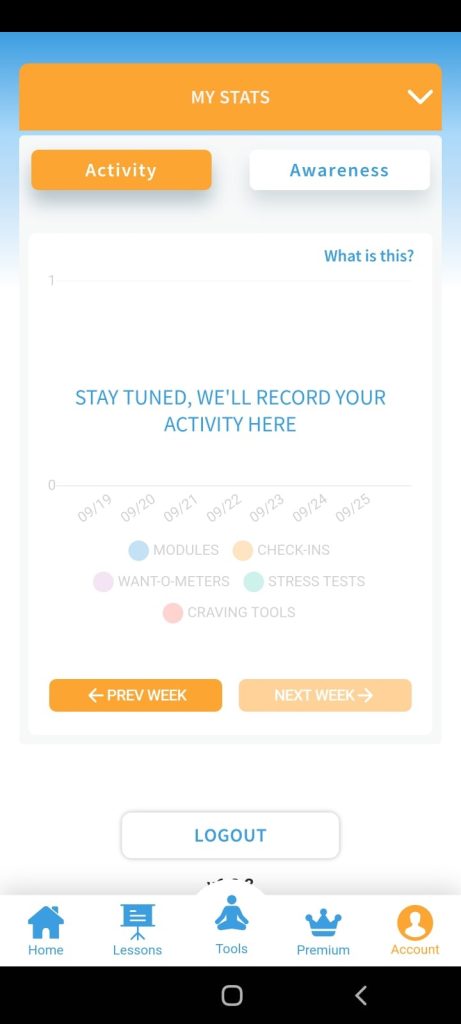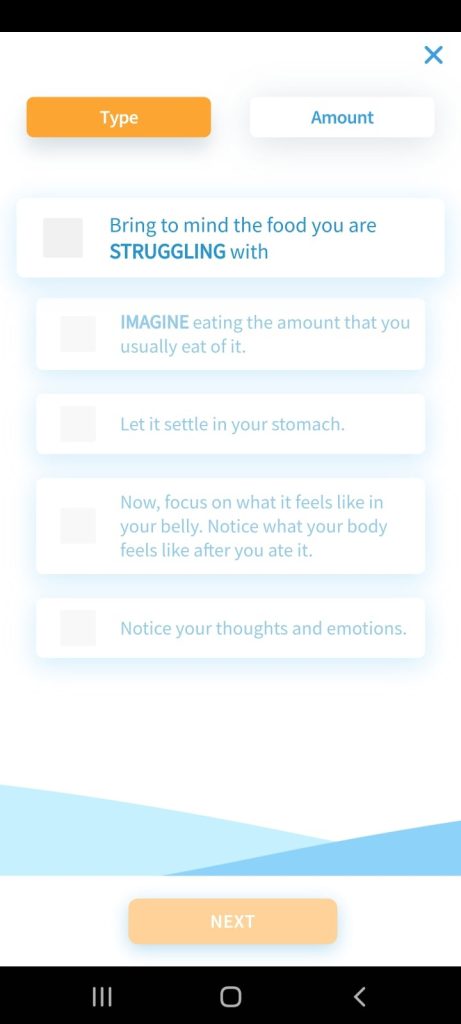 Lifesum
Another app about healthy eating in general. It might seem from first sight it's developed to help you to lose weight, but in fact, in the goals, you can select anything (gain, maintain, lose weight) and the app will find the best matching program for you.
In other aspects, Lifesum is quite a standard healthy eating app. It helps you to count your daily calories, and track the quality of the meal that you eat. Moreover, there are reminders to drink water. And classically, there is a workout tracker. In general, this is a healthy-lifestyle app.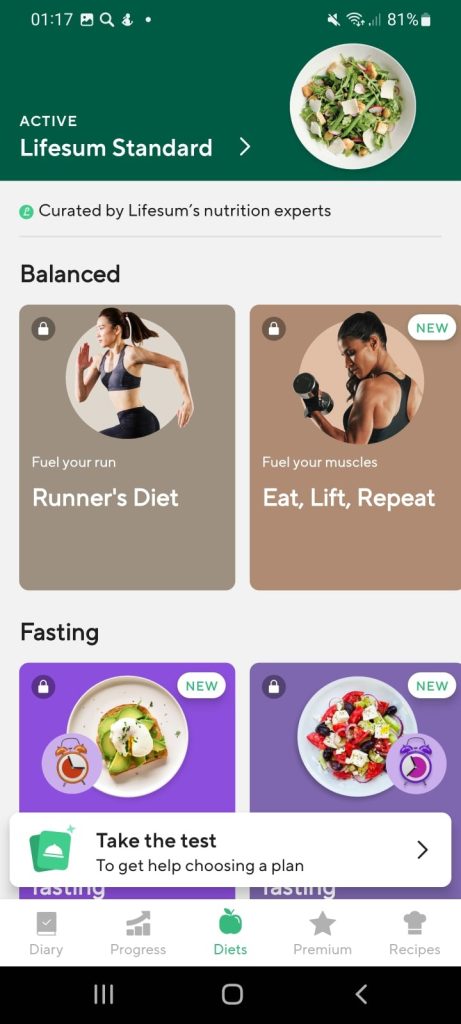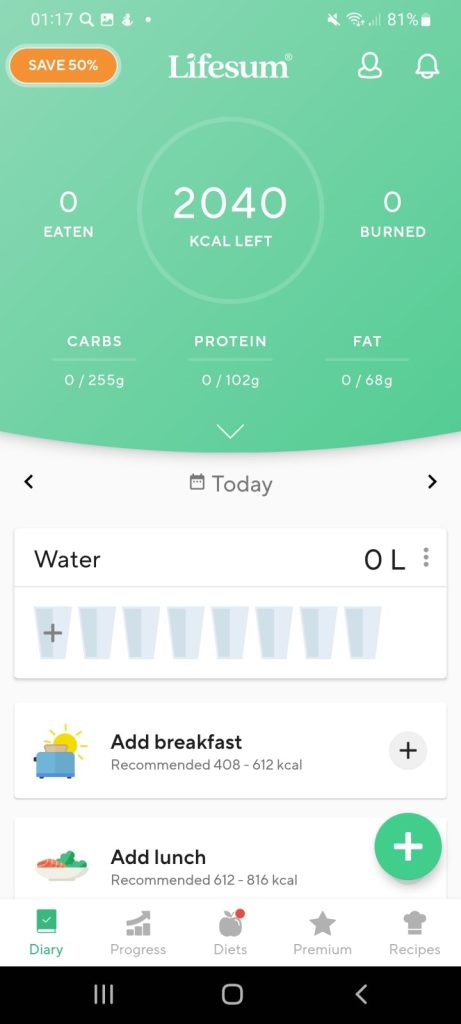 Mindful Eating Hypnosis – Eat
Contrary to the previous app, this one has a more spiritual approach to mindful eating, which is also relatable to the topic. We wouldn't recommend you to use this app as your primary tool when you want to conduct a healthy eating lifestyle, however, as an addition to your daily routine, this would work perfectly.
This Eat app is extremely simple. Frankly speaking, there is only one section with recorded meditation that you can replay on the regular basis. The app is easy to use. It has some ads, but it's not popping in front of your eyes.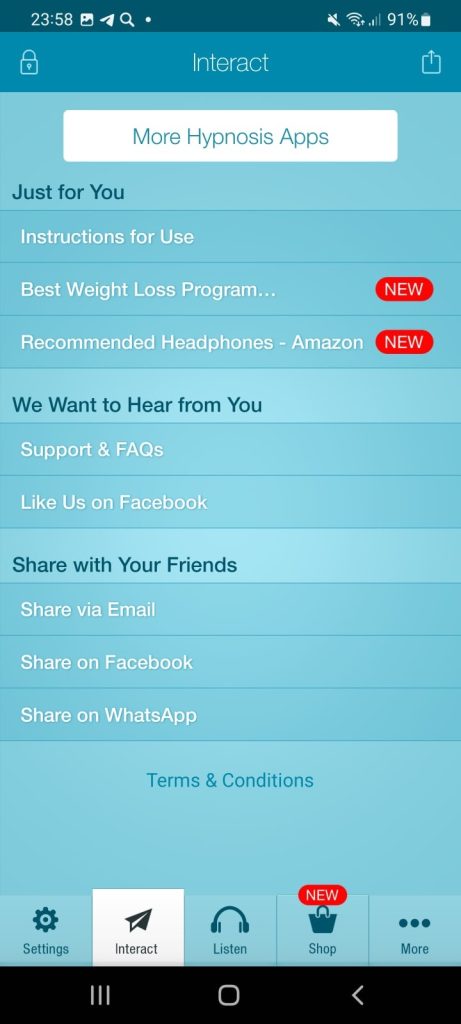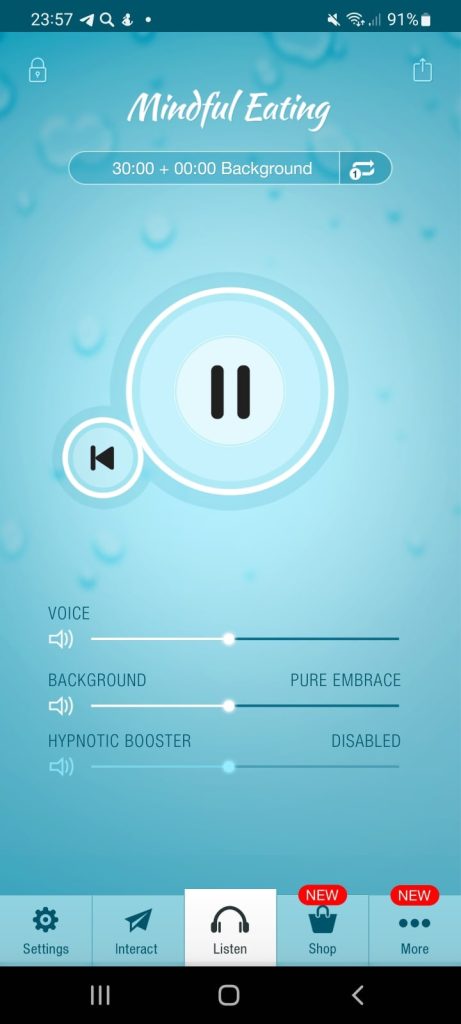 UnDiet Your Mind
We tend to think that keeping a diet means health, however, it's often otherwise. This app is developed for those who want to restore their eating habits after the harm that diets made.
As you open the app you go straight to the main menu which is quite convenient. You can explore the materials by the experts here. The information that you will find there is unique. Moreover, there is a chat feature where you can ask any question.
And one dubious part of this app is that almost ALL sections are only available if you have paid subscription.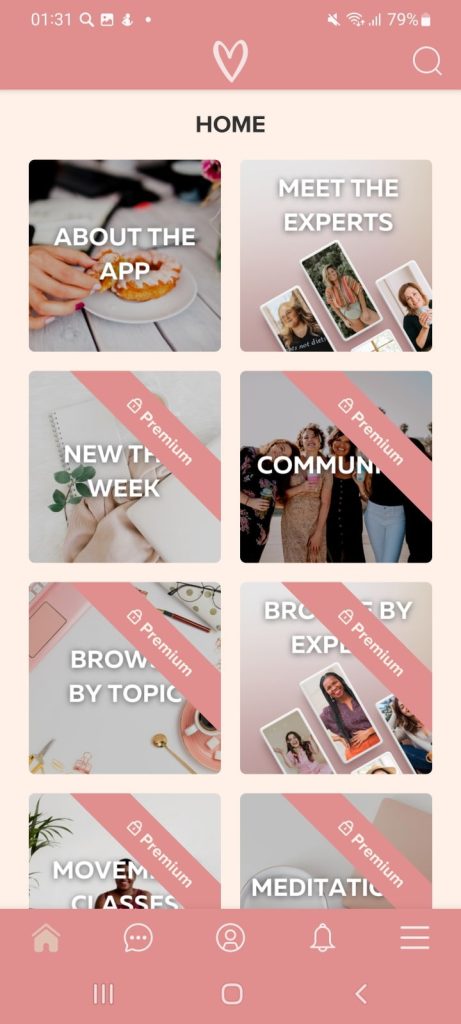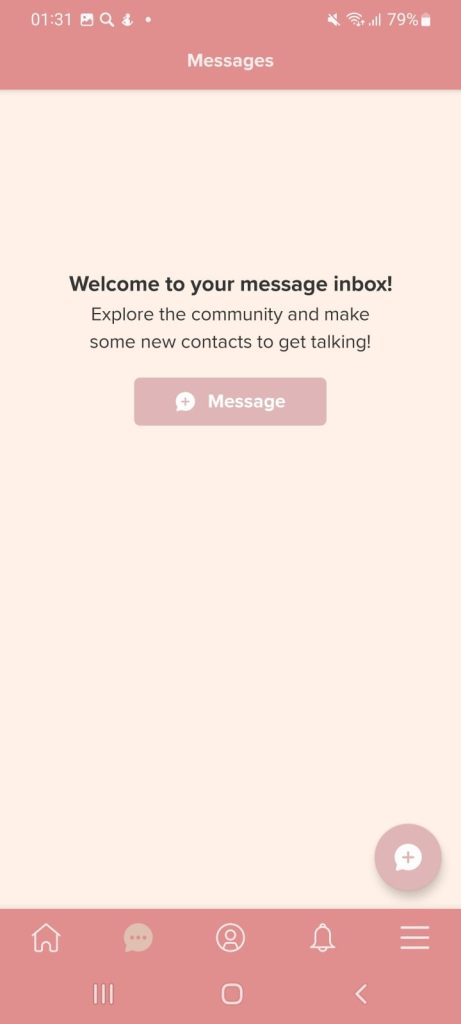 You may also like: 9 Best Pregnancy Diet Apps (Android & iOS)
Peace With Food
This is a small, but really interesting app. The main purpose of it is to teach yourself to eat slower and actually enjoy the food. There are sections with quite sweet lessons where the experts are telling the theory of why practicing slow and mindful eating is essential.
In the next section, you will find the timer that you have to set up before you eat. You have to measure the amount of time that you spend eating, then the app will analyze it and will give you the results. And, if necessary, it will help you to increase them.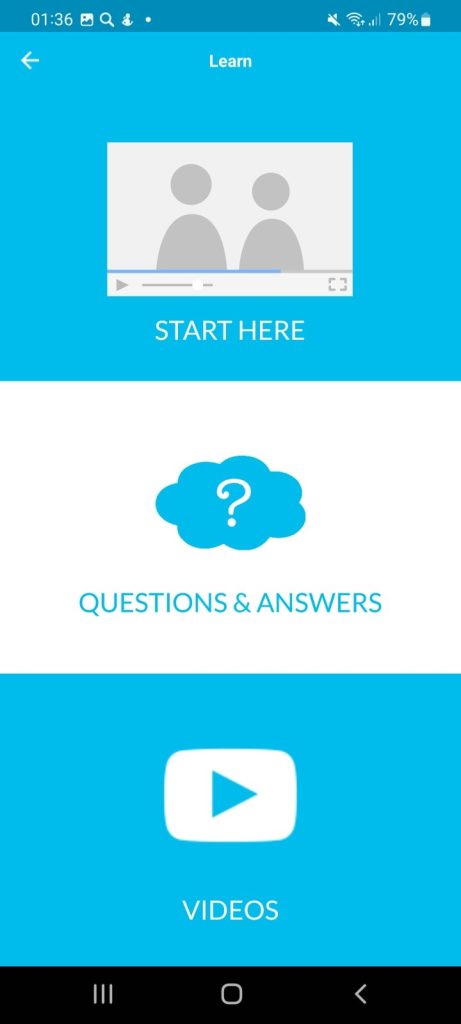 Eat This Much – Meal Planner
We didn't have much of expectation about this app, however, we changed our minds as soon as we opened it. If you are looking for a tracker to improve your eating habits and improve the quality of your baby and mind, this is a nice option.
First of all, you will need to enter the metrics in the app. Then, mark your goal. After that Eat This Much will provide you with an exclusive meal plan that will fit your type and your goals. One really cool aspect of this app is that it suggests you several options for each food intake and it contains detailed pictures of meals.
This way, you will never get bored with your meal routine and your nutrition will become more mindful. By the way, here you will also find tons of recipes.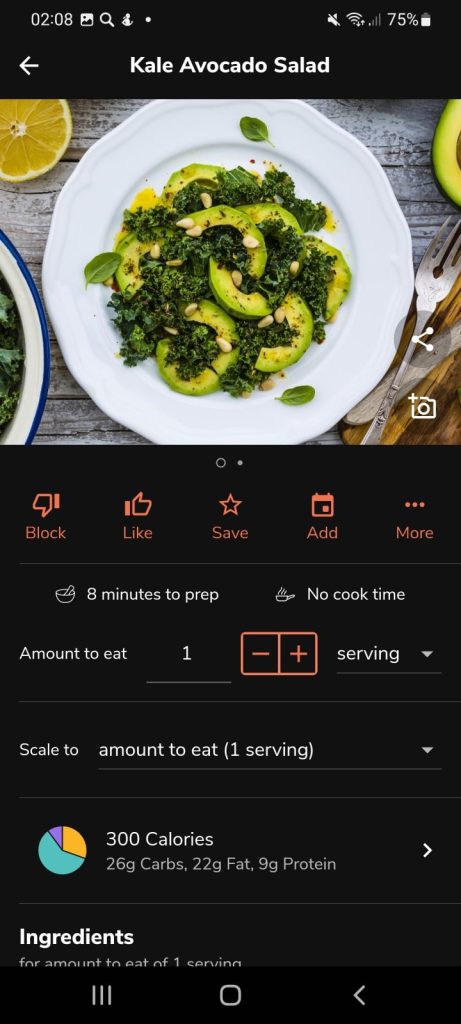 See How You Eat Food Diary app
Just as you can see from the name of this app, it is your daily tracker of the food that you eat. This option will be suitable for those, who don't want to overcomplicate things with their eating habits.
As you login into the app, you immediately understand how it works – there are special templates for you to take pictures of your breakfast, lunch, snacks, and so on. At the end of the day, you can view how healthy was your eating overall.
Moreover, in this app, you will find some theoretical information about healthy lifestyles and foods. The app will be suitable for those who have enough motivation and are self-disciplined.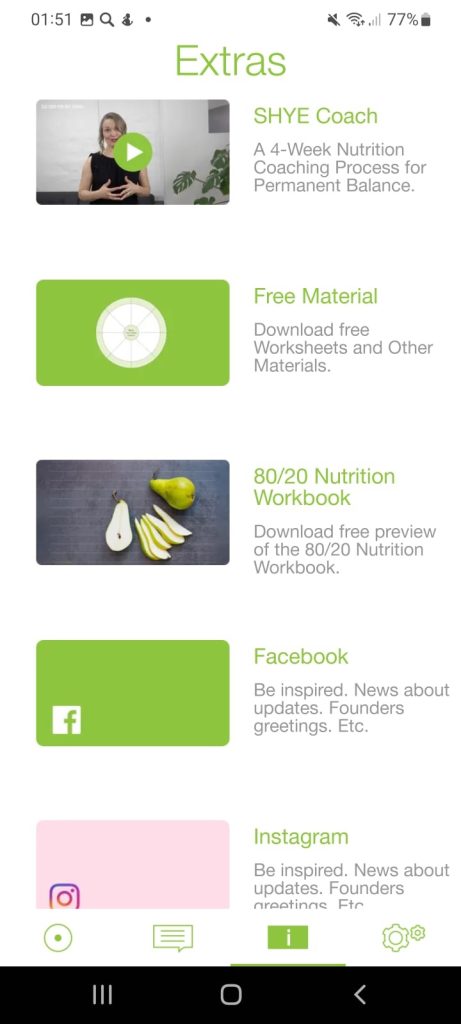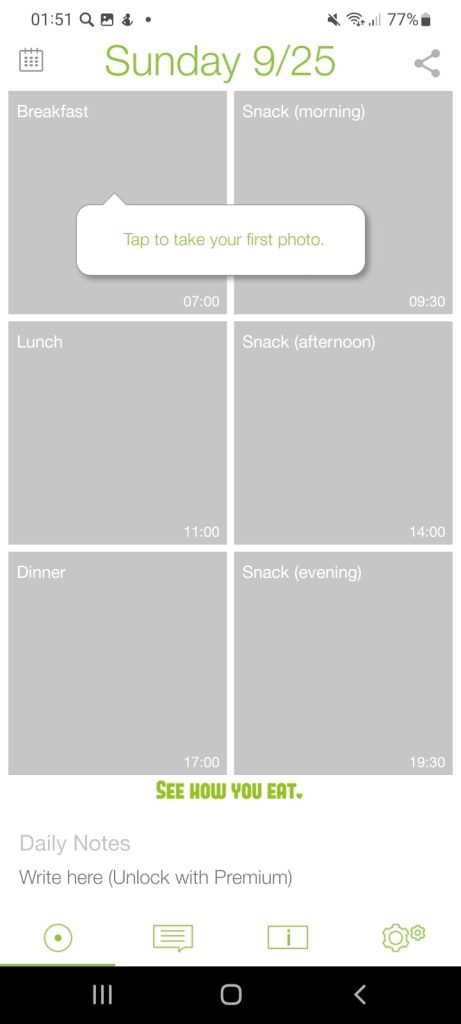 You may also like: 11 Best Apps to Create Your Own Cookbook on Android & iOS
Nutrilio
Another nutrition diary that will help you to maintain mindful eating. When you just install the app, you can select a goal "eat healthy" so Nutrilio will provide the best option possible.
This app gives you a choice on how many things you want to track. You can track drinks, health, and as an additional option, the intake of fast food, sugar track, etc. One of the interesting options that we notified was the controlling of the motivation for food. And there is also a tracker for coffee cups.
Overall there is a number of features in the app for tracking your meal intakes and then analyzing the statistics. The interface design is superior and it's really pleasant to use this app.
Overall, there is nothing revolutionary about it, however, if you want a regular food tracker to be used as your mindful eating tool – why not.