Nowadays people should know at least one foreign language. It helps them while traveling abroad and communicating with local people if they lost in a strange city or in their working life.negotiating with business partners in formal and informal environments.
Of course, you can take a course, but whether you remember all definitions, synonyms and phrasal verbs in a difficult situation? I suggest, no. In this case, you can refer to the printed dictionary.
But it takes a lot of space in your bag and weighs a lot. Moreover, there is only one language, while your phone contains an app with almost 30 or 40 languages. We help you find the most suitable dictionary app. Here we have chosen 15 free dictionary apps for iPhone and Android.
Dictionary.com Dictionary & Thesaurus Premium
Dictionary.com Dictionary & Thesaurus Premium – over 2,000,000 definitions, terms, synonyms and antonyms and translate them to 30 languages! Using this app you don't need an Internet connection. Word searching is available offline and everywhere.
Daily content, which includes Word of the day, slideshows and the blog, is a pleasant addition, which allows you to do much more than just get by. The app also offers audio pronunciations, example sentences, and word origin and history. These features, undoubtedly, make searching much easier, faster and convenient.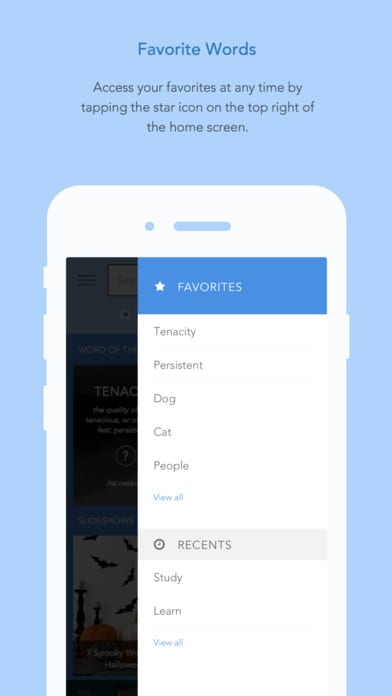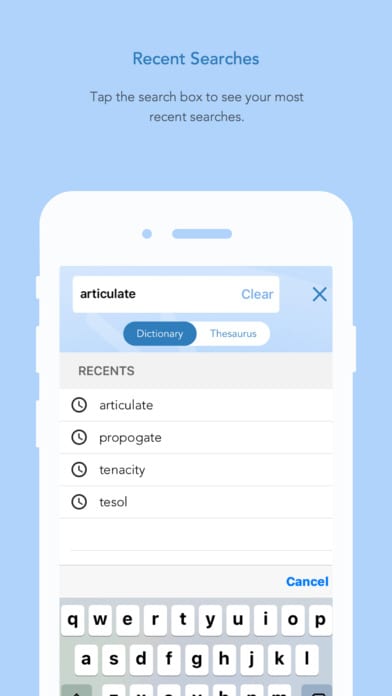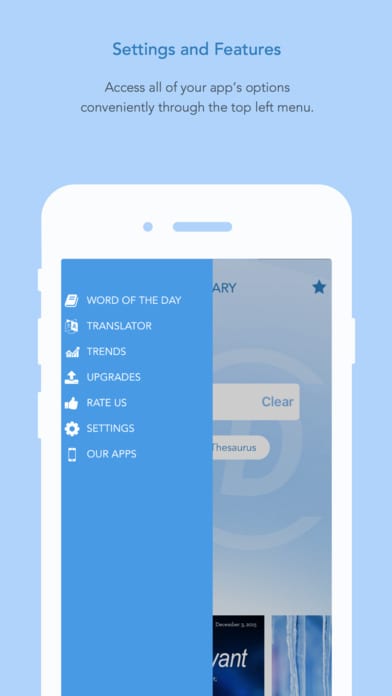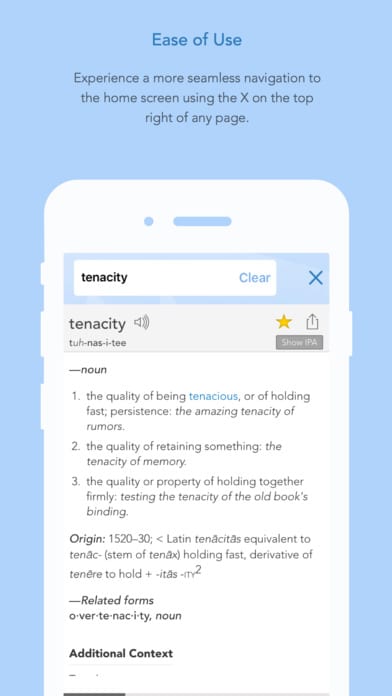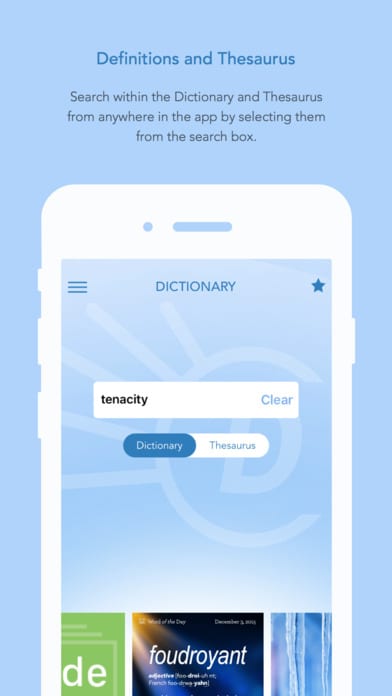 Optimized for  Apple watch!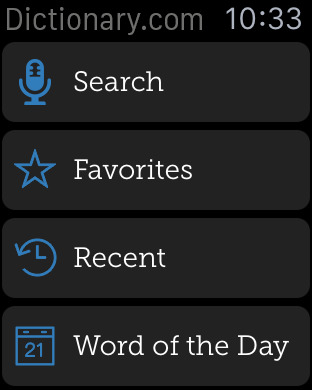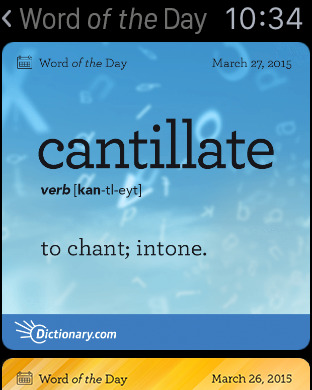 In-app purchases include medical, science and slang dictionaries with over 72,000 words, phrases, and definitions.
You may also like: 11 Best spell checking apps for Android & iOS
Advanced English Dictionary & Thesaurus
This particular dictionary was developed by Princeton University. It is a large lexical database of English with up to 140,000 entries and more than 1.4 million words. This is not a standard dictionary so if you are looking for an innovative and fresh approach to learning new words then this app is for you.
Nouns, verbs, adjectives, and adverbs are grouped into sets of cognitive synonyms, interlinked by means of conceptual-semantic and lexical relations. Moreover, the dictionary demonstrates, how each word is connected to other words in its meanings.
This method helps you to better understand the context where you should use a certain word. Besides, this way the memorizing goes quicker. What is more, the app synchronizes with all other ones on your phone what allows you to tap on the words even in other apps and see the meaning.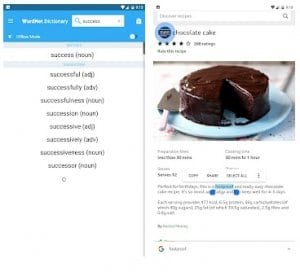 Merriam – Webster Dictionary
Some people say that this app is the best app for English language reference, education, and vocabulary building. We agree. It has a lot of advantages.
First of all, it is offline access, of course. You'll have complete access to words, phrases, and definitions whether or not you have an Internet connection. Secondly, there are New vocabulary-building Quizzes: fun, fast quizzes to learn new words or test your vocabulary if you don't want your language skills to let you down.
And thirdly, there you can find a standard set of functions: due to example sentences you understand how a word is used in context, voice searching helps you to look up a word without having to spell it, there are audio pronunciations and favorite words, which help you to find right words through thousands of others.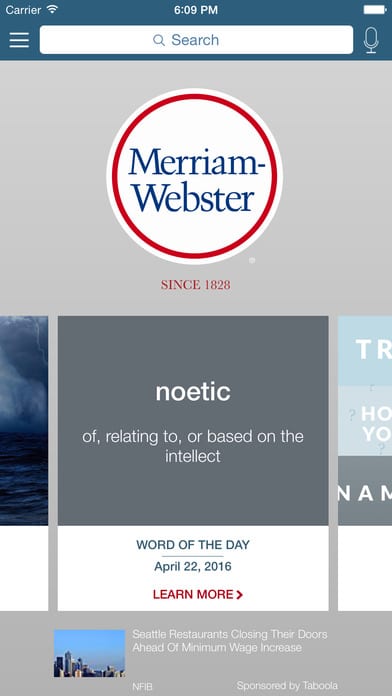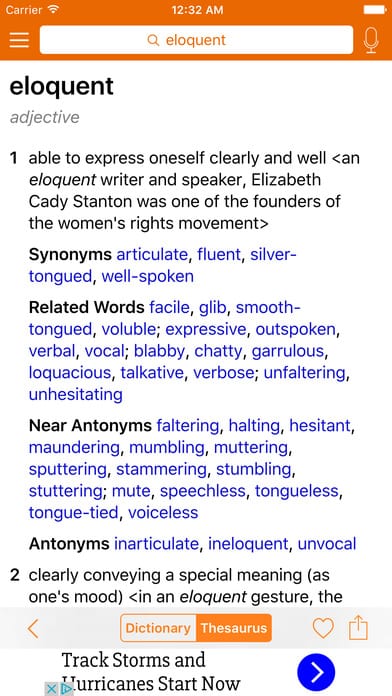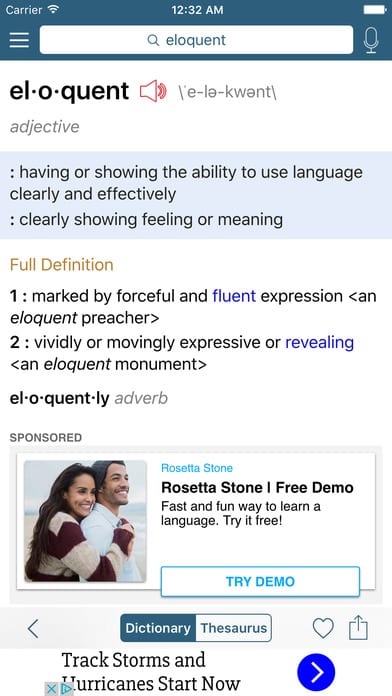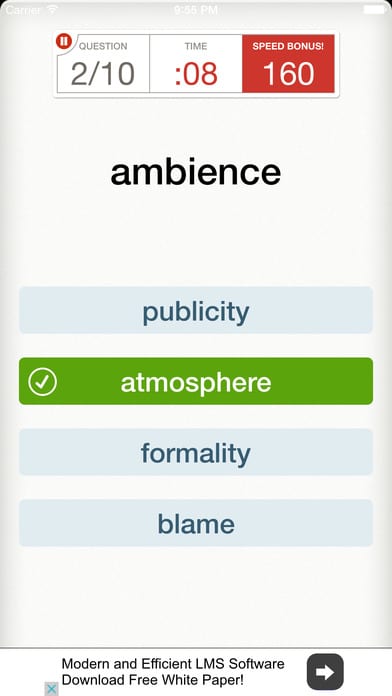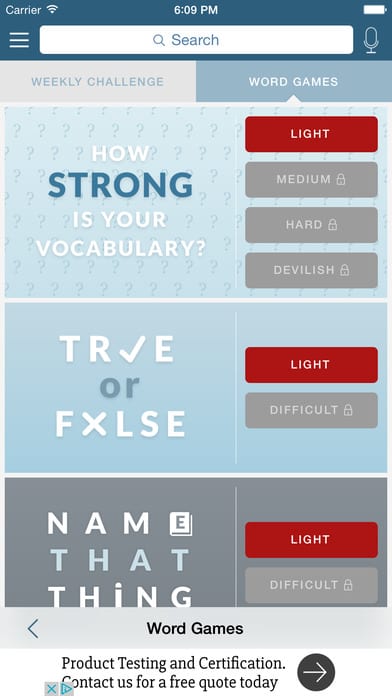 Dictionary by Farlex
This one is searching for every word you are looking for. Millions of definitions from top sources, including:
Webster's Dictionary, Roget's Thesaurus, The American Heritage Dictionary. Trust it, and you will be able to hold long conversations with native speakers.
Downloading this app you will get, English Idioms and Slang Dictionary, Translations of English into 40+ languages, Dozens of other translation options
The Free Dictionary is like getting 100+ apps in one easy-to-use interface.
The main feature is that you can explore topics in-depth and get access to  dictionaries and encyclopedias from these top publishers with just one search:
McGraw-Hill
Houghton Mifflin
HarperCollins
Random House
Cambridge University Press
Columbia University Press
Else
Mosby's
Pretty good, isn't it?
Here is a simple and graceful design which makes searching a pleasant activity.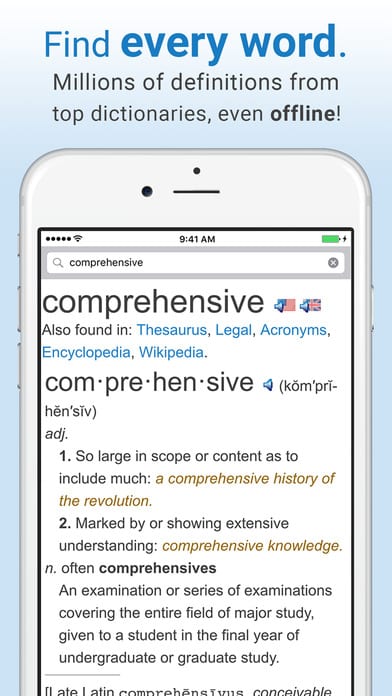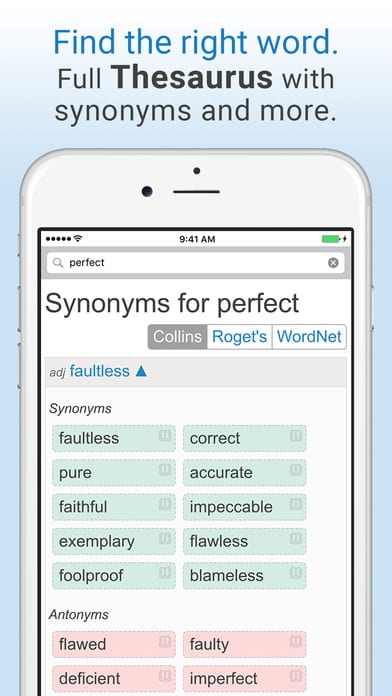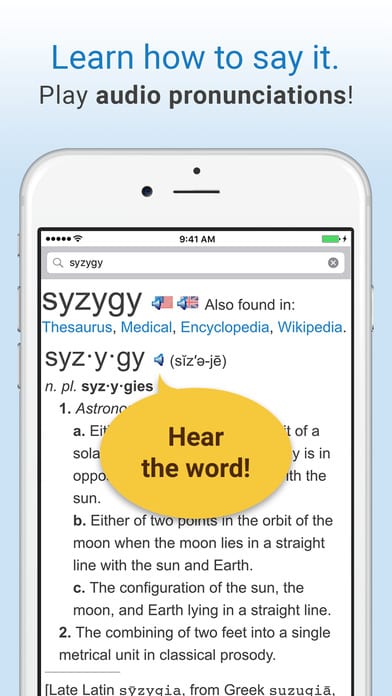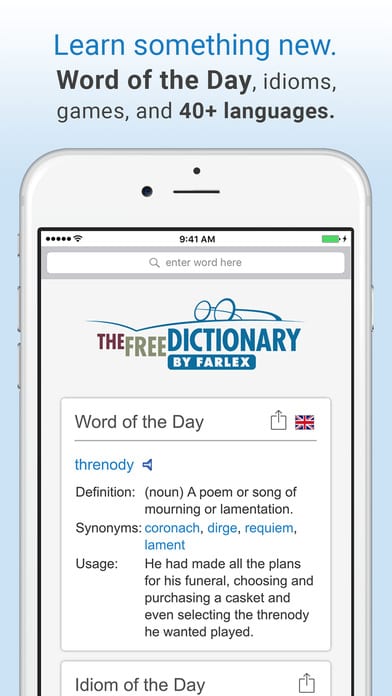 Linguee
This is a very convenient dictionary and translator app to use on your device. Here you can translate words from more than 60 world languages. Another advantage of Linguee is that you can use it even without the Internet connection.
Another feature that distinguishes this app from all the other is that it is constantly updated. Each day's thousands of specialists and developers are working on the new words. In addition to that, after you have inserted a certain word, the app can also show you examples of sentences where it can be used.
All the words are accompanied by audio pronunciation instructions.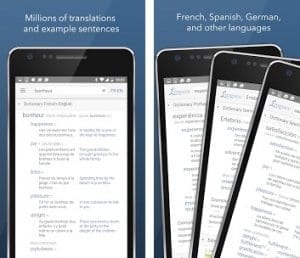 Oxford Dictionary
Oxford knows how to teach! Oxford dictionary is the world-famous English dictionary for Android and iOS. Moreover, it's absolutely free that is a nice addition.
This dictionary works offline and contains more than 3,5  lakhs words, phrases, and vocabulary. The most exciting features are updates with thousand of research words derived from the Oxford English corpus and searching filters.
Ideal for anyone who needs a comprehensive and authoritative dictionary of current English; for professionals, students, academics, and for use at work or at home.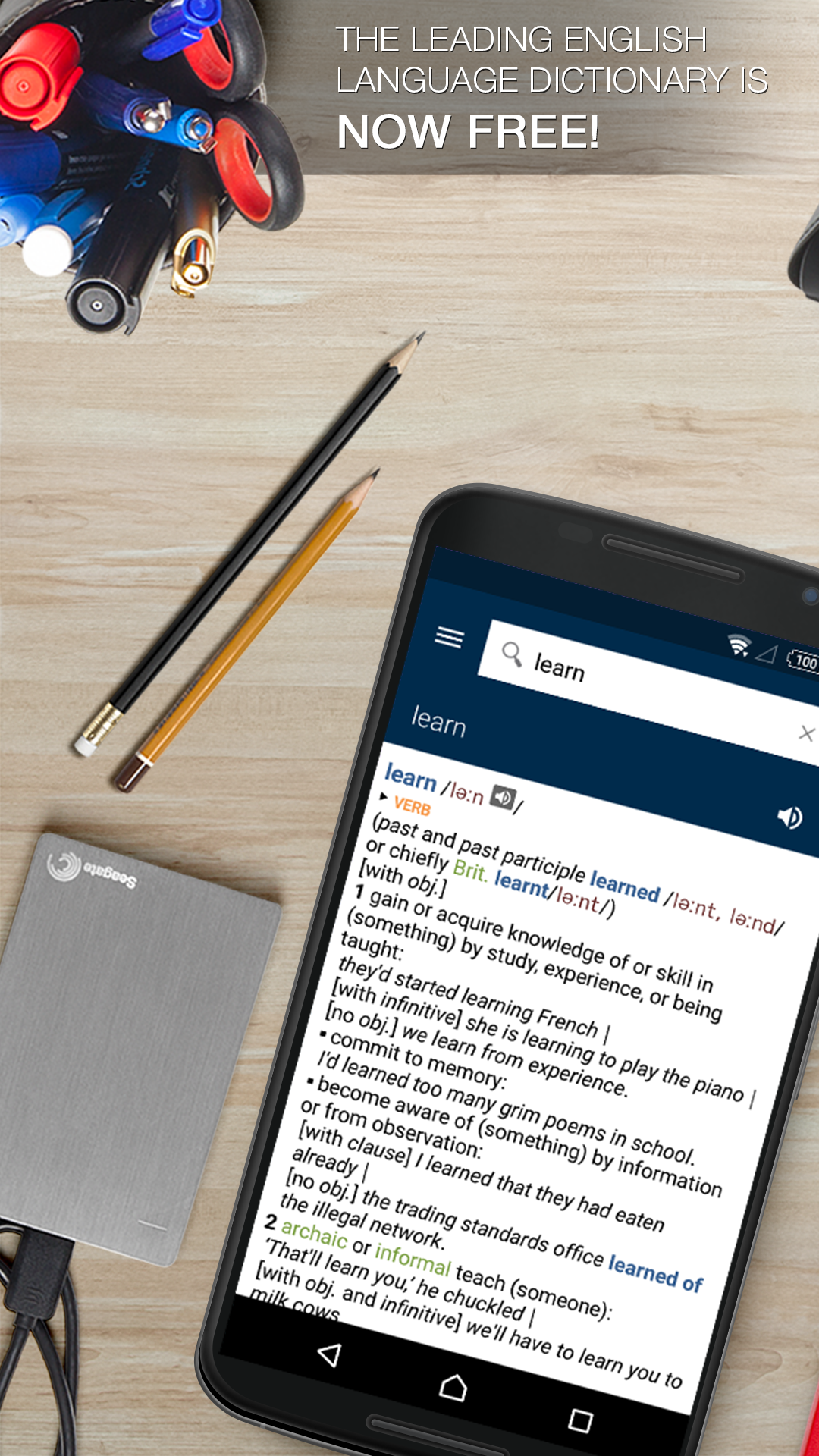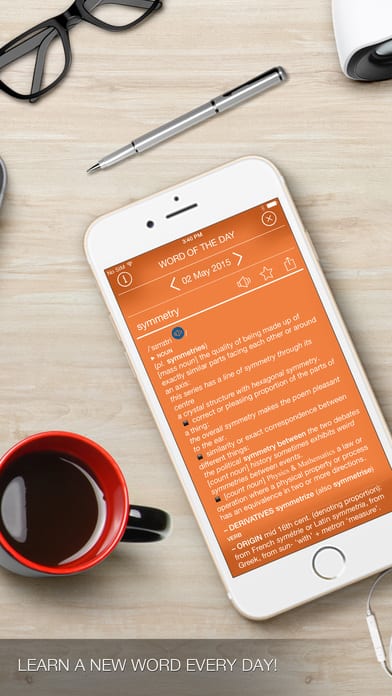 Food dictionary
For those who are in a foreign country, this app is a great salvation! No matter, whether you are a Russian, German, Spaniard or American- you should know what food you're talking about and going to buy.
Purchasing the right thing while settling into a new culture can be difficult, so this mobile companion helps you make sure that you get vegetables, fruits or spices right.
Food Dictionary now contains more than 2000 + entries, spread across 24 categories
Categories include Bread, Buns, Cereals, Cheese, Condiments, Dairy Products, Dips, Fish Sauces, Fruits, greens and etc.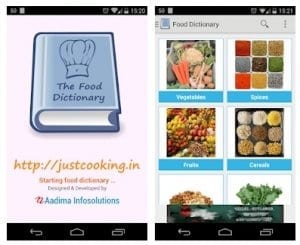 WordReference Dictionary
This is one of the oldest apps on the market, but it is still good. It can help you to translate words more than in 80 different languages. It is quite simple, so don't look for extra functions or elegant user interface here.
However, that's the advantage of this dictionary at the same time, since it makes it super easy in usage and a lightweight app. Moreover, it has a classic dictionary style, with the translation of the word, its various forms and examples of usage. If you're comfortable with that – this app is irreplaceable for you.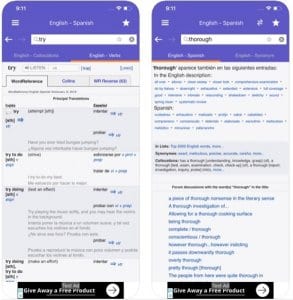 Legal Dictionary
One of the least pleasant things about being an adult is the fact that you sometimes have to be an expert in fields where you don't want to be one. Well, this is actually a beginner's level, but for you, it feels like you got to have a bachelor's degree to understand that.
This often happens when you come across legal procedures and terms. Luckily, the developers of this app hear the pain of millions of people and created this Legal Dictionary, which will help you to understand all the terms of the law world quickly and effortlessly.
The app has an impressive base of 14800 words and 13500 audio pronunciations. All the terms are verified by the attorneys. Moreover, here you can affect the search of words in the search bar. So as you can see, the dictionary app doesn't have to be a foreign language – sometimes your own language can feel like foreign.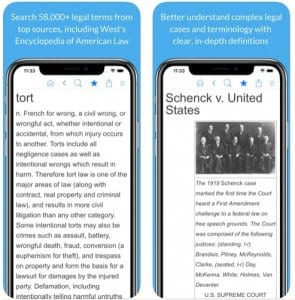 Nglish
This app will be more beneficial for Spanish-speaking users since originally it's a Spanish-English dictionary. Well, it makes sense because the Spanish community in the United States is one of the biggest in this country. The app is developed by Brittanica – the company that was really popular in the educational world at the beginning of the 2000s.
The app also includes a personal My Zone area with customizable word list quizzes and more. English dictionary look-up results also include synonyms, example sentences, related phrases, tips and audio pronunciations by native speakers.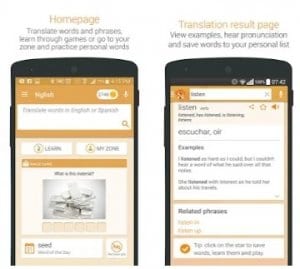 BBC Learning English
This app deserves attention just because it is made by the famous BBC company. Who can explain the English language better than English people? Besides, with the fact that the American accent is so widespread today, it may be hard to find the apps which would teach you the classic original English.
If that's what you've been looking for – this is your app. As you have already guessed it is more an educational app than a dictionary. But you can find the latter here as well! Moreover, all the words will be accompanied by examples and audio pronunciation.
New lessons are added every day. All the English here is divided into categories – Everyday English, Learn English with the News, Business English, Grammar, Vocabulary, and Pronunciation.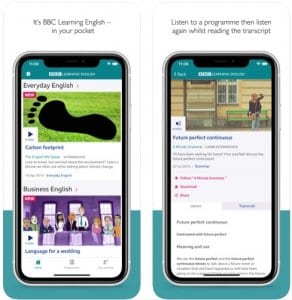 French English Dictionary + Freemium
France is the country of Love and French is the language of Love! It sounds like birds sing in the morning. Knowing a couple of phrases in French, you will win a public's hearts.
French English Dictionary with over 121,000 offline entries, over 727,000 with IAP! Add notes and images to dictionary entries. Record yourself saying a word and compare it with in-app pronunciation.
Stand out among the others!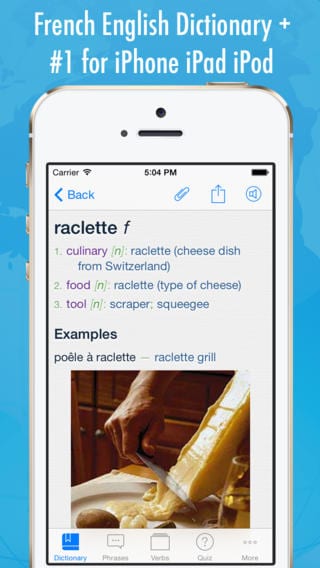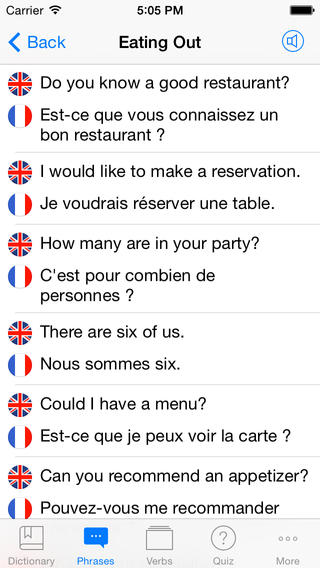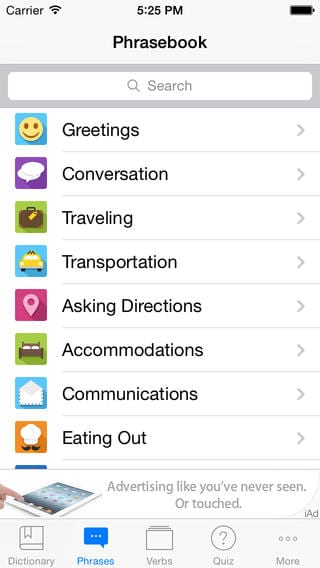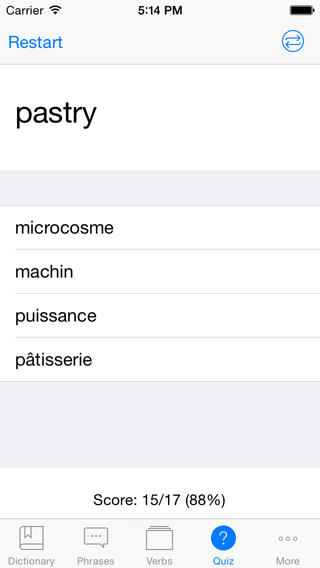 Giant Picture Dictionary
Wait for a second, what about kids? Don't they need a dictionary as well? Actually, they are basically the main target audience for dictionary producers and apps' developers since they learn English at school. If you're a parent, you will be surprised, how quickly they are able to memorize new vocabulary, especially when they learn it with a dictionary.
In this special dictionary app for kids, you will find more than 1800 words with funny pictures! The process of learning doesn't have to be boring, it can be fun with apps like this. All the vocabulary is basic so it will be perfect for junior and middle school.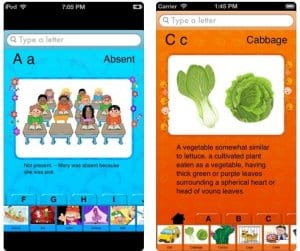 SAT Word Slam
We know, you have exams. Actually, most people on this planet do (except Hermoine in Harry Potter series). But the process of preparation can become easier and more productive with modern technologies.
One of the main parts of the SAT exam is the word quiz where you have to give the definitions of the words extremely quickly – and this app can help you to prepare for that.
It includes more than 800 complicated words. By the way, this app will be beneficial for everyone, not only for those who are going to pass this test. For example, if you're not a native English speaker, but your level is advanced, you can learn plenty of exquisite vocabulary here.
One essential feature of this app is that you can create your own playlists of words you want to memorize and repeat them over and over again. The app has won lots of awards and was approved by the teachers all across the US.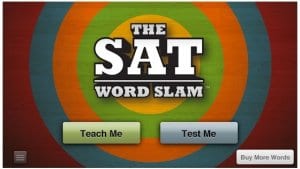 Vocabulary Builder by Magoosh
Continuing the topic of preparation for exams, here we got another wonderful example. This app can work both as a dictionary and a vocabulary trainer, depending on the section you choose. This app is beneficial if you're preparing for a TOEFL or GRE exam.
It can help you to memorize tons of words very quickly. You just turn over the digital flashcard until you remember the meaning of a word. Thus, you will memorize up to 100 words a day. This software is developed by one of the Magoosh experts who has been teaching English for GRE for more than 20 years, so it is a highly reliable app.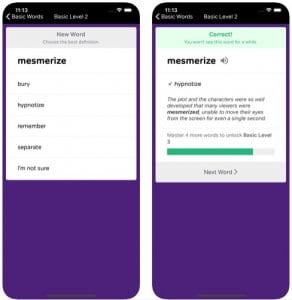 You may also like: 11 Best translation apps for Android & iOS
Thank you for attention!