Music is an integral part of our daily life. We hear familiar songs in shops, on the street, in transport, and in other places. All the tracks you like, you know by heart. So you can start singing a song if you like – but what if you can't sing at all? Of course, you can try to learn!
Even people who would like to become musicians, vocalists, or singers should constantly train and learn something new. It's not always possible to hire a tutor who will do vocals with you. Instead, you can always download an app to your smartphone that will tell you about the notes or give you useful tips for singing.
Among such apps, you can find karaoke, solfeggio training, music studios, and much more. So if you don't have time to study at your music school or with a personal teacher, you can always download one of the 9 best apps to teach you singing that we've picked out for you.
Riyaz Learn Singing | Vocal lessons & exercises
The Riyaz app has already helped many novice singers practice their singing skills and even learn something new. Here you can get live feedback on your work, as well as correct errors immediately.
You don't have to wait for feedback from your teacher or send your training to someone online – all data and corrections are provided to you right away.
Riyaz is a smart vocal monitor. It allows you to see how accurately you hit the notes and follow your work. Feedback is provided by your smartphone because your singing is visualized on the screen.
It's worth noting that Riyaz supports different vocal ranges and tonalities – you can have a bass, tenor, or sound like a baby. Depending on your goals, you'll be able to find certain exercises and activities that are the easiest for you to do. Riyaz keeps track of all the progress you make during your lessons and learning.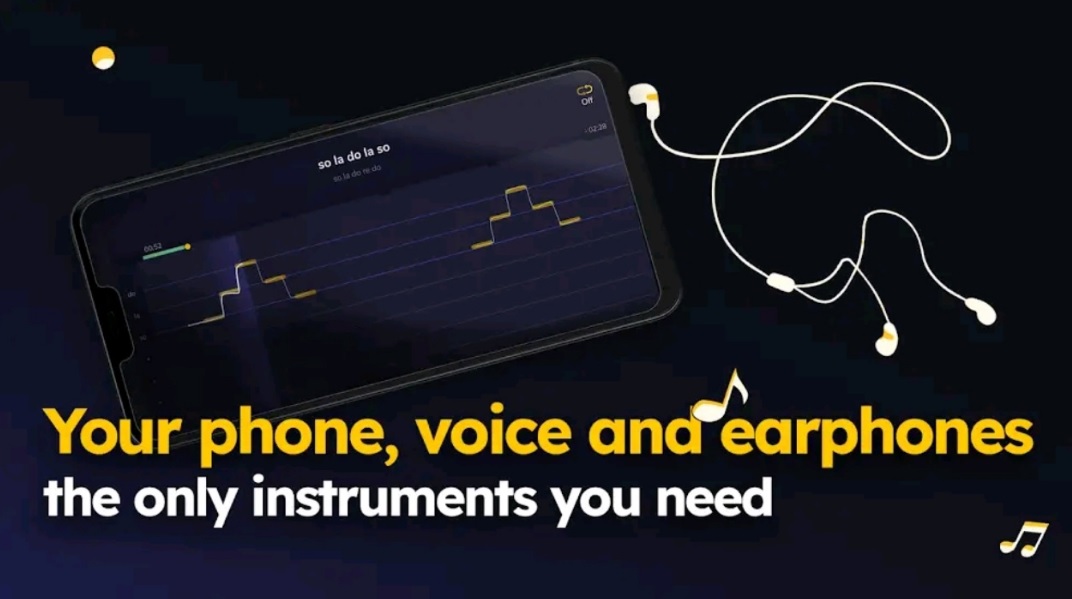 You may also like: 11 Best music notation apps for Android & iOS
Vox Tools: Learn to Sing
You may have heard of Vox School Studio, where people learn music and singing. The Vox Tools application was developed by the teachers of this school so that other people can start singing as well.
Here you can learn to sing from scratch or try to use your voice better – it all depends on what vocal characteristics you have now. The teachers at this school will share subtleties and tricks with you.
Vox Tools offers you to learn how to sing with your own voice. You can find all the details in the training section of the application. In this category, everything is dedicated to programs and audio examples of each of the techniques.
Before you start the lesson, you should choose your own voice type – so the lessons will be more useful for you. In Vox Tools you can create your own training – this is useful if you already have experience with singing and working with your own voice. The smallest details are worked out by you.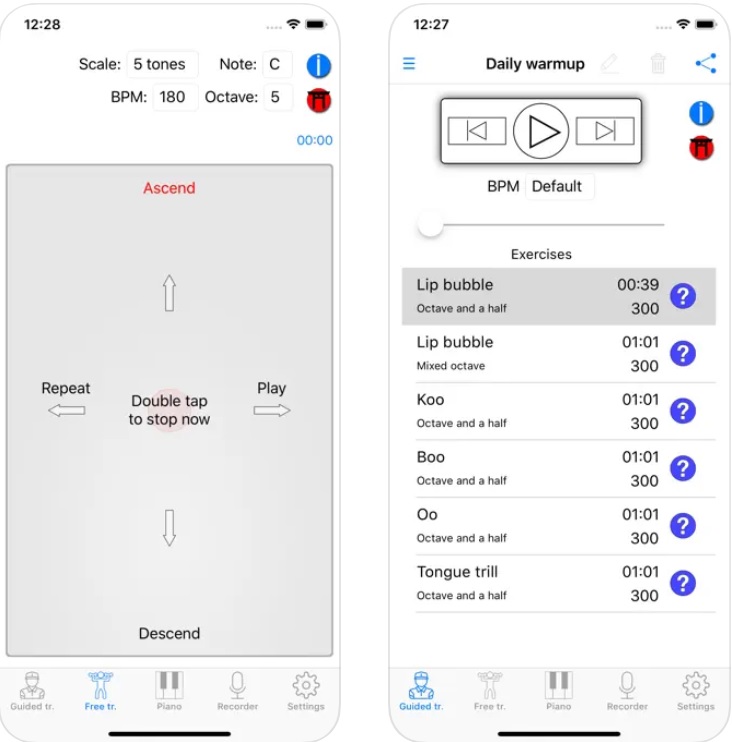 Solfa: learn music notes. Solfege
Solfeggio is one of the most challenging subjects in the teaching of every musician. You will need to learn the notes, read scores, and study all the theory of music.
The Solfa app helps people learn the notes they need to play the piano, guitar, or singing. You can easily learn music theory without getting confused about tonality. Above all, Solfa is used to train the ears of experienced musicians.
With its bright interface, you can quickly learn musical theory. First, you will need to select the instrument you are working with. It can be a piano, guitar, cello, violin, and many other instruments.
Solfa has a training mode where you can read everything from your smartphone screen. You should repeat the names of tones and chords to memorize them. You can switch between different languages – of course, if you use both languages in real life. Train your hearing to amaze others with your abilities.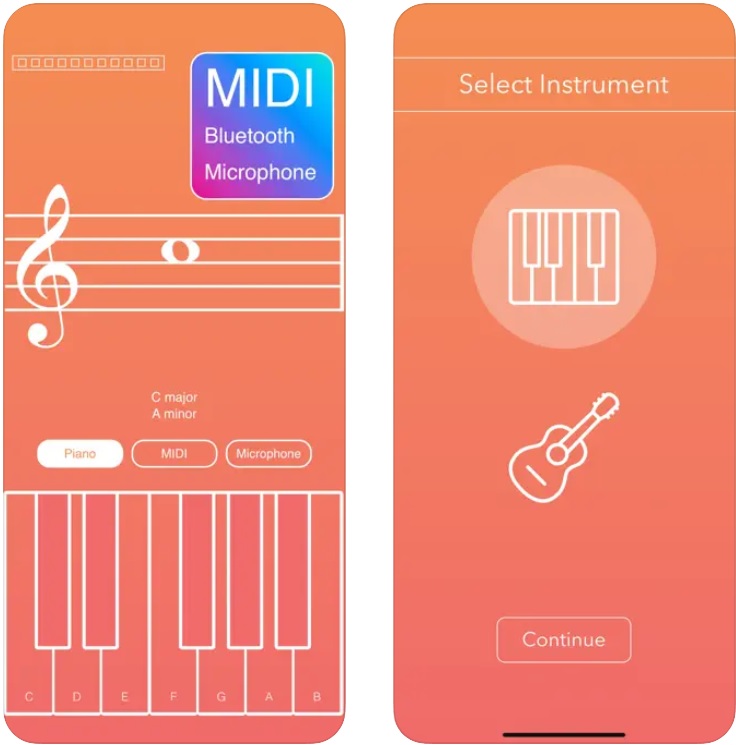 SingTrue: Learn to sing in tune, pitch perfect
If you think that you can't sing at all, then some applications will prevent you from thinking that way. The developers of SingTrue assure that they can teach absolutely any person how to sing, and the sound will be in perfect harmony.
Here you are given the opportunity of voice training, which you can start at any time convenient for you. You can also tune in before performances or concerts, warming up with a simple workout.
If you have always been told that you have no natural talent for singing – do not believe it. With SingTrue, you'll at least try to discover the inner musicality that's been hidden in you for a long time.
You will become more confident because constant training will help you develop your abilities. With SingTrue, you can set up notifications that will remind you every time you need to practice. Here you will find over 30 interactive exercises for voice and ligaments.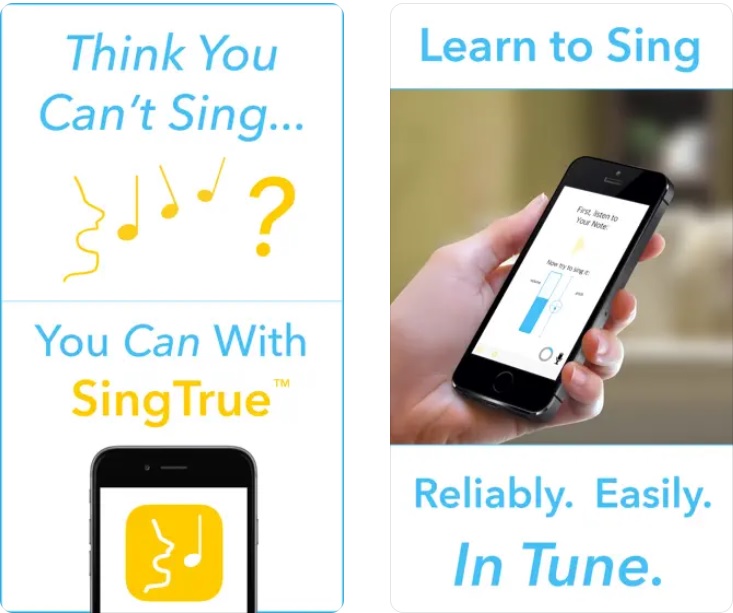 SWIFTCALES
SWIFTCALES is a mobile app designed to help aspiring singers and musicians develop their vocal skills by providing various vocal exercises and techniques.
The app offers a range of exercises such as warm-ups, breathing techniques and vocal scales to improve your singing ability. It also includes a feature called "ear training" that helps users improve their ability to recognize notes and intervals.
One of the features of the app is the ability to customize exercises based on the user's experience level and voice range. In addition, users can track their progress and receive feedback on their work.
However, some users have complained that the app is sometimes buggy and freezes. Others found the interface confusing and difficult to navigate.
Application features:
Suitable for both beginners and professional singers as a warm-up
Great voice warm-up app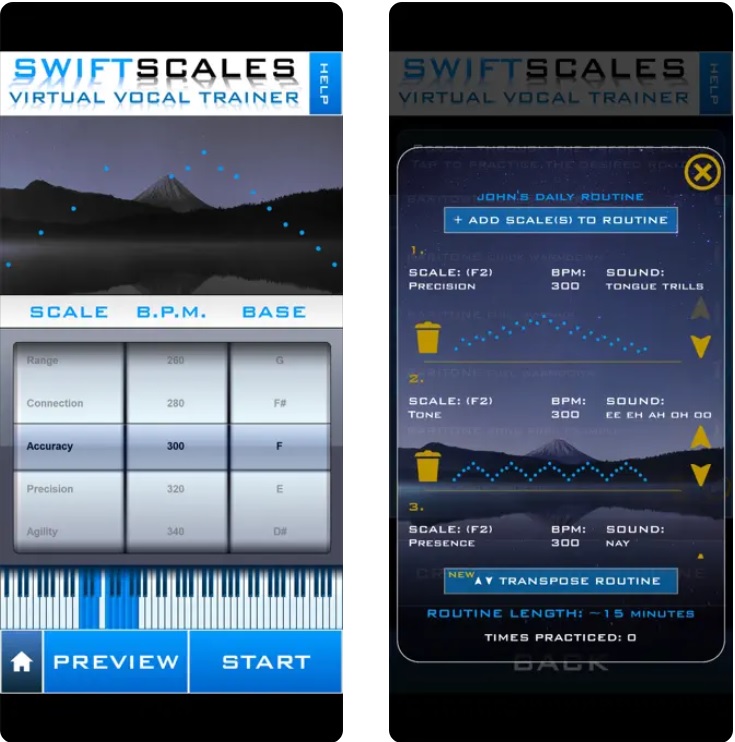 Learn to Sing – Sing Sharp
Many people think that they sing great – but the voice in the recording sounds completely different. You can stay out of the notes, change tones, and words without noticing your own mistakes.
Sing Sharp will teach you how to sing with full respect for notes and pitch. After all the lessons and learning the program, you will learn to sing correctly and beautifully for free. We recommend that you record your own vocals before and after the lessons – you will immediately notice the result.
Sing Sharp technology in real-time and visually shows your hitting the notes. You will be able to correct tonality and correct any errors you make at once.
This technology is convenient for learning – because you don't have to wait for comments from the teacher, and you can study on your own at any convenient time. With Sing Sharp, voice training is more fun and less disturbing, helping you learn.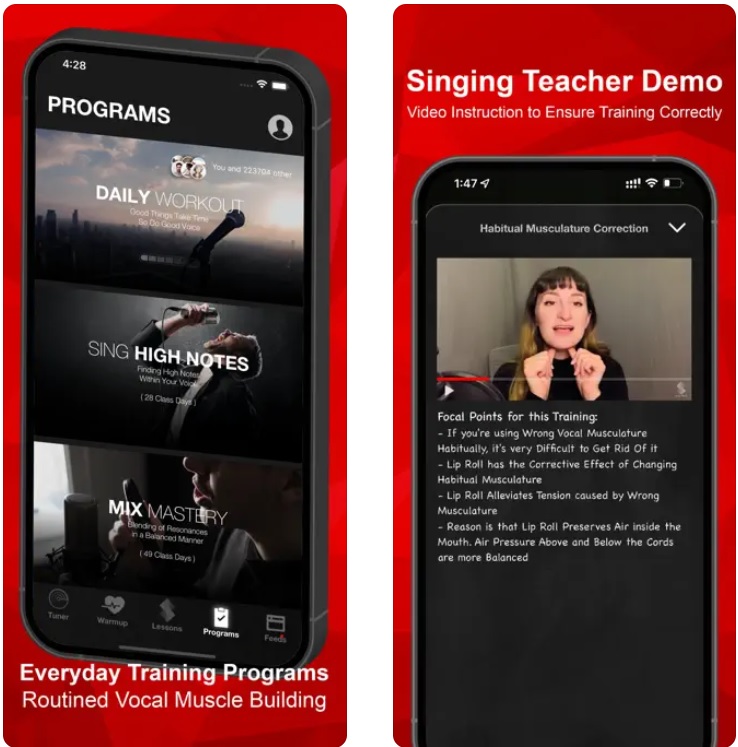 You may also like: 9 Best harmonica learning apps for Android & iOS
VoCo Vocal Coach
Vocal training can be organized in the VoCo application. It is designed for absolutely all categories of people – students, vocal teachers, musicians, and just enthusiasts.
All people who practice music need training and constant maintenance of their vocal abilities. You can fix all your weaknesses in voice and singing by simply launching the VoCo app periodically.
Here you'll find standard industry-specific exercises that increase your vocal range and artist's power. Regular exercises will help you maintain your progress in singing, as well as improve your style and tone of voice.
VoCo is mainly used in combination with personal vocal exercises, but you can also use it solely for yourself. All exercises adapt to your type of voice and vocal abilities. You customize your own performance – that's how VoCo helps you achieve better results.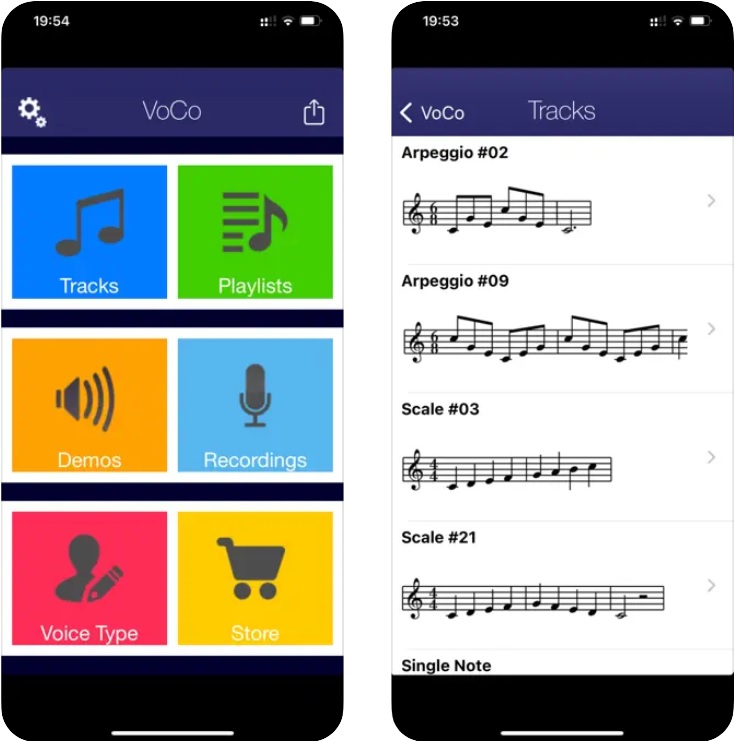 Perfect Ear – Music Theory, Ear & Rhythm Training
Perfect Ear is a great application with a minimalist interface. Everything is made in pleasant green tones, and you will want to use it again and again for training.
The app has different features that musicians of all levels and abilities demand. It all depends on which genre you want to sing or if you can improvise on guitar, you should still have basic musical knowledge.
Perfect Ear has exercises that develop your musical hearing and sense of rhythm. These two basic values are simply necessary for every singer. In the app, you will read sheet music, learn intervals and chords, and read articles on music theory.
Even professionals will find something interesting for themselves in Perfect Ear. For individual workouts, you can create your own gamut and chords, form their sequences, and constantly practice to improve your skills and hearing.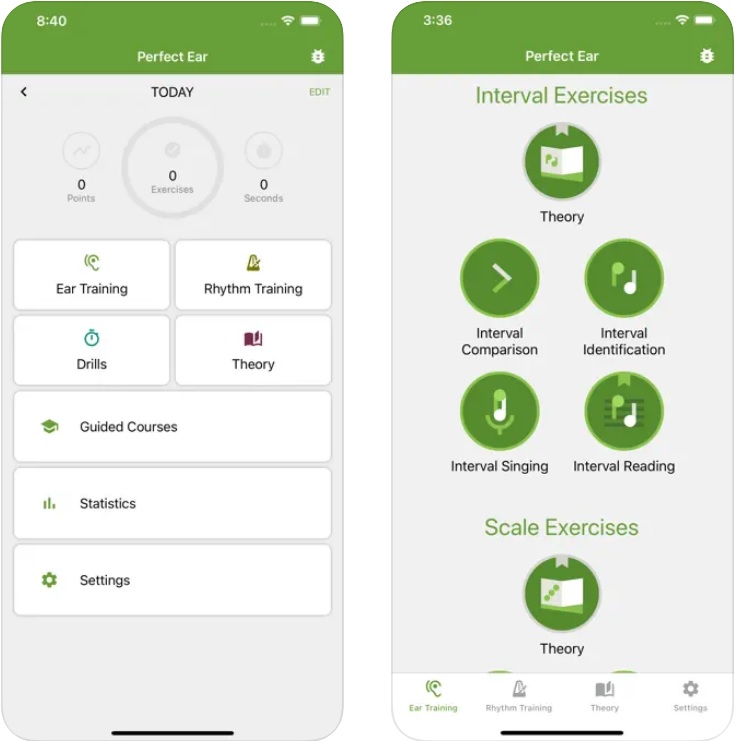 Functional Ear Trainer
Would you like to pick up the chords by ear? Or surprise all your friends with the fact that you can transfer music to paper? In that case, we can recommend the Functional Ear Trainer app.
Here you will learn to understand absolutely everything you hear. Your hearing will practice over and over again until you can play any melody right after you hear it.
The Functional Ear Trainer teaches any user how to distinguish tones and chords in different musical tones. This way you can adapt the music to different tones and hear the melodies in more detail.
For Functional Ear Trainer to give you real progress, you'll need to spend at least 10 minutes in the app daily. After these sessions, you will immediately see your progress and improve your hearing, voice, and pitch to music. Try out a few of the methods and exercises in the Functional Ear Trainer and find the one that suits you best.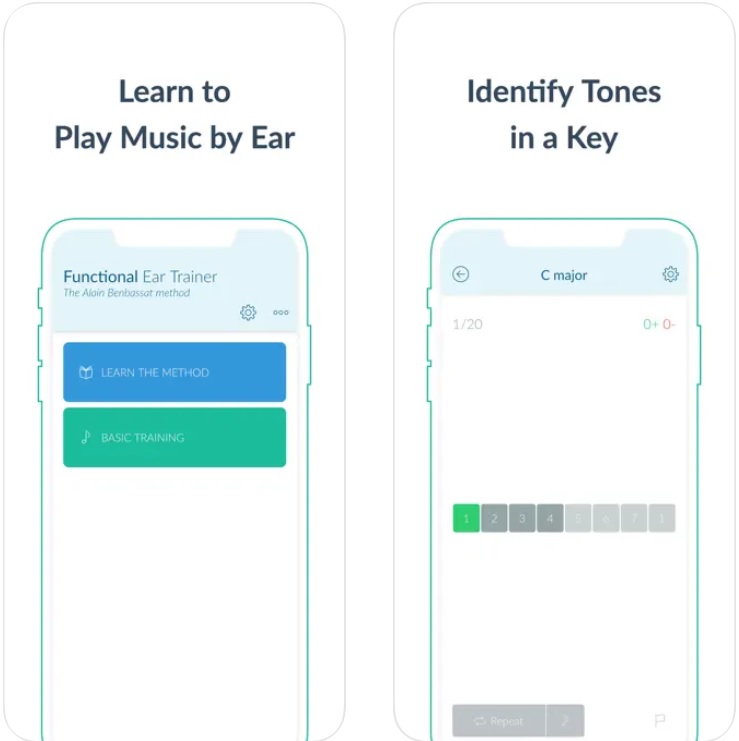 Sight Singing Pro
Sight Singing Pro is a mobile app designed to help musicians, especially singers, improve their sight reading skills. The app offers a series of exercises and lessons that challenge users to correctly identify and sing notes, intervals, and melodies.
The app has a user friendly interface with various customization options such as key selection and exercise difficulty level. The exercises cover a variety of musical genres including classical, jazz and pop. In addition, the app offers a built-in pitch tube to help users identify the correct pitch.
One of the downsides of the app is that it requires an internet connection to download and access its content. Also, some users have reported that the app's pitch detection feature is not always accurate, leading to frustration and incorrect answers.
Despite these issues, many users have praised Sight Singing Pro for its effectiveness in improving sight reading skills. The app received positive reviews for well-organized lessons, useful exercises, and an easy-to-use interface.
Sight Singing Pro is a useful app for singers and musicians who want to improve their reading and musical notation skills. While it may have some drawbacks, its features and benefits make it a valuable tool for anyone looking to improve their musical skills.
Application features:
Allows you to train and improve your vocal skills
Large selection of exercises
Application cons:
• Internet connection required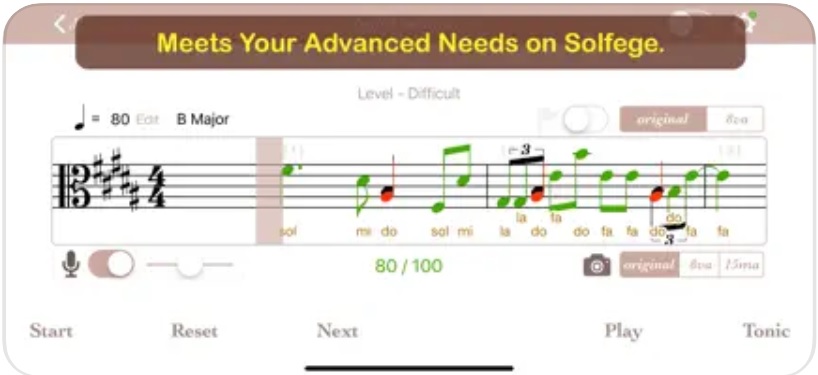 You may also like: 7 Best ukulele learning apps for Android & iOS
Vocaly
Vocaly is an app that allows you to develop your vocal skills at home.
One of the key features of Vocaly is its simple user interface which makes it easy for users to navigate and use the app. The app also allows users to save their favorite lessons and refer to them later.
However, some users report problems with voice accuracy, especially for less common languages. The app also requires an internet connection to function, which can be a disadvantage for users in areas with poor connectivity.
Despite these shortcomings, many users find Vocaly a useful tool for improving their voice and vocal abilities. The app received positive reviews for its ease of use and accessibility and was recommended by users.
Features of this application:
Workouts for voice that you can use at home
Easy to use application
Application cons:
Poorly perceives different languages
Internet connection required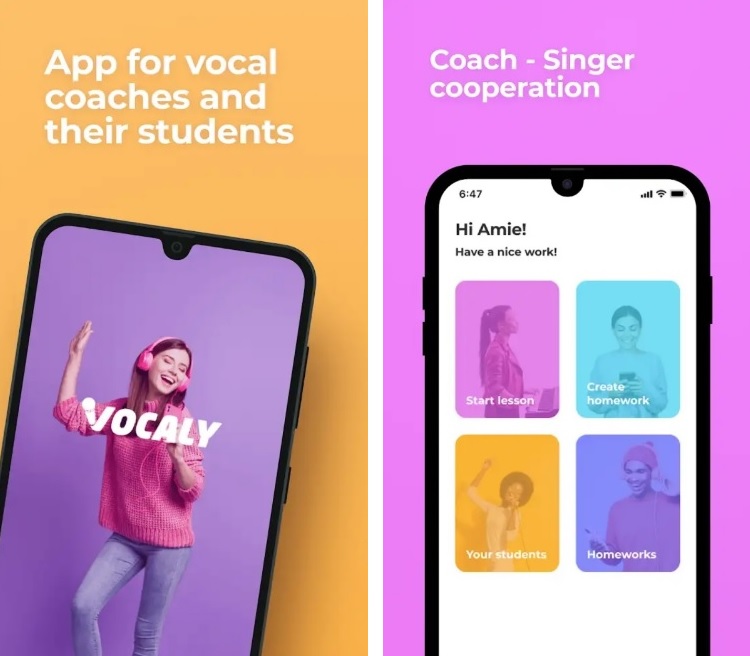 Any vocals depend on your initial performance. Maybe you've done music before and now you just need to remember the fundamentals. But there may be cases when you suddenly want to learn how to sing and now you're looking for different ways.
In that case, if you do not have a melodic voice or musical ear, it is unlikely that you will become a star. But you'll never know if you don't risk trying it! So we suggest you download the app you liked the most and start your lessons right away. Maybe you will succeed and you will really be able to sing beautifully.