Surely everyone faced the problem of planning their trip? Now it is not necessary to use bulky and inconvenient paper maps and reference books. In this article, we will introduce you to the best free travel itinerary apps.
And more general travel apps can be found in this article.
Triplt: Travel Planner
Triplt: Travel Planner is a handy mobile app that will take your travel worries away forever. Enjoy your vacation, and don't worry about planning!
You no longer have to search for information about your flight or hotel reservation in a bunch of other messages. Triplt helps you get organized and tidy.
How will this app be useful?
You can upload files (text or PDF) to the app
Download electronic versions of your tickets, boarding passes, or QR codes. Now you are unlikely to lose your ticket!
Save useful information in the app. You can download the file you have or use the information that the app provides.
Keep track of your schedule. The app will tell you when to leave home to catch a flight, when to check into a hotel, and so on.
Track and route. The Triplt app will help you navigate the shortest path.
The app will tell you where to stay – the best cafes, restaurants, clubs, bars, and other entertainment venues, as well as interesting sights, are already marked on the map.
Thus, the mobile add-on helps you organize the whole process and allows you to enjoy the journey to the fullest, to visit new places.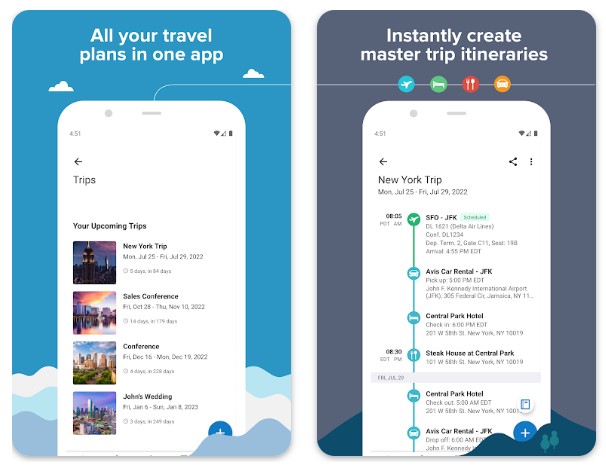 You can also check: 11 Best apps to find apartments for rent (Android & iOS)
Wanderlog – Trip Planner App
Wanderlog – Trip Planner App is a mobile app that allows you to travel easily and without any worries. Map and route your trip in minutes.
It's completely free and fairly easy to use. This mobile add-on will help you plan any trip, trip, or even a short walk.
You can create travel itineraries (whether you are going by public transport, on foot, or by car), and book cars, hotels, and tickets!
And now in more detail about the features of the app:
Book tickets (for a plane, train, or a place in a hotel) and download the app so as not to forget or lose.
Use ready-made travel routes (you can choose from what the app offers or choose routes shared by other users.)
Create your own travel itineraries that you can later share with other users.
Connect your mail to the app and then all-important letters regarding your trip will immediately appear in Wanderlog.
View upcoming events and include them in your event plan
Keep track of your budget. Enter your expenses into the built-in financial calculator and keep track of what you spend your money on.
Most importantly, the app is able to work offline. Bad internet or its absence will no longer break your plans.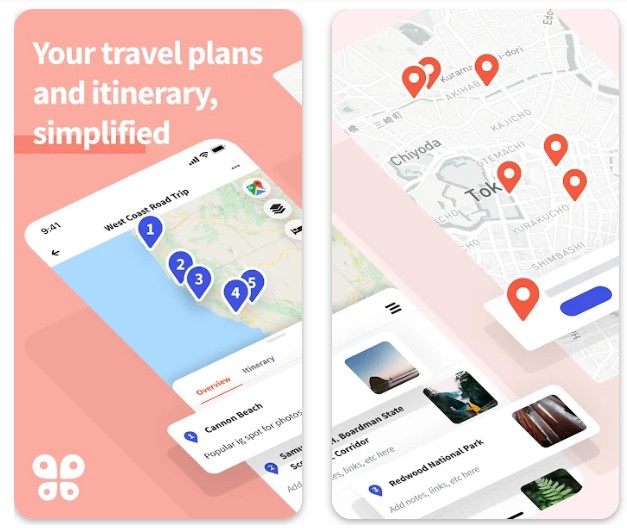 Polarsteps – Travel Planner and Tracker
Polarsteps – Travel Planner and Tracker is an app that will help you in your travels. Keep track of your location and mark the places you have already visited or want to visit.
This app will be useful for many travelers, it can show you the most interesting places from all over the world, gives you access to useful information.
And what is most interesting, it can turn your trip into a real guide, thanks to automatic route recording. Interested? Let's take a closer look then:
The app keeps a continuous record of your route and movements (with your permission). You just need to keep your smartphone in the pocket of your clothes or bag that you carry with you.
Attach photos and notes to your itinerary. Now you can make small guidebooks for your friends or yourself
The app will help you build the shortest path to your chosen point on the world map.
Keep a diary of your travels and movements. Record interesting events and your own emotions.
Share your achievements with other travelers and get useful tips in return. Chat with people from all over the world, maybe you will even find friends with the same interests?
In the app, you can also keep statistics of your travels: what famous places you have visited, how many countries you have visited, how many percent of the whole world you have already seen and how much is still unknown, how many kilometers you have traveled.
Upon completion of the route, you can view it in the form of a real visual book! Show off to your friends by showing it on your smartphone or upload it to your social networks!


Tripoto Travel Planner
Tripoto: Travel Planner is a great travel companion app. Discover the world from a new perspective, plan a trip to anywhere in the world!
The app is developed in India and powered by experienced travel bloggers. Tripoto allows you not only to plan your trip to the smallest detail, but also to make new friends.
In the app, you will have access to a lot of information, but not to boring articles from the Internet or directories, no! You will have access to guides and guides written by experienced travel bloggers, guides and backpackers.
Thus, you can see the world from the inside out, visit secret locations, try something unknown, see hidden sights.
You can also start your own blog and become part of the Tripoto project. Create unique travel itineraries, publish useful articles, share your travel history with people who are trying to travel for the first time or with experienced tourists.
Thanks to the app, you can plan an exciting trip – mark interesting places on the map, plan your route and don't forget to share it with your friends.
Thanks to a special function, you can also get to know your own city better, maybe even discover it from a new side! Turn on the Nearby mode and visit places of interest near you.
If you have any questions or find yourself in a difficult situation – ask a question to users on the Tripoto forum, experienced tourists will be happy to answer and help you, you are not alone!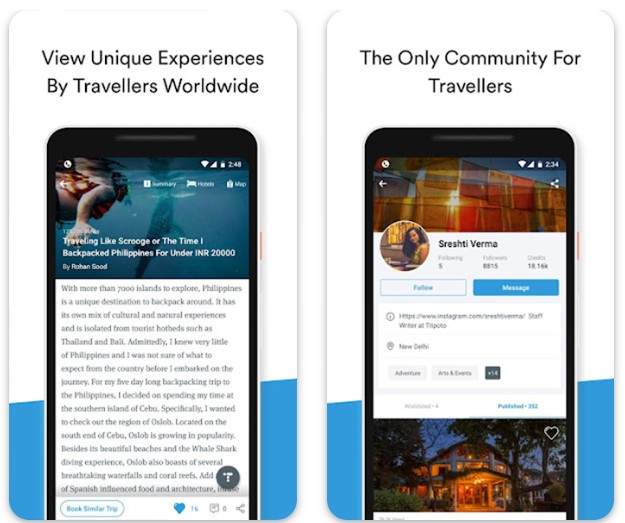 Roadtrippers – Trip Planner
Roadtrippers – Trip Planner is an app that will turn your trip into a real adventure. The mobile app will help you get directions for your journey by car.
Roadtrippers will be your best friend if you like to travel by car. Get inspired by pre-made guidebooks or create your own unique itineraries.
Discover thousands of new places – picturesque places, new tourist locations, roadside places, visit cafes and restaurants that you have not been to before.
You can save your routes in order to ride them again in the future or to share your experience with friends. The trips you save are synced to your cloud space or across devices.
How to plan your itinerary:
Choose the place you want to go and plan your trip.
Plan your route with the Roadtrippers app, place the points where you want to stop (you can place up to seven points at a time for free)
Stock up on good mood and go on a long-awaited journey!
Thanks to the built-in navigator, you will always know where you are going and how many kilometers (miles) are left until the next stop.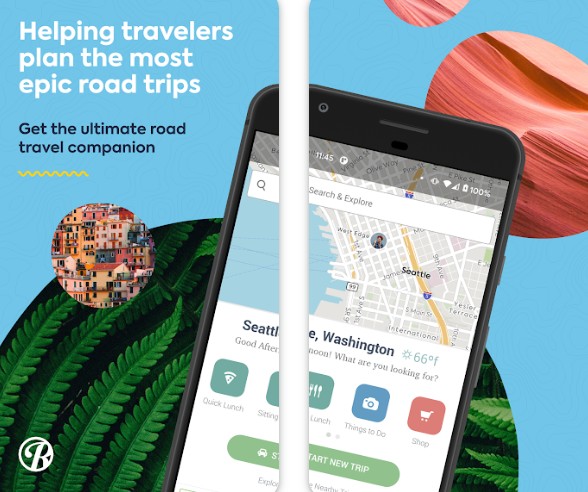 Lambus-Travel Planner
Lambus – Travel Planner is an app for people who love to travel, which will help not only plan a route, but also throughout the trip.
Lambus is an all-in-one travel app with a wide range of features to make your life easier. Namely:
Route planning – now you do not need to spend a lot of time creating a route, the application will suggest you the best options based on the stops you have specified.
If you have a rest with a company and are going on a joint trip – synchronize your smartphones with each other, and then all team members will have the route of your trip, and you will be able to track each other's location.
Keep your documents close at hand. Now you always have access to your documents and tickets – just upload them to the app.
Keep track of your money spending. In the app, you can calculate the necessary budget for the upcoming trip in advance and keep track of expenses in the future.
Booking tickets. You don't need to look for profitable applications among hundreds of others – the app will do it for you. Lambus offers you tickets at the best prices.
Get inspired by routes from the built-in guide and plan new trips.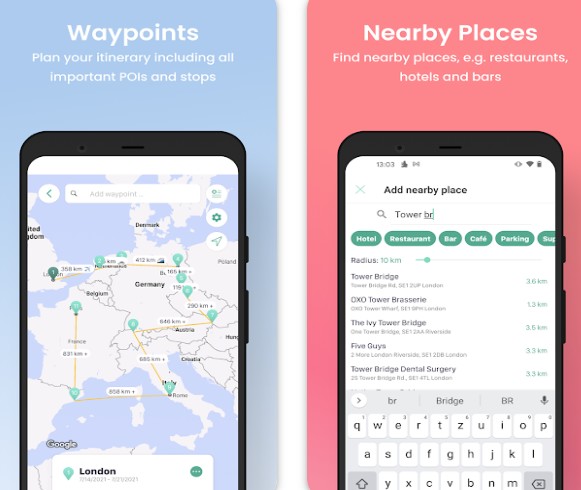 You can also like: 11 Best Apps To Use When Traveling to Berlin
Visit A City
Visit A City – explore new places and cities, learn a lot of new and interesting things thanks to this application. Do not know how to dispel boredom? Plan a new trip!
The app gives you access to over a thousand travel guides created by experts and experienced travelers. You have a lot of useful information at your disposal.
Plan, calculate and build a route thanks to the built-in map. Mark places of interest and set stop points. The map works offline.
The app has useful guides and guides that will be useful throughout the journey, no matter what situation you find yourself in.
Follow the news directly through the app. Be the first to know about interesting events, book tickets and hit the road.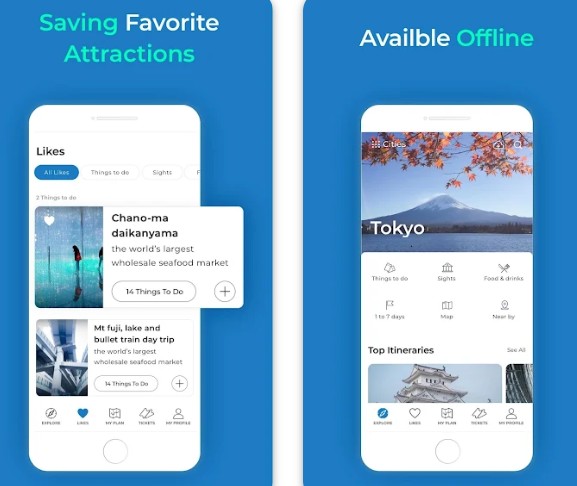 TravelSpend – Track Travel Expenses and Trip Budget
TravelSpend – Track Travel Expenses and Trip Budget is a useful app that will help you plan your budget for your vacation and then track where you spend it
Most likely, you found yourself in a situation where your money ran out imperceptibly during your vacation? Admittedly, unexpected expenses are not always pleasant, especially when you then have zero savings in your account.
With the TravelSpend app, you will no longer find yourself in such an unpleasant situation. Your finances under your control:
The application will initially help you calculate the required amount of money for the entire trip (calculate the cost of air tickets, the cost of the hotel and take into account minor expenses)
Add your bank card to the app. In the future, after paying for a particular purchase, the application will record your expenses and keep records.
At the end of each trip you will have a list of expenses and statistics with your expenses. Now you know how much money this or that trip cost you.
Keep track of your money, thanks to convenient charts – the app automatically divides all expenses into categories (food, shopping, entertainment, tickets, accommodation costs, transport).
Of the minuses in the app, it is worth considering advertising. It is here, as in most free app.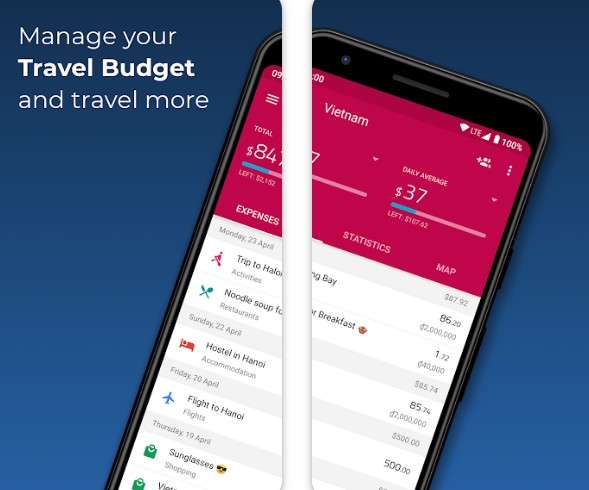 Roadie: Road Trip Planner and RV
Roadie: Road Trip Planner and RV is an app to help you plan your trip, whether you want to plan a trip to one place or plan an entire trip in a van.
Plan your trips with the help of an interactive map – mark interesting places, points of interest and necessary stops. The app will calculate the distance to be traveled and the time of the trip.
Due to the fact that the app calculates the time and distance of the trip, it will be easy for you to calculate the amount of gasoline and the time of your trip. Now, in order to be late to the appointed place, you will have to try.
Use the markers on the map to discover something new. Visit great restaurants, discover new sights.
To find the object you are interested in on the map – just enter its name or category. For example, "pizza" – if you are looking for a pizzeria nearby.
Don't worry, the app works offline. Poor connection or complete absence of the Internet will no longer become an obstacle to your travels.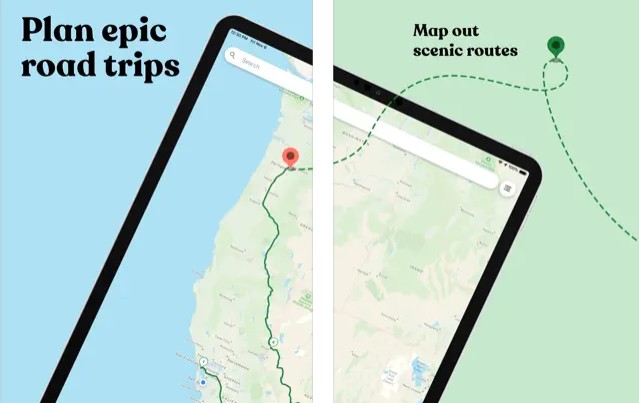 Tripsy: Travel Planner
Tripsy is a trip planner app that packs in a lot of useful features. Traveling is much more convenient thanks to the app
With this mobile add-on, you can plan your travel itinerary and share it with loved ones, keep track of flight schedules, keep important information close at hand, and much more.
Stay organized with Tripsy:
Organize all your travel information. Keep copies of tickets, copies of documents, important notes, flight information and more at your fingertips.
Get information about your flights with push notifications on your phone. Now you can not be afraid to miss something important.
Share your trip with friends
Synchronize the app with your calendar. In this case, the app will always notify you of upcoming events and activities.
Customize the app for yourself. Set a beautiful background, choose a convenient font, notification sound and text font. Make the app personal to you.
If you are traveling between time zones, the app will automatically show you a second watch face with local time.
Throughout the route, Tripsy gives you helpful tips and tricks. Listen to them, they will make your trip as productive as possible.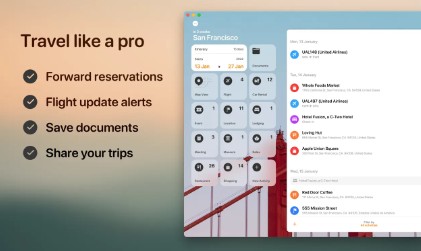 You can also check: 11 Best RV Apps for Travelers for Android & iOS
Tripify – Travel organizer
Tripify is an app that will become your indispensable pocket guide. Save your money and time, travel with pleasure!
The appcombines some of the best modern technology and useful information gathered from the mouths of experts and experienced professionals.
The app uses virtual reality. With this feature, you can virtually visit the place you want to go.
Thanks to the app, you can plan your route in detail (get directions, mark interesting places you want to visit along the way).
Discover new locations, interesting sights and establishments thanks to the built-in interactive map.
Create notes, attach photos and videos – share your impressions during the trip with friends. Save your routes and view them whenever you want
Don't worry that you can pass the desired stop – the interactive map will always warn you when you are approaching the planned stop. Travel with pleasure!