The new technologies allowed people to make their lives easier and more convenient. Before now people wrote letters and went to the post office to send them. It took them a lot of time. Letters reached the addressee after a long time.
Then social networks were invented. It is much faster and easy. Just write what you wish and send it. The messages will get the person in a sec. But there was a new problem. People have learned how to hack other people's accounts and read users' private messages.
You can also check: 15 Free SMS Apps for iPhone like iMessage
This is really unpleasant. Nobody wants his private messages read. Especially when we talk about a large company or government figures. Don't worry. We know the solution. People have developed special apps that can protect your private messages from hacking.
This is the list of app that given below will help you to find the best app for private messaging.
Whatsapp
The app is number 3 in Social Networking top. It allows you to text, to call, to send photos and videos. All your personal data will be saved. The app has a good security system. You can call whoever you wish.
The app is free. It uses the Internet connection. That's why your correspondence will be fast and secure. Free calls worldwide! You can also create a group chat to inform with all your friends. Be in touch with people that you know.
You don't need to think about your user name. Whatsapp uses your number. The app always notifies its users. You won't miss important information. The app can read your address list to assist you to send them messages. It is really useful and spends less time.
You can also send a voice message. Your mates can hear your voice. Isn't it amazing? You can adjust the app according to your preferences. Change the background or sound of notification. Try Whatsapp and your personal messages will be saved!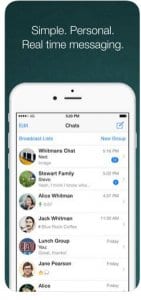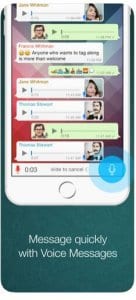 You may also like: 11 Best Private browser apps for Android & iOS
Viber
What do you know about this app? We will tell you. It is one of the best messengers for free and secure texting. You can send whatever you want. You can send people pictures, videos, audio messages, documents and so on.
The possibilities of this app are huge. The app is free. You need only the Internet connection to chat with people. It is an easy and fast way to be in touch with your friends or family if you are far away from them.
You can call non-Viber users cheaper. It is a really good advantage. The app allows you to call or make a video calls your mates. They can see your face and you can see theirs. You can create group chats for different purposes. Create a group chat for work, family and friends.
All your contacts and messages will be secured. The app guarantees you 100% privacy. Special coding protects you from hacking. You can even create a secret chat to discuss secret things and plans. There are a lot of stickers to make conversations funny and easy.
You can send one message immediately to several users. You don't need to spend a lot of time to test each of them. Viber is a really useful messenger app that can secure your personal data.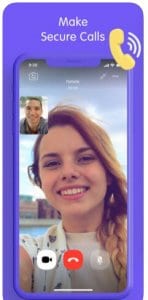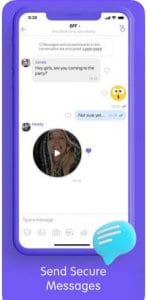 LINE
This app is a perfect way to communicate with your friends and family in a distance. You can send messages, videos, photos and audio messages. With this app, your talks will be funny and protected.
You can create a group chat to text with all your fellows. You can also create a group video chat. The conversation in a video chat will be pleasant and interesting. You can chat with more than 200 friends. Can you imagine it?
You can call and send voice messages for free. The quality of the audio is so good. Add funny filters to your video calls to make them fanny. The app also has its own feed. You can share moments of your life with your friends. You can connect your phone data to the computer. Don't worry about safety. LINE can secure your personal data.
LINE company has a lot of different apps that can help you to chat with your friends. The app is a really good way for a private talk. It has a strong protective system!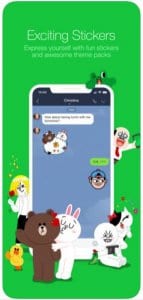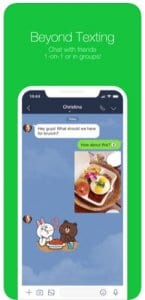 Telegram Messenger
Telegram messenger is a good projector of your personal data. The app has been downloaded more than 100,000,000 times. It is a fast way to converse. You can synchronize your contacts with another device or computer.
There are no limits. You can send billions of messages every day and every hour. You don't need to worry about the memory of your smartphone. Messages don't have space. All messages will be secured storage in a special place on the Internet.
The application provides the best security system. A difficult code secures all your messages. The app is so powerful. You can create a group chat with more than 200,000 people in it! It is really useful for big companies. Even if you have a poor Internet connection, the app can send messages.
To make your conversations and chats funnier you can edit picture and video in a special editor. Then, don't forget to share it with your fellows. There are no ads in the application. Nothing will bother you!
Telegram is one of the best apps for private chatting. It can provide maximum protection against hacking and penetration into your privacy. The design of the app is beautiful. You can adjust it. The app can assist you to find new friends!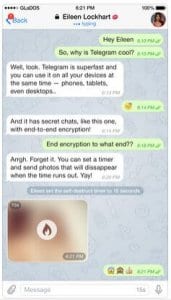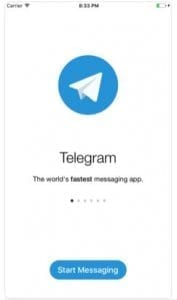 KakaoTalk
It is a good messenger that provides you save chatting. You can send photos, videos, your location, documents and so on. The possibilities of this application are huge. The app has been downloaded more than 100,000,000 times.
You can make your talks funnier to add cute stickers and emotions. Chat with your mates all over the world. The app uses the Internet connection to send your messages. It means that it is free.
You can create a group chat to talk with your friends or negotiate. Voice messages have good quality. You can add funny filters on your voice messages to amaze your mates. The application will notify you about new messages. You can also get to know who read your messages and who doesn't.
You can set up the reminder of important dates or appointments. There are also funny mobile games. You won't be bored. Download KakaoTalk to have a high quality of message security.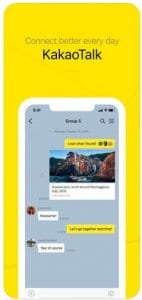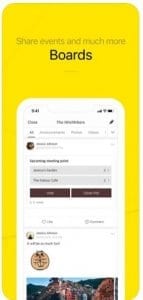 Dust
This is a very reliable and secure application for chatting. The app can protect your personal messages. It is really important to control your personal data. Nobody will know about your messages. There are a lot of privacy tools to help you.
You can use this app to send instructions, passwords and medical documents. Don't worry about safety. You can unsend every message if you change your mind to send a message. The app will notify you if somebody makes a screenshot of your dialogue. The app is free. It uses the Internet connection.
All messages will be deleted after 24 hours. Don't worry it will be deleted forever. Messages are encoded with a special code that is difficult to crack. You can even use this application anonymously if you are so afraid for your messages.
The app allows you to have a personal chat. Don't worry about safety because this application can protect any messages from prying eyes. The app has been downloaded more than 100,000 times. This shows the high quality of the app. Try this application and you will not regret!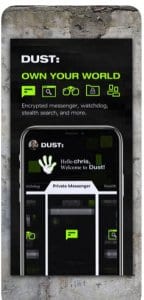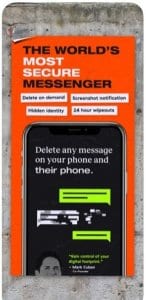 Signal Private Messenger
It is a good application to secure your personal messages. You can feel safe when you chat with your friends or negotiate for work. You can send pictures, videos, audio messages and documents. Nobody will see it. The security system of the app is strong.
Every message, every conversation will be private. Don't worry about prying eyes. The app uses a modern and reliable security system that provides maximum protection.  The application uses your phone number to log in. It is easy and doesn't take a lot of time.
You can create a group chat to have a private talk. Nobody can hack your group chat. Nobody will know the list of people of the chat and their numbers. The app is really fast and can work even if the Internet is poor.
There is no distance. You can call whatever you wish. Call your friends across the ocean or neighbor city. Signal works well and is constantly improving. Your conversations will be protected with it.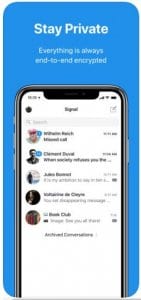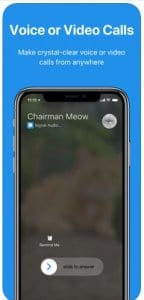 You may also like: 5 Best sticker apps for iMessage
Wickr Me
Privacy is an essential element of any messenger nowadays since there are so many scandals when personal data of users is being sold to third parties. Another terrifying threat is hackers.
If you are concerned about the privacy of your messages, then you should get this app that has advanced algorithms of encryption so no one is going to get to your messages except the participants of the conversation. Thus, Wickr Me is both good to use for the enterprises and for private messaging.
All types of connections will be encrypted – both calling, text messaging, and voice messaging. Moreover, the app recently invented a new feature that allows detecting when the user makes the screenshot of a message. On Android devices, Wickr has released a new feature that allows users to disable "Screen Overlays".
This feature helps to protect the phone from the TapJacking. Moreover, Wickr Me blocks all 3rd party keyboards. This is really useful in terms of protecting the names, passwords, and other important information you might be typing with just a keyboard. In other words, the synonym of Wickr Me – advanced security.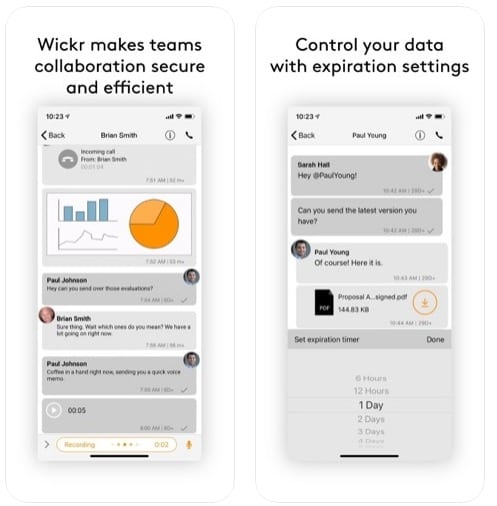 CoverMe Private Text & Call
CoverMe can easily protect your private conversations from prying eyes. You can send self-destructing messages. It is useful for personal data and documents. Hide secret information with this app.
The advantage of the app is the creation of a new phone number that nobody knows. You can make private calls to protect your privacy. You can get any phone number from any country. Do you want a phone number from Russia or the United States of America or Germany? You can choose any country.
Every conversation will be encoded. No one can hack it. The private function of action is when somebody gets closer to you, you can just shake your phone and the screen turns off. It is really useful and unnoticed. You can keep passwords and secret information in this application. CoverMe can protect it.
It is one of the best-protecting apps to keep your messages secret. Nameless numbers can be blocked so no unnecessary calls, voicemail is supported. The most perfect feature is that the app can be camouflaged as another app so no one knows you are using a classified texting application!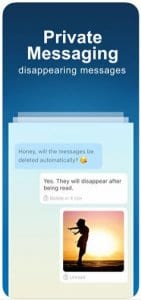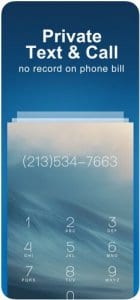 Threema
Everyone probably knows that the Android system is more vulnerable to hacker attacks and data-stealing then iOS. This happens mainly because it is an open-source system and it is quite easy for 3rd parties to break into. That's why the developers of this messenger created a special texting app for Android that helps to protect the privacy of users.
While secure connections are the mainstay of many messengers, Threema goes one further by ensuring no contact details are saved on their servers, and any messaging data that goes through them is immediately deleted once sent. As a result, your local files stay on your phone and after they are sent they are immediately deleted from the server.
Here you can send all kinds of messages with all types of files – mages, files, videos, and locations, as well as create groups and set up polls among trusted users.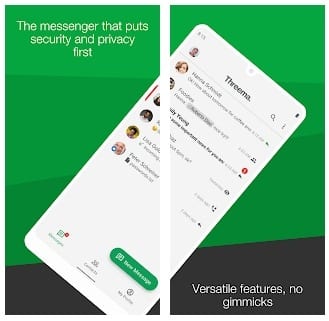 You can also check: 17 Best free chat apps to talk with strangers for Android & iOS
Cisco Jabber
Cisco Jabber is that kind of the apps which are not initially the messaging app, however, they include such a function, and, moreover, they provide enhanced security of the messaging.
This one is a collaboration app, so if you are looking for a secure messenger where no one can steal your data because you are working on an important project you can use Cisco Jabber and kill two birds with one stone.
The best feature of such apps is probably the fact that it can be set up completely anonymously – here you don't need your telephone number or email, to start using this app. The only thing, it doesn't always function well on smartphones – it depends on how powerful your gadget is.