If you want to visit the Middle Ages, you won't need a time machine. Atlantis minimal idle MMO will immerse you in the atmosphere of fantasy, where you can fight with mythical monsters.
If you like this game you probably like the theme of mystical creatures, middle ages, castles, and so on. We can also recommend playing the best castle defense games and you can find the best of them in this article.
The registration process is very simple — you only need to enter the desired username and password. After you choose your character, you can start your adventure! The main essence is in battles with other participants – real people and pumping your character in battles with mobs.
In between battles you can sell and buy new items, engage in battles, and improve your inventory. For example, in Smelter, you can combine two pieces of equipment to get one item with the characteristics of both.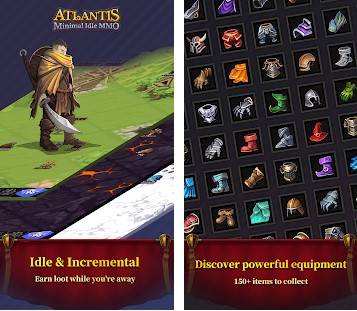 You can any time open the character and equipment menu, chat, a map of the choice of locations by clicking on the buttons located on the screen. Battles take place in automatic mode and depend on the level of the character. When winning, the player gets experience, gold, and new inventory items, which means more wins— more fun.
The higher the level, the more battle locations, and higher-level items become available. Each location has its unique monsters, for example, there are cyclopes, hellhounds, and many others.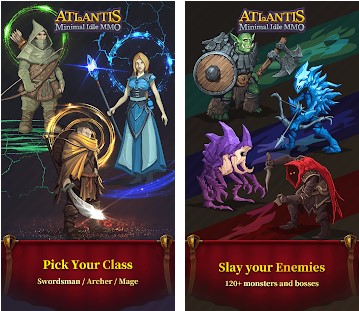 The game is made in a hand-drawn fantasy style, stylized as the Middle Ages. Epic music and ambient sounds maintain tension and create a real atmosphere of battle. A variety of locations, each with a different design, will not let you get bored. Defeat your opponents in a fairy forest, gloomy caves, or in Icewind valleys.
You may also like playing tales games – they are similar to the idea of this game, so it will probably be interesting for you.
The game will be attractive for fans of MMO and fantasy, as well as for players who do not want to spend a lot of time on battles and resource management. Moreover, a wide selection of various inventory makes the gameplay more diverse.