It is impossible to imagine the current communication without cute gifs, animation, and various pictures. People are constantly looking for ways to vary the pictures. EXE Slide is a simple program that will allow users to create an .EXE file that can contain slideshows, presentations, animations, and gif elements.
And on your smartphone, to make the coolest slideshow with music, you can use these apps and create a masterpiece.
When you first start Eхе Slide you will see a simple interface divided into 3 main control panels. The left side of the interface will show the path of the source file. On the top menu bar, you will see various functions to help you create an .EXE file. Various control buttons, add and remove elements designed to complement your creative process.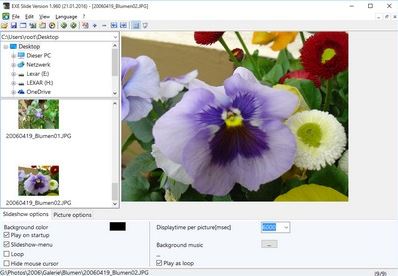 Ехе Slide has a technical support system. Many users may have questions or problems. Compose your question and send it to the support specialists and they will definitely answer you.
The program has a unique and user-friendly interface. Convenient arrangement of buttons that do not interfere with the creation of animated elements, additional functions will help users diversify their animations. Simple controls, flexible interface and additional functions.
To work, you need to select images on your hard disk, which you need to save in the desired format. You can add graphics by dragging and dropping them into the main window, through the program menu, you can add the entire folder at once. After all,  save the result in GIF, SWF, AVI.
Exe Slide is a unique and unusual program that will appeal to many. The program has an intuitively simple interface. Anyone can understand the working environment and how it works.
And if you also want to make a slideshow on your Android device, there is nothing easier! You can download a slideshow app and you'll be surprised how easy it is with a specific app.
Overall, Exe Slide is a nice program to help users find their way to their creations. Various functions to help you create different animations, change the background color, add music, set the time for each transition.