The first bathing, the first steps, the first words, the first Christmas, the first birthday, the first tooth …
There are many moments in the life of your newborn child that you want to capture, and for this, you will need such an application. Baby photo editors are also a whole group of applications. Our overview will be interesting to both pregnant women and mothers of young children.
You may also like: 7 Best pregnancy & baby birthday announcement apps
Baby Pics
Baby Pics is a super editor for processing photos of babies and more. Capture the moments of pregnancy and how your baby grows.
This original program is №1 in more than one hundred countries. Easily edit and create. Catch the moments of the growth of the child week after week, the first smile to mom, first steps with dad, daily moments, or first day at school. Add cool stickers and photo captions that add beauty to your photo.
You can add a ruler to the photo of the baby or add weight to the baby's weight on the photo. A huge number of interactive stickers to create a fabulous entourage are available.
The app has won numerous awards and reached a hundred thousand downloads, with an average rating of 4.5 – this means a lot.
No advertising and intrusive messages interrupt you right in the process of creating a masterpiece. Download Baby Pics for free and turn your baby's photo into a picture of unprecedented beauty right now.
It's simple:
Take a photo on your phone or choose the desired photo from the gallery
Add your favorite graphic sticker
Write the text in a beautiful graphic style.
The work is done, just save it or share it on social networks!
More than five hundred amazing graphic elements and about four hundred unique inscriptions are available after installation. All graphic elements are divided into ten categories.
Select a personalized text from the list, and write the name of the baby, memorable moments, or just a cool phrase. Put on a high-quality filter and your photo has turned from a dull to a real masterpiece.
With the app, you will very easily decorate your growing child's dairy with interactive photos. Photos with a ruler, weights, bottles, captions, and stickers with cool inscriptions – all this is possible with this program.
If you are just waiting for the baby, don't pass by! Take a photo of your pregnant belly, add a few graphic elements from the library of the application, and get a ready memo for many years.
The application has a free trial period. A huge disadvantage is that, even in the paid version, not all features are open. To get the full set of stickers and pictures, you need to pay extra money.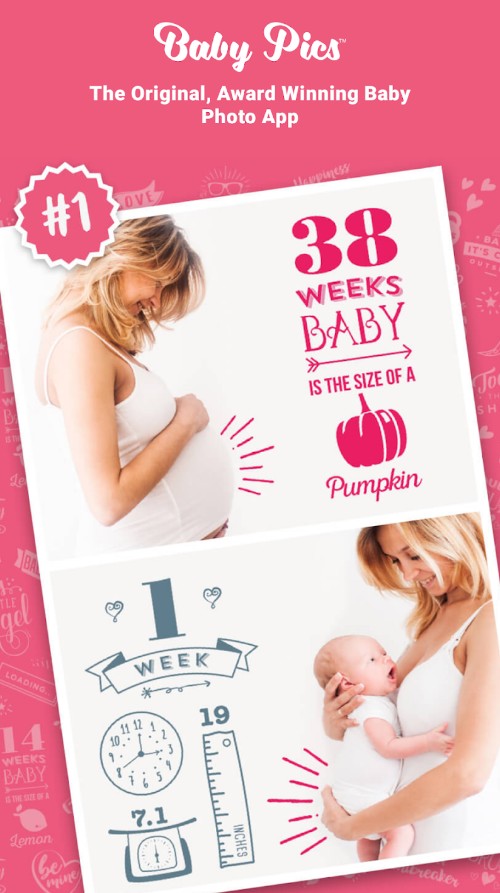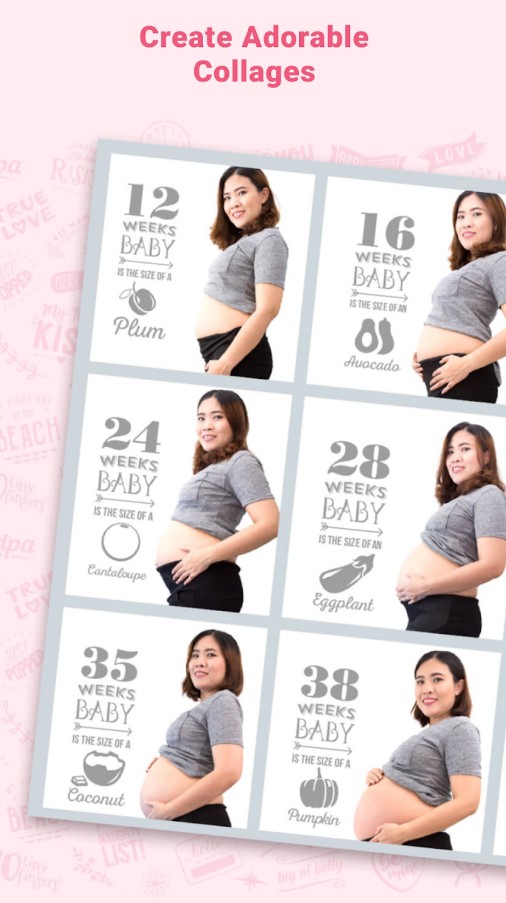 You can also check: 14 Best free photo sharing apps for iPhone & Android
Baby Pics Free
When you have a baby or are planning to have one, you want to capture all the happy moments of your lives. Create your baby's story even before he or she is born: take photos during pregnancy, while shopping for baby items, in the hospital, after the birth, holding the baby in your arms.
Take photos of your baby even every day or the main stages of his life: how he was a baby lying in bed, his first smile, his first tooth, how he crawled up or his first steps, the first day of kindergarten, and the first day of school.
Capture all the highlights of your baby's life.
What features does Baby Story provide:
Create extraordinary photos of your baby and share them on social media
Set the mood and atmosphere of your photos with built-in filters
Add stickers and captions to your photos, sign the main events
How it works:
Take a photo with your phone camera
Upload the picture to the app
Choose a caption or sticker from the app's library list
Apply a filter over your photo
Save the result in the gallery or immediately share it on social networks
If you don't know what other moment to capture, but don't want to miss anything, the app has a built-in "tooltip" with categories of work. For example:
you can take photos of important dates – surprised faces of parents and friends when they found out about the pregnancy, going to the first and last ultrasound, the birth itself, the first day at home, first steps, etc.
Do not forget about family holidays and celebrations, such as discharge from the hospital, New Year's Eve, and the first birthday of a child.
This app is created out of good intentions. Don't miss out on happy moments.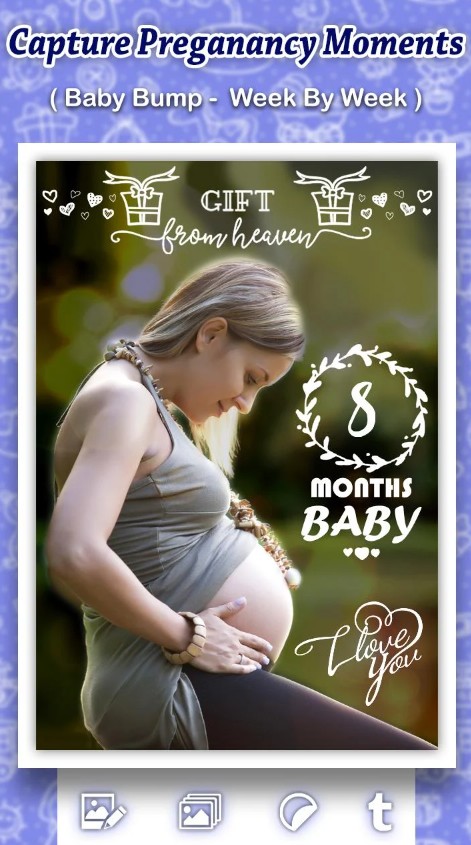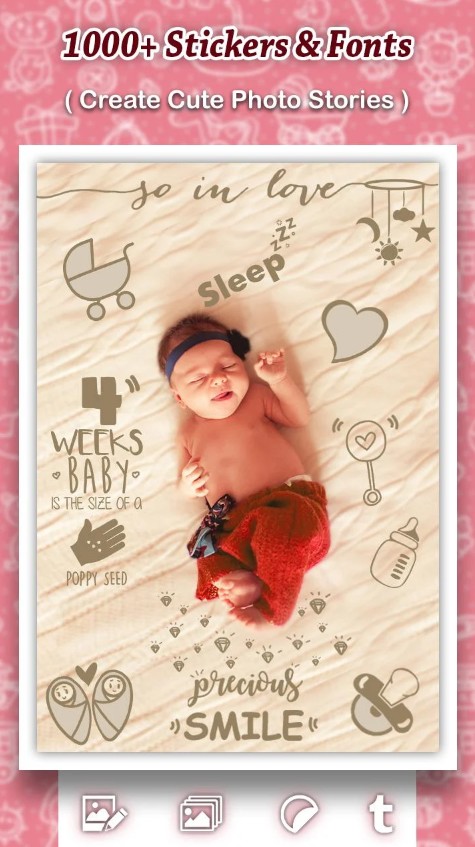 Totsie
Totsie is an application that allows you to capture the moments of pregnancy and make your baby's photo more beautiful and unusual.
To get started, it's necessary to determine what exactly the utility will be used for: to keep a photo report about the bright moments of the child's growing up or to capture important moments of pregnancy for memory.
Next, the user is prompted to log in to the account or purchase a paid subscription in order to register a new one. Note that the application provides a free trial period of seven days. To activate it, you must enter a payment method. You can unsubscribe at any time in the application settings.
There is a wide selection of stickers and filters that allow you to create photos in one style. All stickers are made in pastel colors and have a delicate design. Additionally, users can add their own text on photos using an abundance of interesting fonts.
There are many interesting ideas for pictures. Filters give each photo a unique mood and color scheme.
Special features:
take memorable pictures of the period of pregnancy and growing up of the baby;
a free trial period of seven days is provided;
ready photos can be shared on social networks and instant messengers;
separate storage called a private Time Capsule;
there are many filters, fonts, and stickers.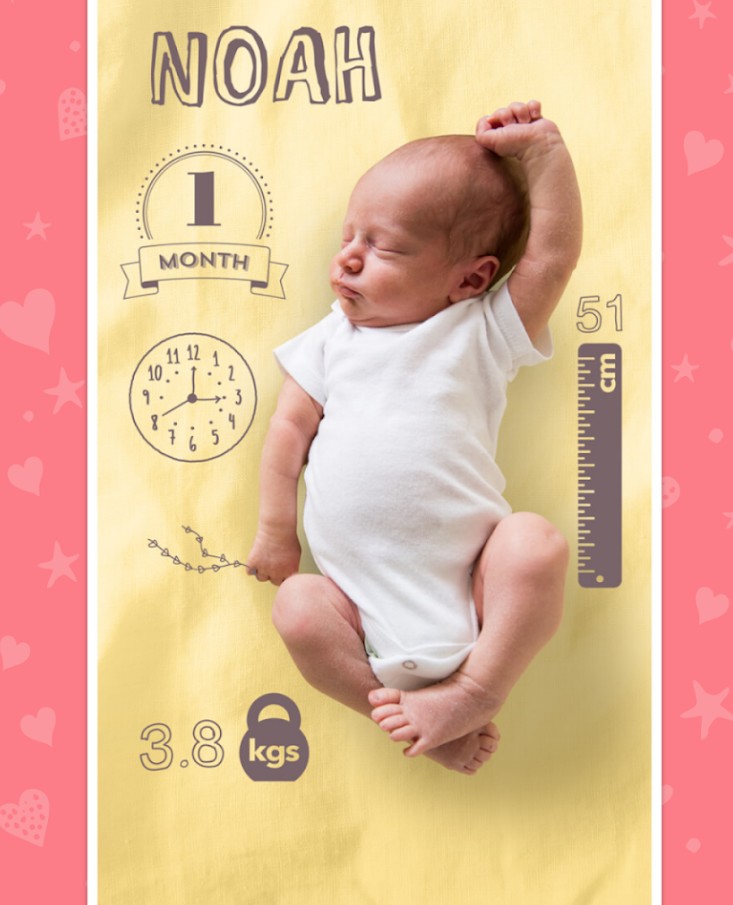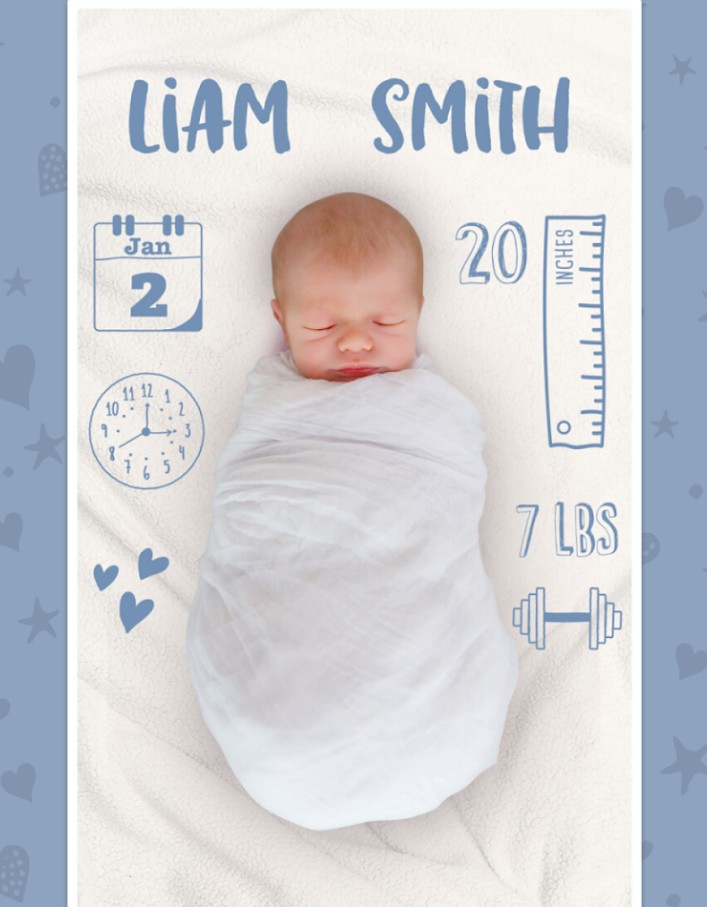 Baby Photo Collage
Cute little app to take pics of your baby and edit them in the prettiest way. The app is convenient to usage and it won't take up much space in your phone's memory.
A small child grows very fast, so take pictures at least every week – they can be the first teeth, the first holidays, the first skills, going to school, or kindergarten. Optionally, you can enter and paste beautiful text written by you, using the stickers provided in the app.
And even though it's a baby photo editor, it's more than user-friendly and it actually includes lots of useful features of a real photo editor – erasing background, cleaning the skin's imperfections, deleting extra objects, and so on. With the number of more than 50 filters, it is possible to create something worthy out of any picture.
Baby Photo Collage is a clear, profile editor and creator of collages of children's photos. Use it to do whatever you come up with: to do this, select the necessary photos from the gallery, arrange them as desired, and use and choose different backgrounds. To simplify the work, many layouts and templates have been developed.
In this app, you can not only create a collage but also use different effects, and improve the picture, thanks to the function of adjusting the light, rotations, cropping, and changing parameters.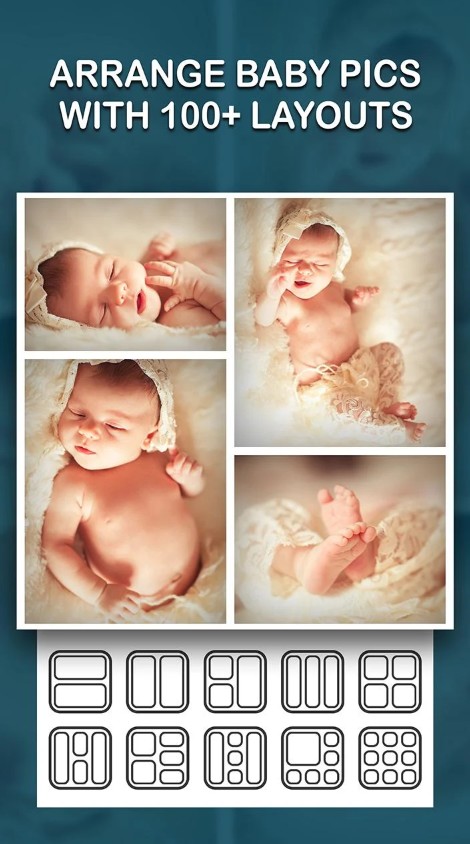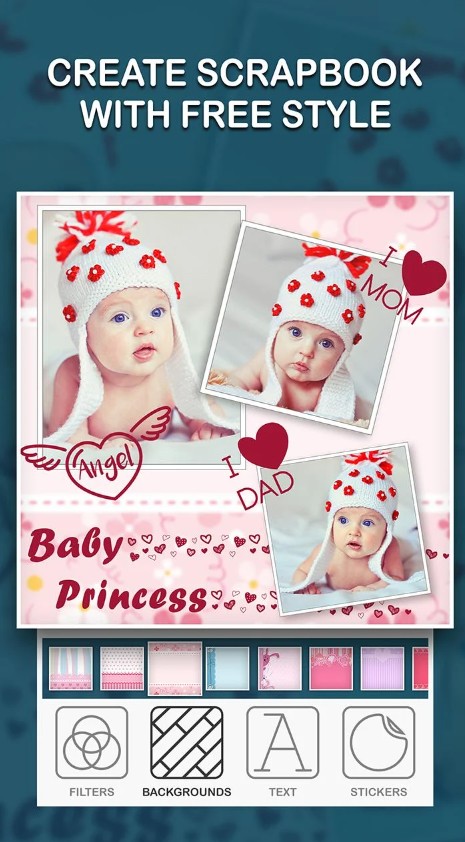 Baby Art-Baby Monthly Pictures
Baby Art-Baby Monthly Pictures is a free iPhone app to edit your baby's photos decorating them with various artworks. It will help you to capture the first time of life of the baby and the entire period of pregnancy.
It's extremely easy to use. Just choose a photo from your phone's library (or several pics if you plan to make a collage).
Or you can take a photo with the app's camera. Then, start to create! There are four sections: Artwork, Filters, Text, and Overlay. When you've done all the changes, save your photo and share it using Email, Facebook, Whatsapp, or Instagram.
There are more than 100 creative artworks of different categories (dates, pregnancy, maternity, welcome, doodle, and birthday), 100+ fonts, and dozens of filters and overlays to make photos stand out.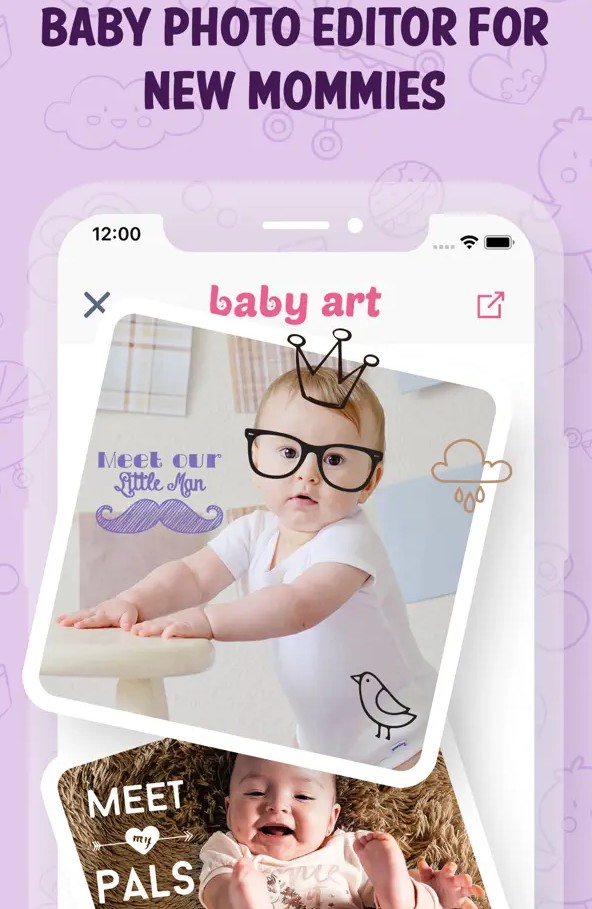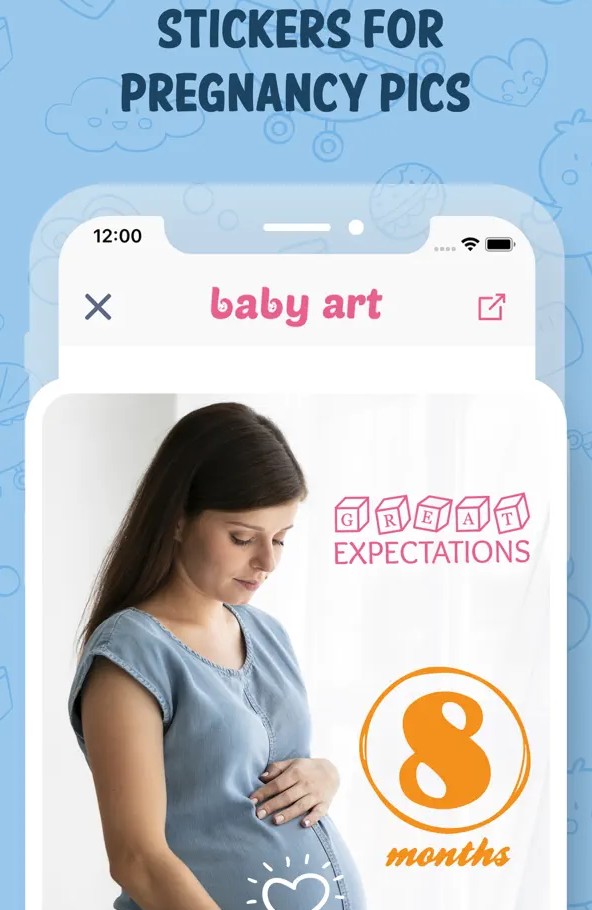 Baby Photo Editor Sticker Pics
The birth of a baby, the first smile, the first steps, games, performances, or football matches – decorate these moments with the help of Baby Photo Editor Sticker Pics!
Everything is very simple: take pictures, add baby stickers and artwork to your taste, apply filters, add some touching words, and share with friends on social networks. Let everyone appreciate your masterpieces!
In the application, there are many different artworks, stickers, filters, and captions. Age, mood, and much more can be expressed directly on the photo with stickers and personalized text. Stickers are constantly updated live. Several artwork categories are available: Baby, Pregnancy, Effects, Dates & Milestones, Family, Potty Time, Doodles, Kids, and Holidays.
The only disadvantage is that you have to pay to unlock all categories and get access to all stickers. When the photo is ready, you can immediately share it with relatives and friends on social networks, in messages, or by email.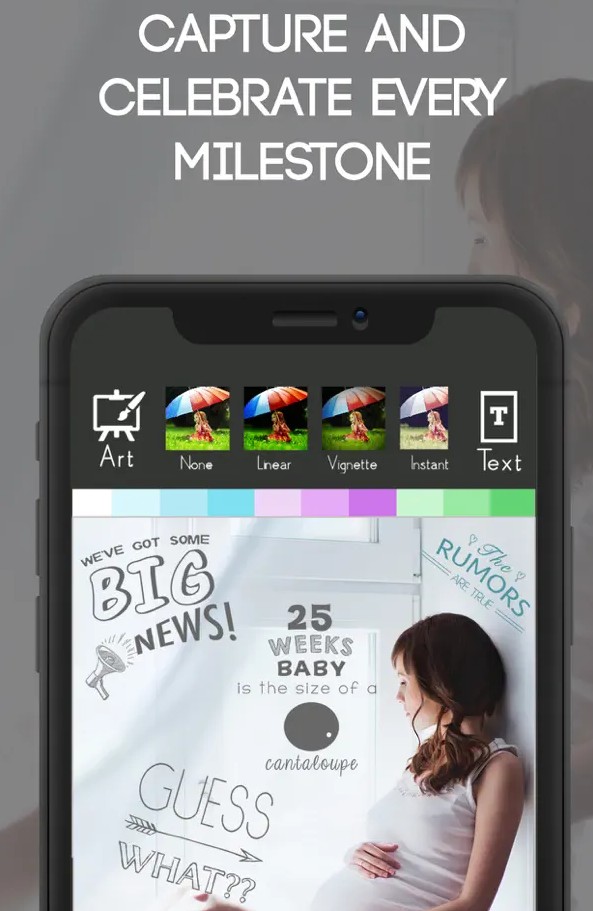 BabyPic
BabyPic – Pregnancy Milestones for parents and future moms will help to capture all the moments you would never want to forget. So, turn every moment of your child's life into a work of art.
After downloading the app, there is no need to register. You immediately get to the main menu where you can choose a project or create your own and start creating!
Ready-made projects include such categories First Kick, Twins, Play Time, Poop, Awesome Baby, Baby on Board, Food Weeks, Due Date, Baby Status, Baby Bear, and First Picture. Every project can be renamed, duplicated, or deleted. When you choose a project, just tap on it.
You will see a ready-made template with photos, artwork, stickers, and inscriptions. Add your own photo instead and start editing if you think that it's not sufficiently processed. Use filters, artwork, text, and stickers to decorate your baby's photo.
Choose the color, font, size, stroke width, the opacity of the text, and so on to create a unique caption. Personalize the photo with elegant and professional 55+ photo filters.
Use artworks which are organized in groups: Arrows Months, Baby Talk, Gender Reveal, Solid Shapes, Announcements, Color Fruits Weeks, Junk Foods, Just Born, Status, Feelings, Giggles, and more. Some of them are free to download, others are paid.
There are also tons of stickers for each situation: Speech Bubbles, Eyes and Mouth, Mask, Hipster, and others.
Then, save the photo and share it with family and friends via favorite social networks. A simple, clear application will help you capture the important moments of your baby's life in a beautiful way.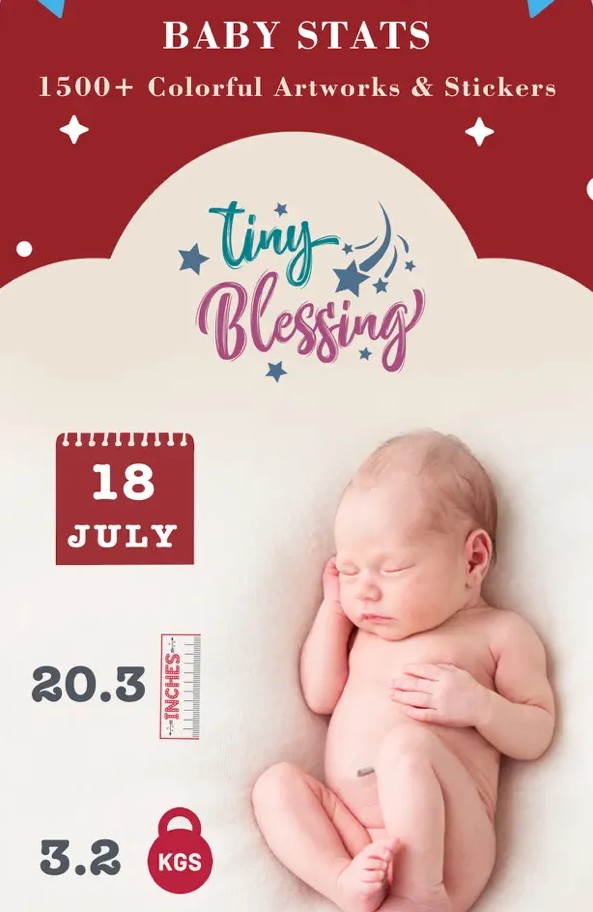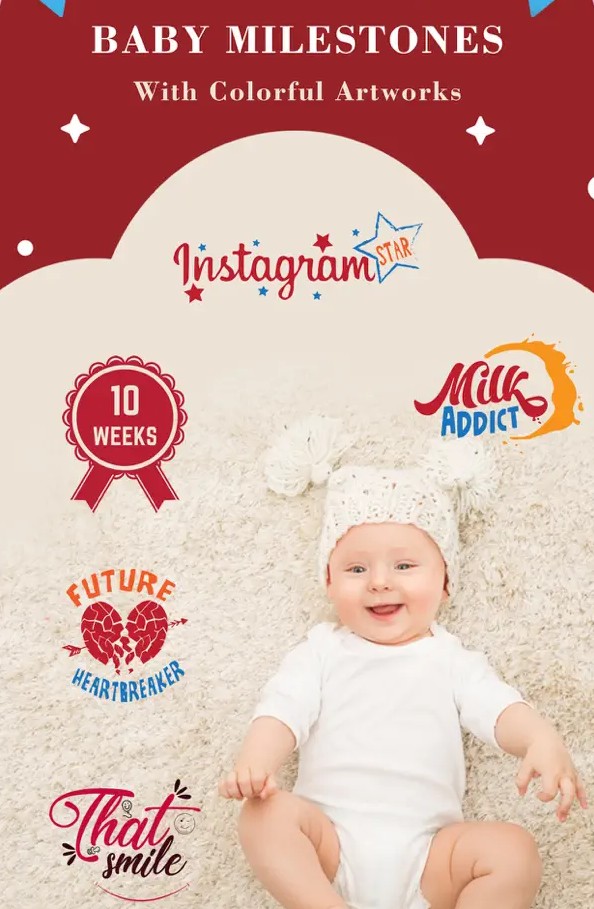 You may also like: 11 Best baby name apps for Android & iOS
Precious – Baby Photo Art
Do you want to automatically track your baby's milestones and see your baby's development? We recommend downloading Precious – Baby Photo Art. This application is truly unique in its own way.
It differs from all presented above and here are its distinctive features:
The app will find baby photos on your device and organize them in monthly pictures, a time-lapse, or a calendar journal.
Precious – Baby Photo Art scans your gadget for your best baby photos, and uses them to create a touching and cute photo story.
Magic slideshows and collages will be created for you.
You don't need to do anything yourself as the app has Artificial Intelligence and will make everything automatically! Just take photos of your sweet baby and the app does the rest.
It is free to download and has a free 7-day trial period.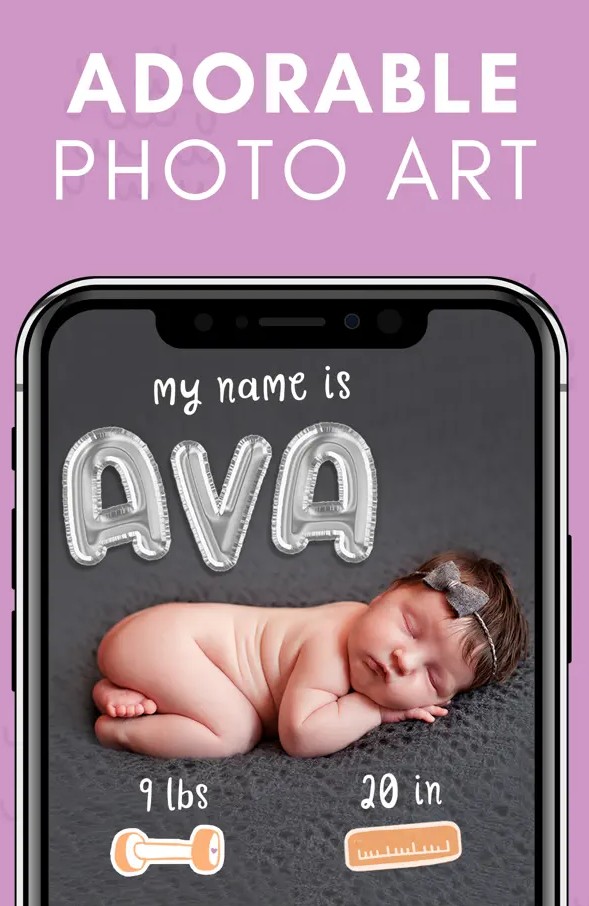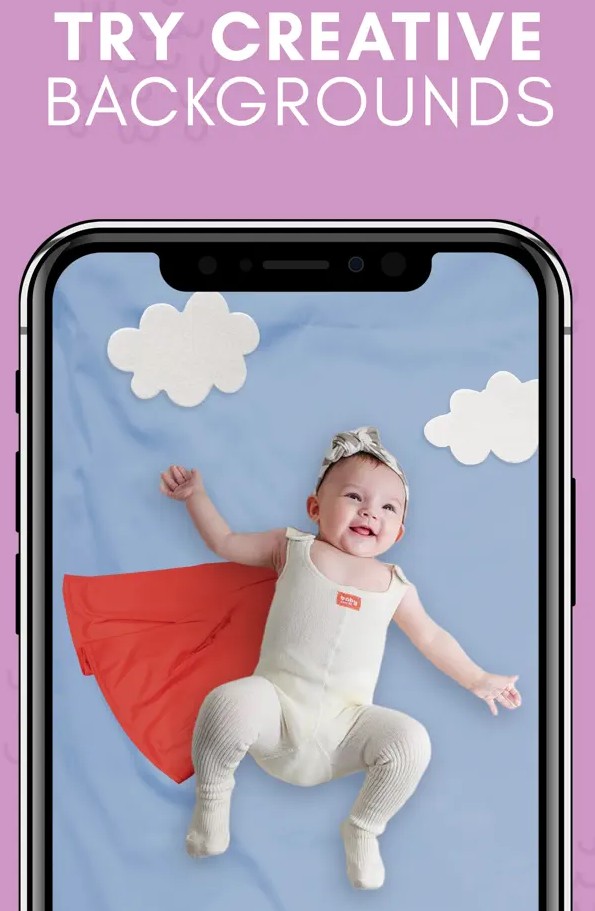 Baby Photo Editor
Baby Photo Editor is an Android application designed to create unique and charming photos. There is an opportunity to capture all the most important moments of pregnancy and growing up baby using cute baby stickers.
Use cool baby stickers: dates, humor stickers, baby dummies, toys, buggies, animals, hearts, cute phrases, glasses, and other cute baby stickers! In a baby camera Baby Photo Editor, you can insert a baby photo into the ready beautiful baby photo frames in different styles!
With this app for Android devices, you can take a picture of your child or choose a photo from the phone's gallery. Then, just add original stickers to your photo and save it on your smartphone or tablet or send a cute baby image to your WhatsApp and Facebook contacts.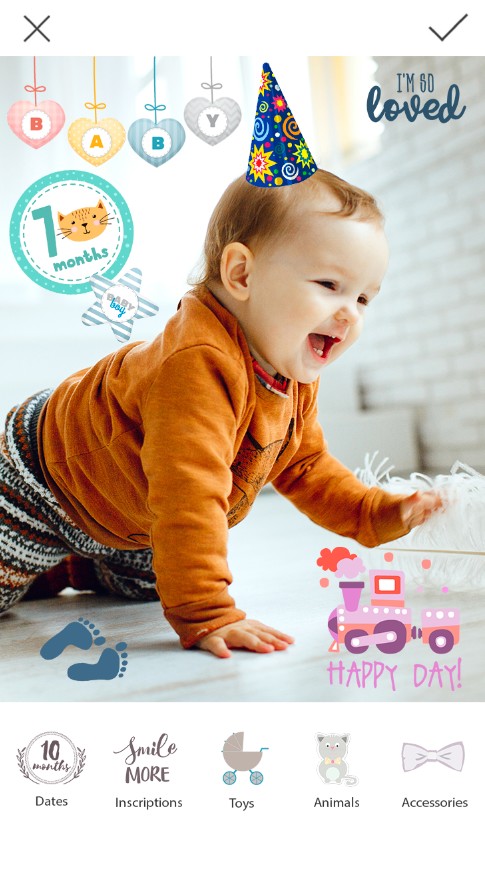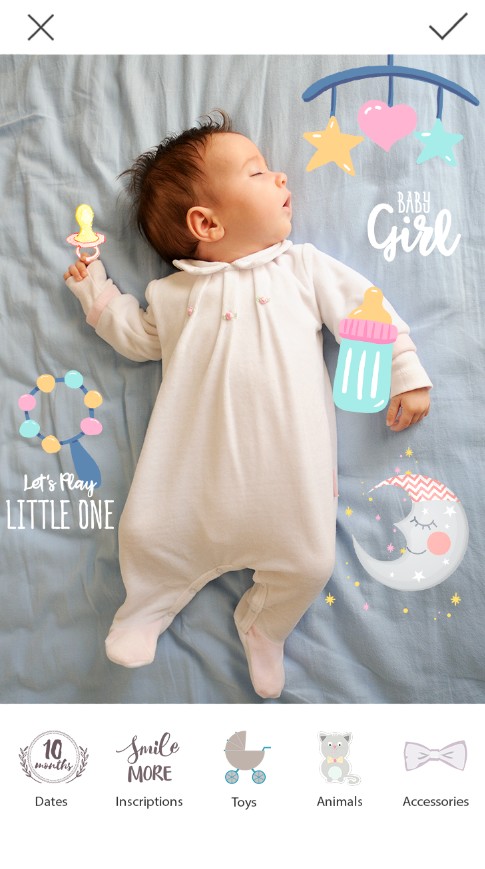 Picsart Photo & Video Editor
This application is one of the most popular programs for photo and video processing on mobile devices.
Picsart features:
Apply effects and filters
Remove or blur backgrounds
Get rid of unwanted objects
Use millions of free images
Add text
Retouch your selfies
Edit and crop the video
Add music
Apply video filters
Make video collages
Create a photo collage of highlights
So-called "metrics" (a photo of your child, his name, and his height and weight at birth) have recently become popular among young parents. With this app, you can create such a collage yourself.
Go to the app and upload a photo you like.
Add frames, stickers, and figurines from the list
Insert captions in separate blocks
Save the image to your device
Print it out with a printer
Please note that this app is a paid application with a free version for 7 days. After that, it will be charged automatically, but auto-renewal can be deactivated.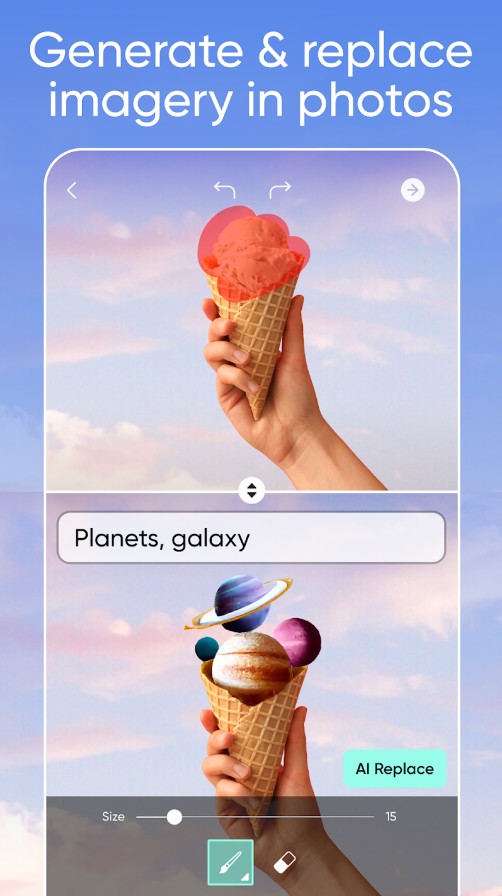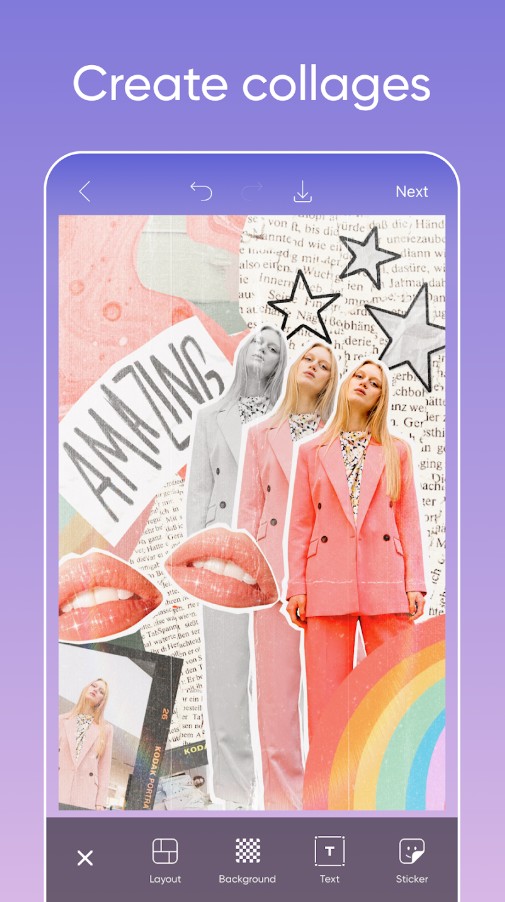 Tootsie Baby Photo
If you've always wanted a quick and easy way to get cute baby photos, this is the app for you. You can create your own story with Tootsie Baby Photo. Take a picture of your baby, and make the photo even brighter.
Features of the app:
Lots of cute stickers related to pregnancy and babies
Themed stickers and fonts
Photo processing takes less than a minute
Work with the scale of stickers
Creation of photo memories of the whole period of pregnancy
Availability of stickers by category
Indication of baby's name, weight, and height
Processing of the image itself is also available:
background blur, use of focus
sharpening
cropping
adjusting brightness and contrast
light and shadow adjustment
add 15 filters and numerous texts
Create these memories you can look back on and see your baby grow month to month.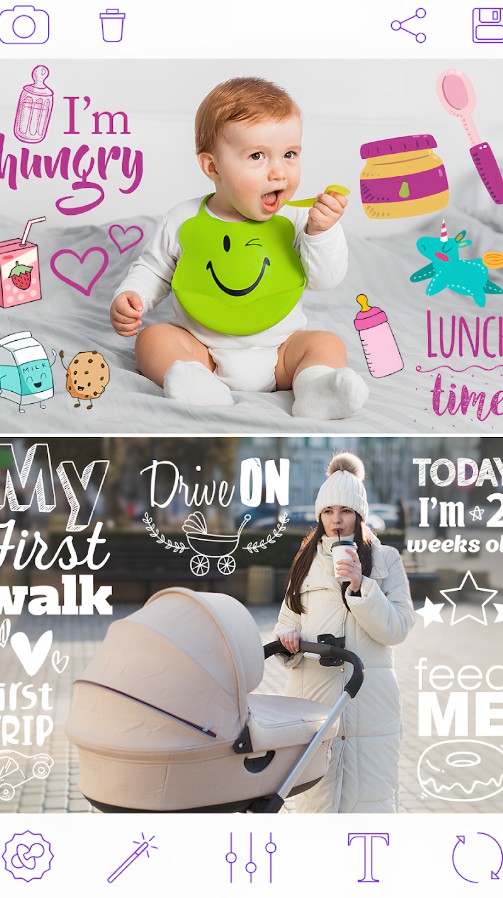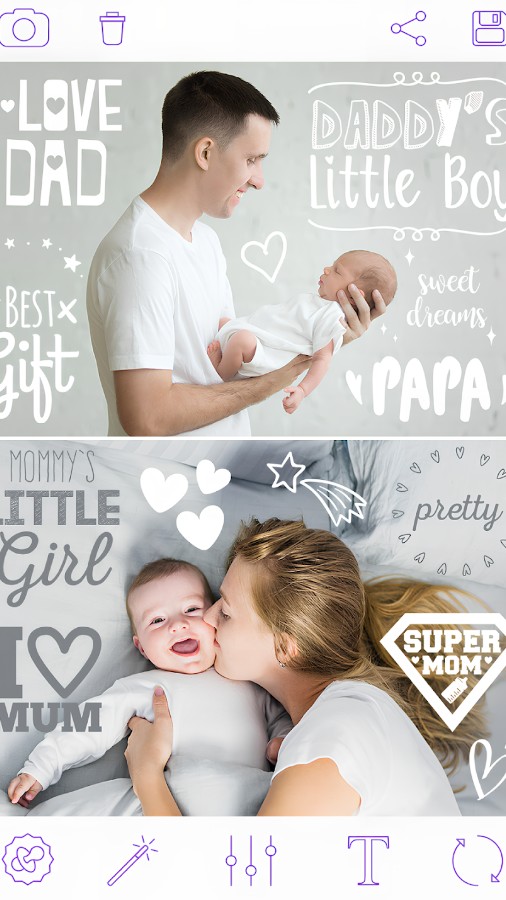 Cute
How do you think baby pictures should look? Well, each parent will say that they always look CUTE! This is the main goal of this app – to make the pictures of your baby as cute as possible. First of all, Cute is rich for stickers. Here you will find more than 4500 stickers for any life case.
For example, there are stickers for baby showers, pregnancy announcements, birth, the first birthday, love mom, love dad, animals, fairies, cars, and more and more.
Apart from that, there are lots of beautiful frames in the app for pictures of you and your baby. Moreover, you can create collages in Cute. By the way, the app has very positive reviews on Google Play.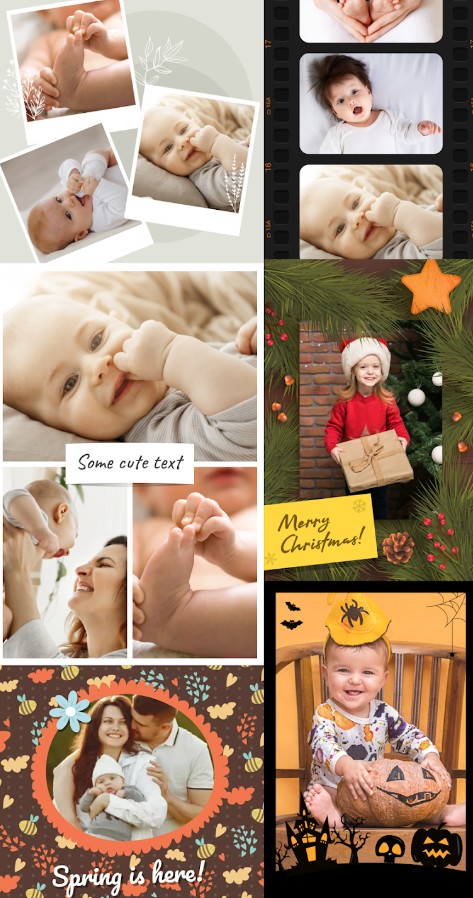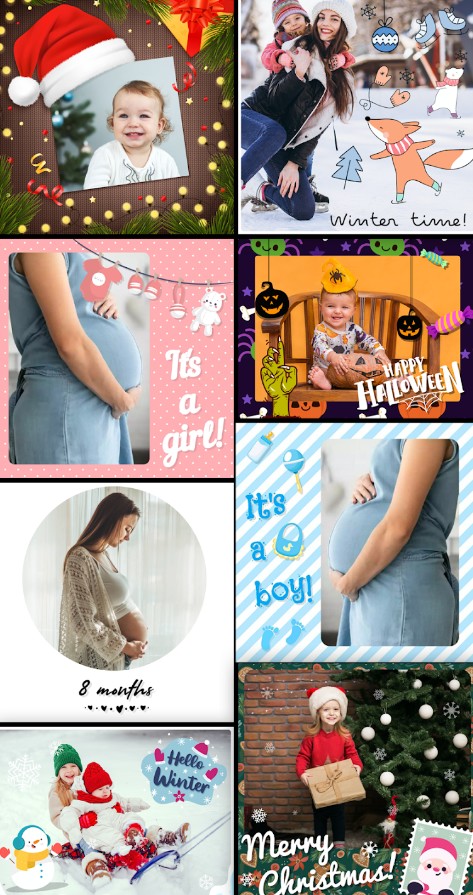 Baby Gallery: Picture Editor
Baby Gallery allows parents to easily organize and curate their baby's photos into adorable collages, offering a visual journey of their child's growth and milestones. The app provides various collage templates, allowing parents to choose from a wide range of creative layouts and designs.
To add an artistic touch to their baby's photos, Baby Gallery offers an impressive array of filters and effects. Parents can choose from a variety of filters to enhance the color and tone of their pictures, making each image truly memorable and captivating.
Furthermore, Baby Gallery provides a secure and private platform for parents to store their baby's photos, ensuring that these precious memories remain safe and accessible at all times.
In conclusion, Baby Gallery: Picture Editor is a must-have app for parents who wish to create beautiful photo albums and collages of their baby's early days.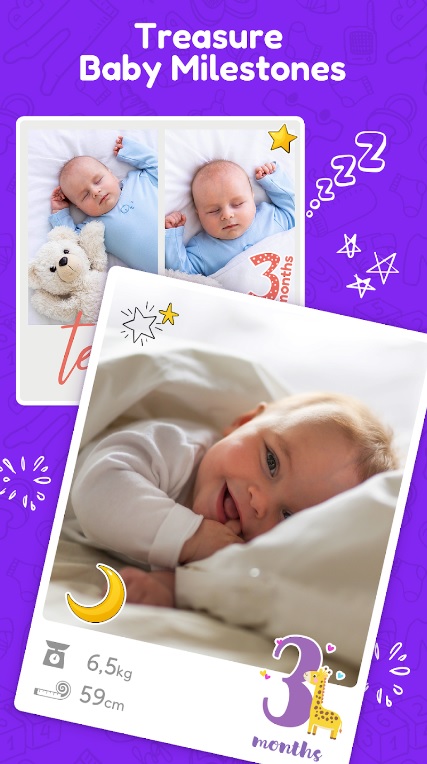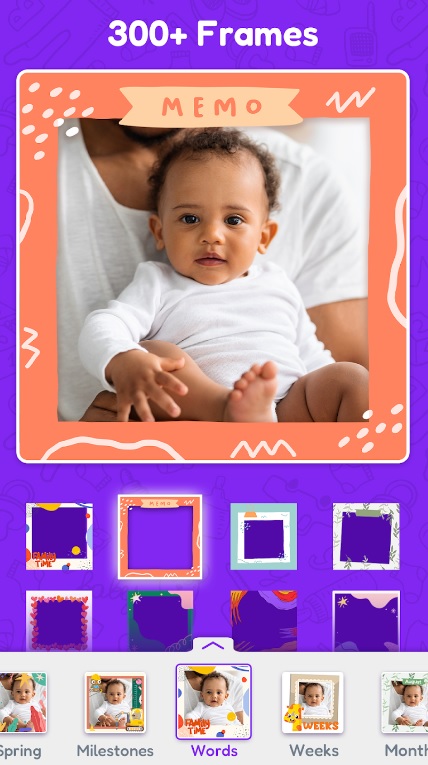 Baby Story: Pregnancy Pictures
With Baby Story, you can embark on a creative adventure with a wide range of filters and effects at your disposal. The app offers an impressive selection of filters that can be applied to pregnancy photos, adding artistic flair and enhancing the overall aesthetic of the images.
One of the standout benefits of Baby Story is its ability to create captivating photo stories and collages. Expectant parents can use the app to artistically compile their pregnancy pictures and milestone moments, curating a visual tale of the exciting journey to parenthood.
What is more, Baby Story comes equipped with a plethora of charming frames that add a touch of elegance to pregnancy pictures. These frames enable users to beautifully present their cherished memories and create a visually cohesive and heartwarming album.
To sum up, this app offers a safe and secure platform to store and share photos, providing parents with peace of mind that their precious memories remain protected.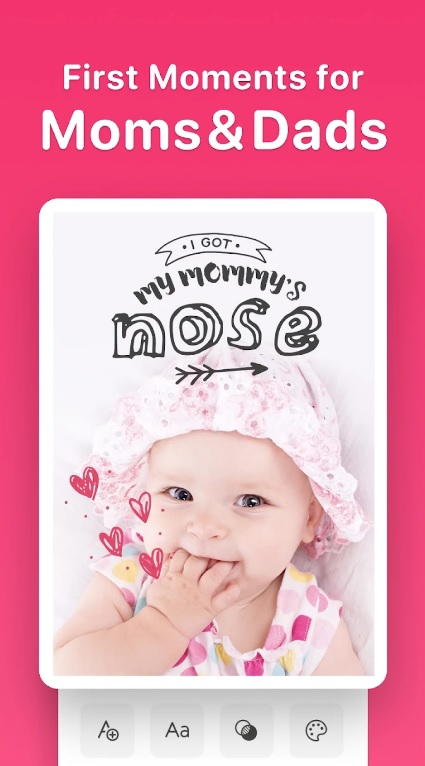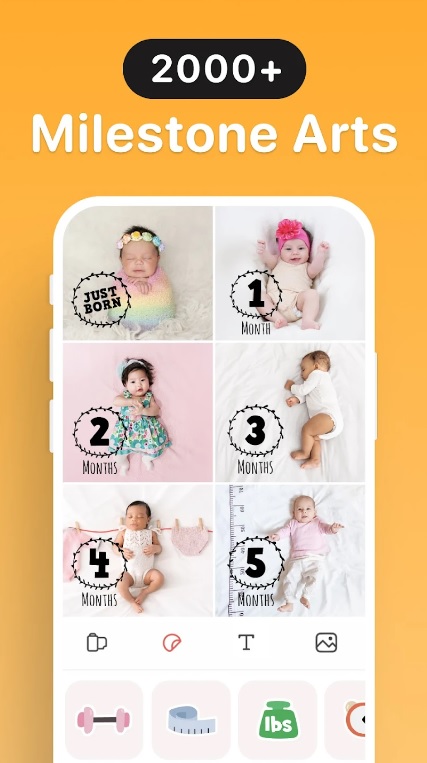 Baby Sticker – Track Milestones
Any parent, no matter whether dad, mom, or grandparents must have this application. Pleasant in appearance and understandable in functionality Baby Sticker- Track Milestones will not leave anyone indifferent.
The process of editing children's pictures just can not do without the use of a variety of effects. And there is a bunch of them: 1000+ beautiful artworks, 500+ marvelous fonts, dozens of amazing filters, and overlays. You can use several elements at once by placing them anywhere on the photo.
You can choose a photo for editing from your phone's library or take a photo with the app's camera. Also, you can do a collage using up to four pics at once.
Surprise relatives and friends with ready photos and give a lot of positive emotions.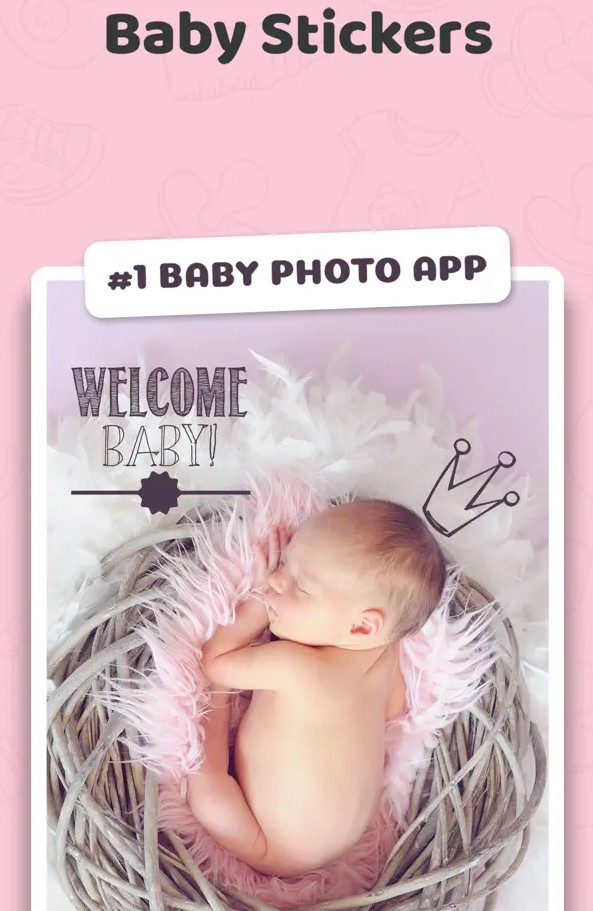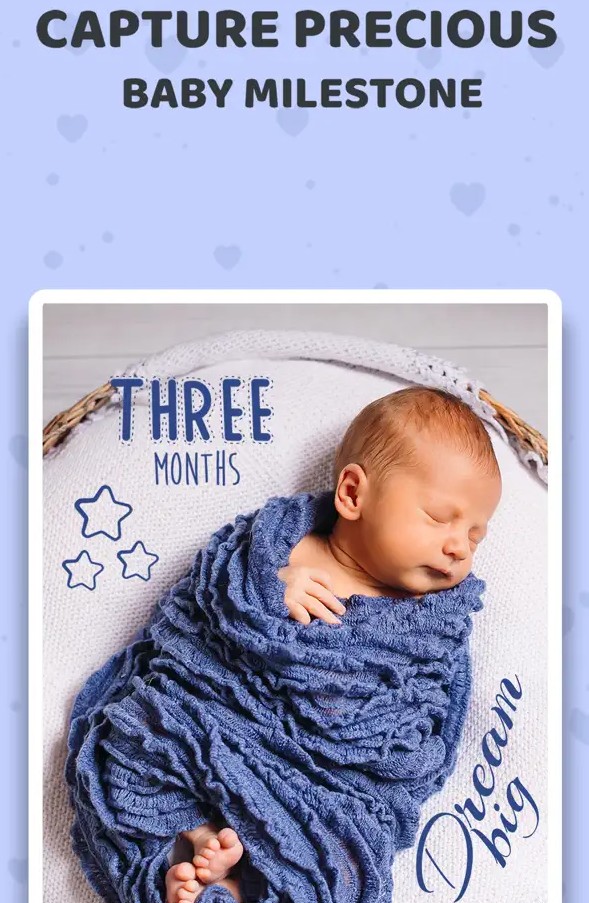 Baby Photo Editor & Pics Story
Baby Photo Editor & Pics Story is a simple baby photo editor for iPhone. If you want to make fantastic photos quickly and effortlessly, you should try this application.
With it, you can create memories that will be stored for life. Run the application, follow the tips and create beautiful photos of your child, edit them, and get an unusual result at the output. Capture important events and don't forget to use more than 1000 cool stickers and other editing tools.
The app offers 15 professionally designed filters, categorized artworks, and over 100 artistic fonts. Here, you can save your own design. When you've made your masterpiece, you can save it as 'My Theme' and use it anywhere.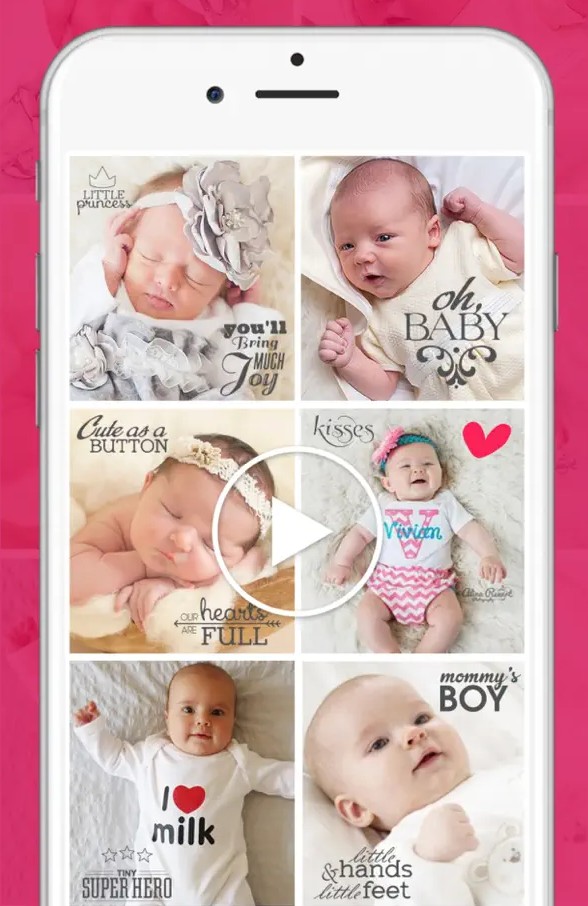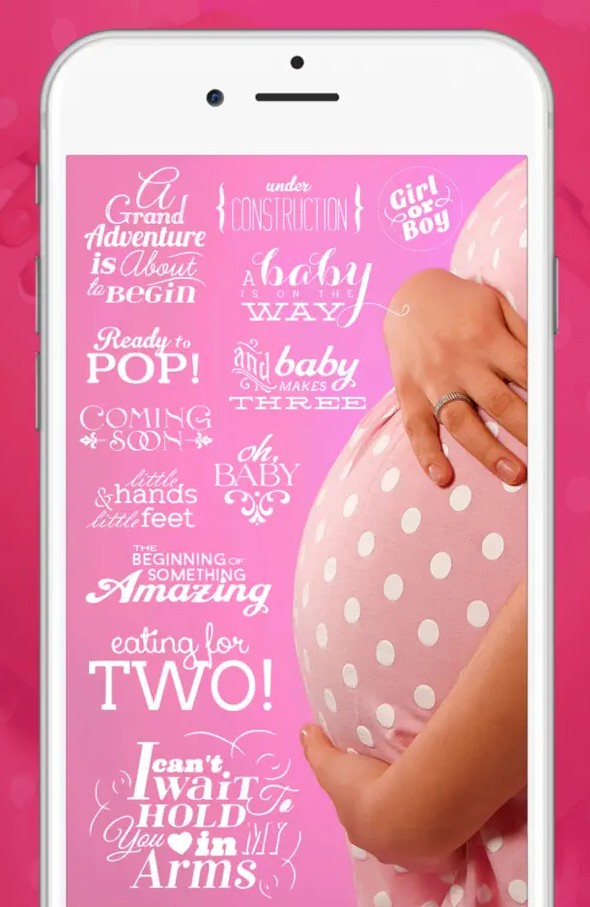 You can also check: 15 Best Baby Development Apps for Different Ages (Android & iOS)
Adorable
This photo processing application was created especially for parents and those who are waiting for the baby.
Adorable is an image editing program with incredible collections of beautiful effects and artworks that are perfect for processing children's photos. The software is easy to use, so even a user who has not previously used photo editors can deal with it.
Soon after the start of work, you will see that behind the external simplicity the program stores there is a huge arsenal of tools that can and should be used when working with baby's pics. Create gorgeous baby memories with easy-to-use templates and cute artwork.
When you open the app for the first time, you will be asked if you have a child or if you're pregnant. Then, you need to enter a baby's name, birth date/due date, and gender and upload a photo.
Now, you are ready to create precious memories. Use various tools, and filters, adjust brightness, contrast, saturation, crop, and straighten the photo.
Add text, date, and artwork. For each option, there are advanced settings such as color, style, size, opacity, spacing, and some others. Adorable also helps you organize your best baby pics in your own creative journal.