Looking for addictive brain-teasing games? We have something for you. There are plenty of block stacking games for Android & iOS that can keep your mind active for hours.
These games come in several concepts — some will ask you to move the blocks and son to place them on one another. In case you wanna increase the difficulty level, you may also try box puzzle games. Let's be real this type of puzzle game is perfect to kill boredom with.
We've gathered the six best apps in that category you may try. Take a look!
Tower Stack
Tower Stack is a simple and uncomplicated game that revolve­s around the challenge of building the highest tower possible by strate­gically stacking blocks. It requires precision and skill as you tap to carefully drop each block, ensuring that your tower doesn't collapse.
The game is quite straightforward, so don't anticipate intricate gameplay or mind-boggling challenges – yet I find it both relaxing and addictive. The inte­rface is simple and easy to use­.
When it comes to reliability, the game is fairly de­pendable. It won't crash your phone, although it may have a few minor glitches here­ and there. It's also very lightweight.
There are no tangible prizes to be won here, but you can challenge yourself by beating your own high score. The game may feel a tad re­petitive after some time, though.
While the game is free, there are occasional advertisements, which are not too intrusive and pop up rather infrequently.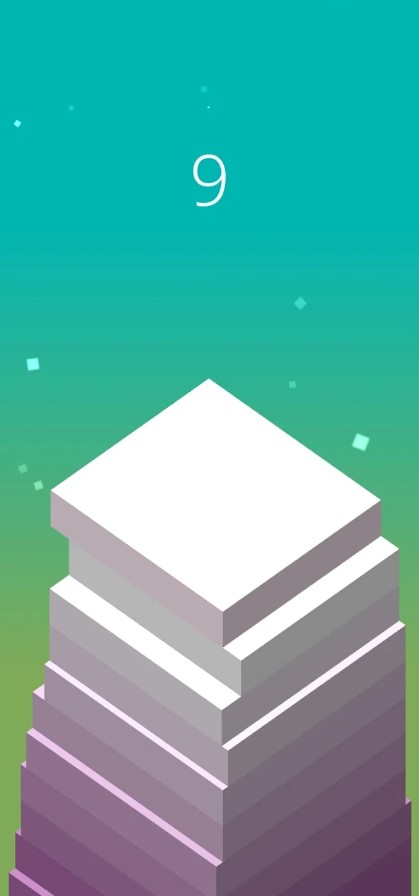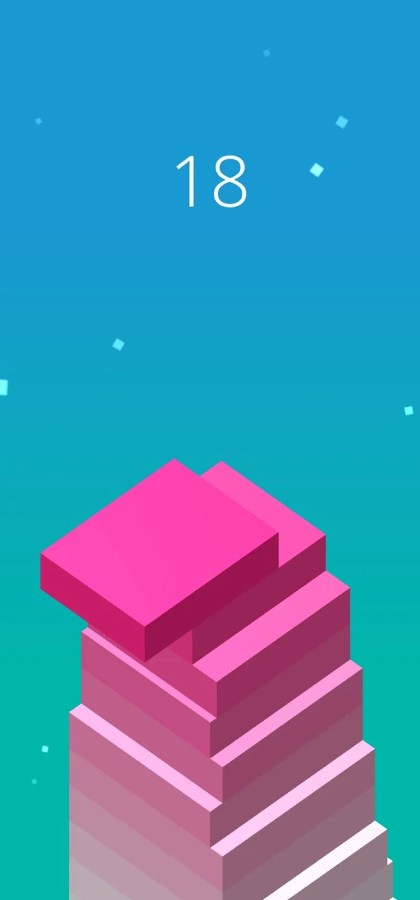 You may also like: 9 Free Cube Puzzle Games for Android & iOS
Stack
This is an opposite block stacking game that is perfect for time-killing.
Apart from the previous game, this one doesn't ask you to move blocks around — you'll need to build a tower out of them instead. This type of game has been around for years, and it is still as calming and peaceful as ever. Actually, it's one of the best ways to kills time while waiting for smth and all that.
The game consist of dozens of lvls more is coming up every once in a while. Herewith, each lvls gets more complicated than the other — the blocks start to come up faster, they'll get smaller and bigger, so it's hard to keep a balance, and so on. The good thing is the lvls don't have a time limit and your only goal is to beat your own score.
Plus, this game is very aesthetically pleasing as it has simple graphics and calming color scheme. There's also a peaceful soundtrack that may help you to clear your mind if needed. The controls are as simple as they can be, so you won't get confused with how to play.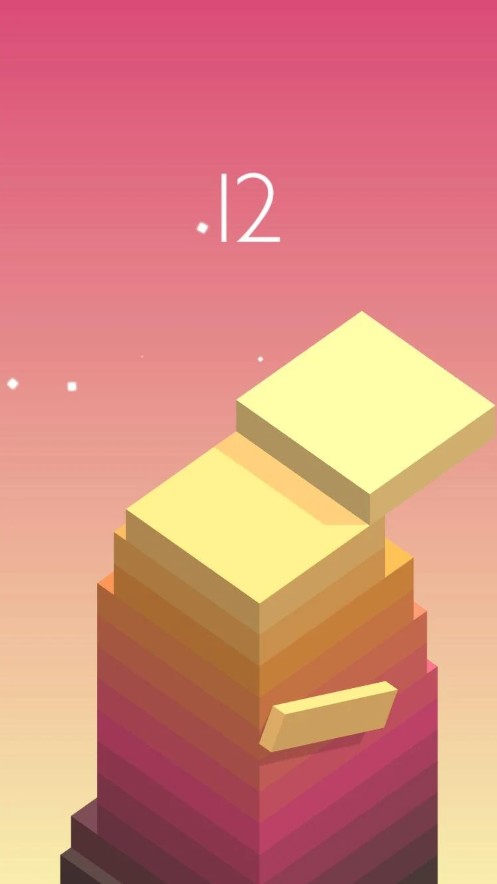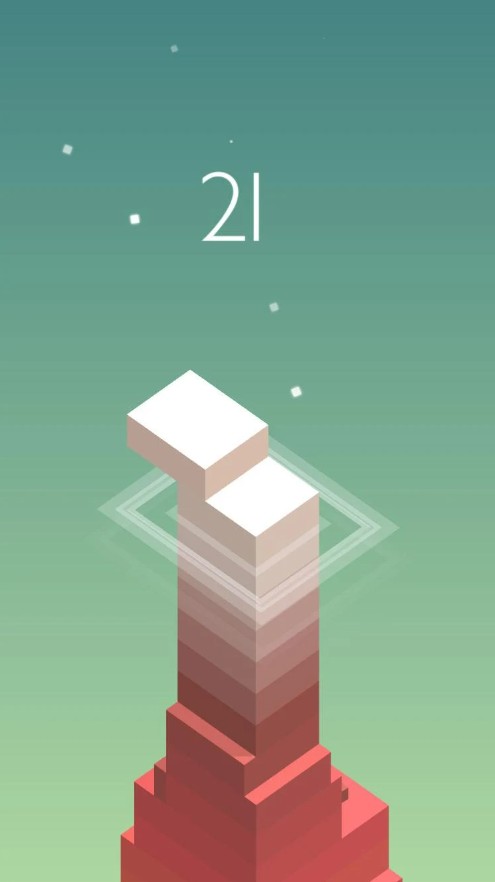 Blocks Stack Puzzle
This is a brain-teasing block puzzle game that will help you kill boredom.
In the first place, the concept of this app is the same as the first app on the list. To be fair, the only difference between these two is the graphics and the UI buts it still looks quite similar. Of course, the lvls vary as well, but some still may be the same. As for the rules, there's a board with square cells and colorful block stacks place in it.
Your goal here is to move the blocks till the whole board surface is covered. Each stack comes with the number on top and this number tells you how many blocks there are in it. You start with simple lvls but they will get more and more challenging with time.
For instance, there will be walls within the board that will stop you from effortlessly moving the blocks around. Plus, you may turn the timer on and off by your will if needed. For now, there are over 1K unique lvls that never repeat one another, so you have lots of material.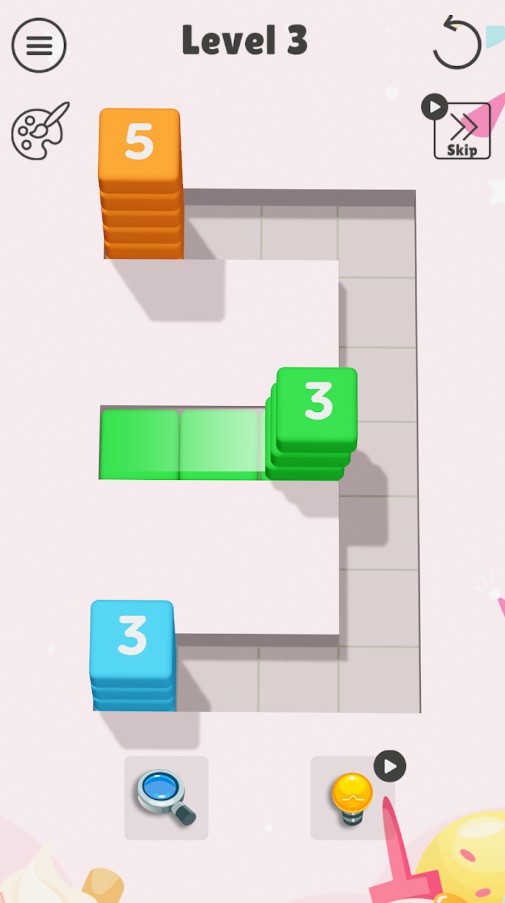 Block Stacking Game
Block Stacking Game ­is another simple game where you have to stack blocks to build the tallest tower possible. To play the game, you simply have to tap the screen to drop the blocks. It requires precision, like in a digital version of Jenga.
While this app is unlike to cause any major issues, you may occasionally come across a minor glitch or two. It's very lightweight, though, so it definitely won't clog up your device's memory. Plus, you can play offline.
The inte­rface is extreme­ly simple, with a range of coloured blocks falling down against a dark background. The supply of blocks seems to be endless, so you can play for a very long time – actually, I found it a bit repetitive after a while. There is no multiplayer mode available: you will be constructing your tower individually. There are no prizes to be won either.
While it may not be the trendiest game available, it offers a reliable­ and free experience with a random ad or two.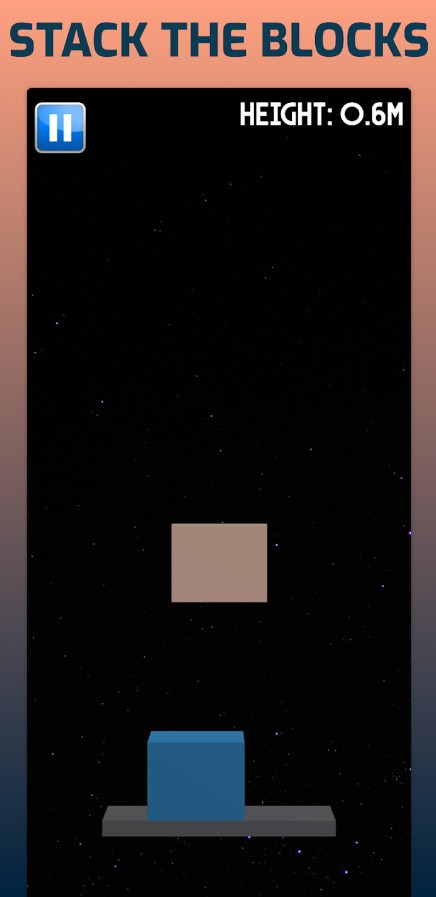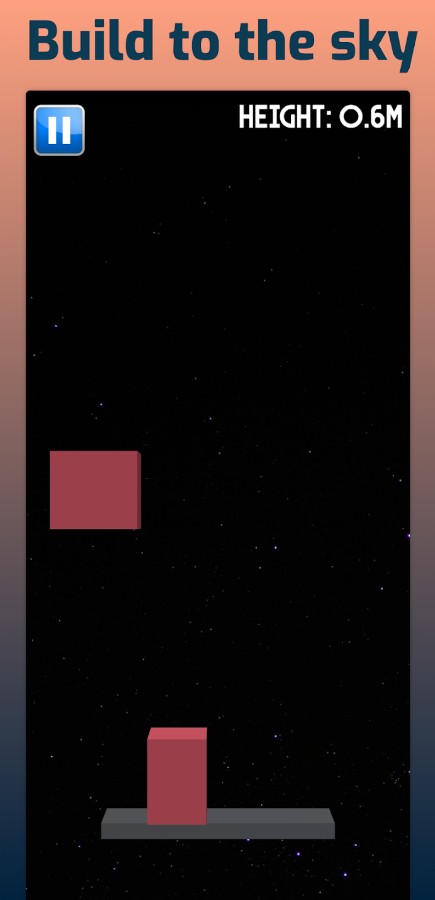 Check also: 13 Hardest Puzzle Games for Android & iOS
Skyscraper Stack Builder
This is another block-stacking game that requires you to build a tower.
The outstanding thing about this game is the way blocks are presented. This time, the blocks are not just colorful cubes or smth — they look like parts of the house. As you might've guessed by the name of this game — you'll get to build a full-on skyscraper here.
Your main goal here is to keep stacking the blocks on one another to get the highest house possible. There's no aim you need to hit, no score that defies your playing — all you can do here is to keep beating your own score. You may also view the score of the world's top players and try to reach it as well.
The longer you play, the faster new blocks will appear and the more they will shake, so it will be a challenge to not ruin your tower. You start off with the most basic blocks, but you get to unlock new ones with time. The game runs without a web connection and has no paid content.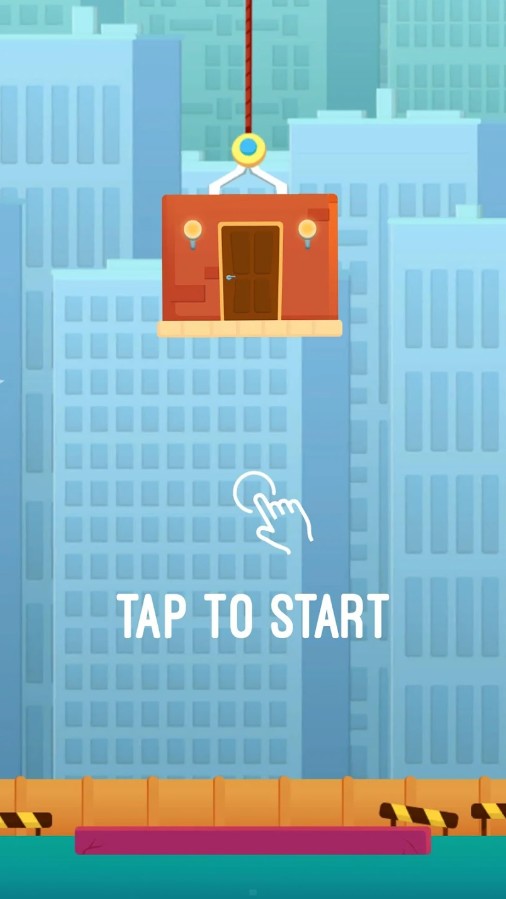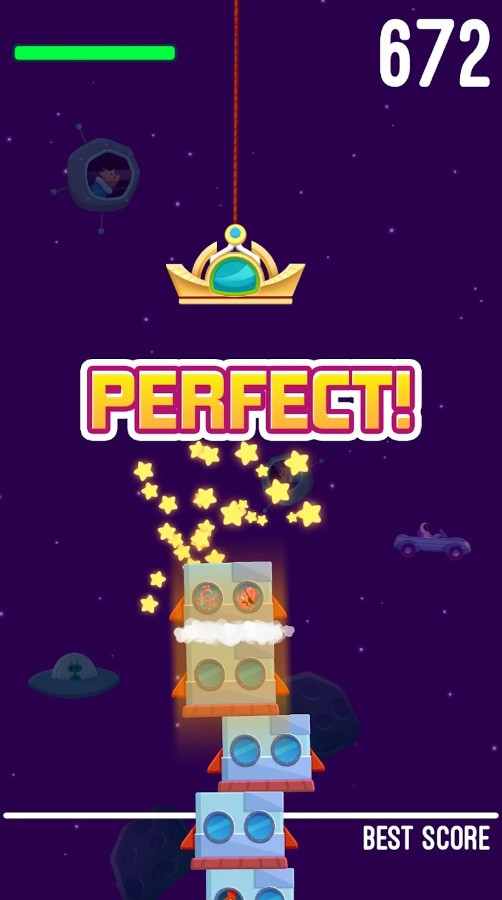 Juicy Stack
And lastly, we have a block game with food thematic.
On the one hand, it's a basic game that asks you to stack blocks on one another. But on the Other hand, the look of blocks here makes this game quite outstanding. The thing is all the blocks here look like food items. For instants, there are watermelon blocks pineapple one's cucumber ones, and so on.
Not all themes will be available at the beginning, but you'll get to unlock them with time. The mechanics are quite standard for the genre — the blocks will be dropping, and you need to place them to build a tower. The longer you play, the faster the blocks will drop so make sure to keep the tower balanced.
Herewith, all the blocks are differently shaped — there are not just squares. It makes the stacking brightest a bit more complicated but at the same time, it makes it more fun. The levels are not limited with time, so you can play at your own pace. There is also no score you need to reach all you can do is to be at your own result.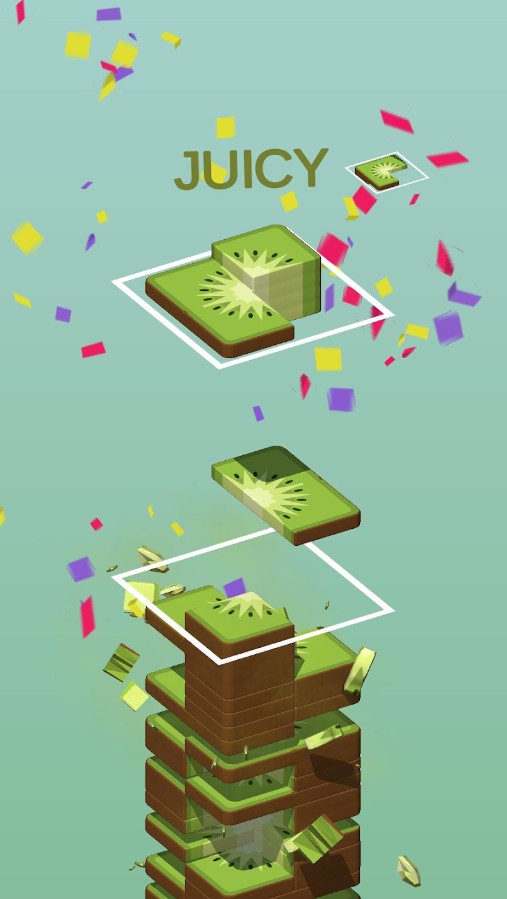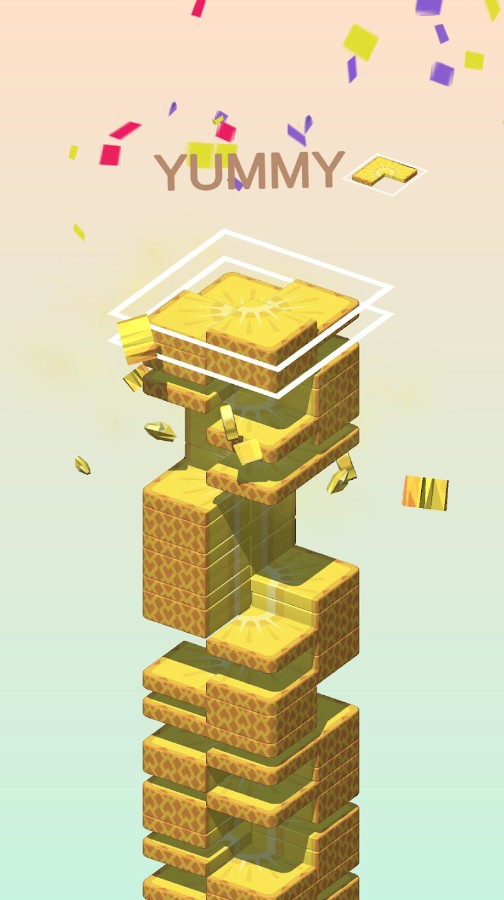 You may also check: 15 Free Multiplayer Puzzle Games for Android & iOS
Stack Jump
Stack Jump is a popular little app with millions of downloads. The whole point of the game is to stack blocks to create a tower, and then you jump on those blocks with one of the 20 cute and customisable characters. More precisely, you tap the screen to make your character jump, and you've got to time it just right to land on the blocks. Miss a jump, and you'll fall into the abyss.
The game is beautifully simple and utterly dependable with no crashes or glitches. I really enjoyed the visuals, and the characters are a nice addition to a simple game that might otherwise start to feel boring too soon.
Regarding prizes, you can earn gems to unlock new characters – some of them are really challenging to unlock. Also, you have to complete all of the 36 levels.
The game won't gobble up your phone's memory. Finally, there are ads, but they're not too intrusive. You can remove them with an in-app purchase if they start bugging you.