Not all smartphones can boast excellent sound quality when using headphones. If you're listening to something through your smartphone's speakers, it's very simple – the volume and other performance depend only on the technical characteristics.
If you're not satisfied with the quality, it's only a technical problem. But if you use headphones, then the situation changes.
Sound adjustment for headphones is important for people with hearing loss as well. For example, if you have difficulty with one side, you can balance the sound for the other ear. It can also be difficult when one earpiece is broken but there is no way to replace it.
You can listen to your favorite music with the same pleasure – or perhaps even hear a melody from a whole new side. We've decided to create a whole article for you on how to adjust the sound in the headphones on your smartphone.
First of all, it's worth trying to set up music playback using the built-in instruments.
For iOS devices:
1. In the Settings menu, go to the Music tab, and then to Playback. At the end of this journey through the settings, you will see 3 items that you can change.
Equalizer. Here you will be able to experiment and customize the sound as you like. For users with AirPods, for example, the "More Bottoms" item is better, so the sound will be much better. Tone-compensation, however, will improve the sound with the current volume level – the optimal settings will be automatically selected.
Volume Limit. This option allows you to solve technical problems. If your headphones are too bad or inappropriate, your smartphone will adjust the sound at the optimal level.
Sound check. This feature simply aligns the tone of songs in your playlist. If you're listening to music in the background or on the road, this is probably the option for you. All the melodies will sound at the same volume level – but that may lose the emotionality of the track.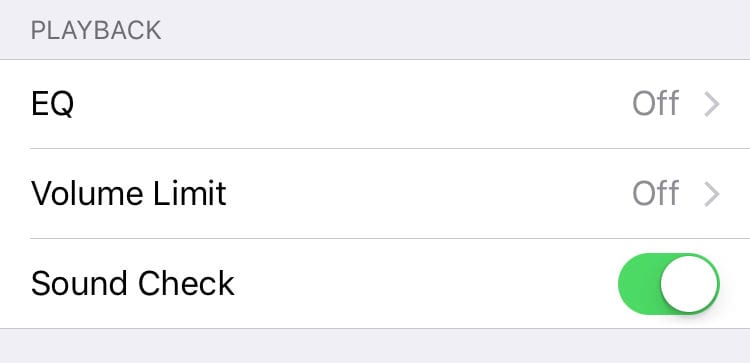 2. It's also worth noting that iPhone users also depend on the quality of the Internet. If you have the "High quality" option disabled in the network settings, the tracks are automatically compressed and deteriorated in Apple Music.
To check this option, select "Music" in the "Settings" menu and then go to "Mobile Data". That's where you'll find the high quality button.
For Android devices:
There are several new Android devices that you may have missed and not noticed. For example, the engineering menu of your smartphone could be such an innovation. With it, it's easy to explore the work of the device sensors, explore important parts of your smartphone, and more.
This menu, as you can see, is hidden from the eyes of users – so you can't disrupt all systems. You can access it through settings and test your hardware – including your headphones.
1. Settings menu. Go to Settings -> Sounds and Vibration. There is a separate item with sound quality settings, where you can improve it. In order to achieve the most satisfactory sound for you, it is better to experiment with the settings of different options.
2. Check the headphone settings. Some of the headphones automatically turn down the volume to the average volume when connected to your Android device. If you want to turn up the volume, we recommend that you check this option.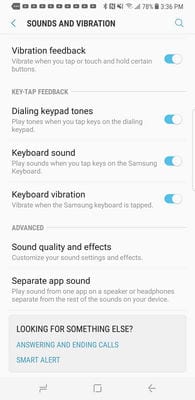 However, if all the instructions do not help your device and you would like to try something else, then of course, additional utilities and applications will help. We have found some of the best apps for iOS and Android that can help you balance the sound in your headphones.
And before you start, we want to suggest you to check out the cool equalizer apps collection.
Boom: Bass Booster & Equalizer
Boom Bass Booster Equalizer is an app that aims to enhance the audio experience of users. It allows users to adjust their device's sound output using a range of equalizer presets and bass boost settings.
The app claims to deliver high-quality sound by amplifying the low frequencies of music, making it ideal for those who love bass-heavy music genres like EDM, hip-hop, and rap.
The distinctive feature of the app is its interface design, which is not only easy to use, but also has the pleasant colors to the eye and looks stylish.
Users can customize their listening experience by selecting from a range of presets, adjusting the bass and treble levels, and fine-tuning the sound to their preferences. The app also includes a volume booster, which increases the maximum volume output of the device.
The app has received mixed reviews from users, with some praising its effectiveness in enhancing the sound quality, while others have criticized the app for its tendency to distort sound at higher volume levels. Some users have also complained about the presence of ads in the app, which can be intrusive at times.
Compared to its competitors, Boom Bass Booster Equalizer offers a wide range of presets and customization options.
However, its effectiveness in enhancing sound quality may vary depending on the device being used, and its tendency to distort sound at higher volume levels may be a cause for concern for some users.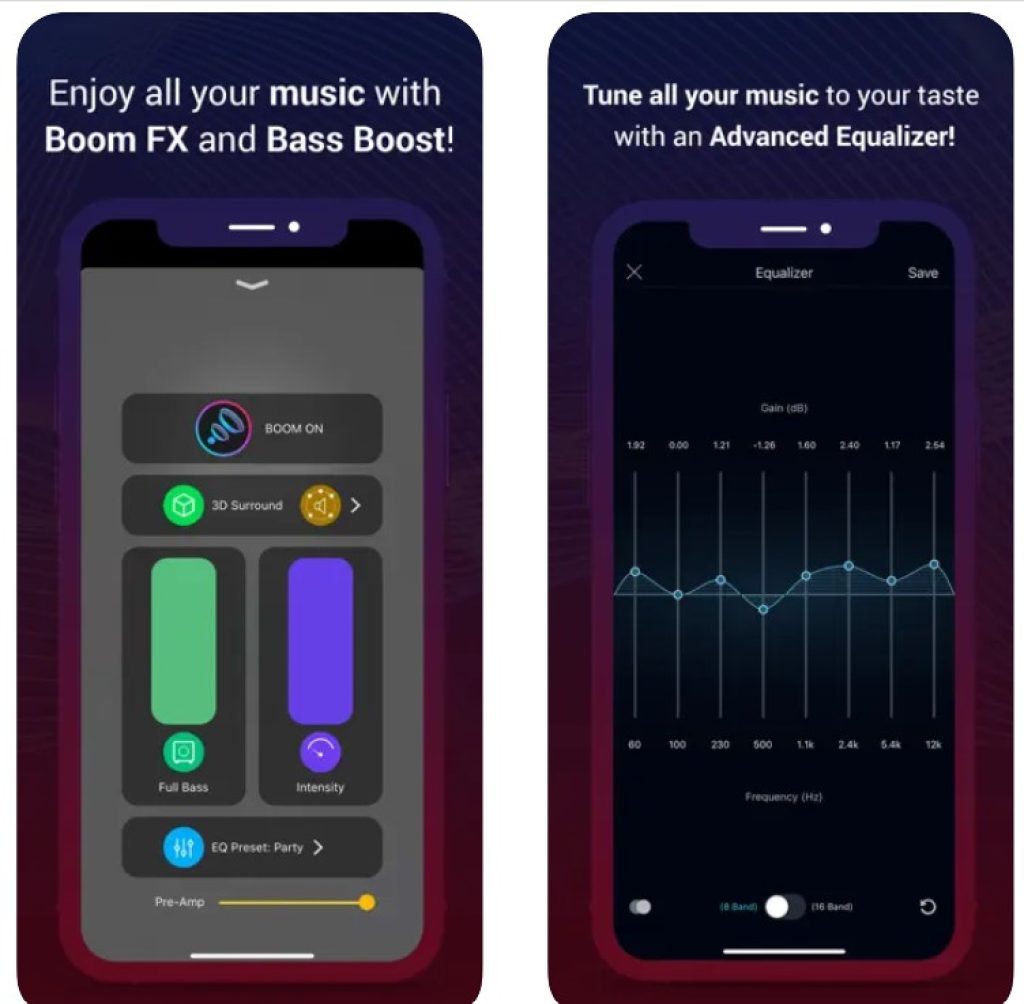 You may also like: 7 Free Audio Looper Apps for Android & iOS
Headphones Equalizer
Headphones Equalizer is an application for Android-based smartphones. For the most part, it is Android devices that often face the problem of incompatibility between headphones and smartphones – as there are a huge number of brands and manufacturers.
When you download the app, you'll need to plug in your headphones and start adjusting and balancing the sound – and Headphones Equalizer is compatible with all models and brands.
If you're using more than one pair of headphones, you'll need a separate set-up for each pair. In the premium version of the Headphones Equalizer app, you can add multiple devices and individual settings for each pair.
Each pair is individually calibrated and you can adjust the intensity of the sound and correct other deficiencies yourself. Depending on the music you're listening to, you can increase the bass or turn the tune down.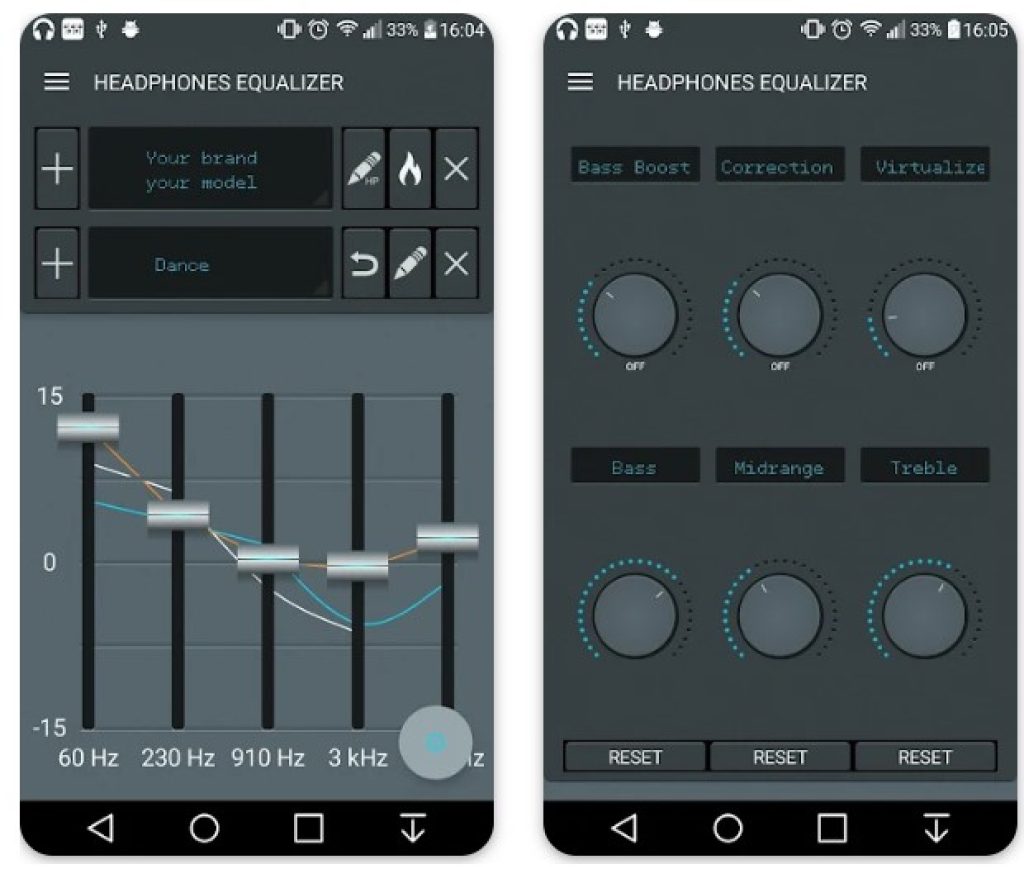 You may also like: 13 Best Volume Control & Booster Apps for Android & iOS
Equalizer For Bluetooth headset
Nowadays, wireless headphones have become incredibly popular. They are produced by many major manufacturers of equipment and smartphones, allowing users to choose the most appropriate model.
Equalizer For Bluetooth headset is designed to ensure that you get great results in the sound of songs and other audio tracks, as well as make the sound most suitable for your preferences.
In the app, the user first has to select a design theme. You choose what you like best – a dark theme and other vibrant colors. Next, you'll be taken to the sound setting itself.
Depending on the genre of music, the Equalizer For Bluetooth headset has ready-made settings for a specific sound. But you can also change all the characteristics manually. Use bass amplifiers for more powerful sound or make an incredibly soft melody louder.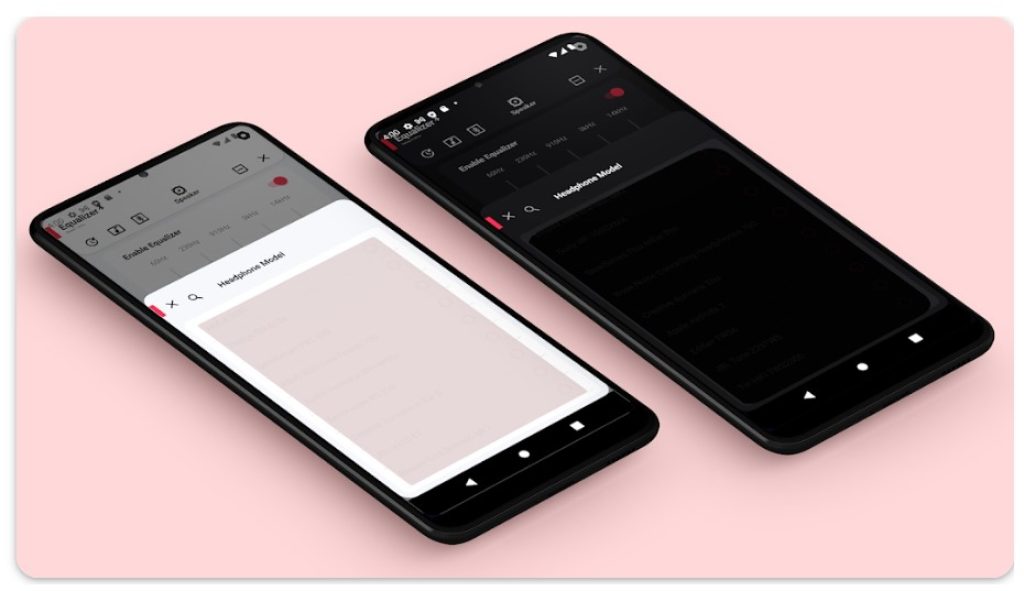 Equalizer Fx: Bass Booster App
We think that by the name you already know what the main feature of this application is. Equalizer Fx is designed for iOS devices and improves sound quality.
It concerns not only headphones, but also the main speakers of your smartphone. Adjusting the sound carefully, you will feel like a professional DJ. By the way, the application also has access to your cloud music, and can play it offline.
Equalizer Fx has powerful tools to boost the bass of any music. You can also create your own audio preset. All settings are made with a 7-band EQ, each band is a controller.
With Equalizer Fx, you can save all your custom settings and use them at any time. Once you've installed the application, we also recommend that you choose the visualization that's most appealing to you, so you'll see a bright display of everything that sounds in your headphones.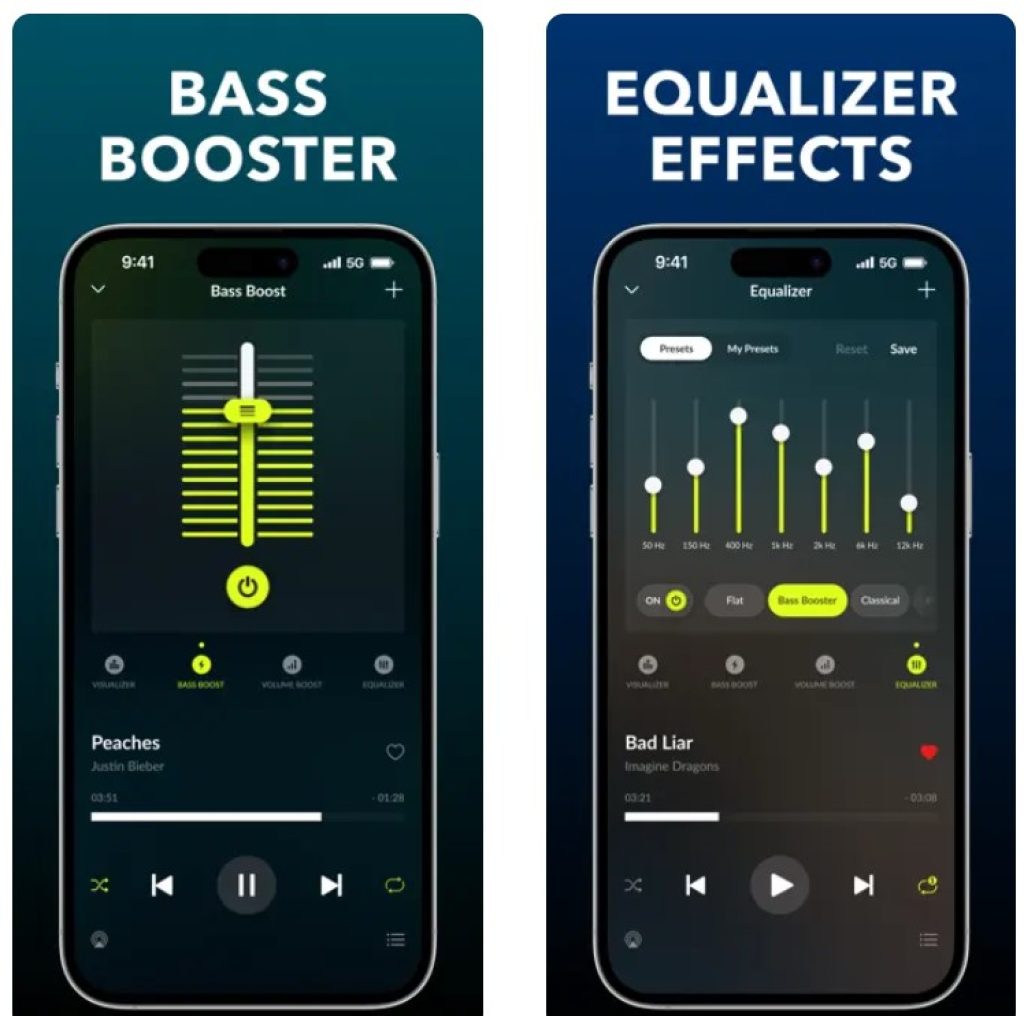 You may also like: 5 Free Reverb Video Apps for Android & iOS
Lesser AudioSwitch
Many of today's developers make an image icon picture with some cute animals. Lesser AudioSwitch immediately appeals to users – because the icon shows a fox in headphones.
In this application you can switch the sound from speakers to headphones even forcibly, using multiple devices at once – wireless speakers, headphones or other equipment.
Lesser AudioSwitch automatically detects when you plug the headphone jack into your smartphone. It also immediately reconnects to another audio output in case of disconnection.
You can control all audio settings directly from your smartphone's desktop by simply installing the appropriate widget on your desktop. Want to use the headset's microphone, but listen to everything through the speakers?
Then Lesser AudioSwitch is perfect for you. Not only do you adjust the sound, but the ports for the headphones and speakers themselves, so you can communicate and listen to your music to a whole new level.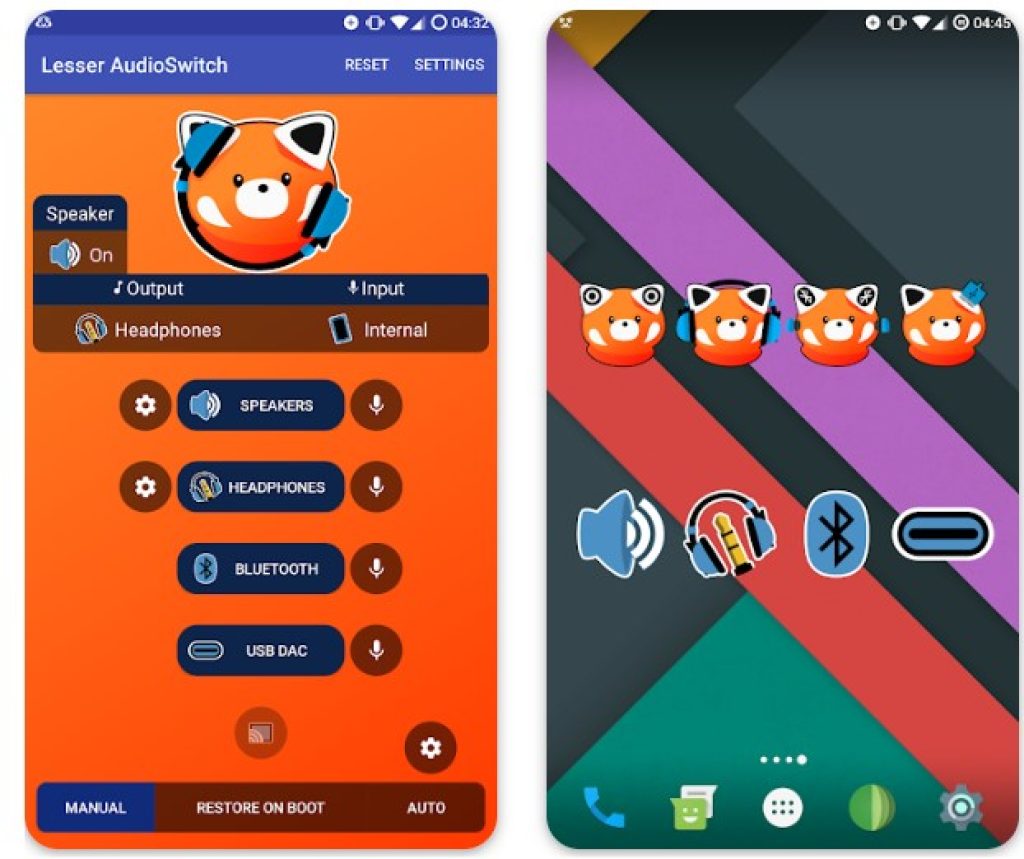 If no application and no additional sound tuning can help you, then you should pay attention to the quality of the equipment itself. If you use a different brand of headphones that don't match your smartphone, the sound quality can be many times worse.
You should also pay attention to the integrity of all wires, as well as the main input jack for your smartphone (if available). We hope that you will be able to listen to your favorite music in the headphones in perfect quality, and the sound will no longer let you down.