A huge number of different games already exist so that people can have fun. This can be as arcades, strategies and simulations, and games of a strictly defined format.
On the market of mobile applications, there are already a huge number of options! That's why we decided to narrow down the search criteria and find the best games in one category.
Nowadays, there are very popular games that will help you kill time and have some fun. One of these options is ball jumping games that perfectly cope with these tasks.
You may also like: 10 Best Ball Jump Games for Android & iOS
Such games will be surely liked by the fans of Doodle Jump and Super Mario, that were popular in the past, and will not load your phone.
We've found the 11 best ball jumping games for you to install on your Android or iOS device.
Helix Jump
Helix Jump is a great game for people, who have a good reaction time on what is happening. If you have already played runners or similar games before, Helix Jump will seem to be an unusual option.
Gradually the difficulty of the game will grow like in other similar games, so you can't just run between the levels without any difficulties. The most important thing is that the number of attempts to pass the level will not be limited, so you will be able to easily train your own reaction and orientation in the virtual world.
By the way, speaking about the virtual world of Helix Jump, you will notice good graphics. It doesn't strike the imagination, but sometimes it surprises users with some amazing elements.
For example, here you can face the effect of a sharp drop or see everything realistically when jumping from platform to platform. In Helix Jump, there is one more interesting point, that at first seems strange and unusual.
It is the trail that is left after the ball comes into contact with the platforms. Initially, you will feel that it is something unusual and wrong, but in the end, you will get used to this solution of the developers. Such a detail, however, brings a little variety to your flights through the holes and across platforms.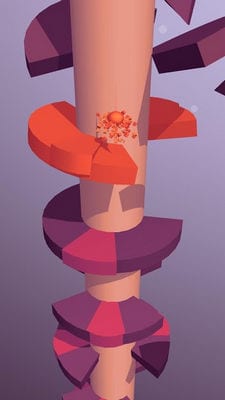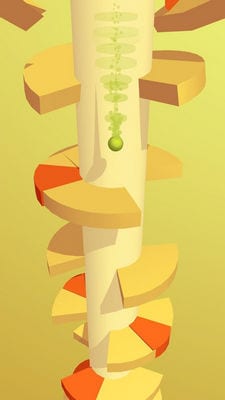 You may also like: 5 Best 2 Player Tetris Games for Android & iOS
Tiles Hop: EDM Rush!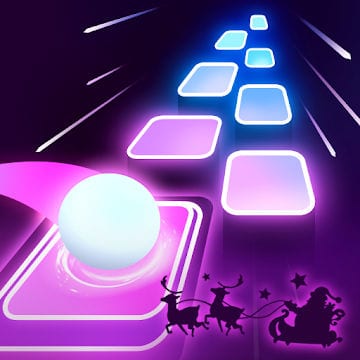 Are you a music lover and often listen to music? Have you ever started to dance in rhythm or knock your fingers on the table, keyboard or other surfaces? Then we suggest you test your sense of rhythm in Tiles Hop: EDM Rush!
Here you can enjoy your favorite songs right in the game without interrupting the process. To get to the end, you'll need to listen to the rhythm of the music, feel it and tap on your screen in time. Don't think it's easy – even if you like electronic music.
EDM is a genre of electronic music, which includes both dance rhythms and rock music masterpieces. You can choose the track to play or relax with or enjoy yourself.
Your task is to press the ball and make it jump on each tile. You can't skip tiles, because then you lose all the sound of the song. The program itself can create levels based on your songs – all you have to do is load it into the game.
The ball can be controlled with just one touch and it is not a problem. Also, users should like the different backgrounds that you set up in the game.
Set new records in Tiles Hop: EDM Rush! and share them with friends and listen to your playlist's best songs.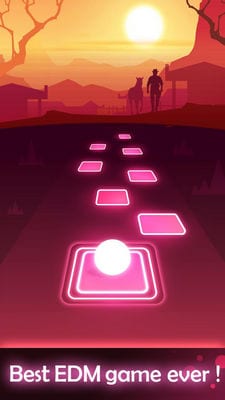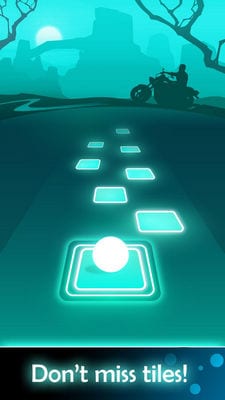 Hop Ball 3D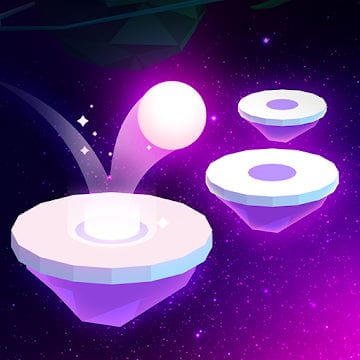 Hop Ball 3D is a game that can remind you of Tiles Hop. This application offers you the same rhythmic control over the ball, but you will have a limited choice of music.
However, the catalog of the game offers many genres of melodies, and if you want you can even play different music online. Ready to jump to the melodic sounds of the piano or want to embody the rock ballad yourself? Then Hop Ball 3D can help you with this for free – just have fun.
You control the ball with clicks rather than drag and drop this time. The ball must constantly jump over tiles and not skip them – otherwise, you will lose all rhythm and points.
By listening to the rhythm of the music you can keep the whole process under control and watch the ball roll on and on. Remember that the more complex the melody, the more interesting the jumping combinations you make up.
From the title, it is immediately clear that the graphics are focused on 3D. When you jump and perform other actions you get high-quality 3D images and animation.
The control itself is very simple, literally with one finger. You will not experience any difficulties, and get an only positive experience in Hop Ball 3D.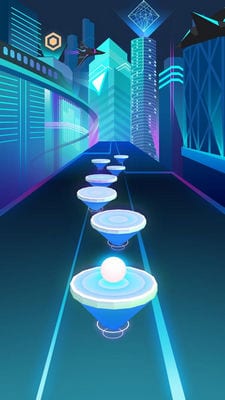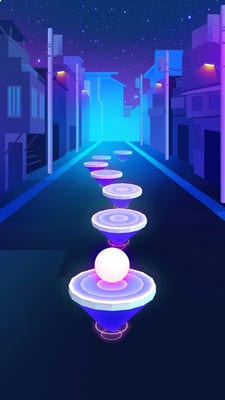 You may also like: 9 Best tennis games for Android & iOS
Jump Ball by Carlo Lollo
Those people who are not very interested in simple ball-handling and would like to find something more interesting and complex may be interested in the Jump Ball application.
This is a game with exciting levels that are getting harder and harder with each minute. You can easily learn how to control and master even basic tricks, but it will not be so easy to master this game.
The most difficult problems, obstacles, and many other difficulties will come with each level. Perhaps at some point, it will even seem that everything has become too complicated!
In total, the game has 850 levels that are only getting more complicated. On your way, there will be acids, bombs, gravity traps and even fire that are designed to stop you.
You will need to reach the endpoint so that all these complications are left behind and the ball is at its destination. High-quality HD graphics will delight you and the levels will make you really addicted – you just can't live without Jump Ball anymore.
If the level seems to be impossible to overcome, then after many attempts the game will automatically unlock it for you – so even the impossible difficulties will be surpassed.
The most important thing is that you don't have to pay for anything – constant Jump Ball updates are absolutely free and will provide you with new levels with improved animation quality.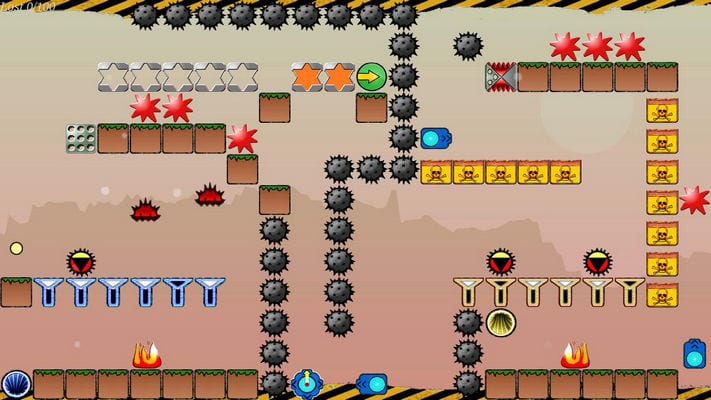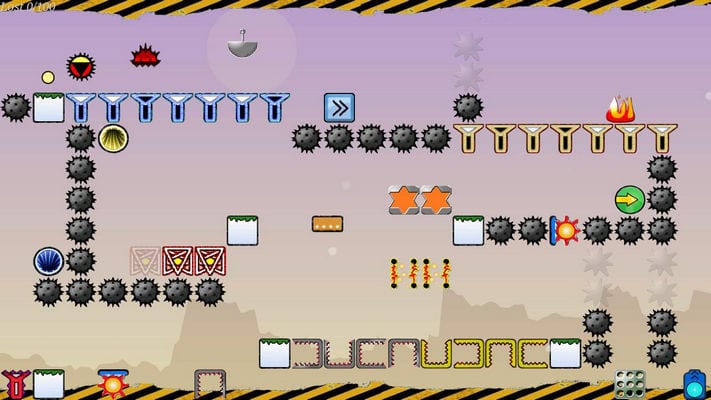 Dribble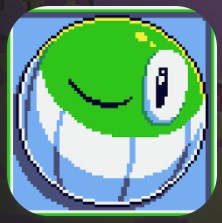 Do you remember the most sensational game, Bounce Tales, which everyone played when they were push-button phones? For those who want to feel nostalgic, Dribble is the most preferred option.
This app belongs to the genre of platforming games, which allows us to conclude that it develops qualities such as mindfulness, visual memory, as well as perseverance and patience. There are also a number of interesting locations in the game, from the desert and sea to a piece of pie or candy.
Uncomplicated control, 7 detailed worlds and more than 20 different levels will open the user's eyes to something new, interesting and exciting in its own way. Throughout the gameplay, you will definitely not get bored, because the developers came up with a whole wave of comical moments.
To sum up, we can say that this game really deserves your attention, because in addition to developing useful qualities, it will help you remember pleasant moments from childhood.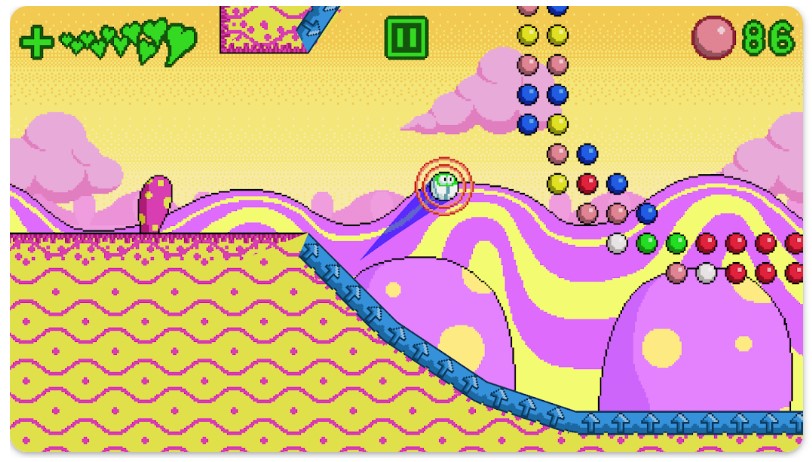 You may also like: 11 Best Snake Game Apps for Android & iOS
Stack Ball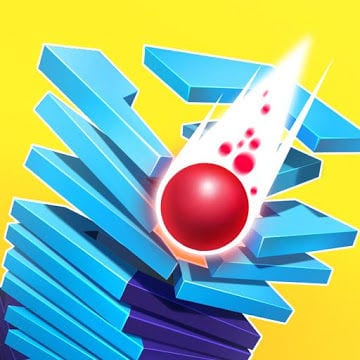 Do you like to destroy things? Or do you just want to blow off some anger without hurting anything around you? Your love of destruction can bring you new levels and even entertain you in Stack Ball.
It's an arcade game that offers you to get to the very end, destroying everything in your way. Using the bouncing ball you will break the rotating platforms. It is not as easy as you might think now – there are some difficulties that will keep you from reaching the next platforms.
The main rule in Stack Ball is to break all platforms without breaking the ball. The ball can break into black blocks and then you have to start the destruction from the very beginning.
There is only one way to overcome the black platforms – to speed up the ball. Yes, the ball will really accelerate during the game, thus increasing the tension and your interest.
At the right moment, you can slow it down and wait for the right moment – for example, until the right platform is right under you.
Control in Stack Ball is really simple and straightforward, so you can entertain yourself in your spare time without having to go through complicated rules and controls.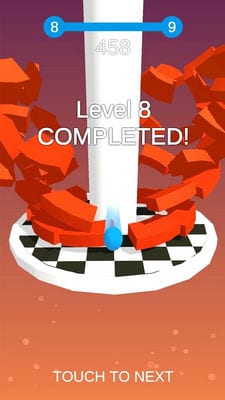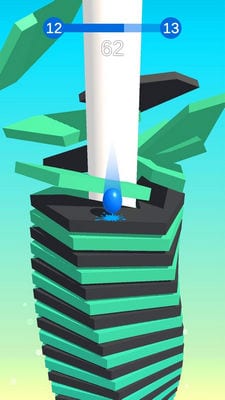 Beat Jumper: EDM up!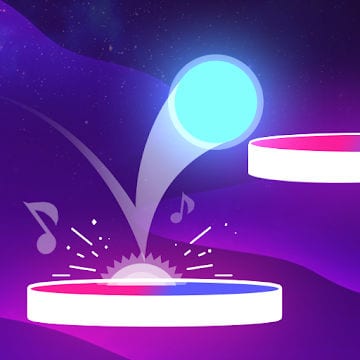 We found another game for music lovers! Beat Jumper: EDM up! is a game that will keep you up and listen to music here over and over again. Your ball has to move in tune with the music, climbing higher and higher on the platforms.
Your task is to get as high as possible to get as many diamonds and rewards in the game. Move right and left, move between platforms, watch the dynamic and live graphics in Beat Jumper: EDM up!
In addition to being able to download your own songs, regular updates are available with the latest tracks in the electronic music genre. The rhythms of these tracks will keep you entertained throughout the game, and your fingers will pick up the bouncing ball on the platforms.
You can move around the stages at your own pace – it's better to move as fast as you can. By the way, you can also customize your platform design by choosing one of the Beat Jumper: EDM up! types.
In order not to lose game progress, you can sync the app to your Facebook account and even compare your best results with your friends. Kill your free time with one hand and Beat Jumper: EDM up! will keep you from getting bored even in the saddest moment.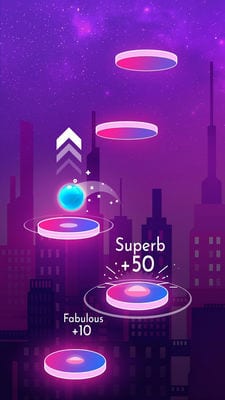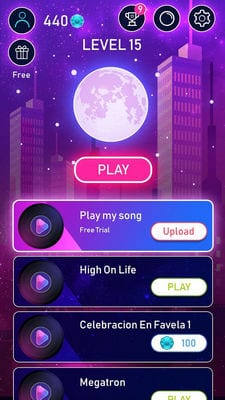 Tricky Taps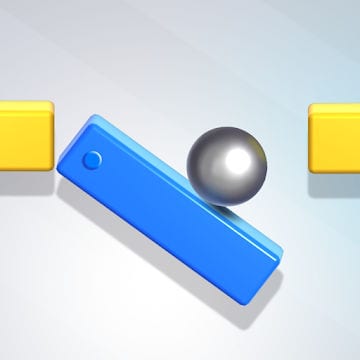 If you really think you're a real master of puzzles, then we think it's worth checking it out. In Tricky Taps, you can prove it to yourself and everyone around you by solving a variety of challenging puzzles and riddles.
There are hundreds of overwhelming obstacles, twisting paths and lots of ways to pass the same level. Here, by driving a single ball, you can pass many levels. Each time the game becomes more difficult, and you can spend many days on one level.
In order for your ball to move, you will need to control the special levers. For example, to jump up you will need to press once on the lever, and to jump for a while you will need to constantly press the levers.
There will be obstacles in your way that you have to overcome – for example, do not let the ball come across the spikes. In Tricky Taps, you'll have to collect stars and gems so that you can easily advance to the next level or improve your performance.
You can choose from a variety of skins to determine the appearance of the ball, platforms and much more. The appearance of the ball can be different – for example, a piggy, a rooster, a basketball or something else at your discretion.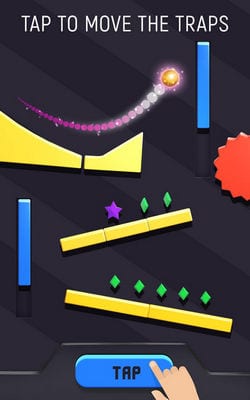 You may also like: 21 Free Puzzle Game Apps for Android & iOS
Red Ball 4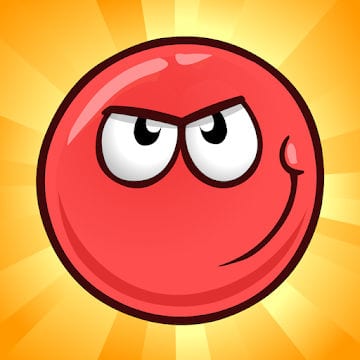 Red Ball 4 is another game that has a high rating and a huge number of downloads. It is one of the indicators of the application that is interesting to users.
A lot of such games don't have a certain plot, but Red Ball 4 is slightly different. Here you will encounter evil cubes, that have impure intentions. These characters want to make the Earth not round, but square, and you have to confront them.
Do you have the spirit and the courage to confront them? Then begin to help the red ball overcome all obstacles. There are 75 complete levels in Red Ball 4, which also include intense battles with Bosses and other challenges.
You can fly over the water with the help of boxes and ball control. You need to pass all the tricky traps, which have been prepared for you by the developers.
Inside the game, you will be accompanied not only by different characters but also by different soundtracks that set the player in the right way. In total, you will have 5 lives in stock, that are restored after some time.
Could not pass the level and spent all your life? In that case, you have to be patient and wait for a little before you can start all over again.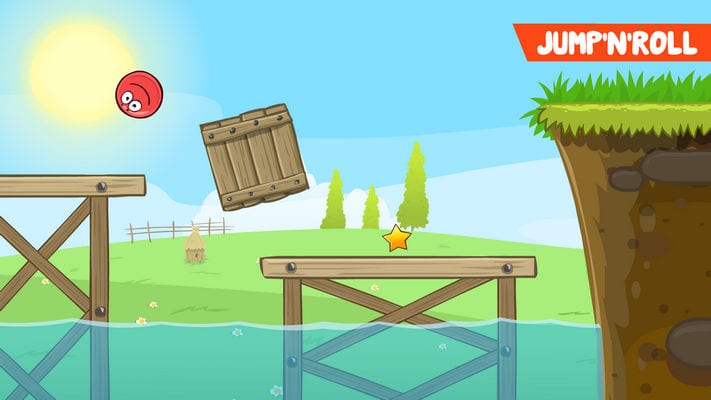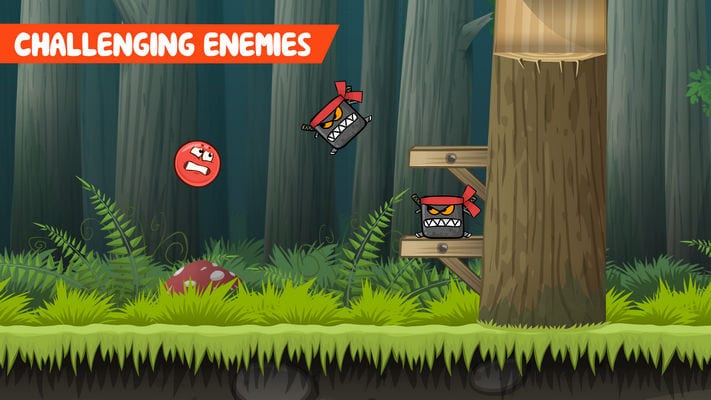 Dune!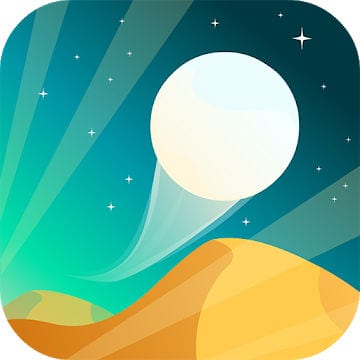 Don't like easy controls and looking for as many difficulties as possible? Then Dune! was designed especially for you! The control in the game is quite complex, and the acceleration, direction and other factors are hard enough to adjust to yourself.
You'll need to keep an eye on what's happening on your screen – you won't know what other obstacles await you. Dune! can be considered an endless entertainment that you will pass countless times.
You have to fly over the line that is shown on your screen. You should not take off too high – the higher you are, the harder you will land and go down. All your movements must be smooth because the leaps will only lead you to defeat.
On the screen of your smartphone Dune! displays not only the ball you control but a lot more that can confuse you. It's another challenge to stay focused so you don't miss your ball.
We think Dune! will please those players who want to kill time, but don't like to have too easy fun at the same time. It's worth noting a small minus – there are ads in the app that will sometimes appear on their own but will not interfere with the game.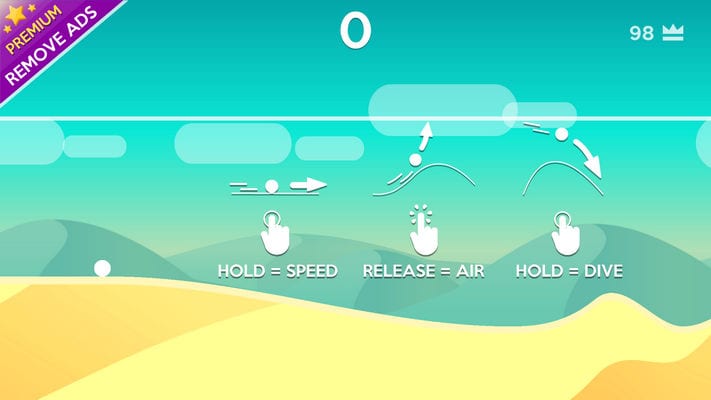 You may also like: 9 Free Sandbox Games for Android & iOS
Ballz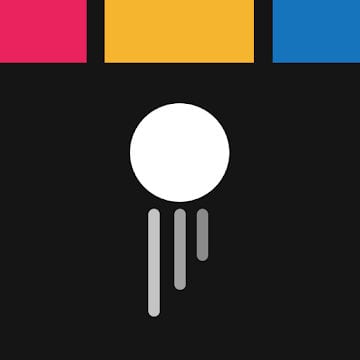 Ballz is another game that is designed to destroy anything with balls. Here you will be able to relax and not strain your brain by performing almost mechanical actions.
You will need to go to the very base and break a lot of bricks – as much as it will be possible. After each shot, the brick level will increase and the difficulty will increase. In order to get an endless line of balls, you will need to collect all possible items and pass a number of difficulties.
It is easy enough to start playing, and there are no complex rules in Ballz. However, it will be difficult for you to achieve high results and goals, and the angle will be your assistant in all the shots.
Use the right trajectory in order to get the best possible result. The game Ballz itself is almost endless, so you will not have to wait for new levels to be created.
Do you want to kill some time or you just have nothing to do? Ballz will shorten your wait and brighten it up. The developers are constantly updating the game, so even the small bugs and inaccuracies disappear with each new update.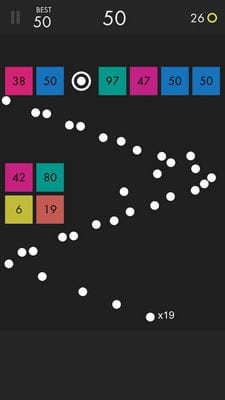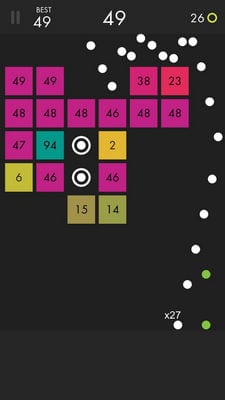 How many of the presented mobile games did you already know? Not many, if you ask us. Despite the popularity of the genre, people usually prefer to stop at one application and do not try others.
Of course, you can think that all of them are similar to each other and not much different, but in reality, this is not true. Each game has its own features, unique rules and of course the design. We recommend that you try at least some of them and then choose your favorite.