If you love trading, you probably know how hard it is to keep up to date. That's why you might need some reliable applications with bots that can provide interactive communication and help.
By the way, if you want to keep your budget in order, read 11 Best Family Budget Apps in 2021 for Android & iOS.
That's why we have found the best options for you! In this article, you will find great trading apps with bots. There are many options for iOS, as well as Android users.
Pionex – Crypto Trading Bots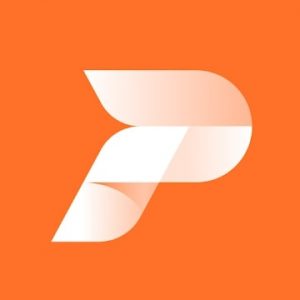 This is a super simple and powerful app at the same time. It can provide you with a friendly interface and a big number of trading bots and cool tips on how to build effective crypto trading strategies.

Let's concentrate on the best functions you will get: 
Explore 

16 trading bots

. Make sure you try all the smart bots (especially Grid Trading and Spot-Futures Arbitrage Bot) to create a win-win crypto strategy.

In the app, you 

can't buy cryptocurrency directly

. However, you can use some widely trusted services such as Coinbase, for example. Then just link your account to Pionex. This will allow you to buy and sell safely. 

You can 

work with different coins

. Bitcoin, Litecoin, Uinswap, and many other coins will be available at once. 

Your money will be safe. Its 

security level is top-notch

. You can protect your wallet with verification via the phone number, email, and your Google account. 

Pionex is being 

used by thousands of people

 from all around the world. Even if you lack knowledge, you may also ask a question to professionals. They will help you with useful tips and instructions. 

This is 

a licensed product

. The license was given by FinCEN. 
The app is rated 4.7 out of 5, meaning it's a good application you can trust. What is more, the app is very lightweight – you will need about 60 MB to install it on your smartphone or tablet. 
You can download this cool trading app with bots on Google Play and the App Store.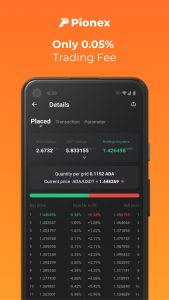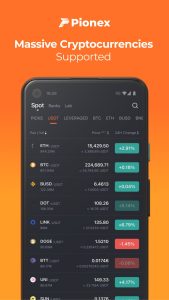 You may also like: 9 Free Money Apps for Kids in 2021 (Android & iOS)
3Commas: Crypto Trading Bots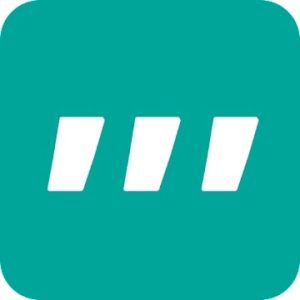 Are you a skilled trader? Then you probably know that it's vitally important to build a good strategy. However, it might be too hard to keep all the things in mind.
This is why you need to take a look at 3Commas – it is a service without any limitations! You can get tips and learn how to trade without paying money for it.
Let's see what you can do in this cool application: 
Explore 

easy trading bots

 that can help you to automize your trading process. Some of the bots can even give you a few ready-made strategies you can use at once. We highly recommend you use DCA and GRID bots, they are necessary for any type of trading.

Always stay connected

 to the market. You can't miss anything important because you run the risk of losing your money. You can access 3Commas anywhere you are – the app can be installed on any device. Still, if you can't download the application due to the lack of memory, feel free to use the web version. 

Review your invested money and portfolio

. You can import your data from other services or start from scratch with 3Commas. Receive signals from the market when vitally important changes. 

Monitor your cryptocurrencies

 and their prices. The data is being updated all the time. 
With the latest update, you can easily share your screenshot via a link. 
The app collects some data about you. What is more, the contacts and usage info will be connected to you. 
3Commas is also a small application. You will need at least 40 MB to install it on your phone or tablet. 
Both Android and iOS users can get the app and start trading with the help of cool bots. 3Commas is free with in-app purchases.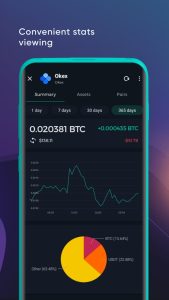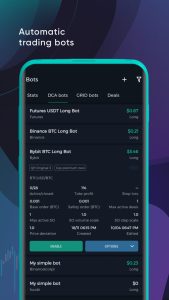 Cryptohopper – Trading Bot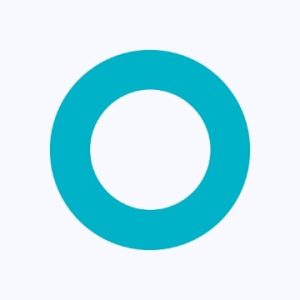 Are you interested in Bitcoin but have no experience? It's not a problem anymore! With Cryptohopper, you can get results very fast and easily. What is more, this app is also a perfect option for beginners.

Here are the best functions you will explore in Cryptohopper: 
If you are a beginner, you 

can practice first

. Start with playing a simulator first, and then go to a real market. This will prevent you from losing real money.

Explore cool strategy templates and use them. This option will come in handy for beginners. When you start, building your strategies might seem too hard. Use ready-made strategies instead.
Monitor your trading process. It doesn't matter where you are – if you have a smartphone or tablet connected to the Internet, then all the market is in your pocket.
Get notifications when important prices rocket or go down. This will help you to correct your strategy in time and never miss a chance.
Enjoy a reliable crypto trading bot. It performs a big number of functions but its primary function is crypto exchange. What is more, this bot will sometimes send you some useful tips on trading.
Always be safe. This application works with your money this is why it's vitally important to protect your finances. Make sure you use a complicated password, your fingerprint, and biometric authentication (it is optional). We recommend that you change your password regularly.
The app supports a huge number of languages. There are more than 20 different languages, including Thai, Swedish, Japanese, Greek, Korean, and Russian. More rare languages are about to be added.
Not all the functions are available for free. To get access to advanced features, such as a trailing stop-loss. However, if you are a beginner, you can easily work with the basic features at no cost.
Cryptohopper is a very lightweight application. You will need about 52 MB to get it.
You can get Cryptohopper on the App Store, as well as Google Play for free.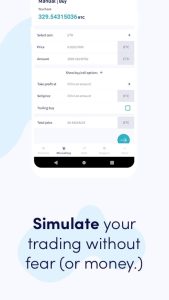 TradeSanta: Crypto Trading Bot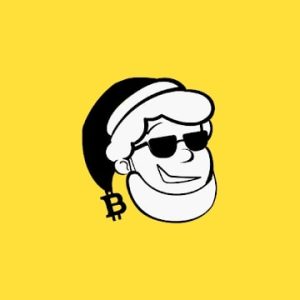 Do you want to get an accurate and fun trading bot for Binance and Huobi? How does the application work? Well, it's pretty simple. TradeSanta is a cloud software. Its main function is to manage your trading properly and automate most of the process. This will help you to save your precious time.
The bots will exchange your crypto obeying the rules you have already set for them. This will ensure your trading is efficient. Try these bots and see how cool it is – much faster than trading manually.
The app is packed with a huge number of great features. Let's look at them: 
It's 

super easy to start

. The setup won't take long – you will spend about 2 minutes getting ready for trading. The first thing you have to do is to connect to the exchange via API. It's safe and simple. Then select a pair for trading. Now you can start! 

There is 

a great number of bots

. If you aren't skilled enough and you can't create bots, use those that are already made by the developers. However, they are good for general strategies. If you need something specific, you will have to write code yourself. That's not too hard if you strictly follow the tips. What is more, you can pick a template bot and edit it later.

Create your own algorithms

 so that your trading is 

performed by bots

 when you are absent from the market. Be attentive when you build your strategy – this algorithm will work all the time until you change it.

Read useful tips about trading

. You will learn how to choose the best exchange pair and build a simple and effective strategy. This is vitally important for beginners. 

Trade with no limitations

. This is the best option provided by TradeSanta. You can make as many bots as you need to perform well. What is more, there will be no commission to pay. Enjoy complete freedom! 
The application is quite elegant and small – it requires about 67 MB to be installed. 
TradeSanta is a truly secure app, which is logical as it works with money. 
You can download TradeSanta for free on the App Store, as well as Google Play.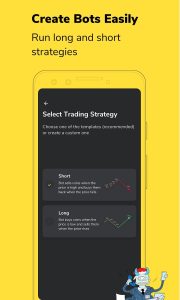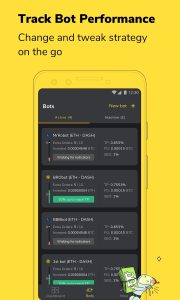 NitroBot – Automated Trading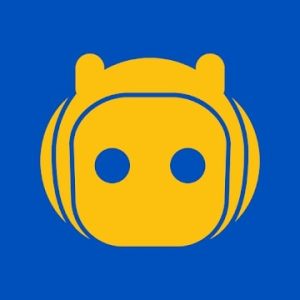 This is a relatively new software for trading. We can't say it's perfect as it is completely new and it's hard to tell how the app will develop.
Still, it's a new tool and it is worth trying. You can contribute greatly to the development of this service.
Let's see what you can do with the help of NitroBot:
The app is 

equipped with AI 

so you can fully automate your trading process. However, you may also do some things manually. 

NitroBot is 

super easy to use

. When you download the app for the first time, you will be shown an introduction video. It will give you all the info about the functions of NitroBot, even though the video is quite small. 
The app is quite safe. The only thing it tracks is location but won't be linked to you. You will need about 80 MB of your phone memory to install such an application and start automating your trading. NitroBot is free with no ads.
By the way, if you are interested in bookkeeping, you need to look at 10 Best Bookkeeping Apps for Android & iOS (Personal & Business).
You can enjoy all the functions at no cost. Just get NitroBot on the App Store or Google Play.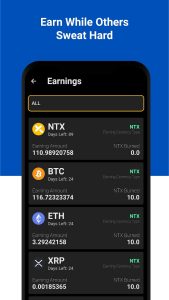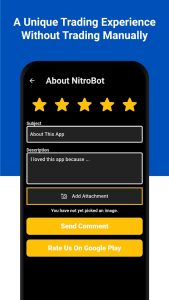 CryptoHero: Simple Trading Bot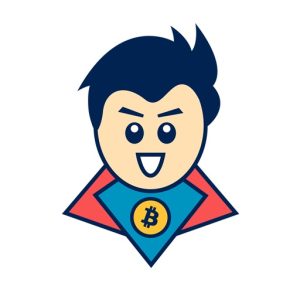 Trading is a hard thing that is hardly performed manually. This is why you have to optimize your trading, automizing some operations.
With CryptoHero, it will be super simple. Its main function is crypto trading automation.
Let's take a closer look at the function provided by the app: 
Supports a big number of exchanges

. If you want to link your CryptoHero account to Binance or any other service. You can link it via APIs, it is quite simple if you follow the instructions. 

Create a portfolio or import it 

from any other apps. With CryptoHero, you can easily track all the changes that happen to your trades. 

Risk-free strategies

. In the app, you will discover reliable bots that will allow you to test your strategies before you do it with real money. This important function will allow you to avoid huge losses. If you work with Bitcoin, it is even more important as working with crypto is super hard. 

Enjoy Trading Terminal

. This function will come in handy if you often practice manual trading. 
The app is free with its basic functions. However, you can use some bots for free. However, if you want to customize bots and create your own ones, you will have to go premium. 
Cryptohero is a safe service to use. It doesn't collect your data and doesn't sell it to others. 
You can get it for free on the App Store and start using cool trading bots!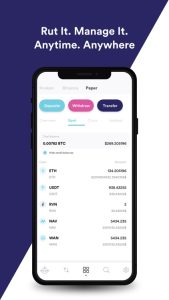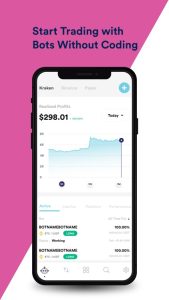 Quadency – Crypto Platform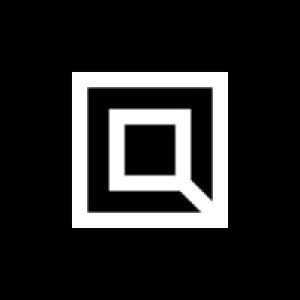 This application is the best option for skilled traders. If you have been practicing trading for some time, Quadency will bring you to a new level. 
In a word – it's all about automation!

But let's focus on the most striking features of this trading service: 
The best thing is 

a big number of crypto trading bots

. You can customize them according to your predefined conditions. The bot will monitor the prices and buy and sell crypto as if you were doing it manually. Imagine you are trading without even knowing about it. Your trading will go on even when you are asleep thanks to bots. 

Connect safely

 to the most popular crypto exchanges. You can work with Binance, Kucoin, or Kraken. Your data won't be lost thanks to advanced encryption. 

Get your first Bitcoin

. If you are a beginner and you don't have a lot of currency, invite your friends and get rewarded for it. The reward will be activated once your friend becomes a new user of Quadency. 
To read more information about Quadency, visit its official page on Telegram, Twitter, or Facebook. The application isn't too big – 31 MB will be enough for Quadency to be downloaded and function well.
Please note the app collects some data and links it to you. We mean your contact and financial info. 
You can download Quadency on the App Store and automize your trading.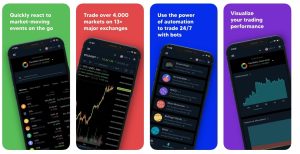 Wunderbit – Crypto Trading Bot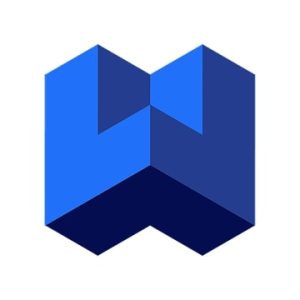 Here is a great trading platform that will enable you to perform trading seamlessly. One of the best features of this cool service is its fast operation. What is more, the interface is also pretty friendly and simple. You will be able to start at once!

What does it mean? Well, there are at least 3 group of functions you will explore:

You can 

start trading in a minute

 after the download. Yes, the registration will take less than 60 seconds. What is more, you can easily export data from other sources. 

Choose a template bot 

if your aim isn't too specific and complicated. 

When you need to perform a sophisticated strategy, 

create your bot

. If you struggle to understand how to do it, just see the instruction. It contains detailed descriptions of how to do it. For each purpose, make a new bot so that they all work accurately. 

There are no limitations. You can create as many bots as you need for your purposes. What is more, you can try a big number of exchange pairs to build the best trading strategy.
The app needs 15 MB only to be installed on your device. The speed of operations is also incredible. There are no glitches and bugs so you can fully concentrate on your trading. Still, if you face something strange, make sure you report it.
The app is free with no ads. This means you won't be distracted from what is important.
Android users can enjoy a wide range of great functions for trading. Download the service on Google Play.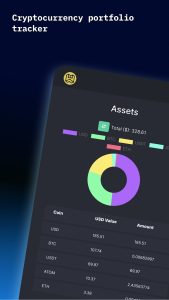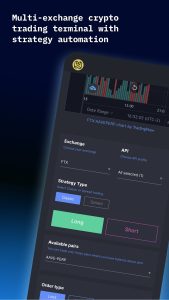 BitUniverse
I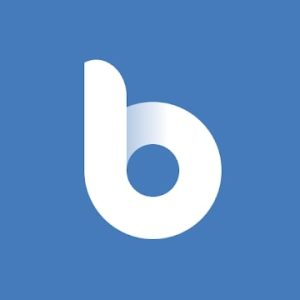 f you are a true cryptocurrency fan, that's the tool you need. When you deal with crypto trading, you have to control too many things. Imagine you have to monitor the trading process all the time and spend long hours looking at the screen. 
Let's see how you can optimize your trading process with the help of BitUniverse: 
Enjoy great bots 

that will perform trading instead of you. They will monitor the prices and buy and sell when necessary. You can do what you need while the bot is doing things on the market. 

Try different 

exchange pairs

. You can never know which strategy is effective enough so make sure you give various strategies a try. 

Track changes in your portfolio

. This is too hard to monitor manually. This is why you might like a flexible system of alerts. 

Create up to 

11 different bots

. This will help you to fully automate your trading and sleep while your crypto is increasing. 

Enjoy safety

. Most users are worried about their safety. This is why the developers use encryption which allows you to forget about this topic. 

Check the tips

. Make sure you read it to them to get some new information. If you are a beginner, that's a great opportunity to find some professional advice. 
However, there are some disadvantages. For example, the app often crashes when you try to open the crypto course. This problem started after the latest update. 
You can download BitUniverse and use it at no cost on Google Play.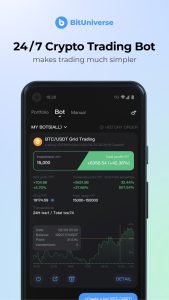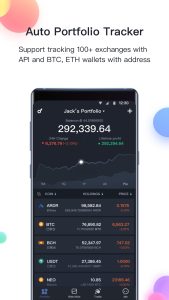 You can also check: 9 Best Trading Alert Apps for Android & iOS