Every year the work of recruiters is appreciated more and more, which means that nothing stands still. For simplified work for recruiters, you also need to improve, for example, to gain new knowledge in your field, as well as use different mobile phone applications.
For such a case, we have just compiled a list of the most necessary and excellent best apps for recruiters, which will certainly significantly enhance the work. Moreover, if you are an HR, you might also want to read the article about the job search apps.
LinkedIn Recruiter
Perhaps many Internet users have already guessed why this particular application tops our list of the best. The application has several excellent features and functionality, which significantly simplifies and at the same time improves the work of recruiters.
For employees in this field of activity, it is required to be twenty-four to seven in touch and check, as well as respond to candidates. Recruiters can't always sit in front of a computer and wait for someone to write.
And most often they may receive notifications or something else at a time when they cannot immediately respond.
In this case, users should always have this application at hand. In it, you will always have access to chat with new candidates, and you can also view their profiles and resumes or portfolios with works. Every candidate who writes to you, you can hide or save.
Another advantage of the application is that here you can search for candidates, and after some time continue the search from where you left off. That is, you will not need to write something again and search again. The application interface is also easy and easy to understand.
The main screen will show recommendations and what you might be interested in. And you can also view your search or chat history in the history section.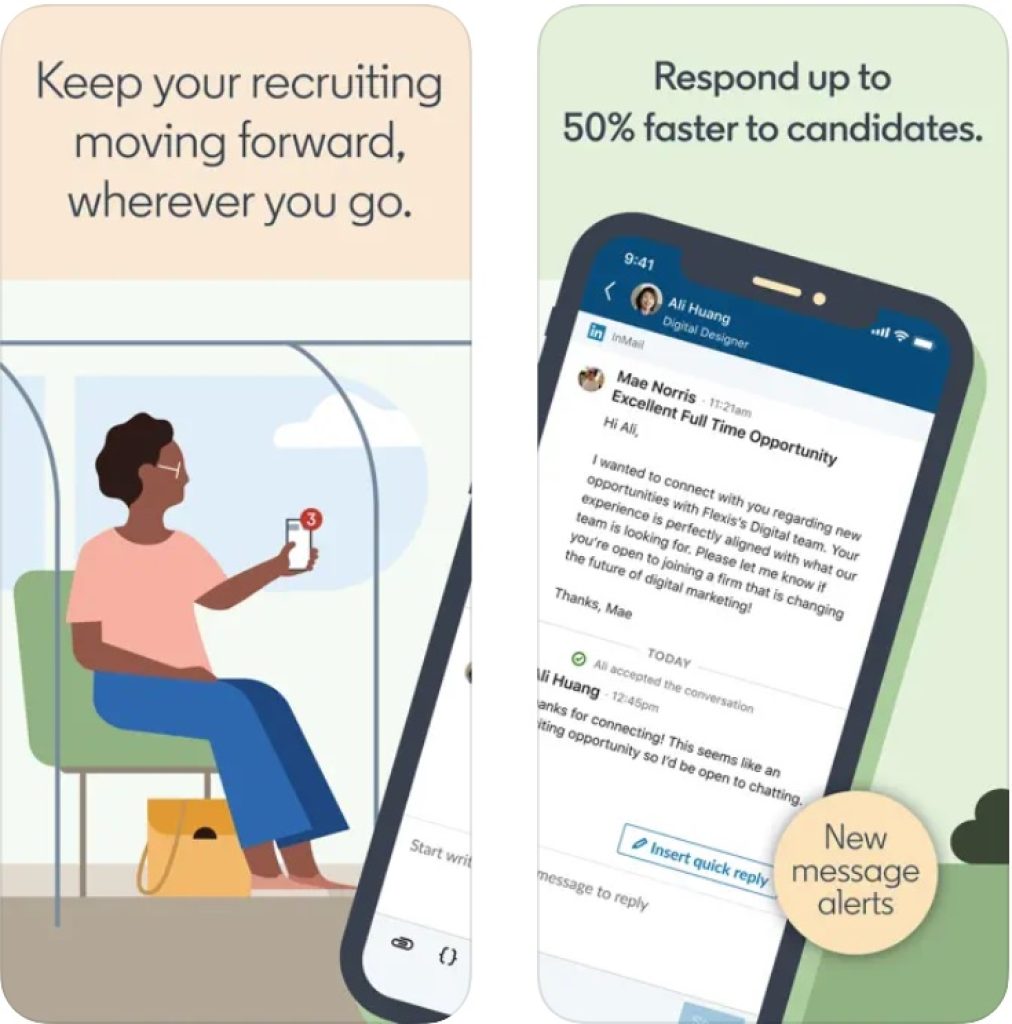 You may also like: 7 Best Job Bidding Apps for Android & iOS
Naukri Recruiter
The next application on our list is Naukri Recruiter, with which you can simplify several cases of recruiters. The application has similar features and functions and can be used at any convenient time. Even though the functionality is similar, several distinctive features can be noticed immediately.
The first difference and a distinctive positive feature are that while receiving calls from job candidates, information about the calling candidate will be displayed on the screen. This information is taken from the candidate's profile, so you will immediately determine who is calling you and from where.
The application has access to more than seventy million candidates that can be viewed and contacted.
Another advantage of the application is that here you can share the profiles of candidates in other applications and social networks. This is useful if you are going to discuss with your colleagues a particular candidate.
The profile of candidates is also convenient to view, as the functionality allows you to describe their abilities, previous positions, resumes, key abilities, and so on in an organized manner. To contact the candidate, you do not always need to call, you can also write a message.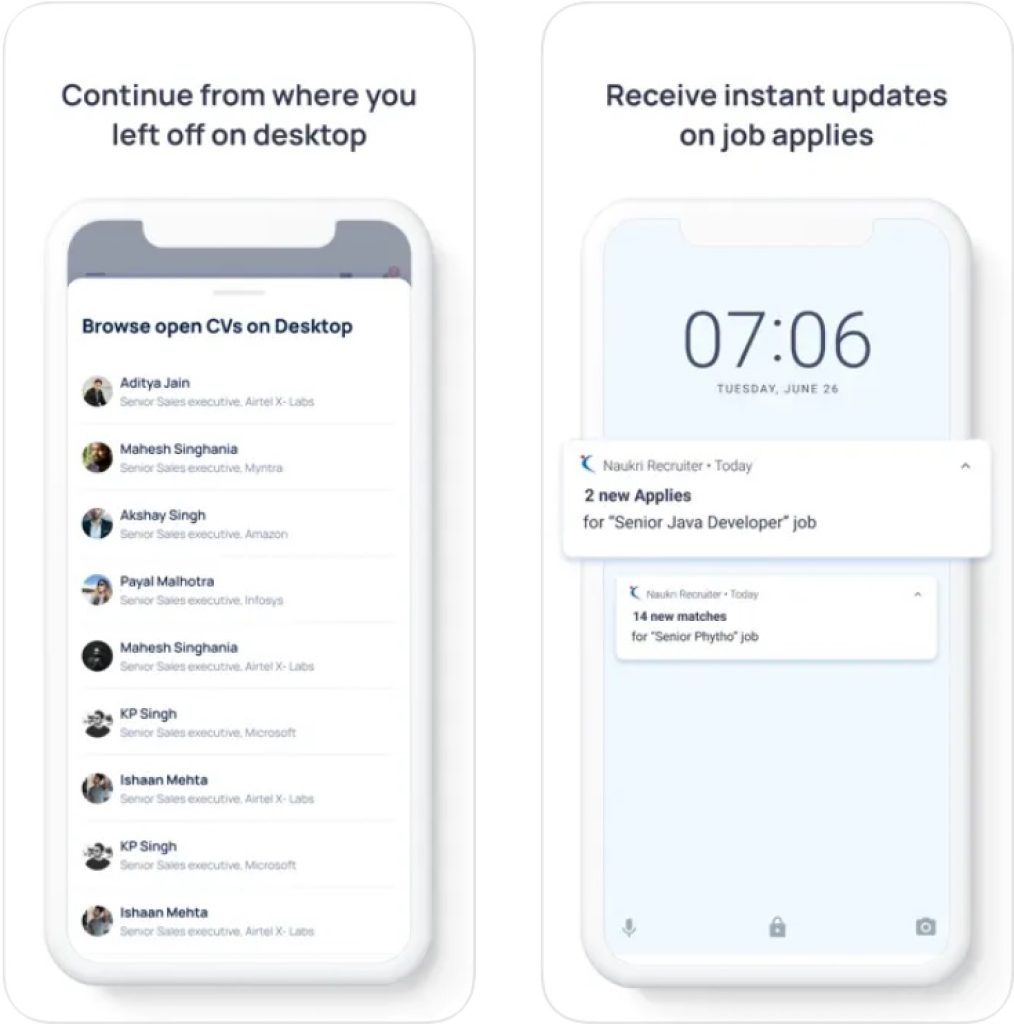 Seasoned Recruit
Seasoned recruit, allows users to do their jobs even on a mobile phone. The application does not differ in any noticeable way from the previous ones, it has the same properties and capabilities.
Rather, the application does not cope well enough with its responsibilities. Let's find out what the application can give users recruiters.
A distinctive feature of this app is that here some functions require improvement, it is because of these improvements that the application is not popular among users.
For example, the application does not show information about candidates during their call. Nevertheless, you can get in touch with it by writing messages.
The application interface is quite simple, where there is information about candidates, and a section for reporting and assigning interviews. After the interview, you can add a rating to the user, and add it to the section in progress.
Full information and data about the candidate can be found in his profile and find out how many years of experience he has, what he does in general, and the like.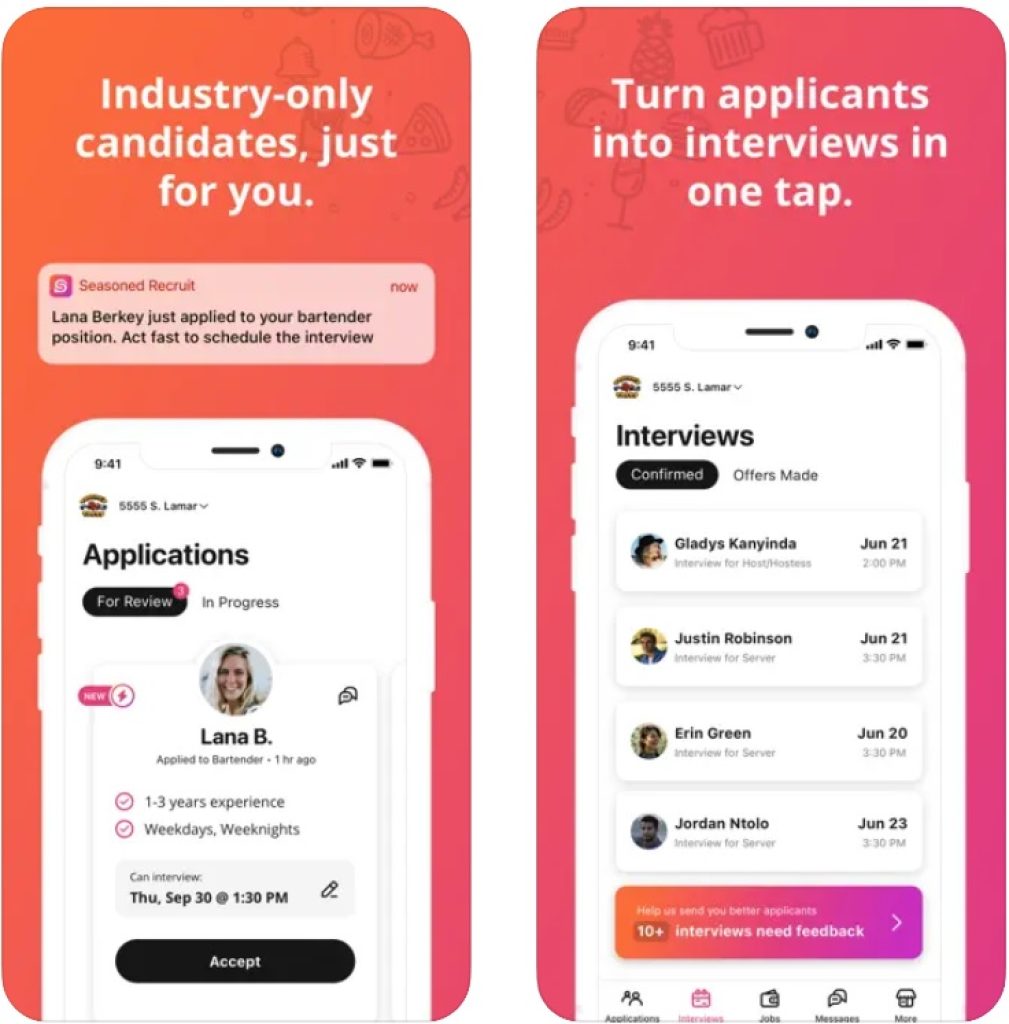 Job search by ZipRecruiter
But this is already a popular application among those who are looking for work and among recruiters. The application is an online community for users with the same goals to find a job and an employee. Although it is quite popular among users, the application features are not so grandiose.
Perhaps let's start with the overview of what functions this application has in itself. Its functions are quite simple, as you realized, people are looking for work here, and recruiters can take advantage of this opportunity to find workers.
To choose the right candidate, recruiters have the opportunity to view the candidate's profile. And candidates, in turn, must describe their activities and work experience in detail and clearly.
Users who are looking for a job can enable filters where they can indicate which job they are looking for and select several suitable vacancies. Candidates or vacancies that may interest them will be visible on the main tap for each user.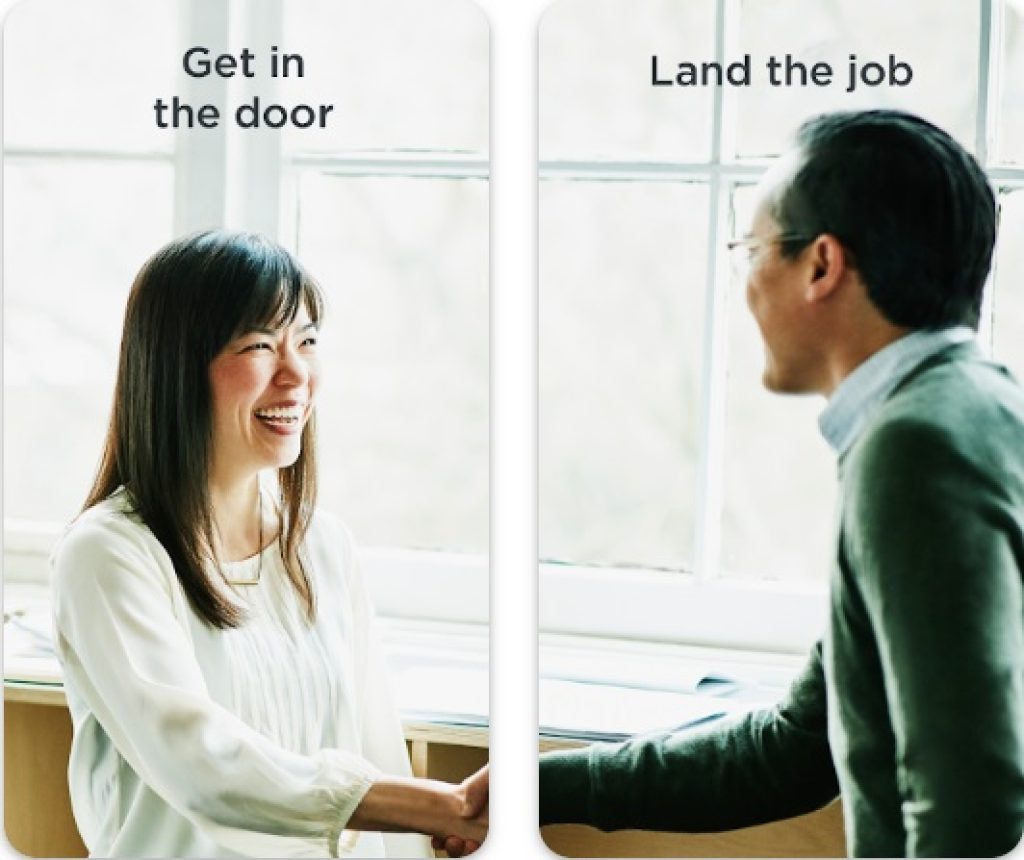 Evernote – Notes organizer
This application is radically different from the previous applications on the list. The main task of the recruiter is not only to find new employees but also to cope with the work correctly and in an organized manner.
Many people are familiar with the situation when there is too much work, and you get lost in time and do not have time to finish one thing, then another. In such situations, not only recruiters but also all employees can use this app.
App users can add several main tasks to complete, as well as add many other notes on different days of the week. For example, in the notes of the application, you can select a specific date and write what is planned for that day. And you can also pin materials received from customers or employees in the app.
The app serves not only for notes and inscriptions, here you can add several types of documents and a file. For convenience, you can add a photo to a new note and add an audio description under it. You can also add different types of schemes and the like.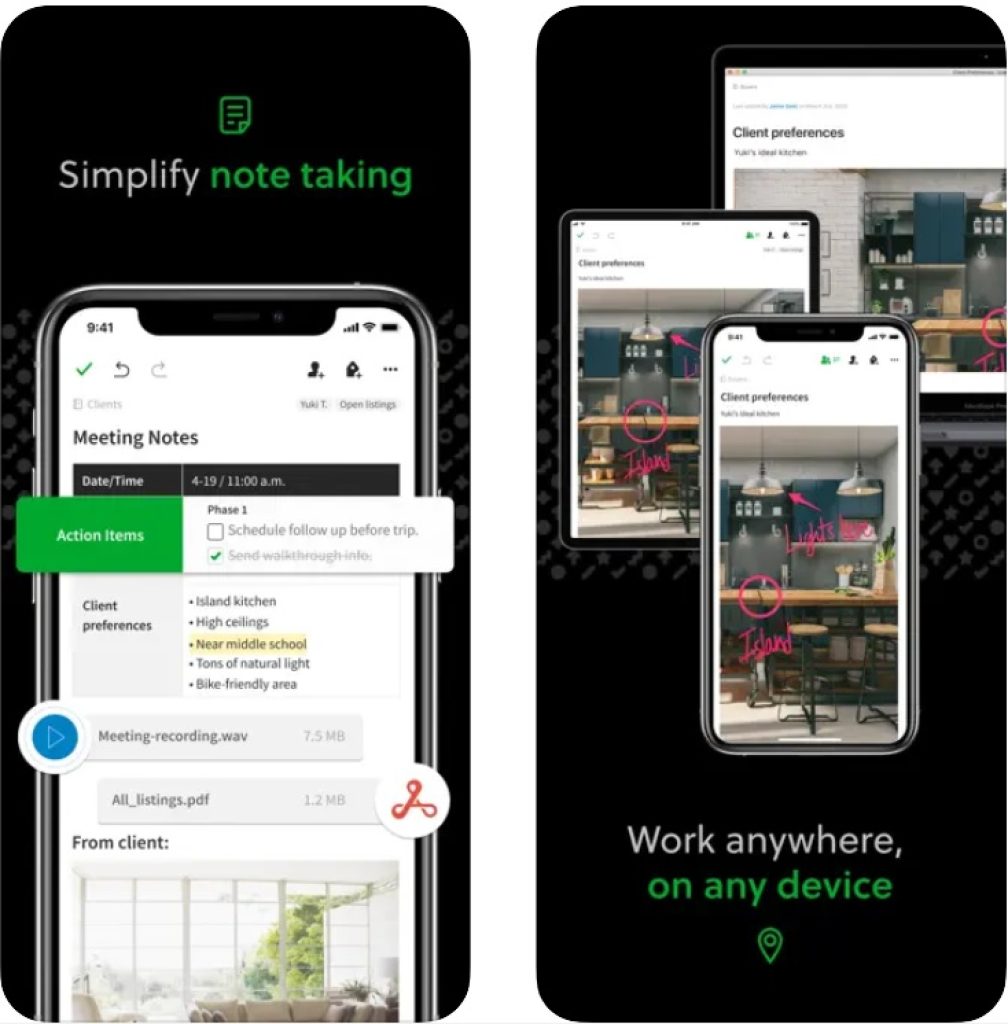 You may also like: 11 Best Free Resume Maker Apps
Workable
Another application for personnel search and work in general. Users of the application will discover several ways to find a job as well as new employees without much effort. The application is popular because it has several great features and capabilities.
The advantages of the application are primarily in its convenient and easy interface, where all the necessary functions are located in special sections, with the help of which users will not be confused.
Recruiters can find ideal employees and new personnel here, just find the right candidate and contact him. There are two ways to do this – call or write a message directly in the application.
To further facilitate the work of recruiters, the application allows you to set a convenient date for an interview. With the candidate, you just need to select a common date and add the reminder again in the app. And information about the candidate, as in other applications, can be viewed in the candidate's profile.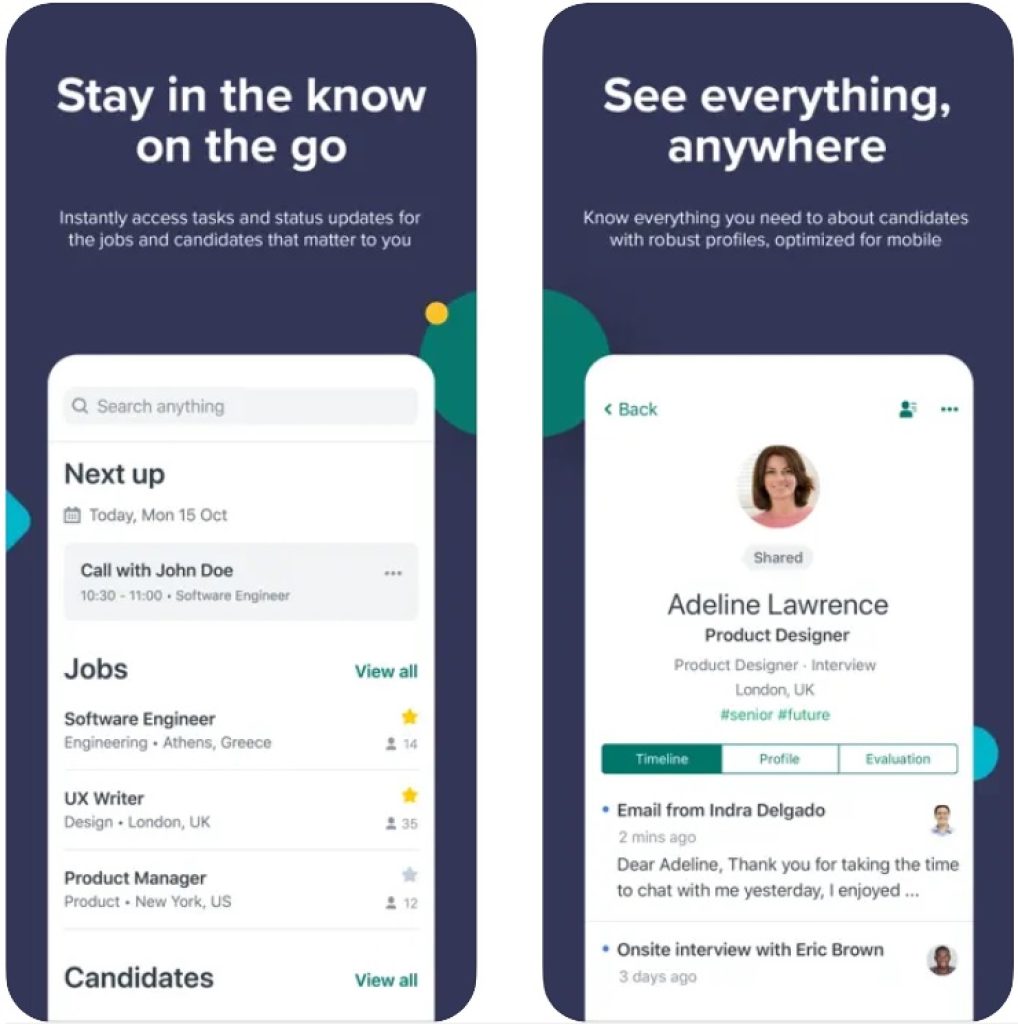 Textrecruit
And again, a similar application for recruiters, allows you to expand their capabilities. The interface of the app is very simple, there are no improved functions or sections for organization. The application itself performs identical work during use compared to other applications.
Working with the application is simple. On the main screen, users will see a board with recommendations and a search bar where they can specify their queries, and also use the query filtering function.
Then you can add or hide candidates with one click. To schedule a meeting with a candidate or discuss details, you need to go to messages.
For a simplified search, you can add special tags with which the application will automatically distribute job candidates. In general, this is where all the features of the application end. For a more detailed review or to learn how to use the application, you can watch the video review.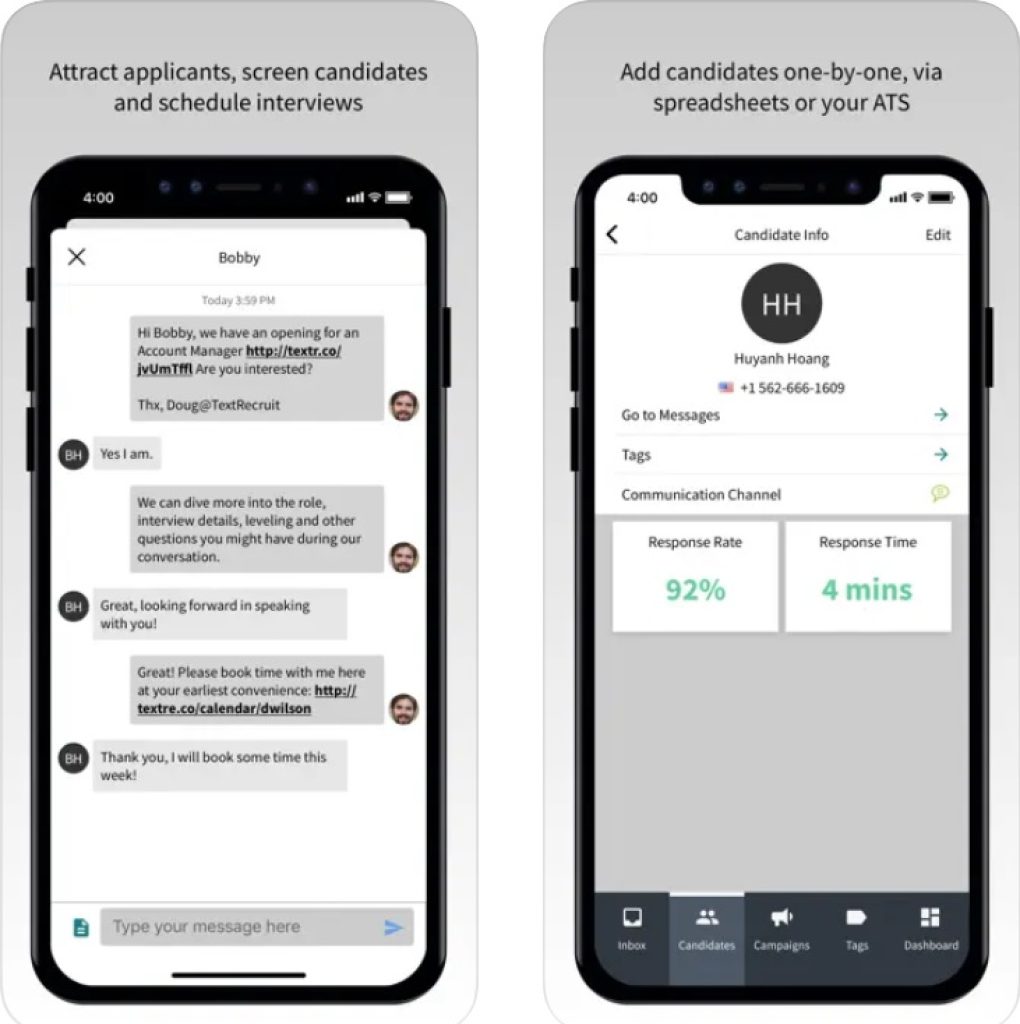 Shapr
This application is primarily distinguished by its interface and how the application itself functions.
The application is somewhat similar to the social network tender, where with one click you can either add to your favorites or reject those who do not fit. Here, too, a questionnaire and a profile with a description of the candidate are displayed on the main screen, the recruiter's task is either to accept or refuse.
After you have decided on the candidates, you can write them a message in their mail directly in the application.
The benefit of the application is that you can get a response almost immediately, as the application notifies users of an incoming request. In the profile of each candidate, there is complete data necessary for familiarization, portfolio, and resume, as well as their avatars.
There are also improved features in the application, such as who viewed your offers and refused, an unlimited number of candidate views, and so on.
As you may have guessed, the disadvantage of the application is that users with free access have a limited number of views of candidate profiles. To get even more improved features, you will need to buy a subscription. Otherwise, the application is not bad and with it, you can stay in touch always and everywhere.


WorkWhile
But we liked this application first of all because here users can specify suitable locations for themselves and an approximate work schedule.
The application has the function of adding a location where you need to find a job, and for recruiters, this is a good opportunity to find candidates near work. Since candidates indicate their work schedules, the recruiter should indicate their options, in which case you can discuss all this later.
Otherwise, the application is best suited for the convenience of those who are looking for a job. By logging in to the application as an employer, you will have the opportunity to collaborate with the application team. There is also feedback for those who need it.
The application is not such a popular place to search for personnel and to find a suitable job, but some users leave good reviews about the application's capabilities.
What are you all talking about? If suddenly you didn't have enough review on the application to understand how the application works, you can get acquainted with it.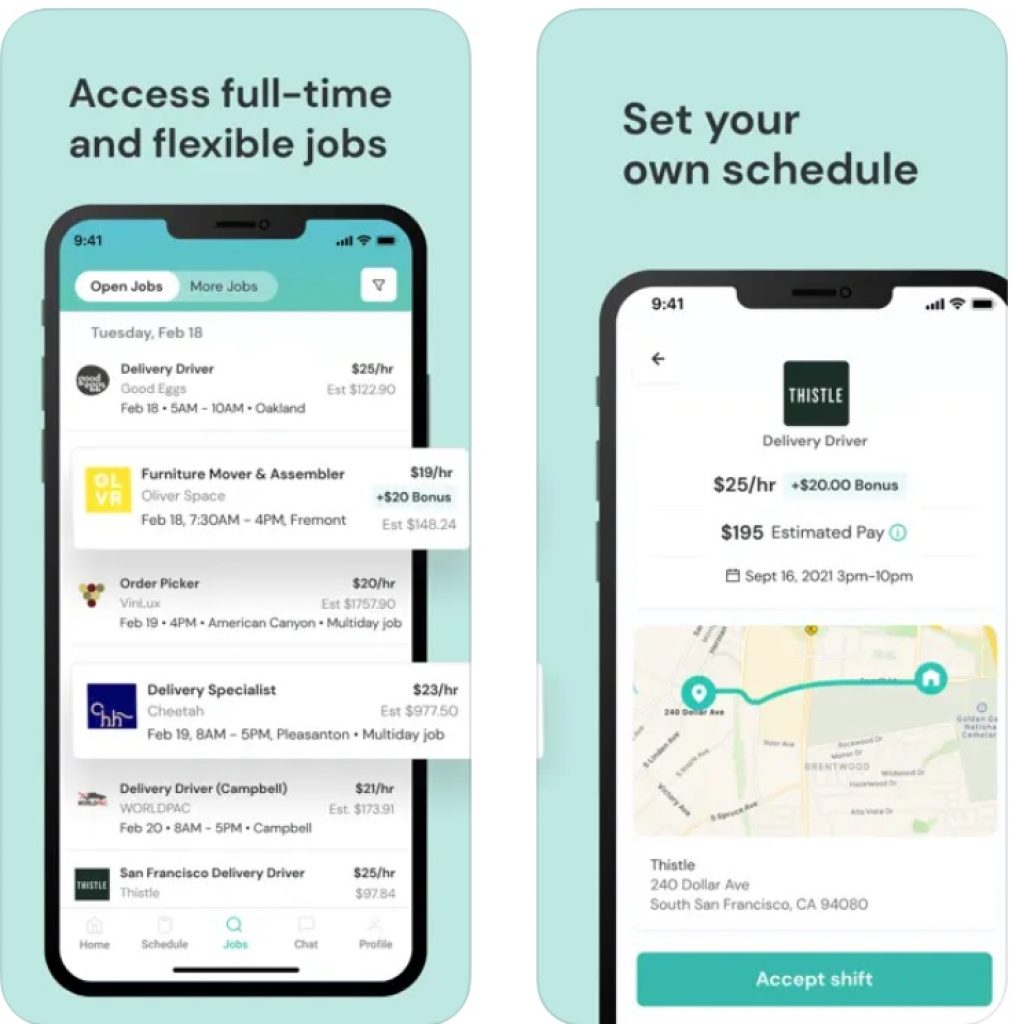 Indeed Job Search
A convenient application where you can easily use the functions and various improved features for recruitment and job search. This application is one of the world's largest job search engines, which guarantees feedback and facilitates work in the search for personnel.
Recruiters can describe in detail the requirements for employees in the job description, as well as indicate the approximate cost and what they expect from candidates.
Accordingly, candidates who fit the description can contact you directly in the application. Notification of a new candidate and a message will be sent immediately by the application.
The benefit of the app is that you can save suitable candidates to contact later. Working with the application is quite easy, and there are no different sections that will confuse users while using it. And also all received messages are saved in the mail, and you can view them at any convenient time.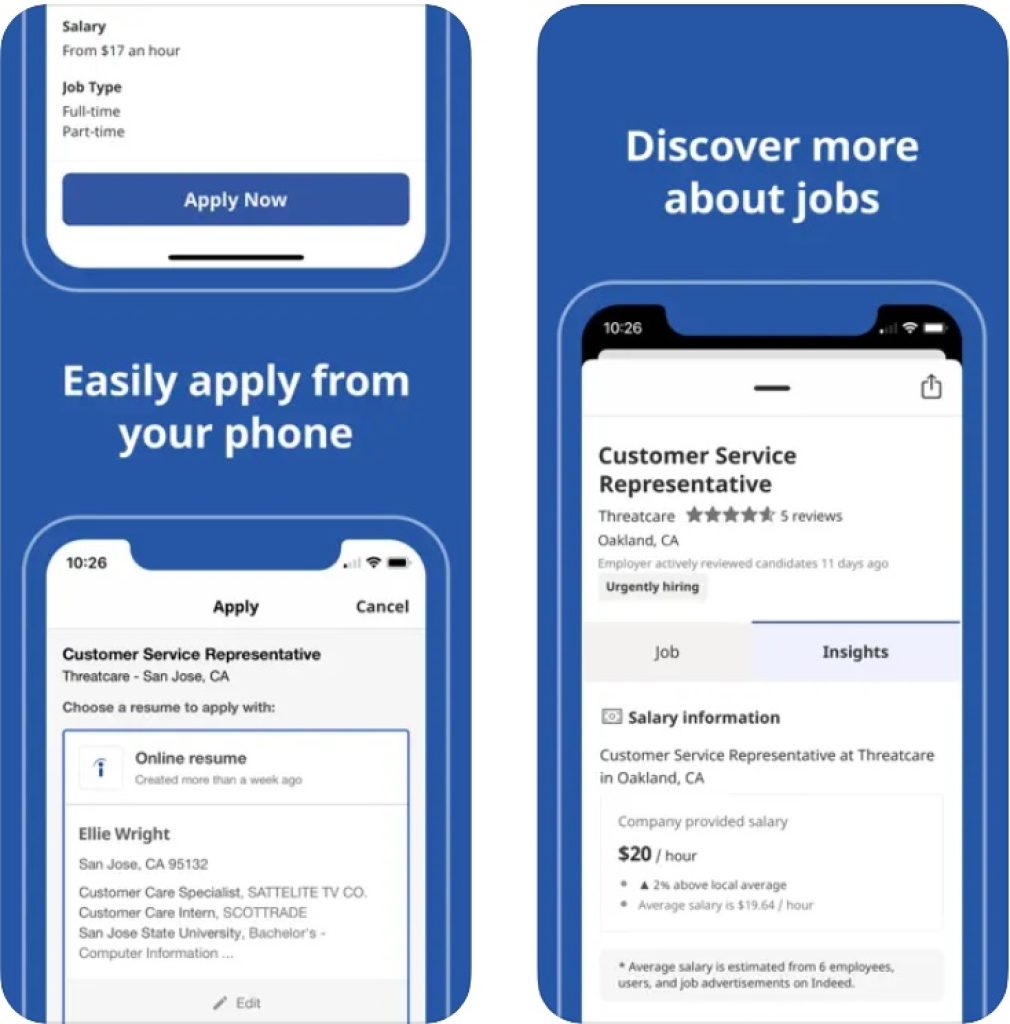 You may also like: 15 Best Reseller Apps to Earn Money Online (Android & iOS)
Hiring
The hiring application is the same as the previous ones and has similar capabilities. The only difference in it is that users can leave comments on vacancies and also clarify details without going to mail and call. To improve the work in the application, users can rate each other and put stars, this will display your rating.
The application interface is convenient to use since all sections are located in the lower window of the application. Here you can also navigate from the main screen to the profile, to the interview section, and the like.
The interview section is a calendar where users can specify interview dates and the like. The application is useful not only for recruiters but also for those who are looking for a job.
You can make an appointment, discuss the details of the work, as well as find out more information about the candidate using a message. In the profile of the candidate's application, you can add notes for yourself, and also, if anything, simply reject his request.
To simplify the search for candidates, you can use filters in the search, and specify the key capabilities of candidates. Even though the application is not so popular among recruiters, it has excellent features and a user-friendly interface.