At the moment, the days, when pet owners paid keepers (people who looked after your animals in your absence) have already passed. Today everything looks much simpler. This article will feature the best pet sitting job apps & websites.
Pet lovers can find more useful and interesting apps for them in the article about the apps for them.
Rover-Dog Sitters & Walkers
This app is considered to be a real mastodon in the field of animal care, which cannot be a surprise, because it has been holding the championship for many years.
This fact is obvious, because in this program absolutely everything that the pet owner can wish for is brought to the ideal: reliable caretakers, veterinary care, an individual training plan for each pet and much, much more.
As the most important functionality of this app, you can note the ability to track your pet by GPS, which allows you to find out its location at any time.
If you wish, you can write any recommendations to the caretaker if you are worried about your pet. It is important to note that there is a secure payment function for a walk, so you can be sure that your money will go where it should, and not sink into the abyss.

An additional plus is that you can always log into the utility chat and write to a qualified specialist about what may be bothering you when talking about the health of the pet.
The veterinarian will provide answers to all your questions, and will also be able to offer a routine examination, if required. Thus, when downloading Rover, you can forget about anxiety, since this app can help you to find a solution of absolutely any issue of this topic.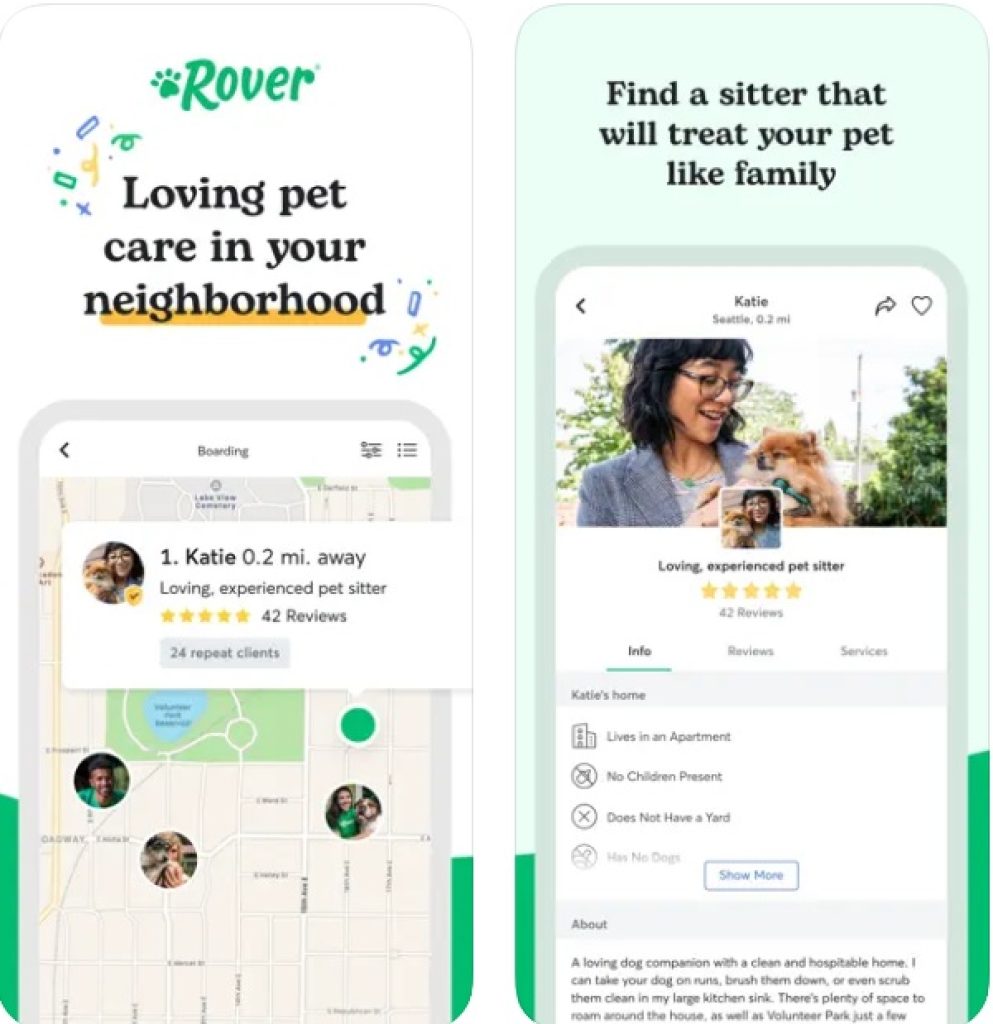 You may also like: 7 Best pet camera apps for Android & iOS
Wag! -5-Star Dog Walking, Sitters & Pet Care
Today Wag! has the largest amount of functionality among apps of this kind. The development company has done a huge amount of work so that pet owners can get absolutely everything they need to care for the animal.
Just think: walks, hourly sitting, training, carrying, consultations with doctors… This is just a small part of what this program can help you with.
Add to everything the ease of use and convenience of the interface, as well as support for more than a million different animal care services – and you will receive an answer to the question "How can I combine everything I need to care for a pet into one utility?"
You can also record any memorable moments with your favorites, upload various photos and be able to share them with your friends and loved ones.
It is important to note that absolutely all specialists in this app have passed the necessary qualifications, and when you give your pet, so to say, to training, you can be sure that every time your animal will become more decent and smarter.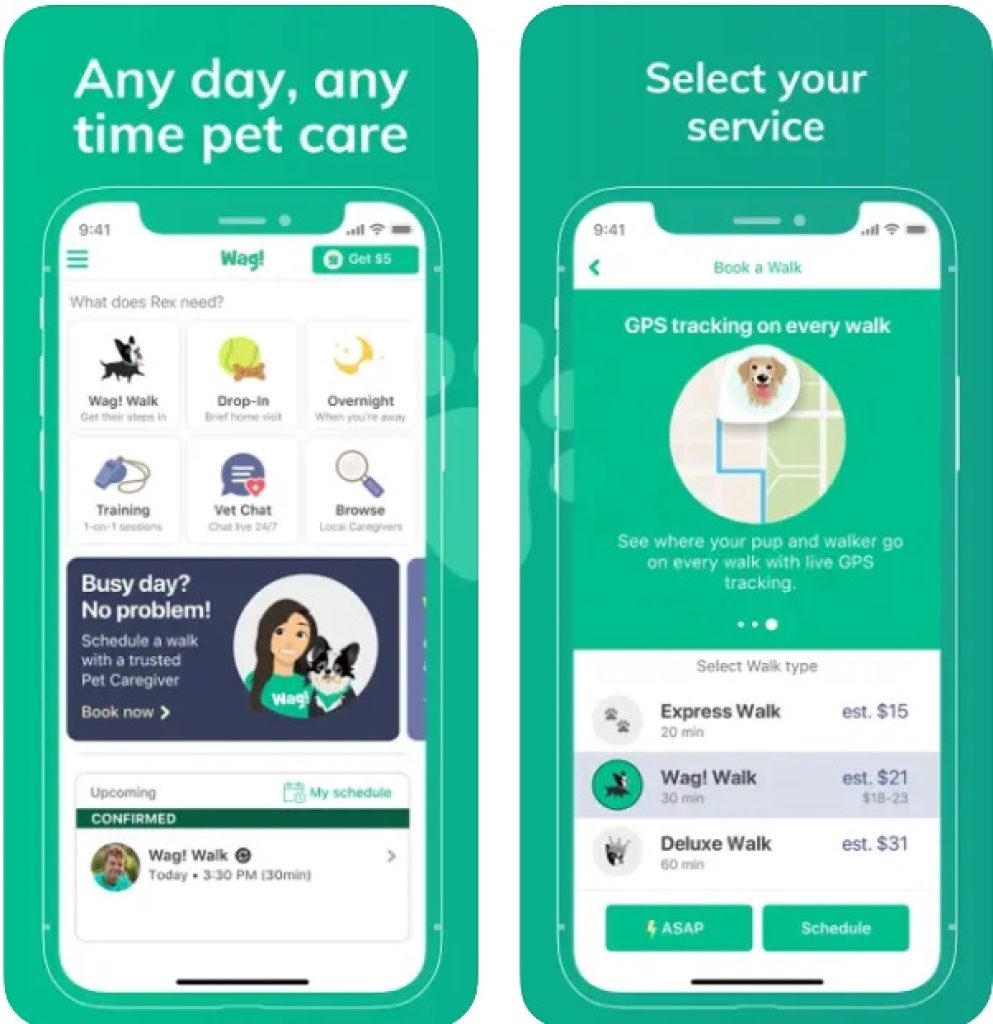 PetBacker- Pet Sitting, Dog Walking , Dog Boarding
This program is in some way an association of both pet owners and various animal care specialists, such as veterinarians or groomers. By entering this app, it is safe to say that you can not only receive the service of a qualified specialist, but also acquire any new knowledge and skills.
If you are confident in yourself and your knowledge of animal care, then this is a real find! PetBacker has cooperation with international companies from around the world who are looking for qualified experts in their field.
Simply fill out a special questionnaire and expect your first offer, which in the future may allow you to receive a stable income. It is important to note that this utility is one of the few that will be able to pick you up as a caretaker for absolutely any kind of animal, be it a dog, hamster, capybara or even a tarantula.
All supervisors have the maximum degree of education in their field of activity, thus, the risk that you will remain dissatisfied with the service is close to zero.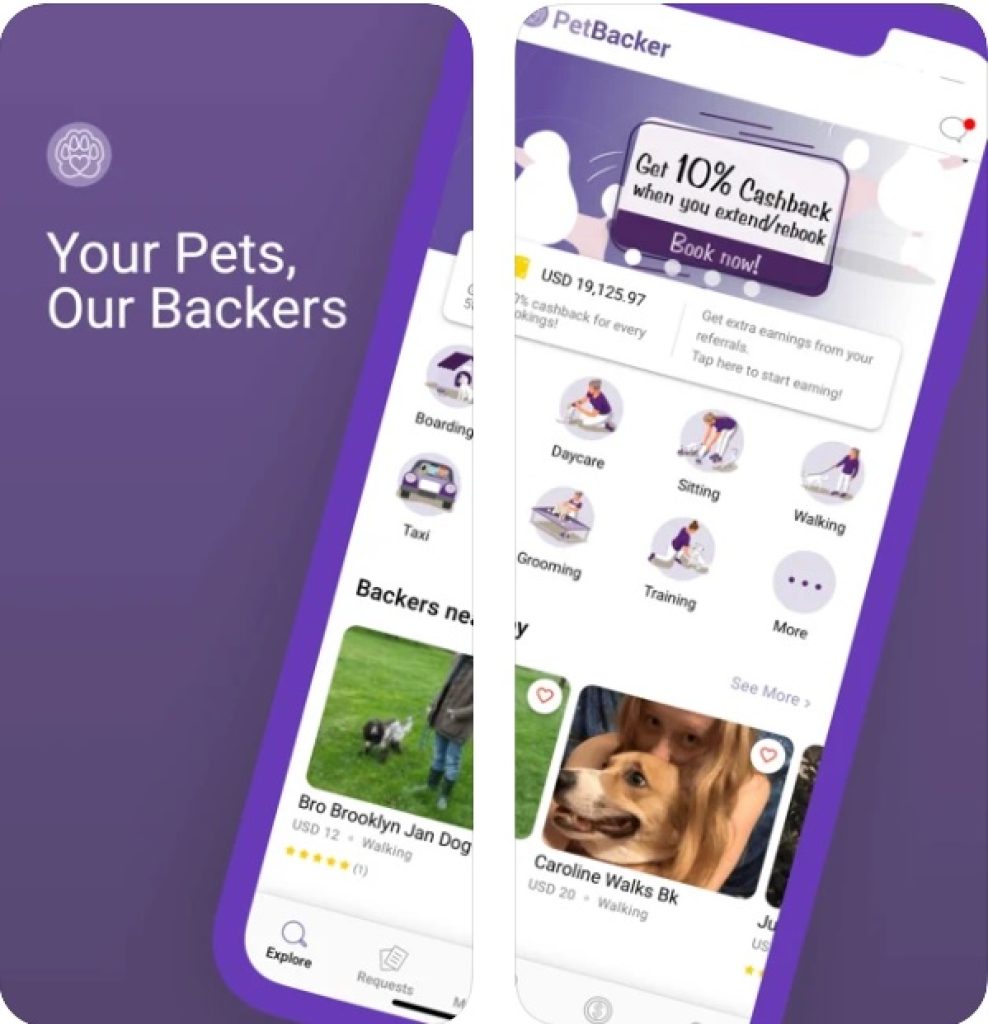 You may also like: 11 Best apps for veterinarians (Android & iOS)
Fetch! Pet Care
It is exactly that website that will suit you as best as possible if you want to get the best care for your favorite in compliance with all laws and requirements.
This site contains not only professionals in their field, but also animal owners like you, which allows you to discuss various issues on this topic from different points of view.
We can say that this is the only site where you can get not only a stable active income, but also the opportunity to build your own business in the field of the animal care industry.
Just think, for the entire period of its existence Fetch! Pet Care has acquired so many partnerships that absolutely everyone can become a businessman in this area if they wish.
Like all apps of this kind, the website has a wide range of services such as: veterinary care, walking and gatherings with favorites, providing the hotel for various periods of time if the owners are away, and even a special Animal Taxi that will take your pet anywhere in the world.
To all of the above, it is worth adding that developers are constantly optimizing and improving the site, which allows to progress and provide only high-quality services for your users.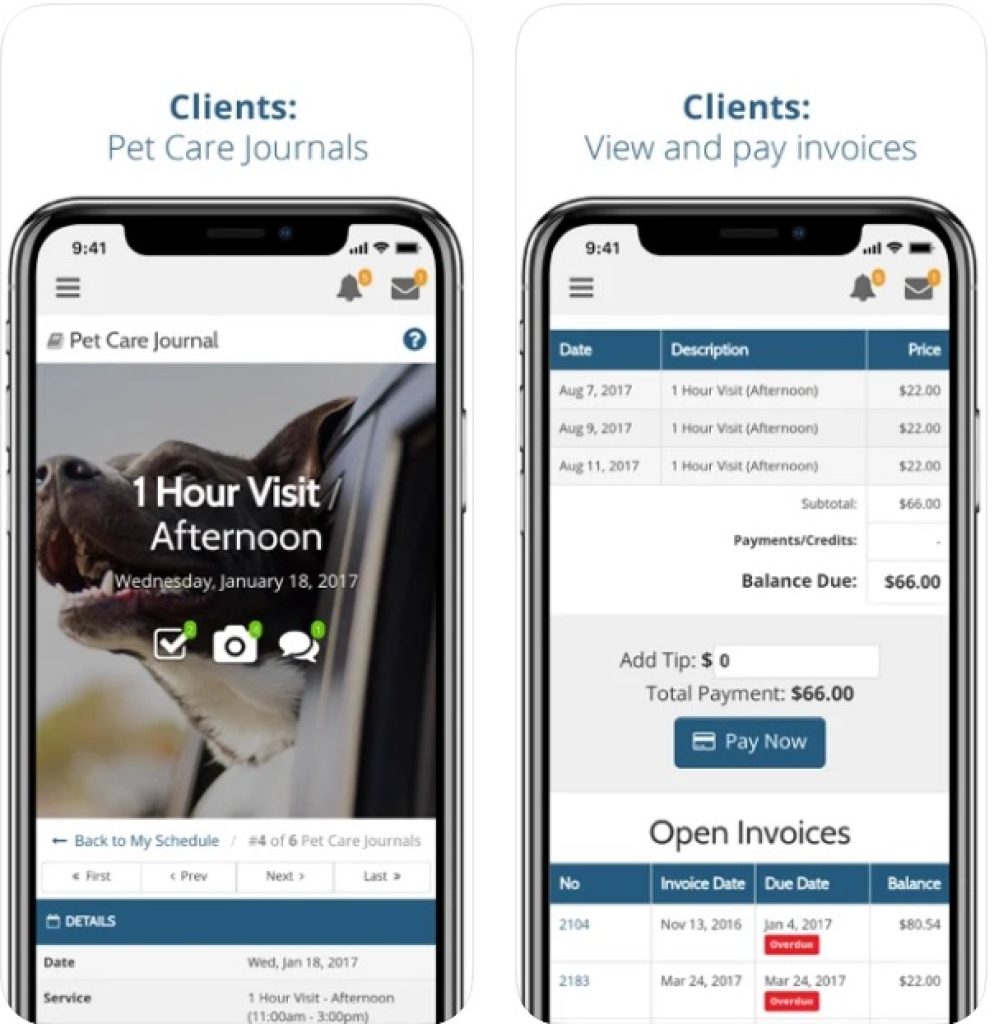 Care.com
Care.com is one of those websites that is characterized by multi-functionality, because in addition to the usual animal care service, it provides the opportunity to hire a nanny who can monitor the child and control all his actions in your absence.
As an additional plus, we can note the fact of checking all employees for various drives to law enforcement agencies, which allows you to hire not only a worthy specialist in your profession, but also a good person.
To hire the necessary expert, you will need to do a few simple actions, namely: go to the site, create a questionnaire, indicating all the necessary requirements for the future specialist, and then just wait.
If we turn to statistics, we can say that website selects the necessary candidates for a period of no more than thirty minutes.

In addition, when the experts respond, you receive complete information about their profile, kind and specialization, which will help you not to make a mistake in your choice and entrust your child or favorite in really worthy hands.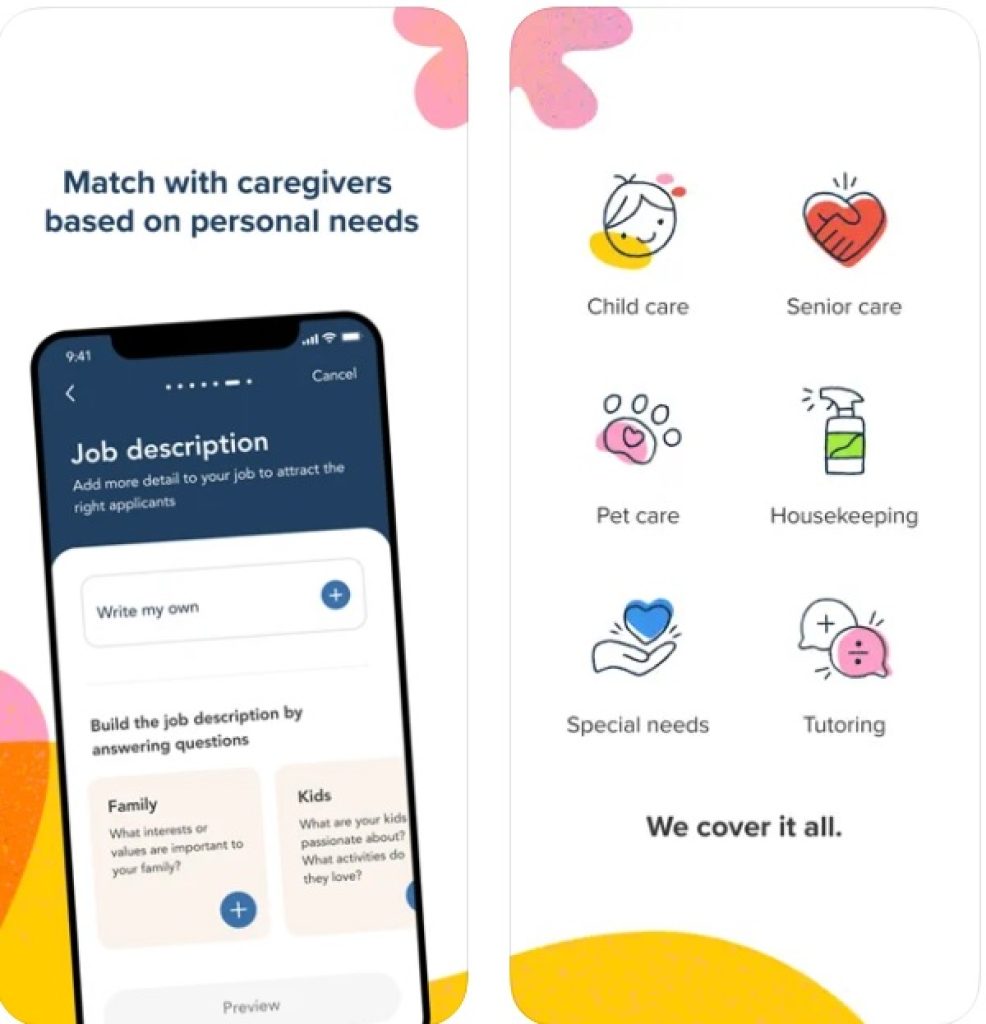 TrustedHousesitters
Have you ever tried searching for a truly verified app in order to leave a pet and not worry about its condition? If so, you found what you were looking for.
TrustedHousesittes has a huge number of active users who exchange various memorable stories and moments from the lives of their pets, which makes it possible to learn something new, possibly even useful in the future care of their favorite.
It is important to say that the utility using smart filters allows you to find the ideal sitter for the user's requirements as quickly as possible. The option to save a search queries will give a significant time gain, since when you re-enter this app, you do not have to re-set filters to find what you need.
In addition, after successfully completing the service by a specialist, you can leave your feedback about his work, which will help him improve his skills, as well as other users in deciding whether to deal with him or not.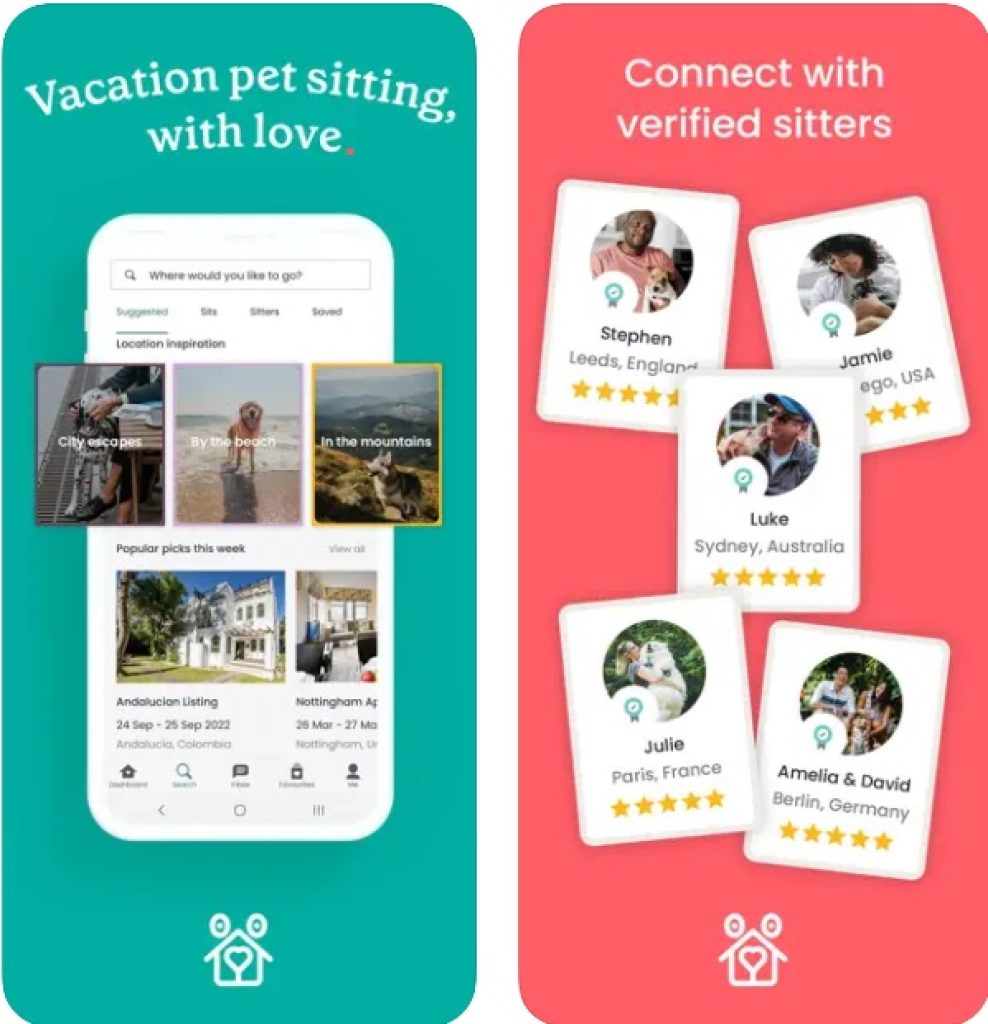 You may also like: 11 Best pet adoption apps in the USA for Android & iOS
Housecarers.com
Have you ever heard of a resource that provides services of sitters with maximum privacy and protection? The answer to your question is as simple as possible: Housecarers will make you forget about the nervousness and concern for your pets, because everything will be done in the best way possible.
This site is distinguished by its training among others, because it has the most complete information about its experts and arranges annual meticulous qualifications checks.
This gives confidence that when choosing a specialist on this source, you will not get anyone, but really a master of your craft. If you are so passionate about the love of animals and would like to find a job in this area, then the site will be able to help you even in this!
The utility provides users with the opportunity to enroll in courses on the qualification of nannies and animal caretakers, thus giving them the opportunity to self-realize their favorite business.
To sum up, it is worth saying that this resource is really indispensable in the capabilities of its functionality: just click on the link – and you will see it yourself.