Word association games will help you develop your thinking speed and broaden your horizons. It's also an interesting way to spend time with family or friends.
Write words inaccessible letters or guess what's new. When a word you don't know appears, you can see its meaning right in the game. This is very informative!
Use this best word association games list to find the most interesting game for you.
You may also like: 8 Best Word Games With Pictures for Android & iOS
Word to Word: Fun Brain Games, Offline Puzzle Game
Guess the words from the cool descriptions in the Word to Word: Fun Brain Games, Offline Puzzle Game game. It's fun and dragging. Develop your brain.
Like crossword puzzles, word making, and other games, but you want something new?
Then the game Word to Word: Fun Brain Games, Offline Puzzle Game is created for you. Several hundred specially prepared levels with tasks waiting for you.
Guess the words, making them up of letters. Get the largest points for each word. Are you at a dead-end? It's no problem to click on a word to get an original hint.
Each hint is a small mystery. Having guessed this riddle, you will be able to make up a mystery word.
Some words from the levels are hidden to avoid repeating the same words at different levels. Hidden words also give you points for hidden words, and the levels become more diverse.
First-class graphics, more than 400 levels, interesting tasks, and funny descriptions.
All this is waiting for you in a fascinating game Word to Word: Fun Brain Games, Offline Puzzle Game. The game is free and does not contain built-in purchases. Install this smart game and enjoy the process.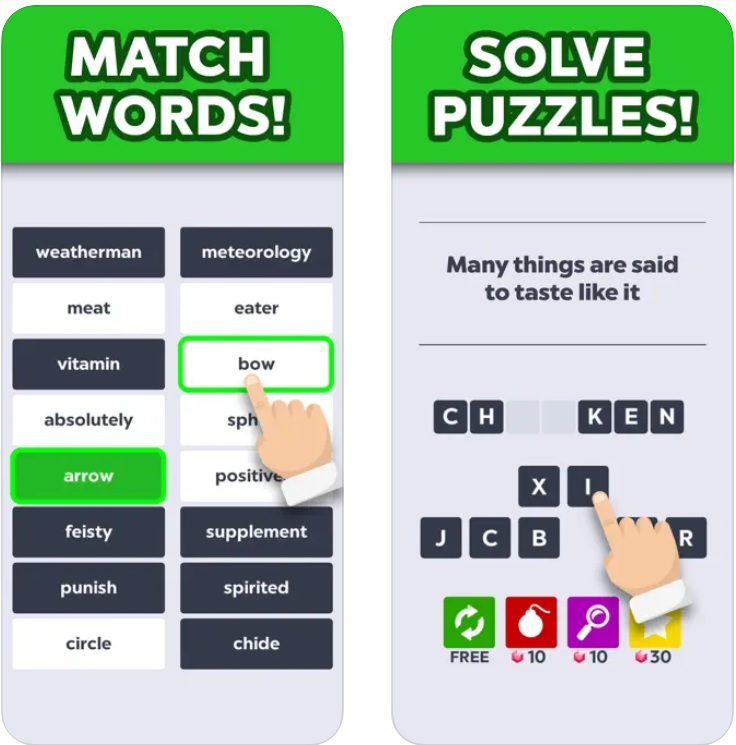 You may also like: 15 Best crossword apps for Android & iOS
Word Stacks
Word Stacks is a simple game in which you need to make up words from the letters on the playing field. Play with friends, a robot or random opponents. Refill your vocabulary and have fun.
Features of the Word Stacks game:
The rating system is used. Only the result of the game matters. Victory, loss or draw. The difference in the number of letters does not matter.
Large vocabulary. The ability to learn the meaning of words.
Playing on the same device with a robot or friend without an internet connection. Settings of field size, time of travel.
Network game. Quick opponent search.
Possibility of correspondence with your opponent.
Adding players to your friendships or blacklist.
This game has very simple rules. The playing field is a table of 25 cells. In the central horizontal row of the field put an arbitrary word of five letters. Each letter of a word is in a separate cell.
During the course of the turn, the player should substitute on a game board the letter so that it settled down in a cage. This cell is located next to the already filled cells horizontally or vertically. After that, it is necessary to make up a word with the use of the established letter.

Word Association Game
An interesting game of Word Association Game is a new way to develop your thinking and have a good time. Write words from the letters of another word presented to you at the level.
Remember everything you know. Try, and you will pass even the most difficult levels. Note that it is possible to make up words long from 3 letters.
At each level, you can make up dozens of words. At some levels, this number exceeds 150. The meaning of each unknown to you before the word you can learn by using the tooltip.
Enter the words and they will be added to the screen. Later you can see the meaning of any word by clicking on it.
The following rules apply in the game Word Association Game:
The word should be composed by jumping through the adjacent cells. They should be placed at right angles to each other.
The word must be an object of some kind.
The letter put in the field must be used in the word.
The longer the word you come up with, the more points you get. One letter is one point.
The game ends when all the cells are filled in.
This interesting educational game will help you to spend time with pleasure.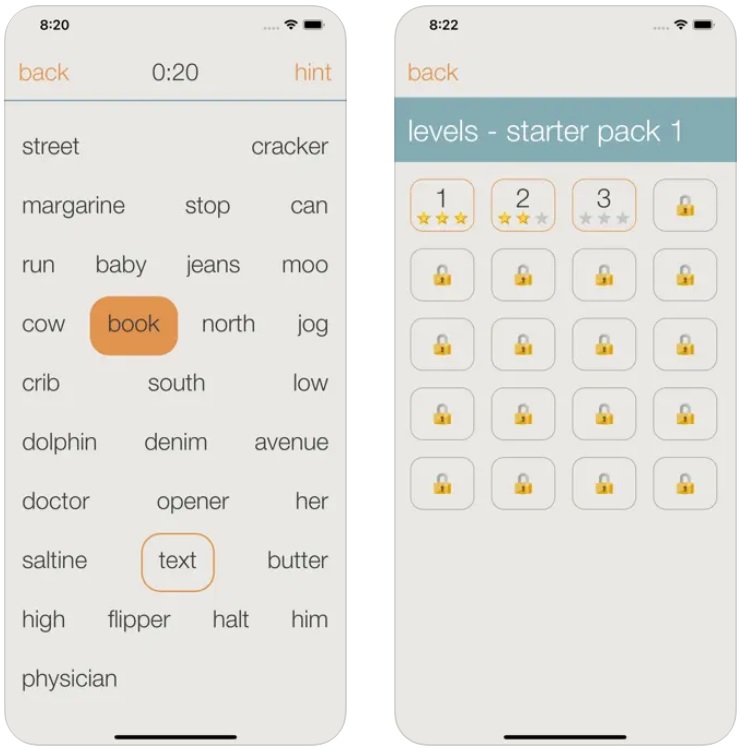 22 Clues: Word Games
This is an association game to exercise your brain while playing with words.
The gameplay is simple yet challenging. Players are presented with a set of words that are linked by a common theme. The goal is to guess the theme and connect the words by creating a ring.
Be ready to do your best and win. This game is not boring or casual, it is great brain training for you to relax and spend time with pleasure.
What is more, the game is divided into levels, and each level has a different theme to guess. The game becomes increasingly difficult as you progress through the levels, which keeps the gameplay fresh and engaging.
Also, the game's colors are pleasing to the eye, and the font is easy to read. However, some users may find the graphics to be too simplistic and not visually appealing enough.
However, some distracting ads pop up during gameplay. Bugs and freezes can sometimes become an issue as well. But they appear quite rare.
Advantages:
Challenging and engaging gameplay.
Simple and clean graphics.
A large number of downloads and positive reviews.
Drawbacks:
Frequent ads during gameplay.
Occasional glitches were reported by some users.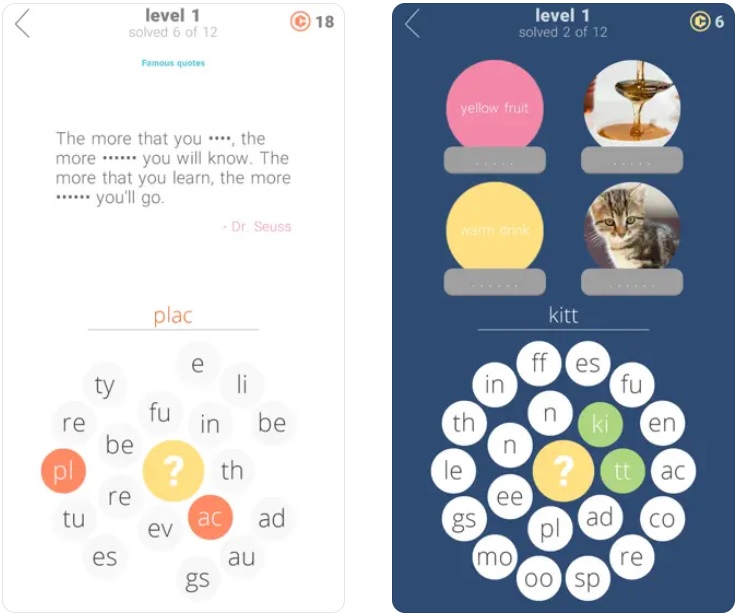 iAssociate
What could be easier than putting letters into words? But, in the app iAssociate, you will have to prove that you are the connoisseur of all words in the world.
Many tests and flexibility in the complexity of the levels will not get bored. Sometimes even real professionals can get stumped.
Features of the application iAssociate:
More than 350 different levels of complexity
Permanent updates – every two weeks +100 levels
A lot of clues if you're stuck at a certain level
Amazing yet simple design to keep your eyes on
No time constraints, no pressure
Best user support
The rules of the game iAssociate are simple, so the application is suitable even for children. In fact, it is a test of intelligence and speed of thinking.
Rules:
The word is given, from the letters of which you need to collect others.
You start guessing new words.
You can follow a hint. It shows the number of possible words and the number of letters in them.
Guess and compose as many words as possible, collect points and get rewards.
This free application works without any restrictions and does not contain built-in advertising.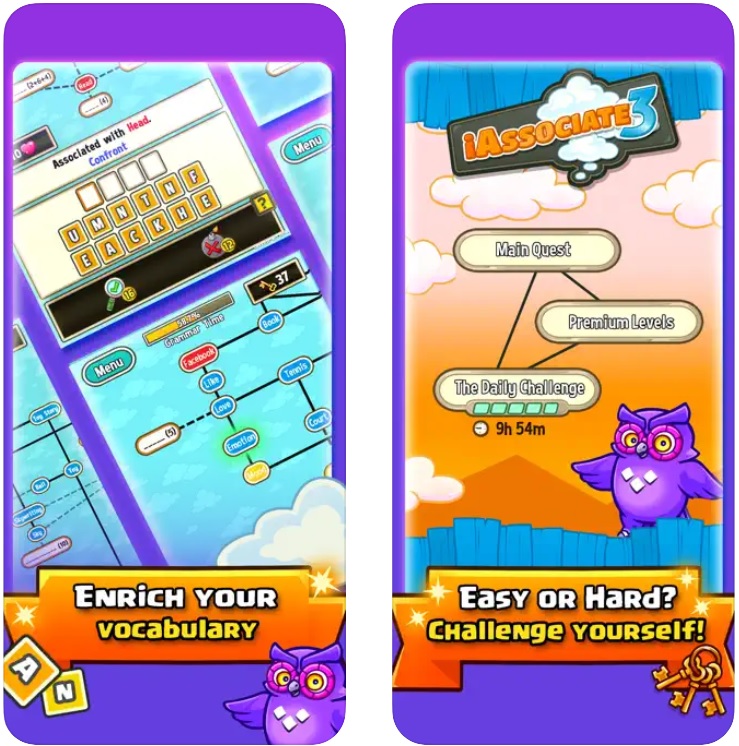 Guess the Word Association
Develop your logical skills for free in the game Guess the Word Association.
Want to start thinking faster? Do you like keywords and other clever word games? How long have you wanted to find something new? Then the Guess the Word Association game is designed for you.
This puzzle will make you think and look for new words. Such entertainment on logic for the smart will help not only to kill time on the road but also to develop thinking.
All you need to do is make up a word of letters, find non-standard answers.
The advantages of the game Guess the Word Association:
develops memory
there are interesting and reasonable words in the game
you can play with your family or friends
you won't get tired of guessing the words, even alone
playing online, you're adding vocabulary
there's always an option to play, planning to go on the road without the Internet
A true erudite is always looking for new challenges. Are you one of them? Do you like to strain the brain, solve and make new words? Play Guess the Word Association, but look for answers without the Internet. Then exactly no verbal battles you will not be afraid.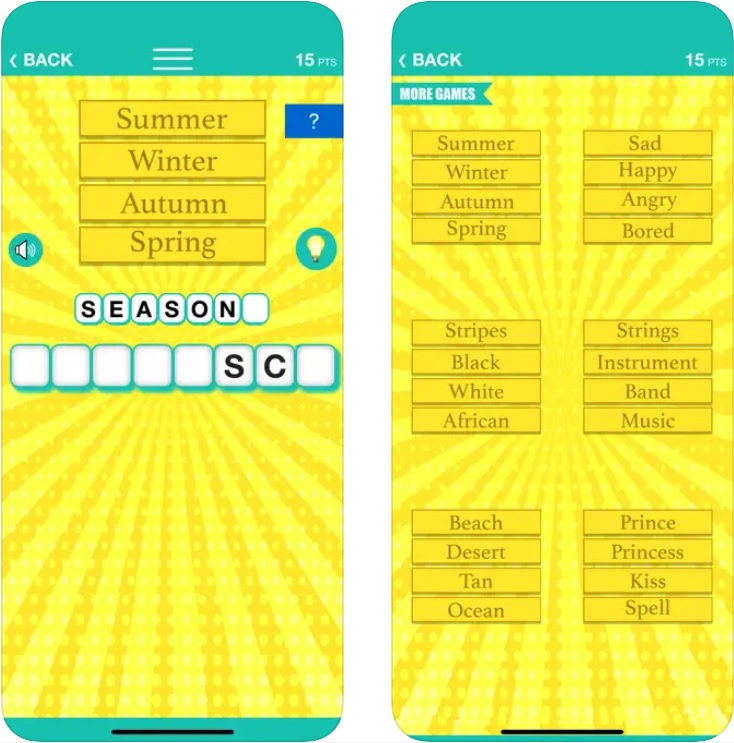 You may also like: 8 Best Word Games Without Ads for Android & iOS
Word Spark – Smart Training Game
The Word Spark – Smart Training Game game contains topics that will sharpen your mind and expand your knowledge.
A cognitive mystery will submit to you if you tense your mind. Do not stop, because this is a challenge that is important for you to accept.
The game is designed for both children and adults. After all, it is important to develop mental abilities throughout life.
You can play Word Spark – Smart Training Game with your family. Children can find solutions to simpler puzzles. And for adults, there will be difficult, but no less interesting tasks to do.
Such entertaining evenings will support the intellectual development of all family members. With these games in the evenings, there is no question of what to play. After all, before you a unique puzzle that you want to solve.
Writing words from letters is useful to all who want to keep their minds in tune. Guess and gather your first word – find guesses on any topic.
Find or compose the right word before your comrades. Compete with your friends and guess the most answers. Show the best time to collect points. Or concentrate and guess the most difficult word.
In the game Word Spark – Smart Training you can find a lot of interesting things, it's an endless exercise for self-improvement.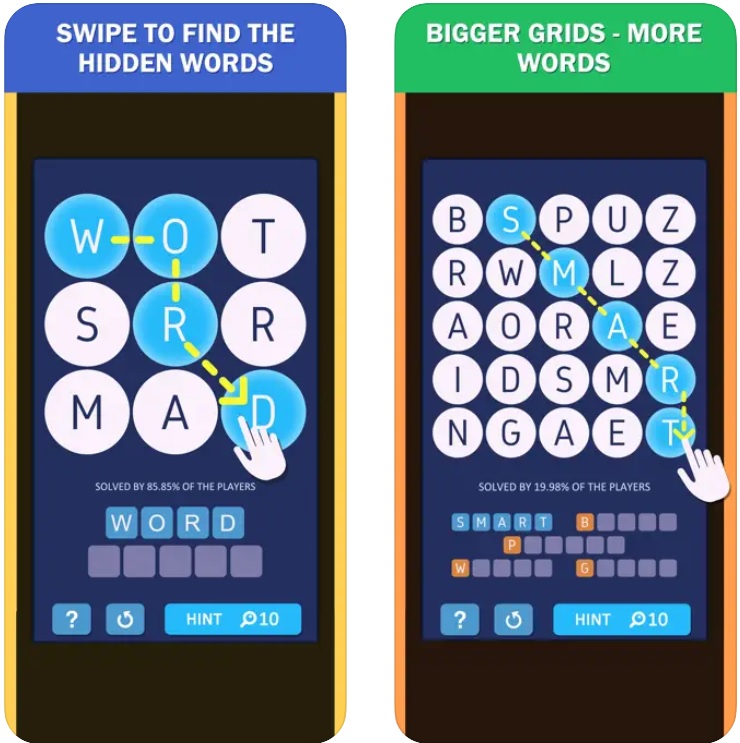 Word in Pieces
Word in Pieces is a word puzzle. It is a grid with a chaotic set of letters. You need to find the word in the letter grid.
But, not all the words you will find may fit. Just the same word can be put together in different ways, so you need to be careful.
Developers thought that not everyone can quickly and accurately highlight the right words. Thus, in this game, there is no time limit.
Also here is an assistant in the upper right side of the screen game, which gives you clues. But, the number of hints is limited, so do not waste them.
When using hints, not the entire word is highlighted, but only its first letter. When you use it again, the next letter, and so on. This will continue until the entire word is highlighted. Although, as a rule, after the first or second tooltip, the word is easy to find.
The game Word in Pieces becomes more complex over time. First, you start with 9 cells. Then go to 16. And so on. Gradually the game becomes more complicated. Not only the number of cells but also the words used. Complex, multi-letter words appear.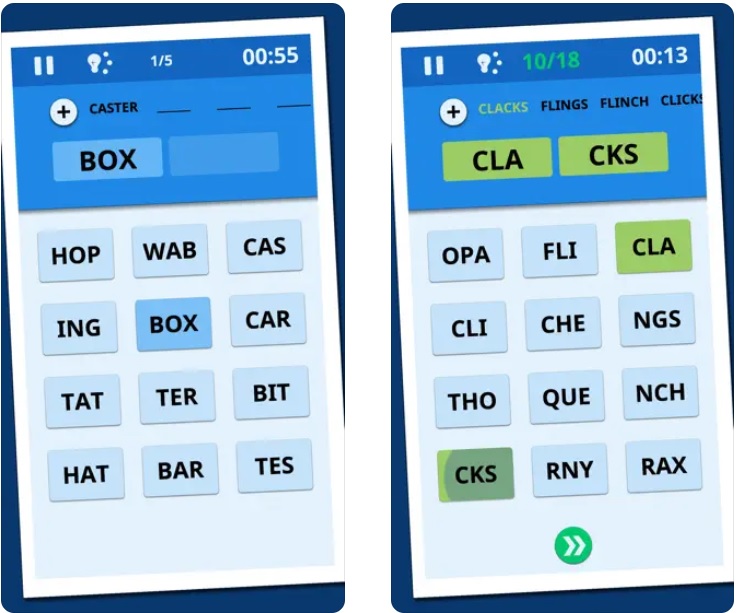 Word Link Game Puzzle – WordCrossy With Friends
Word Link Game Puzzle – WordCrossy With Friends game will help you to spend time usefully, guessing different words.
In this game, you need to look for words in a large square and highlight them. Everything is very simple, but each level of complexity will be higher and higher. The game will not let you get bored.
Features of the game Word Link Game Puzzle – WordCrossy With Friends:
A large number of levels on a variety of topics
Over 50 categories, over 1000 levels, over 5000 words
Nice interface
Ability to use hints
Besides, this game can be played in the "Crossword" mode. As in a simple crossword puzzle, here is the main word. The crossword puzzle here is very simple. The words do not intersect. They just go into the column, which is very easy to guess the crossword puzzle.
Guessing one word, you are given a few letters for other words. This also facilitates these crossword puzzles.
Also in the game, there are tips. Tips are used for in-game currency "tokens". The game has a nice soundtrack. But, if it distracts you, you can disable it in the settings. Also in the settings, you can choose the language and choose the skip letters.
There are a lot of levels in this game.



Word Trip
Word Trip is an exciting game where you have to guess the words. Play associations and broaden your horizons. Also here you can learn the meanings of words that seem strange to you.
Features of the game Word Trip:
Questions are not too complex, easy, sometimes even funny.
The design is bright, colorful pictures.
Unobtrusive music, which can be adjusted if desired, or turned off at all.
Questions of different categories, genres and directions.
Many different levels.
The game includes a large field with letters. You need to guess the vertical strip and the hidden word. There are no clues in this game. You need to think and guess the words yourself. This makes the gameplay even more interesting.
With the correct answer to one question, a few letters in a chaotic order scattered across the field. This helps to answer other questions. So, as you go through the previous questions, you simplify your answer to the next ones.
You can skip the answer to a question that you do not know the answer to. Then you can go back to it when one or more cells with letters open as a hint.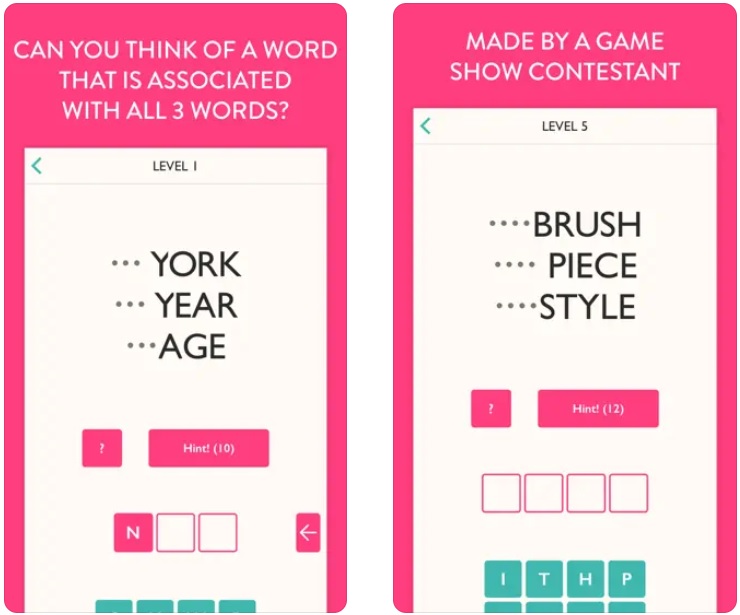 You may also like: 12 Best sight words apps for Android & iOS
Wordscapes
Wordscapes is a unique and interesting word game that will help you develop your thinking skills.
On the main screen is a square 5 by 5 cells. As you go through the levels, this square becomes larger. In each cell, there is a letter. From these letters, you need to collect words on the line.
Also, the task of the game is to guess all the hidden words. Some are simple, some are not. In some fields, you can find a lot of words.
But, the developers have only made up certain words, so you have to go through the options.
Each level has a strictly defined theme. The upper part of the screen shows the number of solved words, points earned and the number of hints. There are 3 tips for each game. They accumulate if they are not used.
Features of the game Wordscapes:
There are more than 320 levels in the game.
With each passed level the words become more and more complicated and longer.
Nice interface.
The ability to use hints.
The game pleases with pleasant graphics. Juicy colors and static background give pleasure to the game as children and adults.
Spend time pleasantly and usefully together with the game Wordscapes.