8 Best Bartering Apps for Android & iOS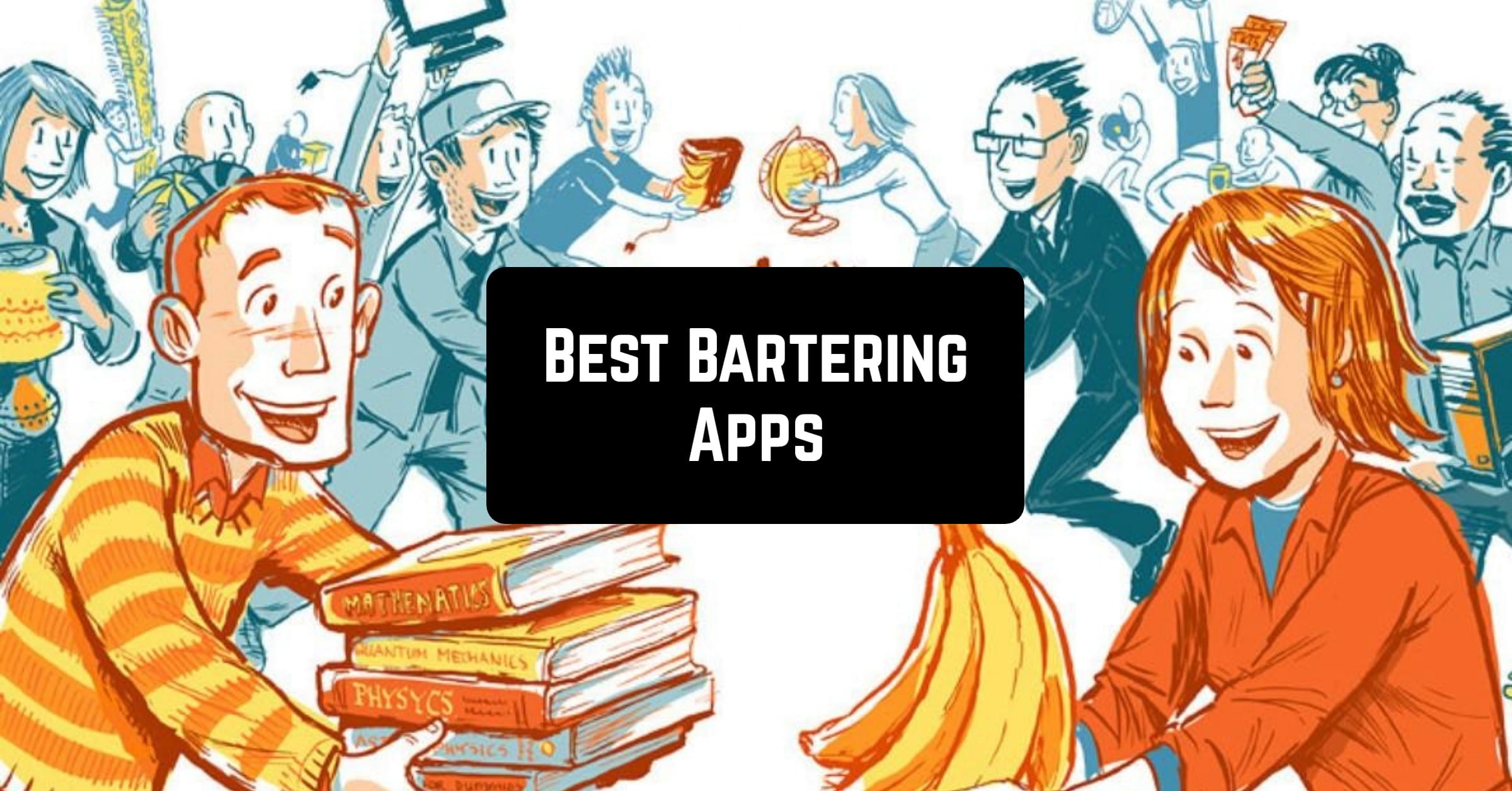 Barter is a form of non-cash payment, in which each party is simultaneously a seller and a buyer, that is, the commodity exchange of goods equal in price on the basis of the concluded contract.
You may also like: 15 Best garage & yard sale apps for Android & iOS
Nowadays it becomes a popular form of trading, so new mobile apps are appearing to help people trade unwanted items super-fast. They make exchanging goods, excess inventory, spare time, and skills easier and faster. So, here is the list of the best bartering apps for Android and iPhone users:
Swapub
Swapub is a bartering app for those who hunt for goods from around the world. The market is full of everything you can imagine. In the app, different languages are available for easy communication with people of different countries. Also, there is a currency calculator. To find goods that you want without wasting time, there are different filters.
If you don't want to wait, you can post what you are searching for on the Wishing Wall. You can add images and short descriptions to them. So, other people will see your wishes and can offer you the items you want.
If you want to exchange something you don't need anymore, you are able to create ad editing images and short videos to it. You can also share your goods and wishes via social networks so your friends can be engaged in bartering too.
You may also like: Top 8 Garage & Yard Sale apps for android, Iphone
tradr
tradr is a new mobile application for bartering things online. Here, you can buy, sell or barter unwanted goods, or things that are handmade.
Discover things which are being sold in your neighborhood at a bargain price, connect to your friends and neighbors. You can use super filters to search for goods near you. Through in-app chat, you can connect to sellers, your friends, and neighbors. Now, it is simple to barter unwished items just swiping right and left.
Are you a creative person who loves to create masterpieces by your own hands? But don't you know where you can find special sites for selling your creation? In this article, we will talk about some of the most interesting applications, where you can virtually sell an exclusive handmade.
Swopr
Swopr application is a great helper in trading. It will help you to find people and items to trade fast and easy. Creating a profile here will not take more than 2 minutes.
Then, you can upload the things you want to exchange. Browse the items that are also added by other users and choose what you want. It is easy: swipe it to the right.
If you don't like the item – swipe it to the left. When it is a match between items, you will get a notification. You can connect with the person via messages, email, or by calling.
On your dashboard, you can view all your goods and the number of matches.
letgo
letgo is a super popular yard sale app and it is also known to conduct some deals of the bartering. With more than 200 million users it is hard not to find any deal at all. Or maybe, you were looking for barter and someone would like to purchase your item instead? That is more than possible.
Even if you don't want to use letgo as a bartering app you can still explore the market of good which you are looking forward to acquiring. The only thing that in bartering letgo is better to use at the local level so you could meet the vendor/customer in person and exchange – because in most cases, the app requires the verification of the PayPal payment.
BarterUnit
Another barter app that is not so popular yet, but you can still try to make a publication here. The best feature of it is that it allows you to explore goods not only in your local area but across the whole country.
If you want, you can even add videos to the goods that you are selling. However, it is still too early to say something about the true quality and efficiency of this app since it occurred very recently.
Swop.it
If you want to get a quick deal in your local area then there is nothing better for that than this app. You can explore the offers in your area and find out one that suits you the most. Adding publications is easy as well – you upload photos, description and set a location so local consumers could find you.
There is a search bar so you can browse the goods you would like to have and then text the people who own the staff you would like to get – maybe you will get lucky with a deal.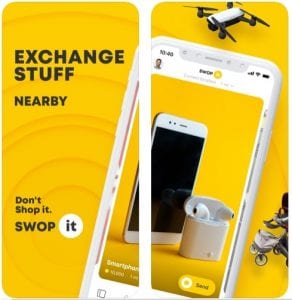 Listia
This is a year sale app where you can barter things as well. Since there is a lack of the apps that actually allow you to barter you can always use the year sale for that. However, you should check first if it is officially allowed. The apps on this list have an element of bartering 100%.
Listia is one of the most popular yard sale apps on the market with more than 100 million items presented. Among this amount of offers, you will surely discover a couple that would like to barter (well, more than a couple). There is a Declutter section, where people usually sell their staff for free – perfect options for bartering.
TradeMade, Trade & Barter
One of the best and most popular apps for bartering on the market. It is actually nice that here that app officially claims that it is made for the bartering, because it is quite annoying when you are using, for example, a yard sale app and you want to earn some money, but you keep receiving the battering offers.
At least here you know that the people came to this app with the bartering goals. If you want to make a publication, it is extremely easy – you just upload the photos, add short descriptions and wait for the offers. Moreover, by adding the tags to your publication you actually increasing the chance to find a better offer.
If you notice, there is a search bar with filters in the app where the users can mark more precisely the features of the product that they want to find.
Apart from that, the app is chasing noble goals – it works for the reduction of the carbon footprint, because by actually exchanging you reduce the production pollution – a little contribution to the environment from all of us.
All in all, barter transactions – it's not about what is the specific value of the goods, but it's about how you feel the value of the goods. So, we have described all the most popular apps for bartering for today. I hope, that our post will help you to make a good bargain! Good luck!
Do you want to earn some extra money by selling your old stuff! Do you know the ways how to do it?  WE know! There is a huge amount of selling apps that make the process quicker and simpler. In this article, we have gathered the best selling apps for your old things! These apps will help you to sell your unwanted things right now whether it is a bicycle that clutters up your garage or an old armchair that is not needed.