Finding a loving person in life is quite complicated, especially when you are in your thirties. You are no longer so active and initiative as you used to be in the youth.
However, in the wide variety of dating apps, they may not find the app which will fit their requests. So, below we collected a top of the best dating apps for 30s that are worth your attention. And in case you want to try something new in dating, you should check out our article about dating apps without pictures.
EHarmony: dating & real life
The number one dating app for singles in their thirties is eHarmony. It perfectly fits people in their early, mid, and even late thirties. Their reasons that outline this are listed below.
Firstly, most people who fall into this age bracket are generally looking for something serious like committed relationships, or they are looking for the one whom they are going to marry one day. And this app specifically targets people who are in search of those kinds of relationships.
Secondly, this app is a great fit for people in their thirties who do not want to waste their time on the process of finding because of other time-consuming things in their life like career, friends, and family.
The app does not require much time spent there. As all people are much more committed and dedicated to the process that makes you sure that you will not waste a lot of time finding a suitable date.
Finally, the interface of the eHarmany is so nicely done that even people in their late thirties will find it pleasant and easy to use.
Moreover, there is a guide that will do everything that is needed for a successful search of a pair in three steps. You should just tell us about yourself on your profile and learn more about your personality and lifestyle with the help of quizzes and tests that are provided by the app. That is all.
Then all compatible singles will be offered to contact them. That is how your loving trip would be started. Thus, eHarmony is a fantastic app for dating, especially for people in their thirties who are looking for serious relationships and have limited time for this.


Yoy may also like: 17 Best apps to meet new people for Android & iOS
DOWN Dating: Swipe Singles
Meeting your soulmate is easier than ever!
DOWN is an app that can end lonely days and give rise to new, exciting relationships. Friends, lovers, or company – get the best social experience.
You can be sure that DOWN is a safe place. No one will be able to trick you as long as you use this service to find your soulmate.
Real people seek real relationships. The service detects scammers and other people who may cause harm to other users, and then blocks them.
It is possible to log in via popular social networks, email, or phone numbers, so registration will not take much time.
There is nothing difficult about using the DOWN. The design of the app is modern and intuitive. Do you want to make friends with someone, or maybe surround yourself with admirers?
DOWN will not allow you to make a mistake and swipe in the wrong direction, because there are different buttons for these two categories.
As soon as you receive the match, immediately start to chat with your new friend (if this person has not already written a message first). Be yourself. Perhaps this is the one you dreamed of.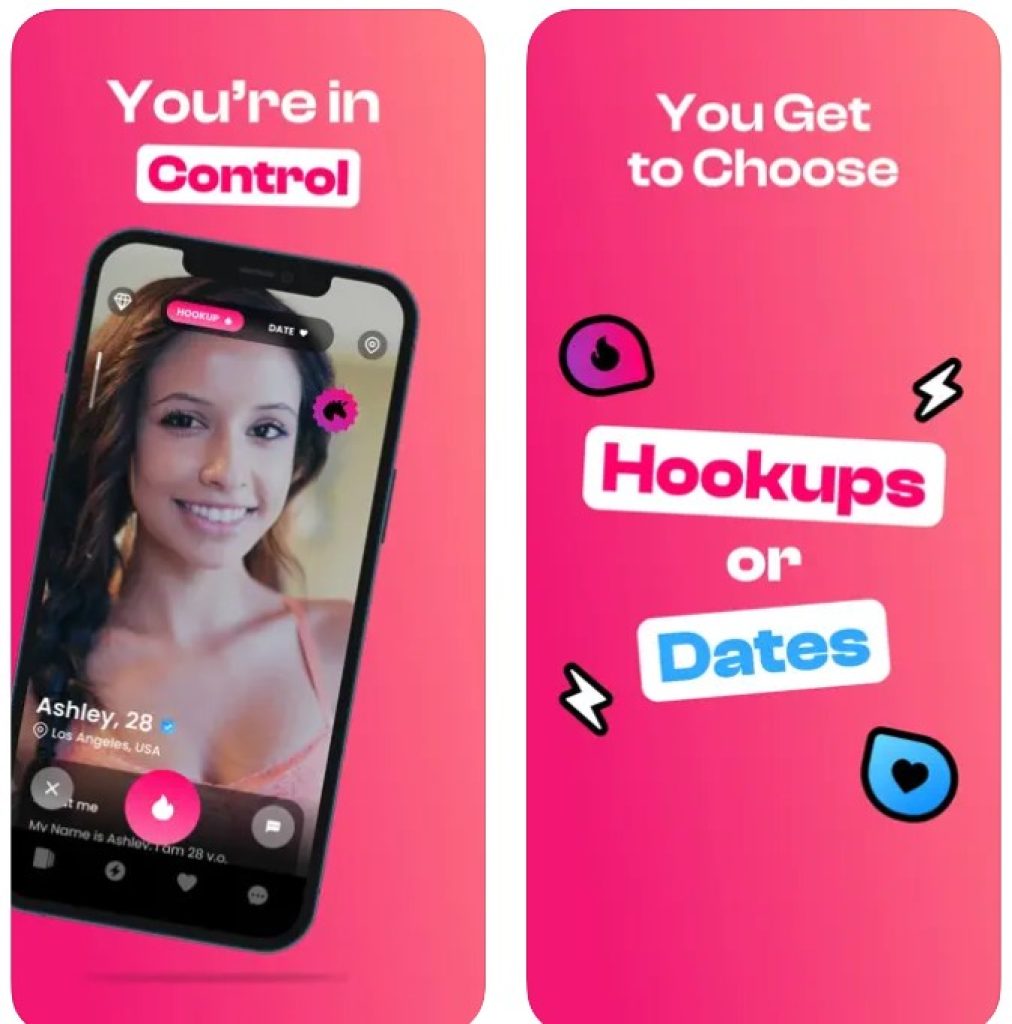 Zoosk
Zoosk is a nice alternative to eHarmony for those who are not necessarily looking for commitment in the relationships and who are not on a fast track to marriage. So, if you want to start with casual dating, but do not deny the possibility of that developing into something serious, Zoosk is a great fit for you.
This app is a bit more of a traditional online dating service where you should log in, create your profile, and then start searching in the catalog of men or women.
So, it is not really structured like, for example, eHarmony. Therefore, it takes a lot more time to find a suitable pair, which can be sometimes too long for people in their thirties.
However, to make your search easier and faster Zoosk offers a range of parameters like body type, religion, height, facial features, and so on. Therefore, the chances of finding a candidate to your heart that suits all your criteria of a perfect person are definitely rising with this app.
Moreover, the function of checking your photo by Zoosk helps to identify the real people from some fakes. So, it gives more safety and calmness to know that you will not be cheated and fooled.
Thus, Zoosk is more about the slow pace and less committed relationships but can help everyone to move from this category to something more serious.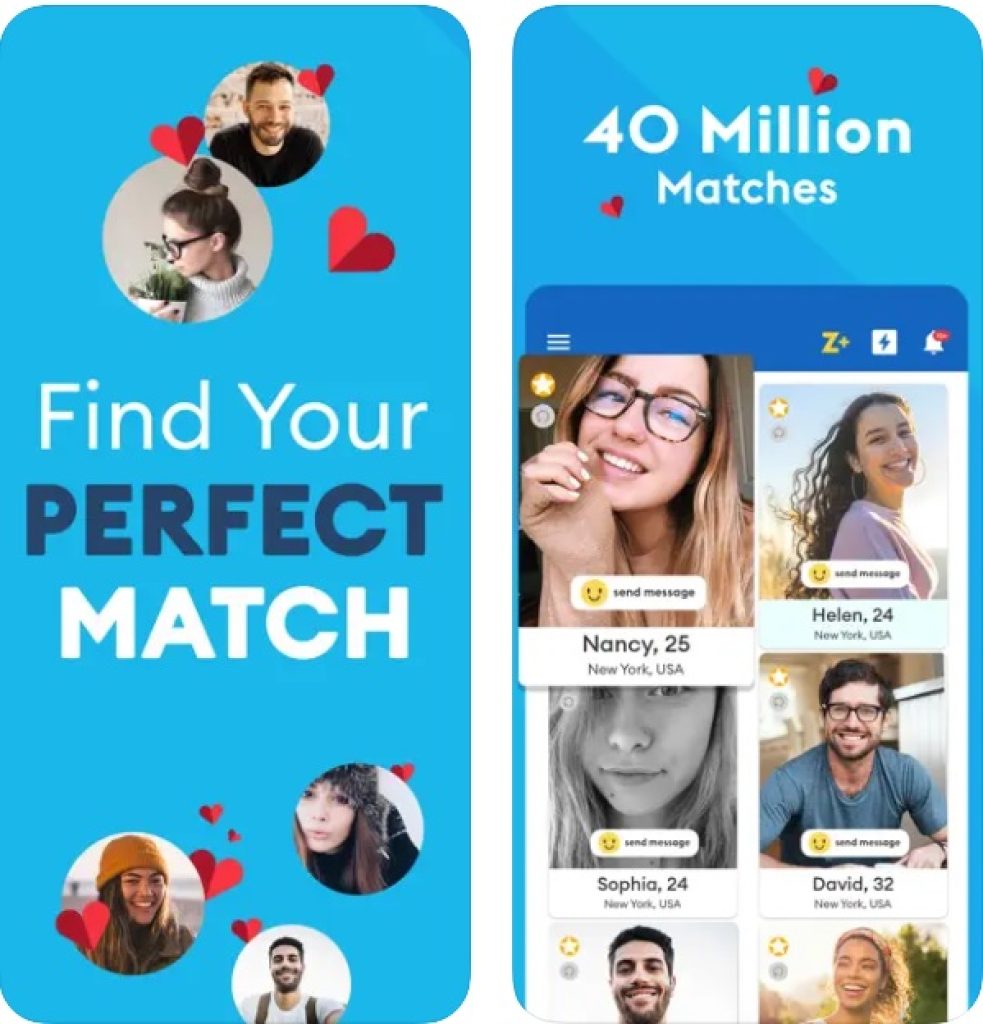 EliteSingles – Serious Dating
EliteSingles is a perfect dating app for the thirties age bracket. So, it provides good chances of finding a serious relationship and even a person to marry one day.
The main advantage of this app is that the majority of the people on the EliteSingles (about ninety percent) are over the age of thirty.
So, if you are using other dating apps and facing the fact that a lot of young people are messaging you, and that is not what you are looking for, you should pay attention to the EliteSingles.
Furthermore, it is a very professional dating app. A lot of people there are highly-educated (bachelor's degrees, PhDs, associate's degrees, or some kind of other advanced education).
So, if you are looking for singles who are well-educated, motivated, and really into doing something in their life, then EliteSingles is definitely an app that you will want to check out.
The algorithm of the app is really simple. Just take the personality tests that were developed by professional psychologists. According to the results, you will be daily offered with match-compatible singles.
It is also possible to set your own preferences that will help you find a date that will be more suitable to your taste. Thus, EliteSingle is another great app for dating that is more about people in their thirties. So, they absolutely will be satisfied with the possibilities that the app provides.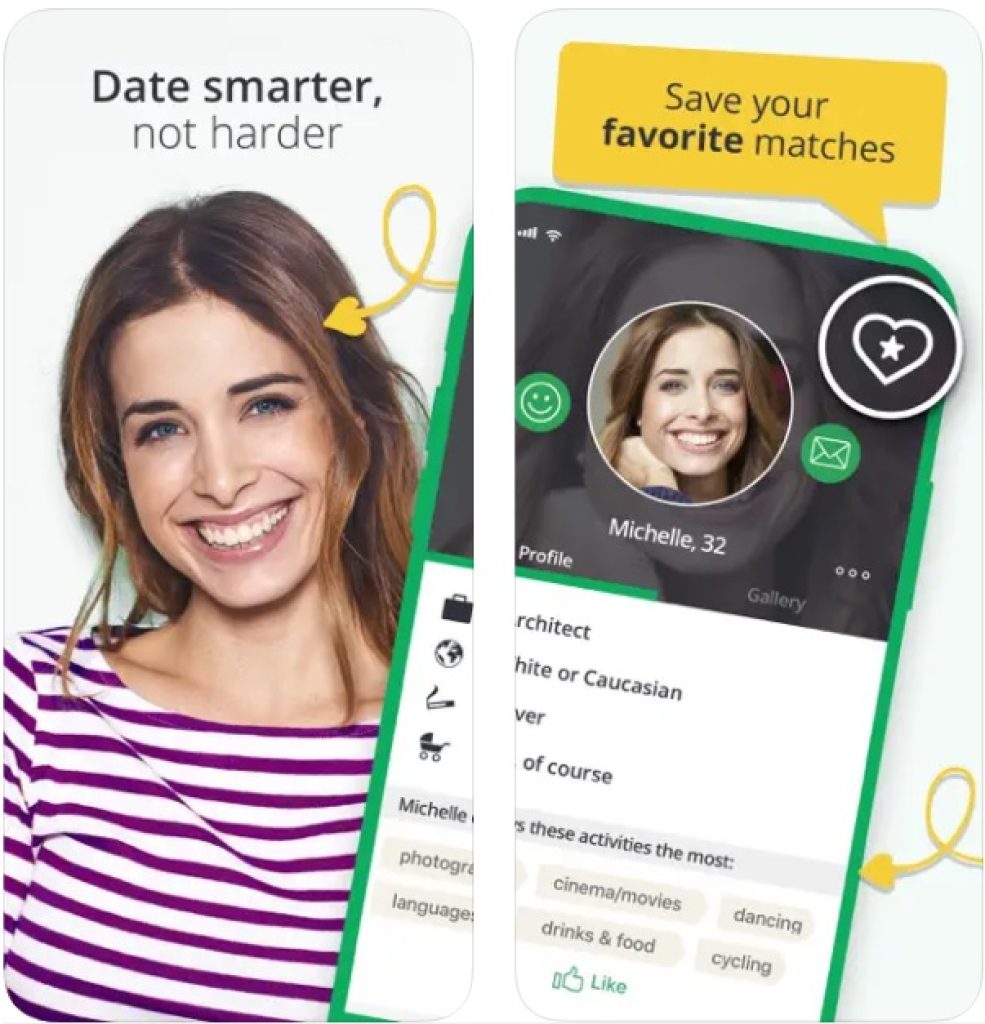 Christian Mingle: Dating App
Christian Mingle is another app that helps you find serious relationships. However, it will only be good for you if you are looking for a faith-focused relationship and specifically those that are built on the Christian faith.
The thing that must be pointed out there is that it is going to have Christian people in their faith walk that are from different ends of the spectrum.
So, you may face people who are Christians for decades, or then you may meet some people who are new to it, they have maybe just made that commitment, and they are still figuring things out. However, it does not mean that if you are not into the church, you cannot use Christian Mingle dating app.
According to the app information, there are about fifteen million people on the Christian Mingle. Still, there are some doubts about whether all of them are active and real. Therefore, you should be careful while choosing matches.
The final reason why you should try the app if you want a serious relationship is how people of faith typically approach relationships. Normally they are not looking for casual dating and one-night-things, usually, their intent is to find someone for a committed relationship and eventually marry this person.
Thus, these all arguments come down to the conclusion that Christian faith is what makes this app a perfect one for finding people at the age of thirty who have serious attempts and desire to create a family.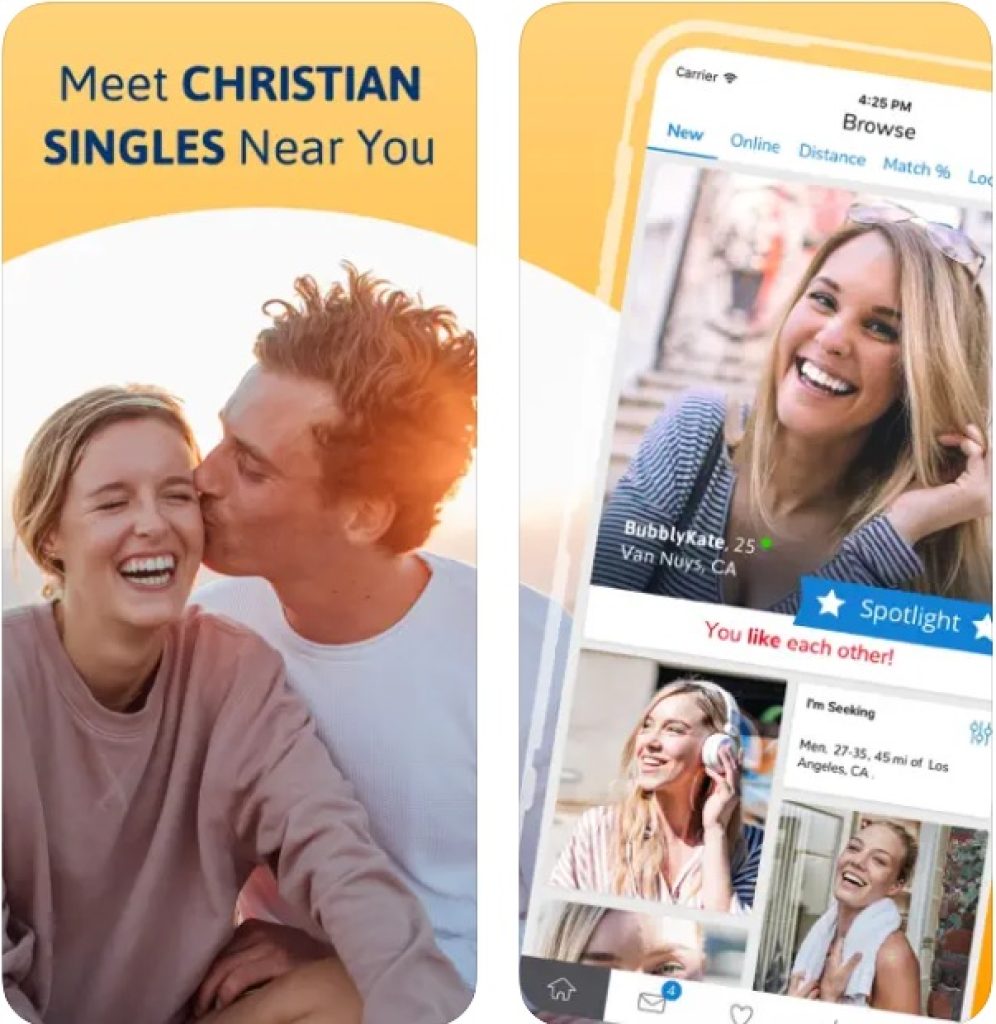 Catholic Match – Dating App
Catholic Match is another dating app that is worth your attention, as it is highly suitable for people in their thirties for the same reasons as Christian Mingle.
It is also built around faith-focused relationships. So, if you are not somebody who identifies yourself with a particular faith group, this app will not be a perfect option for you. But if you happen to be Catholic, the app is definitely a dating app that you are going to give a try.
Moreover, Catholic Match is the largest catholic site. Therefore, you are going to have more options and choices. So, it is a high possibility to find a suitable match using this app.
Besides, this dating app is endorsed by catholic leaders. So, do not be worried that the church is going to disapprove of it, as this app has already been approved by numerous catholic church leaders.
Furthermore, it will definitely suit people in their age of thirties who are looking for a serious relationship, because the goal of the app and a faith approach to dating is trying to find a spouse, someone to marry and live with for the rest of their life.
Thus, if you have serious intent to find a perfect person, marry him or her and create a family, Catholic Match will be an ideal pick for you.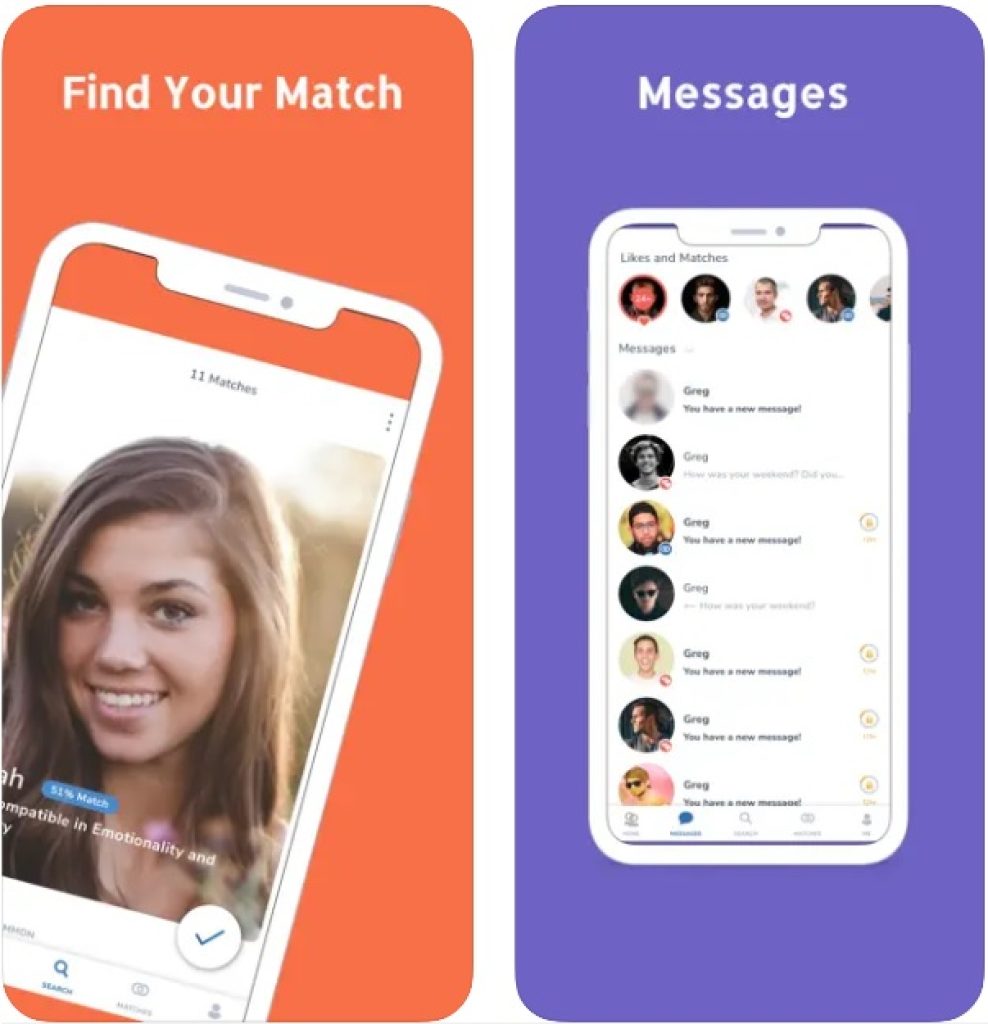 You may also like: 9 Free Secret Dating Apps for Android & iOS
JDate – Online Dating App for Jewish Singles
JDate also makes the list of dating apps for the thirties for exact same reasons as Christian Mingle and Catholic Match, but this app is more targeted toward the Jewish dating community.
So, you are going to get a lot of Jewish singles who are looking for committed serious relationships. That is great. As the more you put yourself around people who are looking for the same things as you do, the more success you are going to have in finding the right person.
Relationships that are based on faith and mutual religious values will definitely have more chances for a serious continuation. Therefore, it perfectly suits people in their thirties who want to settle down and create a family. A faith-focused relationship is often about commitment and loyalty to each other.
Thus, JDate is more targeted toward the members of the Jewish community. So, it will not be really suitable for those who do not identify themselves as Jewish.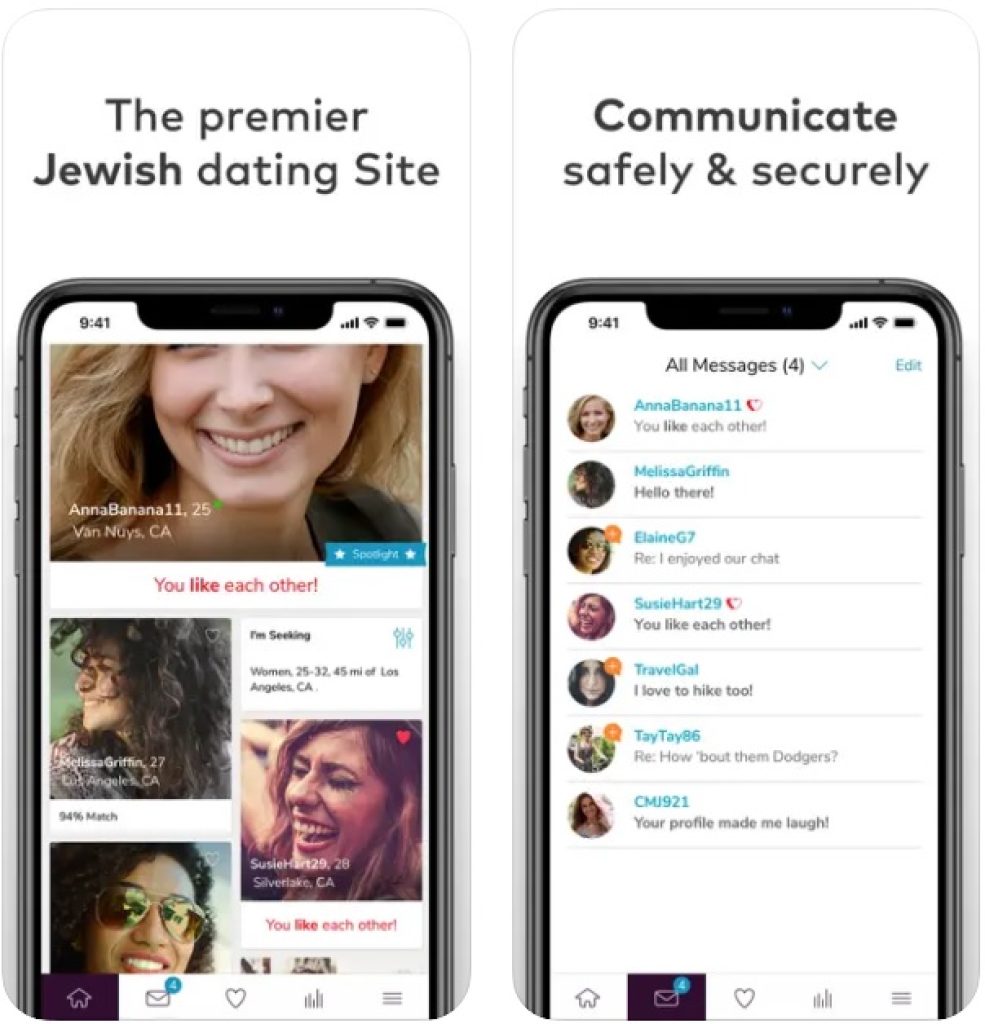 Seeking
Seeking app is the best dating app for men who are successful in life, handsome, have a lot of money, and are ready to become sugar daddies. So, it will be a perfect pick for men in their thirties who are looking for young ladies for sugar-daddy dating.
Firstly, it takes about a minute to sign up. And then you start seeing members in profiles. Men, there are extremely wealthy, handsome, and have elite jobs. Women, there are young and beautiful and are expecting to meet a man who will provide them with a luxurious lifestyle.
Secondly, another biggest advantage of this app is four to one, female to male proportion. So, if you are looking for an app where women take the majority of app users, this app will be a perfect option for you.
However, this app is not for everyone. As not many people are looking for sugar-daddy relationships because it is expansive and requires expectations of men spending a lot of money on gifts, trips, and a luxurious lifestyle for the women they meet there.
Thus, Seeking is the number one app in the world of sugar daddy dating. And if you are a man in his thirties who wants to try this kind of relationship, go ahead and check out this app.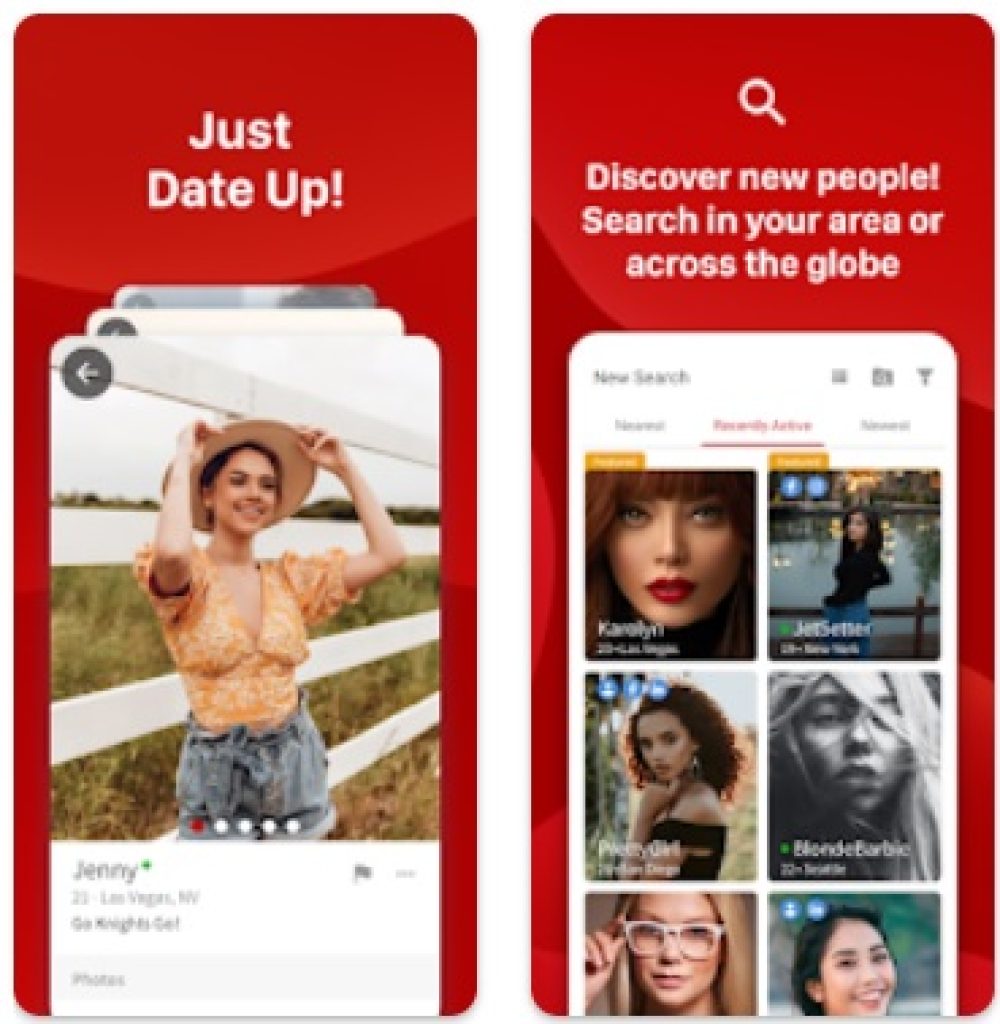 The League
This dating app is number one in the quality of singles that are using The League. If you want someone smart and highly-educated, ambitious and literate, with a good job and high perspectives, you should definitely try this app.
According to your requests, interests, and information in your profile, the app offers you matches. The League is more focused on quality rather than on quantity. It is better to have only several quality pairs than a hundred poor-quality matches.
Moreover, this app suggests participating in League video dating parties that are organized twice a week. Also, there are other video dating features like video chatting with the people you liked while using the app.
This approach helps to form a more intelligent and elegant attitude towards the people you are communicating with.
Besides, there is another great additional feature. The League is not only a dating app but also a professional network site where motivated and ambitious people meet to discuss things that they are interested in.
Chatting in groups and taking part in different events is another way to find your soulmate with common interests and professional preferences.
Thus, if you have difficulties in finding a perfect match for you, as you are called picky and have high standards for your partner, so you should definitely start using The League with its great variety of qualitative singles.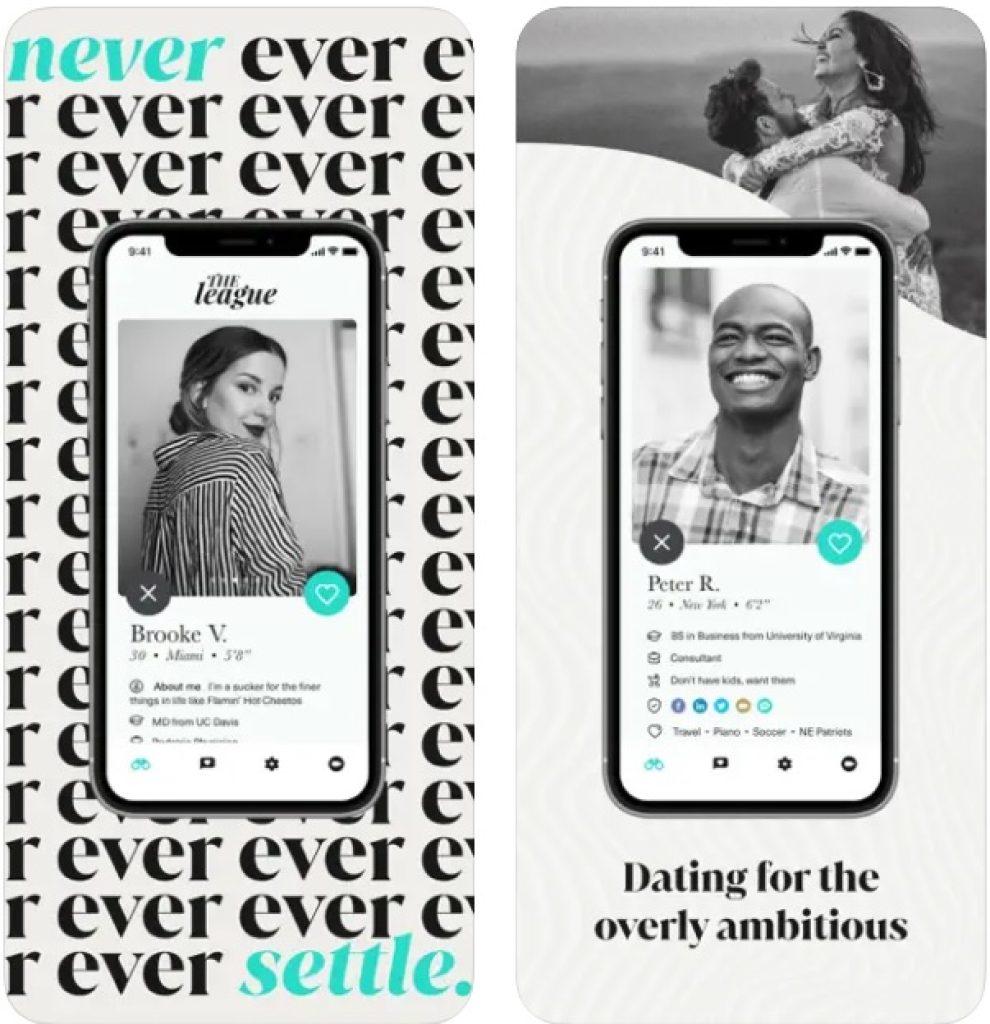 Millionaire Match: Rich Dating
Millionaire Match is a fantastic option for those who are looking for committed relationships and marriages. This app is filled with successful people, highly educated, well-paid jobs, and with multiple interests in life.
Therefore, this app can be called a godsend for people in their thirties, as they can find there everything they are longing for.
It is a genuine elite club where millionaires, really successful people, and even some celebrities can be met. All the profiles are checked by the system, and all identities are verified. So, it is quite safe to use the app. You will not be fooled or hacked. Therefore, Millionaire Match can be fully trusted.
It must be pointed out that this app is not an app for sugar-daddy or sugar-baby dating. A person who is using it to find such kinds of relationships will be banned from the app, and all his profile information will be deleted. So, be careful with your wishes, and chose the right app for different purposes.
Thus, Millionaire Match is definitely a good pick for people in their thirties who wants to meet successful and motivated ones with clear goals in life, as they often are looking for a committed relationship with a person of similar interests and aims.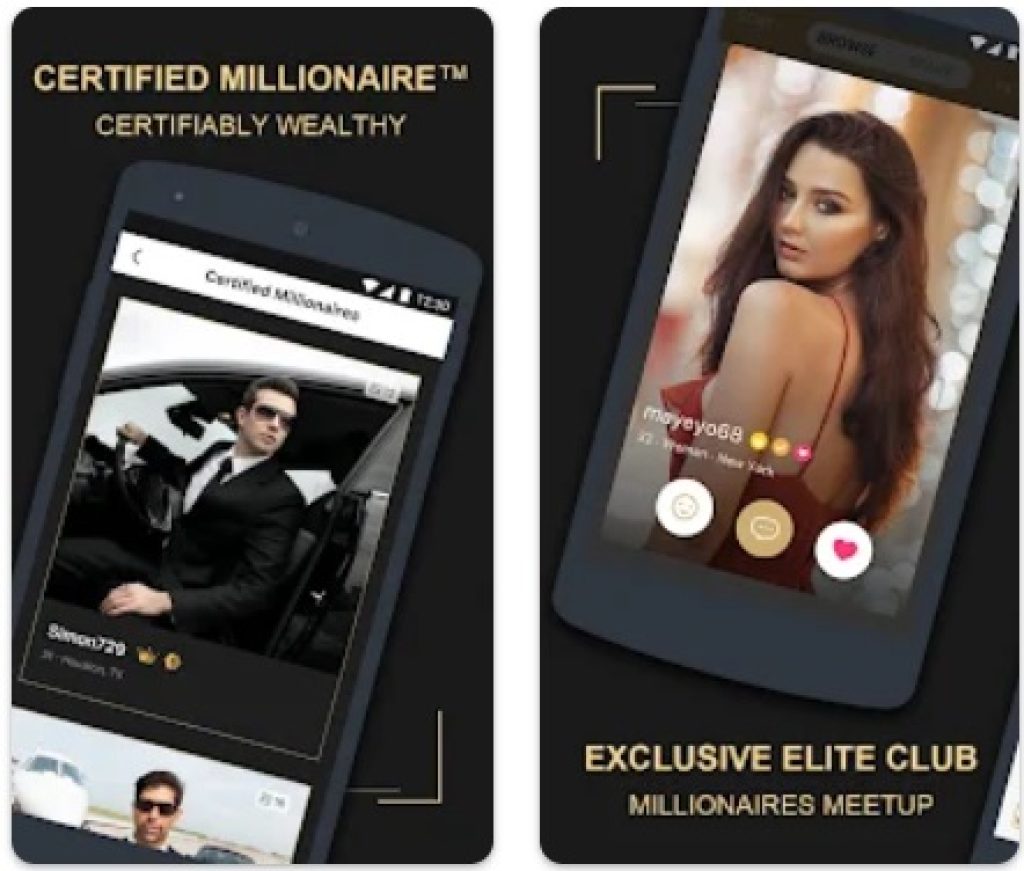 Hinge – Dating and Relationships
Hinge is a great app to meet a quality date even when you are thirty. Although this app is for all age brackets, it is suitable for middle-aged people too, as there are a lot of people who are looking for serious relationships.
However, there are a lot of young people who are not into committed relationships and are interested only in a one-night thing. Therefore, with this app, it would be a bit difficult to find something serious but is possible too, and the results will be great because there is a wide variety of high-quality singles.
The app works really fast. The algorithm easily learns your preferences, type, and interests, and offers you the best matches. You will be shown people who give you likes in advance, so you are able to quickly respond to them and start a conversation if you get interested.
If you are shy or not really confident in your choice, the app guide will help you. Recommendations are renewed constantly, so do not be afraid to start talking with a person, or you will lose your chance of getting a potential partner.
The system also helps you start the conversation flow after a person likes or comments on a particular part of the page.
Thus, people in their thirties may pay attention to the Hinge, but it will not define for one hundred percent that there they will get what they really want. It all depends on what kind of relationship they are looking for.


You may also like: 8 Best Pansexual Dating Apps for Android & iOS
OK Cupid: Dating, Love and More
OK Cupid is a dating app that helps you find a special person who will be a perfect fit for your personality, interests, and preferences. In this app, you can find different types of relationships. So, if you are not sure what you are looking for or want to try all kinds of relationships, this app will be an ideal option for you.
This app allows you to build up your profile from the beginning. So, you can put there all the things about yourself that are assumed to you important during the process of finding the matches.
Moreover, there you can make a list of your preferences for the person you are looking for. Write down everything that you think your pair should have. Therefore, the chances are highly rising with this kind of filter in the app.
Before a real meeting you can communicate with your date through message chat, audio, and video calls. It will help you find out more information and details about the person you are going to meet.
Furthermore, you will be more confident that this person is real, and that nothing bad will happen during your meeting in real life. Although this app has no age category, it fits people in their thirties too.
As people with all preferences, wishes, relationship aims, and attitudes towards marriage will find what they are looking for because of the wide variety of people who use this app.