People who listen to audiobooks or prefer to take up podcasts on the road, know about such a situation as uncomfortable rhythm. Your audio track may be too slow or too fast – in general, such that you will feel really uncomfortable listening to the information. Constantly rewinding, switching on and off again in general is not very convenient.
Nowadays, modern technology has developed many applications that are designed to make our lives a little easier. Fortunately, special services have been created in order to change the pace of music. All you have to do is install the necessary application on your smartphone.
So which ones will help you slow down or speed up your music? Here are 11 of the most convenient apps that are popular among users and have high ratings.
You may also like: 7 Best Music Speed Changer Apps (Android & iPhone)
Music Speed Changer
For musicians who want to experiment a little with tempo or other aspects, Music Speed Changer is your virtual instrument. Excellent engine that preserves excellent sound quality even when stretching songs.
An excellent feature is that the pitch of your melody won't change when its speed changes. While the standard boosters most often raise the sound level at acceleration and lower it at deceleration, Music Speed Changer leaves this task to you.
You can change the tone by 24 halftones up and down. As for the acceleration itself, it can range from 10 to 500%.
You can adjust both the pitch and the speed of the sound at the same time. Music stretching is done professionally, with full preservation of the quality of your song.
In addition to speed, you can use several other instruments. For example, you can loop tracks at a certain point in time and perform high quality cyclic recording. You can play back melodies in the reverse if you want, and use the Music Speed Changer to speed up and slow down your music in general.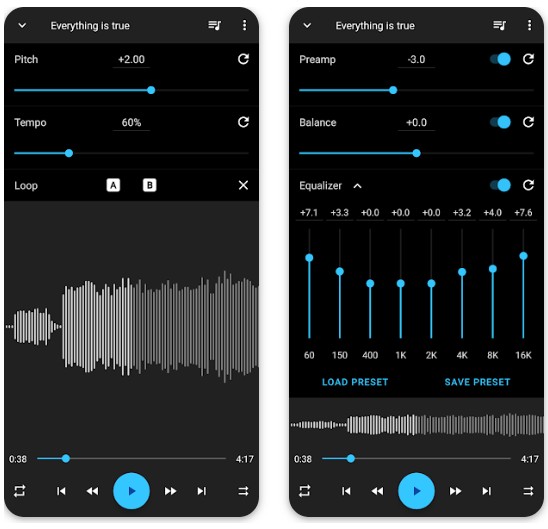 You may also like: 11 Best Apps To Add Background Music To Video (Android & iOS)
Tempo SlowMo – BPM Music Practice Slow Downer
The dark and elegant neon design of the app immediately captures your eye. The developers wanted to do it – only the appearance of the app immediately awakens the desire to listen to songs with Tempo SlowMo over and over again.
Owners of iPhone will appreciate this kind of application – it's easy to learn and study new material, as well as do fitness, easily adjusting the rhythm of music for work.
Exporting and importing files is linked to your smartphone's memory. For example, you can upload any track or extract from an audiobook directly to the application and process it right away. The final option, if necessary, can be saved in memory.
When you start the loop mode, Tempo SlowMo will still work in the background and you will be able to stay focused. Speaking of loop mode, if you're learning new words or material, you can mark certain points on the audio track. In this case, Tempo SlowMo will go back there over and over again, and you will repeat the material at a certain point in time.
You don't have to worry about your equalizer settings anymore: set the speed and halftone settings as you like and enjoy the soundtracks!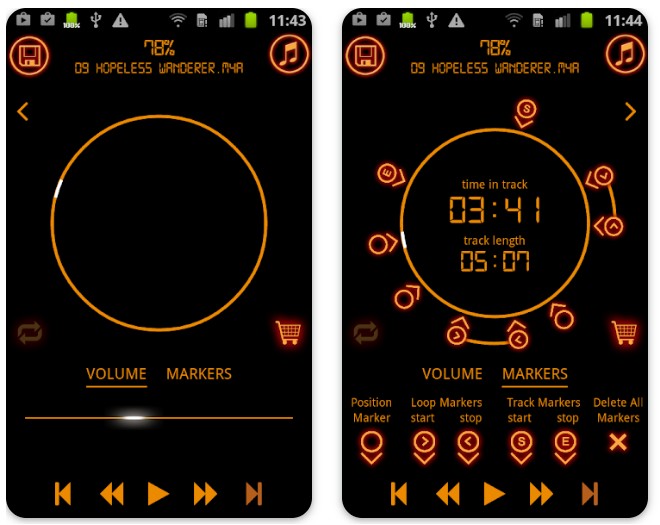 GarageBand
GarageBand is a well-known audio application designed for Apple users. It lets you create whole new music projects where you can record sound, but also work with instruments. Feel like a real DJ, and it's all right in your iPhone.
With GarageBand, you can even learn how to play an instrument. Record the music you're trying to play. By slowing it down and analyzing it, you'll know if you're making mistakes somewhere, or if you've mastered the technique perfectly.
You can change the tempo of your music both for certain fragments and for the song as a whole. The most convenient thing is that both beginners and professionals can work in the application with equal success.
Various features such as DJ-style effects, various instruments (even a keyboard synthesizer), and free sound packages. If you are an iPhone or iPad user, try GarageBand – this app won't disappoint you.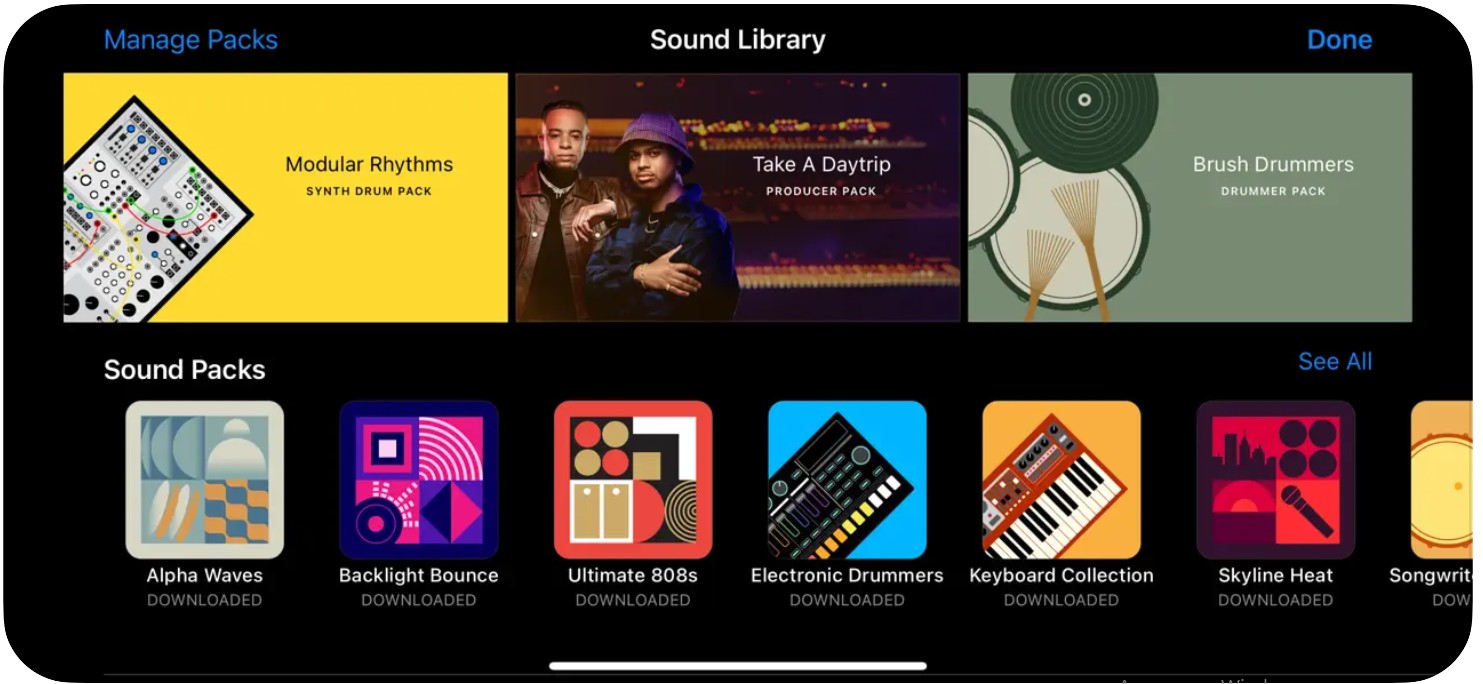 Music Speed Changer: Audipo
In case you don't bother with the tone of your music, Audipo will become a variant with the most basic functionality in the free version. If you don't intend to pay, you will get a limited number of functions, which will be quite enough for the intended use.
In the free version you can change the speed without changing the tonality. It is also worth noting the possibility of working with fairly long audio tracks. You get full control over the playback speed. If necessary, you can mark the entire audio track, so that you can move on to the study of the desired topic whenever you want.
You can play it from where you have been returning many times. Speed can vary from 0.25 to 4.0. For example, you can speed up audio books – because usually speakers read the text measuredly and slowly and on the contrary – slow down the audio lessons.
More advanced features and editing are only available in the Premium version. There you can change the playback tone, change the speed in whole playlists and convert files to different formats after editing.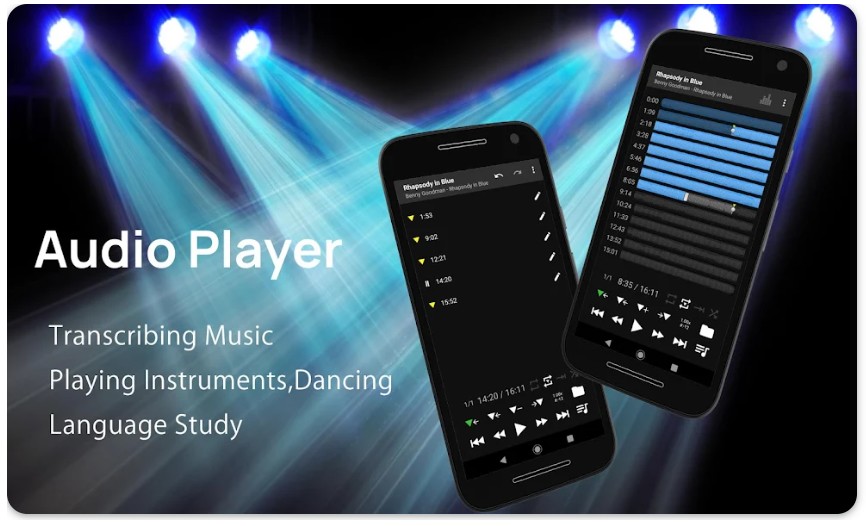 Anytune
Anytune is one of the most popular services and is ready to help you learn and understand music and melodies better. It has apps for iPhone and Mac, which means it targets Apple products.
There are 2 versions in the mobile app – paid and free. It would be more interesting for you to learn more about free functionality.
First of all, you can save all the user settings, notes and tags in your iCloud storage. So you can work on one project on several devices simultaneously.
Secondly, you can organize songs by playlists and folders. For example, musicians can work through entire albums in this way.
However, if you're not a musician at all and just want to learn how to listen to the rhythm of music, different notes and tonalities better, you can import sound from the video. And of course, you can slow down the music.
In the free version, you can do this without changing the overall tone of the entire song. The entire audio track can be visualized so you can easily find the moment you want, even if you haven't marked it.
Most importantly, despite the lack of payment, the developers did not insert a lot of annoying advertising. Thus, you only need to pay in Anytune if you buy the Pro+ version.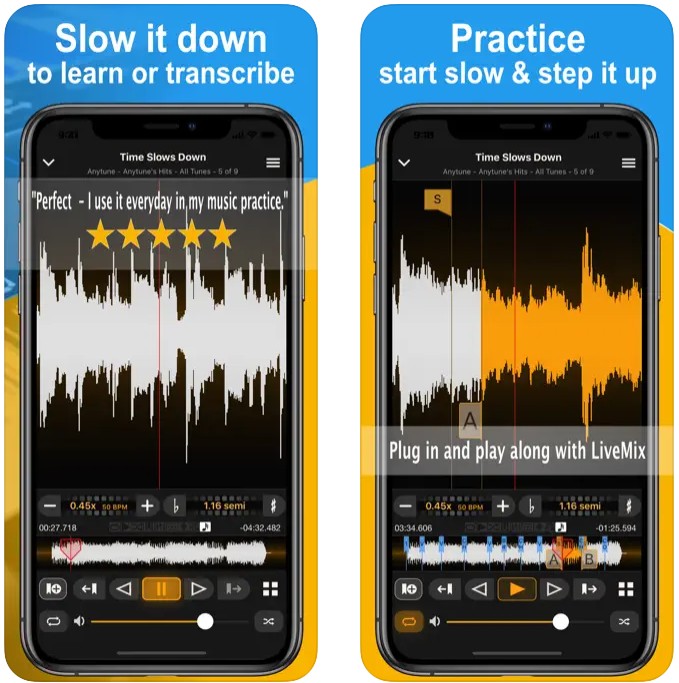 Riff Studio
Riff Studio is an application exclusively for musicians who want to improve their skills or develop themselves without the help of a mentor. If you are a musician working on music that is difficult to perceive or if you want to practice repeating music by ear, then Riff Studio is the right choice for you.
The app allows you to select a specific section of a song that will be repeated over and over again until you've mastered it. If necessary, you can speed it up or slow it down to make your training more productive. Speed, by the way, is measured as a percentage of the original.
Interestingly enough, you can change the tonality without changing the speed and even in half-tones. The track changes in real time, so you don't have to wait until the file is decoded. Without advertising and absolutely free of charge, you can adjust the songs at your discretion, changing the pitch and speed.
Don't forget that the file must be in your smartphone's memory to be edited. You can save any track after processing without replacing the original file. Saving takes place only in the standard mp3 format.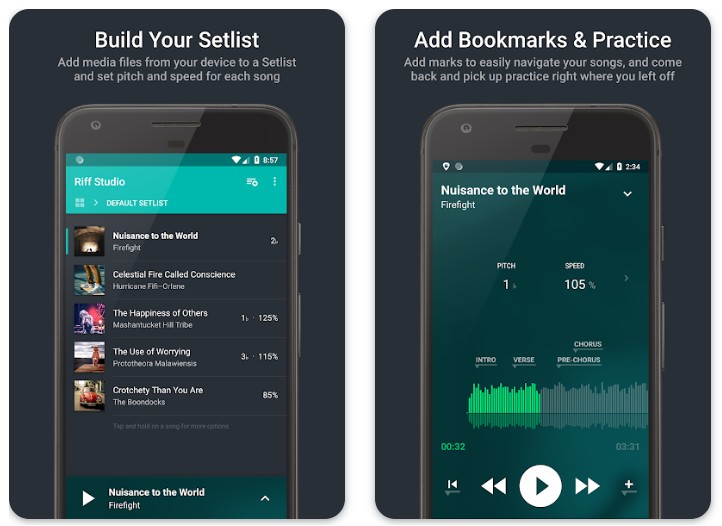 Music Editor Pitch and Speed Changer : Up Tempo
Up Tempo is an application created by musicians to facilitate their work and learning. It allows you to change the speed and pitch of a song on your device. You can do this either by using a timer or manually, choosing your own "starting point" or changing the whole song.
The interface of the application is quite simple and will not require any special knowledge from you. The soundtrack itself is presented to you as a kind of oscillogram, which displays the height and volume of sounds.
This is exactly how you make changes to the sound – for example, marking the minute you need to speed up the pace. For convenience, you can change the orientation of the images and make all the adjustments horizontally. All changes are made in real time.
In the Pro version, you can even apply the same default settings to different tracks. Song export is available in m4a and mp3 formats. Do you need a variety of songs or do you just need to speed up your songs? Then Up Tempo will not disappoint you.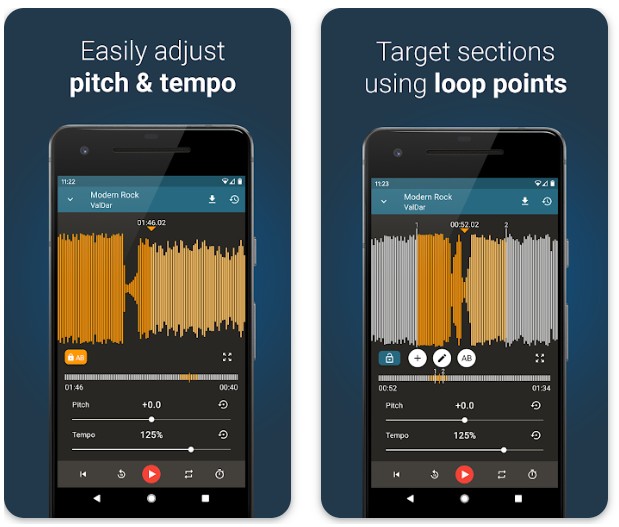 You may also like: 15 Best podcast apps for Android & iOS
Repeat Player
If many of the applications in our article are designed to change the sound of songs and their melodies, the main goal of Repeat Player is to help you learn new material. Of course, you will be able to listen to music through it, but still the main purpose is to learn.
The application itself has quite simple and clear functions. Of course, the most important one is repetition. It can be full or partial – you loop a certain part of the audio track, while controlling its playback speed.
Repeat Player supports a lot of formats, even the most non-standard ones, such as flac, rtx, wav and others. By the way, you don't have to loop only one section – you can set repetition on several parts of the audio track. Repeat Player automatically creates a playlist of the latest songs you've listened to and changed – if you need to repeat them again.
In the root directory of your smartphone, Repeat Player displays only audio files – this is very convenient when you're looking for something specific. You select a file from the directory and it opens in an editable form. So you can set an infinite number of repetitions and split the song into a huge number of sections – but why would you do that?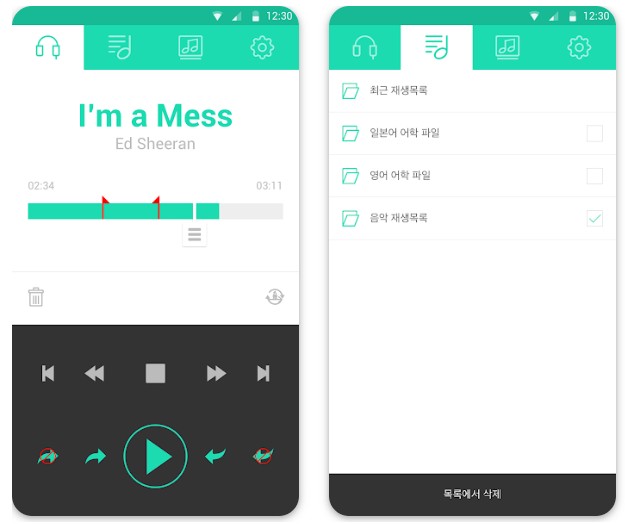 Music Speed Changer (Classic)
Constant updates in applications are good, of course, but some people still prefer to use only one version. Music Speed Changer guarantees you the same version as long as your smartphone supports it. Automatic updates will never bother you.
With the Music Speed Changer, you can of course change the speed of the songs that are downloaded to your smartphone's memory. You also change the pitch of the sound, and most importantly, you can adjust these settings independently of each other.
You can create looped areas of the sound file that can also be slowed down or accelerated. Also, in any version of the application you can play soundtracks in reverse.
By the way, if you use Google Play Music and buy songs there, you can't edit them in Music Speed Changer. To do this, you will need to download all these songs again through the browser version. This is because Google Play Music gives you access to DRM files and the application only works with MP3 format.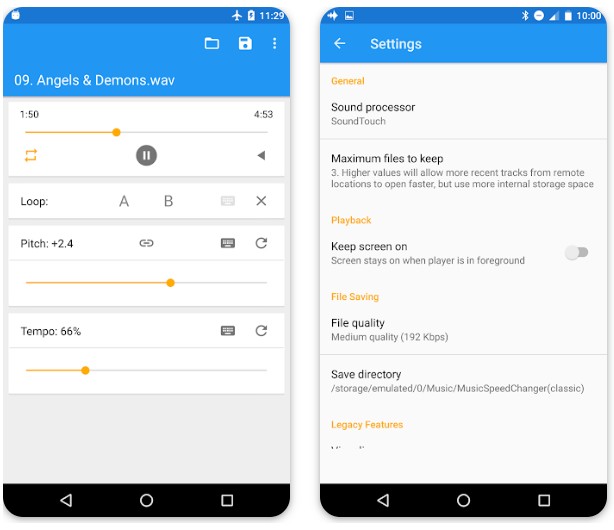 TimePitch – Song Pitch and Speed Changer
It's probably gonna be incredibly difficult to find an application that's easier than TimePitch. The title already shows all the functionality.
All you can do is change the tempo and speed of your music – the developers didn't fool you! In fact, TimePitch is a music player with a little bit of unusual features.
Every smartphone has its own music library. You can create playlists and entire albums from it. TimePitch accesses this library and starts playing tracks from there using the Tempo and Rhythm functions.
Graphically, these settings are represented in the app as two sliders that you can use to control playback. In fact, you can simply play with these settings, setting a convenient and enjoyable speed. The app allows you to learn the basics of creating melodies, and also allows you to adjust some of the soundtracks.
A nice bonus is that TimePitch supports multiple interface languages. Use TimePitch as your basic music player so you can adjust your songs. The only thing you'll have to put up with is the ads in the app.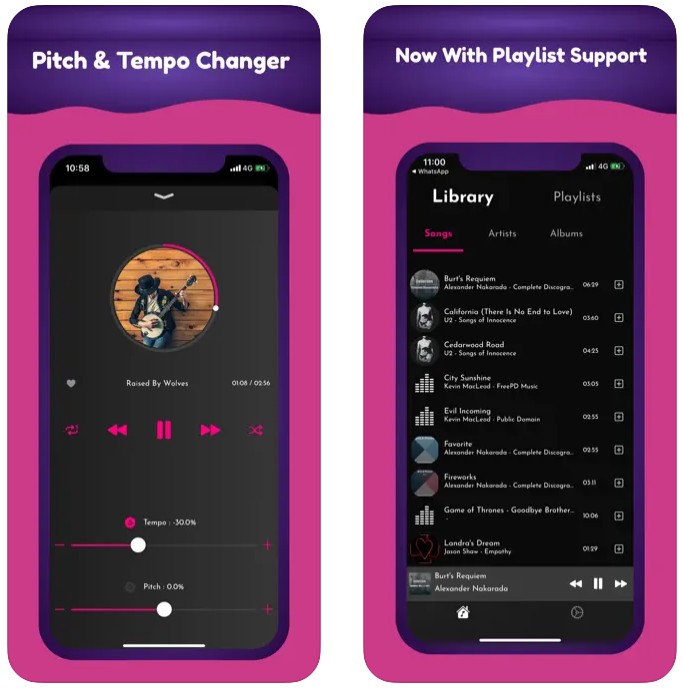 You may also like: 15 Free music streaming apps for Android & iOS
Moises
The Moises app is designed to process music tracks. Through the utility, you can remove the part with vocals and instrumental minus from the song, change the speed and pitch of the sound.
You are to sign in to the service through your Google, Facebook, and Twitter accounts, as well as using email. Add information about your skills on various musical instruments in the utility.
Options are available for vocalists and audio editors. Beginner, intermediate, and advanced levels are provided. You can add a song to the app from your phone memory or cloud services.
Moreover, this program is able to analyze your mobile device and detect audio recordings and clips. Using the app, the song can be divided into two, four, or five tracks. Extract tracks with voice, drums, bass, and keyboards. Preservation of high frequencies is supported. Processing can take several minutes.
The app allows you to change the speed of the audio recording, select the tone and synchronize the metronome tracks. Any of the created tracks and mix files can be exported in WAV and MP3 format.