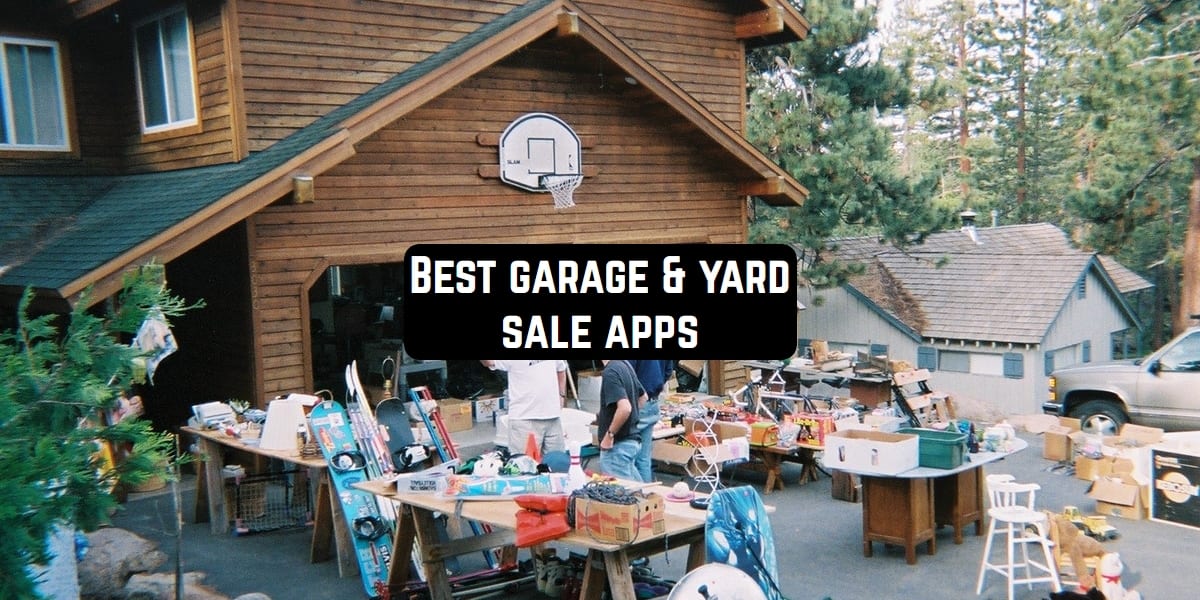 How often do you look around your room and realize that it is cluttered? Even if there is perfect order, you realize that there are a lot of things that you don't use, they are no longer needed or have been bought spontaneously.
Many people have the same situation. But throwing things away in a beautiful state is incredibly pathetic because they can be linked to memories, as well as pity for the money spent. If you don't want to do it in your own home, you can become one of the sellers at such group events.
Garage Sales is an incredible treasure trove of interesting things. Vintage furniture, fashionable clothes, and trivial little things that make life brighter – all this can be found on sales from other people.
We don't even know how many of these things you can find around you. In today's world, even applications have been developed to find such sales. We have collected the best examples of such services for you. Download what you like and go looking for interesting things.
VarageSale: Sell simply, buy safely
It is not always possible to get to a real garage sale. And it often happens that you don't have a lot of unnecessary things to organize a small festival right in your yard. In this case, you can use the opportunity to participate in a virtual sale. VarageSale is your virtual garage where you can sell or buy things.
Looking for something specific? Take advantage of the search and VarageSale will show you all the relevant results. This way you can contact the seller and buy what you need. Or do you want to get rid of something yourself? Just take a picture of the item and in a few moments it will be available to buyers!
All registration is done through Facebook authentication. You will not be able to be fooled – all the data about the owners are real, so you can buy what you want without risk!
back to menu ↑
Listia: Buy, Sell, Free Stuff. Crypto Marketplace
Sometimes you're absolutely not interested in the benefits. For example, you already have for ages something and it is not important for you whether you get money for it or not. But it is a pity to give for nothing – because you have invested in it. It is not always possible to find an equivalent exchange with the buyer. For such cases there is an application Listia.
Listia offers you to give things to other people for virtual currency. This currency will allow you to further buy without investments already necessary subjects. That is, the more you give, the more you can get in return.
Take a picture of the product and put it up for sale – the buyers around will see it and will be able to buy it. And so do you – turn on the search and find things nearby. Listia has already made more than 100 million deals and many people are happy to shop. Get what you want without an investment, while getting rid of the extra stuff!
You can also check: 12 Best apps to sell handmade items on Android & IOS
back to menu ↑
Wallapop – Buy & Sell Nearby
Wallapop is a huge marketplace that unites millions of people with the desire to buy or sell something. Real garage sales in the past – now they can be right in your pocket and in your smartphone. You don't spend money on expensive shipping like in other markets, and you don't waste time waiting.
If you have already encountered the fact that the purchased product does not match the description, looks different in the photo or the price is higher than the stated one, you can forget about such troubles.
On Wallapop you are guaranteed to get exactly what you want. See what your neighbors sell or post ads yourself. All offers are sorted by distance from you, while keeping your location confidential. That is, the place of purchase is shown to the buyer with a certain radius.
You can search for items in many categories. If you are interested in profitable applications, just find the most suitable one by using filters. All transactions are made in person and directly so that no loss of funds will occur. Download Wallapop and you will immediately lose the need to organize sales in your backyard!
back to menu ↑
Yard Sale Treasure Map
If you still need the atmosphere of a real garage sale, as well as you, want to directly examine, feel (or even smell) the product before buying, then you need to know where these sales are held. It's hard to keep up to date with big cities in general, but Yard Sale Treasure Map will help you.
Yard Sale Treasure Map is an application that will help you to find real treasures at garage sales. Why do we say treasures? Yes, because many people sell charming vintage items or expensive good items at a very low price. You pay minimal money for beautiful goods.
Want to visit several sales at once? Yard Sale Treasure Map will help you develop and optimize your route. You can also see what's in the garage right away – for example, only kitchen utensils are sold somewhere, and someone can arrange thematic points of sale. Find something you like while giving away a minimum amount of money – all with Yard Sale Treasure Map.
back to menu ↑
OfferUp – Buy. Sell. Offer Up
Tired of having to make a permanent announcement or a garage sale? Don't you want to be a salesman yourself or go to other people's yards? OfferUp Marketplace will be your salvation – here you can easily put up for sale unnecessary things and earn money or buy something at a great discount.
With the help of search you can find the best offer for you. Just click – you will have access to information about the seller and the product in full. Photo and description, cost and time of use – this is incredibly important to you as a buyer.
You can also see the seller's rating – it will help you decide if you should make a deal with him. All communication between you takes place in a personal chat room, where messages are encrypted.
The community of OfferUp sellers and buyers is huge. It is used daily by millions of people, creating their reputation and earning money on everything – old clothes, shelves, electronics – and everything that you can find in your garage. Unnecessary thing? OfferUp will help you to get rid of it.
back to menu ↑
letgo: Buy & Sell Used Stuff, Cars, Furniture
Now you don't need to go to the flea market or small sales in search of interesting or necessary things. letgo is a unique place, the internet market, where you can buy everything from an old brooch for 1 cent up to a used car. You can also create and find free ads – the category "give for free" is popular.
Like many similar applications, letgo takes your location into account. Priority is given to products nearby, but you can look for the right items anywhere.
By the way, you can also bargain with the seller. There is a special button that allows you to offer the seller your price, either lower or higher. And all communication between you takes place in a fast messenger inside the application itself.
Download letgo and earn easily on unnecessary but in general useful and working things.
back to menu ↑
5miles: Buy and Sell Used Stuff Locally
The security of 5miles is guaranteed by the fact that both sellers and buyers can only register with their facebook account. 5miles also shows you ads in the area: though you don't have to turn on the GPS, you can just type in your address or postcode.
If you don't want to meet the seller (sociophobia is an unpleasant disease), you can order delivery of the purchased goods.
You can sell anything you want, or buy anything. You could even consider that you have a permanent garage sale, which starts and ends when you need it.
In addition to selling things, you can also find a place to live or work, as well as view the summary of other people. Looking for a nanny, gardener or new home? Even with this 5miles: help you. You will literally be able to move without having to move – maybe the house next door is rented out!
Ads are absolutely free, but you can promote them for a fee. You can also share them on your Twitter and Facebook pages.
All transactions in 5miles are secure – no additional transaction fees are included when buying or selling within the application.
back to menu ↑
Depop – Fashion marketplace for buying & selling
Many fashionistas and people just watching the trends know that fashion is cyclical. What's popular today is most likely to have happened before in people's lives. That's why among these stylish people second hand is popular. There you can find inexpensive branded things in excellent condition. But what if now at low prices you can buy clothes with only your mobile phone?
Depop will be your guide in the world of fashion and the latest trends. People often order clothes which are not suitable for their style or size, become annoying or just don't like them after purchase.
They put it on display at Depop at a low cost. A lot of brands – both streetwear like Adidas or Nike, as well as Yeezy. Want to follow the trends without spending thousands on clothes? Find the right item with the detailed filter on Depop.
Vintage items, accessories, branded sneakers… You can get acquainted with new designers and images in the application, as well as participate in some events organized by the developers. The community constantly arranges meetings with famous designers and artists that instill good taste and talk about fashion.
back to menu ↑
Wish – Shopping Made Fun
Of course, Wish cannot be called an application solely for reselling things. It's more like a huge virtual hypermarket where you can find everything you need at a great price. You can also sell your own products – becoming a seller is as easy as becoming a buyer.
Goods on Wish cost 60-90% less than in retail stores. This is due to the fact that developers work directly with manufacturers and owners of goods, that is, you do not overpay for buying a product or interest margins.
In order to start buying or selling, you will need to register a social account. This is how developers keep your transactions and payments secure. Such a system protects sellers and buyers from fraud, as well as allows sellers to receive funds immediately.
Millions of products in dozens of categories – Wish has literally everything! All this you get with delivery in 5-7 days – which is several times faster than many online marketplaces. All your purchases can be tracked, and if something comes in the wrong form, does not fit or does not meet your expectations – you can make a refund in minutes.
Find discounts on Wish for everything you've wanted for so long! Now you don't need to storm the malls to find what you want – just look in your smartphone.
back to menu ↑
KSL Classifieds
For Utah residents in the United States, there is even a separate service that works on a similar principle to garage sales. In fact, it is an advertising agency that helps people easily sell and buy goods, as well as offer services and publish tasks. That is, you get a service where there is everything – from hairpins to plumbing services.
Publication of each ad requires time to check and process it. In addition to the household stuff, you can buy real estate or a car right next door. Also there are services of leasing, renting, selling a house – a real find for those who are looking for an option to move.
Above all, there is a section related to work. If you are looking for a person to work at home, a nanny or a gardener – you will find thousands of resumes of people nearby. All of them are confirmed, as well as vacancies offered by employers. You are guaranteed against fraud.
Quick purchases and billing directly upon purchase, instant communication between people via messages, the security of personal data – all this at KSL Classifieds. Of course, this is not a garage sale in the literal sense of the word, but you can find everything you want at good prices.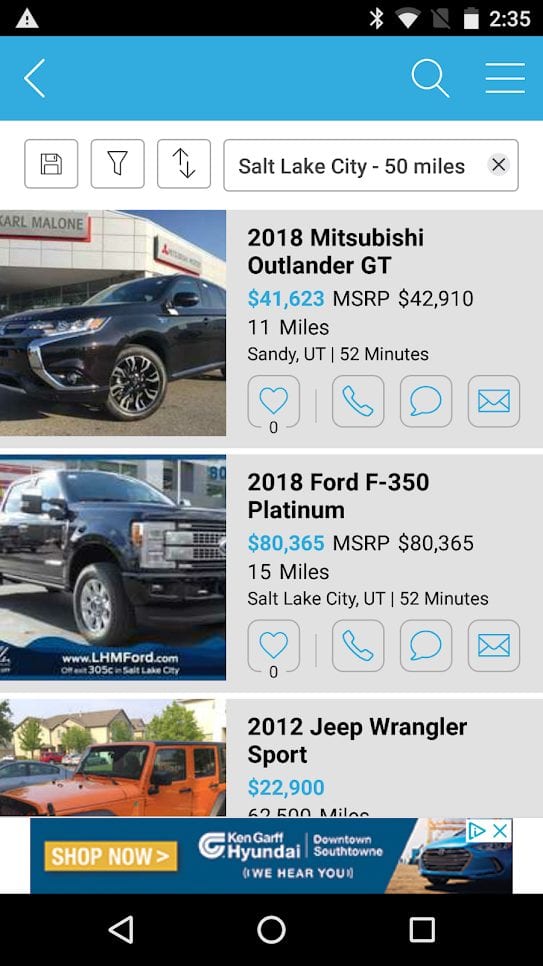 back to menu ↑
Garage Sale Map
Still, there's some benefits to real sales. You immediately see the product, you can agree on a price and get it immediately after you have paid. There is no need to wait or worry about the payment, which may be delayed on one of the accounts.
To find real garage sales, you need to know the locations. People often post-sales announcements on real services that Garage Sale Map works with.
Garage Sale Map collects information from dozens of services, such as EstateSales, YardSaleSearch, and others. The application determines your location and shows all the offers nearby. The design is in the form of a map, which displays the icons of the nearest sales outlets.
You can also learn about their themes – for example, furniture or books. You can also see the offers in the form of a list sorted by distance from you. To the selected point Garage Sale Map will even build you a route! Look for keyword suggestions and go shopping in someone's backyard.
back to menu ↑
GLICKIN Garage Sales
An app to help both the yard sale organizers and their amateurs. All you have to do with GLICKIN Garage Sales is to allow your location to be determined by GPS. The rest of the application takes care of!
The service looks like a handy map of the area nearby, where colored icons mark all sales. You can search by certain criteria, products or topics, or you can advertise a garage sale yourself.
Everything is done in minutes. Submit an ad so that people around you know that you are organizing a small sale in your yard, specify the goods or topics, if you wish, you can attach photos or videos. If you are a simple buyer and stumbled upon a point of sale somewhere, you can put it on the map yourself – let other people know too!
Fast messages and publications, completely free information services and much more – GLICKIN Garage Sales is designed to bring together buyers and sellers. Mark the filters in the search and you can go to the seller's house – GLICKIN has built a route for you!
back to menu ↑
GarageSale: Online Yard Sale
You don't have to have your own garage or a large backyard to organize a real sale. You can simply raise your finger and in a few clicks arrange a large-scale sale of things you don't need.
You will need to take a picture of the item for sale, set a price on it and upload all the information to the site – the time of use, a brief description or features. In order to make the product look more colorful and stand out from the rest, GarageSale even offers to frame the photos directly in the application.
You don't have to design a showcase, display all the items in your yard, or see people in your home all the time – all the stuff stays with you until the moment of purchase.
You can share your ad on social networks – maybe one of your friends or subscribers will want to buy a thing and the sale will happen faster than you thought! There is also a convenient multi-currency feature.
If the seller and the buyer live in different countries or simply use different currencies, GarageSale quickly converts the price into a convenient equivalent. Buying and selling unnecessary things is now incredibly easy – you get rid of good, but unused things, and customers get a quality product at a low price.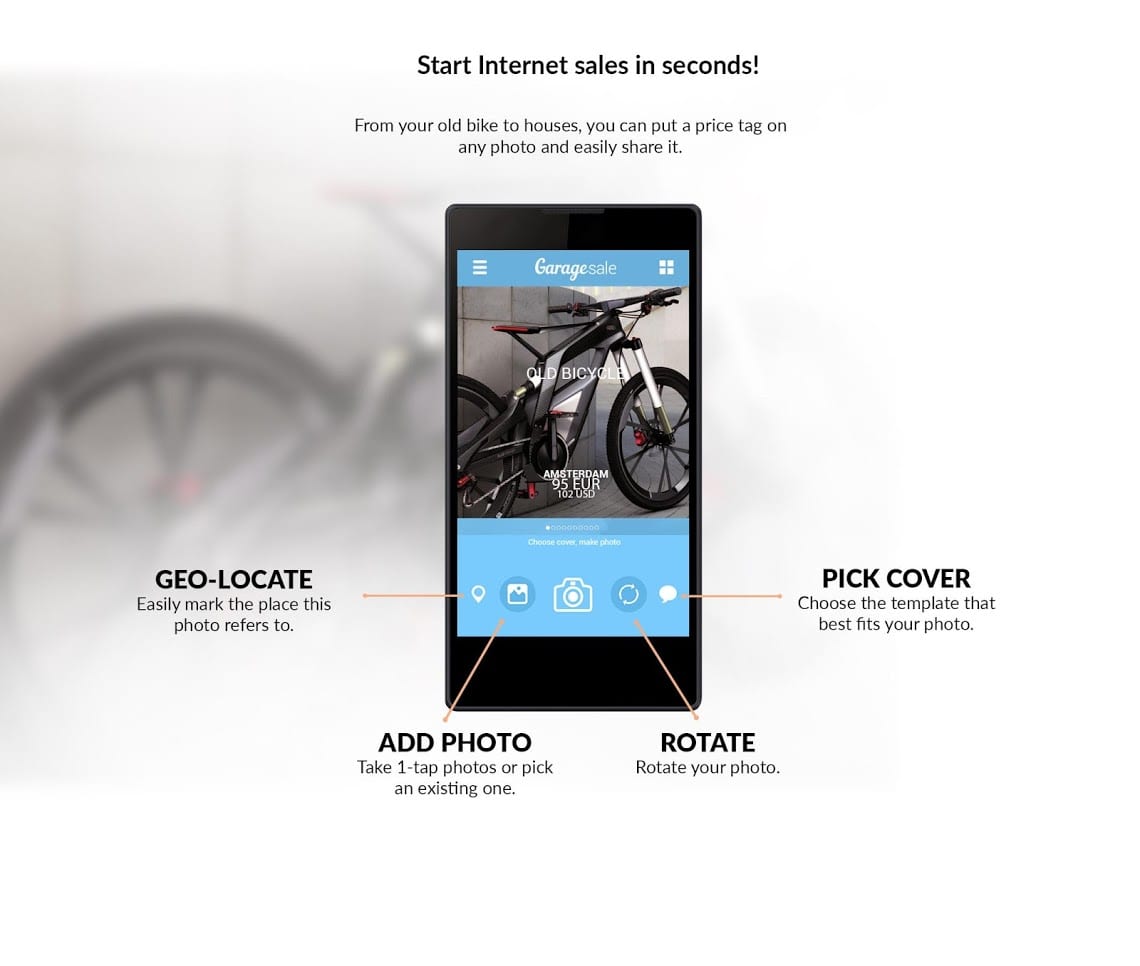 back to menu ↑
Estate Sales – EstateSales.NET
Everyone who somehow tried to sell unnecessary things or buy something that was already in use via the Internet, faced with the site Estate Sales. This service has been in operation for more than 15 years, helping to earn on unnecessary things or to buy them at a low price. Do you want to earn some money? It's a pity to spend money on a thing you only use once? Just use Estate Sales.
Here you can easily find information about products, their prices, and location, as well as to arrange delivery with the seller. Announcements are published throughout the United States, but you can enable sorting by location. Find items that are incredibly close to you, contact the retailer and soon become the lucky owner.
You can even put your search or sales in your "favorite category". This will make your search even faster and easier. For any product, you can build a route so that the buyer is not lost on the road.
The reliability of the application provides a long and good reputation for the site itself. It is always easier to make purchases through proven services!
You can also check: 20 Best Apps to Sell Stuff on Android & iPhone
back to menu ↑
CPlus for Craigslist
CPlus is a multifunctional application for placing and viewing ads in absolutely different categories. Everything you would like to find, CPlus combines and provides you with a user-friendly interface at a pleasant price.
Starting from sales and ending even with dating profiles… Set up your profile so that you will receive notifications about new ads in your favorite category. The CPlus search criteria and filters are stored, so you don't have to repeat the same request all the time.
Looking for a new car? Fine, enter all the items once and CPlus will notify you of new ads that may suit you. Also in any product category – you just need to save your search once.
Creating and publishing an ad is also incredibly easy. The whole process is absolutely intuitive, so CPlus gives you all the instructions you need to do. The publication is absolutely free.
The results can be displayed both in terms of appearance – grid, list or on the map – and in terms of criteria – for example, remoteness. CPlus will make your purchases quick and easy and your sales profitable!
As we have found out, it does not matter – you have a garage, your own house or a small shop for sale. Now you can simply sell what you don't need via the Internet – just raise your fingers and you don't even have to get up from the couch.
Want to sell a lot of goods at once or just one – it does not matter. So for customers: with the help of services you do not need to spend hours looking for the right item of good quality. You can view all the characteristics directly from home.
For lovers of real sales, there are also services for navigation to the points of sale. Other people's garages, backyards, filled with things of the owners – maybe someone enjoys the process itself. In any case, for all fans, we have found the application to your liking – you only need to choose and install them on your smartphone.