Every person wants to look stunning regardless of the situation, no matter if it is a business meeting, a walk with friends, or anything else. However, for a good impression, you need to take care of your appearance, especially the hairstyle. This article will feature the best hair style apps for men.
Moreover, when you have picked up the style you want, you can go to the barbershop immediately. To find one you can explore our collection of free barber shop apps.
Man Photo Editor: Hair, Mustache & Beard styles
It is not for nothing that this app is first in the top list because it provides the user with literally everything. In fact, by opening it, you get into a virtual beauty salon, which gives you the opportunity to choose absolutely any hairstyle, look, and style of mustache and beard, as well as color and much more.

The following functions of this app can be distinguished:
the widest selection of presentable styles and colors for hair, mustache, and beard, suitable for absolutely any type of face, as well as the ability to choose suits and tattoos as an organic addition
more than a hundred different tattoos and sunglasses, which are selected depending on the style and shape of the person's face, as well as a virtual matching assistant based on your preferences
virtual assistant, which is optimized to choose the ideal parameters and color saturation for you individually, as well as allowing you to see the approximate appearance after applying all filters
user-friendly interface, as well as a well-made option to rotate the human face model so that you can view selected changes from different sides
sufficient selection of different shades for hair and mustache, as well as colors such as gold, brown, red, blue, and many others
a large range of hairstyles, whiskers, and beards depending on their size, as well as the ability to shorten or lengthen them in order to peer into a slightly different style
the ability to share a chosen style on social networks and get a good response
So, this utility is really worthy of your attention because by downloading it, you will be able to create your own style without leaving your home.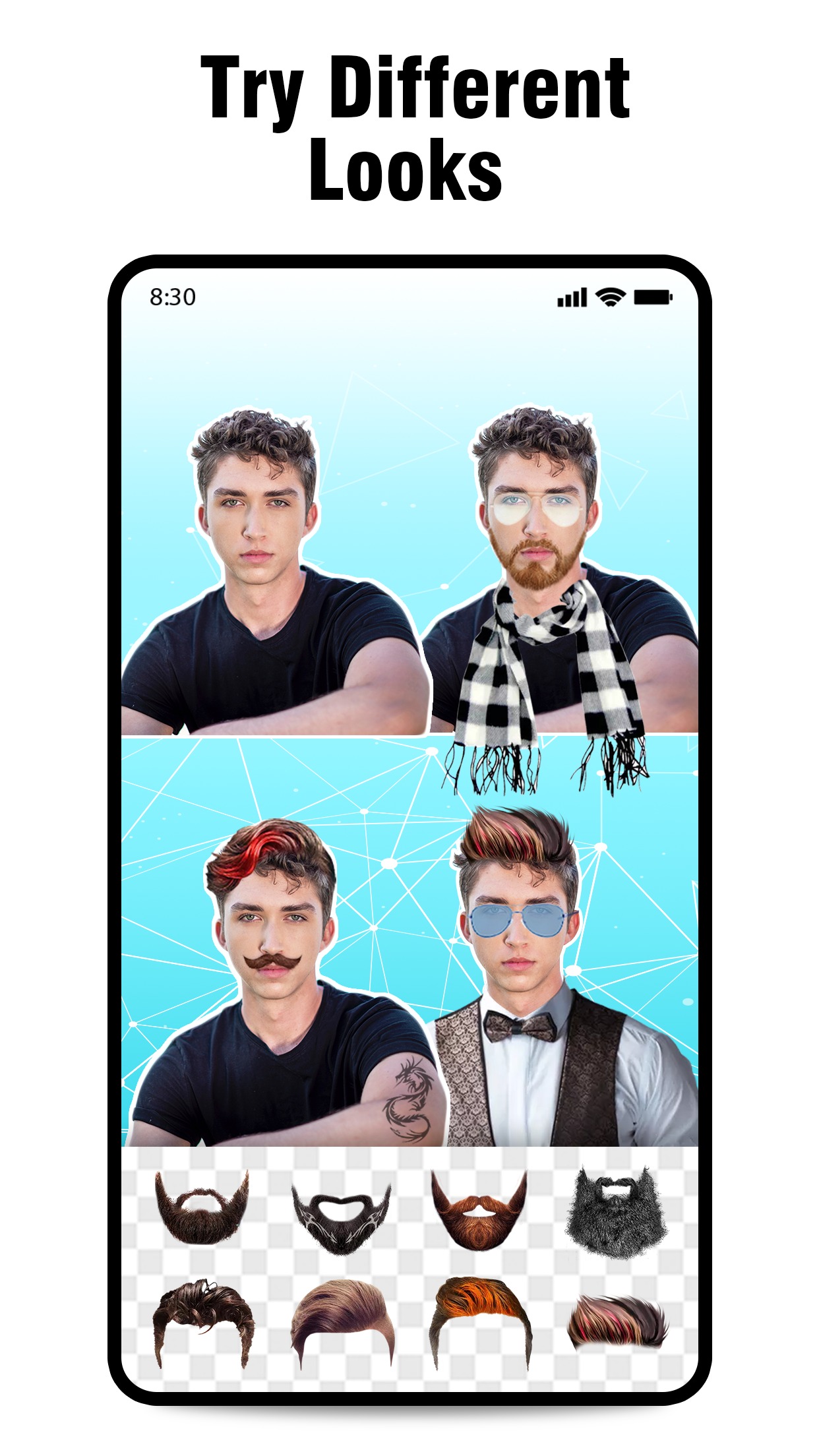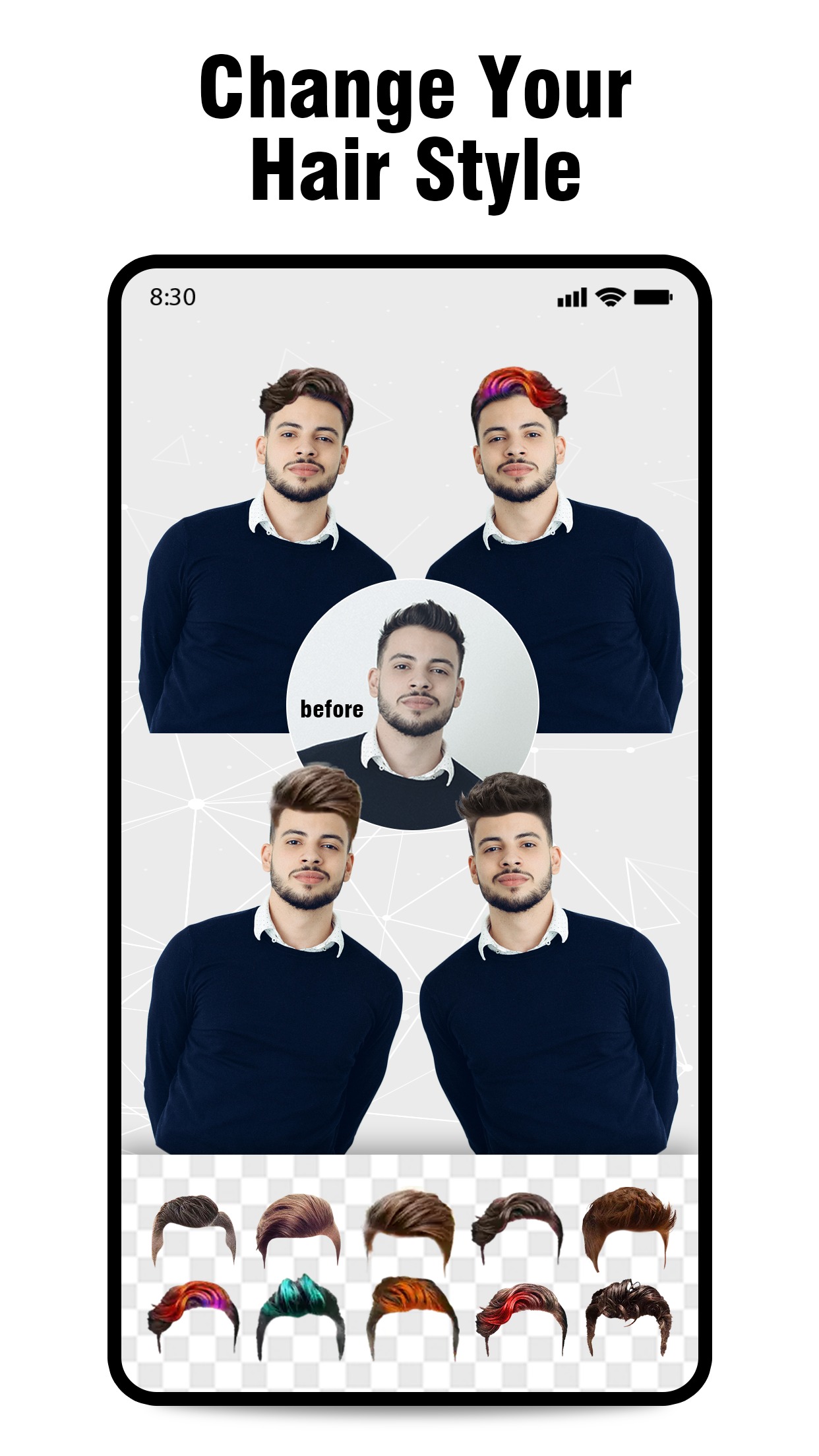 You may also like: 17 Best men's shopping apps for Android & iOS
Men Hairstyle Camera
The Men Hairstyle Camera is the easiest option to pick up the perfect hairstyle, mustache, beard, and even cap for you to look truly stunning. Thanks to the great work of developers, app users today forget about the problem of picking up a new look.

This utility has such functionalities as:
a truly diverse collection of hairstyles, beards, and mustaches of different colors and shapes for the most fastidious user, as well as a unique opportunity to choose a turban hat
the potential of a virtual selection of the hairstyle you created or style directly on your face or the use of pre-installed options from the program, depending on various parameters
a huge number of different tattoos to suit your taste, in addition, these tattoos can be strikingly different from each other and can be virtually applied to parts of the body such as the neck or even the cheek
the ability to use a pre-installed editor for both the face and other muscles, such as the stomach or arms, followed by a selection of different tattoos on them
correction of irregularities and imperfections right in the utility so that your photo in the new style looks beautiful and representative
a well-developed editor and camera in order to get an appreciative look at the final style of hairstyle, mustache, and beard from different sides and subsequent refinement to the ideal
a large range of different colors for all types of hair, ranging from dark yellow to bright red with a cherry tint; what will you choose today? – try the most unexpected experiments
Thus, this program is a real find for those who want to find their own style and really stand out from the general mass with their natural beauty.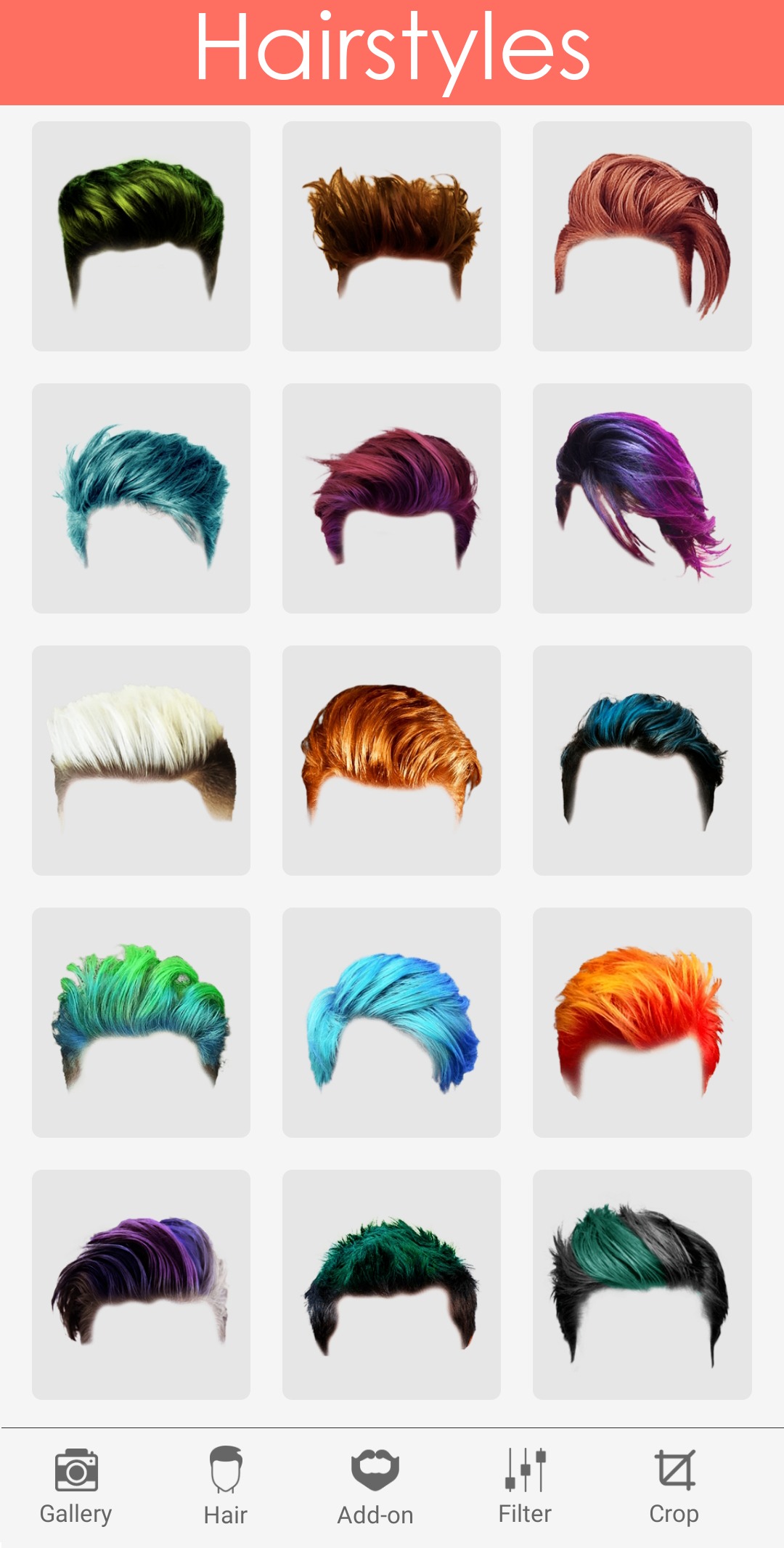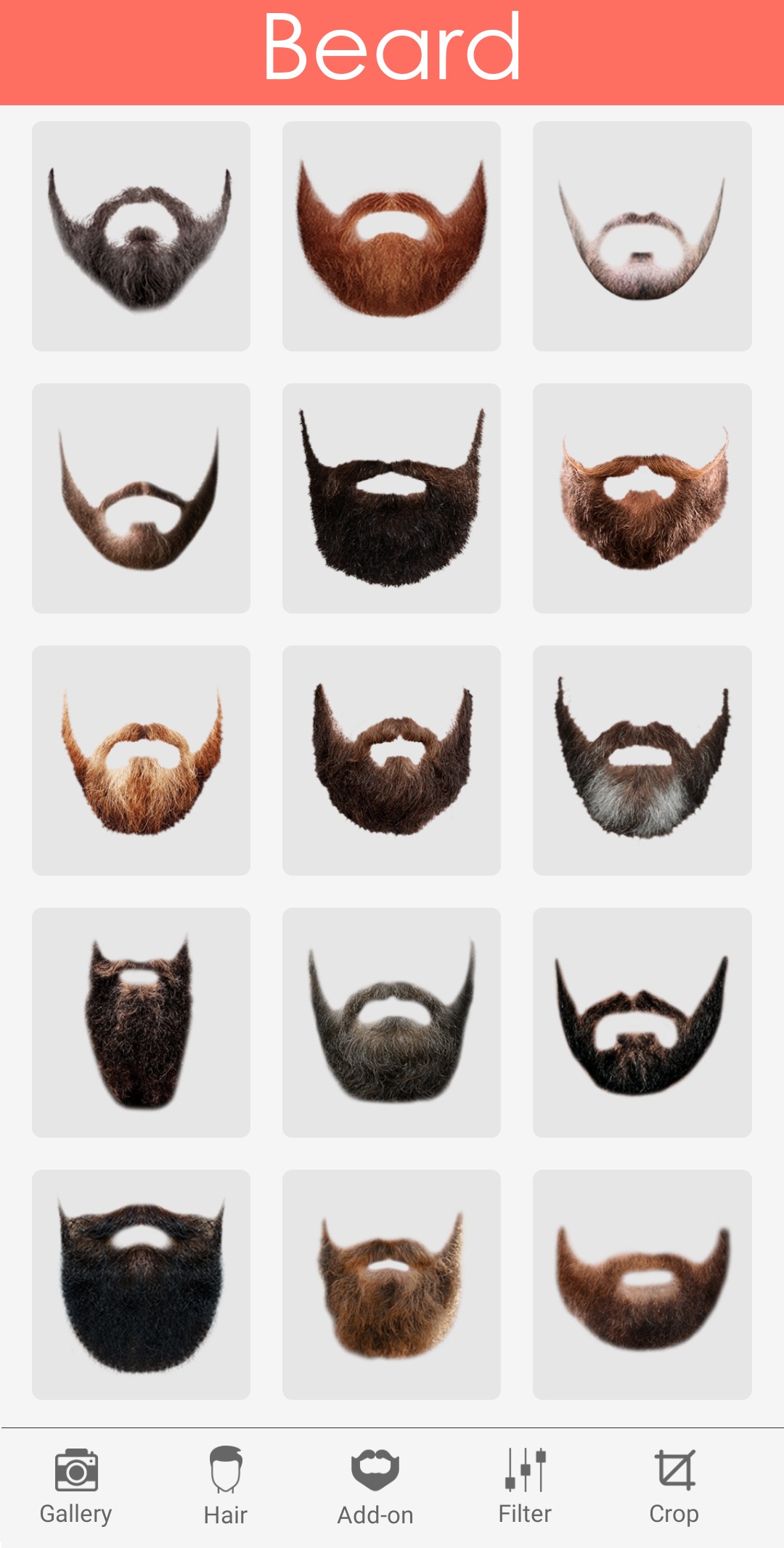 Hairy – Men Hairstyles Beard & Boys Photo Editor
Hairy is the best assistant to create you a unique trending look and look sparkly inside any society. This utility will allow you to change the hairstyle of your hair, mustache, or beard in just a matter of minutes in pairs of clicks of your fingers.

The most important features which worth your attention are:
the ability to choose different hairstyles for hair, mustache, and beard depending on the thickness, length, and even color of your hair, without requiring any specialized care products or tools
a unique Indian editor that includes a huge number of different variations of beard hairstyles with the ability to change their color and even add stickers
introduction of various effects on the style chosen or created exclusively by you to emphasize the beauty of your hairstyles, as well as a virtual assistant for choosing the most suitable combinations
if you did not feel beautiful due to insufficient hair size or shape – no problem, the app will help you figure out how to find your individual look and help you look beautiful using your appearance
an embellishment of the completed photo after choosing the style with various stickers, emojis, visuals, and even text
virtual assistant, allowing you to look around the new final version of yourself from various angles and make a point of revision if it is needed
To sum up all of the above, it is worth saying that the app is constantly being updated so that you can constantly be in search of your own style and find something better every day.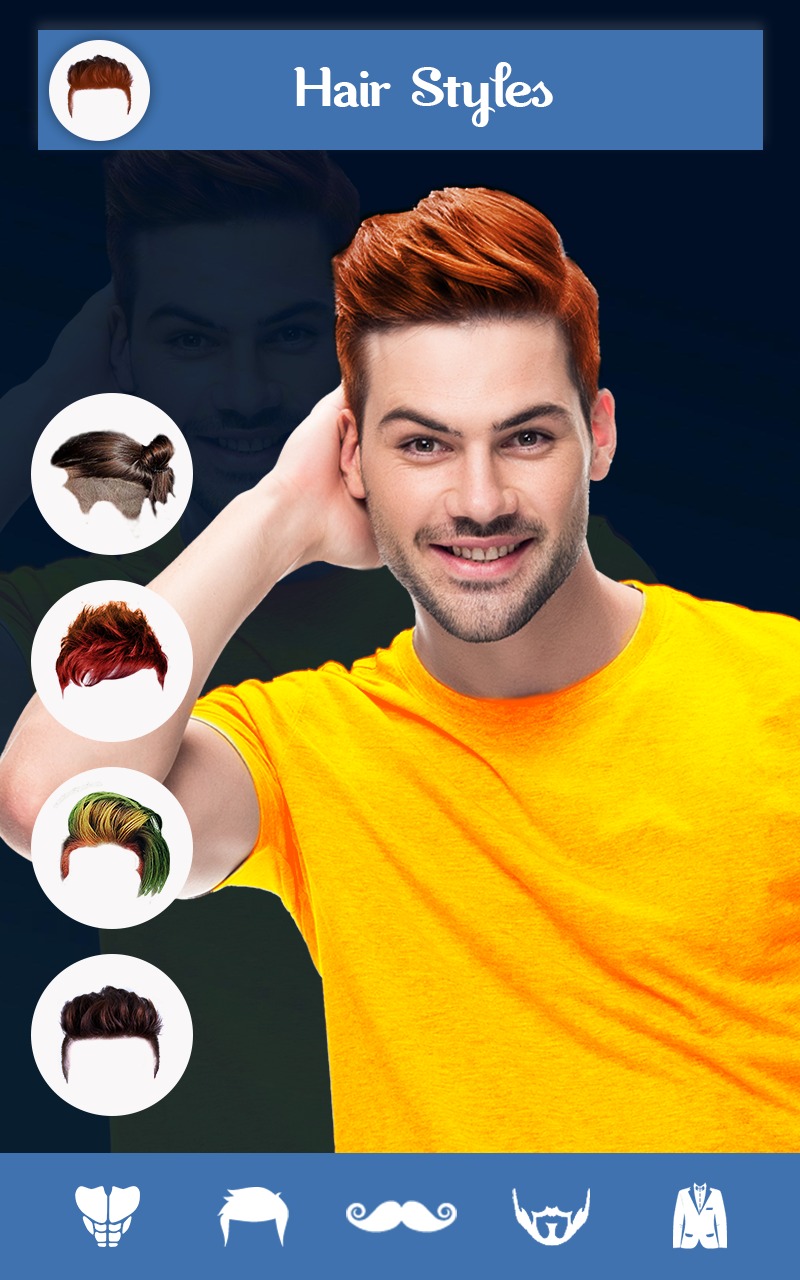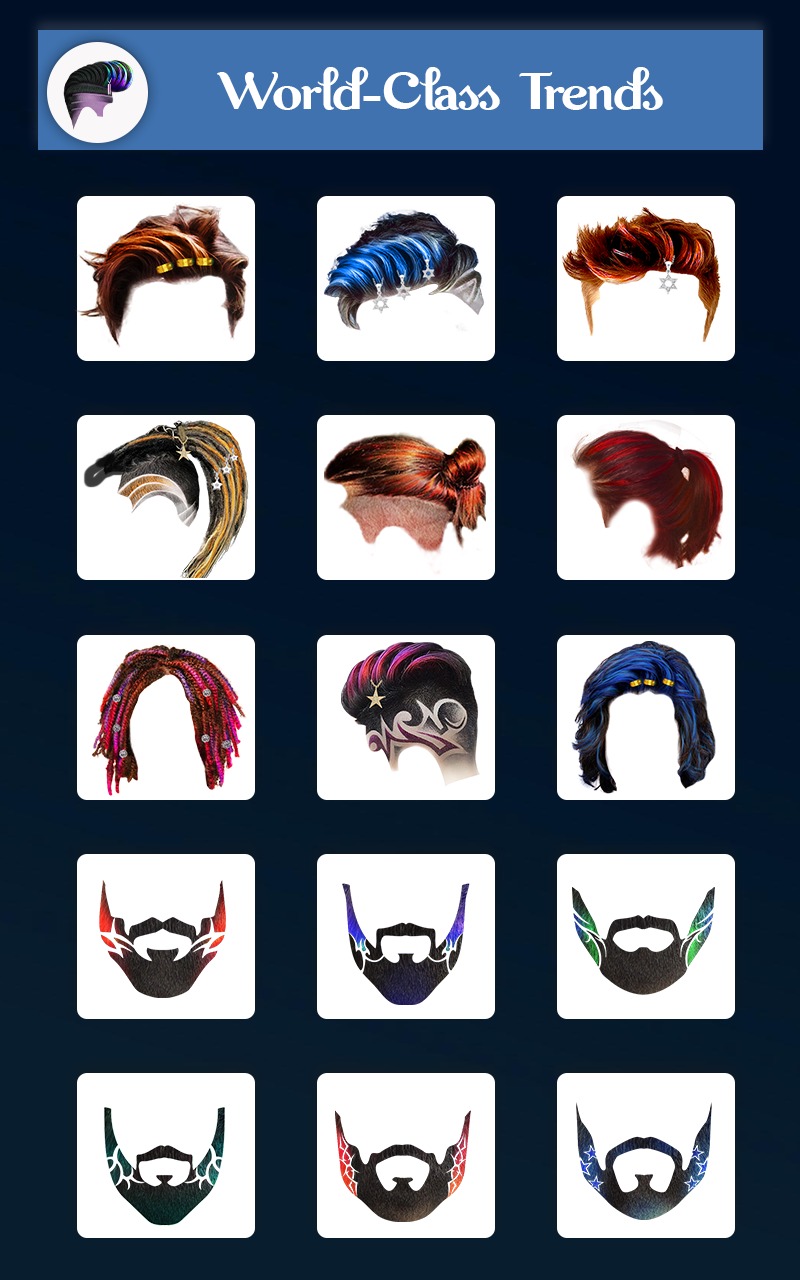 Men Hairstyle Photo Editor
Men Hairstyle Photo Editor is an app that allows dfv to try different men's hairstyles on their photos. The application offers a variety of hairstyles, including short, medium and long haircuts, as well as trendy and classic styles.
You can choose a photo from your gallery or take a new one using the app's camera feature.
The principle of the application is simple: you choose the hairstyle you like and apply it to your photo, adjusting the size and position of the hair accordingly.
The app also provides various editing tools to help you adjust the color, brightness, and contrast of your hair to make it look more natural.
One of the main drawbacks of the application is the limited selection of hairstyles. Some users have also reported issues with the app crashing or freezing during use.
Additionally, some reviews suggest that the app's editing tools could be more intuitive and user-friendly.
Application features:
Possibility to change photo
Try on a new image
Application cons:
Small selection of hairstyles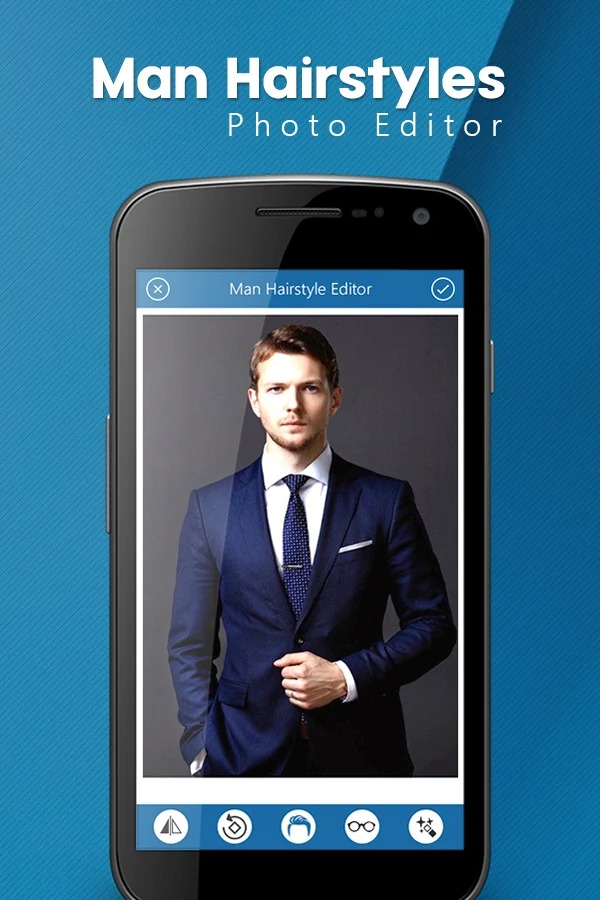 Boy Hair Style
If you don't know how to look younger, say, like a boy, then this app is the key to solving your problems. Boy Hair Style helps you look younger than you are with a refined hairstyle and unique style. You just need to download this app and you can see it for yourself.
It is worth paying attention to such advantages of this program as:
the ability to select pre-installed hairstyles directly in the app or create your own from existing samples; in addition, the app allows you to add stickers to ready-made samples to add beauty to a photo
currently, many users call this app perfect in terms of matching sunglasses and hairstyles mainly for young guys aged nineteen to twenty-five years
more than sixty variants of various stickers in interesting topics, whether it is relaxed comic, more emotional and fiery devilish, or even mysterious shadow
a high level of visual effects to make photos realistic; for example, you can use a hook or parrot so that you can appear as a pirate and many others
the opportunity to post a photo of the created style of a unique hairstyle on social networks or share it with loved ones who will undoubtedly appreciate your style and give positive emotions
In conclusion, Boy Hair Style can help you reveal yourself from a more sophisticated side and look dazzling in the circle of style experts.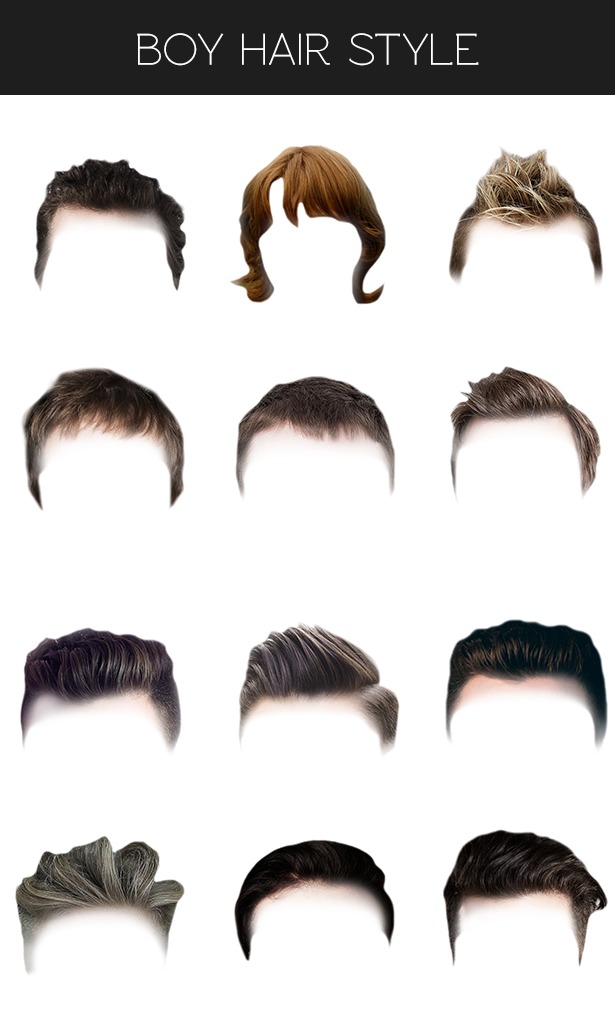 BoothStache
Have you ever wanted not only your hairstyle but also your mustache to look stylish and presentable? BoothStache is a utility that allows you to put this into practice. Thanks to the high-quality functionality and a well-developed interface, you can create a unique style for mustache and look beautiful.
The most important function of the program is the presence of a large collection of mustaches of different types and colors that you can add to your photos even when you have not yet grown them.
The app supports photos from your gallery or photos from Facebook. The program contains a number of tools to improve the quality of photography. In addition, you can save the resulting photo to your gallery or send it to other people for assessment.

It is worth noting that the app has added the ability to view the time of growing one or another type of mustache, which indicates a truly professional approach.

At the moment, BoothStache is the choice of truly confident men who want to look stylish. Download this app, which will definitely not leave you indifferent.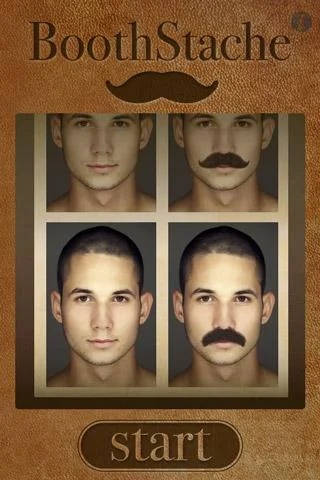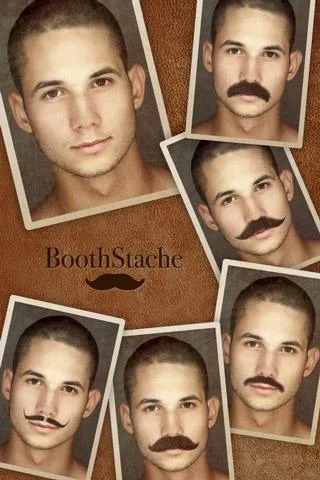 You may also like: 13 Free Apps That Let You Try Different Haircuts for Android & iOS
Hairstyle Makeover
Hairstyle Makeover can be called the most user-friendly app in the field of choosing hairstyles because it is made as high-quality and orderly as possible.
This app can be used both to entertain yourself and, if necessary, to choose a hairstyle. In addition, the utility includes a truly huge selection of hairstyles, whiskers, and beards for all occasions. All these samples were created by real professionals.
The program is very easy to use, you should just upload a photo, choose your style, and then apply it to the photo, and voila, ready. After all these actions, you can share a new style with friends so that they also appreciate your creativity and competent approach in this matter.
A nice bonus is a fact that the app has many tools that can help you create your own style in more detail. Already in the menu itself, you will find a number of beautiful examples in the form of hairstyles from designers, as well as an interesting selection of samples created by users.

Based on all of the above, we can conclude that the app will become your most useful assistant in the selection of hairstyles because its functions are constantly improving and give its users only the best options.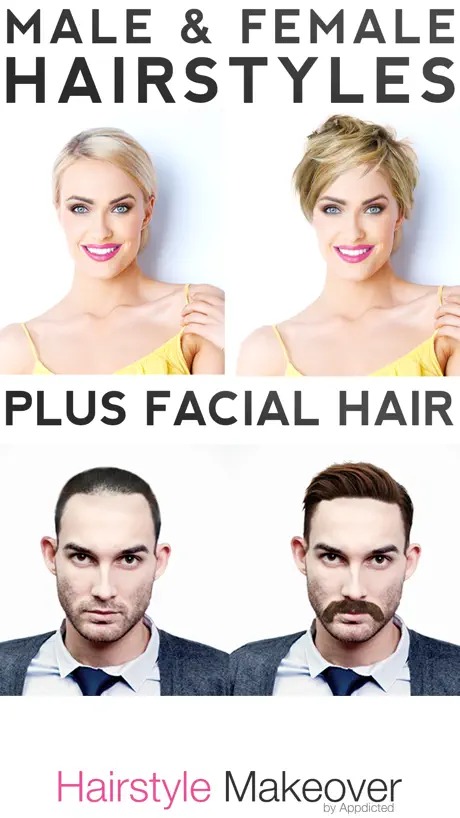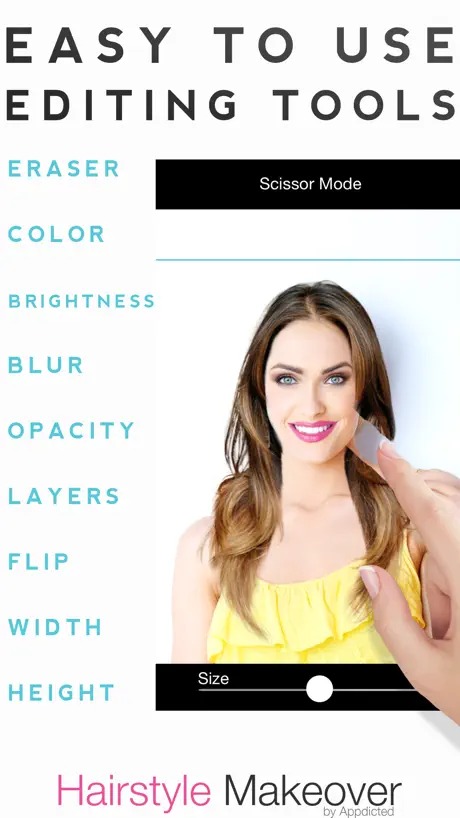 Men Haircut
If you want to find a look for today quickly and easily and do not have a lot of time, then this utility will be able to solve your problem. The program is preinstalled with a huge number of different hairstyles, and for convenience, it is sorted into collections for different cases.
As in other apps of a similar theme, Men Haircut provides a choice of hairstyles depending on the thickness and length of your hair, as well as individual user preferences. It can be either the color of the hair or the shape of, say, the top of the head or something else.
A nice bonus is a fact that the app is able to pick up a hairstyle depending on the natural growth of your hair, for example, curly or straight. Well, combinations of various styles will be able to give you new and unusual views that will fit in your heart not only with you but also with other people.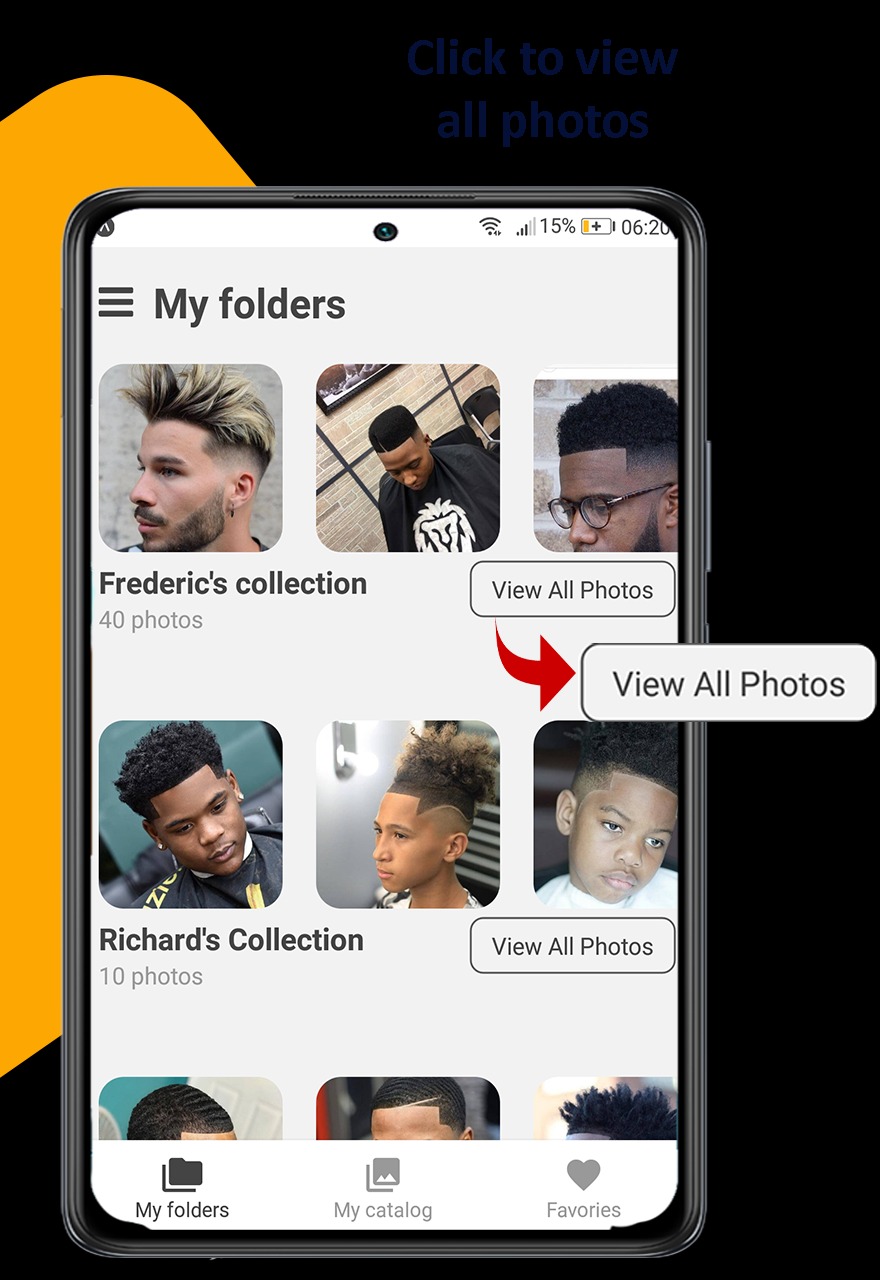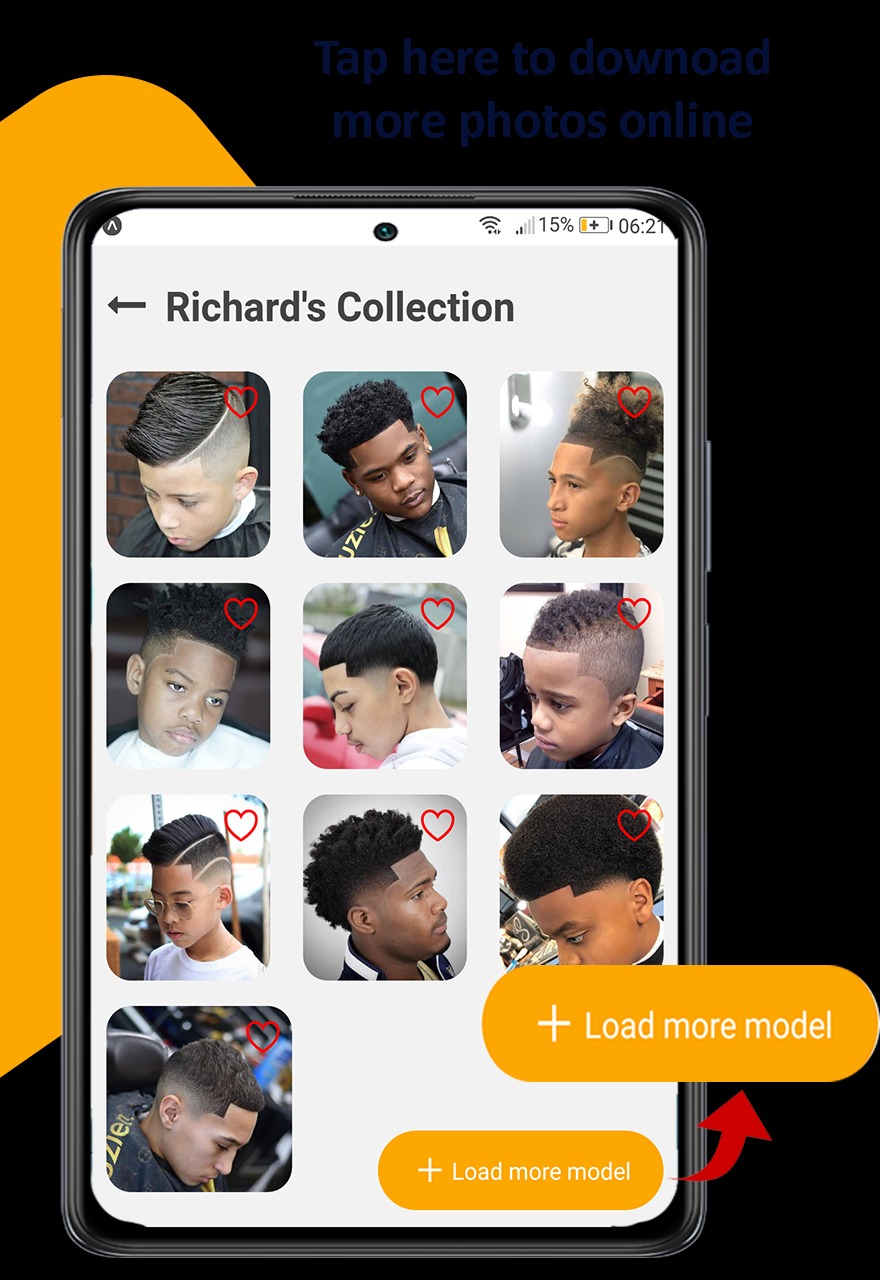 Man Hairstyles Photo Editor by Hairstyle Photo Apps
If you have decided to change your style, but do not know what hairstyle to choose, use the app Men's Hairstyles Photo Editor. Here you can try on many different hairstyles quickly and for free. Change the length and color of your hair. Add a perm or make dreadlocks.
Here is a large collection of the most popular and fashionable hairstyles. No matter what style you prefer: modern, retro, or with the addition of extraordinary details.
The photo montage app makes the work of a professional hairdresser much easier, allowing you to visualize your client's request. Select the perfect hairstyle for a boy, and evaluate the image with the presence of a mustache, beard, and sideburns.
To get started with this app, upload your photo or take selfies right now. You can add photos of your friends and family members without any restrictions. Next, choose the hairstyle you want to try on. You can decorate the finished image with cute stickers and send it via messenger or post it on social networks.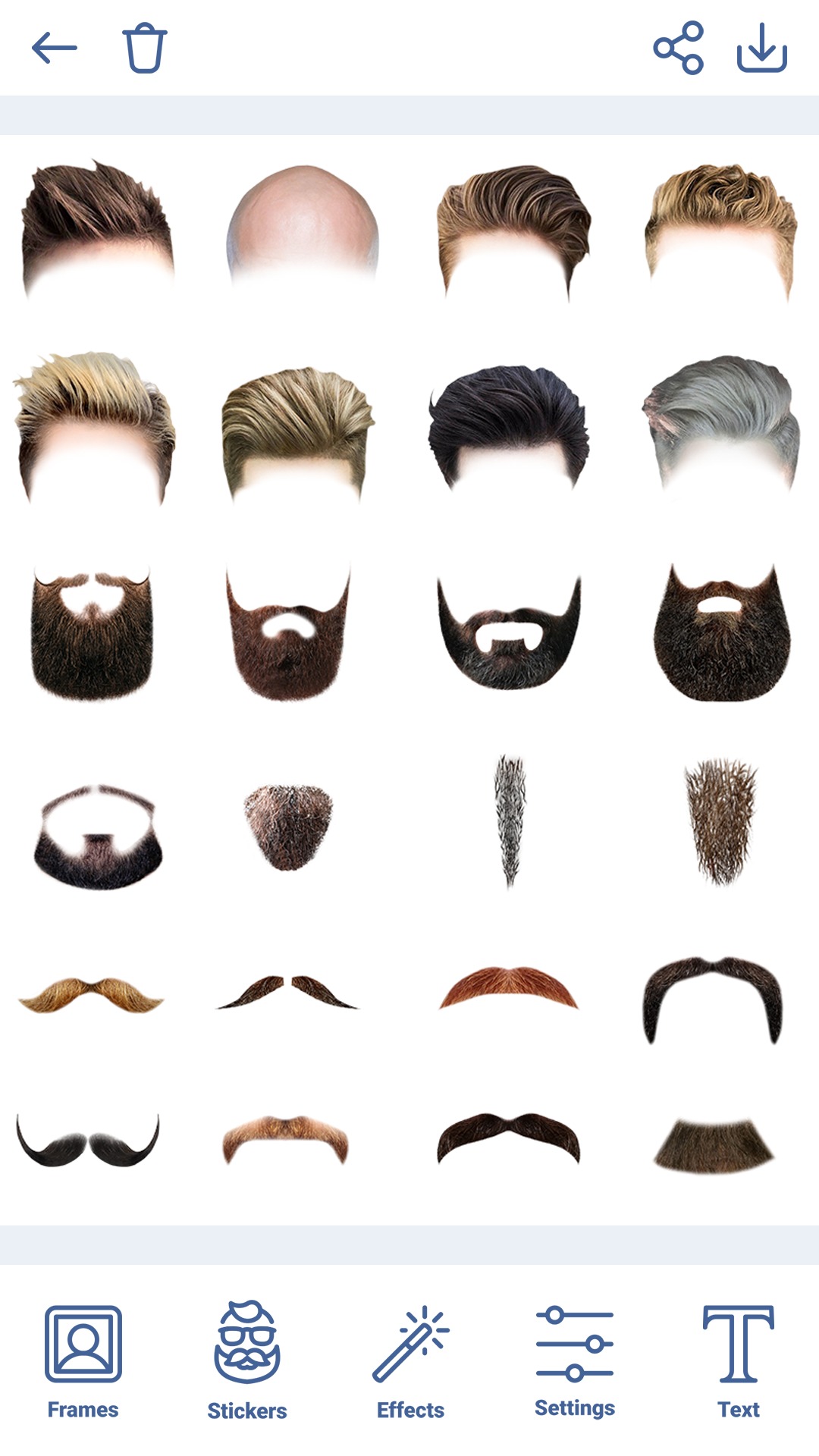 Stylist: Man photo editor & Men HairStyle, Suits
This app can be characterized by one well-known phrase: "simple and tasteful." It is not surprising, because the app combines all the most important and basic functions that make the utility one of the simplest and most convenient in choosing various hairstyles for the head, mustache, and beard.
In use, this app has been brought to simplicity. You just need to select a photo from the gallery, apply all the necessary samples of hairstyles or create your own and then share the image on a social network.
As in any app of this kind, there are a number of tools and filters here to improve the quality of photos. Well, simple orientation and a sufficient increase will make your photo one step closer to the ideal.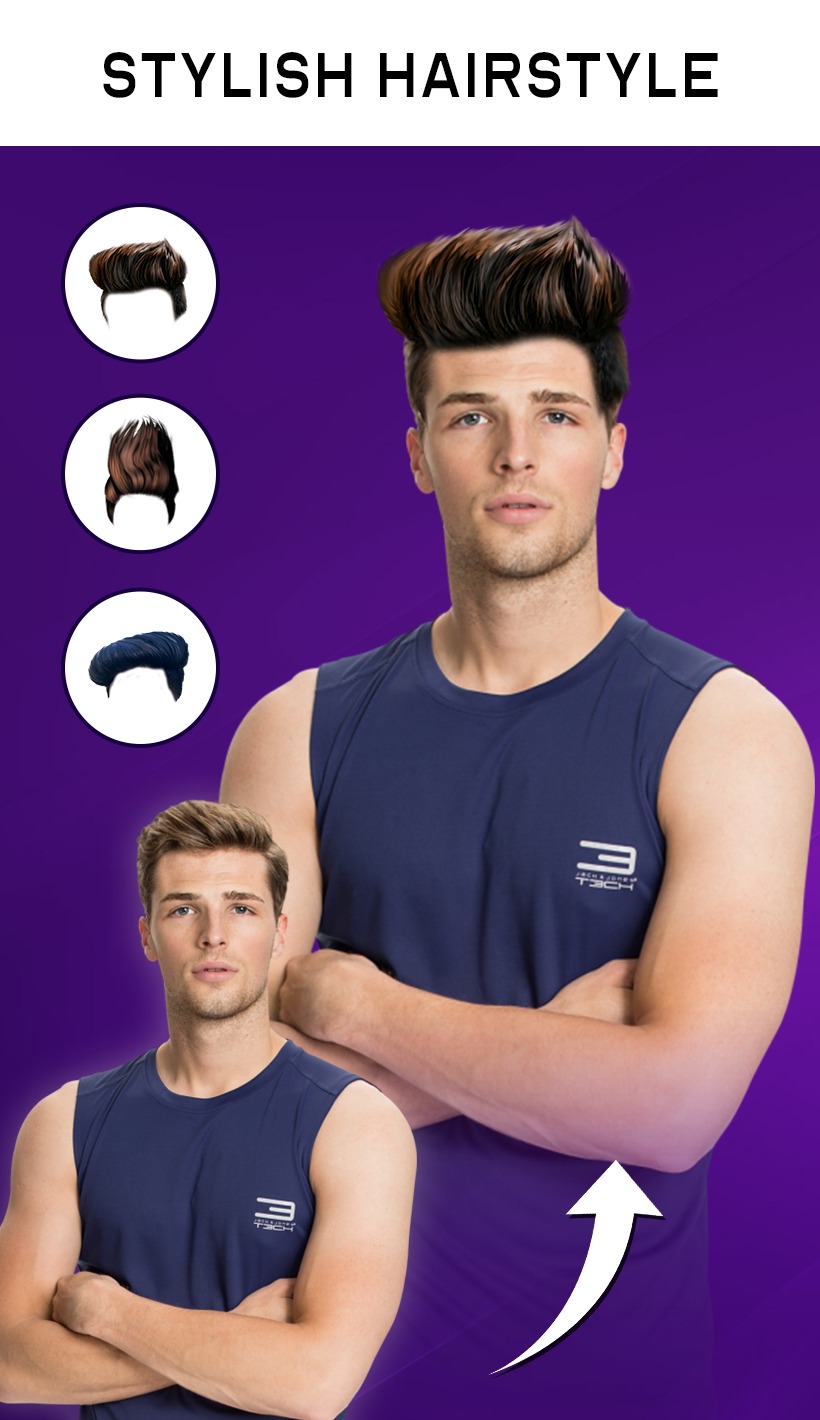 Manly Editor 2022
Manly Editor 2022 is a really good app for creating your own style and looking dazzling among the crowd. It allows you to both use ready-made options and creates your own using existing ones.
The program is divided into two modules: style and accessories. In the first of them, you can choose various hairstyles from many installed ones, in the second you can choose the appropriate accessories, for example, the same gold ring. There are two more modules: tattooed and muscular.
The first of them allows you to choose a worthy tattoo that emphasizes your individualism, while the other removes external imperfections.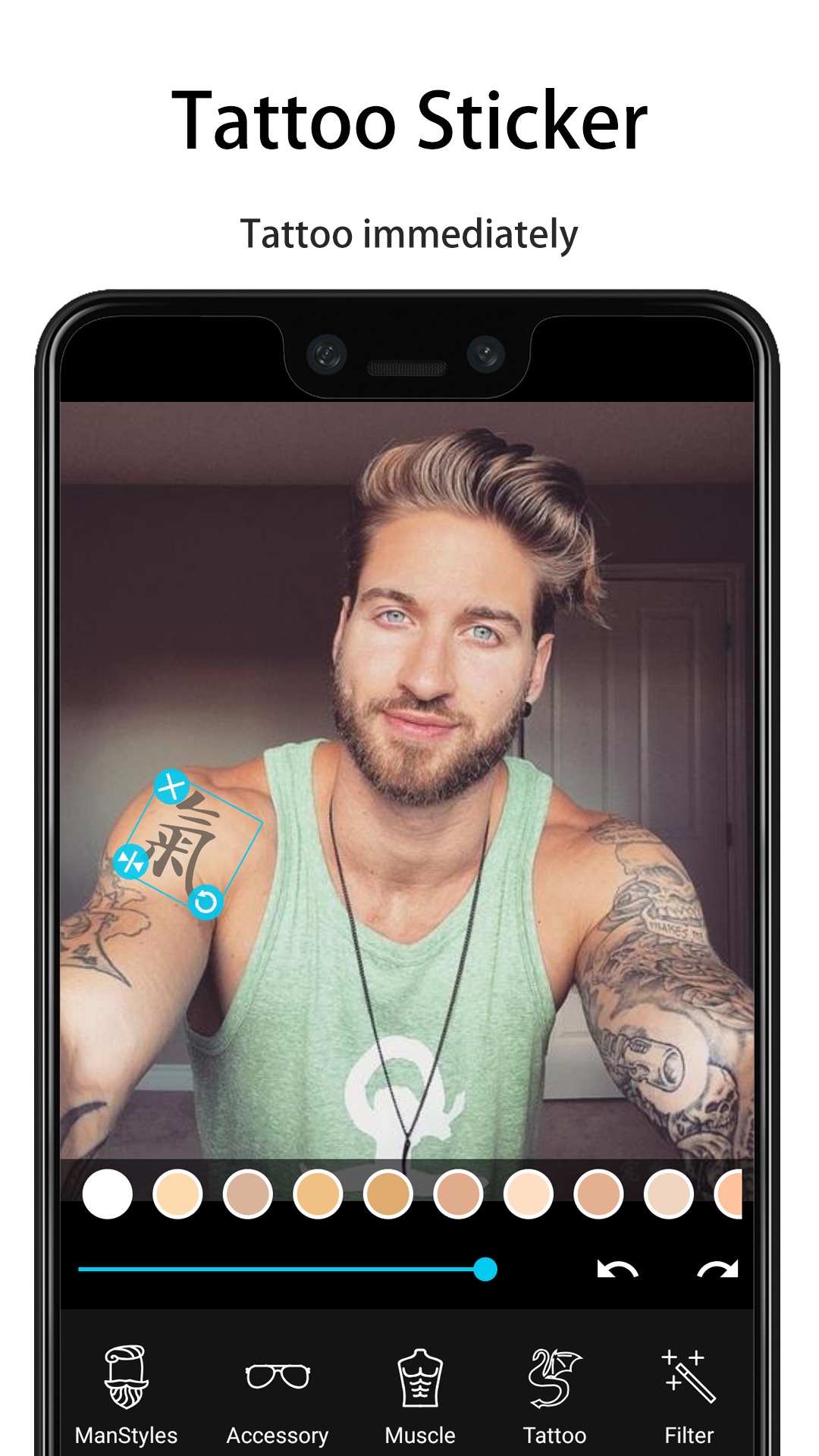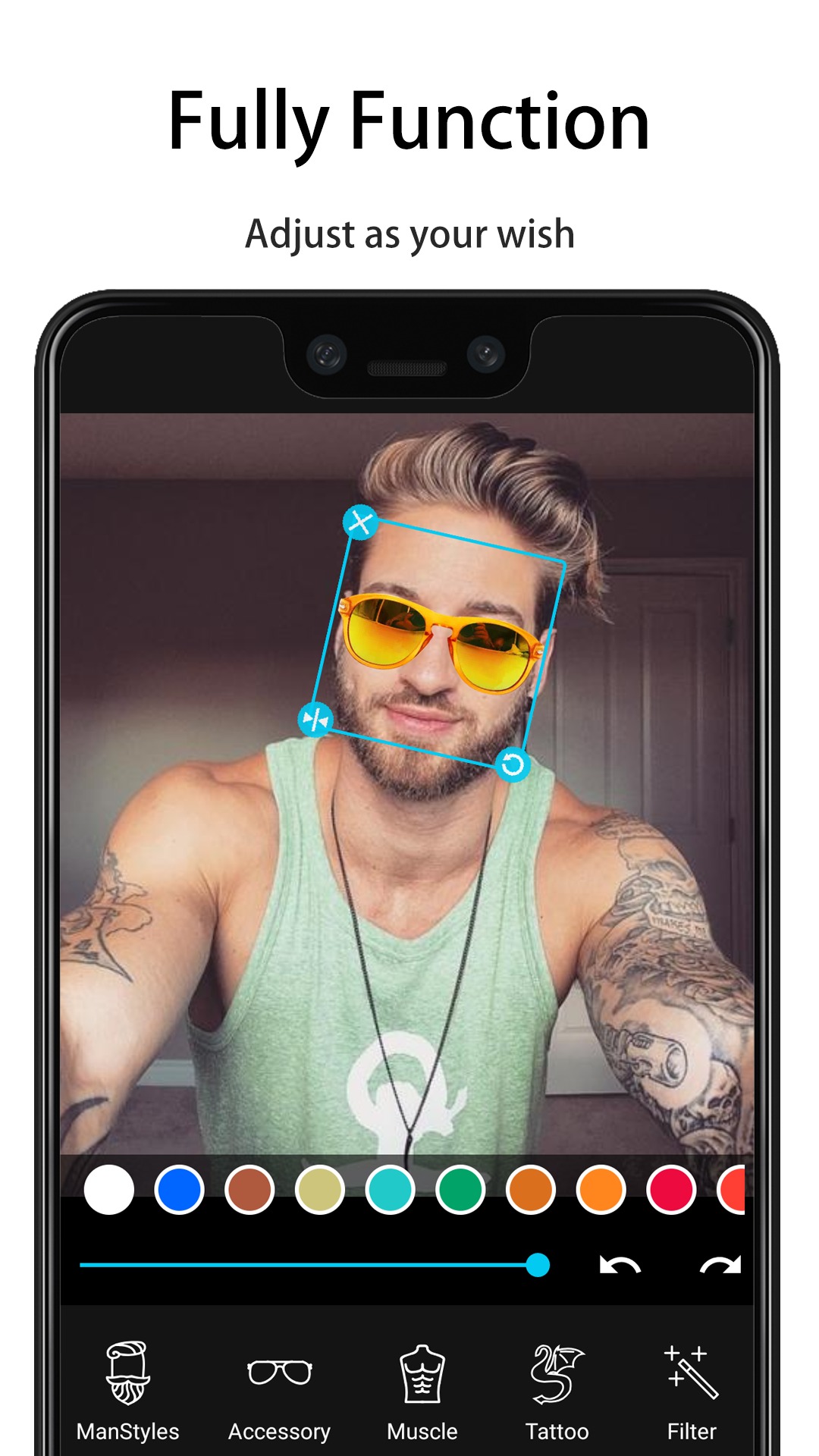 Hairstyle Changer
Hairstyle Changer lets you experiment with your look with different hairstyles and hair colors. The app offers a wide range of hairstyles, colors, and effects, including ombre, highlights, and more.
You can also adjust the brightness, contrast, and saturation of their chosen hairstyle to achieve a more realistic look.
The principle of the application is simple; you just have to upload a photo of yourself or choose one from the app's library and choose the hairstyle or color they want to try. The app then overlays the new hairstyle over the photo, allowing users to see what they would look like in real life.
You can save edited photos and share them on social networks such as Facebook and Instagram and others.
While the app is fun and easy to use, it does have some drawbacks. Some users have reported that the app often crashes and the choice of hairstyles and colors may be limited.
In addition, some users have complained that the app does not accurately represent how a hairstyle or color would look in real life.
The application may not be suitable for those who are looking for an accurate idea of how a new hairstyle or color will look on them, as it cannot allow high accuracy and realism of the picture.
Application features:
Allows you to change your appearance easily and without interference
Application cons:
Technical failures
Small selection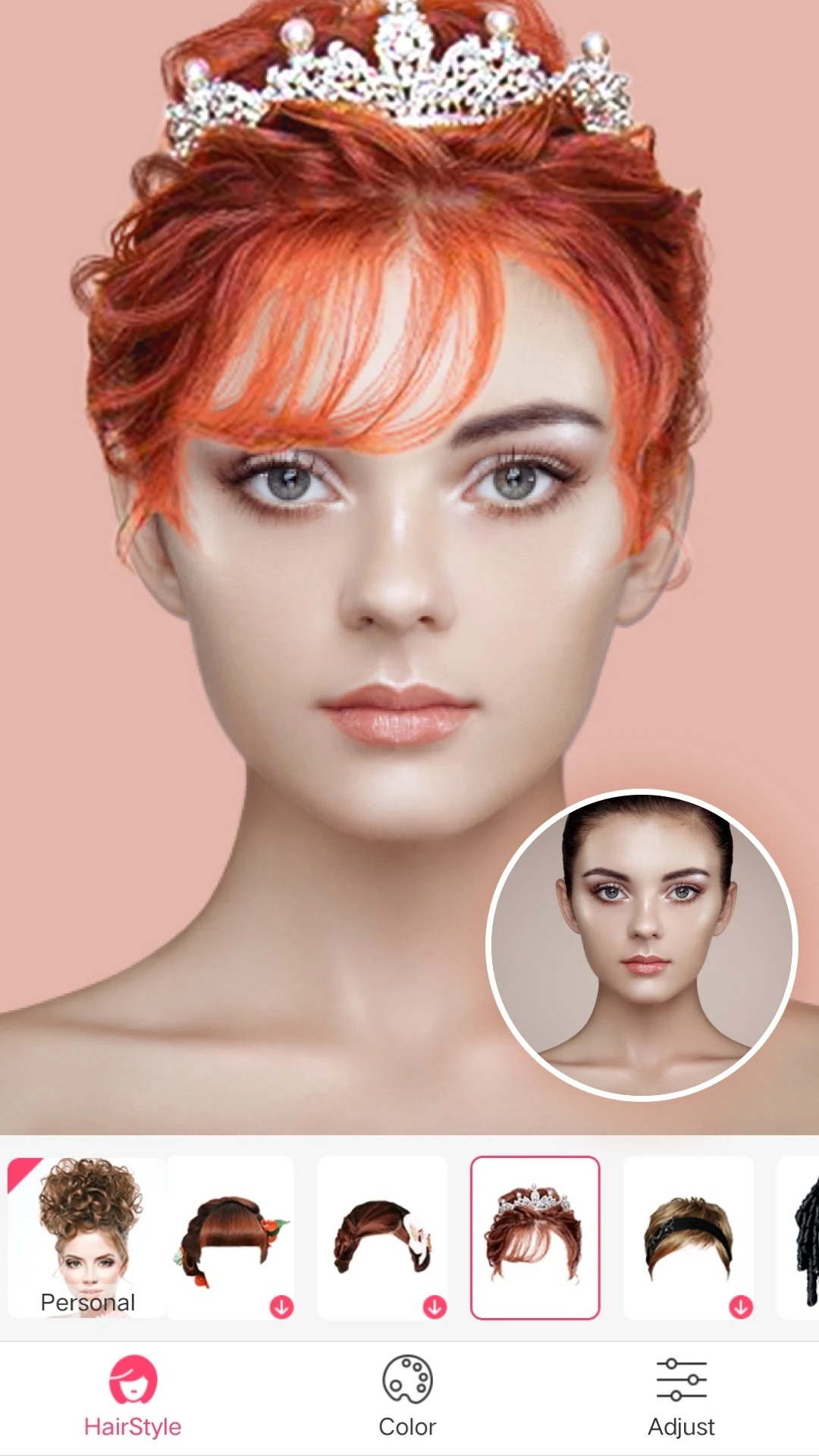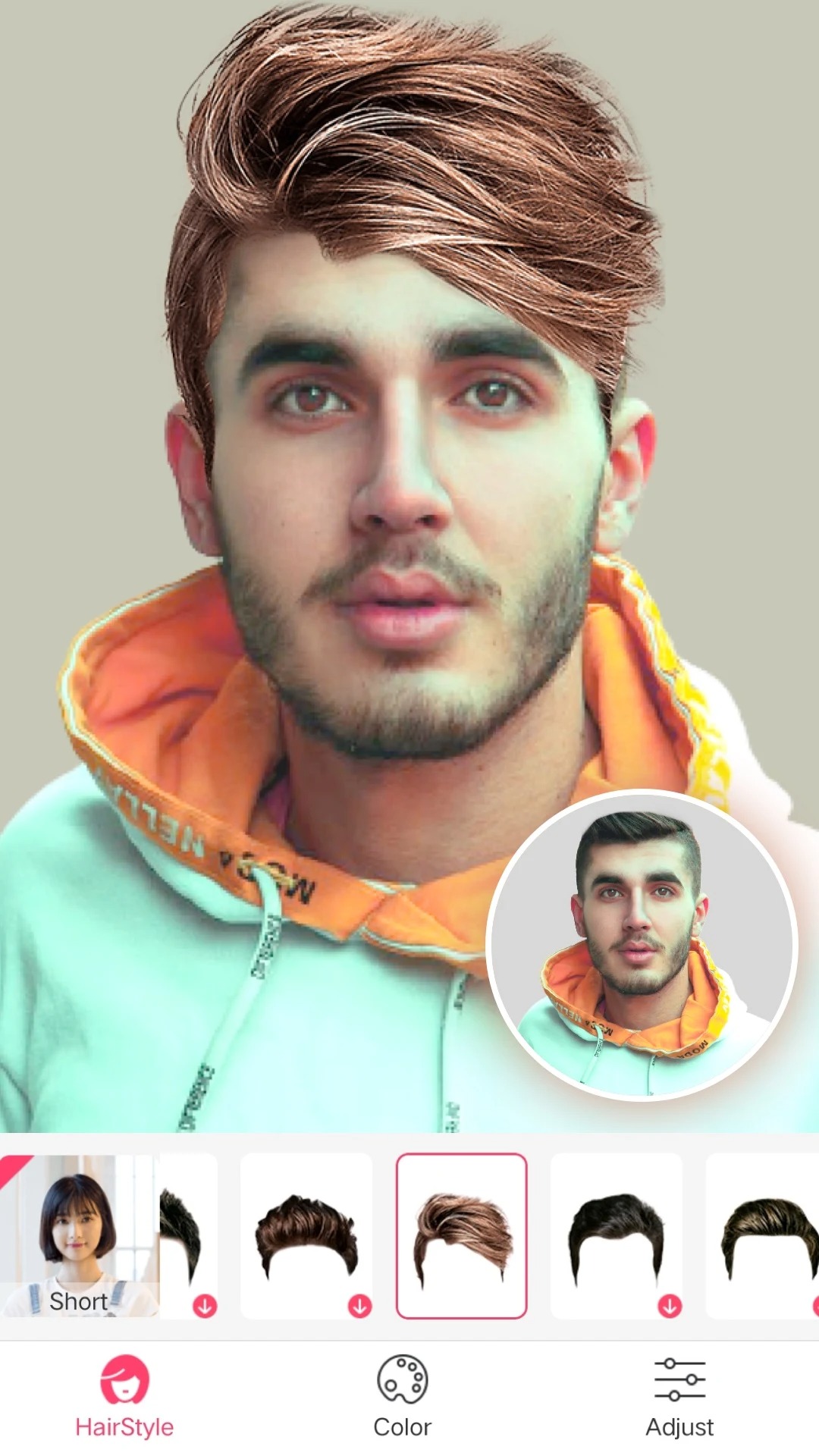 You may also like: 13 Best facial hair apps for Android & iOS
Your Perfect Hairstyle for Men
Your perfect hairstyle for men is an app designed for men who want to try on different hairstyles without the hassle of a haircut. The app offers a variety of virtual hairstyles that you can choose and try on your photos.
The principle of the application is simple: users upload their photo and choose the hairstyle they want to try. The app then overlays the hair on the photo, allowing you to see what your new hairstyle will look like.
One of the downsides of the app is that the hairstyles are limited by the app's database, which may not include all the latest and trendy hairstyles. Also, some users have reported that the app frequently crashes and loads slowly, making it difficult to use.
Some dissatisfied reviews mentioned limited hair options and an outdated interface. Some users have also reported difficulty adjusting their hair to match their photo, resulting in poor image display.
Despite its shortcomings, the app remains popular with men who want to experiment with different hairstyles before moving on to a new look.
Application features:
Possibility to change photo
Try on a new image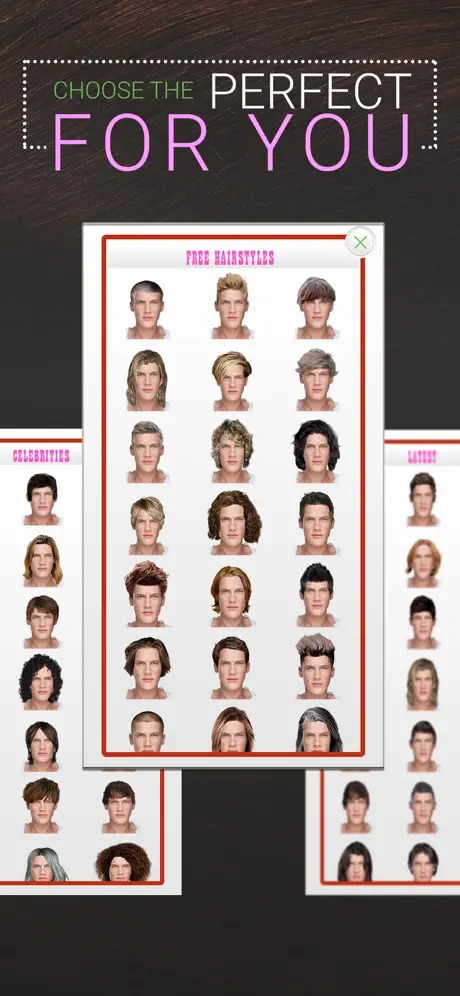 Which hairstyle suits me (male)
A good haircut can correct your face and the shape of your head. It emphasizes your style and status.
To choose the right haircut, you need to consider your face shape, hair color/texture, age, beard or mustache, frequency of visits to the barber, and style.
The apps in this review will help you choose the perfect hairstyle based on the photo and hairstyle examples in the gallery. Before that, you can decide on the approximate shape of the haircut based on your face shape:
Oval – any haircut will do, except for too long hair and too short hairstyle.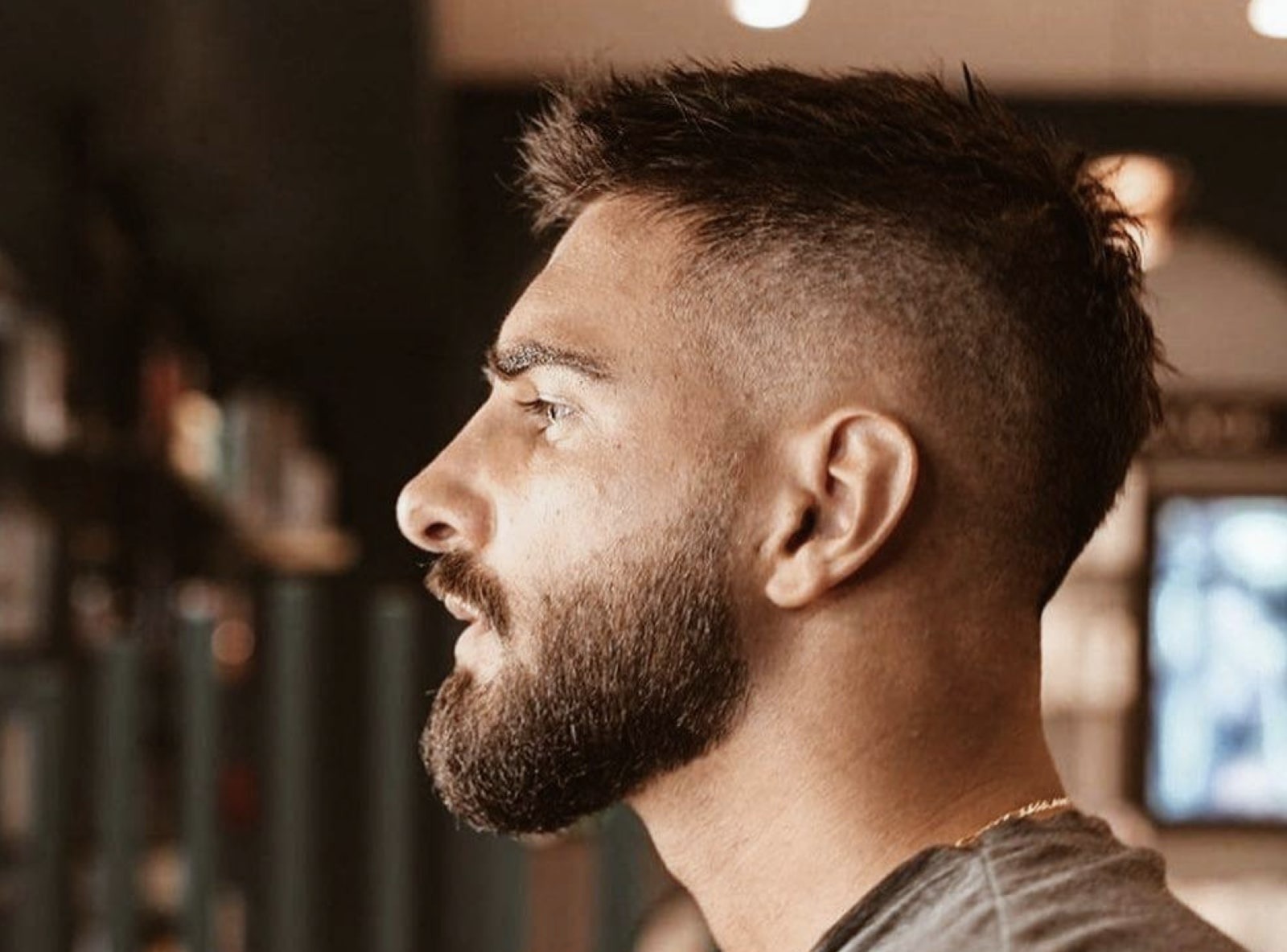 Round – asymmetrical haircuts, sharp angles, long hair on the top of the head, and high/voluminous hairstyles are suitable.
Rectangular – refuse high haircuts and long hair, do not make too short haircuts, and do not style the hair too voluminous on the top of the head.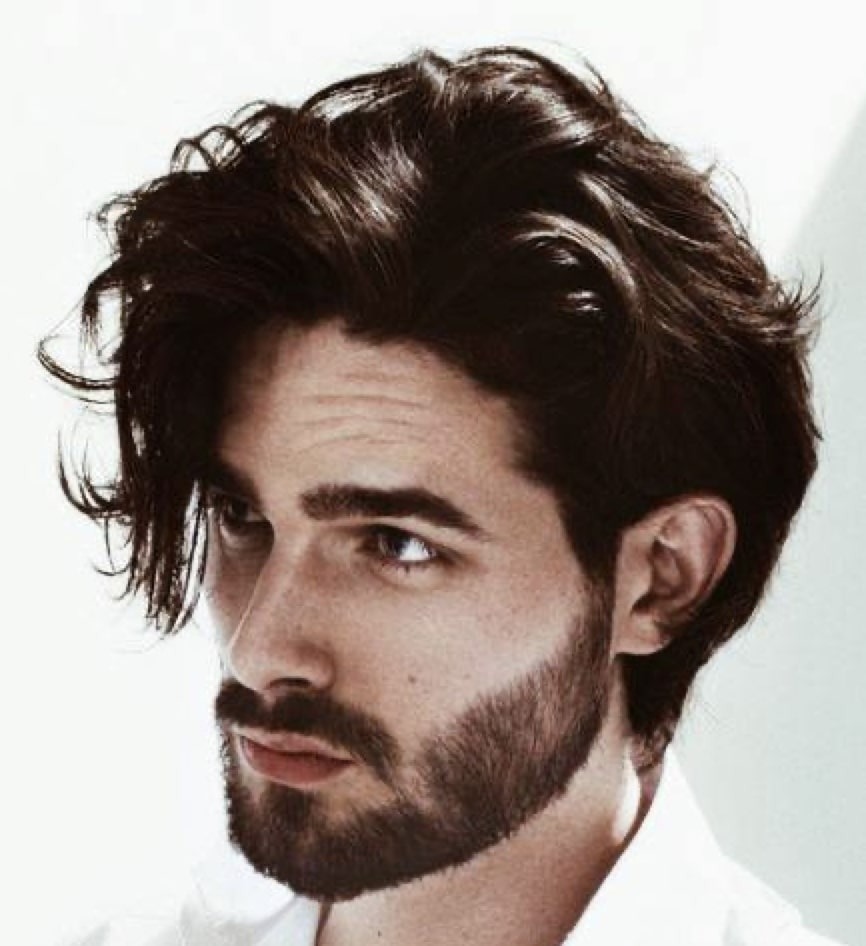 Square – choose rounded haircut shapes.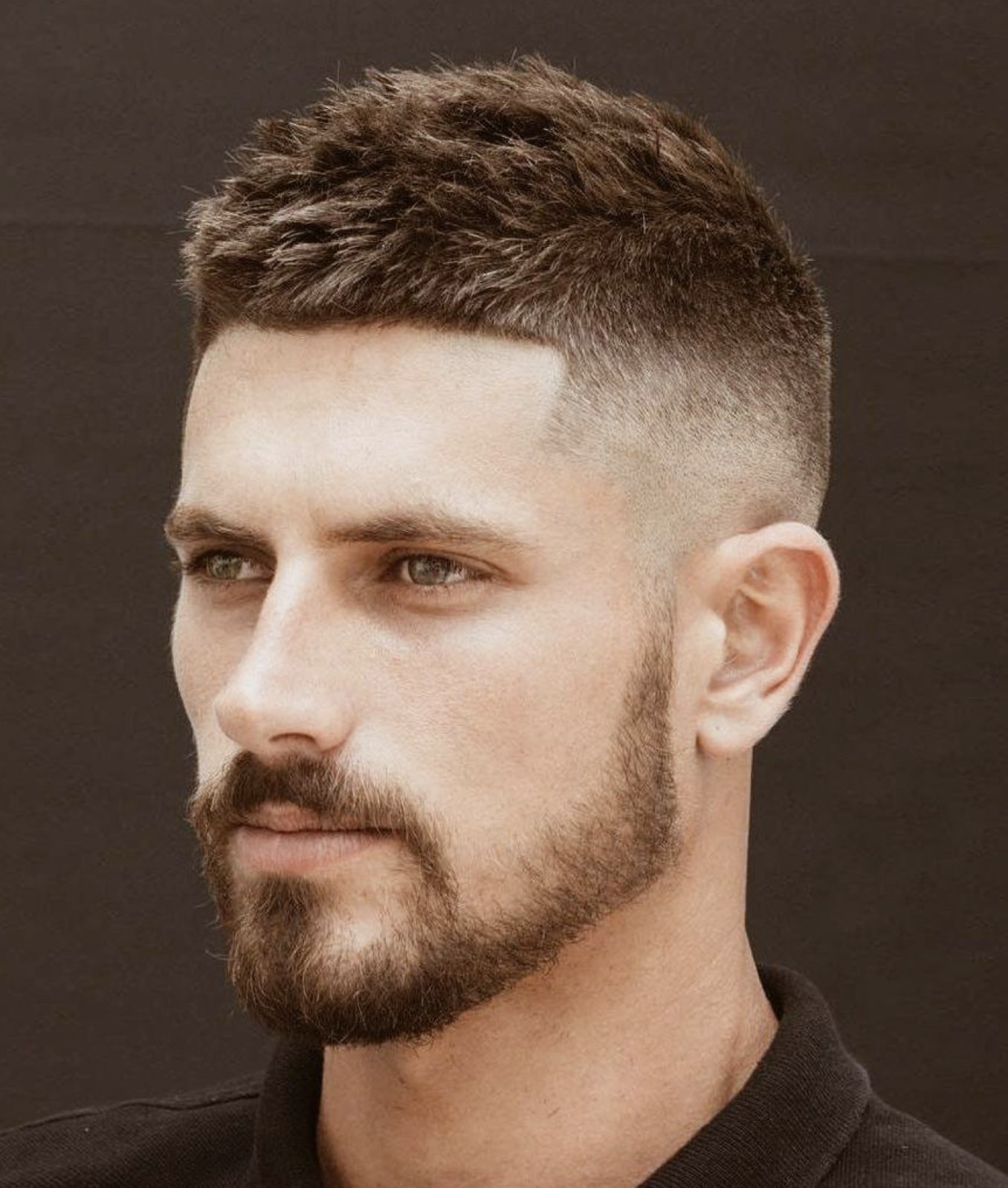 Triangular – go for a haircut with short hair on the sides and a longer top.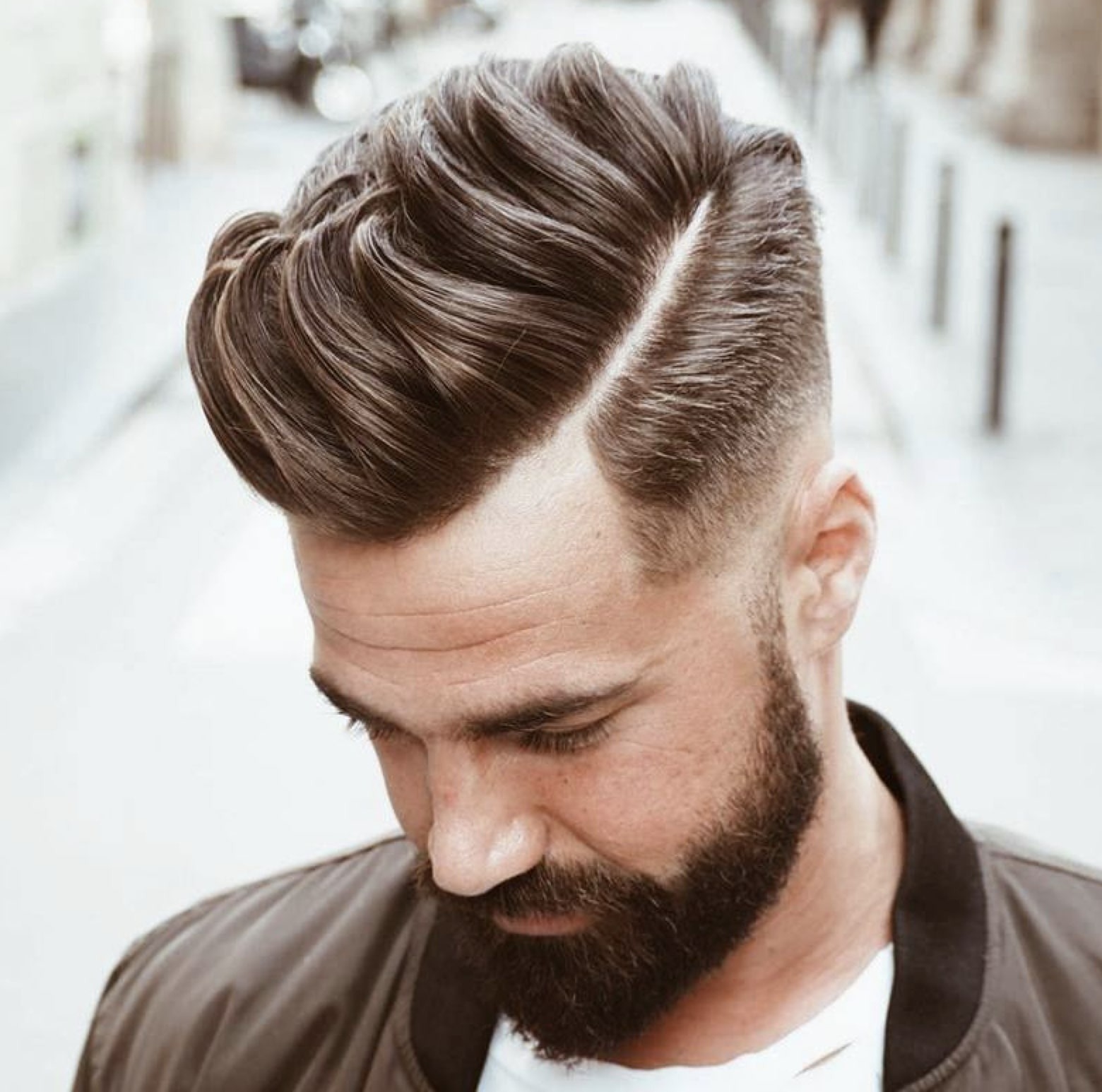 Heart – long hair will suit you.
Rhomboid – avoid slicked-back hair, opt for voluminous medium-length haircuts.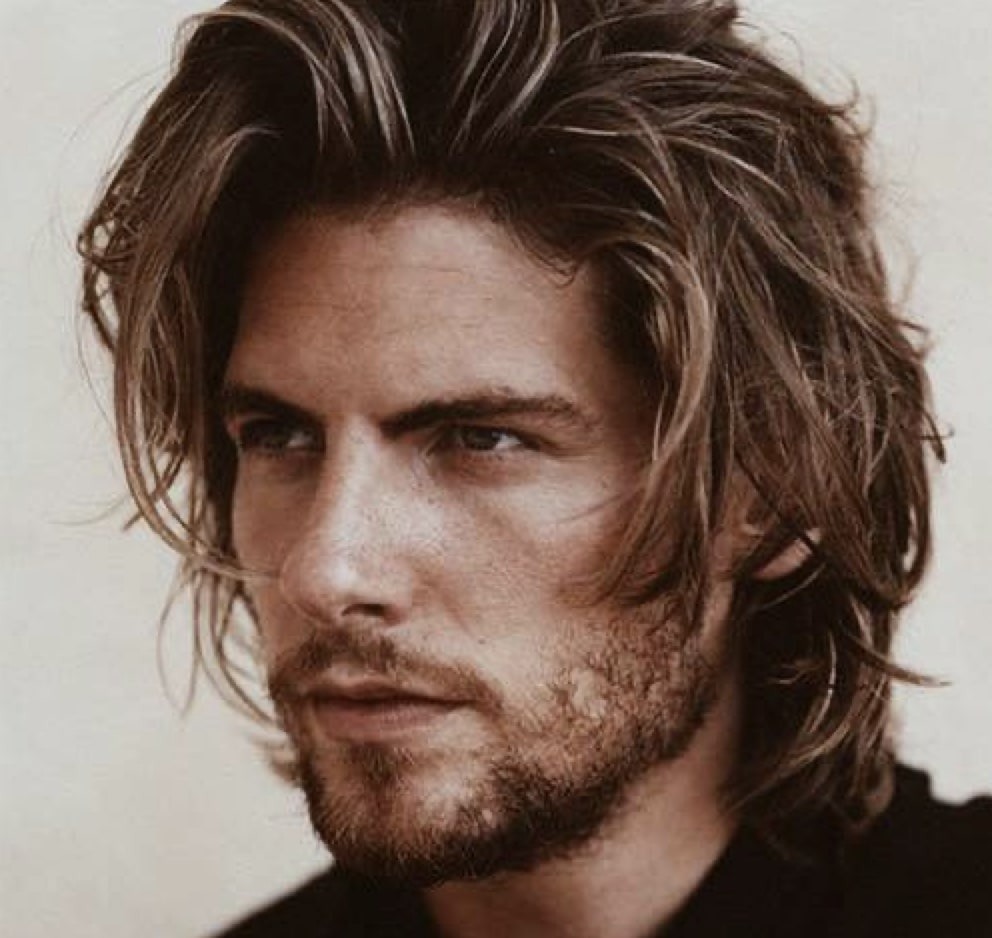 Pear – create volume at the top of your head by using a layered haircut.