Herbs are known to carry a lot of beneficial elements which are often found in chemical medicine, but herbs have that in a natural way. Moreover, with the popularity of the organic lifestyle people started to show more interest in herbal products.
In the following article, you will discover the best herbal apps that will help you to find the necessary herbs for you. By the way, if you also want to get the best organic food, you can check out the article about the best vegetable market apps in the USA.
iHerb
When you think about herbal products, iHerb is probably the first thing that comes into your mind. It is the most popular herbal online store in the whole world. It has been on the market since 1996 and it has been the leader of its segment since then. It provides products for health and wellness.
Here you will find the broadest assortment of products starting from vitamins and dietary supplements and ending with groceries and cosmetics. The store provides delivery to more than 185 countries and the company cooperates with more than 40 delivery services.
One of the advantages of iHerb is that it provides valuable products at affordable prices. You will also find the weekly deals that I heard and you will be able to save up to 50% of the supplements price.
The products from iHerb are known to have great quality. In general, here you will find all the supplements and herbs you're looking for even including the goods for pets.
As for the app itself, it's quite a nice app taking into consideration that the majority of the online store apps are usually an absolute mess. Here you just open the main page and see the best deals at the moment. The search bar is placed at the top of the screen and you can quickly check out the product you need.
You add the product to the cart and then pay. Also, each product contains an extremely detailed description and you can read the reviews.
Main features:
Shop for organic supplements & foods
Fast and easy delivery
Best price deals
The broad assortment of supplements
Great quality products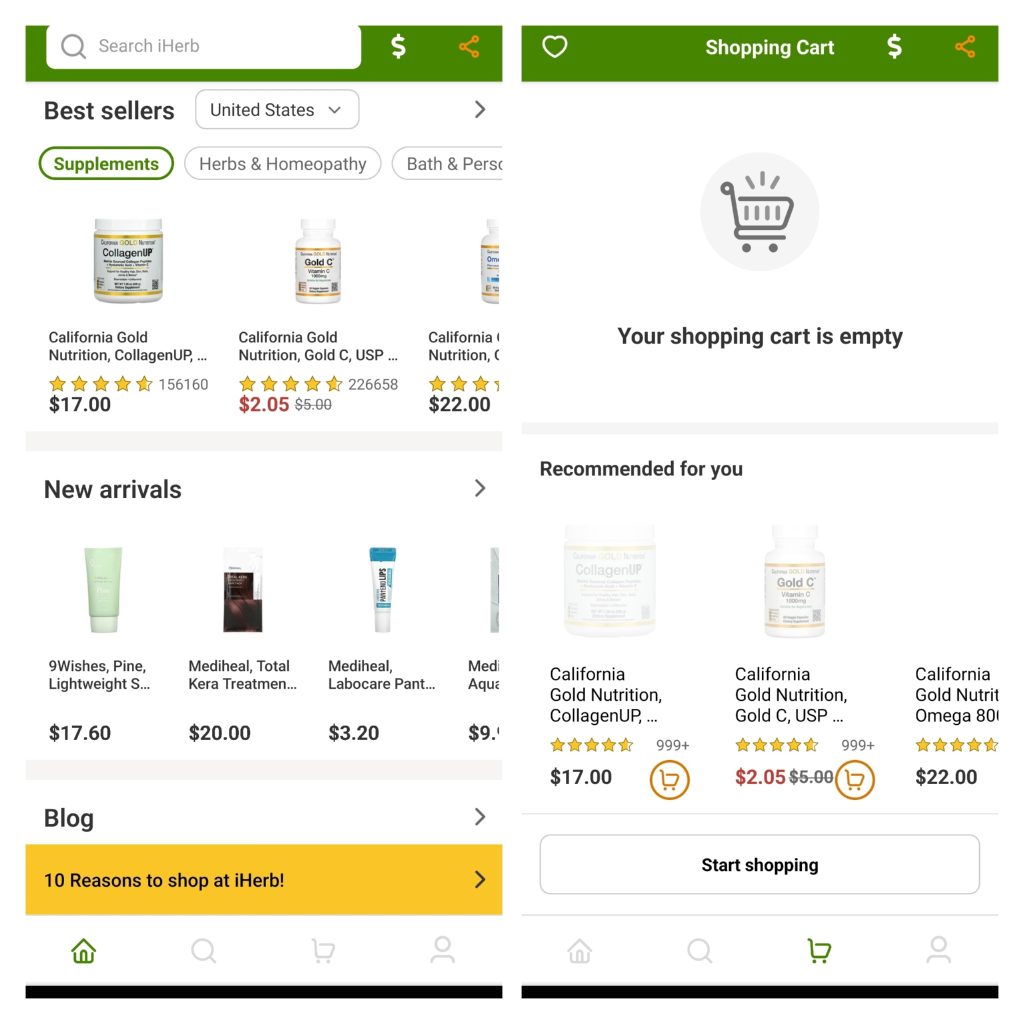 You may also like: 11 Best Apps For Vegan Recipes (Android & iOS)
Herbalife Shop
Herbalife Shop is basically an alternative to iHerb. It doesn't provide a wide choice of various supplements and herbal goods, but it is still a good runner-up.
Here you can also find an online store where you can buy the best herbal products. But unlike the iHerb app, here you can also find a community of natural and organic product enthusiasts and find tons of useful information there.
There is also such a feature as the Nutrition Club where you can get useful tips on nutrition and discover new information in general. One interesting feature of this app is that it can provide a consumption report for you.
It sends you reports for certain periods of time and helps you to reduce the waste of products and the use of hazardous materials. And in terms of the online store, you can order any product in seconds, the procedure of buying here is quite the same as in any online store.
You just add the product to your card and then pay for it. Of course, the app doesn't cooperate with that many delivery services as I heard, so delivery to some disappointments might be problematic.
And to be honest, we didn't really like the fact that you need to create an account first before you can even look through this app. And that's probably the biggest disadvantage of the Herbalife shop, lots of users have errors and bugs at that stage, so they just cannot create an account and they cannot use up in general.
Main features:
Online store with organic supplements
Nutrition Club
Consumption reports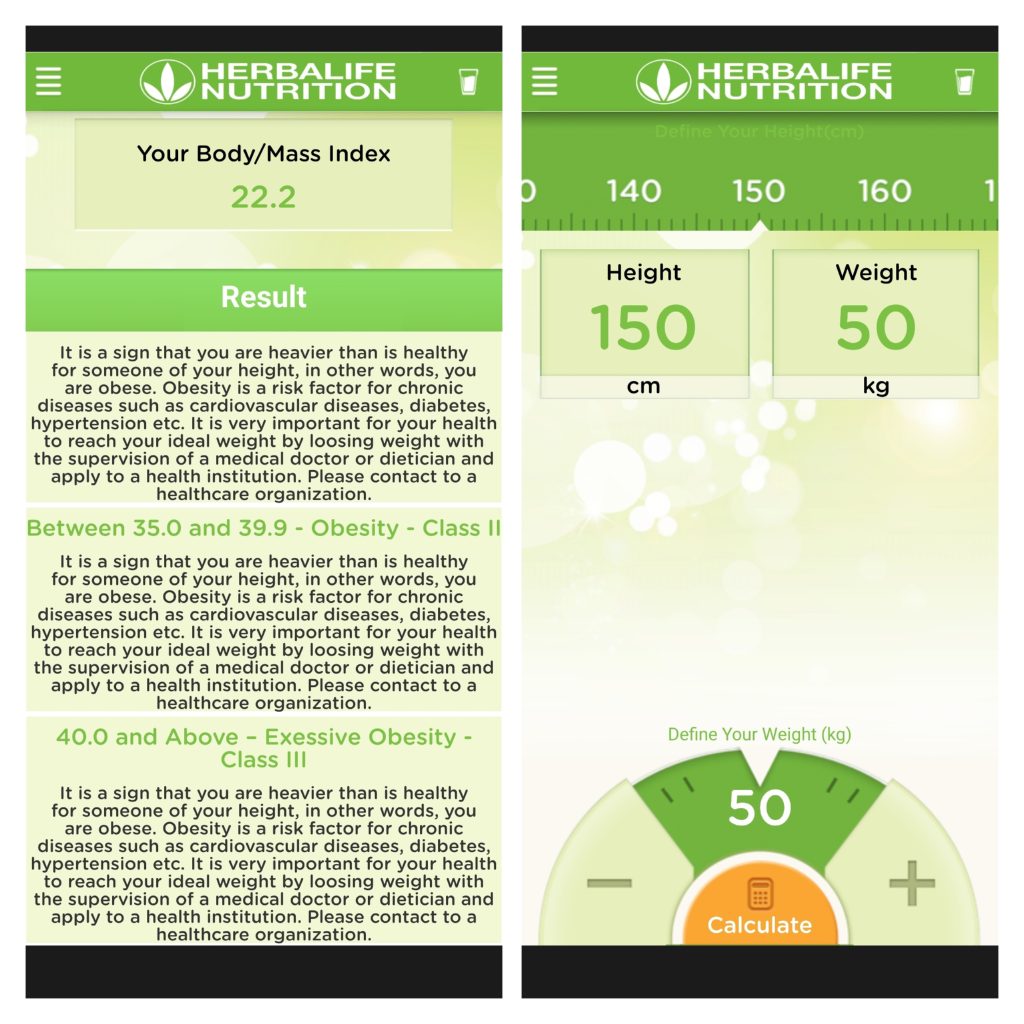 Herbs Encyclopedia
Herbs encyclopedia is one of the best apps about herbs and chrome plants in general. Here you can find information about the useful properties and health benefits that this plant. The app has a user-friendly interface so users of all levels will find it easy to navigate here.
You just open the main menu, and there you can scroll down and see the list of the most popular plants or fruits or vegetables if you click on them, you will be able to read their description of them, the information about their properties, about their special features and how you can consume it to your meals.
There are also a lot of useful articles about human health, and how you can use ground plants and herbs to detoxify your body and improve your Wellness overall. You will also find the recipes here.
As for the herbs, there is a separate section for them, and there you will find more than 100 different species of herbs and detailed information about each of them. With specialized the fact that all the information is divided into categories so it's easy to read and understand.
And of course, H plant and Herb contains several pictures so you could understand what they are talking about. Overall, this is a great, useful and informative app that we would recommend to anyone who wants to take their nutrition to the next level.
The only drawback here is in order to get access to some articles, you will have to watch ads in advance.
Main features:
The separate section about herbs
Each plant and herb has pictures and detailed information about it
Information is structured and easy to read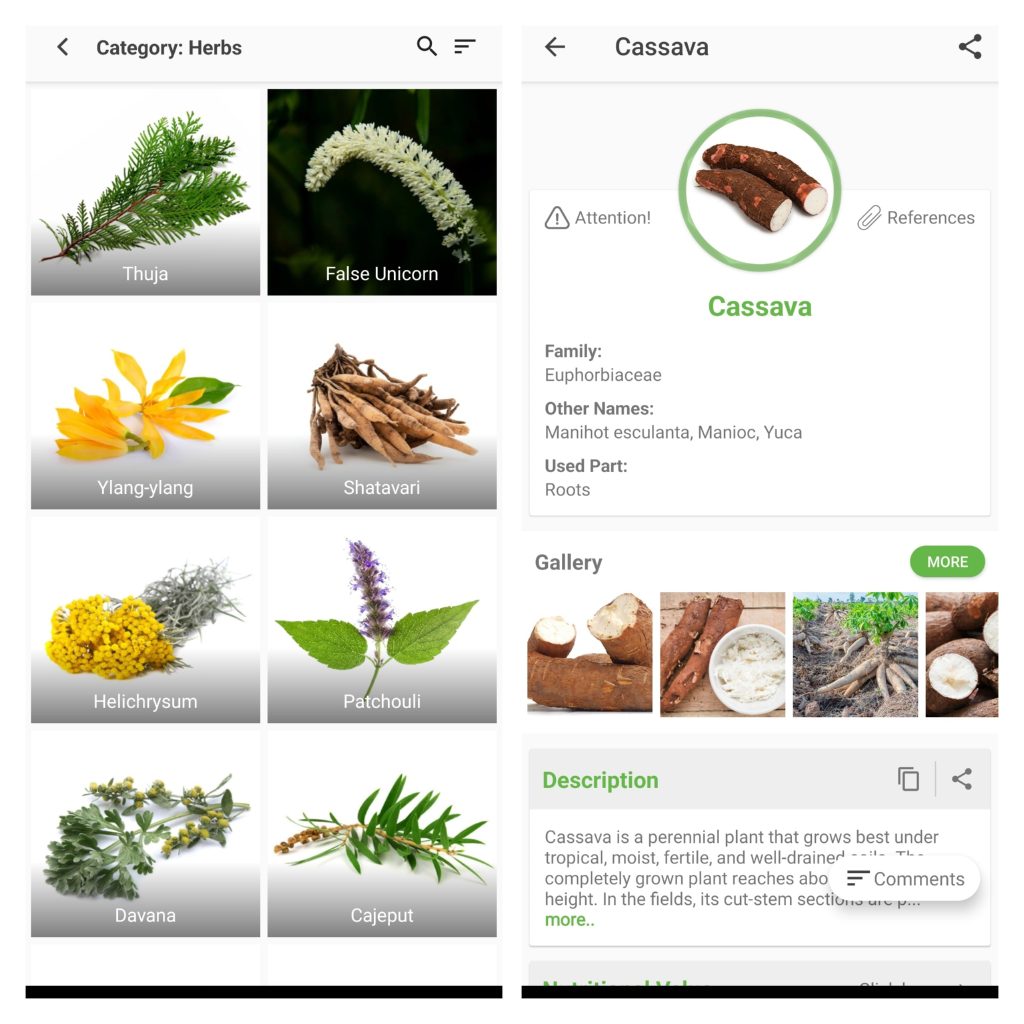 You may also like: 7 Best Food Safety Apps for Android & iOS
Healing Medical Herbs -Their U
This is quite a simple app about medical herbs and how to use them. It basically a collection of articles where you can read in detail how to use the herbs and which herbs to use. You can also search for a certain herb and read about its healing properties.
The good thing this app also contains pictures of different plants and herbs so it would be a little bit easier to navigate here for the newbies. In all other aspects, there is nothing special about this app. And remember that before using any herbs as the medicine, you should consult a specialist.
Main features:
Catalogue of the medical herbs
Scientific articles about herbs and their healing properties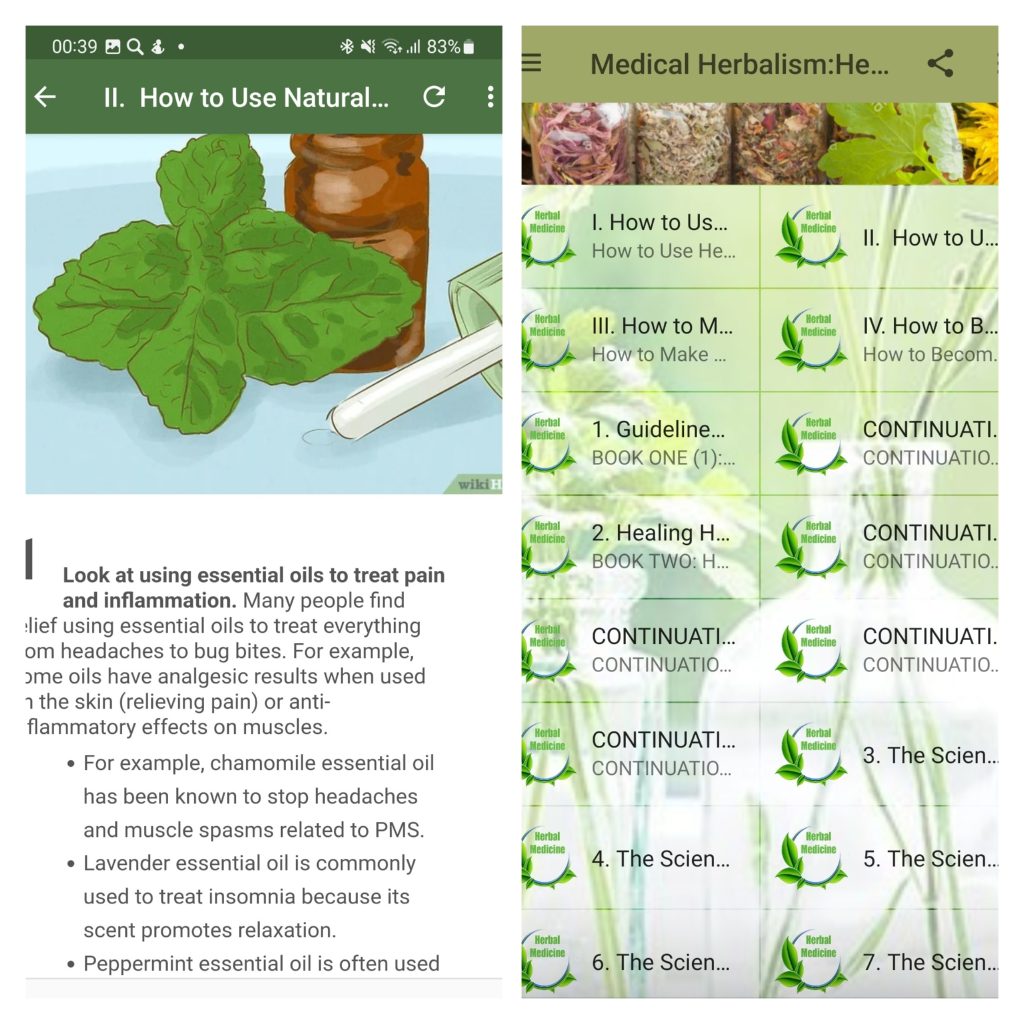 About Herbs
About Herbs is a nice app about herbs and vitamins. It contains a dictionary that you can scroll through and find out information about any type of herb. Or, you can use the search bar at the top of the screen and find the info about what you need.
You can also bookmark the herbs or add them to your favorites. The whole information is nicely structured. There is not too much to read, but for some people, it might be a plus. In addition, there are pictures of herbs and vitamins so you could have a better idea of them.
We didn't expect much from About Herbs, but it turned out to be a decent useful app with a well-designed interface.
Main features:
Catalogue of herbs with images
Search bar for the herbs
Add bookmarks and add herbs to your favorties
Nicely structurized infromation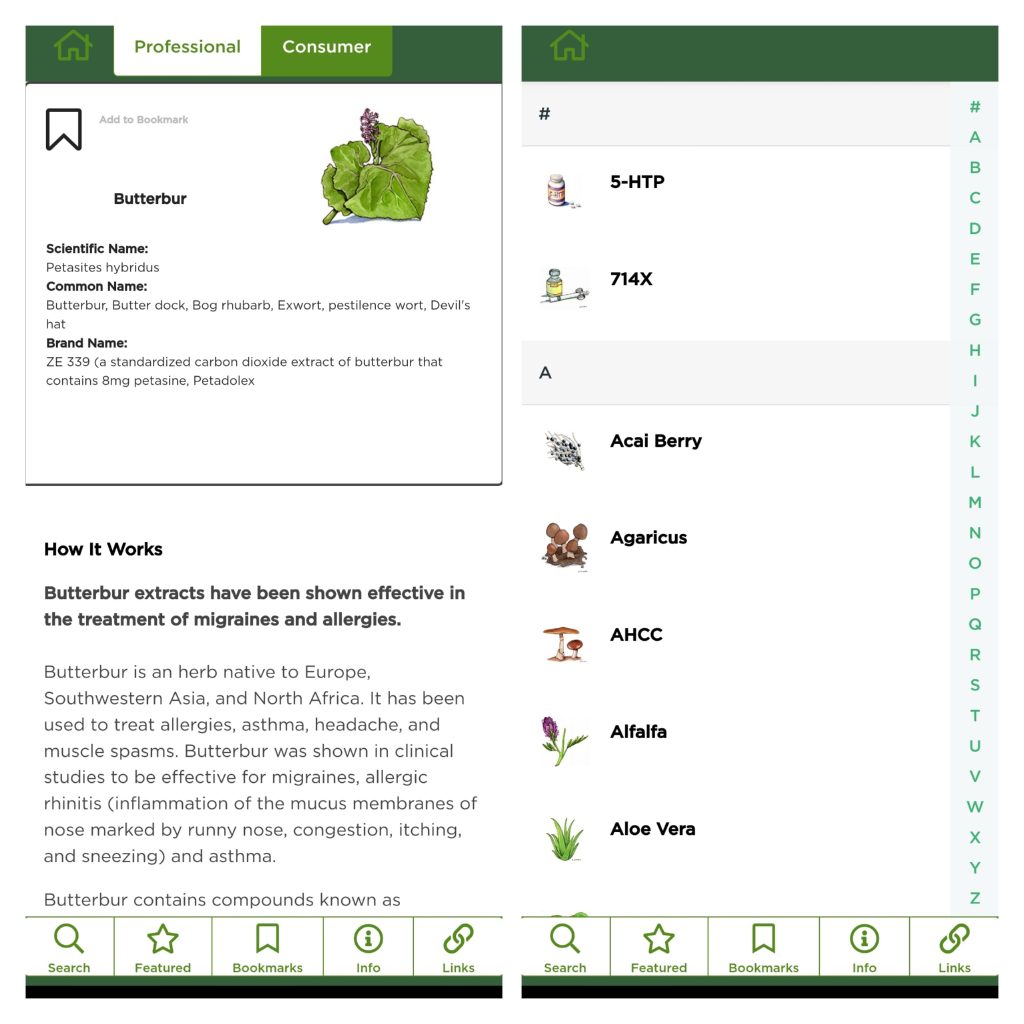 HerbList
HerbList is basically an analog of the previous app, but here you will find a shorter list of herbs and plants and also this app doesn't have a search bar. The interface design is a little bit obsolete, but in general, there is nothing so terrifying about it.
Each herb has a detailed description where you will find out how you can use this particular herb and which healing properties it might have. But we also discovered that HerbList contains a little bit of extra information, for example, it recommends going to some external websites to find more info.
We wouldn't recommend doing that, since this app obviously trades the data. Before we could use it, it asked several times about the data permission that we didn't notice in other apps of this type.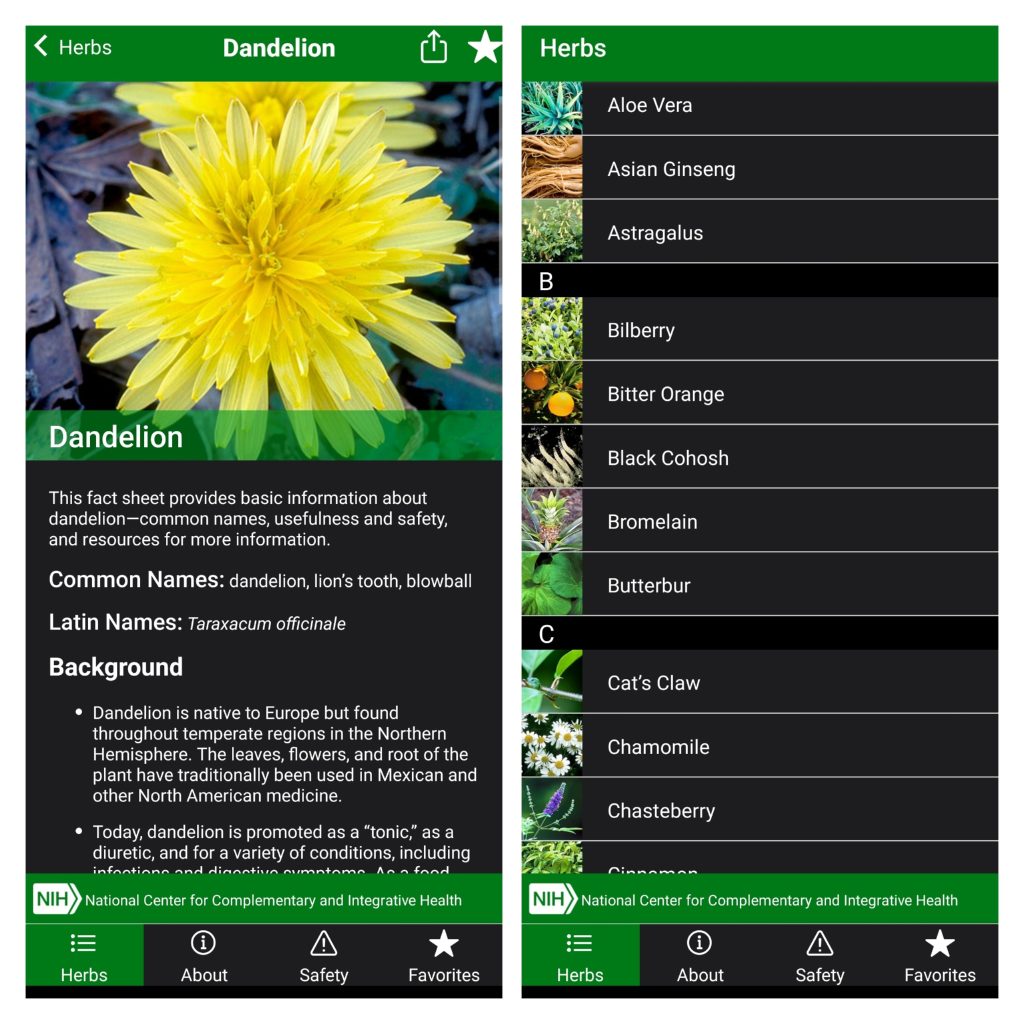 Check also: 15 Best Food Coupon Apps for Android & iOS
Herbs Dictionary Pro
This app is what it exactly says it is – it is a herb dictionary where all the herbs are sorted in alphabet order and you can scroll through it and find the info about any herb you need. Each herb contains a picture and nicely structured information about it.
On the other hand, this app has lots of downsides. First of all, you can view only the first several definitions of herbs for free, the others are locked. Moreover, the app has a super obsolete interface design that is not pleasant to use and creates less trust in all the information in here since it seems it hasn't been updated for ages.