Hey ladies, who don't like lingerie shopping?! It's always exciting, when was the last time you thought about getting a new bombshell bra? Maybe it's time for it? In this article for you, we have prepared the best lingerie shopping apps.
And in case you want to shop not just for lingerie, we also gathered the best online shopping apps to enhance your experience.
HOOSTLER – Lingerie Store
This online store offers a large variety of underwear that will suit every person.
Do you want to wear something hot, cute, or revealing? You can open the catalog and see hundreds of different bras and panties that are suitable for any shape.
No more only slim models. The store's designers create beautiful underwear for both super-skinny and plus-size women.
Moreover, men can also find something for themselves here. Do you like classic panties or see-through lace ones? Who says men don't wear lace? It's so pretty!
Customers will appreciate the collection of HOOSTLER. There is something to see here.
For those who prefer closed outfits, there is a catalog with more modest bras and panties. They are elegant and will be suitable for any occasion – as lingerie for everyday wear or sensual nights with your partner.
However, if you want an outfit that will reveal your sexy side as much as possible, then definitely open the tab with a collection of hot underwear.
Here users can find thongs, bodysuits, robes, and erotic dresses. Any fabric, pattern, and color – everything you would like.
In the store, customers will also find club clothes, wigs, and shoes. There is everything to create a unique look!
Advantages:
The clothing collection is always updated so that users can be sure that they are buying underwear according to the latest fashion trend.
The payment system is quite fast and convenient.
The store often has sales and makes discounts.
Drawbacks:
Sometimes the app loads catalogs for a long time


You may also like: 15 best apps to buy clothes on IOS & Android
Victoria's Secret MENA
This is a brand store for fans of goods by Victoria's Secret.
Plunge into the world of fashion by choosing bras and panties of any color and style. The store offers both extravagant outfits and cute delicate underwear that will suit any girl.
There are not only a large number of different underwear, but also swimsuits, pajamas, cosmetics, accessories, and much more. Everyone will be able to find something unique and perfectly fitting.
Victoria's Secret certainly cares about how the underwear will look on customers. That's why users of the service can choose between different fits and comfort.
The app will also help you find out your exact size so as not to make a mistake and buy only the perfect underwear.
Just click on the appropriate section and watch a short video that describes in detail the instructions on how to measure the body. Then transfer the results and get your size!
Advantages:
Customers can receive an order in the official store and home delivery.
The app updates its catalogs regularly.
The service is also useful when users are already in the official store and want to check the availability of sizes, styles, and so on.
Drawbacks:
Long loading of the app and clothing catalogs.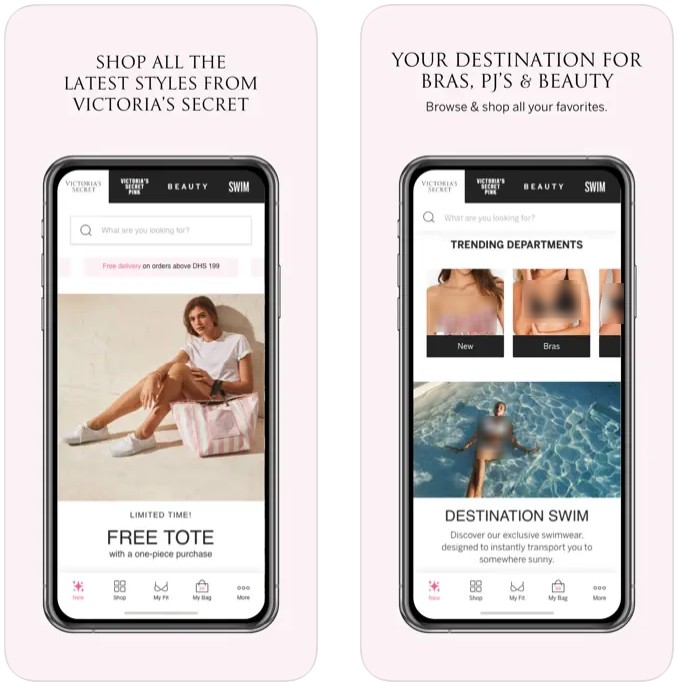 Lavinia Lingerie
This is a great app for online shopping, with the help of which customers will purchase new, beautiful, and high-quality underwear.
Using the service is very simple. Just log in, choose the perfect outfit and make a purchase, and then just wait for it to be delivered to you!
The only difficulty that can occur in this application. so it's a choice. Because the collection of bras, panties, bathrobes, pajamas, bathing suits and bodysuits is so large that users can browse through the catalog all day.
However, they will still find the perfect suitable lingerie.
Lavinia Lingerie is high-quality and comfortable underwear for active women who want to combine elegance, sexuality, and a dynamic lifestyle.
Advantages:
There is a huge variety of different underwear.
Convenient and practical app design.
Drawbacks:
Sometimes the app may lag.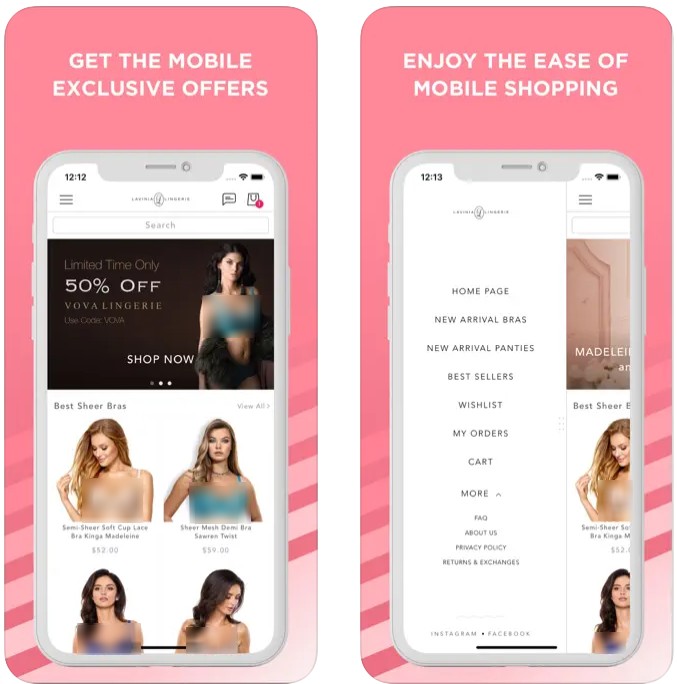 Journelle
This store supports many different brands of underwear, so users have the opportunity to choose only the highest quality, stylish and trendy outfits.
Enjoy the truly aesthetic design of the app while you're shopping. However, the goods presented here are no less aesthetic.
Each bra and each panty is a small work of art created to be a decoration on the body and give elegance.
For those customers, who do not know what would suit them better or what style makes a woman the most beautiful, the service is ready to help. Go to the appropriate section of the app and ask for help from the developers.
Soon you will receive an email with style recommendations.
Also, if you don't know what size you have, the app will tell you. Take measurements using tape, transfer the results and get your size. It's simple!
Advantages:
Users have a large variety of different lingerie.
Users can also get advice on which outfit will suit them best.
There is an opportunity to find out your bra or panties size.
Drawbacks:
Most of the pages in the app take quite a long time to load.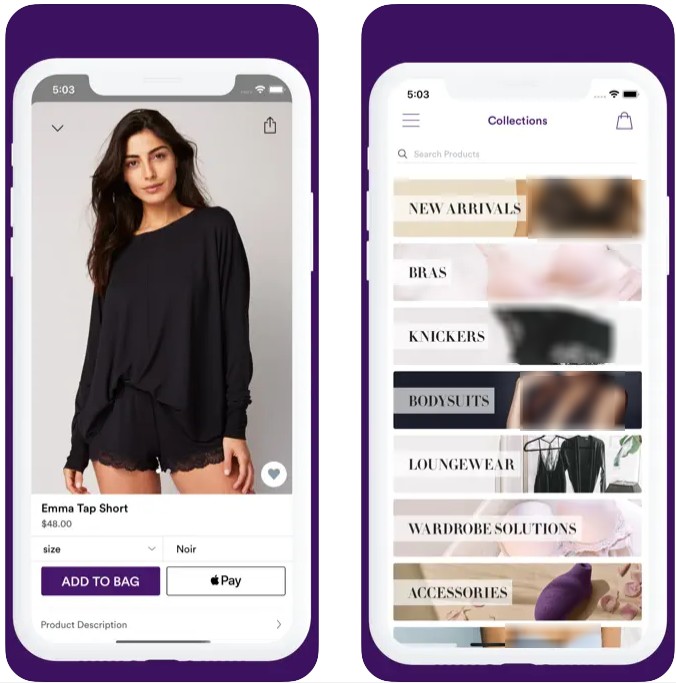 You and Me Lingerie
This is a simple app to choose a new bra, panties, bodysuit, or pajama.
The store provides clothes of both large and small sizes. A woman of any size will be able to find beautiful underwear for herself.
Every woman will be able to feel confident and attractive in the lingerie, which she bought in this store. The service offers a wide range of bras, bodysuits, pajamas, and panties. thong and sportswear.
The store's employees are constantly updating product catalogs so that customers always have a choice of new, fashionable clothes.
Here you can also pick up sexy underwear for a date or slimming one to correct the figure as you want.
Women with curvy shapes are completely free of their choice in this store, as it is ready to offer a variety of outfits of large sizes. It's not difficult to make a choice – just choose what you like.
Advantages:
A large choice of lingerie of any size.
Experts are ready to help with the choice.
There is an opportunity to call specialists for consultation.
Easy navigation in the app.
Drawbacks:
Sometimes users can experience an error when logging in to the app.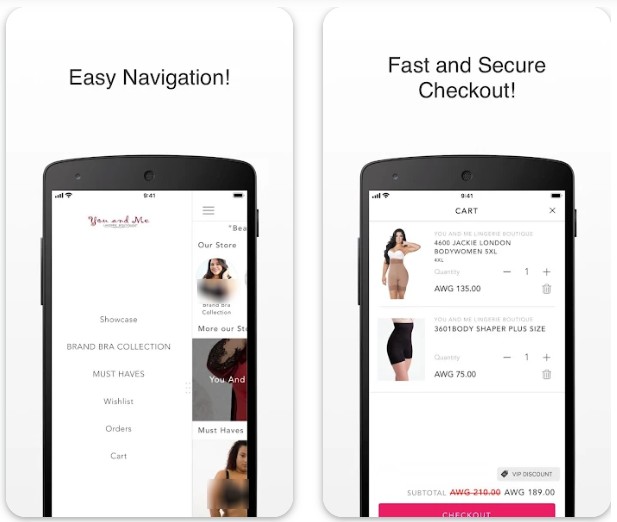 6IXTY8IGHT
With the help of this service, users will also purchase new sets of lingerie for themselves or, perhaps, as a gift to another person.
Download the app to your iPhone or smartphone, sign up and start your research of catalogs with various underwear. It can even become a kind of therapy or a way to relax after a hard day's work.
Just don't get carried away with shopping too much! Otherwise, you will be left without money, but with a lot of new bras and thongs. Although it's not bad, right?
Customers can receive individual offers and make purchases with significant discounts. Make sure you haven't forgotten to create an account.
All collections that are presented in this online store are updated. You can also receive notifications about new items received. Be always aware of trends.
It would be nice to say that there is a huge variety of different underwear here, as in other stores that have already been described before, but, unfortunately, this is not it at all.
The collection of clothes includes everything necessary. These are bras, basic panties, pajamas, and some sets of lingerie, but nothing more. For those buyers who prefer to have more sexy underwear is hard to find such looks here.
The design of the app is made in soft pink tones, and lingerie is sold here the same.
Advantages:
There is a wide variety of basic underwear.
Users can receive unique discount offers.
The catalogs in the app are updated frequently.
Drawbacks:
Catalogs do not contain a choice of sexier lingerie.
The store has an extremely narrow size range. The maximum size is L.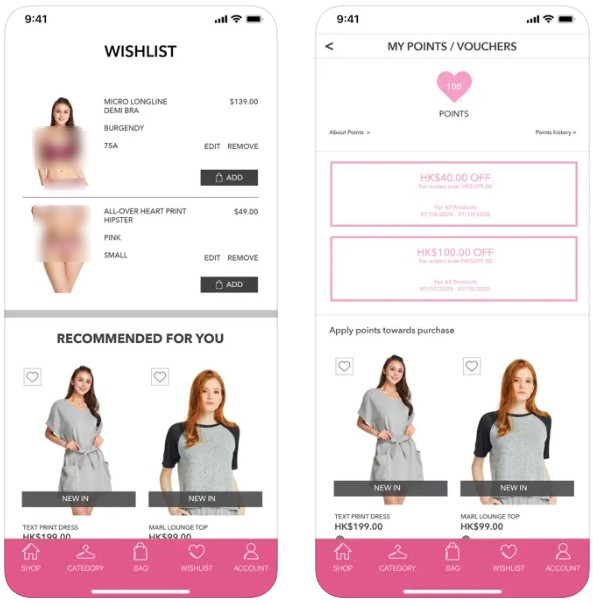 You may also like: 11 Best Plus Size Clothing Apps (Android & iOS)
Lush Lavie
Unlike the previous online store, this one on the contrary offers hotter underwear for women. Here you will not find modest and chaste outfits.
The catalog does not end, offering more and more revealing bras and thongs. There is a lot to choose from!
Someone likes lace, someone is excited about how black latex looks wonderful on a woman, or maybe someone would like to try a belt but does not know which one to choose. Everything in this store.
This lingerie is suitable for both wearing as basic underwear – why not be sexy and gorgeous just during the day? Also, such passionate sets should be a must-have for special nights. Well, you know.
With such underwear, every woman can feel the most beautiful in the world.
Advantages:
There is a large variety of sexy lingerie.
It is possible to get free delivery from a certain order amount.
There is a choice of sizes from super skinny to plus size.
Drawbacks:
The store specializes only in sexy lingerie. Perhaps this is not what some customers are looking for.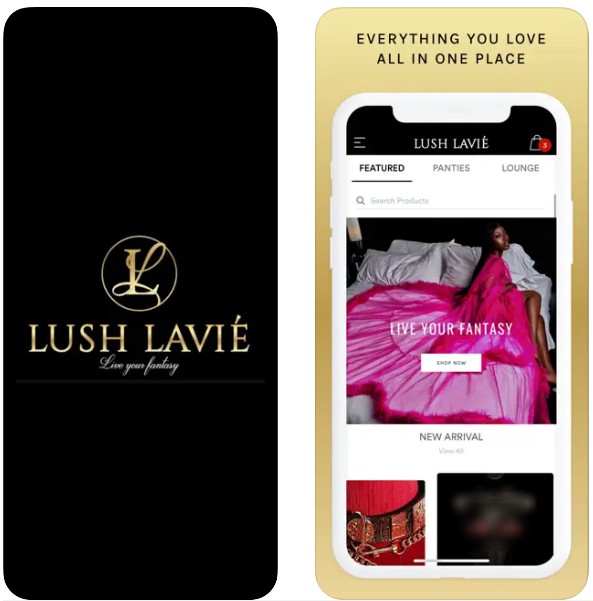 MOEFLAVOR
It is also a store with special lingerie, in which customers are unlikely to find ordinary and boring bras and panties. Let's make the world more interesting!
The store specializes in underwear, which would be worn by cute anime girls (or even demonesses). This is not a full-fledged cosplay store, but you can easily recreate your favorite anime look in an intimate style.
Make all your fantasies come true and do not feel shy about anything – be completely liberated in underwear from the MOEFLAVOR online store.
Throw away your old thongs and dress up in a costume for a role-playing game – please your partner with new impressions and be sure you will also feel nice in such underwear.
It is always an interesting experience to try on a new look – a short medical robe that will profitably emphasize the figure of a woman. Or turn into a sexy bunny that can seduce anyone.
You can also buy all the necessary accessories for the costume. Temporary tattoos, wigs, headbands, and other accessories – all that will help add fire to your look.
Advantages:
There is convenient navigation on the site.
Each element of lingerie recreates the look of an anime girl.
Drawbacks:
The store supports only a small size range.
There is no way to leave a comment about the item.


BadAss Sexy Store
Although the name of the app is rather vulgar, the store offers various elements of lingerie. Buyers can purchase underwear for both men and women.
Users will need to install the app on their smartphone, and then sort out its navigation for a while. The design leaves much to be desired, so it's not immediately clear where to click to see a particular bra, panties, or stockings.
If you have figured out how to use this service, then welcome to yet another store that offers many different sexy nightgowns and other cute things.
Lingerie is quite varied here in this app. There are satin red gowns to impress a partner and excitingly beautiful thongs that hide nothing.
However, those who prefer to fight lovers with more modest outfits will also be able to choose special underwear for themselves. Feel like a beautiful deity in the outfits that this online store offers.
Fans of exclusive clothes will be glad to discover a whole section dedicated to bright and unusual bras, panties, shirts, stockings, and more. A real treasure for a collector!
The developers of the app have added men's underwear to the catalog. And not only traditionally strict and dark but also bright, much more pretty. Everyone will find something to their taste.
Make-up is also necessary for a sexy image. You can also order everything you need for this in this online store. How convenient it is to do this without leaving home!
Advantages:
There is a large selection of lingerie both casual and sexy.
In addition to underwear, it is also possible to buy associated goods such as accessories, cosmetics, and so on in the store.
Drawbacks:
It's quite difficult to figure out the navigation of the app.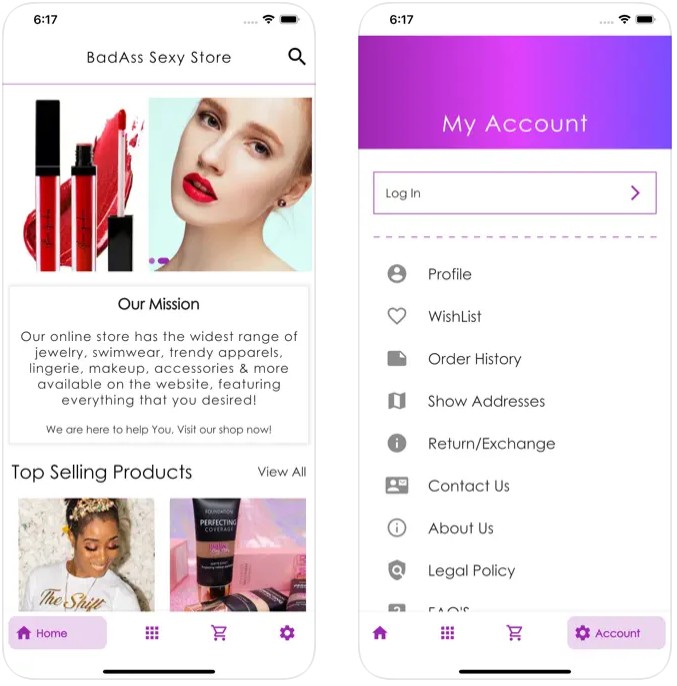 Zivame – One Stop Lingerie App
Do you like shopping? With this store, you will love it even more.
Catalogs contain hundreds of different elements of lingerie. Any lifestyle, any size, any preferences. This is truly a huge base of underwear for every taste.
Users can try the help function by choosing a bra and panties by size. Read the detailed and clear instructions on how to measure yourself, and then check the table.
Now you definitely can't go wrong with the size. But if the underwear still seemed too big or small to you, it is always possible to return it to the store.
Not only to buy new bras, panties, thongs, and so on but also to learn new things. The service posts fascinating articles with tips on how best to combine elements of lingerie and what is best suited for a particular type of figure.
All underwear is made only of high-quality materials. Be sure that by exercising, doing daily activities, or sleeping, you will feel as comfortable as possible.
Unlike many online stores, Zivame takes care of each of its customers. Therefore, a woman of any figure and any size will be able to purchase lingerie for herself without any problems.
The size range is wide enough for this – from XS to XXXL. Nothing can be a reason not to feel confident in beautiful underwear.
Another motivation to visit the app more often for new purchases is a system of discounts and promotions. Get personalized offers and purchase bras and panties at a profit.
Advantages:
It is convenient to use the app.
There is a large variety of lingerie for every occasion.
There is an opportunity to receive discounts. All goods are of high quality.
Drawbacks:
Long delivery is possible because the store is located in India.


You may also like: 20 Best Black Friday Shopping Apps for iPhone and Android
Shriya Fashion (Clovia)
This is an online store of high-quality lingerie popular among women. Try the outfits and leave your feedback!
Here users can find various bras, panties, and dressing gowns. It's a lingerie store after all. Customers will choose the very lingerie for themselves.
It doesn't matter what the reason is. You just want to update your wardrobe, hotly surprise your partner, or find just a comfortable bra to feel comfortable all day.
Clovia is ready to provide a choice of thousands of the most beautiful elements of women's underwear.
The service also created a separate collection of pajamas. Feel special and unique in cotton or satin pajamas even during sleep.
Be sure to check the catalog for swimsuits. The store's designers are doing their best to delight and surprise customers with bright outfits for beach parties, in which they will look like goddesses.
In addition to clothes, you can also buy skin and hair care cosmetics. Treat yourself to a spa procedure, and then change into new lingerie.
Advantages:
There is an opportunity to buy not only high-quality underwear but also swimming suits, sleepwear, as well as care cosmetics.
The service often holds promotions and makes discounts.
User-friendly and intuitive design.
Drawbacks:
Like the previous online store, this one is also located in India, so the goods can be delivered for quite a long time.