Wondering how to get the best out of your micro mechanic device? The answer is fairly simple: just get a solid app to use with it.
Lucky for you, we've made a list of the 9 best micro mechanic apps for 2023 that can automate your car-owning experience. These apps connect to your mechanic device and let you make a full vehicle diagnosis in a few taps. You'll get to detect fault codes, track car sensors and view the overall vehicle performance in real time. Have a look!
Car Scanner ELM OBD2
This is a car scanner app that lets you find car problems and their level of severity.
With this app, you'll get to see what is going on with your car in real-time. You'll get to see OBD trouble codes, real-time operation, and more. It uses Bluetooth to link up to a mechanic device, so you could catch the slightest difficulties and issues with your vehicle.
Herewith, you get to personalize the dashboard by adding the gauges you're interested in tracking. You may even add custom PIDs to view in-depth info from the car's manufacturer. The app is an absolute must-have if you tend to get lots of DTC fault codes. There's a huge base of such codes with detailed descriptions.
More to that, you can view the ECU test result right away. You'll get to view tips on how to fix the car, so you could save on repair costs. Plus, you can text out that the vehicle is ready for an emissions test and check all the sensors right away.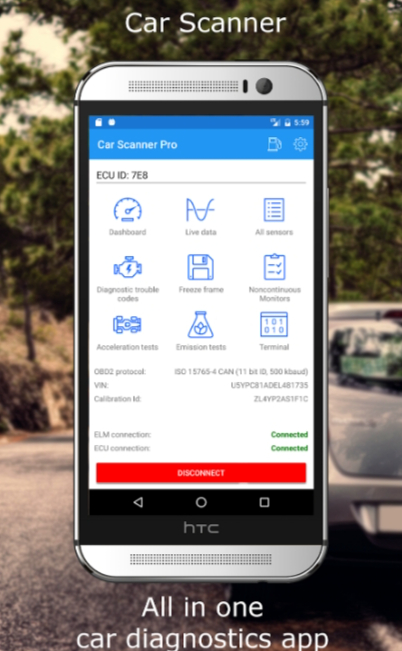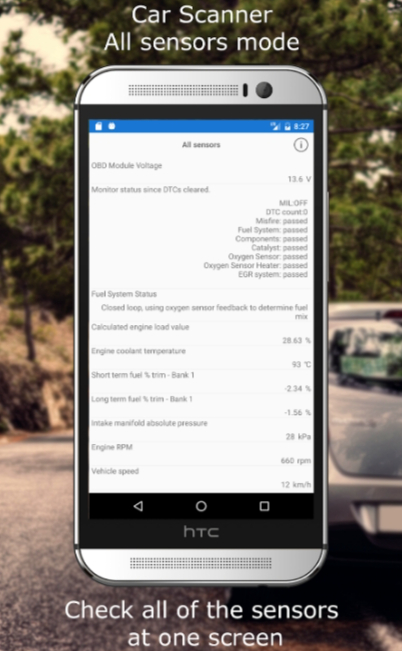 You may also like: 9 Best Car Mechanic Learning Apps
CarSys Scan
Next, we have a cat scanner that helps you determine car problems.
The app comes with multiple features and analytical tools. It lets you check engine lights, and codes, do a sensor test, VIN, and much more. It works with several scan tools (you can view the full list by following the link below) and connects to your car via Bluetooth.
The app lets you detect and clean all the current DTC codes. It comes with a wide base of code descriptions, so you could see what the issue really is. Plus, you'll get to view the traveled distance, engine run time, and even the number of warm-ups if needed.
It also includes all the vehicle info such as ID number, calibration ID, verification number, operation tracking, and more. You get to set up a real-time dashboard by adding the gauges and metrics you're interested in. The app is free, but there are lots of ads still.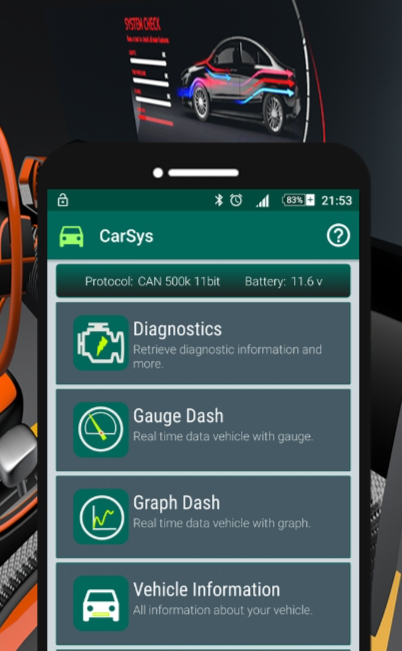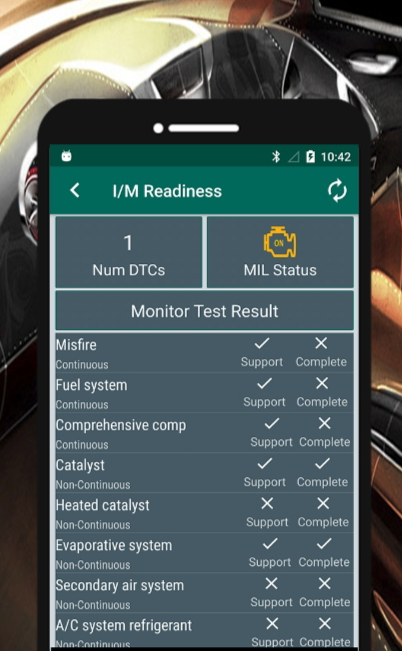 Infocar
This is an all-in-one car scanning app that gives you a clear idea of its performance.
The app gives you a full vehicle diagnosis with all the possible faults. If there are any issues with the ignition, or electronic circuit, the app will let you know. The app will also alert you of the fault codes (these are split into 3 levels for easier understanding). All codes come with in-depth descriptions, which is handy.
Besides, the app estimates your driving style and points out potentially dangerous driving habits. It analyzes your driving records and gives you a score based on safety and economics. You can also use the app to check overall mileage, average speed, and detailed records of each trip.
You get to view the detailed driving record of all your speeding, rapid acceleration, and sharp turnings. And if you drive unsafely, you can turn on the mode to alert in case of dangerous situations. Plus, the display is fully customizable, so you can set it up to match your preferences.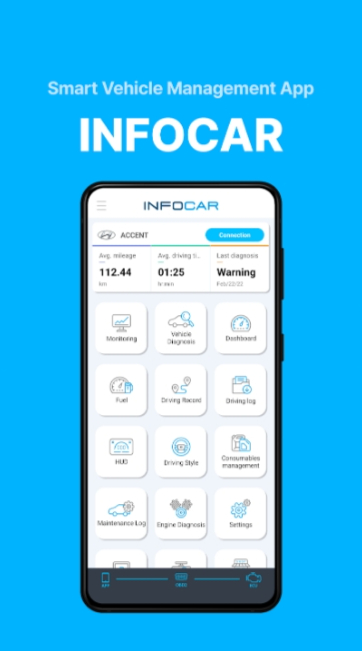 Check also: 21 Best CarPlay Apps
Torque Pro
It is another car analyzing app that works as your personal mechanic.
The concept of this app is fairly simple: it connects to a scanner tool via Bluetooth and lets you see vehicle performance in real-time. The app comes with OBD-II support, so you'll get to view in-depth engine revolutions info, fuel usage, speed, and of course the fault codes.
Herewith, there's a massive database of fault codes with descriptions, which is handy. The app even lets you reset DTC and fault codes, so you could save up on repair costs. Plus, the app lets you set up a custom dashboard and add all the widgets you're interested in.
As for the other tools, the app can read transmission temp, and give you the most accurate speed info. It also lets you record your drives to test out the performance if needed. And if you're going to travel by car, you can use a tool that automatically sends yours geotags to Twitter. The UI of the app looks a bit old-school, but it doesn't affect the features.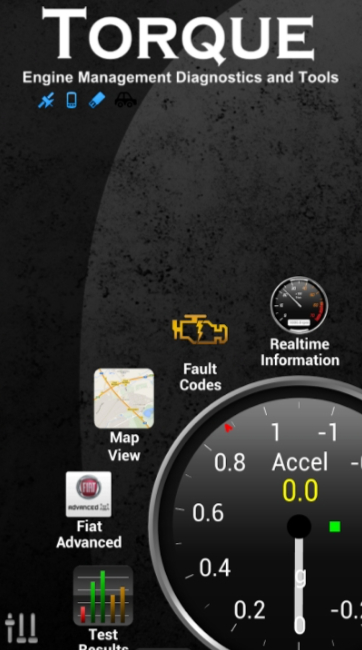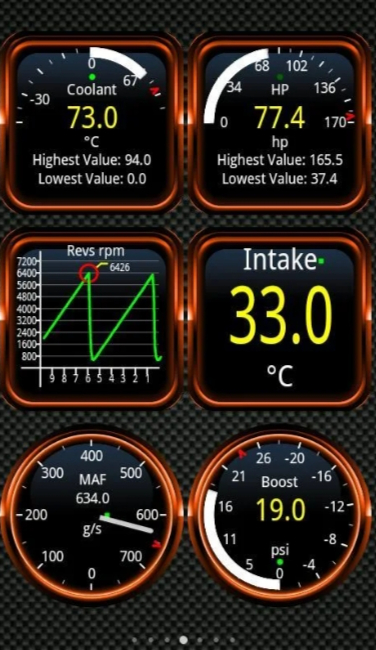 OBD Auto Doctor car
That's a diagnostic app that lets you keep your car operation under control.
With this app, your app will become a full-on car scanner that lets you understand your vehicle better. It lets you track real-time metrics and set up the dashboard with widgets of your choice. For instance, you get to track engine temp, torque, and so on.
The app lets you view and monitor readiness status (which is a must for emission testing). The app covers some other service routines like filter regenerations, evaporative system leak tests, and more. Beyond that, you'll get to read DTC, and the app covers a wide base of codes with explanations.
You'll even get to reset the check light and clear the trouble codes without the need to see your vehicle mechanic. There's also a tool to track fuel consumption while driving. You'll get in-depth reports and tips on how to save money on gas. The app is free, but some tools are for pro-subs only.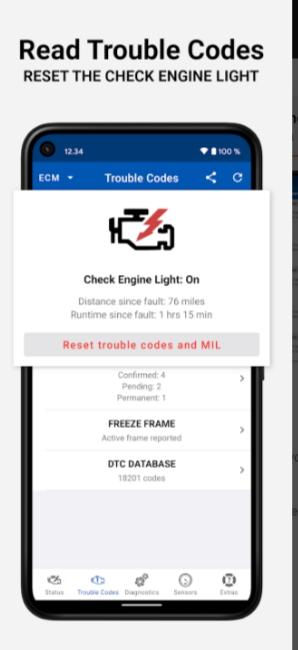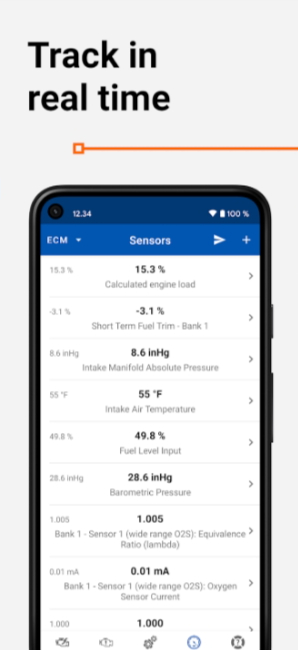 CarDiag : Car Diagnostic OBD2
This is an interesting app in this category and we think it's underrated. It is designed for both professional and DIY mechanics, as well as everyday car owners who want to keep an eye on their vehicle's health.
Here is a short list of its main features:
reading and clearing diagnostic trouble codes
viewing live sensor data
performing tests on various vehicle systems
The app also offers enhanced diagnostics for some vehicle models. Therefore, users can access additional information and perform more advanced tests.
We really liked the design of the interface of this app which is quite untypical for this category. There is a dashboard that displays real-time sensor data and a list of diagnostic trouble codes with explanations of their meanings.
But keep in mind that there is a lot of frustrated comments from users who aren't satisfied with the app's accuracy.
In conclusion, we can say that CarDiag helps users identify and troubleshoot problems with their vehicles, as well as monitor their vehicle's performance over time.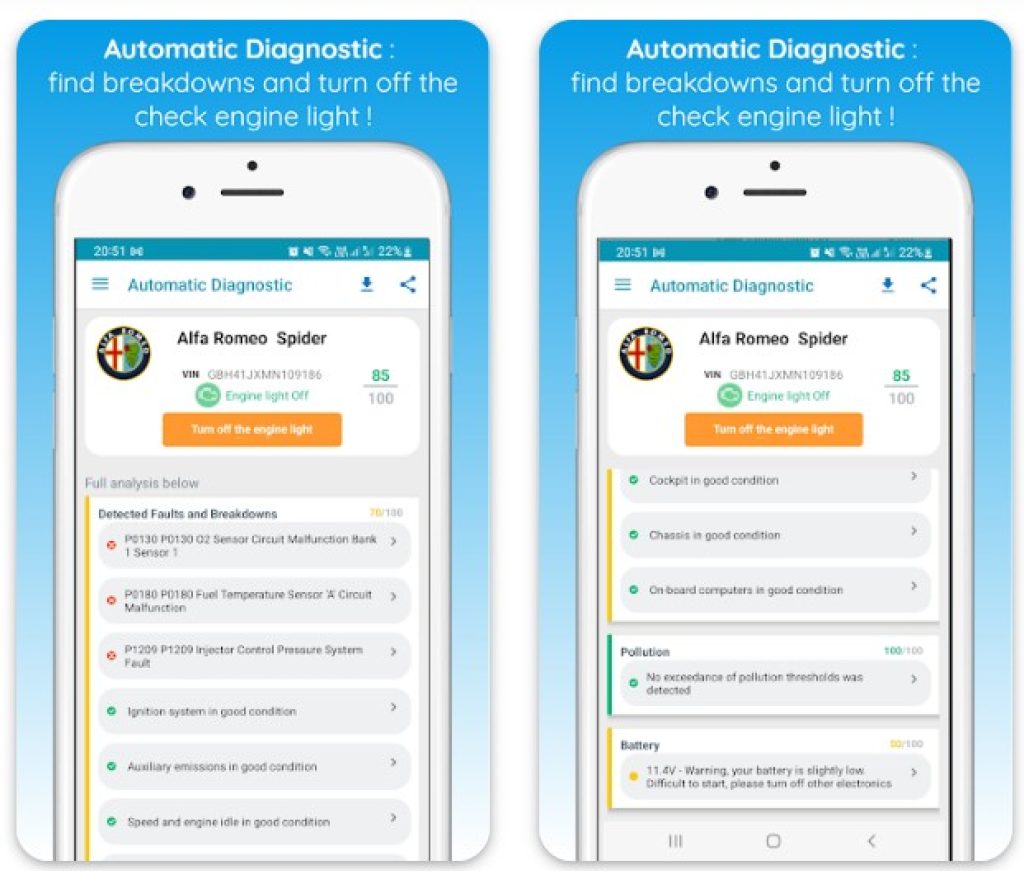 Obd Mary – OBD2 car scanner
OBD Mary – OBD2 Car Scanner seems to be a credible app with more than millions of users. It is quite versatile and offers a range of functions for both professional and amateur car mechanics.
The app's main functions:
reading and clearing diagnostic trouble codes
View live sensor data
perform tests on various vehicles
tracks vehicle performance over time
Track fuel consumption
Generates trip reports
The app can be applied in real life in many ways, including diagnosing issues with your vehicle, keeping track of maintenance schedules and repairs, and monitoring your car's performance and fuel efficiency.
Pretty sure each car owner will find this app useful enough for everyday usage.
In terms of versatility, the app is compatible with a wide range of OBD2 devices and can be used with most vehicles manufactured after 1996. So the owners of all types of cars can utilize them.
The only thing is the interface design is rather complicated for those who is not car mechanic or tech-savvy. It doesn't provide any visual instructions and the font size is just tiny.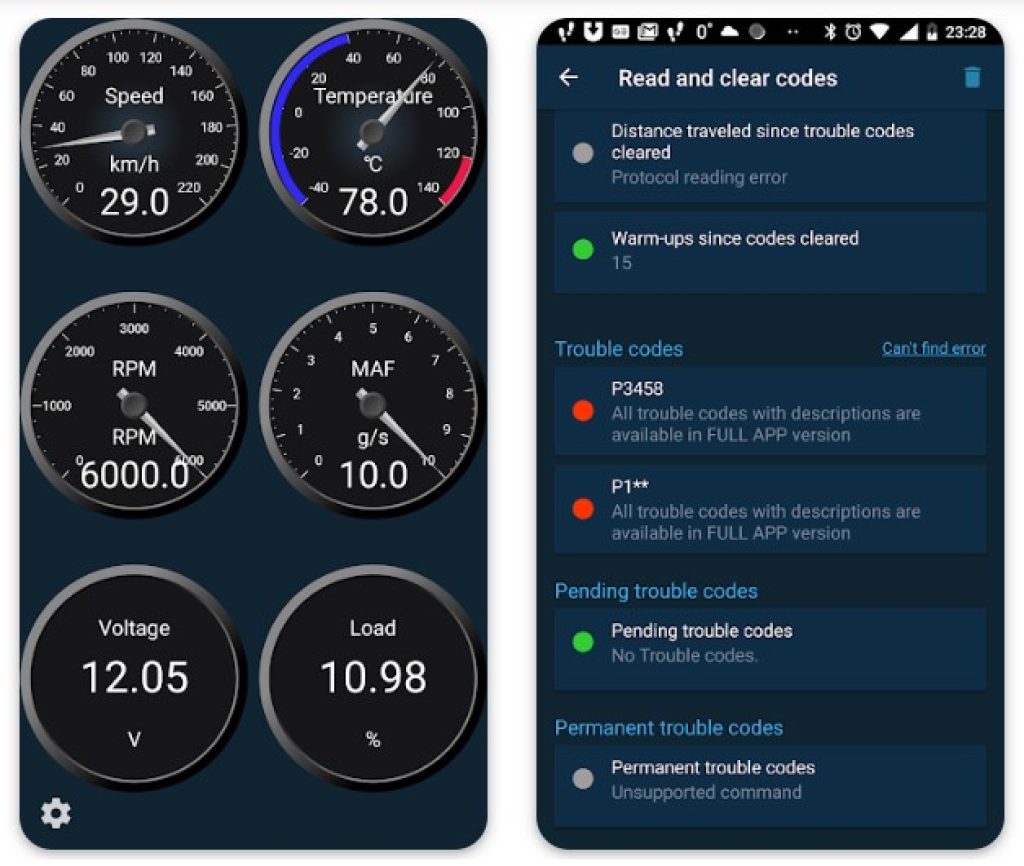 Simply Auto: Car Maintenance
This is quite a popular app for car mechanics' diagnostics, but is it as good as it's trying to be? Let's explore its main features of it.
From the description of the app, we find out that it aims to make fo us easy to keep track of fuel usage, expenses, and vehicle maintenance.
The main features:
ability to log fuel consumption and costs
track vehicle expenses
set reminders for maintenance and repairs
view detailed statistics and charts of fuel usage over time
GPS tracker (allows users to track their trips and calculate the distance and fuel consumption for each journey)
In the main menu, you will find a simple layout and clear instructions. The text in the app is readable but overall thing will take you some time to learn how to navigate here.
While the app is not designed to diagnose car problems, it can help users monitor their vehicle's health by tracking fuel consumption and expenses. By keeping track of fuel usage and maintenance, you can identify potential problems and take action before they become serious.
The app does not require the usage of any additional hardware. It uses the smartphone's built-in GPS and sensors to track fuel consumption and vehicle data.


You may also check: 11 Free Car Designing Apps
EOBD Facile
And lastly, we have an app that lets you get the most out of your car scanner tool.
Just like the previous apps, this one connects to an actual scanner via Bluetooth and lets you see what's going on with your vehicle in real-time. It is compatible with a wide range of car mechanic tools, so no worries here. The main reason people use this app is to find out why the check engine light is on.
The app lets you view all the trouble codes in real-time and view their detailed descriptions. It covers over 15K code definitions, so you're all the way covered.
Once the code is discovered, you can use the app to delete it with a couple of taps (no need to spend money on mechanics). You can even set notifications to get alerted if there are any issues that need your attention.
This notification tool is fully customizable, so you may rather track the gearbox, engine, and other car parts required. The app also displays car sensors in real time, and you can save these records as a file for further use. You can track vehicle speed, engine temp, air intake, and more.