6 Best Apps To Remove Objects From Videos in 2022 (Android & iOS)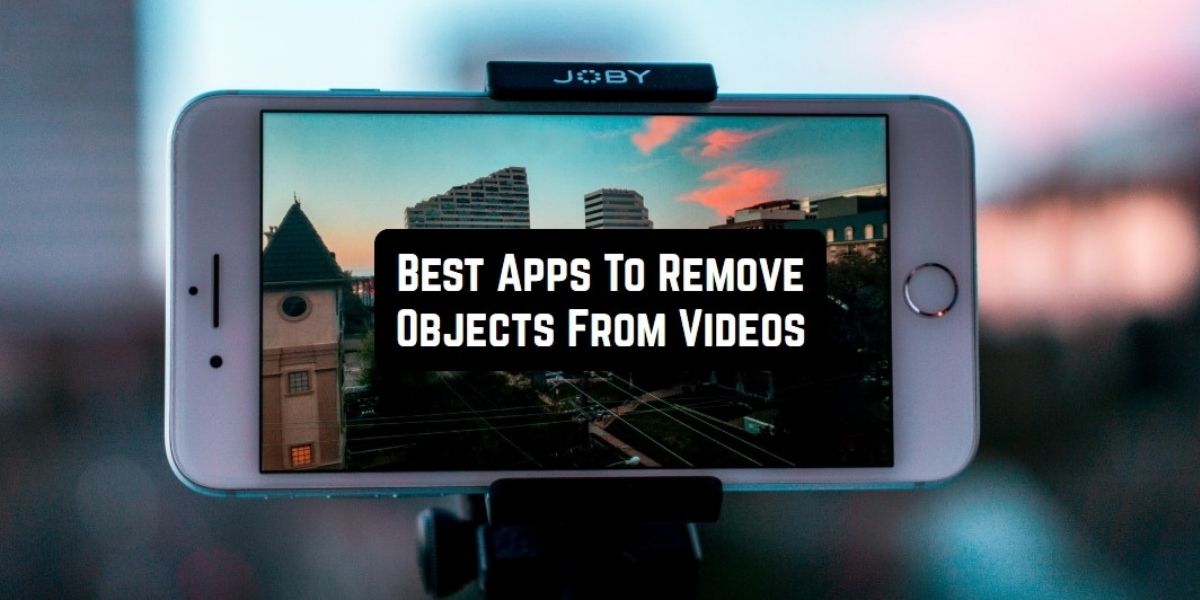 Removing an unwanted object seems to be an essential feature. But yet it's quite a challenge to find a solid app to do it on videos.
That's why we've gathered the best apps to remove objects from videos in 2022 (Android & iOS) that will help you erase all the unneeded stuff from your vids. All these apps are different and are made for diverse purposes—some can cope with moving objects, while the others are only for watermarks and text.
Here's a compilation of the 6 best apps in that category you may try. Take a look!
Remove Unwanted Object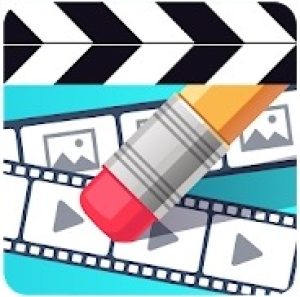 Let's start with an app that lets you easily erase stuff from your pics and vids.
Regardless of what kind of object you wanna hide—a person, a tree, a sticker, or text—this app has you covered. Plus, the app is free and leaves no watermarks (would be strange if it would, right?). It needs to be said, the interface is a bit old-school, but the functionality is on the level. The controls are simple—just pick a file from the gallery and start retouching.
Once you've picked your file, you'll get to the preview screen with a flexible lasso instrument. Your goal here is to specify the object you'd like to delete. Of course, erasing something from the video is way more complicated, cause the recording may not be stable. And it gets even more complicated if the thing you're trying to remove is moving.
In order to cope with that, you'll need to rearrange the lesson in several points of the video to keep the object covered. You'll also get to regulate the zoom and pinch options with your fingers to work with smaller objects. Besides, the app lets you define the time interval to perform the removal process.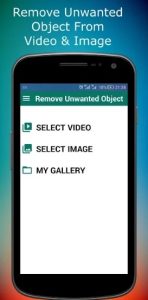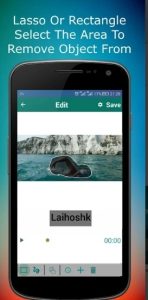 You may also like: 9 Best Side By Side Video Apps (Split Screen) for Android & iOS
Video Eraser
Next, we have an app dedicated to watermark removal.
Truth be told, the number of apps to remove chaotic objects from vids is small. Thus, we have to find the best options of all, and this app gets the job done pretty well. Herewith, it's only capable of moving stationary objects like stickers, text, watermarks, and all that. If that's your goal—this app is a great choice.
As for the mechanics, this app is very easy to use. It runs on smart AI techs that automatically recognize logos and texts. In other words, you won't even need to spend time with the lasso instrument—this app will get it done for you. The removing process does not affect the quality of your vids and doesn't smudge the background, so no concerns about that.
Additionally, the app also lets you remove watermarks and stickers from images. The principle is all the same—the erasing gets done automatically. Plus, the app comes with a video editing tool that lets you crop your files and pick one of the pre-made ratios. You'll also get to add new watermarks and logos if needed.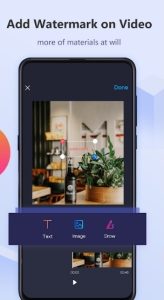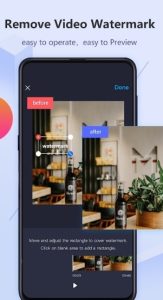 Video Retouch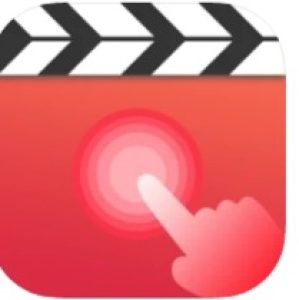 It's an iOS tool that is made for object removal.
Apart from the previous app, this one claims to cope with all kinds of objects—the static and moving ones. However, it's pretty much hit or miss with this app, cause it tends to have crashed from time to time. It needs to be said, there are loads of updates to fix the glitches, but it's not 100% stable yet.
Speaking of the functionality, there is only one feature, but it gets the job done. All you need to do here is to mark the unneeded object with a highlighting tool (that looks like an actual highlighting marker). That's right, there's no lasso instrument in this app, but the highlighter is quite convenient to use as well.
As always, the easiest thing to do here is to delete the static object. In case the object you wanna hide is moving, you'll need to mark it throughout the entire video. However, their app doesn't have a zoom tool to cope with small objects. The app doesn't smudge the background in the removal area and doesn't take don the quality of your vid.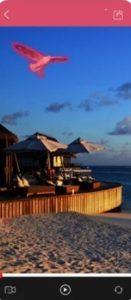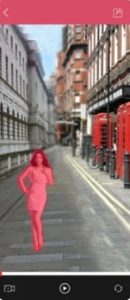 Watermark Remover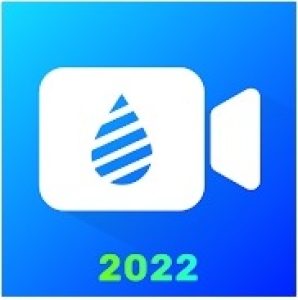 Here is another watermark remover that will help you to get rid of static objects on your vids.
First of all, this app works both ways—you may rather delete a watermark or add a new one. But let's start from removal, shall we? The app comes with a simple user interface, so you get to easily delete all the watermarks, stickers, and unwanted text from your files. The tool is not automatic—it's a rectangle that you can use to mark the unwanted stuff.
Beyond that, you'll get to regulate the removing timer for all the vids individually. However, the app is unable to cope with moving objects. The background on the vids won't be affected by the removal, so as the overall quality. Once it's done, you may also add a new watermark or text to your vid. It may be an imported logo or one of the app's stickers.
The app also supports GIF watermarks and animated stickers if needed. It also comes with a built-in editor that lets you crop the vids, compress them, and all that. There are also loads of pre-made ratio settings for you to use.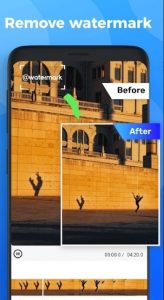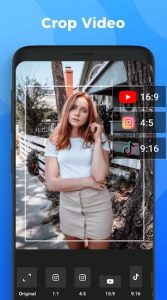 Check also: 7 Best Apps to Add Fire Effects to Videos (Android & iOS)
Easy Retouch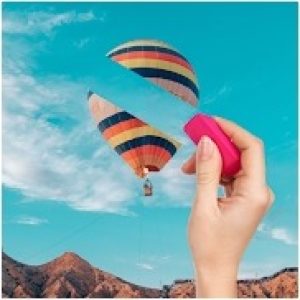 As you may guess by the name, it's a watermark remover that
It's a simple-to-use tool that lets you erase static objects from photos and videos. It can cope with text, logos, watermarks, stickers, and other types of static objects. All you have to do here is to mark the unwanted object on your file, and it will be removed. The app covers several marking tools of different forms—around one, a rectangle one, and more.
There is also a classical lasso tool to cope with more complex objects if required. Plus, the app covers a zooming tool to work with small elements. The removal process happens automatically and causes no smudges on the background and all that. Herewith, the AI techs will recognize the object and erase it once and for all. The app won't level down the quality of your vids, so no concerns about that.
Once you're done, you get t see the vid in any format needed. The app support all the most-used formats including MP4, and more. You'll also get to adjust the size of the vid, and regulate the ratio as well. All the tools in this app are free, but the ads will pop up from time to time anyways.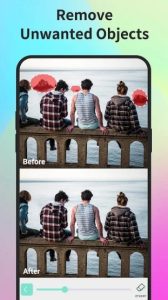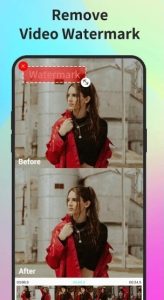 You may also check: 9 Free Video Overlay Apps for Android & iOS
Video Eraser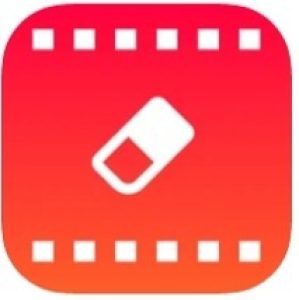 And lastly, we have an erasing app that lets you get rid of unwanted objects on your vids.
The app has simple mechanics, so anyone could cope with it. It covers several video formats such as MP4, M4V, MOV, and more will be added soon. All you need to do here is to import the file, mark the area with a watermark (or whatever else), and press start to clean it.
You'll get to zoom the vid to cope with small objects, so no concerns about that. Plus, the app lets you mar multiple objects on one vid and rearrange the marks throughout the video. Thus, you may easily erase animated stickers and objects that move a little bit too. The app runs on AI techs, so the objects get deleted fully with the least amount of smudges.
It needs t to be said, the place where the object used to be may look a bit blurred, but it's not critical. The removing process takes less than a minute, and it's fully free. However, the app tends to drop the quality of the overall vid a bit while importing it to your gallery.