Rental services are gaining more and more popularity nowadays. Though the list of goods you can rent is growing all the time, it seems that vehicles are still the most demanded category. Here we have listed the eight best motorcycle rental apps for you to enjoy the speed and the spirit of a true biker journey.
And so car enthusiasts wouldn't feel bad, we also have another article, about the best car rental apps in the USA.
Twisted Road
Twisted Road is a service that works in both ways. It is suitable for you if you want to rent a bike and if you want to rent out your bike. To choose a bike to rent you will have to type a particular place in the search bar so that the app could show you the map. On the map, you will see the bikes available in your area.
You can apply filters to find a perfect bike for your trip. You can sort the options out by style, brand, and rent price. Mind that availability of the bikes depends on the date, so try to start choosing yours in advance to have the largest list of options you can still book.
Once you choose the bike, you can study numerous details the app provides about the host and the vehicle itself. Then proceed to payment details, when and where you are to pick up the motorcycle and drop it off later.
The feature that sweetens the deal is that you can sign up for the service and get one day of free riding.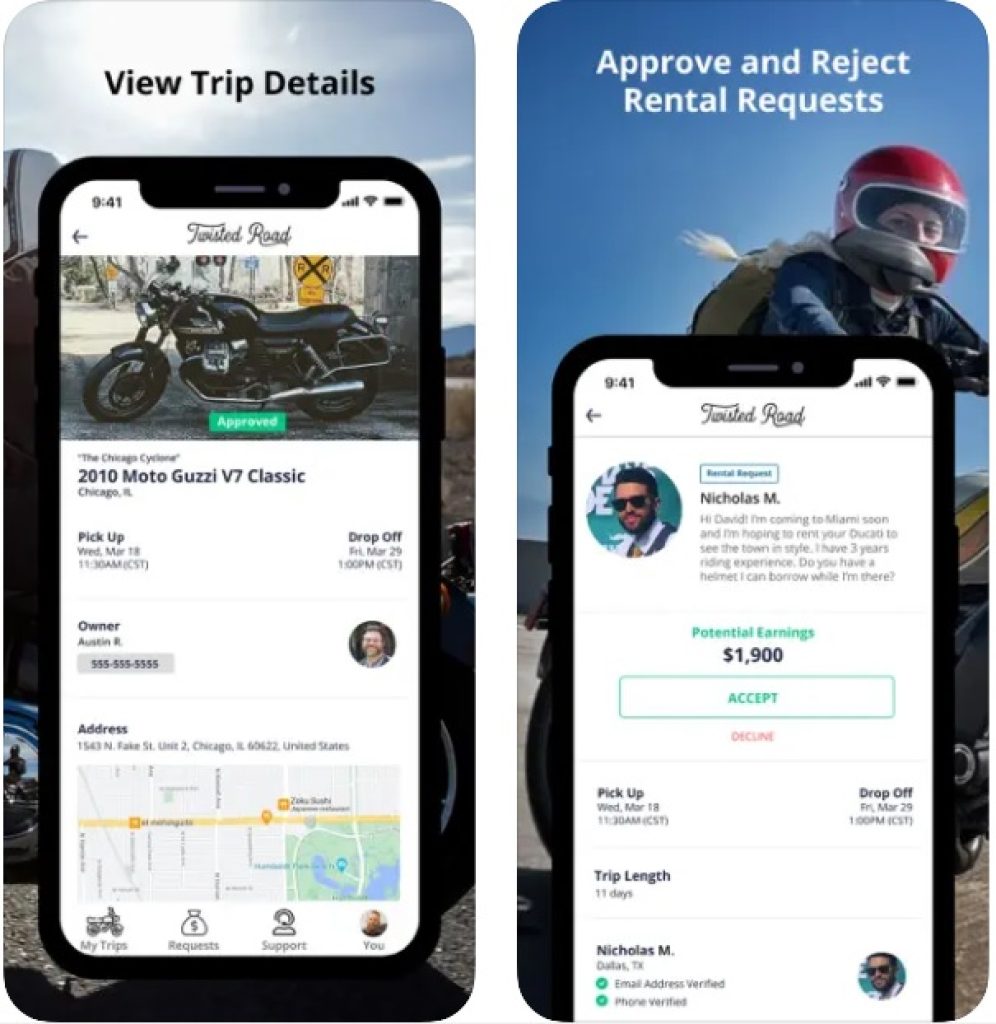 You may also like: 9 Best Apps to Rent a Bike Near Me (Android & iOS)
Riders Share is not exactly a mobile application but rather a website. However, when it comes to motorcycle rental services, we simply cannot omit it since it is one of the best and the most popular services of the type.
What makes Riders Share a top player is a price of the rent and the number of bikes available nationwide. Indeed, this service offers a price that is much lower than any other app offers.
If you will be renting a bike for more than 10 days, you will also get an additional 58% discount and the price for a day may hit 20$.
You can also become a community member and get your Rider Pass. It costs 22$ a month and gives various perks including another 25% discount and free delivery of the bike to your location.
An extensive database of bikes and a flexible discount program, as well as the simplicity and minimalistic design of the service, make Riders Share one of the best possible options to make your journey as easy and cheap as possible.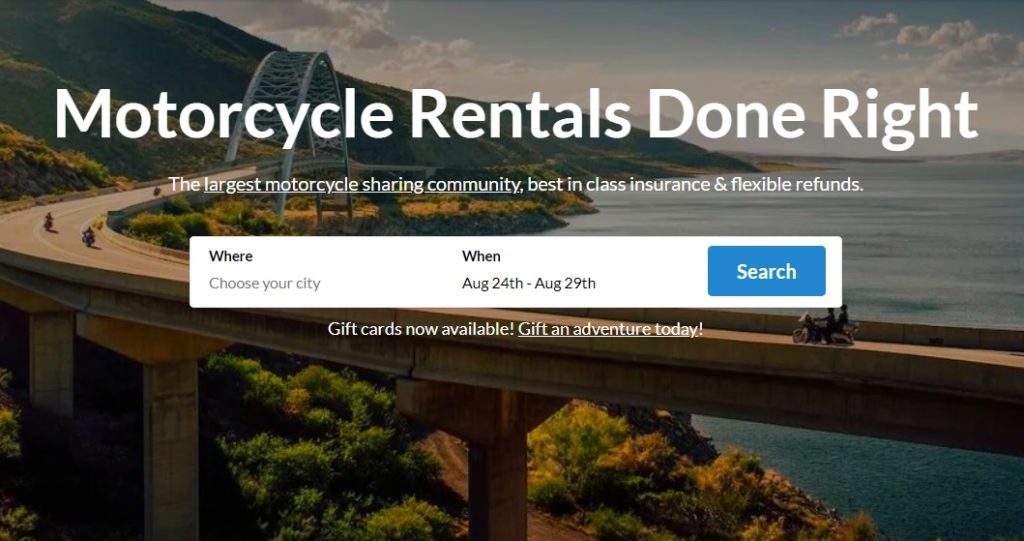 Another popular service is known nationwide. It is almost completely similar to Riders Share and has the same algorithm for renting a bike. What is different is that you can opt for different types of vehicles such as ATVs, Dirt Bikes, 3-Wheels, Scooters, and Electric Motorcycles.
After customizing the terms of usage and additional services, you are headed to a checkout where you are to pay for the rent with your credit card. The whole process is simple and automatic.
With EagleShare you can rent out your bike. During the first year, the service won't charge you any commission and everything you earn by sharing your motorcycle will be yours.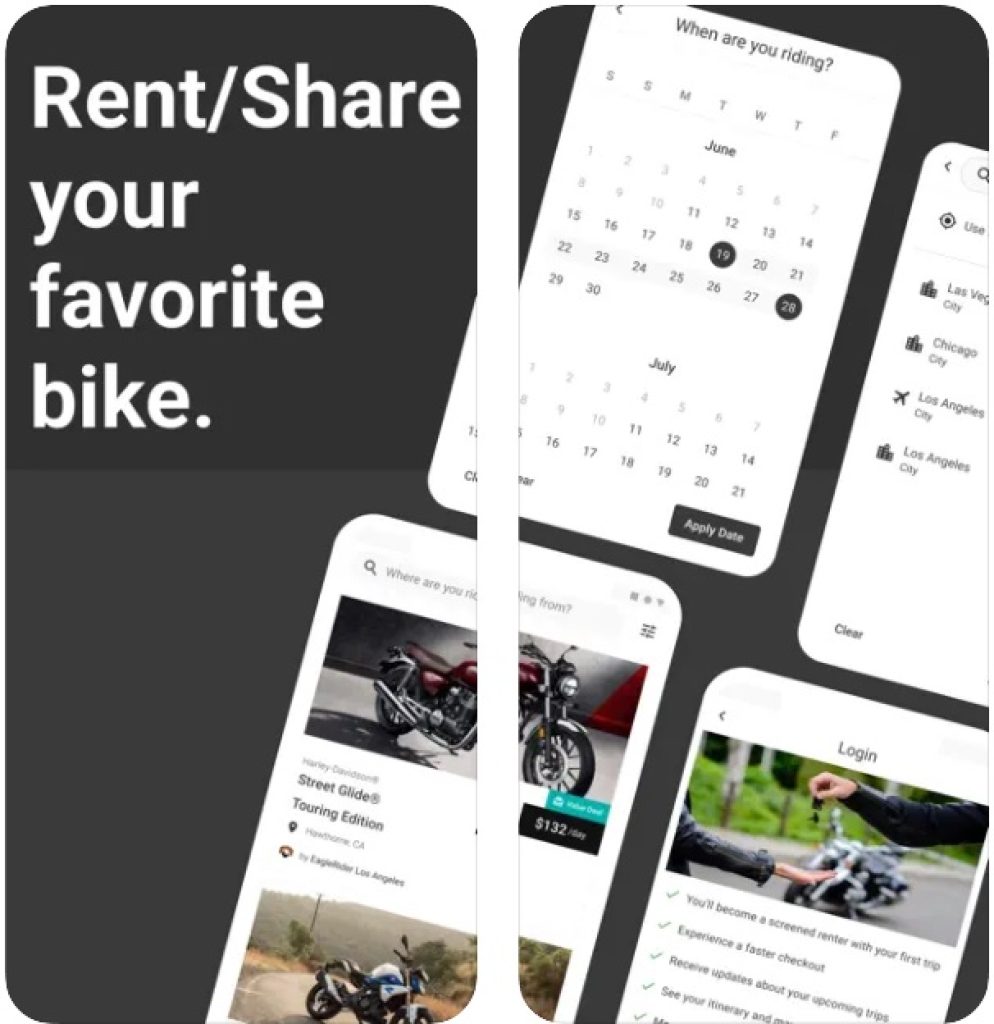 Bike Rental Near Me
Bike Rental Near Me is a service that provides access to various types of vehicles all over the world. You can opt for a bicycle, a scooter, a motorcycle, and a quad bike in many countries including the USA.
After filling in the basic details of your trip, you will have the list of bikes available in your city. You can sort them by recommendations of other users and by price. Turn on the map view if you want to see the bikes on the Google-powered map.
The app provides all the information you want to know about the vehicle and the terms of usage. The description is so extensive that you will hardly have any additional questions.
There are several extra services including side cases, helmets, and insurance. When you are done with choosing all the peculiarities, you will have your bike booked for you.
You don't have to pay for the reservation: when it is done, you will receive a Voucher and your card will be charged. Cancellation is possible at no extra cost up to 48 hours before the start of your ride.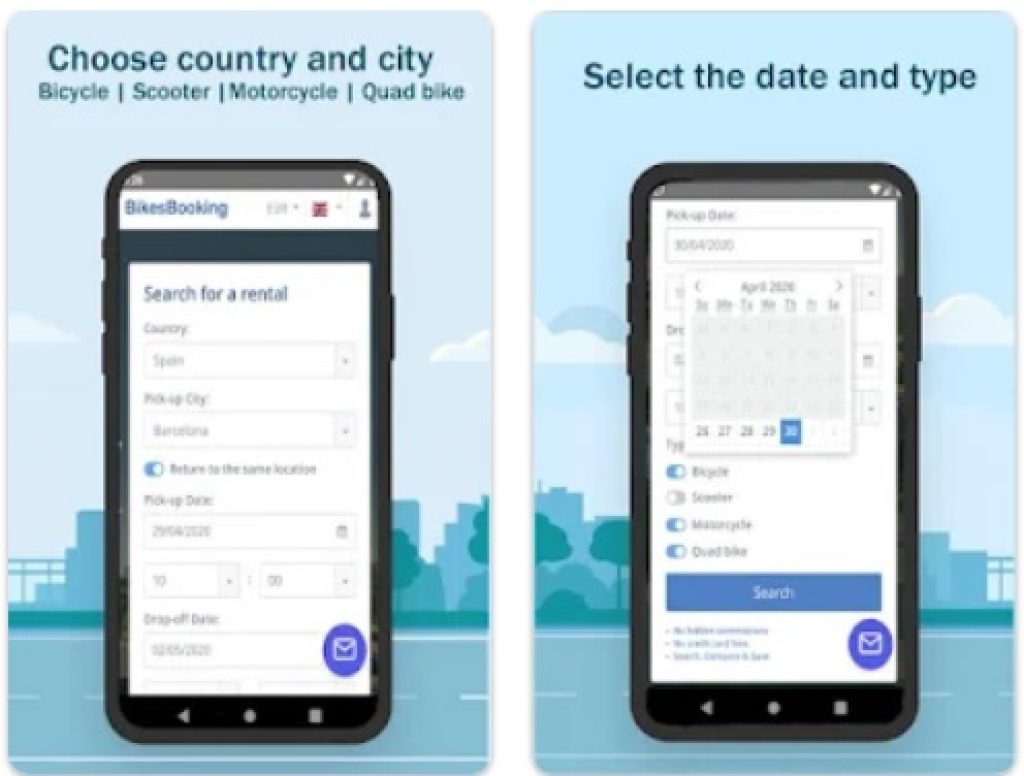 You may also like: 7 Best Apps To Rent A Boat Near Me (Android & iOS)
Rental Motor Bike
Rental Motor Bike is an extremely simple app with a minimalistic design. Once you download and install it, you will have to choose some details of where you will pick up the bike and where you will drop it off. You are to select the location, the date, and the exact hour.
The app will instantly show you the list of bikes available. There are no filters to sort out the result, so you will just have to browse the list of options to find the best one for you. Next, you will see the list of conditions you have to fit to rent the bike.
You must be over twenty-one years old and have an A-type license. Your driver experience has to be more than one year and you will have to pay an in-destination deposit. Every bike the service offers has the same requirements to use it.
When you are done with choosing the bike, you are to fill in your personal information. For some extra money, you can get travel insurance, cancellation insurance, and damage waiver reduction.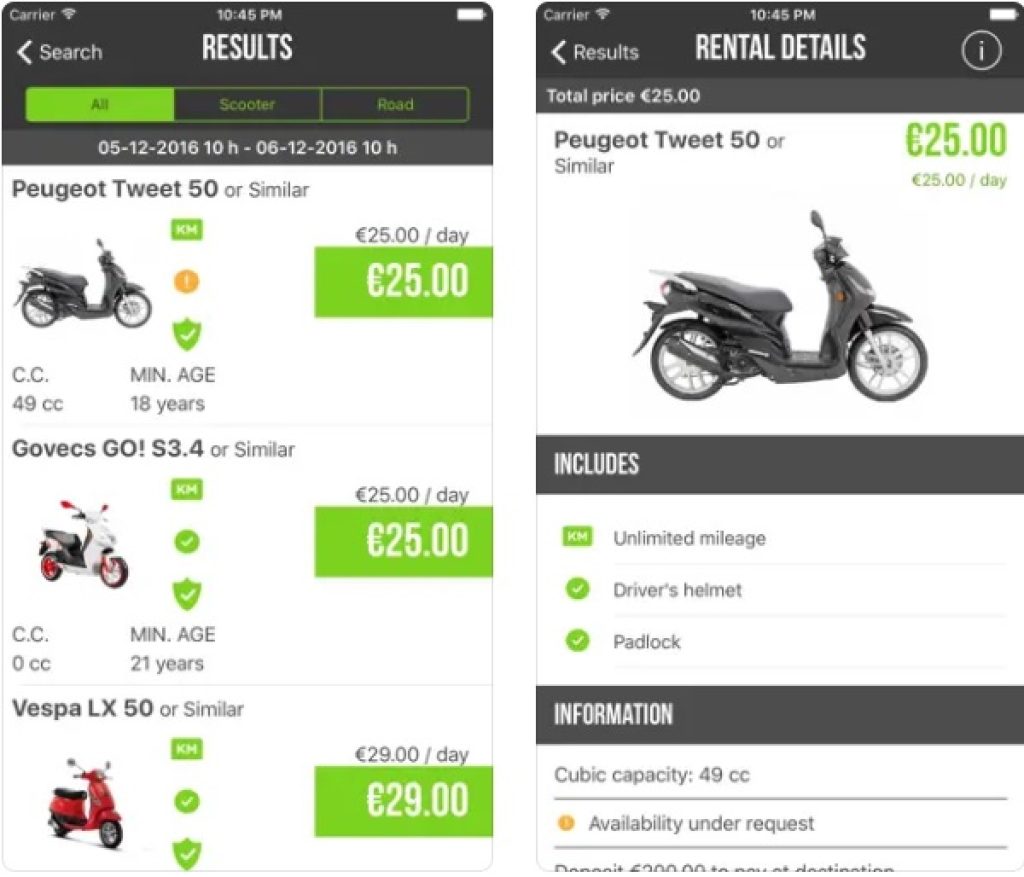 HertzRide
HertzRide is a suitable option for you if you want not only to ride a motorcycle but also to experience a complete guided or self-guided tour.
As for the tours, the service suggests such places as California and the Southwest of the country. All the tours are very extensive and elaborate.
The routes are quite long and comprise the most scenic views of the region. They all last up to a week, but it will not be too hard since they differ according to the level of difficulty.
With the motorcycle that the service is going to lend you, you will also have a wonderful community to share your journey with.
A basic option is to ride a BMW 750 GS motorcycle and live in a shared room, but you can customize your stay and opt for a single or a double room and upgrade your motorcycle for extra money.
Every route has a professional tour leader and program that defines every day of the ride, making it full of different activities and a unique experience.
You don't want to go on a tour? Well, in that case, you can use HertzRide just as a basic motorcycle rental app. You can use it all over the world. In the USA, the service provides such locations as Las Vegas, Riverside, Miami, Los Angeles, and New Jersey.
You can pay for the bike you want to rent at once or book a reservation for the time you need. Enjoy riding a new BMW or Harley Davidson bike or getting out of your comfort zone and observing the magnificent scenery of the southern coast of the country.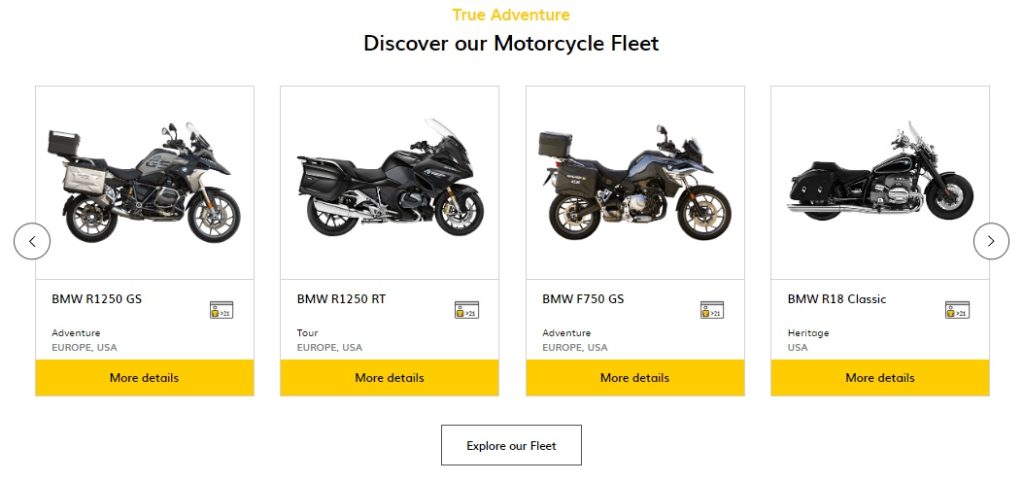 Riderly
Riderly offers its users to rent a motorcycle anywhere in the world and means it since it has probably the most extensive database of locations. You can rent a bike while you are in Asia, Africa, as well as in Europe and, of course, in the USA.
You can search for a bike according to the location and the distance between you and the vehicle. You can opt for a motorcycle itself or you can choose either a scooter or a quad. Next, you can filter the options by suitable driver's license, the age of the driver, the brand, and the category of the bike.
If you plan a journey that presupposes border crossing, you can press such a button in the menu as well and try your luck searching for such an option.
The average price of the bike will be between $100 and $200 a day. You can choose various add-ons as delivery and even a local tour of the city you rent the bike in. Initially, you are to pay only 15% of the sum and the rest at the destination.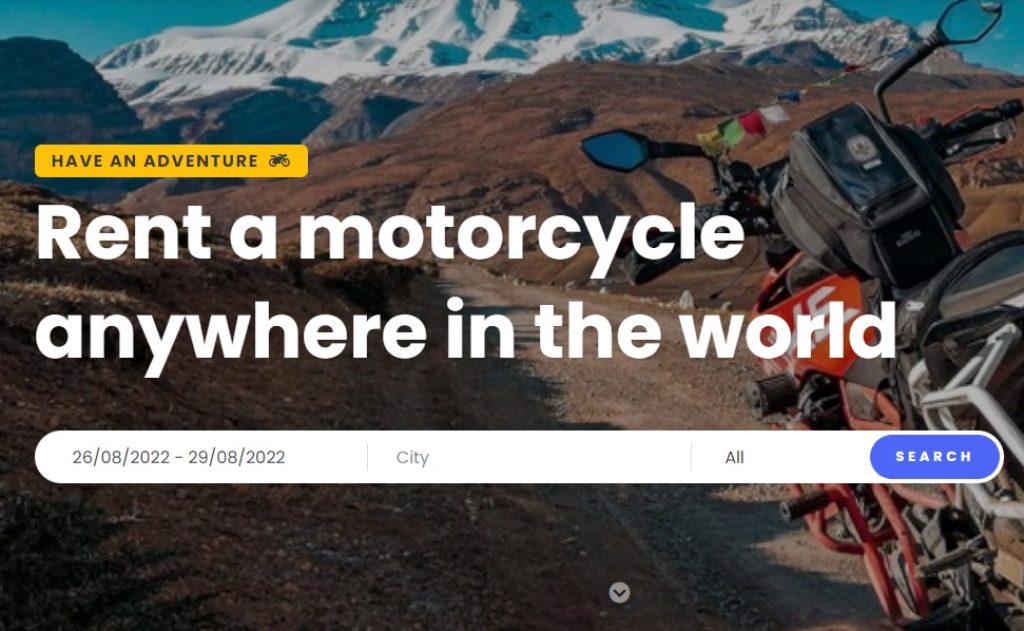 You may also like: 11 Free road trip apps for Android & iOS
Rent a Ride
If you have ever dreamt of riding specifically a BMW bike, this service is definitely for you. Rent A Ride is a BMW Motorrad motorcycle rental platform.
Here you can choose a bike that meets your criteria and the type of journey you would like to have, either an adventure ride in the mountains or an observation tour of the coastline.
Once you have chosen your BMW, you can add a navigation system and a rider jacket for you and your passenger if you happen to have one. After that fill in some personal info about you and your driving license.
When you are done with mandatory fields, make your reservation. You will get an e-mail to study all the details and to confirm your booking.