Looking for a pocket spreadsheet document reader? This app has you covered!
There are plenty of CSV file reader apps for Android & iOS that will be a simple solution for your productivity. These apps let you keep your table data editable and organized.
Herewith these apps let you view and edit your files just like you would on a PC. Plus, all the spreadsheet sizes are covered so no matter how long yours are — you get to work with that.
On the run for powerful office apps? Then check out this article: 11 Free office viewer apps for Android & iOS
Here are the best Comma-Separated Values file reader apps you may try. Take a look!
WPS Office
Let's start with the WPS Office app. It's an all-in-one doc reader that supports plenty of file formats including the CSV.
If you need one tool for viewing and editing all your doc files — this is the one for you. This app is compatible with Microsoft Office but all its basic features are free and it's a bit smarter as well. Plus, this app is easily integrated with Zoom, MS Teams, and other educational platforms which s nice.
Along with viewing various doc formats, this app lets you edit all of them. Thus, if you'll need to adjust something in your presentation the go you can easily do that.
You can also easily convert your doc into other formats and share it right from the app. The app also has a built-in scanner so you can quickly get a digital version of paper documents.
Furthermore, the app supports electronic signature which is nice for all kinds of reports and all that. The same goes for the watermark — you can add one to your file in secs.
You can also attach your profile to a cloud storage service to never lose any of your docs. In case you're not into using third-party storage services the app gives you 1G of free storage which is more than enough.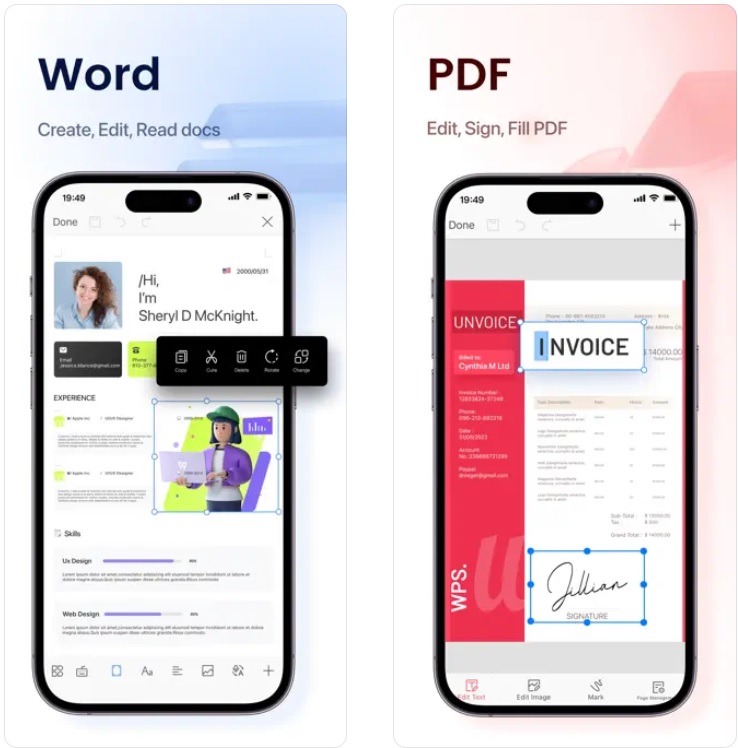 You may also like: 8 Best spreadsheets apps for Android & iOS
CSV File Viewer
As you may see by its name, it's a CSV file reader that covers variously sized files.
Apart from the previous app, this one is fully dedicated to CSV files. So is it a good or a bad thing? Well, it depends. This is quite a powerful app that lets you view and edit your CSV files on the go. Thus, if you don't really work with other file formats that often — this app is your best choice.
As it was already mentioned, this app covers all sizes of files so you can load the massive tabular database with no effort.
Plus, the app automatically discovers all the CSV files you have on your device or any external storage. The editing tools are quite powerful here — you get to copy ells and tows, turn the line number on and off and sort the columns by any order.
The app also covers various filters that let you reach particular rows or columns right away. You also get to adjust the text size, font, style, color, and more. You can even end your doc for printing in a couple of taps. In case you need to convert your table into a PDF the app can cope with that as well.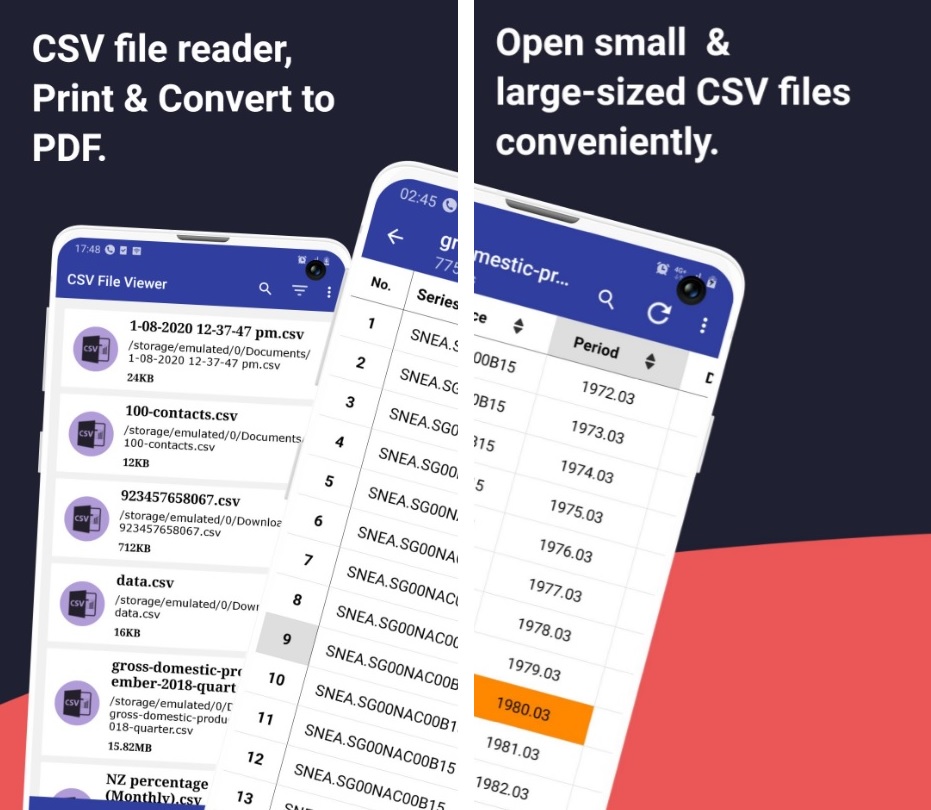 Microsoft Excel
Does this app need an introduction? More likely, no.
This is by far the most commonly-used tool for viewing tabular data format. This app lets you easily view, edit and create sheets on your mobile wherever you are. As you already know, the CSV is a comma-separated value file so when you'll open it via this app it will be automatically turned into a table.
Once it's done, you'll get to edit it just as you would on a PC. You get to run analyses via various formulas, add diagrams and graphs, and do whatever else comes to your mind.
Plus, you can add rows, columns, change the font, text size, and all that. The app also covers multiple filters that let you treat particulate rows or columns quickly.
You also get to add comments and notes to all tables if needed. Besides, you can share your file within a few taps along with importing it to a cloud storage service.
You can also invite other people to edit the file with you in real-time if needed. This is a cross-platform app and your files will look the same on all the devices with no glitches or else.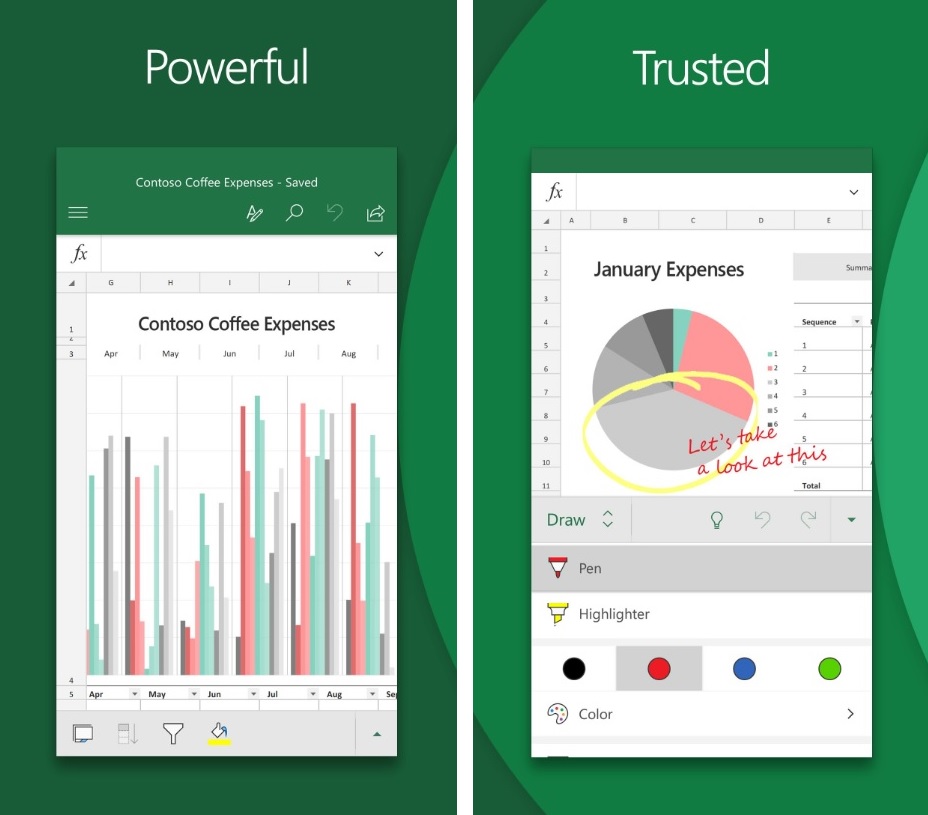 All Document Reader
Next, we have an all-in-one office app that lets you view and edit your docs on the go.
This is one of the leading office apps that cover plenty of formats — from classic PDF and XLS files to CSV ones.
The app automatically detects all the docs you have on your device so you could open them right away. In case you have any docs on an SD card or any other external storage the app can detect them as well. As for the UI — it's simple and intuitive to work with.
Herewith, you get to organize all the docs you open within the app and sort them into folders for easy navigation. The app also gives you a wide range of editing tools for all the doc formats.
As for the CSV files, you get to add and delete rows and columns, work with individual cells, and all that. Plus, you can change the style of your doc by switching the text's font, color, size, and more.
You also get to adjust the background of the whole table or for some rows, columns, or cells individually. You can also use various searching filters to access individual rows quickly.
Plus, there are lots of analysis formulas you can use if needed. Once you're done with the file you can save it on cloud storage or send it via messengers or e-mail.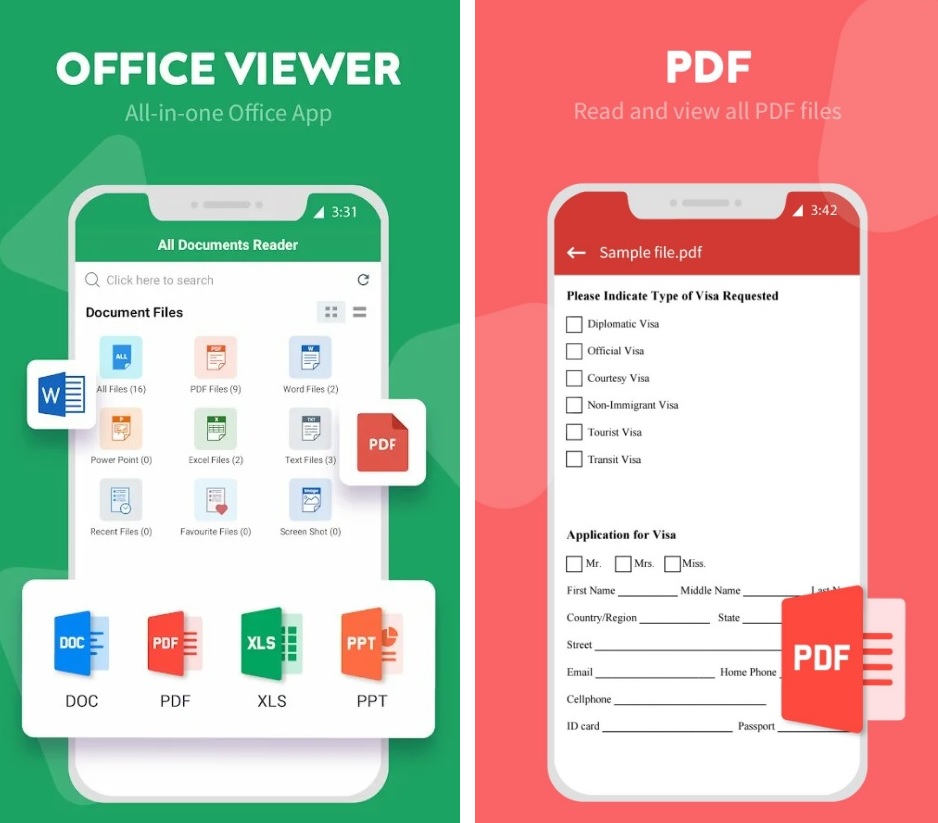 Microsoft Office
This is the one and only — an ultimate Microsoft Office app that brings together all the most popular office tools.
The main concept of this app is a pocket-all document reader you can access seamlessly wherever you are.
Frankly speaking, if you're a long-time Microsoft products user and you want to level up your productivity — this app is for you. Speaking of CSV files, this app lets you open and edit them without any effort or limits.
In other words, you get the same experience that you would with the PC version. You get all the most-used table tools — from filters to analysis formulas.
Plus, you can add new rows, delete ones, change the bg, and so on. You can also edit the text, switch its color, style, and more. The app doesn't require a web connection so you can use it wherever needed.
Additionally, the app is compatible with cloud storage services so you can instantly save your docs on any of them. Besides, the app provides you with collaboration work so you can edit the files along with your colleagues.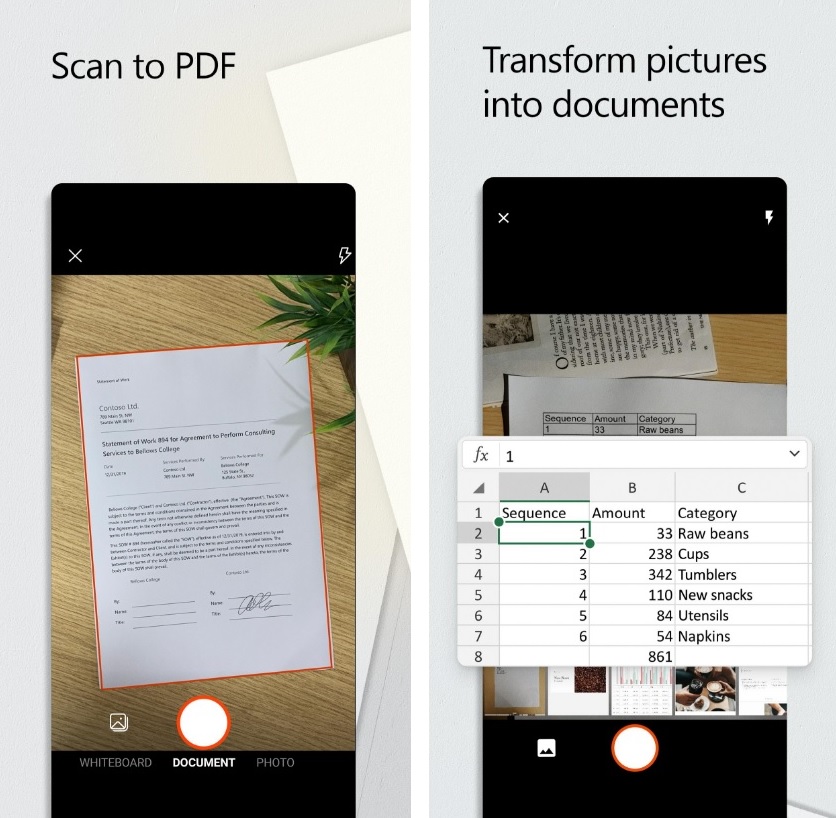 You may also like: 11 Best document scanner apps for Android
XLSX viewer
The name of this app speaks for itself. This is the ultimate app for all the tabular files like XLS, CSV, and more.
Frankly speaking, if you tend to work with various tabular file formats — you'll get a big use of this app. It lets you open spreadsheet files directly from any messenger, web, external storage, or else.
This is a cross-platform app so all the spreadsheets and diagrams look the same on all the devices (no glitches and all that).
Besides, this app is great for collaborative work as it lets you invite other users to work on the file at the same time you do.
Herewith, you get all the most-used formatting tools in one place so you can easily create a full-on table from scratch. The app lets you add extra diagrams and customize them, add new rows, adjust the text, the style of the spreadsheet, and more.
There are also various analyzing features you can use such as formulas or chart labels. You don't need the Internet to run this app so you can use it on the go. You can also share the outcome files right from the app along with saving them on cloud storage.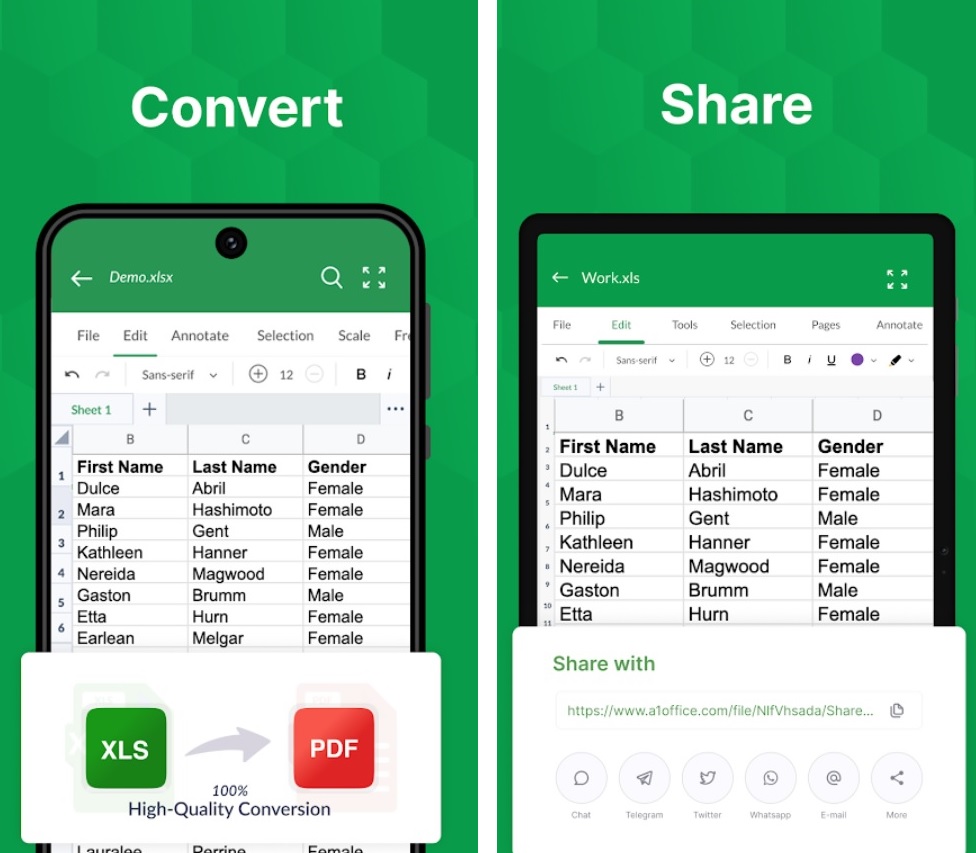 CSV Viewer
And lastly, CSV Viewer is a spreadsheet file reader that covers all your needs.
Let's, take things to learn right away — the interface of this app is not the most modern and stylish compared to other apps on our list. However, this app gives you detailed formatting tools that are quite useful. First of all, the app covers several data delimiters — from comma to the tab.
Besides, you get to view the files in ZIPs in secs which saves lots of time. The app overs several display modes so you could view your files the most convenient way.
You can even switch between portrait and landscape orientation if needed. There are also lots of filers that you can use to quickly access a particular row, column, or cell.
Additionally, you get to set plenty of chat codes and other filters if needed. You can also detect all the CSV files on your device and external storage.
This app runs on several platforms so you can be sure there will be no garbles when you open the file.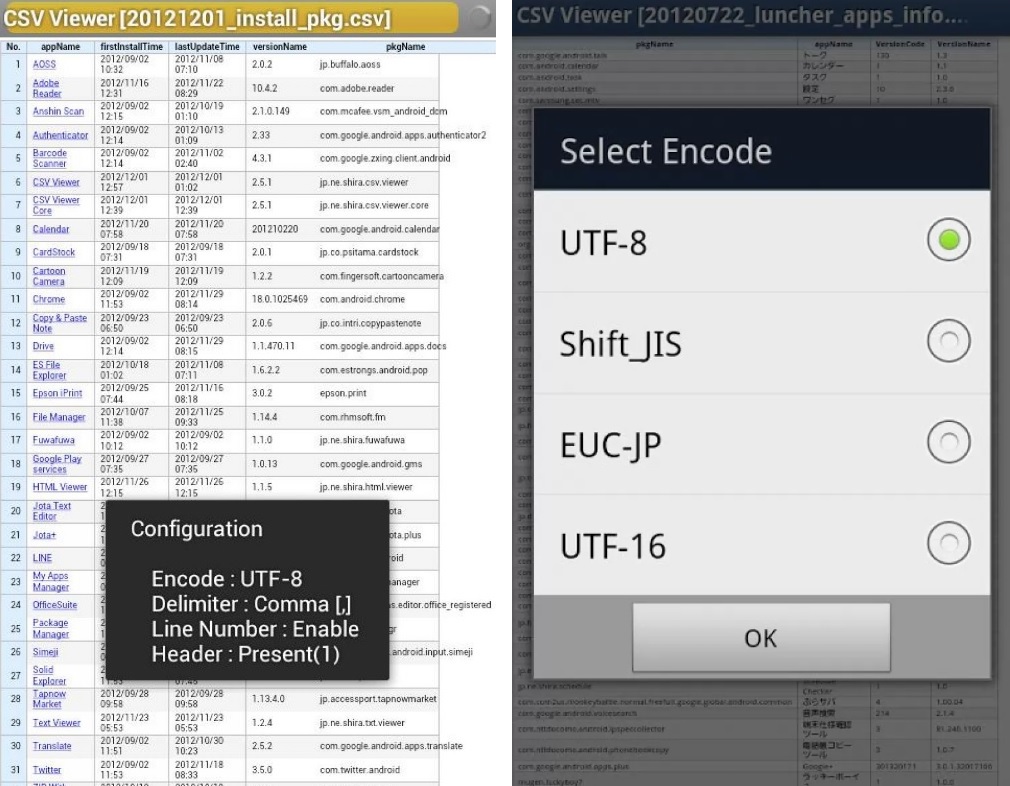 Smart CSV: CSV File Viewer
Smart CSV is worth using as an app that provides users with a simple and intuitive way to create and edit CSV files on their Android devices.
The app is designed to be user-friendly, even for those who are not familiar with CSV files. The nuances of Smart CSV are easy to learn, allowing users to quickly create and edit CSV files on the go.
However, the simplicity of its design complements its purpose as a functional tool rather than an aesthetically pleasing one. Despite the app's simplicity, it is still easy to navigate and use effectively.
Though, there is a lack of some advanced features that are available in other CSV editing apps. For instance, users cannot add images or charts to their files using Smart CSV.
In addition, some users have reported disappointment with the app's limited functionality in terms of importing and exporting files. These limitations may be a drawback for users who require more advanced CSV editing capabilities.
Advantages:
User-friendly interface.
Easy to learn.
Reliable tool for managing data on the go.
Drawbacks:
Lacks advanced features.
Limited functionality in terms of importing and exporting files.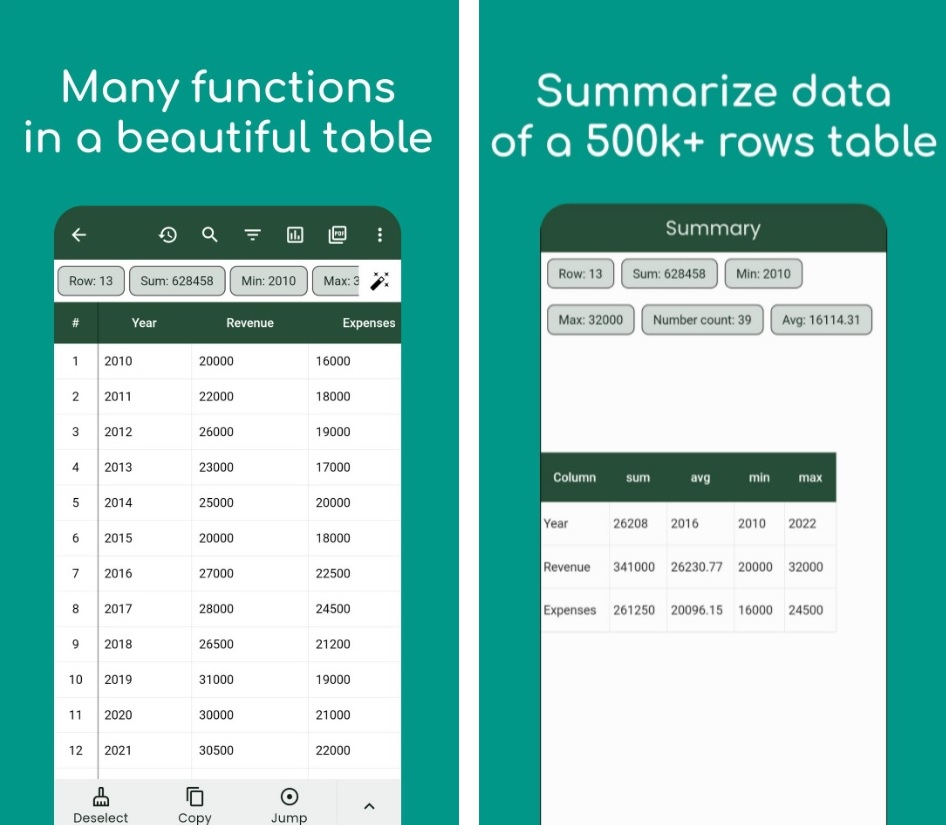 You may also like: 13 Best Document Editing Apps for Android & iOS
CSV Converter, CSV to PDF
If you need to convert files it is possible to use this mobile app.
Convert a single CSV file or multiple CSV files at once, depending on your needs.
As for the graphics, the app has a clean and modern design that is pleasing to the eye. The color scheme and layout are well thought out, making the app look professional and polished.
However, since this app is mainly for converting files, graphics aren't the main focus, and it does not require advanced graphics.
Also, it does not support other file formats like XLS, XLSX, or ODS. It is solely focused on converting CSV files to PDF, which might not be ideal for users who need to convert different file formats.
There were some negative comments from users who mentioned that they were unable to open the converted PDF file.
Advantages:
Converts CSV files to PDF format easily.
Simple and user-friendly interface.
Drawbacks:
Only available on the iOS platform.
Limited customization options for the output PDF.