21 Best music without wifi apps for Android & iOS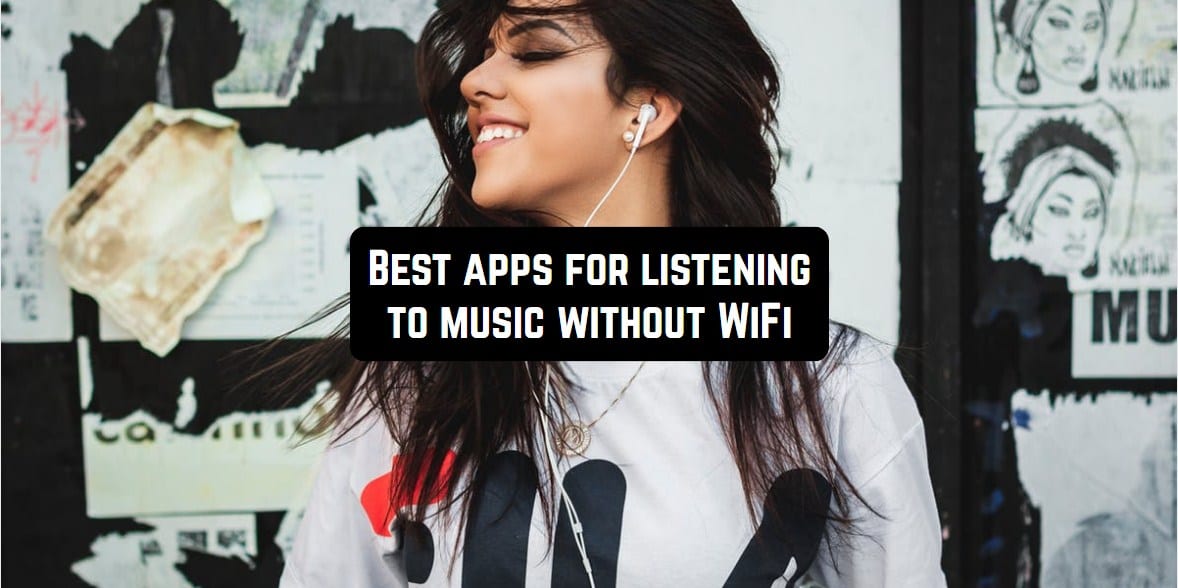 Listening to music is one of the most popular entertainment options on your smartphone or tablet. There is a huge number of apps for listening to music on Android and iOS devices, so sometimes it is very difficult to find the app that is best for you. The list below contains 21 best music without Wi-Fi apps for Android & iOS. Listening to music on your device offline is easier than you think!
Slacker Radio
This app stands out from the rest radio applications in that it can select stations on the basis of your preferences. For example, if you like Plain White T or Patrick Stump, you can search for radio stations that broadcast their music. The application is free and it is constantly updated: new playlists that are in line with your musical taste are added all the time. The app also provides access to news, entertainment and weather radio stations, such as, for example, ABC or ESPN.
Offline listening without advertising is available for $ 3.99, and for $ 9.99 you can get a premium account that gives you an on-demand playback and support for your playlists.
Slacker Radio is a multifunctional radio app for your device that can memorize genres and artists. Play a melody and the app will pick up similar songs for you. It will automatically detect your favorite music genres and create a playlist of the most popular new songs for you.
Features:
a huge collection of tracks;
a convenient control menu;
wide functionality;
battery saving mode.
Get it on iOS
Get it on Android
Guvera Music
Guvera Music is an excellent application for listening to music for free both online and offline. In this app, you can find lots of songs to your taste. There are such genres as pop, electro, hip-hop, rock, and even something called 'exotic destinations'.
After going through free registration, you will get access to the following features:
listening to millions of compositions by foreign artists in the highest quality;
creating a personal radio using hashtags;
playback of the existing playlists compiled by the application's professional editors;
designing your own playlists with the possibility to share them with friends or other users of the application;
listening to the playlists compiled by other users, popular brands, music artists, etc.
There is a paid subscription, the purchase of which allows you to:
disable advertising;
get access to all the tracks present in the database;
see the names of the downloaded songs;
listen to music offline.
Spotify Music
Spotify is probably the most popular music app both for Android and iOS. The functionality includes a personalized radio, the ability to create your own playlists, music recommendations based on the user's preferences, useful lists of musical novelties, various tops and editorial picks that are renewed at a certain time every day. Also, in Spotify, there is an offline mode and audio quality setting range that depends on the speed of your Internet connection.
As we see, in terms of functionality and a variety of searching features, Spotify has many advantages over other music without WiFi apps.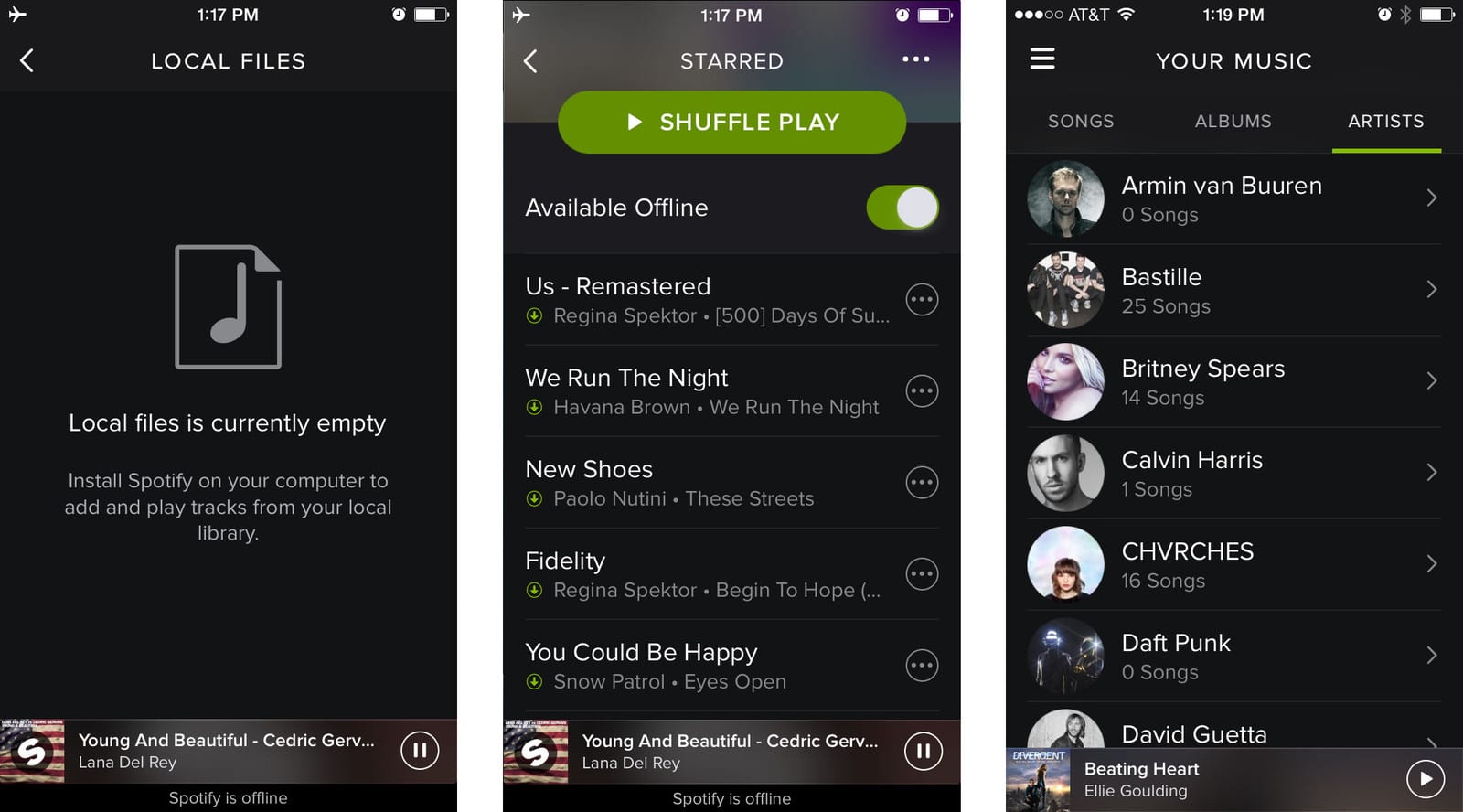 Get it on iOS
Get it on Android
Bloom.fm
Bloom.fm is a service that allows you to download music to your smartphone for offline listening. The application's developers call this offline service "borrowing" as it works as a rental system: users download songs to their gadgets, listen to them offline and, when they get bored, exchange them for other songs.
The most profitable package of services at a cost of $ 1.49 per month can please both average listeners and real music fans. There is also a free package but it does not include offline playback. Unfortunately, the application is only available in the UK, but marketing director Jonathan Clark said that soon the music lovers from other countries would also be able to evaluate Bloom.fm.
Evermusic
Evermusic allows you to assemble all of your music from various cloud services in one place. The app can be used on iPhone or iPad.
It supports four popular "clouds": Dropbox, Google Drive, Box, and OneDrive.
In the settings of Evermusic, you can specify how you prefer to download songs: only while connected to Wi-Fi or using the cellular connection as well. What's more, you can limit simultaneous downloading, the time of buffering and the number of attempts to download tracks, which is useful in case you have an unstable cellular data access.
Get it on iOS
MusiXmatch Lyrics Player
MusiXmatch Lyrics is an excellent application, the functionality of which is somewhat like the one of the app Shazam. Shazam is known for having a powerful search engine for music. If you often find yourself looking for the lyrics of your favorite songs, this application is just for you!
MusiXmatch has the largest database of lyrics in the world with more than 7.3 million licensed texts in 18 different languages. Just launch the app while listening to a song on your smartphone, radio or TV and in a few seconds you will receive its lyrics.
In addition to the lyrics, there will be displayed a biography of the artist and their most popular tracks. You can share this information with friends.
A particularly interesting feature of the app is FloatingLyrics – it synchronizes a needed text with playback. A song can be played not only in the built-in player but also in a third-party player like Spotify or Play Music. One more interesting feature is the ability to remove the performer's vocals from the track so that it was possible to sing like in a real karaoke. It should be noted that the vocals are cut out quite well, but if something does not suit you, you can always use an equalizer available in the player. With it, not only can you change the genre of the track for a cleaner sound, but you can also regulate the volume of the voice as well as the sensitivity of the microphone. Connect a headset and feel like a real artist on stage!
In general, MusiXmatch is a very interesting product. Having gathered the most interesting features from various applications together, the developers made something suitable for all the music lovers. The app is three in one: searching for songs, searching for lyrics, and removing the vocals from the tracks.
Get it on iOS
Get it on Android
You may also like: 11 Best offline lyrics apps for Android & iOS
Google Play Music
Google Play Music is a music app by Google. Many people think that it is a player, but it is not. The program represents the whole system for music lovers. After installation, you get access to millions of tracks in all conceivable genres and styles. Search for, listen to, buy and share your favorite songs!
The interface of the app looks modern and cool. Retractable side menu and large icons make it even cooler. All the songs are automatically sorted by groups and albums, which significantly facilitates the search. The most important feature is downloading files for offline use.
Among the additional features are radio streaming based on a track, album or artist and recommendations created on the basis of your library.
After subscribing, users can add songs to the library, create 'radio stations', skip uninteresting songs, and listen to the rest without an Internet connection.
Google Play Music will certainly appeal to all music lovers. It's nice that the library is constantly updated and new artists and albums are added all the time. No shortcomings have been noticed so far, which is not surprising – Google does make a good job.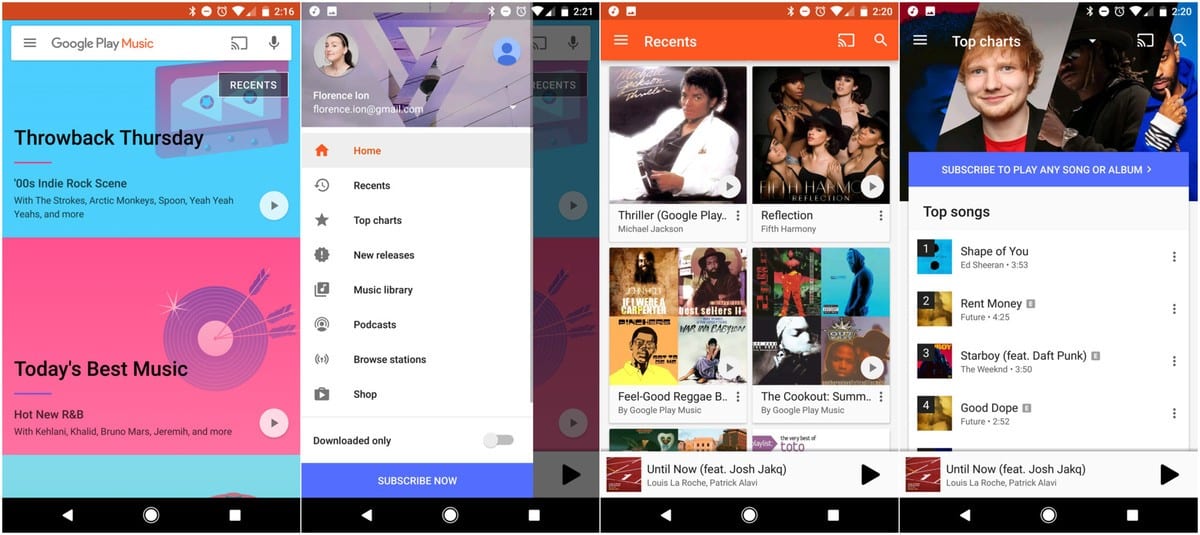 Get it on iOS
Get it on Android
Deezer
This is a 'Subscribed' service. For some fee, Deezer users can remove ads and gain access to premium features such as improved audio quality (320 kbps), playlists and albums synchronization, offline listening, the ability to skip any number of tracks. In the player's description, it is said that the player has a very large library – over 30 million songs.
There are two types of search for radio stations in Deezer: by genre (rock, jazz, alternative, classical music, etc.) and by performers. If you don't like a proposed track, Deezer won't play it to you again. Presets are supported – for example, you can add some bass or vocals.
All the premium features of Deezer are available for free within the first 15 days after the installation. After the trial period expires, the player remains completely functional but the sound quality deteriorates and you start to see advertising now and again. Non-premium users can still see the recommendations (FLOW function), find and listen to radio stations, create playlists and view lyrics.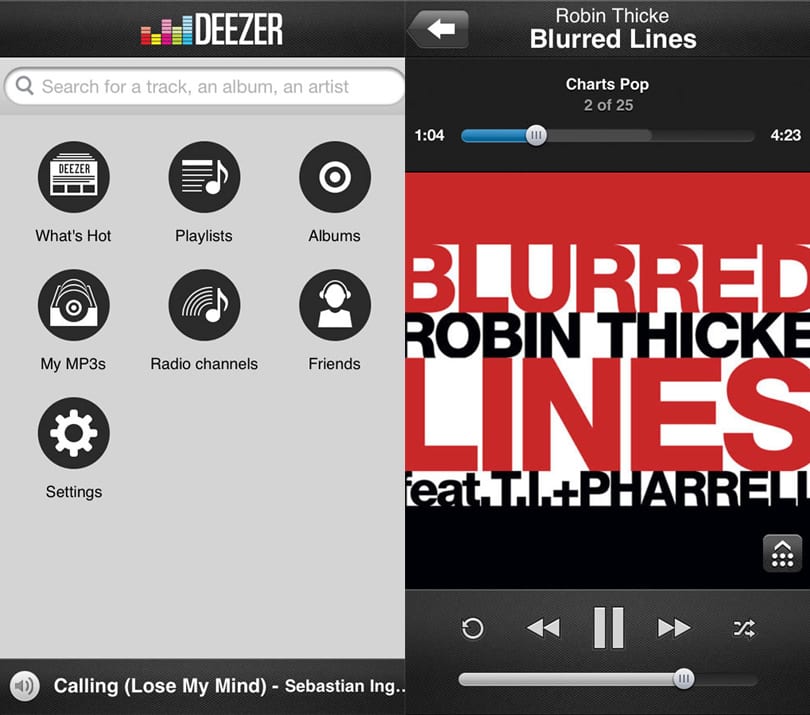 Get it on iOS
Get it on Android
SoundCloud
SoundCloud is a social platform for music distribution. There are not so many popular songs in it, but there is no shortage of little-known indie artists who want to share their work. In addition to music, SoundCloud lets you listen to podcasts and news.
The app allows you to search for songs by genre, subscribe to friends' updates, track the songs that are gaining popularity. You can search for and listen to music right after installing the application. To like tracks, compose playlists and share them, you will need to register. The SoundCloud's interface is clear, the navigation is fast and convenient.
What's most important is that it is possible to save songs in order to listen to them in offline mode.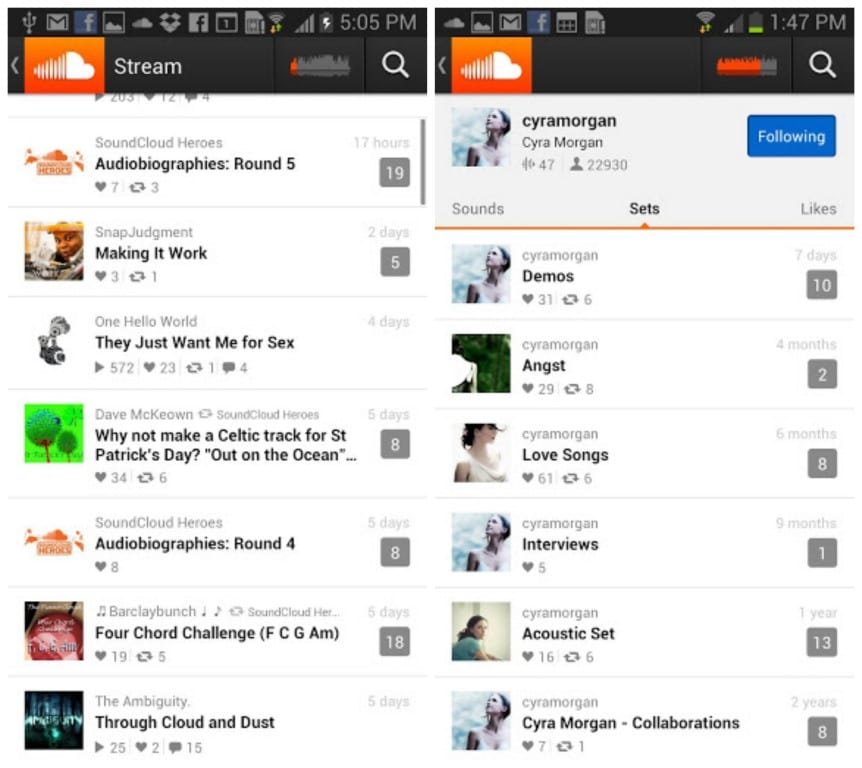 Get it on iOS
Get it on Android
Shazam
Shazam is a very popular app made for identifying songs. It works in the following way: in order to learn the name of the song, you need to bring the microphone to the sound source and tap on the big button with the app's logo. It takes a few seconds to identify the composition. The identification is almost always successful because the database is huge. After the search is completed, you will see the identification results – the artist, the title of the song, the links to its acquisition in popular online stores.
The program automatically memorizes all your 'shazams' and stores them in history. You can share your findings with friends on Facebook or using popular instant messengers. In addition to identifying tracks, Shazam can be used for finding new interesting music. The service makes a weekly chart of popular tracks and offers unique music recommendations for each individual user.
Shazam is completely free. The identification of tracks can be carried out offline.
Key features:
automatic identification of songs;
offline mode;
history of 'shazams';
personal collections with interesting music;
integration with the voice assistant Cortana;
provides links to the stores where you can purchase an identified track;
supports hot keys.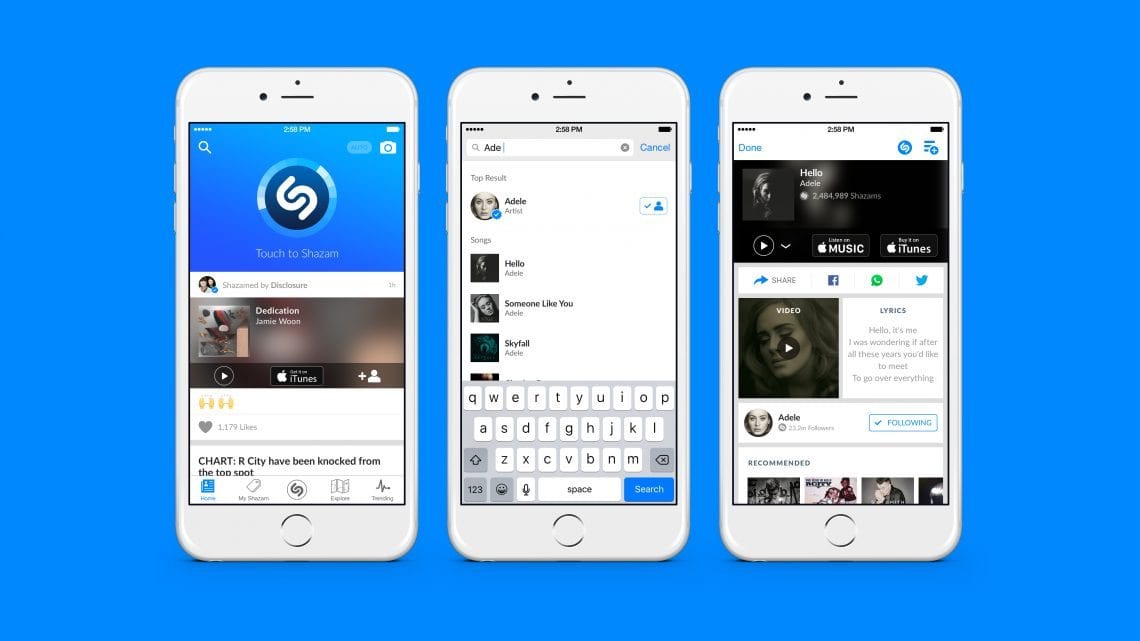 Get it on iOS
Android version
MusicSense
MusicSense is a streaming audio service. It is interesting mostly because it tries to offer tracks that you like immediately, without any actions from your side. After binding your Facebook account, the app analyzes your profile, listening history, iTunes library and the most popular tracks in your surroundings to understand what music you would probably want to listen to. On this basis, it creates a list of recommendations.
All audio recordings are available for free and do not require downloading. You can choose any melody to make the application create a compilation by genre. MusicSense stores your favorite tracks in the Favorites tab. They are automatically downloaded to the device's memory and are available offline.
Features:
support of radio stations;
analysis of the music collection;
suggesting new music;
access to your favorites without WiFi.
Get it on iOS
Apple Music
Apple Music is a music store that provides subscription services. This means that you pay some money every month to be able to download tracks to your phone and listen to them offline. For many, this is an acceptable solution to the problem.
In order to listen to music offline, you need to make a playlist in advance. This playlist will be kept in your smartphone's cache. The music downloaded in this way can be listened to only on your phone –  it cannot be transmitted to other devices. If you have more than one smartphone in your family, it's best to buy a single-family subscription. Thus, you can save your money while still using this convenient service to the fullest.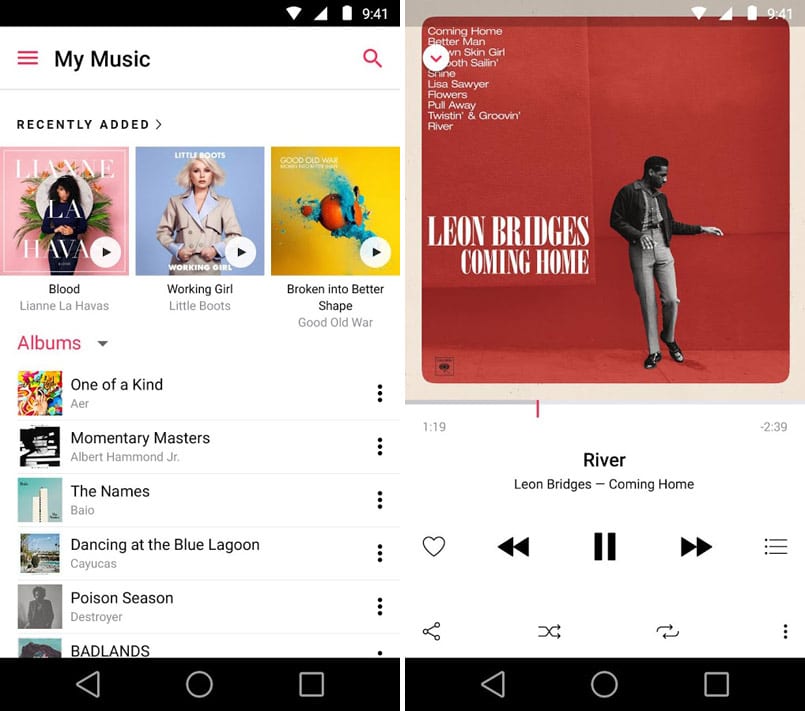 Get it on Android
JioSaavn
JioSaavn has more than 13 million listeners and new ones are joining every day! This is an app for listening to Indian music. The design of the app's interface is modern and cool. The front page is like a showroom – there are a lot of ads, access to different charts and radio shows, and a list of genres. But first, you need to choose the language in which you prefer to listen to music.
The player is extremely convenient. However, downloading tracks for offline listening is only available for those who bought Pro subscription. This is also the case with playback controls. In case you don't want to go pro, you can use additional controls situated in the notification panel. All radio stations are divided into sections by genres or by performers. In general Pro subscription gives you the following benefits:
downloading tracks without restrictions and thus listening to them offline;
higher music quality (320 kbps);
no ads or banners (in the free version they can be easily closed).
You can purchase a subscription through a couple of taps. In the settings, you can select the quality of audio (by default, there's set an option 'Auto' which selects the most acceptable quality for listening based on the speed of your internet connection), change the initial set of languages and activate smooth switch between tracks.
The application JioSaavn Music & Radio stands for the whole world of music and radio channels suitable for every taste!
Get it on iOS
Equalizer+
Equalizer + is a music player that can improve sound quality and increase the volume of tracks. It works both like a music player and an equalizer. The app's search engine allows you to search for a needed artist, album or song by name. After choosing the desired track, you can adjust the audio frequency and save the settings.
Equalizer + offers five different frequency bands. Each filter can be adjusted to achieve a better sound. The app also has a bass amp. In general, this is a very good music player. However, to take full advantage of it, you need to pay. Among the paid features is offline mode. The basic features work pretty well so you might want to check them out first and then decide whether you want to pay for the whole package.
Get it on iOS
Get it on Android
JetAudio Music Player
This is a music player with extensive functionality and an impressive equalizer, customizable to the smallest details. There is also a standard set of features that includes playing all types of music formats, showing lyrics, and setting widgets.
The multifunctional twenty-band equalizer offers thirty pieces suitable for music of different genres. All is to reach ideal sounding! The adjustment system suits both beginners and experienced users. You can customize the loading of album covers, turn on the text display, change the workpieces of the equalizer. Open the world of music with JetAudio Music Player!
Get it on iOS
Get it on Android
Pandora
While speaking of the best applications for listening to music offline, Pandora is what immediately comes to mind. In this app, you can find a large number of music stations that you can listen to without access to the Internet. It should be noted that this application has fewer songs in its music collection than other applications of this kind. However, similar apps cannot beat the Pandora's functionality. You will find a huge number of functions, even an alarm clock. Waking up to your favorite music is easy now!
Get it on iOS
Get it on Android
TIDAL
This application allows you to listen to music with high fidelity as well as to watch high-definition video clips.
You will get access to more than 40 million tracks and 130 000 music videos with crystal clear pictures. You can also read music articles and music interviews. Download albums or tracks to be able to listen to your favorite music anywhere, anytime. Create your music collection, share it with your friends on social networks, browse your favorite artist's biography, customize the playback queue and a lot more.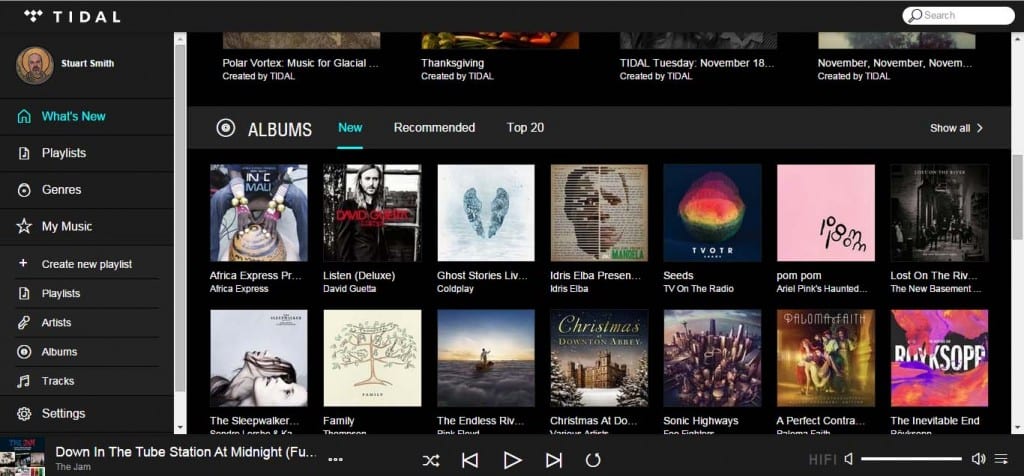 Get it on iOS
Get it on Android
Musify
Musify Player is an application with which you can legally listen to the music collected by SoundCloud and Jamendo services on your iOS or Android device.
The player allows you to listen to millions of saved tracks, search for the desired song using keywords or categories, and even start the music stream with just one tap on the screen.
Musify is a full-fledged audio player with an equalizer and a background mode. You can sort the songs by name, date, or duration; view album covers and the history of what you have listened to.
Amazon Music
Amazon Music is a huge collection of music with unlimited streaming capabilities without any advertising. Of course, the service is not free. Amazon's prime-subscribers pay from $79 to $119 for membership. A 30-day free trial period is offered for those who want to try the service. Amazon Music opens unlimited access to more than one million songs and hundreds of playlists. All the albums are located very conveniently so that you didn't have to search for them.
To use the app, you will need to create an Amazon account. The music you buy will be automatically downloaded to the application. You can create a special folder for the downloaded music so that your entire library could be easily accessed through the data cloud. You can also choose cache size and restore the deleted songs if you need to. What's more, the app has a very simple search for songs and artists. You can tap anywhere on the screen to use it.
Get it on iOS
Get it on Android
Napster Music
Napster Music is one more app for listening to music offline that requires payment. Everything is great about this app. It has no ads. You can download as many songs as you like. You can create playlists and use the recommendations section to find new songs. Everything! Except for one small detail – the price. It is not that high, of course, but for some people, it may be significant.
The app's popularity is growing all the time so we definitely recommend you to check it out! Who knows? Maybe, this one will be the one for you.
Get it on iOS
Get it on Android
Beats Music
Beats Music has a huge music catalog with over 20 million tracks. The design of the app is really beautiful. The registration takes just a few seconds – it can be done through email, Facebook, or Twitter.
After registration, you can specify your music preferences. By clicking on animated "bubbles", you indicate which genres of music you like most. Later you can always change your choice – add or delete something.
Beats Music has a social component. The songs can be shared on social media – of course, in order to listen to them, a one needs a Beats Music account; you can leave comments under or simply like the tracks you find interesting. The subscribers are given the opportunity to compile their own collections of hits, share them with friends, and recruit listeners. It is like having your own audio channel!
Another convenient feature is the offline mode. You can download any track to your device and listen to it even in the absence of the Internet. In the settings, you can specify in what quality you prefer to save the tracks. If you need to, you can switch the entire application to offline mode and listen only to what was downloaded.
---
As we see, listening to music offline is quite costly. There are some free apps with an offline mode but the services they offer don't come near the ones offered by the paid applications. Hopefully, now you know what you can get and are ready to make the right choice!