7 Best Quilter Apps for Android & iOS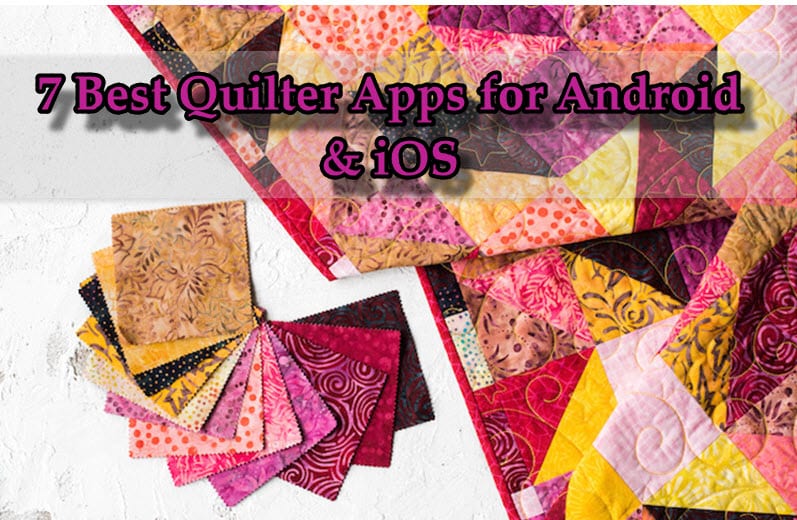 All things around us (books, furniture, clothes, etc.) are like a mirror of their owners and build a unique individual subject world, our second self. Careful, zealous attitude to our second "I" speaks about what kind of owner is in the house.
At the present time patchwork sewing is applied not only and not so much from the need to save materials or money. This technique has become fashionable. On its basis, modern products are being created that make our home and life comfortable and beautiful.
You may also like: 12 Best apps to sell handmade items on Android & IOS
At the present time, patchwork sewing is applied not so much from the need to save materials or money. This technique has become fashionable. On its basis, modern products are being created that make our home and life comfortable and beautiful.
Today we have prepared for you the top 7 quilter applications for Android & iOS devices and that will help you in this matter. Let's see:
Quiltography
This is the best helper for all the quilters – it helps to plan, measure design, and make the new quilt. In other words, if other apps include only one part of this information, for example, only allow you to upload design patterns or make calculations or measurements, here you got everything combined.
Quiltography works best on iPad but you can use it on iPhone as well. There are ready templates in the app, but there is also a possibility to add your own unique one.
Combine the colors, see which ones are matching each other, create patterns. After you have decided on a template, go to the measurements section. Then you have all instruments to start sewing.
You may also like: 7 Best sewing apps for Android & iOS
Quilt Now
Are you fond of quilting? Then, you can try Quilt Now app. This app is created for quilting and patchworking lovers. Each issue of Quilt Now is devoted to wonderful quilting projects and patchwork techniques from the best experts worldwide.
You will find useful information here whether you are a beginner or a professional quilter. You will find inspirational ideas for updating your home decor, as well as great gifts and fun creative ideas.
Each block presents stunning quilting projects: from full-size bed quilts to lap quilts, pillows, bags, and accessories, using the latest widely available fabrics and stash-friendly scraps.
Quilting Calculators
Quilting Calculators app was designed especially for quilters to simplify their work. There is a collection of 8 quilting calculators.
They are Fabric Measurement Converter, Backing and Batting Calculator, Piece Count Calculator, Pieces to Yardage Area Calculator, Binding Calculator, Border Calculator, Square-in-a-Square Calculator, and Set-in and Corner Triangle Calculator.
With these helpful tools, you will be able easily and accurately work out how many rectangular pieces can be cut from a larger piece, or how much fabric is needed for backing, batting and borders, square-in-a-square, set-in and corner triangles.
Stash Star Fabric
Choosing a fabric is essential in quilting and sometimes this process might take time and some effort to find the right one. The process of buying should be well-organized in order to avoid the mess.
Thus, you can upload the photos of the fabrics that you already have to see if they match the fabrics that you are going to buy. In the description of the fabric, you can mark its type, size, and color. A simple, but quite a useful app.
Quilt Wizard
The app that helps to plan all the quilting process right from the basics. First, you start with choosing of the material and pattern – there are dozens of templates in the app that you can try on. You can choose several colors, mix patterns together, creating your authentic style.
Then you choose the size of the thing you are going to create. You add all the measurements to the app. And by the way, you don't have to choose a fabric pattern in the app – you can also take a picture of an exciting one. Collect the template of your quilt and save it in the app so you would always have a final picture of what you are sewing.
QuiltingCalc
What is the most annoying part of quilting? Probably, it's making the calculations. Can you imagine how people used to make it by hand and how long would it take them?
Thankfully, nowadays we can easily download the quilting calculator into our smartphones – now all the planning process will take you less than 10 minutes! Just insert the measurement into the bars and choose the parameters that you need.
You may also like: 20 Best Calculator apps for iPhone & Android
Quilting Tutorials by MSQC
For those who only start their journey with the quilting, there is an excellent app to understand the whole process and to have guidance during the first hours of practice. However, experienced quilters will find the information here useful as well – how to improve their techniques, sews, maybe discover which mistakes they make during sewing.
Here all the information is explained by Jenny Doan of the Missouri Star Quilt Company (amazingly sweet woman). There are both video tutorials and articles that you can read in your leisure time.
Do you want to sell your masterpieces made by your own hands? In this article, we will talk about some of the most interesting applications, where you can virtually sell an exclusive handmade.