9 Best Teleprompter apps for Android & iOS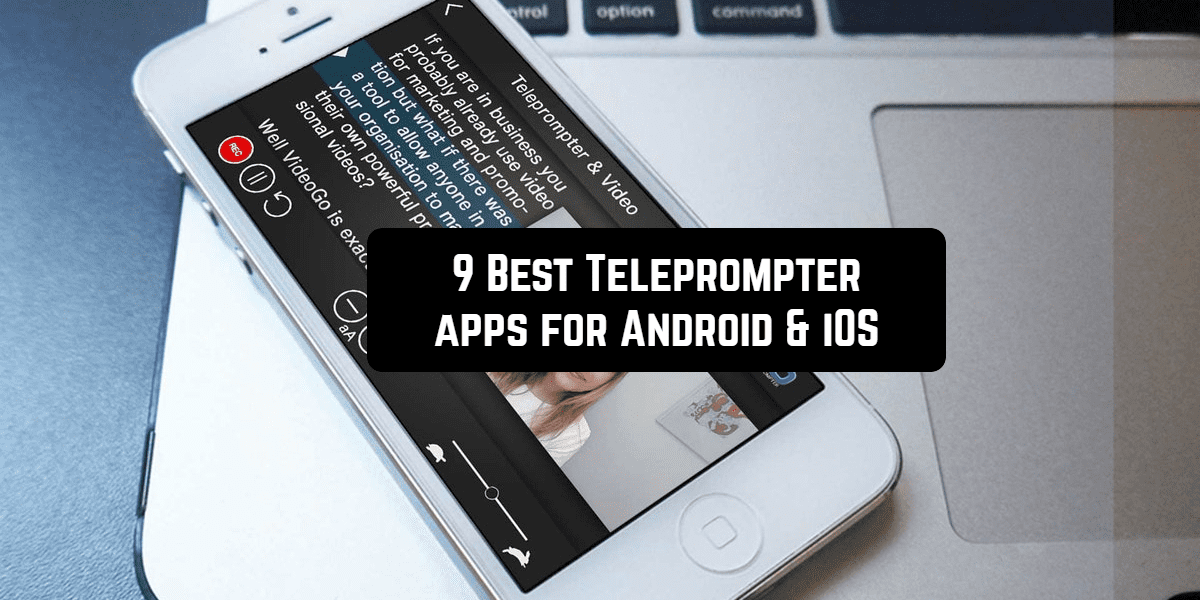 Today, thanks to the appearance of various applications intended for communication on the Web, such as Facebook, Instagram or Snapchat, the ability to send video messages and broadcast video online, a large number of smartphone owners joined the ranks of video bloggers.
You may also like: 11 Best vlogging apps 2020 (Android & iOS)
However, to remember and then beautifully read the pre-prepared text is rather difficult. Fortunately, there is a simple and convenient solution that will allow you to read texts of any complexity and duration to the camera just like professional TV personalities do. It's about a kind of on-screen prompters:
Selvi – Teleprompter Camera
A development team called John Galt Studio released a mobile application available for Android and iOS. It is available in the Play Market and App Store under the name of Selvi Teleprompter.
Selvi is designed to save your time and effort when shooting a video, and most importantly it's that the application helps you to look impressive on the video with your participation.
Selvi has a function similar to text prompter, which is used on television.
In the process of filming a video where it is necessary to speak not some ridiculous spontaneous things, but a clever coherent text, for example, to sing a song beautifully, to make a competent description of the goods or places where you are or elementary – to congratulate someone with a birthday, the problem with the memorization of the desired text arise.
With this application, you do not need to spend energy on writing cheat sheets, studying text, or editing duplicate videos.
If you want to eat delicious chips you buy Pringles because they are the best in your market, but if you want to easily shoot the amazing video from the first time, then download the Selvi Teleprompter application from the App Store or Play Market and see that it is the best on the market.
You can also check: 15 Best Voice Changer Apps for Android & iOS
BIGVU – Teleprompter
If you are going to record a video for a site, TV, social networks using a mobile device – smartphone or tablet, be sure to install the free BIGVU teleprompter application (iPhone or Android) – a prompter-assistant in real time. With it, you can easily recall the needed text, names, surnames, important nuances and so on.
How does the application work?
After downloading, you need to register or enter a profile on Facebook, Google+. Next – press on the button "Script" – this is the canvas – and create your own script, all the text, including the title. Click the checkmark – it's ready! After a few seconds, you can start recording.
You see the text at the top of the record, of course, this text will not appear on the ready video. After recording, the video can be saved, exported to YouTube, shared by reference.
Please note – in the settings there is a function of the number of words for a minute, the quality of the video. Successful shooting!
Parrot Teleprompter
Parrot Teleprompter is a simple tool that will turn your device in a professional teleprompter. It has a wide functionality:
change the scroll speed
landscape and mirrored modes for scrolling scrips
different text sizes
customize the visibility of changing foreground and background colors
creating an unlimited number of scripts
type and edit scripts right in the app
Teleprompter Pro Lite
Teleprompter Pro Lite is a simple teleprompter which can be used on your Android or iOS device. It has all the same features as other professional teleprompters: importing scripts, mirrors, and full-screen modes, changing font size and brightness, adjusting background color, changing the scroll speed. and so on. You can add an unlimited number of scripts. However, this function is available in the Paid version only.
Teleprompter Pro Lite is a great helper for presentations, lectures, broadcasters, filmmakers, musicians & singers, business professionals, or any public speaking!
You may also like: 7 Free apps for streaming using Android or iOS gadget
PromptSmart Lite Teleprompter
PromptSmart Teleprompter is a smart tool with a VoiceTrack function. It automatically follows your voice as you speak. A lot of users appreciate the app because of unparalleled and intuitive control over your scripts. Are you a video maker? Then, you should try PromptSmart Teleprompter! It will suit for video producers, podcasters as well as for teachers and business professionals.
The main features of PromptSmart Teleprompter:
VoiceTrack
Remote Control (paid)
Choosing the speed
Mirrored mode
Video and audio recording
Importing scripts from Google Drive, One Drive, Box, Dropbox, or Gmail
Choosing a font, background and text colors, font size.
Oratory
Do you want to make perfect speeches? If yes, Oratory will come to aid. It is a unique widget that works on all applications (like Facebook Messenger Chat Heads), which provides a flexible and convenient functionality that will help you to easily make very cool performances during live broadcasts, thereby bringing pleasure to your precious viewers and subscribers.
The main features of Oratory:
Changing the size and location of the widget on the screen of your phone
Adjusting font size and speed
Choosing the color of the widget
Changing the transparency of the background.
Capstone Teleprompter
If you are looking for a quality teleprompter, we can say that you have found it. This is Capstone Teleprompter – a simple tool working on handsets and tablets running Android. It has good functionality and simple Material design.
It is a kind of screen prompter that allows you to place on the display of your smartphone a prepared text.
All that is required of you is to prepare the "cheat sheet" in advance, by typing it directly in the application or by importing the ready text from the memory of your device.
Simple Teleprompter
Simple Teleprompter is an instrument to easily teleprompt texts using your Android device. After downloading the app, you can type or import scripts safely and fast.
The teleprompter can be customized to your taste. You can change the scrolling speed, font, colors, and lots of useful features such as auto-starting and mirror or locking the orientation of your device. It is possible to save, edit, or delete old documents. You can also create new documents by importing the text from .txt files.
Simple Teleprompter is free to download. Try it!
You may also like: 11 Best video compressor apps for Android & iOS
Video Teleprompter Lite
If you need a professional video shortage (or semi-professional) for a presentation, a report, video resume, or any other essential purposes, Video Teleprompter Lite is an excellent choice to record any video so it would be looking like you hired a professional director for that. The app will be especially useful for bloggers.
Video Teleprompter helps you to record professional and natural videos. Read your script beside the camera so that you're always looking towards the camera. The ending video is going to look natural like you learned everything by heart. The app allows to record all the videos in the best quality possible (for example, 4K).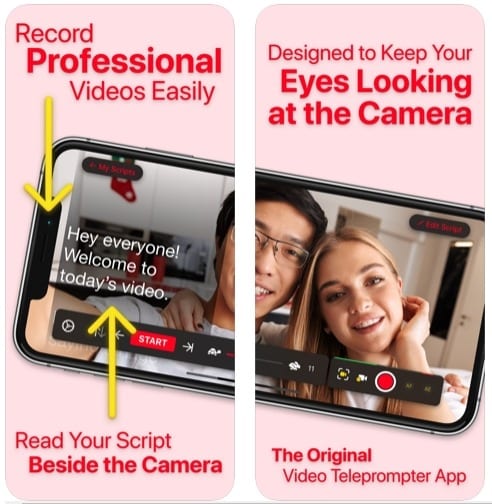 A teleprompter is used by many lecturers, journalists, and even the president. So this is normal and don't be ashamed. But such devices are quite expensive and if we have to speak to the public once, is this device necessary to buy? No, it is not necessary, because there are specialized teleprompter applications. So, you can test one of the presented teleprompters right now!