Networking is a cross between art and the science of building professional relationships. There are many good reasons for networking.
The main thing is that the more people you meet, the more you get to know each other. You also have a great chance of finding the best partners, employers or employees.
For such an area of activity, there are convenient applications created. In this list of networking apps, you will find the best apps to help you find useful contacts and conduct productive collaboration.
You may also like: 11 Best Business Networking Apps
Shapr
The Shapr app will help you find new customers, business partners, and employees. It is also useful in communicating with colleagues and like-minded people.
Use it in developing a network of business contacts. The audience of the app Shapr is successful specialists and residents of the big city.
They want to communicate more with colleagues and find useful contacts for business. Spend your free time in the company of new people with similar interests.
This app can be used to organize useful informal meetings with people of interest. With the help of the application, you can see which community members are close to you and ready to meet.
You will also learn more about the person of interest, the time, place and purpose of the proposed meeting. Here you can communicate with the professionals you are interested in virtually. You can also easily create your own meeting proposal.
Also in the application Shapr, you can exchange business cards. Business cards can be exchanged instantly. At the same time, you do not need to make personal contact with a person. All the necessary contacts will always be at your fingertips.
The application Shapr is extremely convenient to use during business events. For example, conferences, training, etc.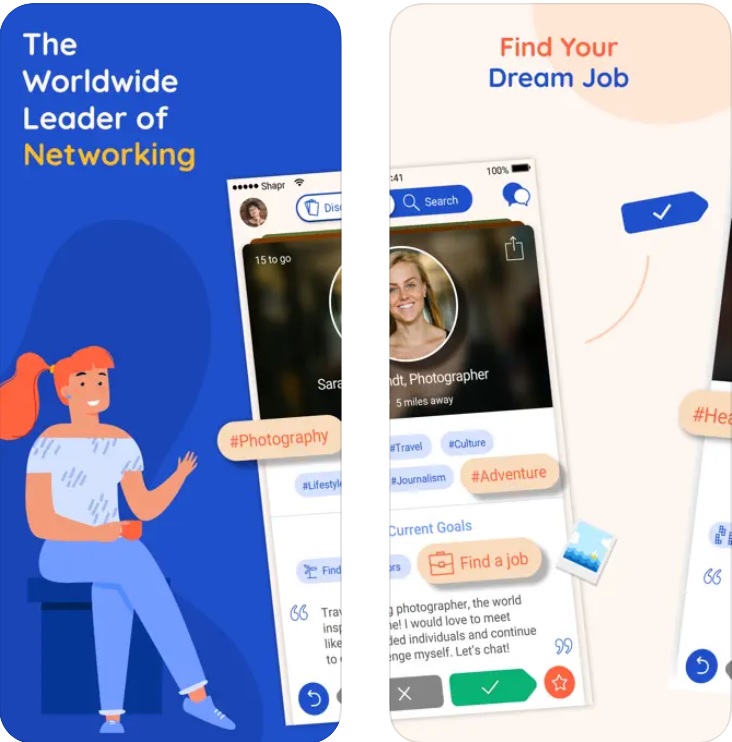 You may also like: 11 Best Apps that Block Social Media (Android & iOS)
GroupMe
GroupMe is the world's most popular business social network.
It is a place to find business contacts, companies, partners and market trends. Here you can create your own profile and profile of your company. Create professional relationships.
The app gives you an insight into who's around you here and now, how useful you can be to each other. In this case, the need for the first personal contact disappears.
It also allows you to instantly exchange contacts with a few touches of your fingers. The program GroupMe stores a large number of electronic business cards, which are always at hand.
The app serves as a working tool for professional users from different spheres and areas. Thus it will help in the targeted search for the right people among the users of the application.
The application will be useful for the active part of the population, who spend a lot of time networking. For example, entrepreneurs, company executives, young professionals, freelancers.
The application GroupMe is designed to be used during business events. Conferences, training, master classes. But, it is possible to use its possibilities in other places as well.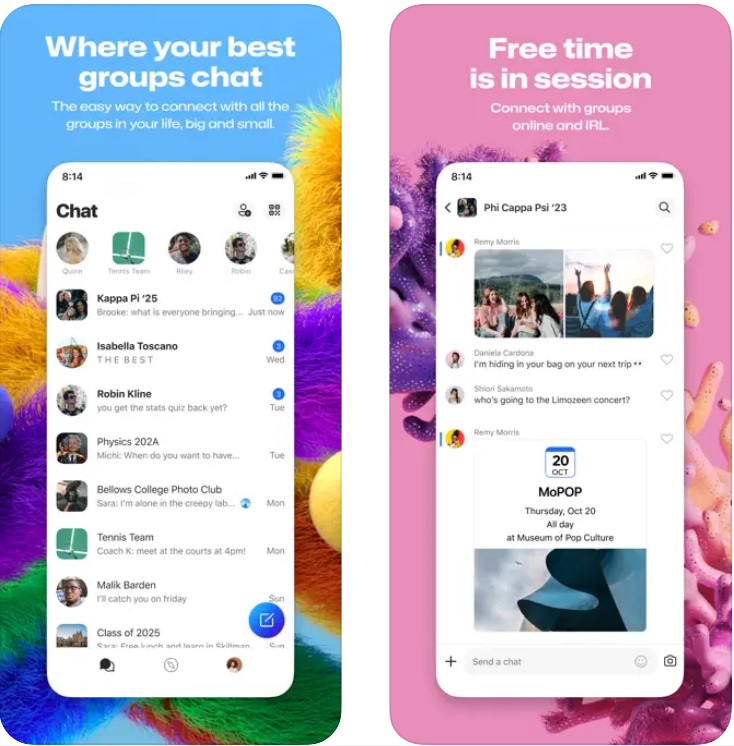 Eventbrite – Discover popular events & nearby fun
The Eventbrite – Discover popular events & nearby fun application is a handy networking tool.
First, install the application. Next, you need to login through any social network. Fill in brief information about yourself.
Now you can see all users of the application at a distance of 300 meters from you. Other users also see you. If you want to remain unnoticed, select incognito mode.
The general menu allows you to switch from one section of the application to another. Also here you will see the updates in the sections.
In the "Profile" section you can specify the company name, interests, city, your contacts. Install photos related to you and your business. Report on how you can be useful to others.
In the "Users" section you can see users within a radius of 300 meters from you, who have the app installed. At the beginning of the list are those with whom you have already exchanged contacts.
Below are some strangers. Also here you can choose the person you want to share your business card with and contact him.
The "Announcements" section contains announcements of users to invite them to the event. You can also find the right people or information about your project.
The "Business card" section contains business cards of people of interest to you. This section allows you to store hundreds of contacts and easily return to them.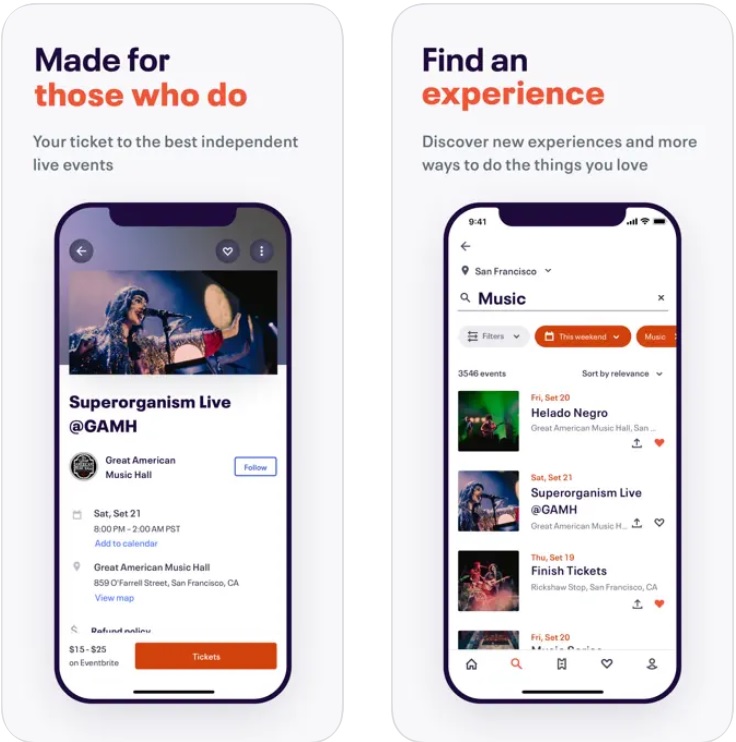 LinkedIn
The LinkedIn application is a convenient way to exchange contact information. It will be useful for everyone whose core business is networking.
Use the LinkedIn app when visiting business events and other crowded places:
View the business cards of everyone who is nearby.
Send your business card to useful contacts.
Accept business cards from people who want to meet you. You will see everyone you want to meet in the Enquiries section.
send the selected contacts to LinkedIn with one swipe of your finger.
Place your messages in the Announcements section to share valuable information with others. Your message profile will display the number of responses to your message. You will also see the business cards of all the people who have responded.
The application has extra functionality for business events. You can also make calls to the user from the application on the phone specified in the business card. Besides, you can communicate with users using the built-in messenger.
LinkedIn application has long been an indispensable assistant for all business people.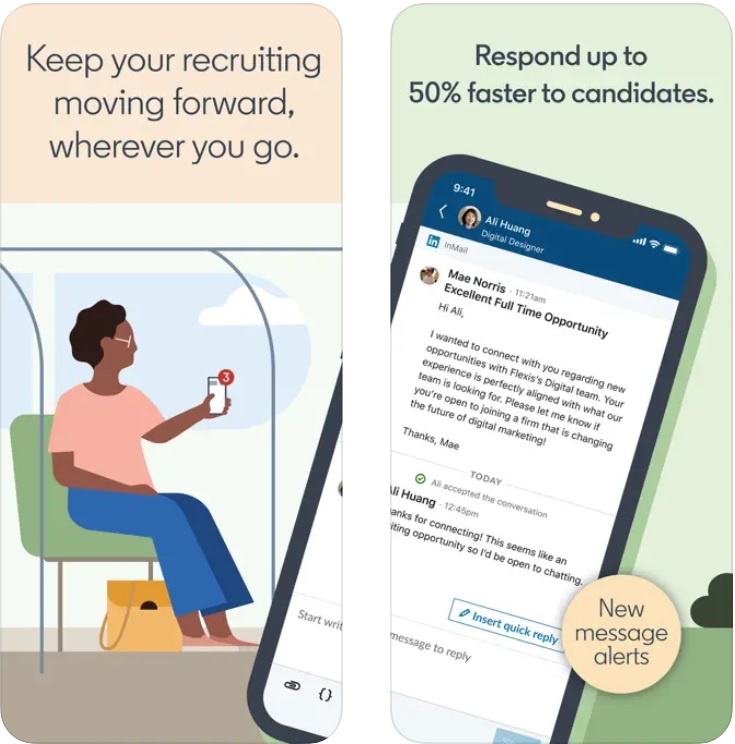 You may also like: 7 Free Internet Lock Apps for Android & iOS
Bizzabo
Bizzabo is an application for productive networking. It offers lonely freelancers to feel part of a team. You don't overpay for a place in traditional co-working offices.
Being able to establish a business in an informal setting is one of the goals and reasons for the app to appear.
Here you can find useful contacts that will help you develop your business. You can also work online with your partners.
Share valuable information and conduct various online conferences. Now the platform for quality networking is right in your mobile device.
With the help of this application, you can meet interesting people every day. You will receive offers that are based on your location and interests. You will be able to view their contact details and contact them. You can also get helpful offers from other users.
The app Bizzabo will help you to improve your career and find useful connections for your business.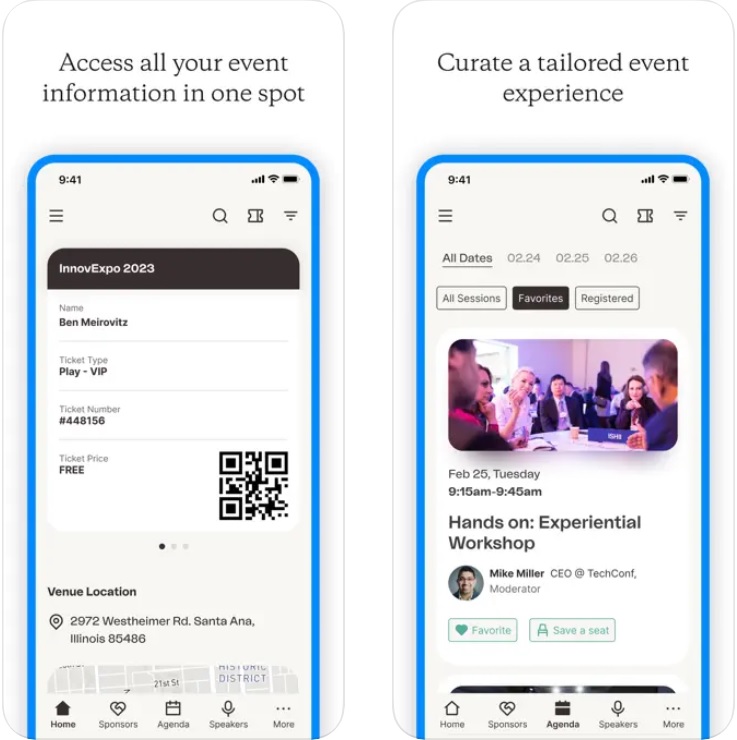 Intch
Intch is a mobile app that helps you track your daily expenses and manage your finances. This is a useful application to put your finances in order and streamline your spending.
The app allows you to record your expenses and income in real time, categorize them and create budgets. It also provides visual reports and spending patterns, allowing you to identify areas where you can cut costs and save money.
You can also set savings goals and track your progress towards them.
Intch offers several features, including support for multiple currencies, customizable categories, and the ability to sync data across multiple devices.
It also has a user-friendly interface that makes it easy to navigate and access your financial data.
But despite the many benefits, some users have reported issues with the app, including crashes and sync errors.
In addition, some users have expressed concerns about the security of their financial data and the lack of support from certain banking institutions.
Application features:
A convenient way to put your finances in order and streamline spending
You get a complete analysis of your budget
Application cons:
• Application crashes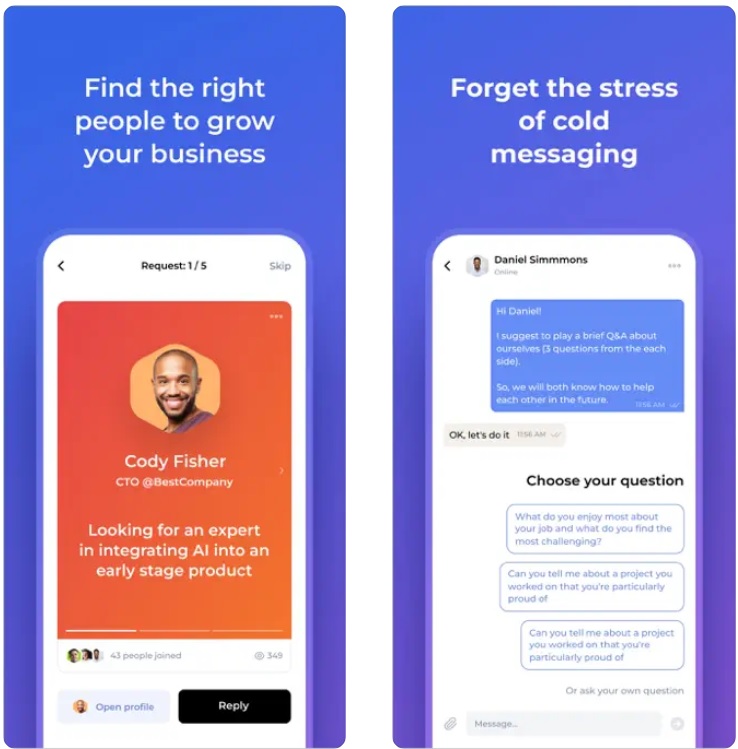 Brella
Brella is a networking application. It allows you to hold various events and conferences online.
Get more information about the people you can get to know at the conference. This app is used by the organizers of the largest online conferences and other events.
In this application, you can view the profiles of participants. You can do this even before the conference starts. This way you can plan in advance who you would like to talk to.
You can even make an appointment or inform a specific person about your presence. You can also contact the person before, during and after the event.
Create your own online events. Find people by interest and invite them to your conferences. Thanks to this application you will be able to increase the number of visitors to your event.
Also in the application Brella, you can store business cards. This will help you to avoid the accumulation of such maps and store them all in one place in electronic form. You can also add your business card to the app and make it available to all users.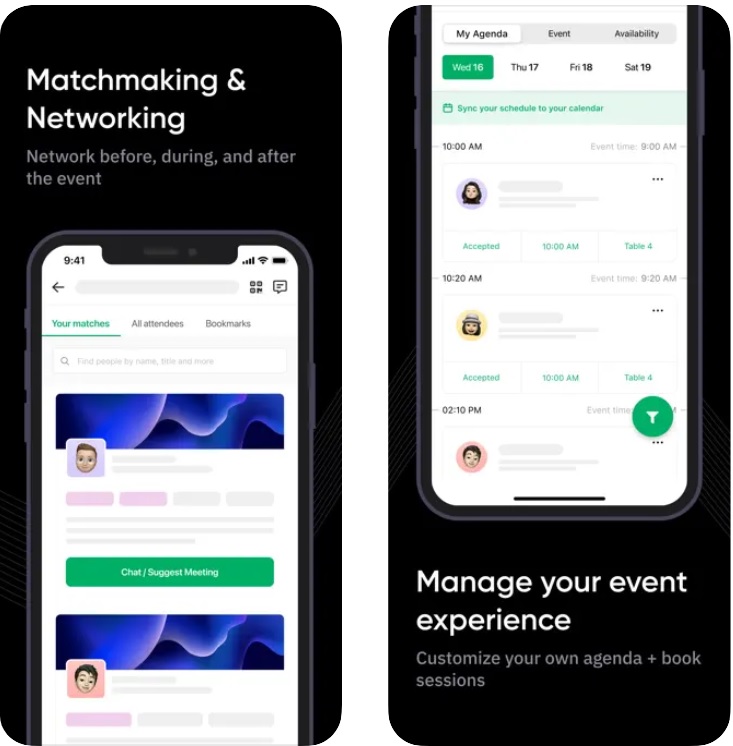 Whova – Event & Conference App
The Whova – Event & Conference app will help you with your conferences and business events online.
Here you can find valuable contacts and useful connections. Plan your event program directly in the app. This way, you can always keep abreast of future conferences and other events.
Set goals that you would like to achieve while attending a particular event. You can expand your professional activities or find new business partners.
So, you will have a large number of potential colleagues and clients for your business. Here you will find exactly what you have always been looking for.
This application will help you to always be aware of important events. You will receive notifications from conference organizers and other important business events.
Before, during and after the event, you will be able to view visitor profiles. You can also contact them instantly using the built-in messenger.
Use the application Whova – Event & Conference to quickly and efficiently organize various online events. You can also coordinate the events, find interested visitors and answer their questions.
You can also store and view business cards of important contacts in the application Whova – Event & Conference. Create your own business card. Receive suggestions about getting to know your potential partners.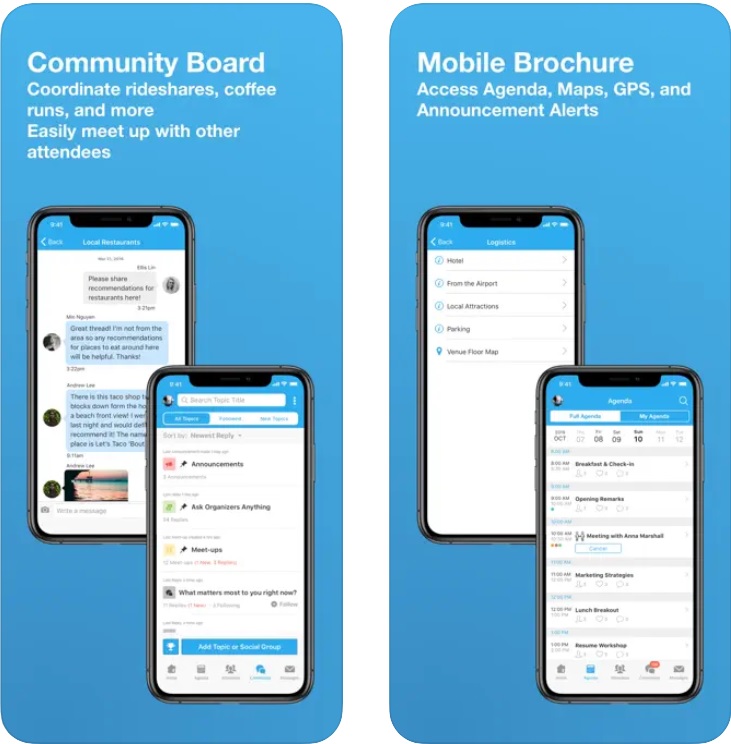 You may also like: 11 Best Private Messages Apps for Android & iOS
Meetup
The Meetup app is the future of professional networking.
Here you can get contact information about potentially useful people. Specify your interests to make the application proposals more accurate. You can filter out categories when describing the contacts you need.
Find useful online activities in the app Meetup. View the profiles of the event participants. Contact them using the built-in messenger.
Create your own online meetings. View the profiles of all participants of this event. You can also find potential visitors by specifying all the parameters of your event.
The application will automatically select and send invitations to all suitable candidates. You can also create a one-on-one meeting with any user of the app if you are interested in their profile. If the potential participant accepts the invitation, you can schedule an online meeting.
Besides, there is a tab "Upcoming events" in the application Meetup. Here you will be able to learn about the latest information about future events and speakers. Attend online events directly in this app.
Find useful connections and offer them to work together online. This can be beneficial for both parties. Share valuable experiences and get profitable offers.