If you have ever had a problem that you urgently need the help of a qualified therapist, but either you don't have time to look for him or her live, or you want to trust one hundred percent professionals – then we found best therapy apps that take insurance, which contains a huge number of professionals providing therapeutic services.
And if you're looking forward to take care of your health in all aspects, we also recommend you to explore the health coach apps.
BetterHelp – Therapy
This app is a system in which about 22 thousand therapists are registered who are ready to work with you – you can contact a specific therapist, or let the system choose the right one for you personally.
The principle of operation of BetterHelp Therapy is quite simple:
As a first step, you will need to register here, specifying the usual data needed for each system: name. Last name, age, and gender;
Next, the system of this app will provide you with a questionnaire in which you explain the category of your problem, describe your preferred therapist (with work experience, with some specific experience, a certain gender, age, and so on);
After filling out the questionnaire, the BetterHelp system will search among all the profiles of therapists (it will take a few minutes) and offer you all the appropriate options;
In the end, you just choose the one who suits you best and leave a request that you would like to work with him. After leaving the app, the therapist will contact you and you will arrange a consultation.
One of the main advantages of this app is the fact that you can always choose the appropriate format of consultations with your therapist, for example by video or in an absolutely secure messenger.

Before the consultation, you will need to tell the therapist in more detail what is bothering you, that already during the session itself, the therapist was ready to discuss with you everything you need and help with it.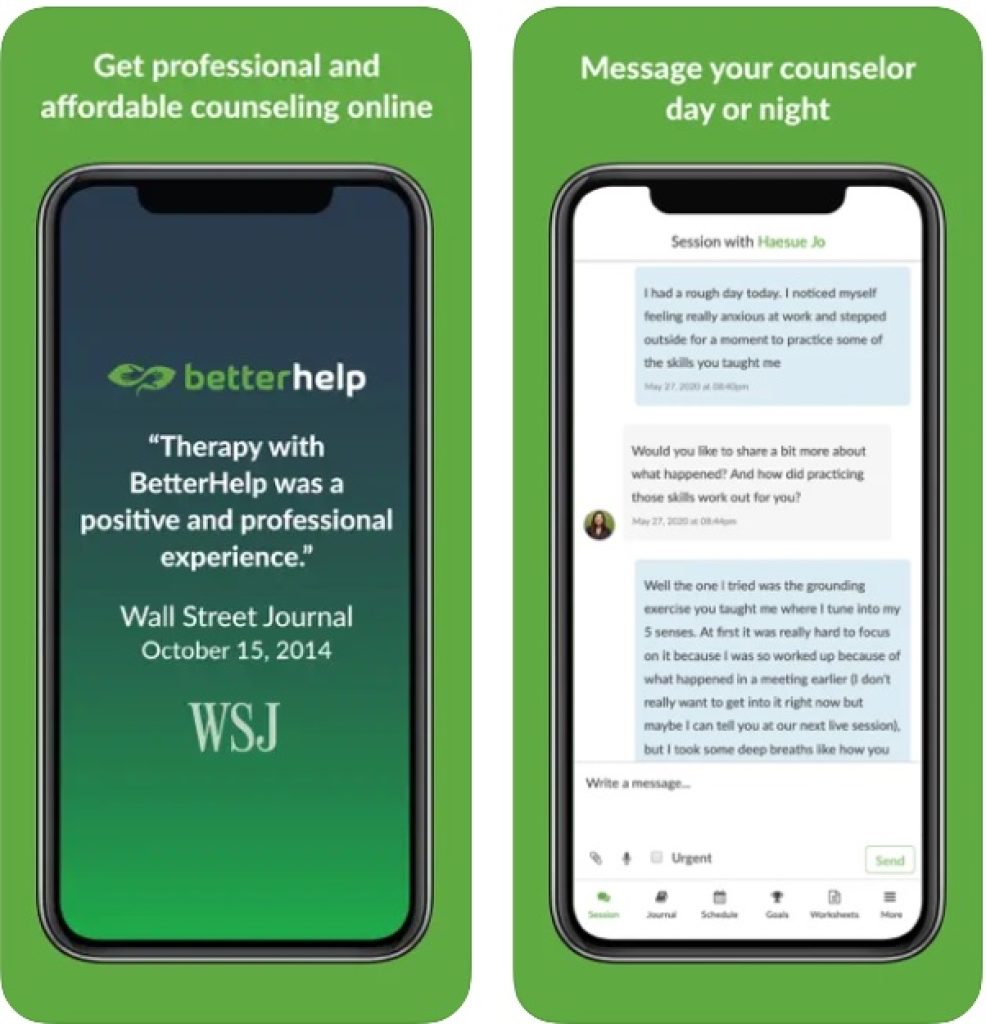 You may also like: 15 Best Anatomy Apps (Android & iOS)
Talkspace Counseling & Therapy
This is an app for communicating with a therapist in an online format in any form convenient for you. Here you can find real professionals in their field without getting up from the couch and opening only this one app.

All specialists in Talkspace have been strictly selected to design a profile here, and also, they have the appropriate education and a huge number of regalia.
In Talkspace, you can consult with your personal therapist at any time convenient for you through video calls or a secure messenger. In this messenger, you can not only send printed messages but also record voice files, as well as send video to a chat, lasting about two minutes.

Indicate the specific time at which you need a therapist in touch. Also, you can tell him your daily routine so that the therapist knows in what time frame you may need help.
Talkspace will help you improve your psychological health at any convenient time and in any format. Here you can get advice from a specific leading specialist, whom you choose yourself.

If you do not have a specific therapist to whom you would like to apply, then the system of this application will independently select suitable specialist profiles for you based on your preferences.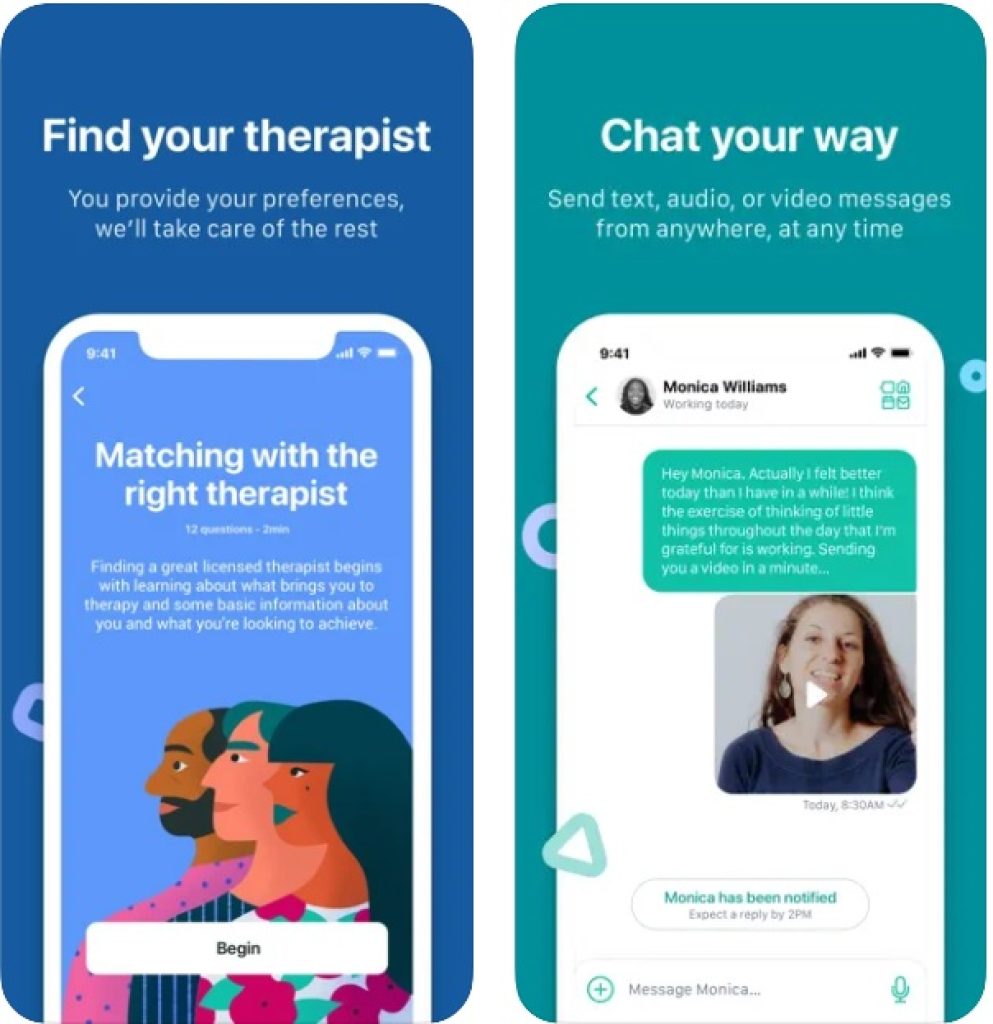 ReGain- Couples Counseling and Therapy
The developers of this app decided to focus on the psychology of relationships: several thousand accredited specialists have been selected here, whose skills will allow them to solve problems in your mutual relations.

A specific specialization in relationship psychology will give you the opportunity to find therapists whose professional interests are in this area of psychology.
In ReGain, specialists can advise you personally or you and your partner: you can find a suitable specialist and start working with him. if you do not have specific therapists to whom you would like to apply, then the ReGain system will select suitable specialists for you based on the questionnaire you have filled out.
In order not to waste the consultation time on acquaintance and a long story about those moments that bother you, you can describe the problem and questions of interest in personal messages to the therapist.

Before the consultation, he will study them and will be able to immediately start discussing and providing assistance when you start a therapeutic session.
In the profile of each therapist, you will find ratings and reviews left by other users. This will help you decide which specialist you will entrust to your problems and your partner's problems too. You will also be able to leave your feedback about working with a specific therapist to help other users.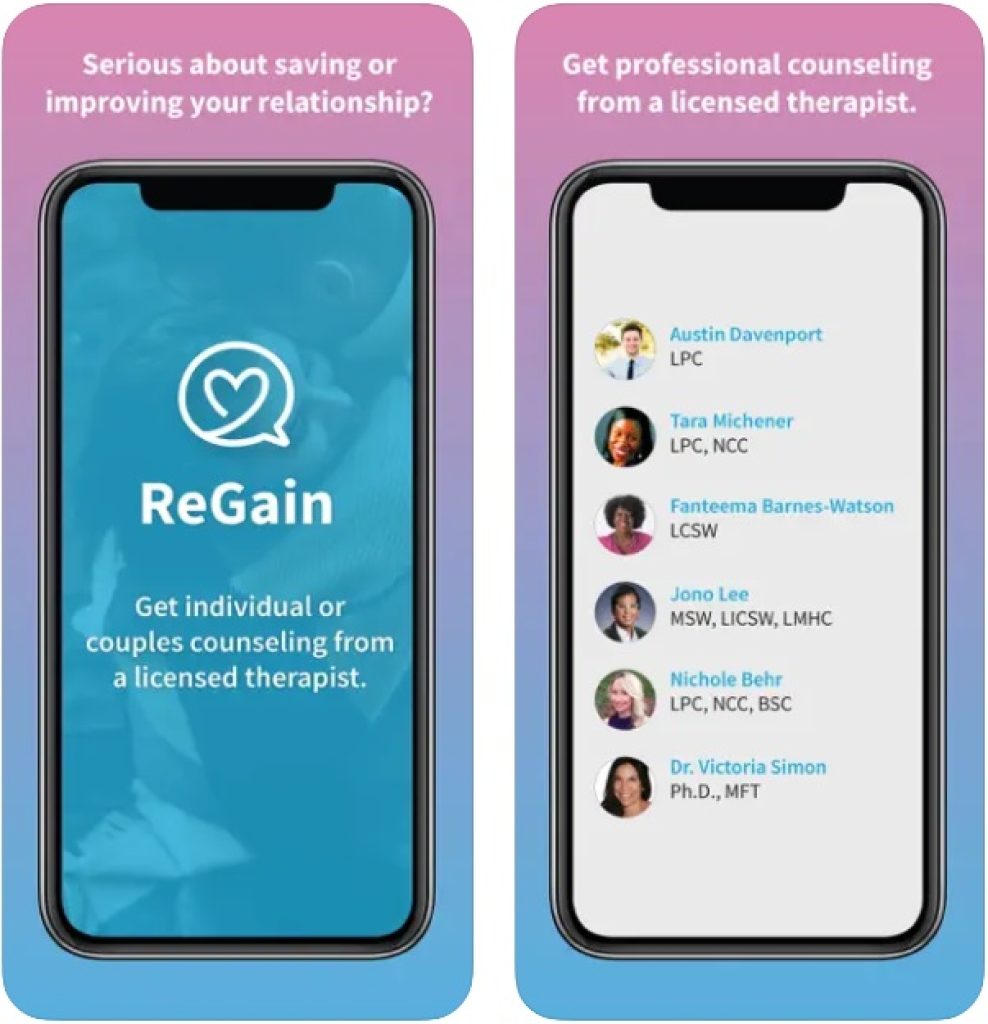 Amwell: Doctor Visits 24/7
This app has become popular due to the huge number of specializations in which thousands of therapists and doctors work. Here you can get advice from a professional with all the provided documents on education and work experience from a specialist.
Here you can find a therapist who will help you cope with psychological problems of any direction: relationships, work, development, thinking, and much more.

Moreover, here you can tell the doctor about your symptoms so that he will either prescribe treatment for you or analyze your symptoms and issue a referral for appropriate tests.
This app is that popular because here you can watch group webinars in completely different directions, where a specialist talks about specific symptoms and explains what they can mean and how to deal with them.

You can watch webinars offline or online and ask questions in the chat. Also, the consultation lines are of course also available in Amwell.
If you need, the therapists and doctors you have chosen will be able to personally provide you with their documents on education, work experience, accreditation, confirmation of the position of a therapist or doctor, and so on. Also, the developers of this app guarantee the absolute confidentiality of your data.
In this app, you can also get advice on the analysis of drugs and vitamins that you take. They will explain to you which dosages are applicable in your case, which drugs should be added, for what time period they can be taken, and whether they will be effective in your specific case.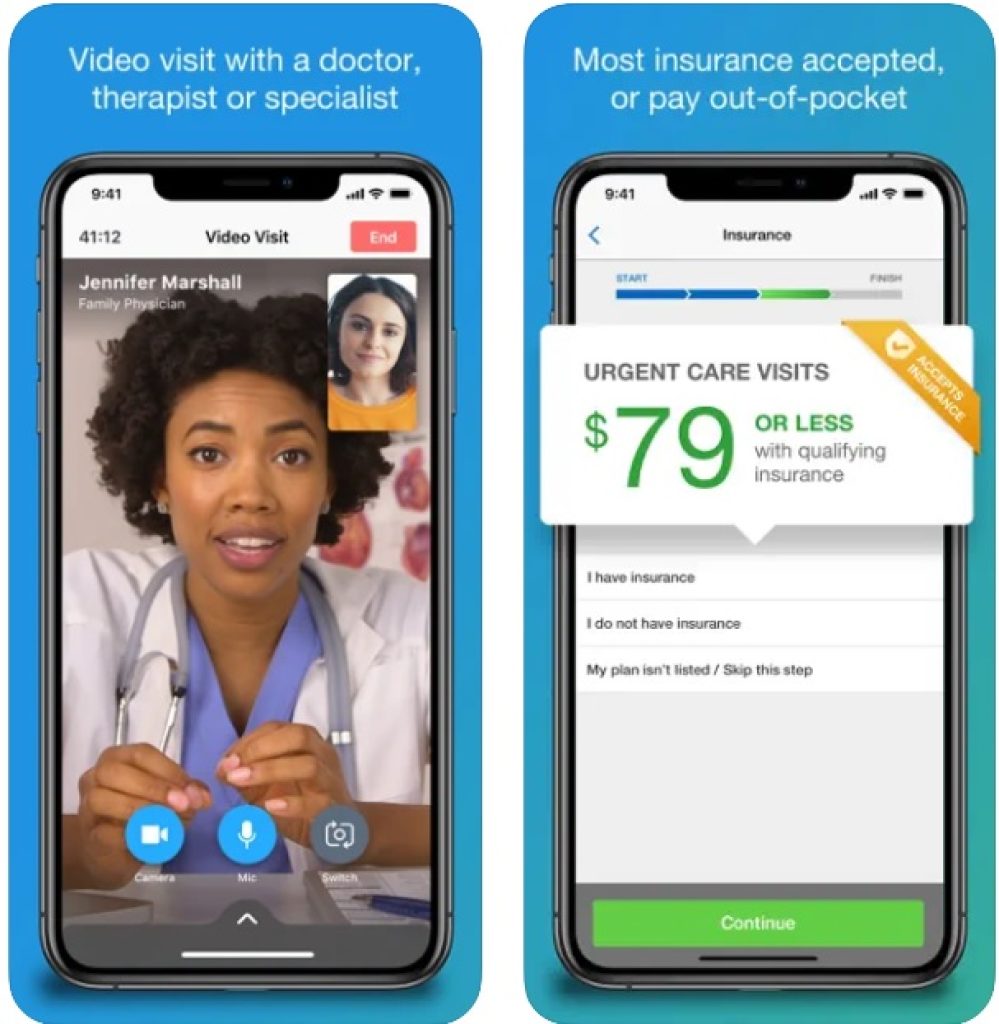 Pride Counseling
This app is created for people who want to receive professional therapeutic help from leading specialists. It is not quite standard, because most of the therapists of this application are focused on helping people with non-traditional orientation, as they often have problems with psychological health.
Of course, anyone with any gender definition can get help in the Pride Counseling app. The main advantage of the system of this app can be considered the fact that here you can find not just a therapist, but a person who will be able to understand you, and who has gone through the same doubts and problems as you.

Several thousand profiles of professional therapists will be available to all Pride Counseling users.
After registration, you will need to go through a small questionnaire so that the app system generates a certain number of suitable specialist profiles for you.

The questionnaire will include general information (age, gender), as well as questions directly related to your problems. In the questionnaire in the column "additional wishes" you will be able to specify the requirements for the specialist himself: age, work experience, level of education, and much more.
The developers of Pride Counseling guarantee the security, security, and absolute confidentiality of the data that you will enter into your profile, as well as those issues that you will discuss with the therapist in this messenger or by video.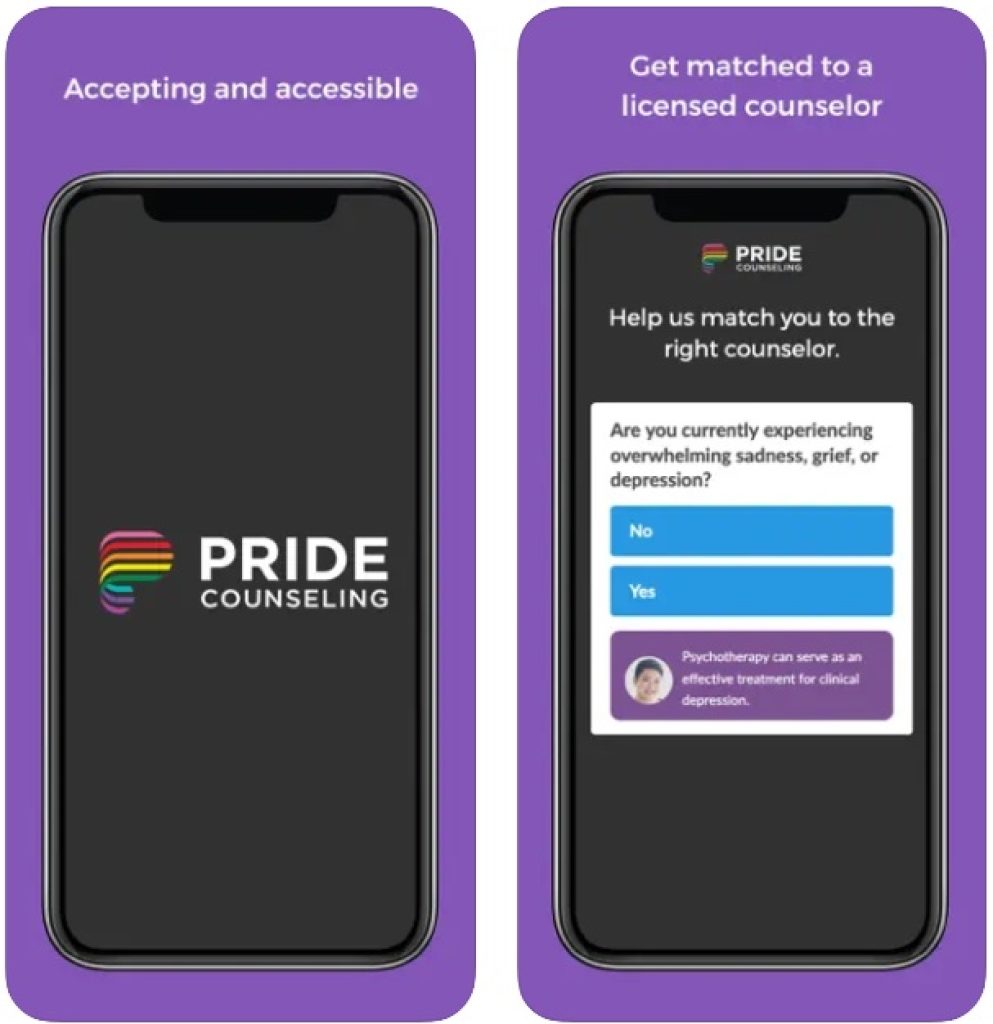 You may also like: 33 Best Health Apps for Android & iOS
Teladoc Telehealth & Therapy
This is an app for helping and providing medical and psychological services to patient users.

Teladoc has a record number of different opportunities and specializations from leading therapists who have passed strict selection for registration of a profile in this app and have approved documents on education and qualification confirmation.
Here you can contact doctors with problems of viral diseases, nasal infections, or getting rid of bad habits. Also, here you can send photos of your problem skin to a dermatologist for consultation, referral for the necessary tests, and drug recommendations.

Also, here you can discuss with specialists those drugs that you are already taking in order to get information about their effectiveness and safety.
Moreover, in Teladoc you will be able to use the consultations of various professional psychologists who will help you cope with your psychological problems and doubts.

You can arrange an online call with any therapist or communicate with him on a messenger using audio files, short videos, photos, or ordinary text messages.
Also, Teladoc specialists are ready to help you with all issues related to nutrition and healthy metabolism. Here you can get a long-term nutrition plan, as well as consult about different diets that will suit your body.
The company that founded this system has been on the market for twenty years, which is an indicator of professionalism and that Teladoc specialists can be trusted. Also, the developers guarantee you technical support at all stages of using the app functions.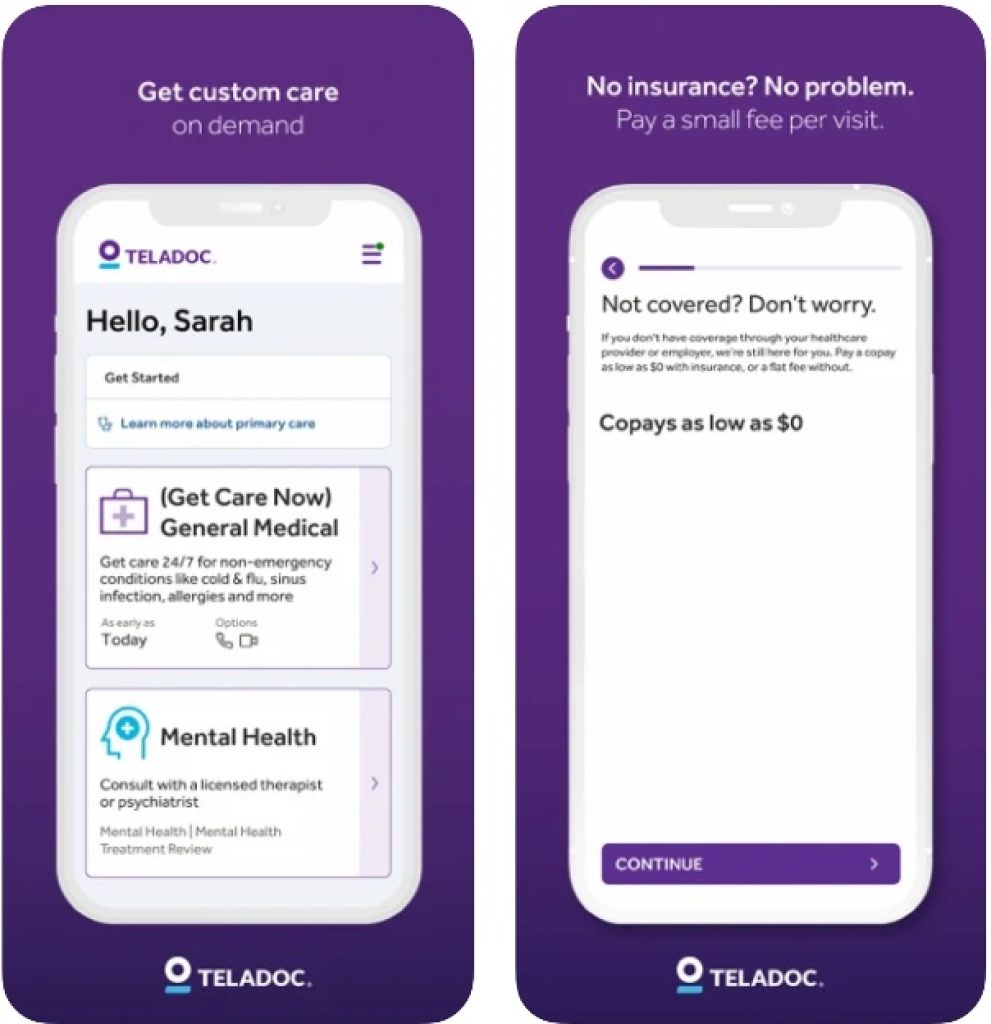 Faithful Counseling
This app is for those who are looking for spiritual healing. If you have psychological problems, annoying thoughts, or frightening thoughts – then this app is exactly for you. Here you will find practicing specialists who will help you without interfering with your body and, accordingly, without harm to it.
Be sure that all Faithful Counseling therapists are practicing professionals with many years of experience and a huge number of cured people on the account.

You will need to describe your problem in a questionnaire so that the app system will automatically provide you with preferred therapist profiles. You will only have to choose one of them and start healing.
Faithful Counseling specialists work around the clock, so you can contact your personal therapist at any time convenient for you, as well as conduct online consultations without time limits. Also, you can contact your specialist in the messenger.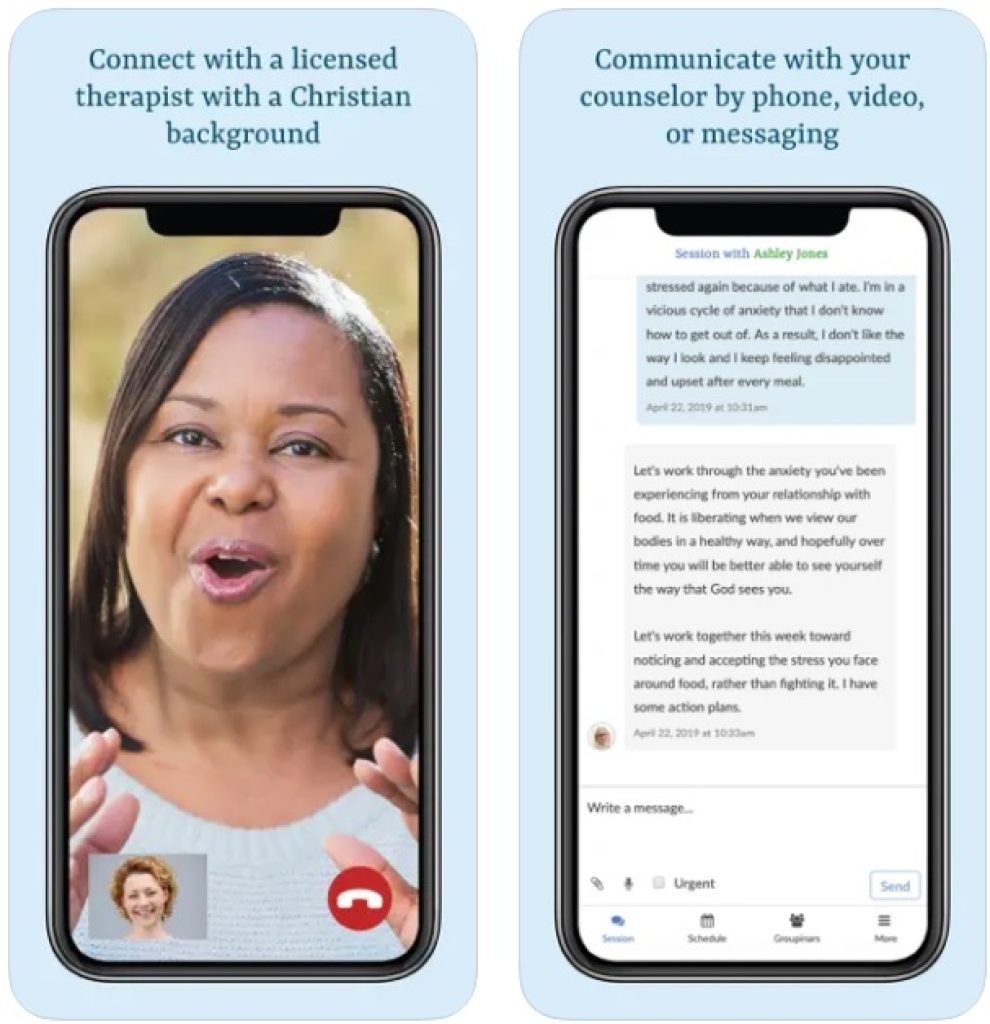 Doctor on Demand
In fact, this app is able to replace a visit to a doctor in a hospital, which you need to spend a lot of time on, except for taking tests. Specialists from all over the country are gathered here, who are ready to work with you at any time of the day or night.
One of the advantages of this app is the fact that here, before choosing a therapist, you will be asked to undergo a paid procedure for assessing your mental and psychological health, which will allow the Doctor on demand app system to choose the best therapists for you based on the identified problems.
Also, Doctor on demand provides medical services: this means that you can consult with a practicing doctor and discuss your symptoms with him. Also, your specialist will prescribe you treatment, referral for appropriate tests, and prescribe recommended medications.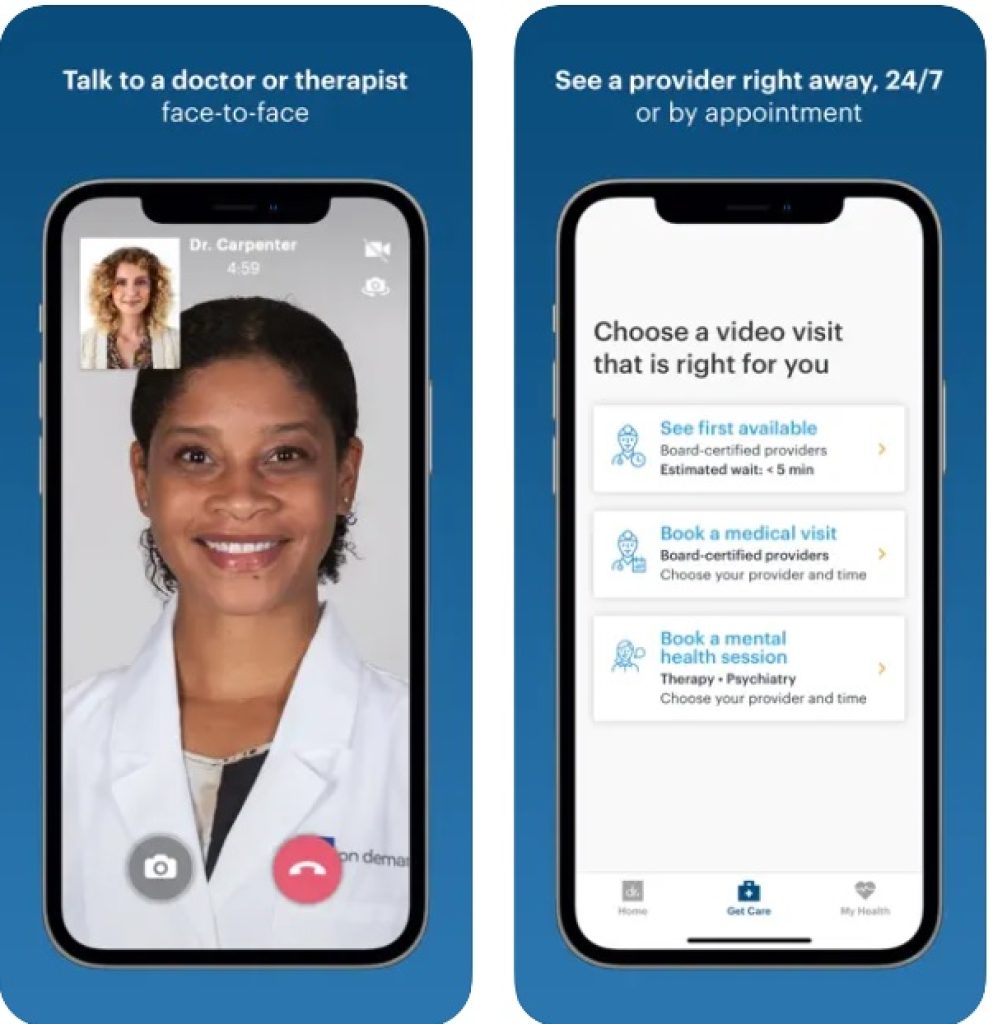 MDLIVE: Talk to a Doctor 24/7
This app is for those who do not want to spend a lot of time on a personal visit to a doctor with a physical presence. Here you can contact leading specialists in the messenger format or by video call at any time, including weekends and holidays, as well as from any location.
MDLIVE offers you thousands of profiles of professional practicing therapists who are ready to provide you with documents and certificates at any time, attesting to their education, accreditation, and qualification.

Also, in the profile of each therapist, there will be a separate column with ratings and reviews, which will allow you to get acquainted with the opinions of other real users about a particular specialist.
Leading psychologists and doctors are ready to help you cure even the most difficult ailments, for example, from harmful, harmful habits, which sometimes seem impossible.

It will take you a maximum of fifteen minutes to make an appointment with a therapist. You can discuss the time of the online consultation personally with a specialist.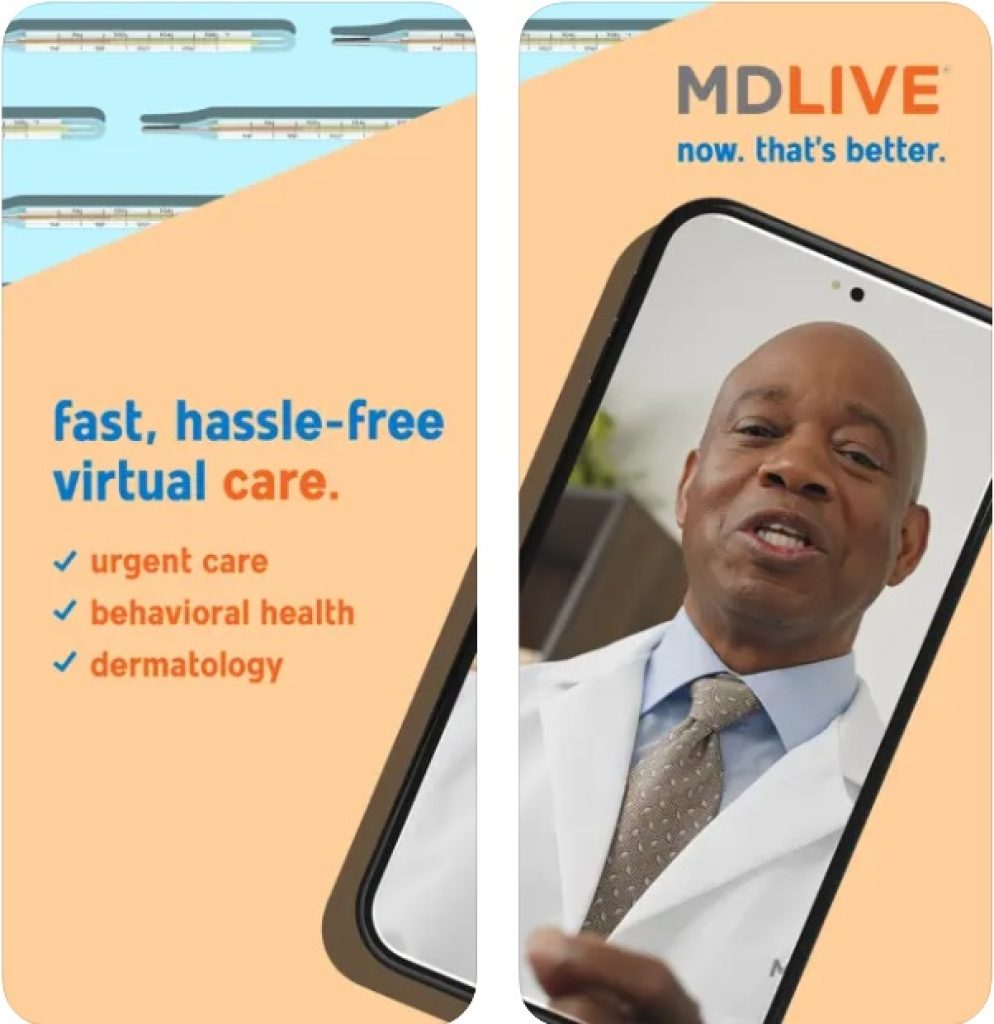 Telehealth Online
This is an app that allows users to maintain their profile, which will contain information about their health. Here you can choose a therapist for yourself and work exclusively with him: conduct consultations, communicate in a messenger, and so on.
The advantage of this app is the fact that it works in all fifty states as well as abroad. If you are going to fly on vacation and on a business trip to another country, warn your therapist about this so that he understands when you need help and in what form.
In Telehealth Online there are many parameters that you can activate when searching for a suitable specialist. All therapists in this app have been tested and provided certificates and documents on education, qualifications, and so on.

There is also an opportunity to leave feedback to the therapist you work with to help other users make a choice. You will also see reviews and ratings from other patients.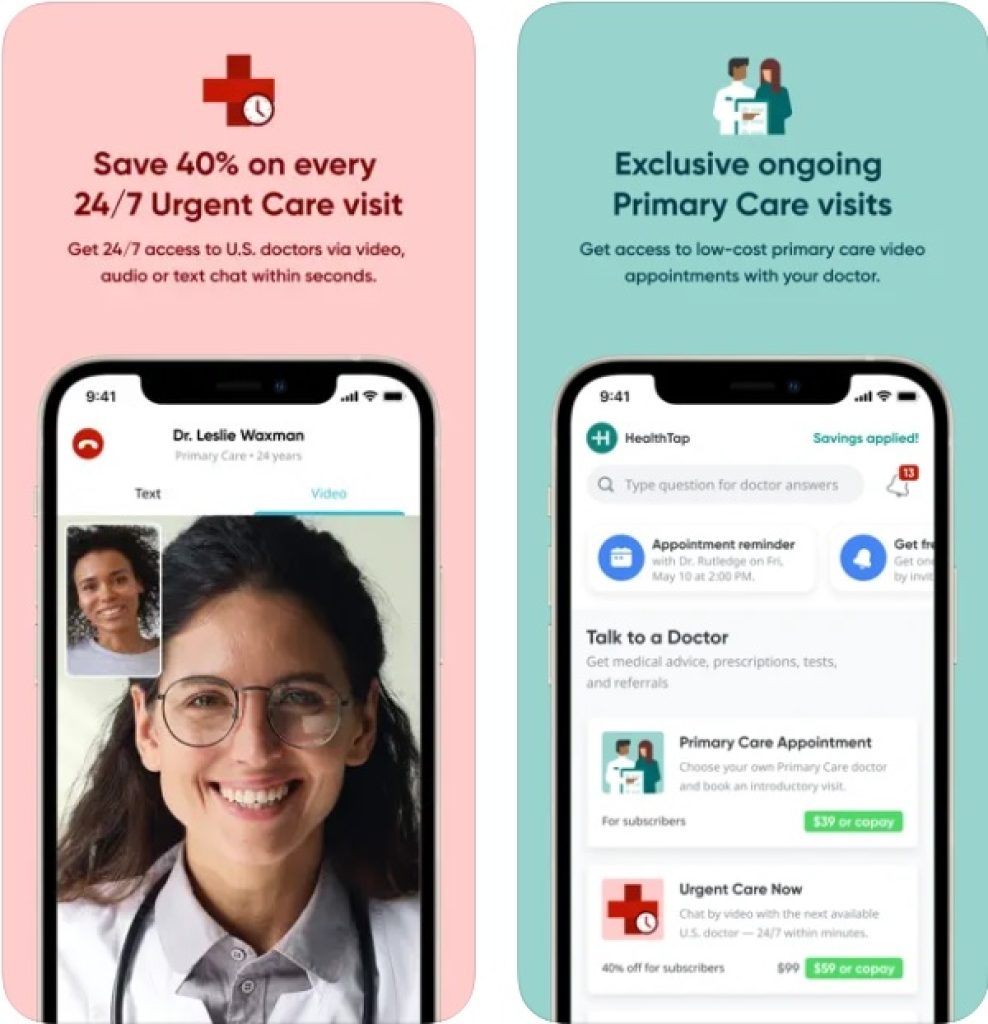 You may also like: 11 Best medical ID apps for Android & iOS
PlushCare: Medical Doctor Care
This is an app for providing medical and psychological assistance to patients in an online format. Here you will receive help from qualified psychologists, doctors, nutritionists, and other medical professionals.
In the search parameters, select the problem, the category of the doctor or therapist, then specify the appointment time that will be convenient for you and then the app system automatically gives you profiles of all suitable specialists.

In these profiles, you can find full information about this specialist: education, work experience, place of work, regalia, qualifications, education, and much more.
All specialists of this app will be able to advise you about medications, as well as prescribe directions for tests and recommended medications. Also, they will monitor your medication course for greater effectiveness. If you have any questions, technical assistance in this app works around the clock.