There are various ways to relieve tension and stress that accumulates during the day. Some people prefer to listen to the sound of rain while meditating, and some prefer to listen to a quiet melody to concentrate.
Especially for such people who need to relax with a soothing sound, we have made a selection of the best tinnitus apps. We will try to talk about each of them in detail and briefly, so let's go.
And before we start, we recommend you also explore the article about the best hearing test apps.
ReSound Tinnitus Relief
The first app that tops our list is Resound Tinnitus Relief, which has some great features worth mentioning. The app does a great job of taking away tinnitus and helping you relax despite your surroundings. All you need to do is download the app and run it.
Not only can you include existing tunes and special nature sounds and the like while using the app, but you can also set up a tinnitus scheduling system and make your schedule for using the app. All you will have to do is to complete a short form so that the app could create an individual weekly plan.
This feature helps you to focus and understand how to work and use the app properly. All of the audio recorded in the app is of high quality, and you can easily create other sounds yourself using multiple audios.
Tinnitus may be connected to hearing loss, so there's a hearing test included in the app for you to understand if you have such a problem and how you can use the app to cope with it.
You can use this app for meditation as well, it has the function of properly balanced breathing, to relieve tension and stress. All audio files are sorted by their purpose in three columns: environment, music, and therapy. The application is very easy to use, which is why it is popular among users.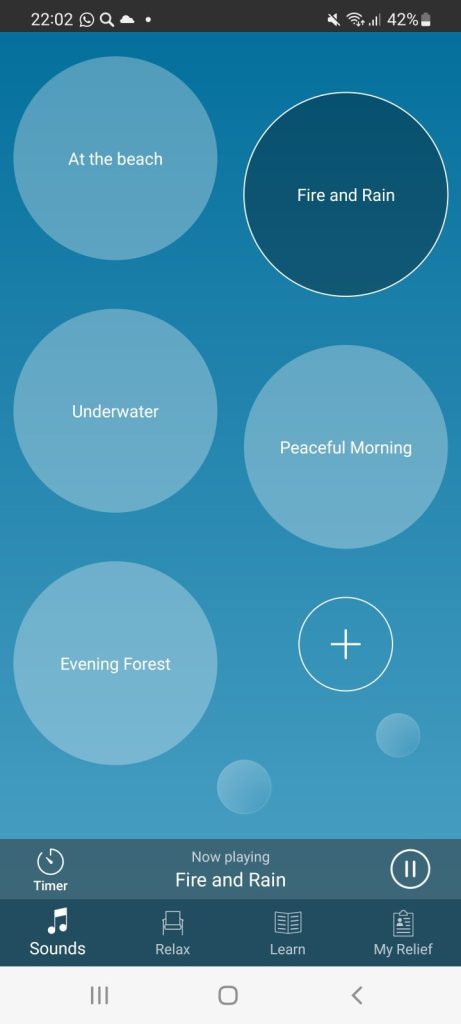 You may also like: 11 Best Ear Training Apps & Websites
White Noise Lite
The application has almost the same features and capabilities and at first, there is nothing so special, but we found a few differences that are worth paying attention to. First of all, the interface and how the application reflects audio files are markedly different from the above-mentioned application.
White Noise Lite aims at better sleeping and tackling sleeping issues. It basis on sound therapy which makes it suitable for relieving tinnitus, and here is what makes it a good instrument for a good night's rest.
In general, white noise is a combination of noises of different frequencies that conceals outer sounds. Using the app, you can not only stop getting up because of something distracting outside but also make a habit for your brain to get asleep at the same time every day.
Also, if you want to listen to several sounds or tunes at the same time, you can select several audios and make a mix of them. You will be able to adjust their sounds so that one does not interfere with the other, but on the contrary, there is a balance between them.
Likewise, the application has a handy alarm clock function that you can use. That is, if you fall asleep while listening to these melodies, the alarm will ring, which will smoothly change to the usual sound so that you do not oversleep. In short, it is a great app, we have nothing to say about the cons.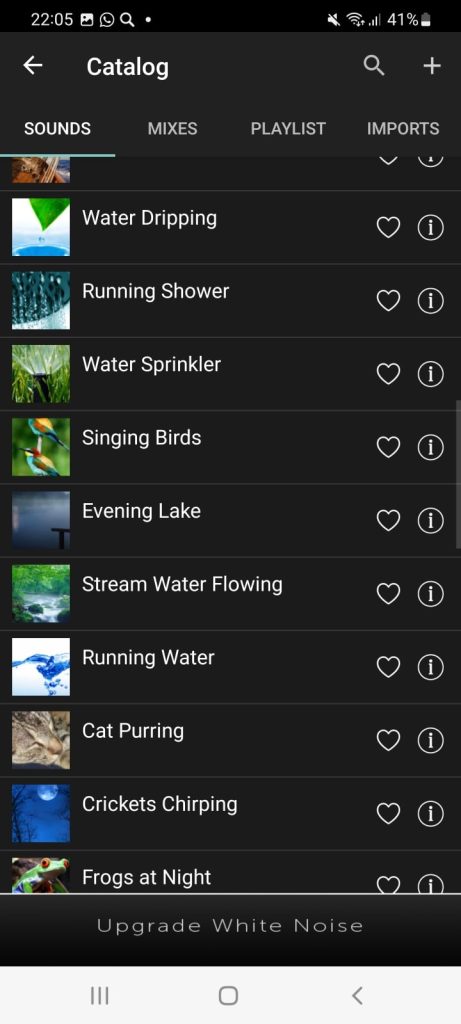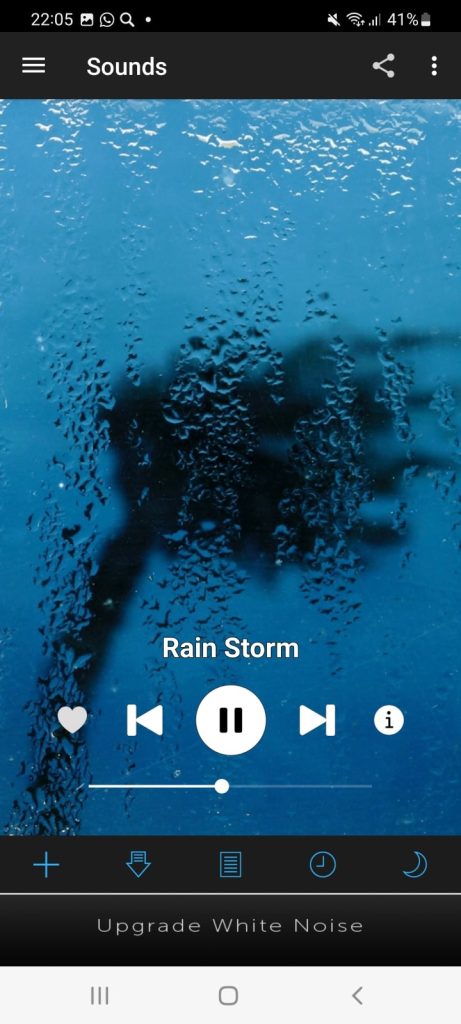 Tinnitus Aid: help ear ringing
In times when tinnitus bothers you so much that you can't seem to cope you always have this app handy. It visibly helps to relieve the symptoms of tinnitus and has an even greater effect if you use it with headphones.
While using it with headphones, you can adjust the sound and dynamics of the different ears individually. If the tinnitus is only in one ear, you can increase the dynamics or decrease the dynamics, all for your convenience.
You can enjoy attractive images of nature from around the world to relax and diminish stress while listening to high-quality sounds. If you want to use the app as a sleeping instrument, you can leave the melody playing even with your screen locked and launch a timer for the sound to fade gradually.
You can also find soothing nature sounds, and play them. The sound in the app is naturally high quality, but if you need to change something you can do so while listening. And there is also balanced noise control and other useful features.
The functions of the app are not limited to the ones we mentioned above. You can also make mixes of several sounds, adjust their sound for different ears individually, and the like. It's a short review, but you can still find out more about the app for yourself.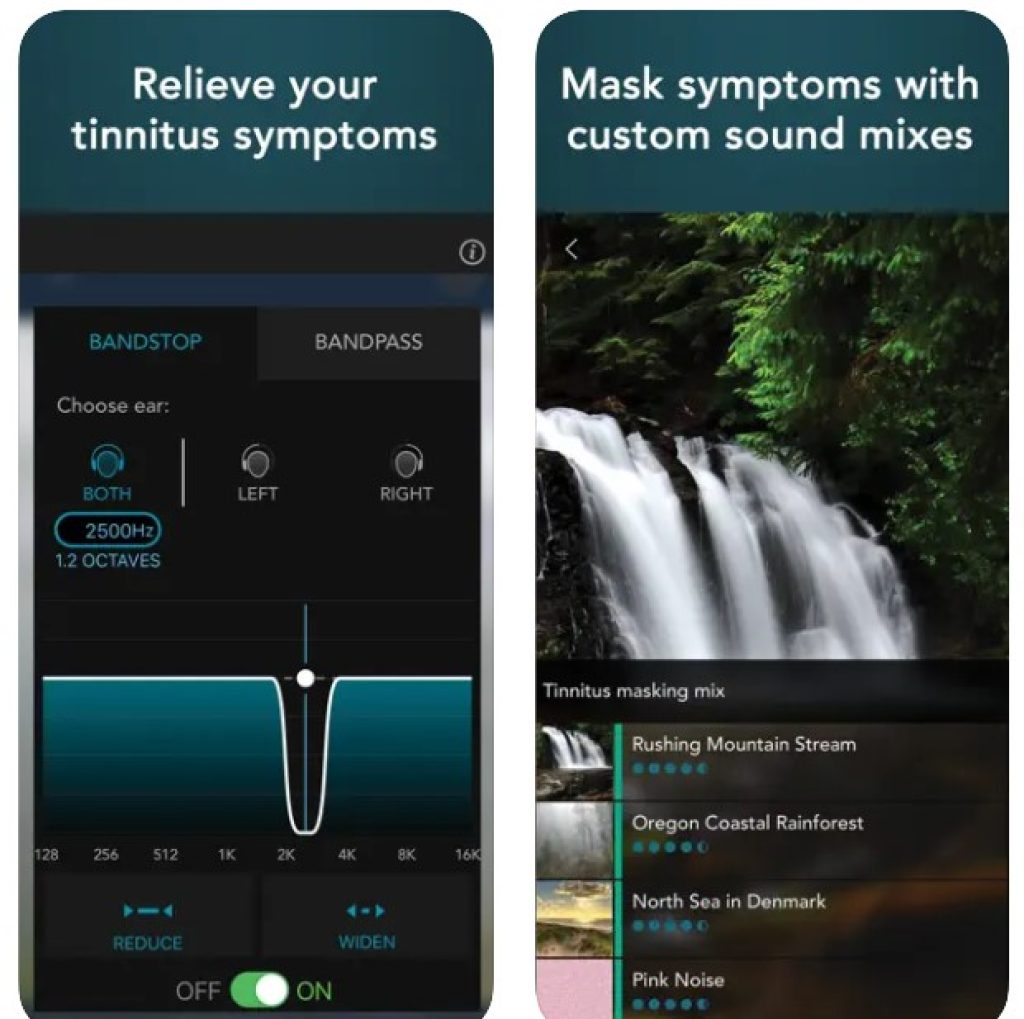 Diapason para tinnitus
The app is truly one of the best because of its high-quality features and functions in general. It has some great differences from previous applications and can also help to calm tinnitus not only that, it can be used for simple relaxation, therapeutic exercises, and so on.
Speaking of therapeutic exercises, there are sixteen types of therapy exercises in the app and they will help you relax and unwind from the endless daily grind.
There's also the so-called Capsules section, where you can broaden your knowledge by reading scientific articles dedicated to tinnitus research from the leading experts in the industry.
If you feel like taking a break from all the noise, just dive into the app. Also, as a user of the app, you will receive kind messages every day that will motivate you and relax you at the same time.
You can track your progress in the app, it will show all your achievements in different therapy areas and while using the app in general. If you don't want to do all kinds of exercises you can choose one and do only it.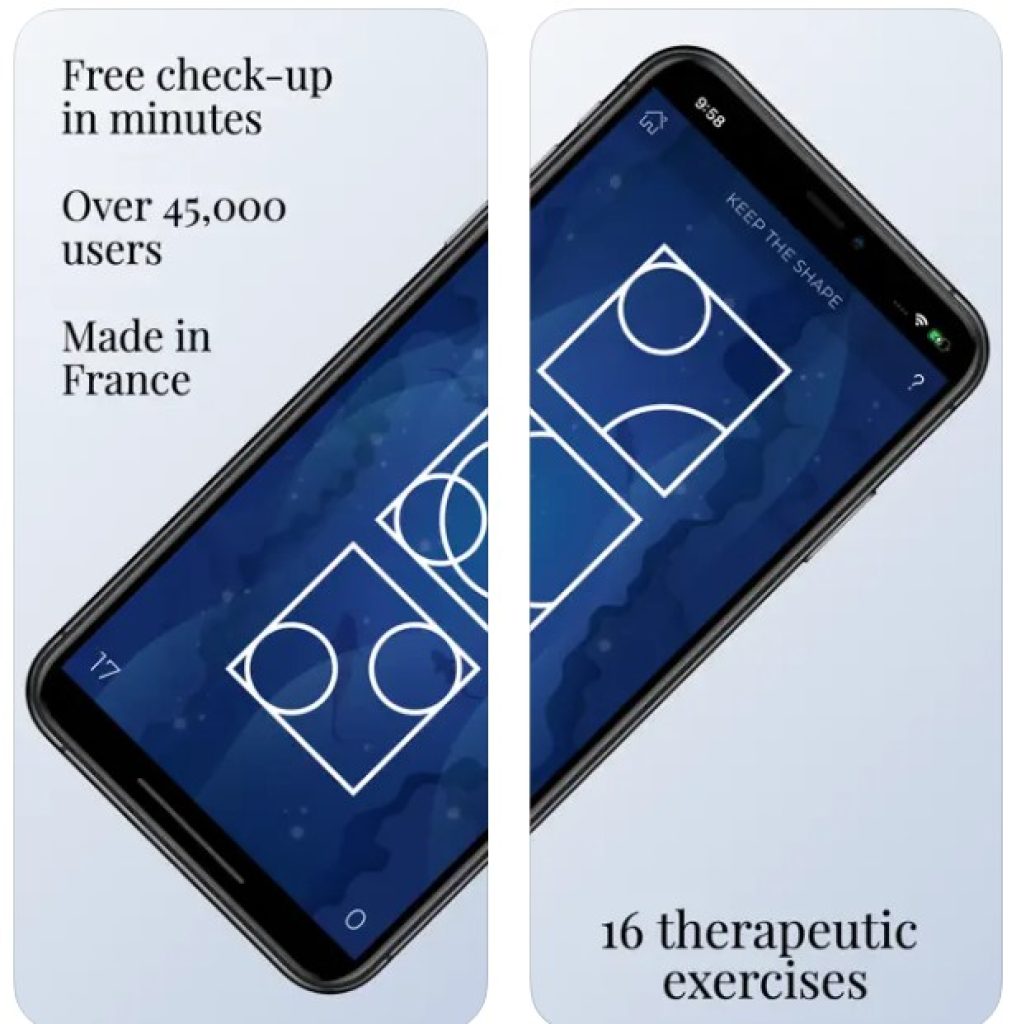 Tinnitusplay
Another similar application, let's find out how it works. First of all, of course, it's the most common interface, which is created in a minimal style, and on the main screen, you will see a box with a list of existing audio tracks. Each of them is collected in special lists matching the name.
While using the app, you can enable the mix feature, which means you select multiple sounds or tunes and mix them into one to create one soothing sound.
The app has quite an extensive library of sounds. You can make them play differently by opting for one of the scientifically approved sound techniques the service offers.
You can customize the sounds of each audio individually. You can customize the sounds of the audio to your liking, whether you choose the mix function or a single tune.
If you use headphones while listening, you can also adjust their sounds individually. You may also occasionally get recommendations on how to adjust the sounds and so on.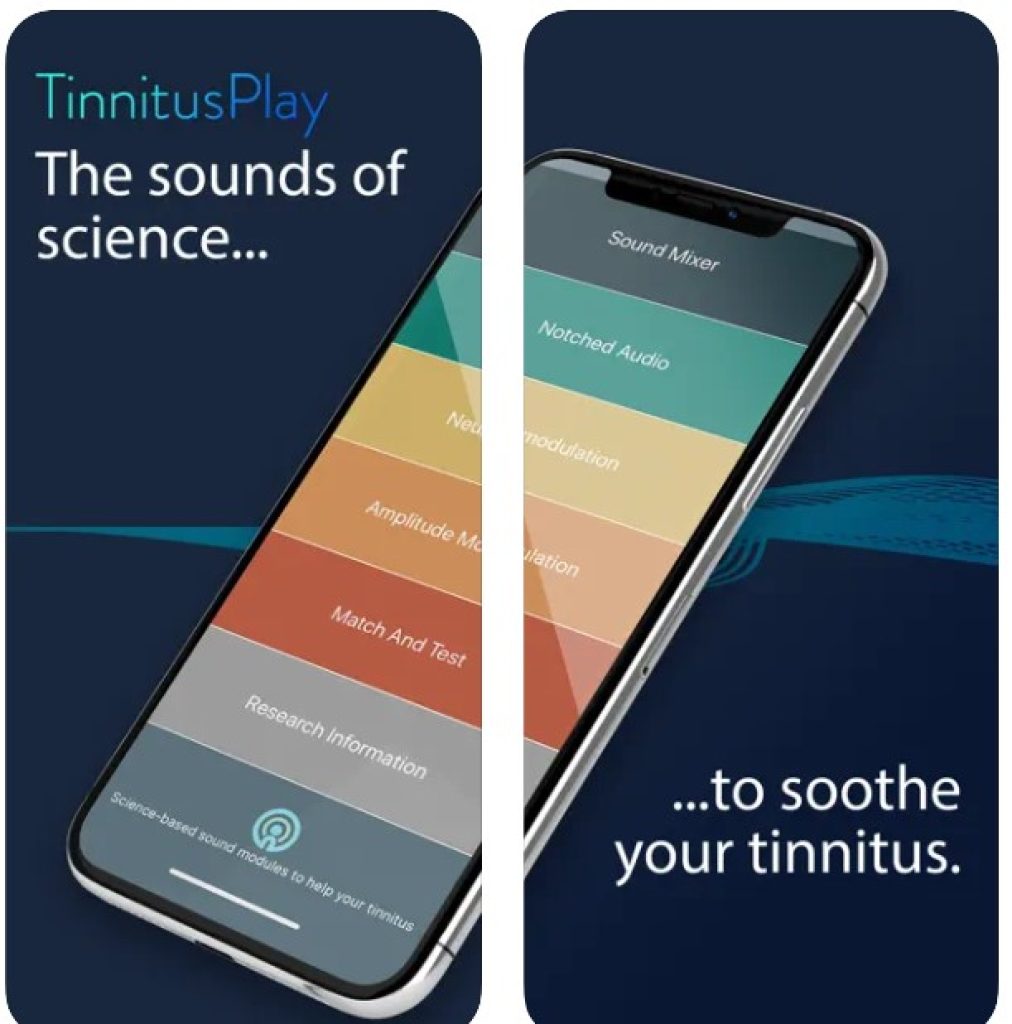 Oto: Tinnitus Support & Relax
Although all of the apps on our list are the best, we would like to pay special attention to this app. It is a popular app among users with tinnitus problems, and no one has complained about it yet. Let's tell you more about it.
The interface of the application is magical, when you go into it at once you feel a kind of relief. It's all organized, and every function of the app is in separate places. You can view different types of therapy, exercises, sleep normalization functions, and so on.
The app has the same features as the other apps, and it has almost the same sounds. But using it, you will notice some distinctive features and functions. Such features include scheduling, sleep adjustments, or exercise selection.
All of the methods Oto uses for coping with tinnitus are based on cognitive behavioral therapy (CBT). The app combines it with other techniques and, along with classical sounds, presents its user's many activities such as visualizations, meditations, and physical therapy.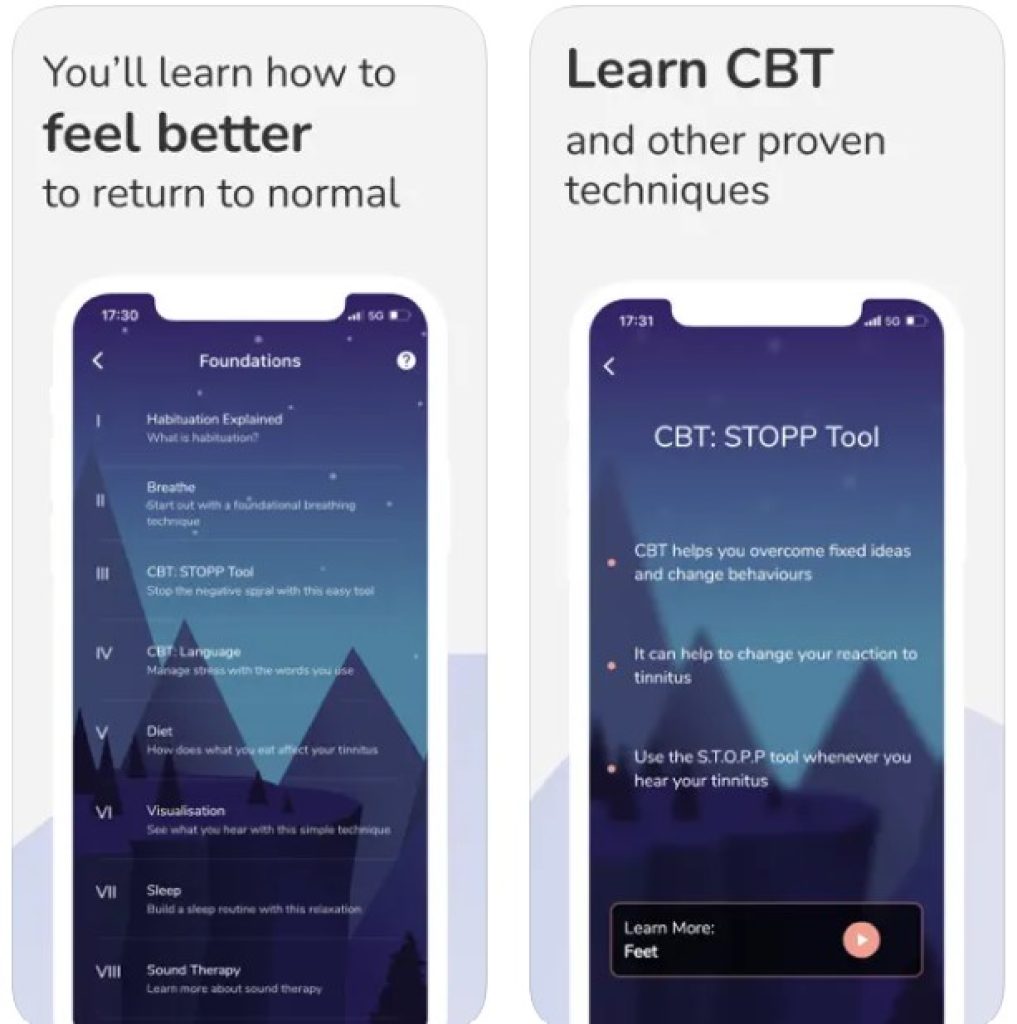 You may also like: 33 Best Health Apps for Android & iOS
Tinnitus therapy lite
This app is not as popular as others and you may not have heard of it. However, it does have some nice features that you might like for its commonness. Everything about it is very straightforward, from the interface to the capabilities.
In short, as we understood this app only serves to relax and take away the noise in your ears. Using the many kinds of audio files that exist in the application you not only relax but can also meditate on these sounds.
There is no function of time reporting or scheduling your actions, and we think this is one of the drawbacks of the app.
In the sound library, the name of each sound is written, and clicking on it will take you to a description of the sound and what you can feel while using it. In short, the details of the sound.
The variety of sounds is relatively small since the library has only five sounds, among which are a white noise sound, an ambient sound, and three nature sounds. That's all the features of the app.
If you want to unlock more options, you can choose a paid Pro plan. In the premium version of the app, you will get access to a more extensive library of sounds, as well as to a ten-band graphic equalizer to customize sound frequency for your personal needs and preferences.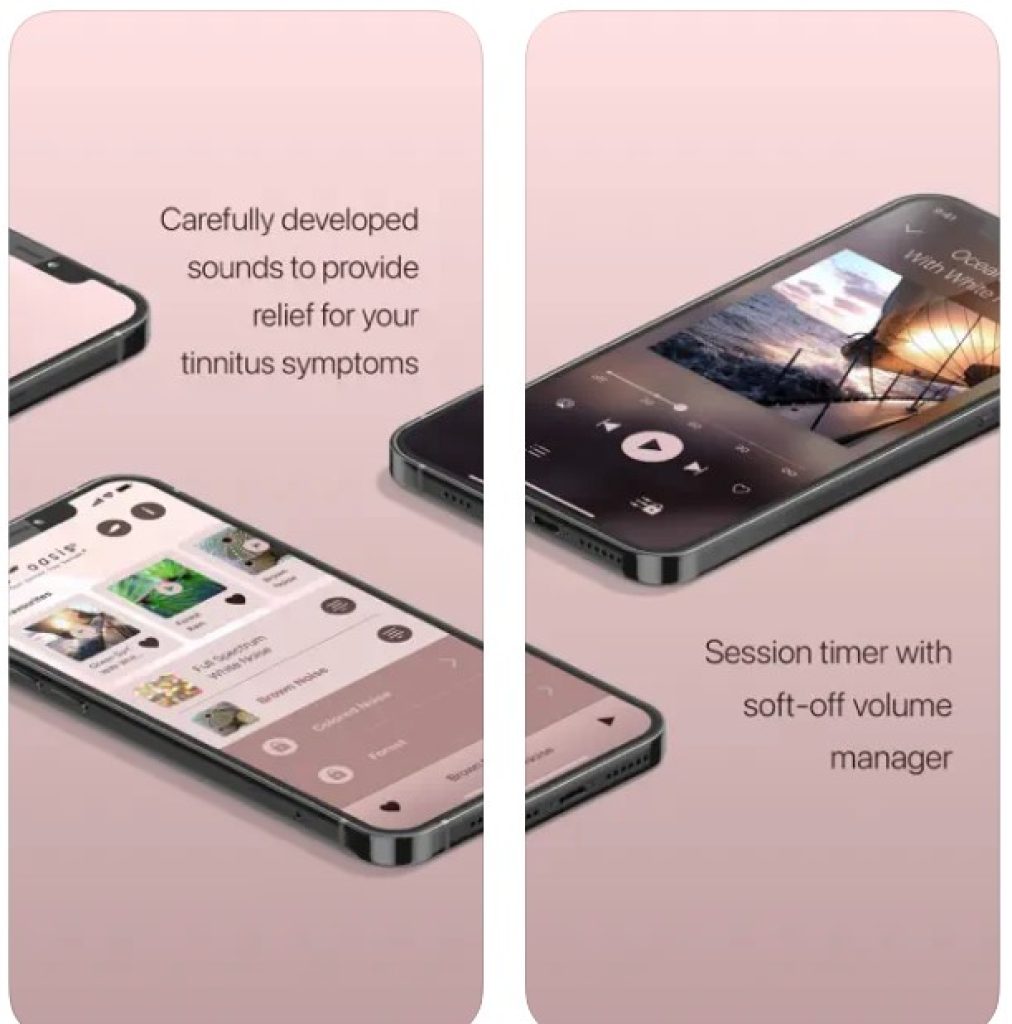 Tonal Tinnitus Therapy
The app is quite difficult to use, but we decided to do a review on it. Here you can find everything you need for your calming and relaxation, you can find all kinds of music or sounds. During playback, suitable pictures will be displayed on the screen, making it much easier to concentrate.
As we have already said that the application is complex, so at the beginning of working with it you will be instructed on how to work with it and use it. Then you will get a screen with a player and all you have to do is to select the sound.
Before you start working, it would be best to make personal settings and the application convenient for yourself. If you still don't understand how to cope with them, you can find instructions on how to use the application in the side menu.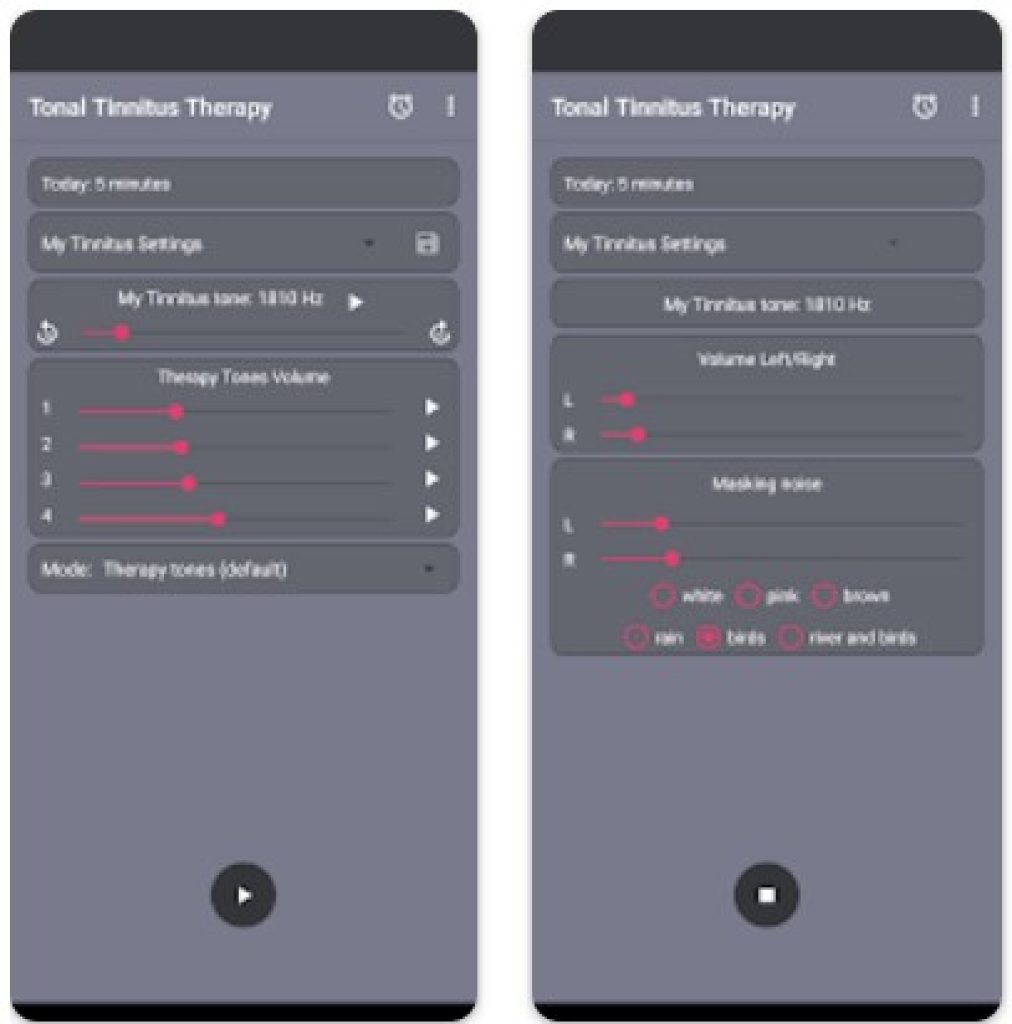 Tinnitus relief
A pretty cool app where not only banal sounds are collected, such as the sound of rain or wind, rustling leaves, and so on, but also a lot of other interesting and rather strange sounds. The downside of the app is that the available audio files in the app can only be downloaded via a Wi-Fi connection.
On the other hand, you can download the sounds and use the app with no Internet connection.
The application has not only a collection of sounds but also there are visual videos that can be turned on while listening to the audio files of the application. As in other applications, you can also create mixes of several sounds here.
Like many of apps of the type, this one has a sleep timer, so the sound will turn off automatically when the time is up.
In general, the application is not bad, and the functions do not lag behind other applications, but still, we do not think that this is a pretty effective application for tinnitus. Rather, the application can be used for fun, but also for listening to the usual sounds of nature.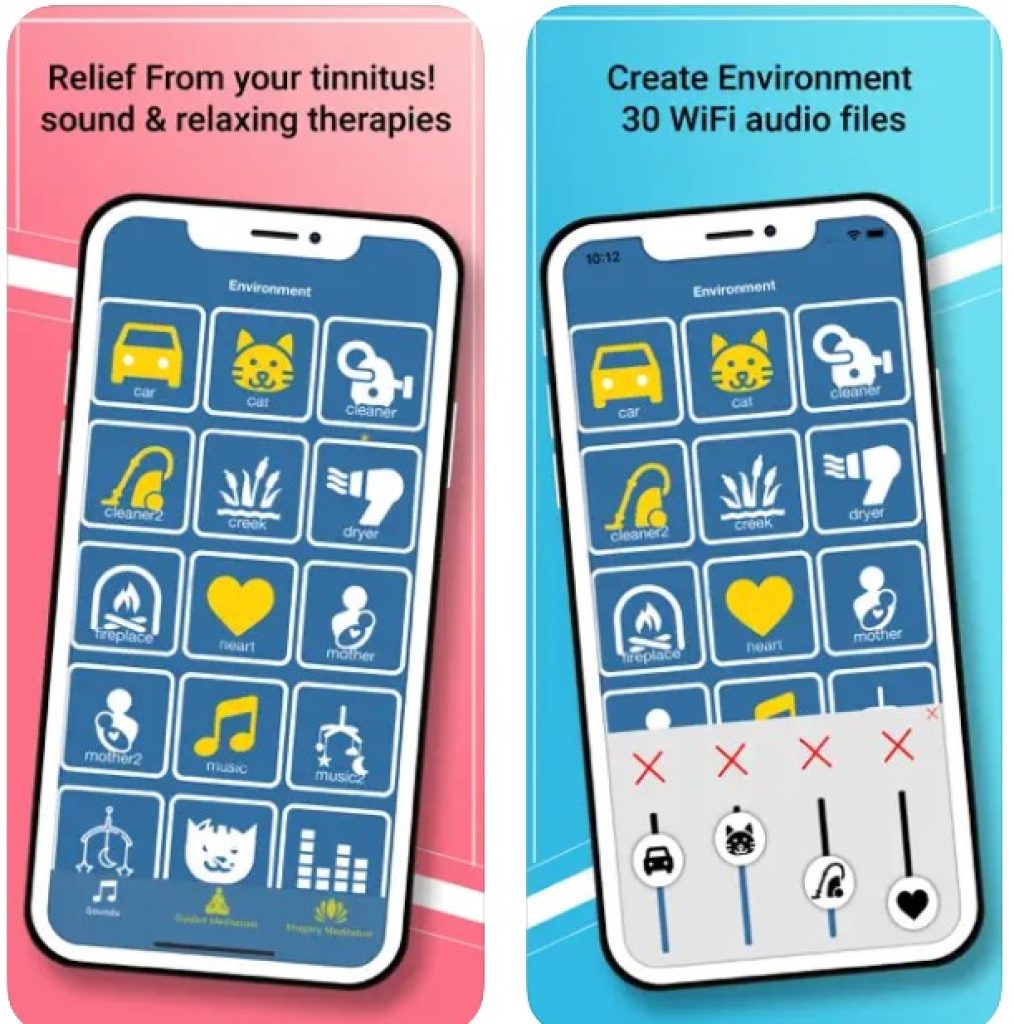 Insight Timer
This unusual application is very cool even though it is in the penultimate line. It has excellent features such as sending messages for your pacification and meditation. If you've been getting very tired lately and can't cope, try downloading the app and using it for relaxation.
The application has a community with more than twenty million users who motivate and encourage each other. In the application, you can find a sound or melody for any kind of meditation and relaxation. For tinnitus, it is also recommended to use this application and listen to relaxing sounds.
Along with a lively community, Insight Timer is also remarkable for its extensive library of sounds and guided meditations. Indeed, there are thousands of different options to choose from, with new ones added daily.
If you have the Mindfulness app on your Apple Watch, you can connect it to Insight Timer. Enjoy the variety of functions both apps can perform together.
While using the app, you can turn on the timer to keep track of time and you can even create your meditation plan, which will remind you that it's worth taking a break from your daily routine for a minute. The application is almost similar if not just its live community of people from different parts of the world.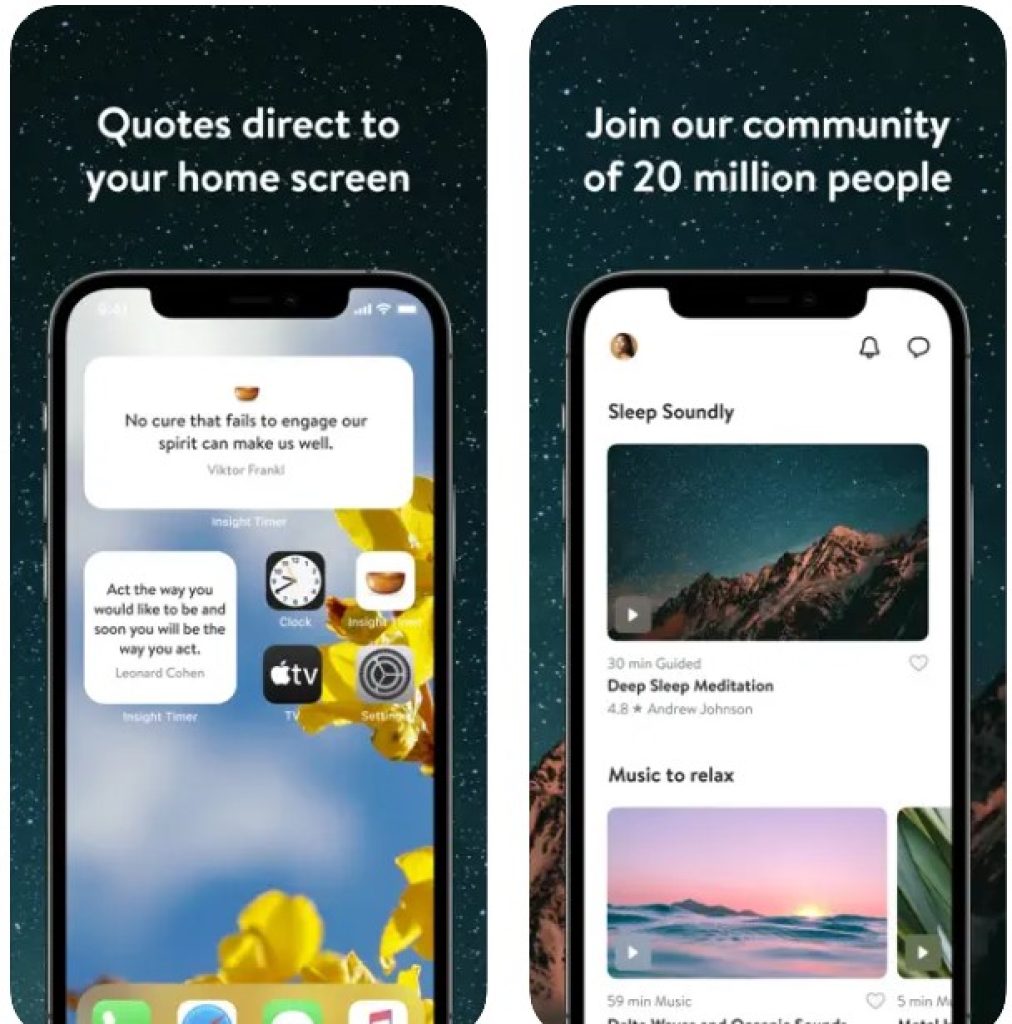 You may also like: 11 Best medical ID apps for Android & iOS
MyNoise
And the last app on the list is MyNoise. The application can be used for several purposes, ranging from relaxation to lulling babies to sleep. In it you can find a list of different sounds and music, choosing one of them you can add them to your favorite list.
As well as a distinctive feature of the application is that you can choose not only the sound but also the situation. That is, if you choose the sound of rain, you can also choose a location, a scene, and so on.
The list of your favorite sounds can be edited and adjusted so that they are played at a certain designated time. To do this, you will need to set the time in advance and make something like a note.
The application is not bad, but the interface of the application is quite inconvenient, and some bugs may occur, for example, sounds are not played and the like.