Have you ever had a situation when it was your old buddy's birthday and you just clean forgot about it? Almost everyone had such a situation! Of course, nowadays, when people are open about the date of their birth and social media websites are screaming all about it, it is hard to miss someone's birthday.
However, there are always exceptions. Some people don't even have social media accounts, others prefer to keep things private, and so on.
You may also like: 11 Best event planner apps for Android & iOS
The reasons can be different, but the fact stays the fact: forgetting to congratulate a person who is dear to you feels awfully terrible!
Thankfully, there are special apps that can remind you of all the most important dates that you can potentially miss. The list below contains 11 of them. These are the most awesome, in our opinion. Check them out and always be on the safe side.
Google Calendar
Let's start with the easiest way that may be unknown to some people – Google Calendar. Or, in fact, any other calendar app extended enough to have a reminder feature. These kinds of apps are very powerful and can serve various purposes. In our case, they can remind us every year of certain events – be it birthdays, holidays, or special occasions.
First, you need to enter all the dates that matter to you. In Google Calendar, all you need to do for it is to tap the big plus in the lower corner of the interface and then input the data. The app allows you to add notes and attachments like photos or documents.
So, for example, you can write about what present is better to choose or what is the year a person was born in – to always be aware of the age as well (just in case, you know!).
What is more, you can choose the way you want to be reminded of the event – it can be a day before the birthday or the exact date, in the morning or in the evening, one time or several times.
All in all, this is a very practical app and, that said, a very intuitive one! It is just impossible to miss people's birthdays with it. Besides, there are lots of other amazing features that you can explore. If you haven't already got a calendar app on your phone, check this one out!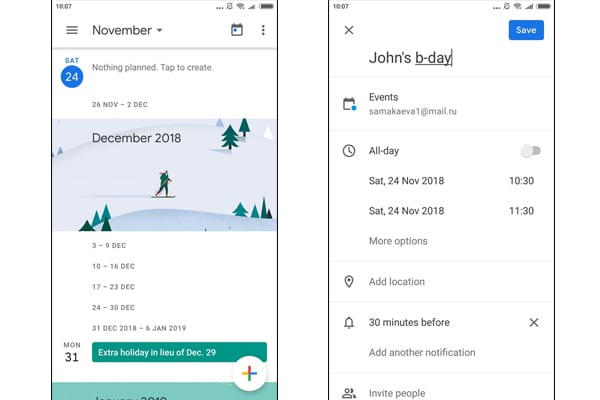 You may also like: 11 Best day planner apps for Android & iOS
Daily Day
Daily Day D-Day Schedule Widget is an app only for Android that also has lots of features. All of them are connected with counting time and reminding of certain events. It can be a birthday, an anniversary, a first kiss, a first whatever – people tend to love such things!
On the whole, there is a number of options on how to count. You can make the app show days left until a certain event or days that pass after the event; remind you monthly or annually of a particular date (this is the classic option for birthday tracking!).
In such a way, you can enter a number of events you are waiting for. More than that, you can group them, add pictures and icons to them, and set reminders so that you don't have to open the app all the time.
If some particular date is of paramount importance to you, you can use a widget feature that will add this event's line to your notifications bar. It may sound confusing, but it is really cool! Just try it.
There are lots of other great features this app has, but there are some drawbacks as well. First of all, there are ads. They are not too intrusive and you can get rid of them if you want to – after all, developers need to eat something too, but it is just what it is.
On the other hand, thanks to the ads, the app can be absolutely free. The second drawback is a little bit complicated menu – I couldn't find a way of how to delete a 'd-day' date, so whether it is just me being stupid or there is indeed a space for improvement.
This detail didn't ruin my overall impression of the app though – I promise you, this thing is really cool! It takes a bit of time to figure out how to use it, but once you've figured out, the whole new world of opportunities opens up to you. Definitely worth a try.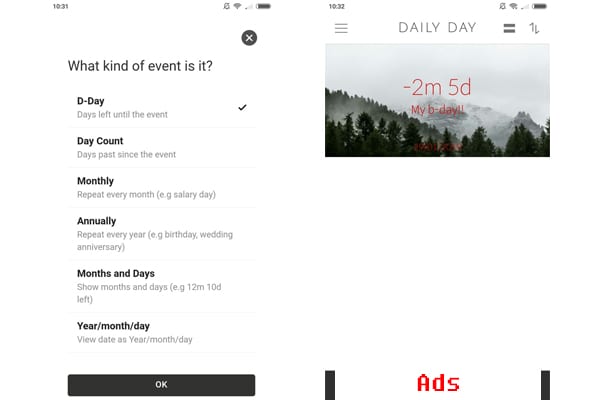 hip: Birthday Reminder App
This one is for iOS. By the way, to learn right away which app is for which platform, you can just look at the download buttons below descriptions. If there are two of them, it means that the app is 'universal'; if there is just one – just look at which one. Back to the app! hip is a birthday reminder app, so it definitely fits this list!
The app allows you to sync all of your contacts, Facebook friends, calendar dates and arrange them all in one place. Besides getting notifications, you can also greet people without leaving the app.
There are different ways of how you can do it: choose one of a hundred greeting cards, make a call, write a message, create a video, publish a social media post, etc.
Plus, hit introduces you to a number of gifts ideas, so it is not just a tracker – it is a whole package of ideas! If you want to make someone's special day feel especially special without thinking too much, get this app! You can use it just as a tracker, of course, but it is quite nice to have greeting tools at hand as well.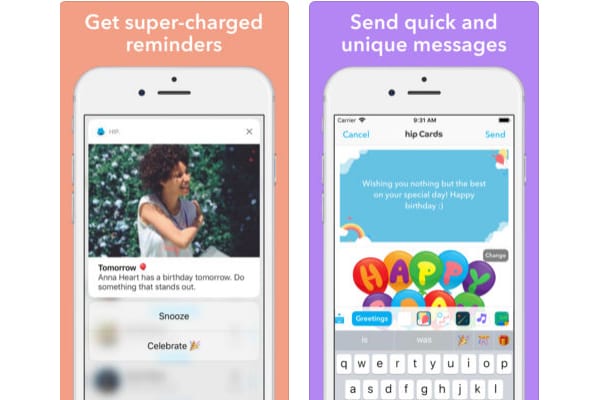 Birthdays – Reminder, Calendar & Greeting Cards
Birthdays for Android is an excellent app to remind you of all the important and maybe not so important b-days. The app integrates data from all the other apps of your phone, such as Telegram, What's up, contacts, and more.
A cool thing is that it also lets you create a widget with all the important dates on your home screen. So if you need to check whether someone's special date is coming, you can just look at the screen and that's it!
The app also has notes where you can write gift ideas or some other details. Just like the app above, this one lets you send birthday cards and there is indeed a wide choice of birthday cards. So, if you are an Android user and want to keep all things including birthday dates in order, download this app. Be sure, it won't let you down!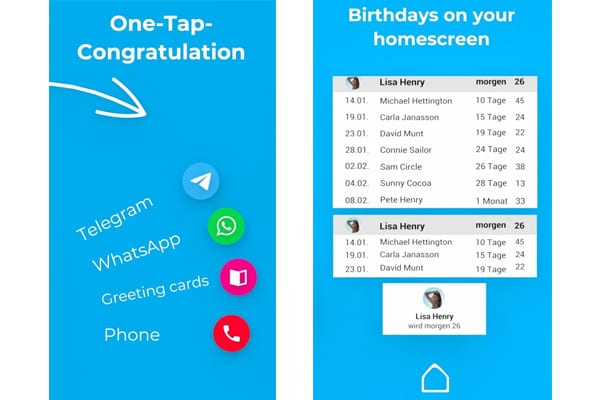 Greeting Cards & Wishes
Cards and wishes to congratulate someone may sound as the previous century, but it doesn't make these things less pleasant to get. What a relief we do not have to waste trees (paper) on such congratulations anymore!
Greeting Cards & Wishes is an app that not only lets you view upcoming birthdays and anniversaries, it also has a big gallery of great pictures to choose from in order to make someone happy.
Some of the cards are old-fashioned, of course, but it makes them even more atmospheric. There is a big choice on practically every occasion. Such a rare collection is definitely worth having! If you don't want to go to Google search every time you need a nice pic, just get this app! It will bring lots of joy both to you and those you love.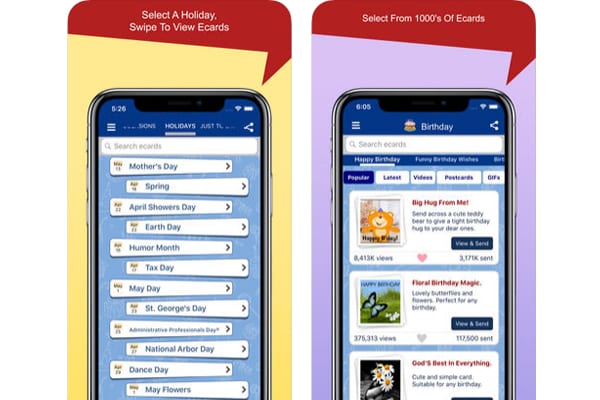 By the way, if you like the idea of congratulating your birthday boys and girls in an original way, check out this article: 15 Best framatic apps for Android & iOS to learn how to do it even cooler using frames.
Countdown+ Widgets Calendar Lite
Countdown + is an app that counts down the time until special events like birthdays, weddings, births, retirement, concerts… You name it! You can make the app count that time not just in days, but also in hours, minutes, and even seconds! It all depends on how much you are expecting something.
Just like some other apps, this one has a synchronization feature. You can sync your most important friends' birthdays from Facebook and the app will just do its job. More than that, you can create widgets of events to see exactly how much time is left till that very day.
The widgets can be edited in many ways – you can even add your own pictures to them. If you don't want to block your screen, you can use only a notifications feature. As an event approaches, the app will give you signs of it more frequently. Of course, if you want it to.
All in all, this is a perfect app for counting days until birthdays or just tracking birthdays. There are some ads in the lite version, but because it is the lite version, everything is free. Get Countdown + now and check out how cool it is!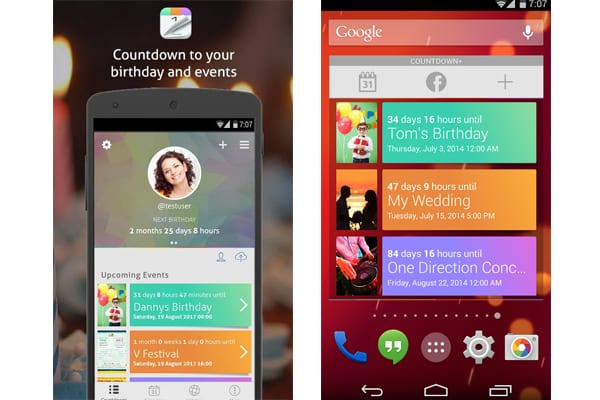 Birthdays – Birthday reminder
Birthdays is an Android app that will gently remind you of people's birthdays. This is an open-source app, which means that it is free, easy, and awesome.
There is a number of features – from the basic ones like a countdown, syncing, reminding to more advanced ones like widgets, back up, finding out who else was born on that special date, finding out the age of a person, and more.
The database made out of famous people's birthdays has over 2000 names of scientists, artists, singers, etc. This is a pretty cool feature! As you can tell from the screen, everything's carefully arranged and presented on a clean, ad-free interface. Night mode looks especially stylish.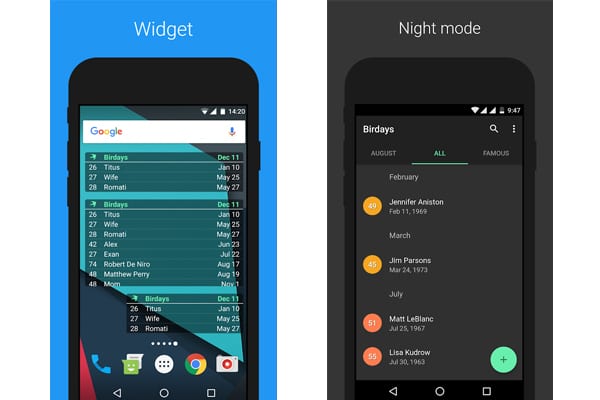 Any.do
Today, as you probably know, the self-help industry has an unprecedented growth. People want to be faster, stronger, better, and… more organized. That's why there are so many apps that are supposed to help you plan, build up habits, achieve goals, and so on. Self-discipline also includes such thing as remembering people's birthdays, or may include, if you like it too!
Any.do is one of the most popular planning apps. Its functionality is not limited to reminding of certain events – the app also lets you write to-do lists, view to-lists, mark things out, and more. What interests us most in this app is its calendar. Just like in Google Calendar, where you can add events, give them names, and set reminders.
So, basically, to learn that somebody's birthday is coming, you just need to enter it into the app (or import it from some existing calendar with all the dates already entered), and adjust the settings so that the app could remind you of the events in the most convenient way.
Any.do is available on all the platforms, so don't worry if you have to switch between iPhone and iPad all the time, for example. The app works well everywhere. So, if you don't mind having some planning features as well, get this app and enjoy its versatility!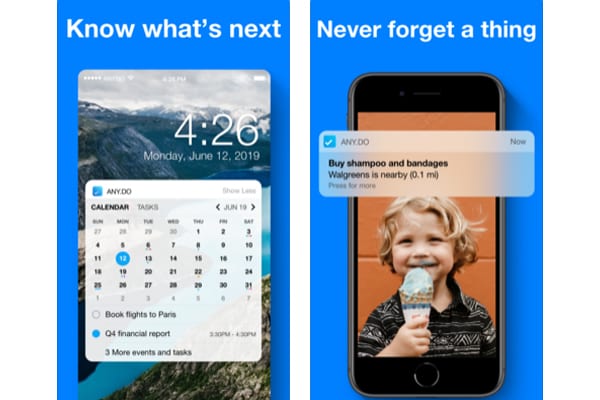 Contacts' Birthdays
Another simple but extremely convenient app. To use Contacts' Birthdays, you need Google Contacts. You need to sync it with Google's app to get better reminders of special events. You will be reminded about the Birthdays only of those people who you put the notifications on – this way you will avoid being fooled by too many reminders.
What is more, you can add various notes to a reminder (maybe a kind of a present that this person would like to receive on their B-day). The only disadvantage of this app is its obsolete and too simple interface that lacks any designer thought, so it looks boring.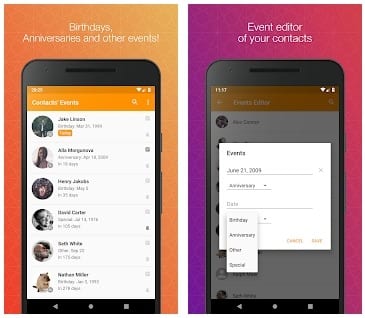 Facebook
Yeah, it is quite a cheesy choice for a Birthday reminder but there is a huge probability that you already got this app on your device and it reminds you about all the Birthdays of your friends and family – why would you need something else? The only problem is this app can't remind people who don't have accounts on Facebook.
And another annoying feature about Facebook is that it is going to remind you not only about the Birthdays of the people you care about, but about whose you don't. And since Facebook is more an official network there are probably going to be lots of those people.
However, Facebook is basically the only social network that has the capability to remind its users about Birthdays – not Instagram, neither Snapchat nor TikTok have that function.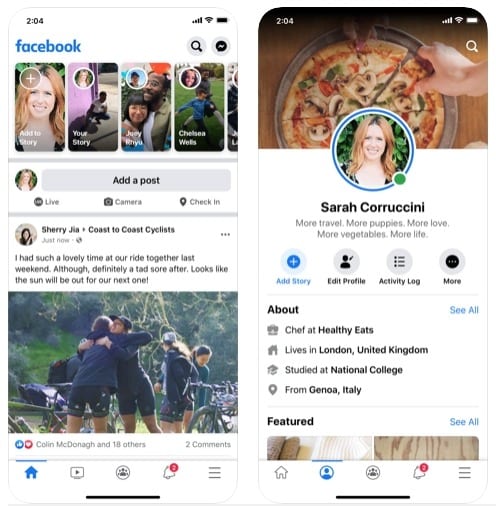 You may also like: 11 Best Party Planner Apps for Android & iOS
Birthdays for Android
This is another Birthday reminder app for Android. By the way, it makes sense to mention that among all the Birthday reminders on Google Play this is probably the most popular one.
It works in a super simple way – just add the dates of the Birthday of your friends and family and Birthdays will remind you one day before and on the day of the event. What is more, you can upload the full information about the day of birth of someone (a year, zodiac sign, and so on) in order not to forget about it.
The negative feature of Birthdays is that maybe it has an obsolete interface and that's why it loses on the newer but less popular apps in this category. In other words, the app is quite simple and it doesn't carry any significant importance so it should have something to stand out for except for just reminding about Birthdays.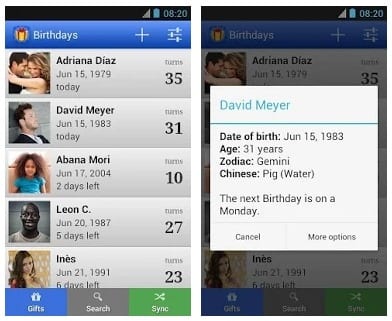 ---
To wrap up, we've discussed 11 amazing apps that help you track birthdays of your nearest and dearest. Don't be shy in writing long and warm congratulation texts and, as always, be smart in choosing apps!