If you often go by boat, you can hardly do without a good navigation tool. In this article, you will find the best apps to navigate you.
By the way, if you need to identify vessels, take a look at 9 Best Vessel Finder Apps.
Here you will find perfect options for iOS, as well as Android users. Most of them are free of charge or at least have a trial period.
KnowWake
If you live in the United States, Canada, Mexico, or Australia, you will love KnowWake. This app is an accurate navigator that will help you never get lost while traveling.
This app is famous for its simple UI and a big set of options. What's more, it is easy to get started – registration will take about 1 minute.
Here are the best functions you will get at no cost:
You will be informed about the upcoming dangers, be it strong wind, patrol, or natural hazards. You will always receive a notification informing you about it beforehand.
Discover over 40 thousand locations, such as restaurants, cafes, fuel stations or ports, bridges, and other interesting spots you might need.
Get enough info about sunrise and sunset. If you are a skilled boat traveler, you know how important it is. What's more, KnowWake will also tell you about the wind as it might affect you as well.
See the info about the water temperature. If you plan to swim at some point, this option will come in handy.
Another important thing is collaboration. If your friends also have boats and you don't want to lose connection with them, give them access to your location. When they do the same, you can form a group and help each other.
KnowWake is a free service. All the basic features are available at no cost. Both Android and iOS users can get it.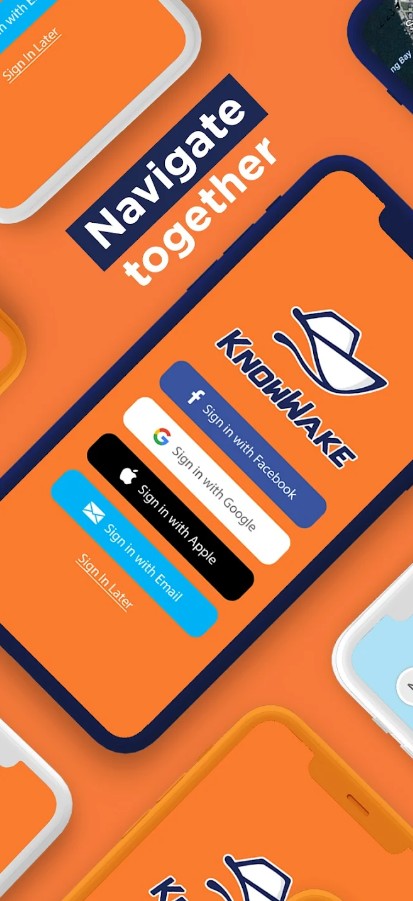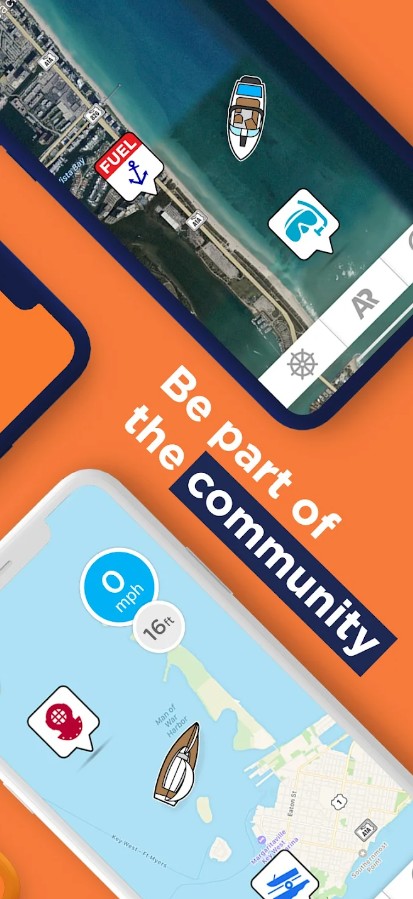 You may also like: 7 Best Apps To Rent A Boat Near Me
Boating Marine & Lakes
If you choose to go by boat, you can hardly do without a smart navigator. This is why you need to try Boating Marine & Lakes. This app has an intuitive interface and an impressive set of functions.
For sure, the app is all about navigation, meaning you will be given an accurate map and your location. But this isn't the only function you will explore. Let's look at some others:
Use an extended map with a detailed chart. It will show the details you want to see – it can be other boats, ports, and dangerous places.
Download some parts of the map so that you can check them offline. When you are at the sea, there can be serious problems with the Internet.
See the timeline of your travels. At times you might like to review your past travels and see what places you managed to visit.
Create your profile and find your friends who also like boats. The app will enable you to stay in touch with them.
Get good satellite images of the sea or lake. For sure, it can't replace a map but still might come in quite handy.
If you aren't sure that you need all the functions (including premium ones), you can go for a trial.
Please note the app will collect a big number of details about you, including your purchases and location. This data will be linked to you.
The app is updated all the time, meaning you will get new features daily. Boating Marine & Lakes is available on the App Store and Google Play.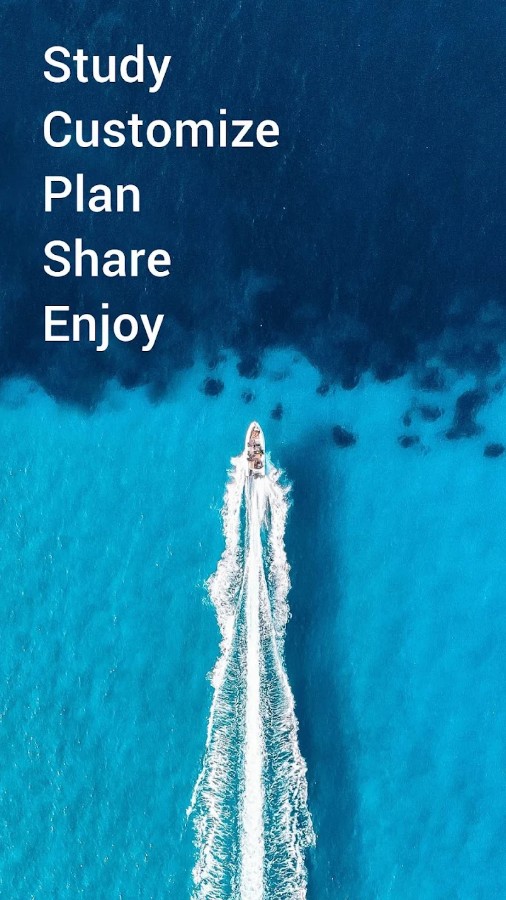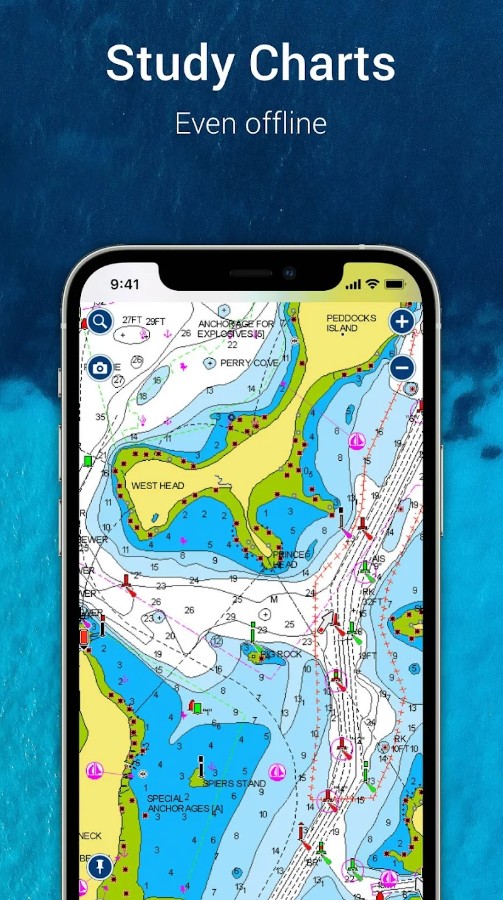 If you are a beginner and this is your first boat travel experience, then iNavX is a must for you. It has a simple UI and a big set of options (most of them help you to determine your location and create a route).
The set of functions is more or less typical:
Check the weather forecast

. If you are about to sail in a boat, you have to see the weather conditions and decide whether you can go or not. This is more about your safety than comfort.

The app collects various marine charts and maps from a few sources. This makes them accurate and reliable.
Set customized alerts and notifications. For instance, if you are to sail in the sea, this is a vitally important factor. When the weather is about to spoil, you will be the first to know about it.
Look at the charts from a different perspective. You can rotate your charts, and zoom in and out.
Enjoy AIS integration. You might even never notice this system working. Still, it helps the maps and other functions remain accurate and reliable.
The app collects the data about your purchases, location, contacts, and some user data as well. This info will be linked to you and there is no way of rejecting it.
iNavX is available at no cost. You can get it now on the App Store and Google Play and make your boat travels safe and comfortable.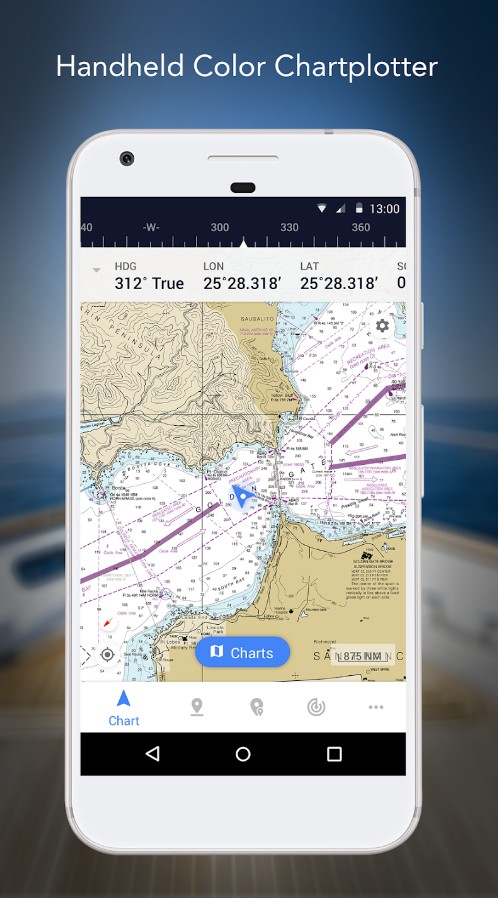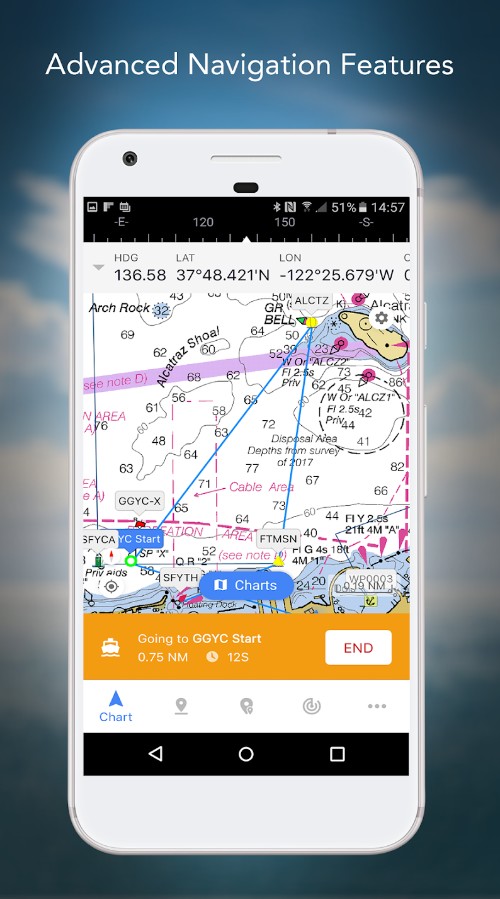 MarineTraffic
If you are about to travel by boat, you will need a good and precise navigator. MarineTraffic is one of them. It is a great tool for beginners as it contains a bit set of simple but powerful functions.
Before you start, make sure you create an account and register your vessel. This will give you access to most of the functions. What's more, other people will also see your boat on their charts.
Let's see what you will get in MarineTraffic for free:
Locate your boat

. If you feel you got lost, this will help you to understand where you are at the moment.

See

other people's boats

. For sure, it isn't the most necessary option but at times it might seem helpful. For instance, you may need some assistance from others, and the function can save your boat!

Try

route planner

. It is always better to have a plan than to lean on your intuition when it comes to sailing.

Identify vessels you face during your trip. You can do it using the photo or the name of the vessel. You will be given detailed info about it.
Check the most precise weather podcast. It is better to know such info before you sail.
The app is free with its basic functions. However, if you need a special chart of some region, just buy it. However, make sure that this region is represented in the service. You can do it on the official site.
You can download this cool navigator on the App Store and Google Play.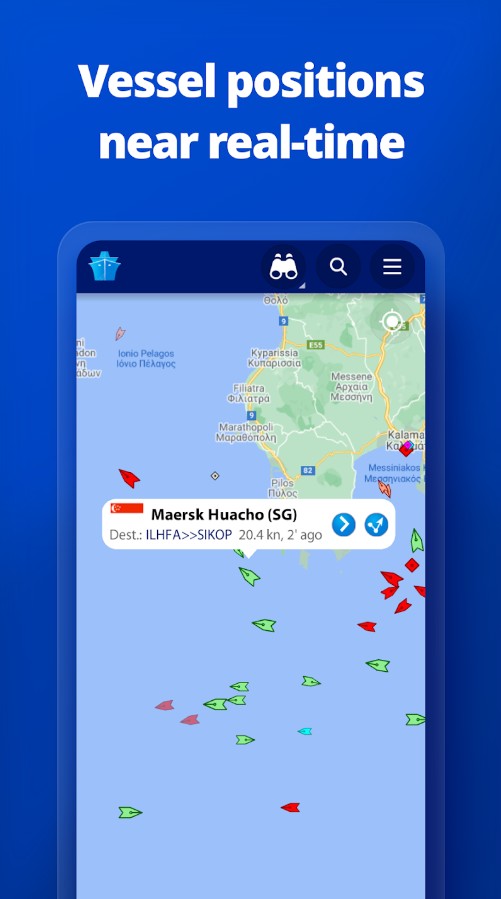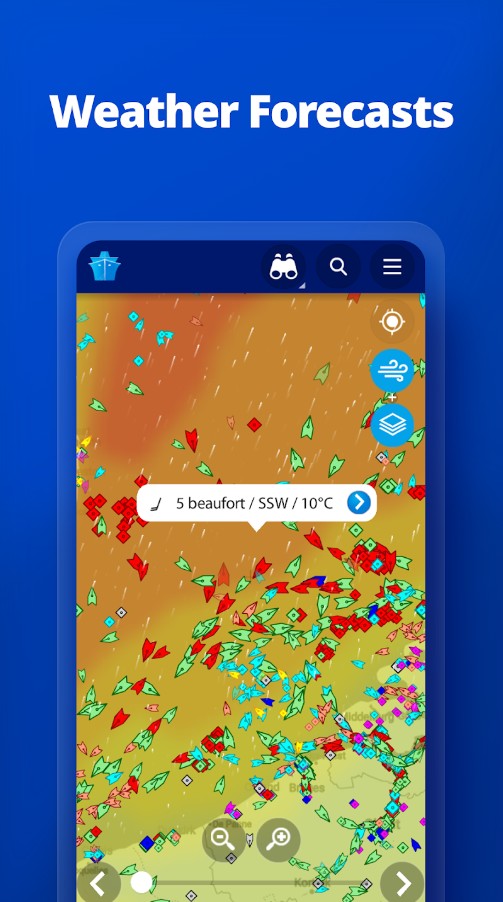 OnCourse – boating & sailing
This is a product created by the developers of MarineTraffic. OnCourse helps you find where you are at the moment and allows you to stick to your route.
The app is simple but some UI bugs might still appear. However, they don't affect the main functions.
Let's see what options you will find in the OnCourse application:
Plan your boat trip and monitor how it's going. You can also add some important point of your route so that you follow it correctly and never lose orientation.
Calculate the best route for you. If you feel you have trouble planning your route, delegate such a task to OnCourse.
The AIS integration will help you to avoid collisions and other dangers. This is a great option for beginners who have a little experience with the boat.
Check the latest updates on the weather forecast. If a strong wind is about to begin, you will be notified about it.
Detect the location of your own vessel and see where other boats are. If you know your friends are also sailing around, you can also search for their vessels and ask for help if you need it.
Still, many users complain that the app isn't always stable. For instance, when you have no connection to the Internet, some functions won't work properly.
The app is also cool because it won't drain your battery too much. It is a widely known fact that many navigators don't usually save your device's energy.
You can download OnCourse on the App Store, as well as Google Play.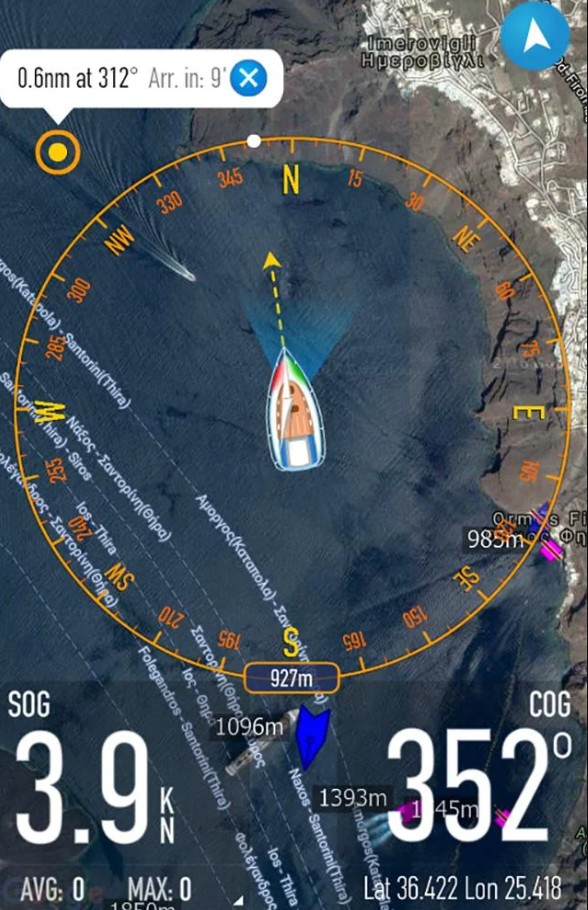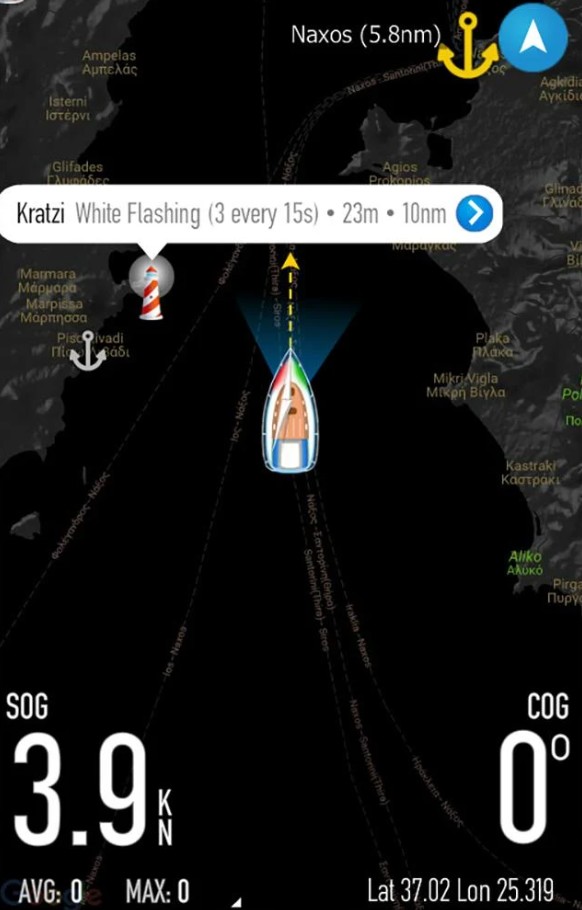 Seapilot
Here comes a professional marine navigator that will help you to stick to your route. What's more, the app also has a big set of options to make your travel safe.
We can't say the app is super easy to use. At times, it is a challenge to find the option you need. This is why we would recommend this service to people who have a least a small experience in sailing.
Let's explain why Seapilot is worth using:
You will be given a detailed map based on merchant shipping standards. It means that the map will contain info about sea depth, as well as important points, such as ports or fuel stations.
Track your boat on the chart. This option comes in handy when you feel you are a bit lost.
Make sure you set up a safety line. It can be 5, 10, or 15 meters, depending on what you want and how complicated your route is. This option can be turned on and off at any time.
Check if the weather is ok. We recommend that you do it regularly before you start.Pay your attention to the wind and water temperature.
What is especially cool, you can change the appearance of the app, enabling an elegant dark mode.
Seapilot isn't free of charge, which is logical for a professional tool. However, there is a trial period when you can test all the options.
Get it now on the App Store and Google Play and start planning your boat trip!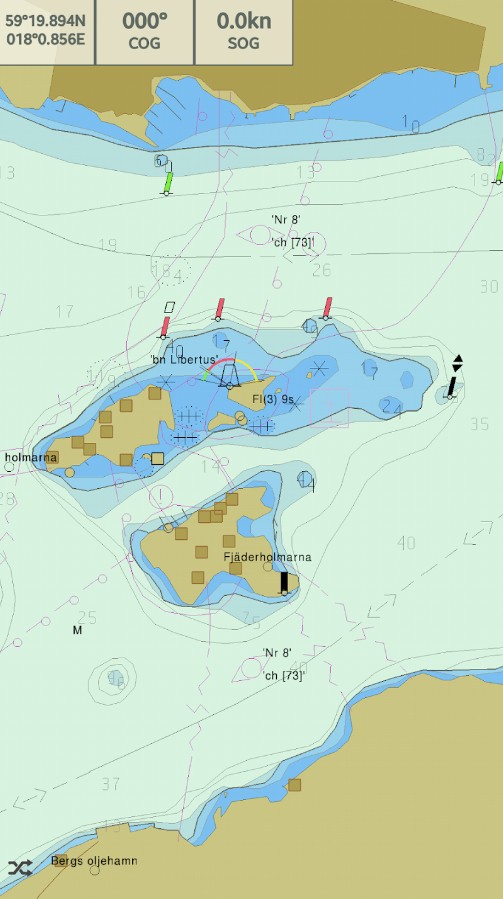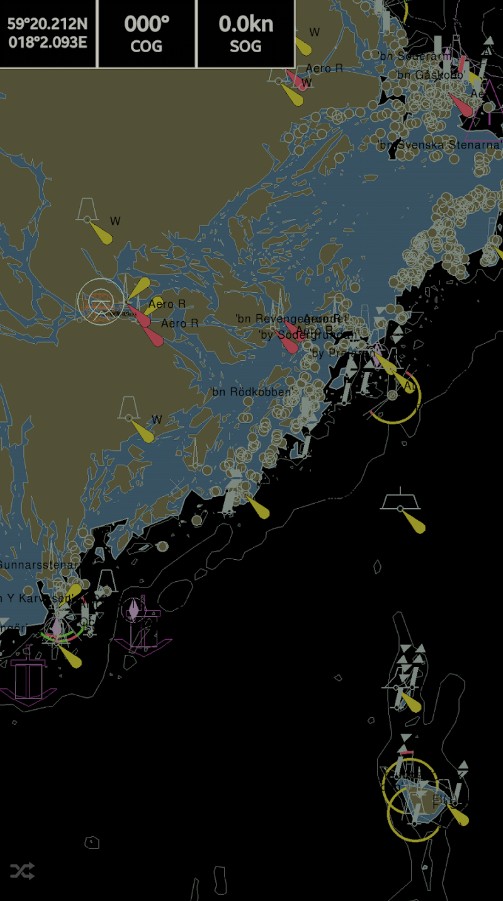 You may also like: 11 Best Marine Weather Apps for Android & iOS
Boat Beacon
Here is an AIS receiver that will guide you during your boat trip. The reason why it is so precise is that the data comes from a huge number of AIS receivers located on a shore.
The UI isn't amazingly beautiful but it is simple, though. You don't need any instructions to get started.
Boat Beacon is famous for its big set of free options. Let's take a closer look of them:
See the location of your boat, as well as other people's boats. This looks just like another map, such as a Google map, for instance.
Get info about the objects located on a shore. If you plan to go to a cafe or need to visit some ports, this option will come in quite handy.
Create your tracks. If you often travel using the same route, then you might like to save it. You can also export them so that you can access this info without access to the Internet.
Search other boats using their names or the area they might be in. This helps you to find your friends or people who might assist you in a hard situation.
The app contains a big number of charts of the waters near the USA and UK, enabling you to sail safely and easily.
Boat Beacon collects no data about you so you are totally safe when using it. The app isn't free. You will have to pay 14.99$ to start using this navigator.
Please note this navigator won't economize your resources. The device battery will be drained super fast so make sure you have charger with you.
Both Android and iOS users can enjoy Boat Beacon on the App Store and Google Play.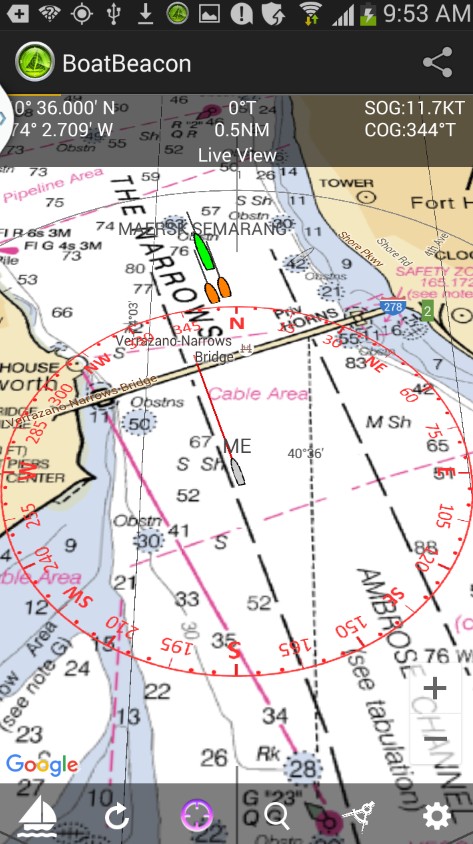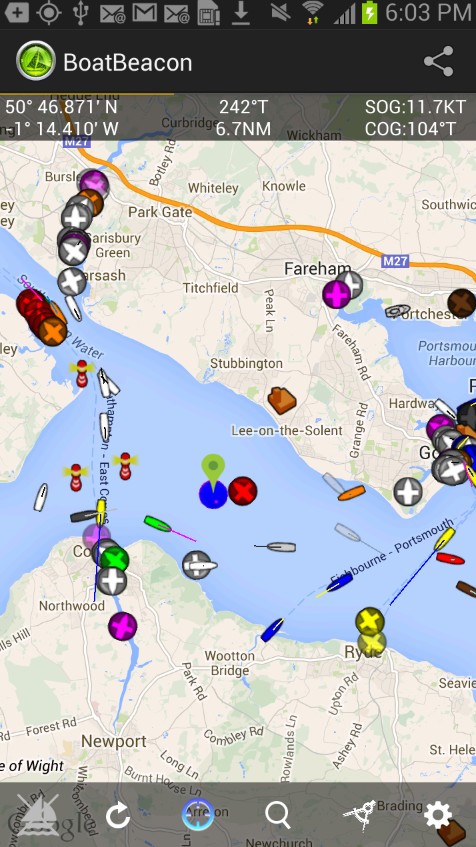 If you need to make and follow the inland route, this app is a good choice. NavShip has two versions – a basic plan (the options are free of charge but their number is limited) and a premium one.
First of all, let's concentrate on the options available at no cost. Here are the best of them:
Plan your route

up to 25 miles (or 40 km). If your boat trip isn't going to be too long, this option will be enough.

Track your route

and

add important points

. You can track up to 8 km.

The most

important functions will be available

even when you are disconnected from the Internet.

The c

harts are updated regularly

so that you never run into an obstacle that is unknown to you.

Try WearOS

. This is an application for wearable devices. It helps you to never miss an important data.

Measure the depth of water

. If the depth gets too small, you will be notified.
Please note the app will ask for access to your storage. It won't affect it or delete files. The reason lies in the architecture of the app.
Still, if you lack functions, don't hesitate to go premium. It costs $5.49. You can get NavShip now on the App Store and Google Play.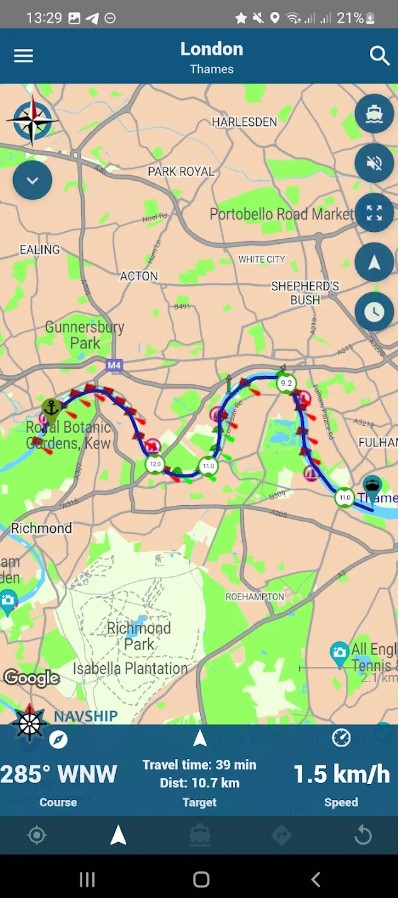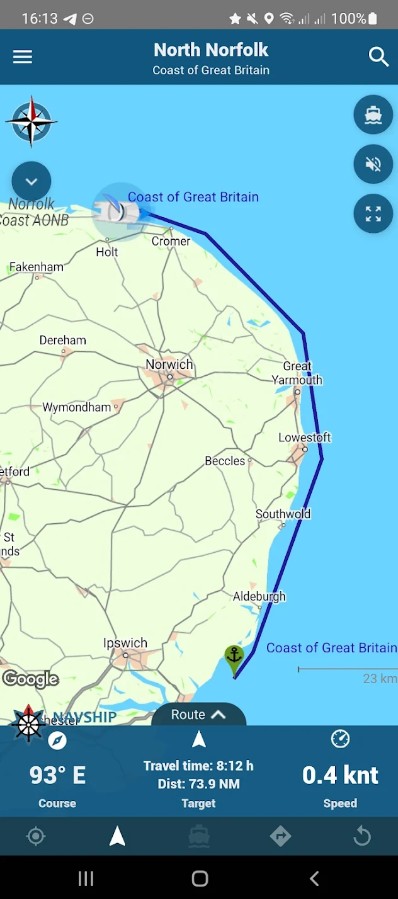 Argo
Argo is the must-have app for anyone looking to transform their home into a smart and connected oasis. If you're a tech enthusiast or just want to simplify your daily routines, this app has something for everyone.
The software works by seamlessly connecting with various smart devices in your home, from lights and thermostats to security cameras and voice assistants. It acts as a centralized control hub, allowing you to manage and monitor all your smart gadgets from one place.
Main features:
Argo allows voice commands for navigation and control, enhancing hands-free operation
The app integrates with various smart home devices and systems, allowing users to control them from a single interface
Argo offers security features such as remote surveillance and alarm systems for home protection
What is more, this app can connect a wide range of devices and platforms. Whether you use Android or iOS, Argo has you covered. It can also be connected to popular smart home ecosystems like Google Home and Amazon Alexa, enhancing your control and automation options.
In summary, I believe that this tool will be comfortable for you because it's suitable for tech-savvy individuals and beginners alike, offering a user-friendly interface and compatibility with a wide array of devices.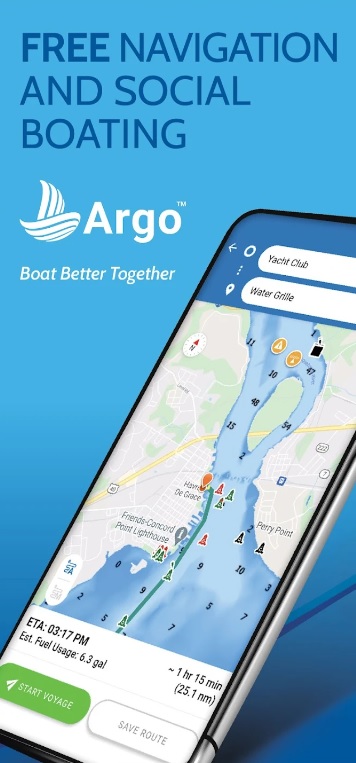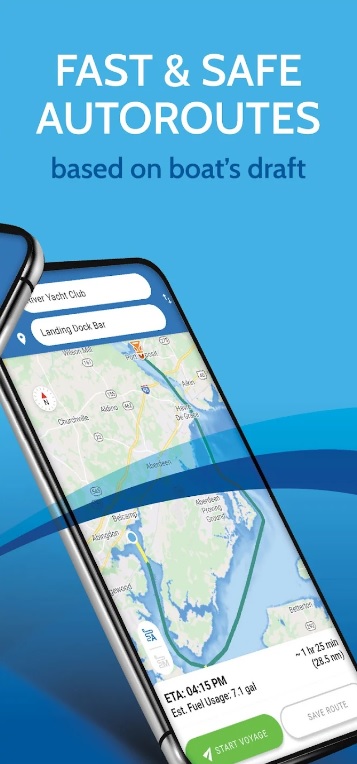 Wavve Boating
Wavve Boating is the go-to app for boating enthusiasts of all levels. The app operates by transforming your smartphone or tablet into a powerful GPS-enabled chartplotter.
It provides highly detailed and up-to-date nautical charts for various water bodies, including lakes, rivers, and coastal areas. This means you can confidently navigate your boat, knowing you have the latest and most accurate information at your fingertips.
Upon opening the app, you'll find a user-friendly main menu with several sections. These sections include "Maps" for chart navigation, "Routes" for planning your journey, "Community" for connecting with other boaters, and "Weather" for real-time weather updates.
This comprehensive menu ensures you have everything you need for a safe and enjoyable boating experience.
Main features:
Automatic chart updates to keep charts up-to-date with the latest data and corrections
AIS tracking to display Automatic Identification System (AIS) information for nearby vessels, enhancing safety
Tides & currents for various locations
Offline maps to download maps for offline use, ensuring navigation in areas with limited or no internet connectivity
In conclusion, Wavve Boating is an indispensable tool for boaters, providing essential information and features for a smooth and memorable maritime experience.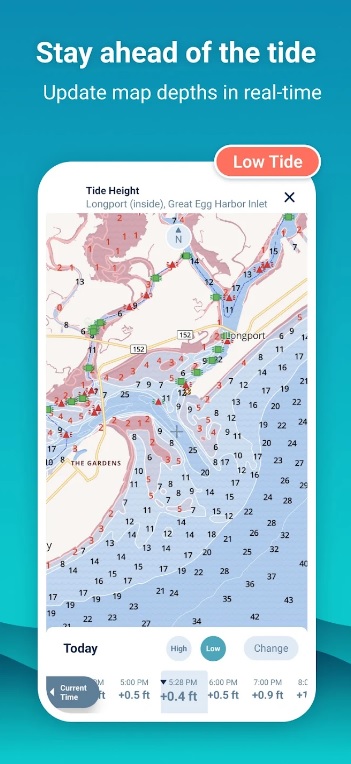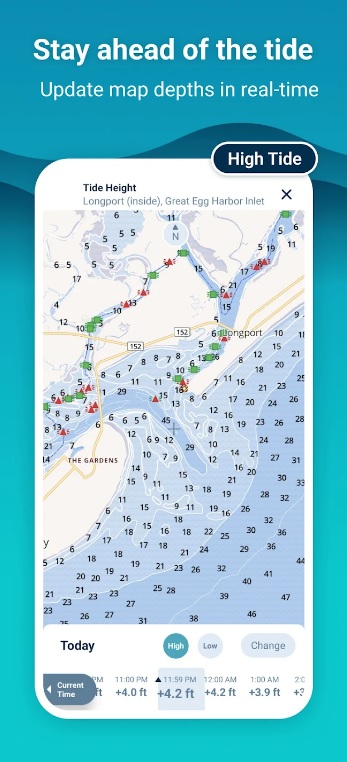 The Navionics® Boating app works by turning your smartphone or tablet into a powerful chartplotter with GPS capabilities.
It provides detailed nautical charts for a wide range of water bodies, including lakes and marine areas. These charts are continuously updated to ensure accuracy and safety for your aquatic adventures.
Main features:
Marine navigation that provides detailed marine charts for navigation, including GPS tracking
Advanced mapping for nautical charts with depth contours, markers, and information on marinas and docks
Route planning that allows users to plan and save routes, waypoints, and markers for future trips
Real-time weather (including wind speed and direction)
With this app, you can plan routes, track your journey in real-time, and access valuable information such as tides, currents, and weather conditions. It also offers features like automatic routing and sonar charting, making it a comprehensive tool for boaters and anglers.
To sum up, I'd recommend Navionics® Boating as a must-have app for anyone who enjoys water-based activities.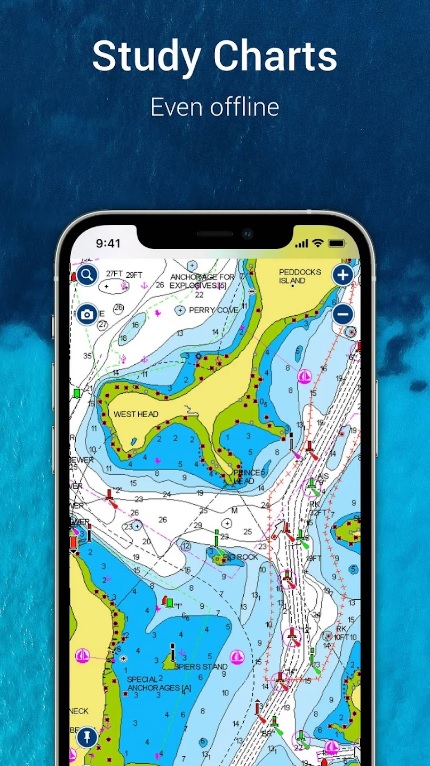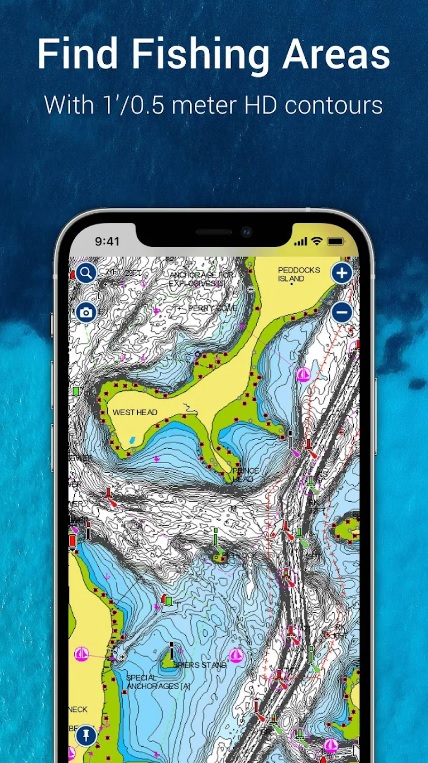 You can also check: 11 Best Offline Navigation Apps
WinGPS™ Marine
Do you need a good modern navigation tool? Then you need to try WinGPS Marine. This tool will be a perfect solution both for beginners and skilled sailors.
To enjoy all the functions, you have to register in the app but this process is quite fast.
Let's see the best options you will get right after the download:
The app

supports SD card

where you can store your charts. This allows you to bring as many charts as you might need during your travel.

Make your boat trips safe with the help of AIS to prevent collisions and other dangers.
Add your own waypoints to the map. This will help you to make your track easier.
Get access to the best maps and charts. They are enriched and updated all the time.
These options are available at no cost. However, there are also some in-app purchases that will extend your functions:
Use your personal navigation system. It means more options will become customizable. For instance, you will be able to attach files to the route you create. What's more, there are advanced GPS and AIS options.
The app will automatically load the chart you need based on the data from your GPS location.
At the moment, WinGPS Marine is available on Google Play only.