9 Best Motion Detector Apps for Android & iOS
We've all been thinking about the safety of our home. Installing cameras around the perimeter of your house or plot, at the entrance to your apartment or right inside your house is a great idea for your own safety.
But their installation is quite expensive, and not all people can afford to pay for it. You may have small children to look after all the time, or you are going away for a long time and don't want to leave the house unguarded. We have a solution for you!
You may also like: 7 Best Pet Camera Apps for Android & iOS
Do you have an old smartphone with a working camera? If so, you can use it for this purpose! Any movement will be detected – you just need to install one of the applications we have selected for you. Motion detector apps are the solution to your security.
Motion Detector Pro
Motion Detector Pro is similar in functionality to Salient Eye. This application will help you to detect robbers or thieves in time, as well as to easily monitor your neighbors and their movements in your area or in a neighborhood.
The versatile motion detection algorithm in the camera's field of view allows you to receive information in a timely manner. With your personal smartphone, you can immediately receive a photo notification to your email. All you need to do is give the smartphone security guard access to the camera and e-mail.
In real-time, you can see who moves in and out of your home. Maybe your neighbor wants to steal your socks or chips?
You may also like: 12 Best Spy Camera Detector Apps for Android & iOS
Don't touch my phone: Motion alarm app
Everyone hates when someone takes our phones without permission. And when someone steals our phone, we simply panic. However, you can reduce this part of anxiety in your life by installing this guard – it detects all the motion across the phone and there is an alarm that will let you know that someone is trying to steal your phone.
All you need to do is to turn on this app when you leave your phone somewhere in the open space, for example – on the desk – and it will detect any motion that is happening across. At the moment that it detects motion, the signal goes off and everyone will notice the intruder.
For better security, this app can help you to install the PIN code so no one except you can unlock the screen of your phone. When the app detects the motion and the alarm starts, you can use the fingerprint to turn it down – this way no one will be able to do that except yourself.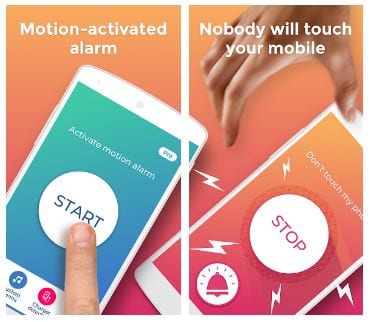 Presence Video Security Camera
Not only owners of Android phones can ensure their security without additional costs. For those of you who still have an old iPhone, iPad, or just a previous model and are using a new one, you can easily turn it into a whole security system.
Presence Video Security Camera allows you to adjust the sensitivity of motion perception, as well as receive notifications and alerts about any movement. You'll need to set up the camera in the right direction and to increase accuracy in the darkness you need to allow the application to use the flash.
If you are ready to pay $5 a month, the application will provide you with additional functionality. You will be able to record sound, store video in the cloud, or simply record for longer periods of time. Also in the Pro version, the phone will be able to make additional sounds when motion is detected.
Alfred Home Security Camera
Universal application for both iOS and Android devices. You can watch your home not only during movement or detection of foreign objects but also at any time from anywhere in the world.
The intelligent system sends you an alert as soon as it detects motion in its field of vision. You can upload all your records to the cloud and access them at any time, not only online.
You don't need to buy a huge amount of equipment and wires: the smart Alfred Home system is so well thought out that it calculates all the possible situations.
For 4 dollars a month you get HD-quality recording, removes all advertising, that is present in the free version, as well as sync with the system "Smart Home".
You may also like: 11 Best Panoramic Camera Apps for Android & iOS
Universal Baby Monitor
Worried about your child? Infants can often hurt themselves or cry when they wake up and find no one else around. In order to prevent you from having to stay near your baby's crib 24 hours a day, 7 days a week, Universal Baby Monitor has been developed.
If your child wakes up, the camera will record the movement and send you a notification right away. In addition to video recording with your smartphone, you will also be able to receive notifications about the sounds that appear.
The sensitivity of the application is also designed for any noise – the microphone picks up even small noise. If you see that your child is awake, you can use the speakers to start calming him/her right away. Usually, a mother or father's voice is enough for babies to calm down a little bit.
The app can also act as a night light for your child. In general, you get enhanced functionality than just a baby monitor or video surveillance. You will be able to constantly monitor what is happening to your child even from a distance.
Smartfrog Cam & Baby Monitor
Your tablet, smartphone, or any other device with a camera can easily replace your security system. It's easy enough to install special software on them and you can assume that your home is safe.
In addition to the tracking device, Smartfrog also offers you the baby monitor function. This is represented by the fact that you will not only receive a notification that your child is awake and moving, but also the sounds he makes – crying, laughing, or attempts to talk.
Videos can be recorded for up to 30 days in a row – you don't need to constantly clear your memory or restart the app. With this feature, you can easily go on a business trip or vacation for a week or more, while keeping track of what's going on in the house and not worrying that someone will get inside.
Moreover, in Smartfrog you can even share the broadcast in social networks – for example, send to friends or relatives.
Motion Detection
If you want to turn your phone into a surveillance camera this is the right app for that. We are all familiar with those type of cameras which react to the motions and then start aiming at the object that is moving. Motion Detection will make your phone work in a similar way.
The developers claim that the app is capable to detect even the tiniest motion signs – leaves' fall, shadows, light and so on. In order to achieve the best sensitivity and accuracy, you need to switch on the camera in the app and put the phone into a stable position.
The only thing that you must be prepared for is your phone's battery charge is going to be wasted extremely quickly with the camera's on longer than an hour. Depending on the model of the smartphone that you use, the charge can end even faster.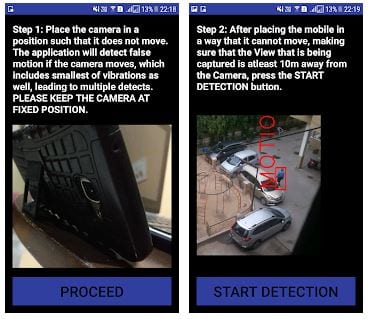 Motion Detector
The most genius is always simple. Despite its very simple interface, Motion Detector does a great job. On the home page, you can immediately adjust the sensitivity of the detector, the frequency of photos, as well as the size and other parameters of the content created.
All settings are made in just a few minutes, and you can immediately begin to set up the device where you want to control the movement. After taking photos, the application sends you a notification where the photos were saved.
Basically, the application's root folder is located on your smartphone's SD card. Of course, this cannot be called a full-fledged security system, but it fits perfectly well as entertainment.
You may also like: 7 Best Dual Camera Apps for Android
Motion Alarm
You are tired of worrying about your phone each time you leave it somewhere in the visible point? Are you getting paranoid someone is going to take your device and open your personal files? Then you need to get yourself this app – each time there is an unwanted motion happens nearby your phone, it will turn the alarm on.
This app is also beneficial for the fact that it is simple in usage. It gives you 5 seconds once you tap the activation button to lock and keep your phone steady. You have the option to cancel it while it's activating. Once activated it can only be canceled if the phone is unlocked.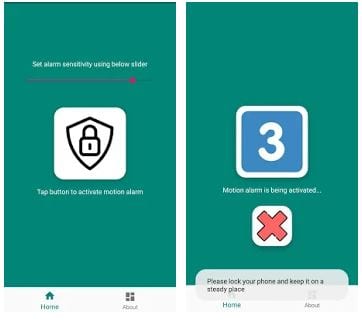 Security in this day and age is incredibly important. Indeed, all people should keep an eye on their things, their children, and even their pets. To avoid wasting a lot of money on professional tracking systems, you can easily convert your old smartphone into a real security gadget.
Modern technology allows you to monitor everything happening even remotely, it is not necessary to be in the same apartment or have direct access to the smartphone itself. Just choose the right application to install and feel confident that you have secured yourself with minimal cost.