Modern life is full of various tasks and meetings. It can be quite difficult to remember all the plans that must be completed. This is a list of Android and iOS apps which are the best meeting scheduler apps.
And for those who like planning in everything, we also offer to explore the article about the free shared family calendar apps – always remember the important events in your fam!
Google Calendar
This is a modern app that allows you to manage a schedule of meetings, cases, tasks, and other things.
It is suitable for people with any type of employment and will be convenient for students, office workers, and others, as well as just people who would like to lead a more organized life.
Creating a personal schedule is not difficult at all. It won't take more than a minute.
Describe the purpose of the meeting and with whom you plan to hold it, then set the time and place. The new task will be marked with a certain color, to ensure that users do not confuse the events.
The calendar can be personalized according to your needs. The plans can be viewed in a convenient table format indicating the time and meetings that you need to attend.
The weekly and monthly schedule looks like a calendar. And in the cell of each day highlighted records with tasks have been placed.
It is not necessary to create a record of each new meeting on your own every time. It's enough just to link Google Calendar to mail and give permission to copy all events from there.
Users can also share their schedules with colleagues, friends, or relatives. It is very convenient to plan joint work, knowing the schedule of other people.
Advantages:
It is possible to export information about upcoming events from the mail to the calendar.
The app has a design that is easy to understand and use.
Tasks can be sorted by different tags, in addition, they differ in colors so that users cannot confuse them.
It is possible to share the timetable with others.
Drawbacks:
The color choice for event separation is not large enough.
There are some notification errors.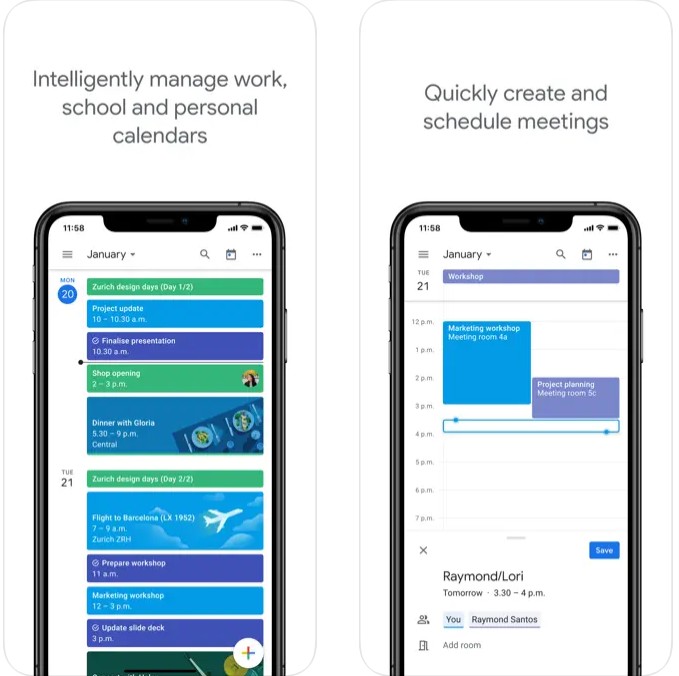 You may also like: 11 Best family calendar apps for Android & iOS
Doodle – Easy Scheduling
This is a service that makes users more punctual.
Install the app on a smartphone and start to plan your new life.
It is possible to share your plans, for instance, with your subordinates or other employees. This way you both will be informed about all upcoming events. To do this, Doodle even created different ways of planning.
First, point out that you are free to reserve a meeting with you. Secondly, you can create a note about a group meeting and find the most suitable time for each member. And thirdly, plan a one-on-one meeting, taking into account the other person's time by looking at his calendar.
Don't forget about such important details as date, time, location, and even a video if necessary.
Advantages:
There is a very comfortable system for planning.
There is a possibility to let see users their schedules with colleagues, friends, or relatives.
Users can add video conferences to the calendar.
Drawbacks:
The service can have errors and not show other calendars, as well as the meeting members.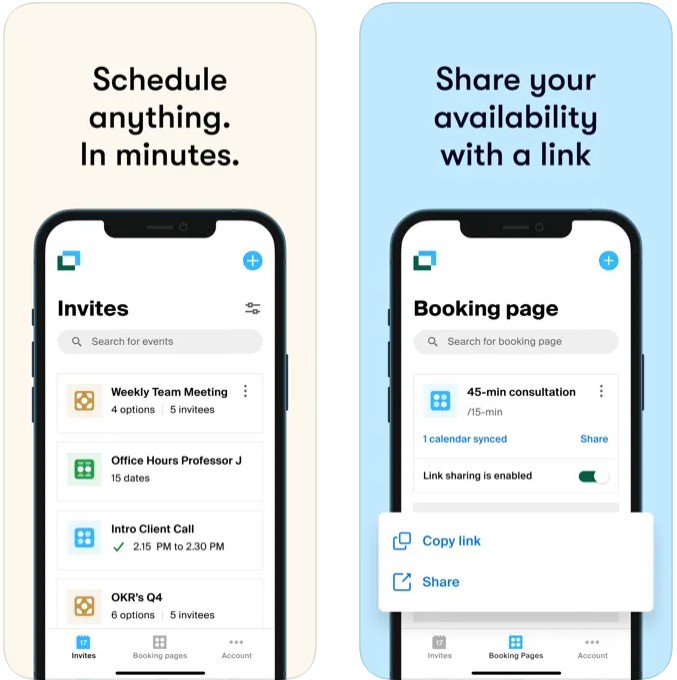 Calendar: Meeting&Scheduling
Let all the plans and things be in one place. Let this app make your life more organized.
It is possible to export data about your plans from other services. That's why if you are uncomfortable using the services that co-workers or relatives prefer, you can continue to stay in touch with them and know about all planned meetings and tasks.
The developers have made a modern, clear design. All information is presented either as a list or as a timeline, where all upcoming events are contained.
Users can view statistics of meetings they have attended and tasks they have completed. In this way, it will let them know what they are spending the most of their time on.
Advantages:
Events, tasks, and meetings can be highlighted with different colors so as not to mix them up.
It is possible to export information from other calendars.
Drawbacks:
Sometimes the app takes a long time to load.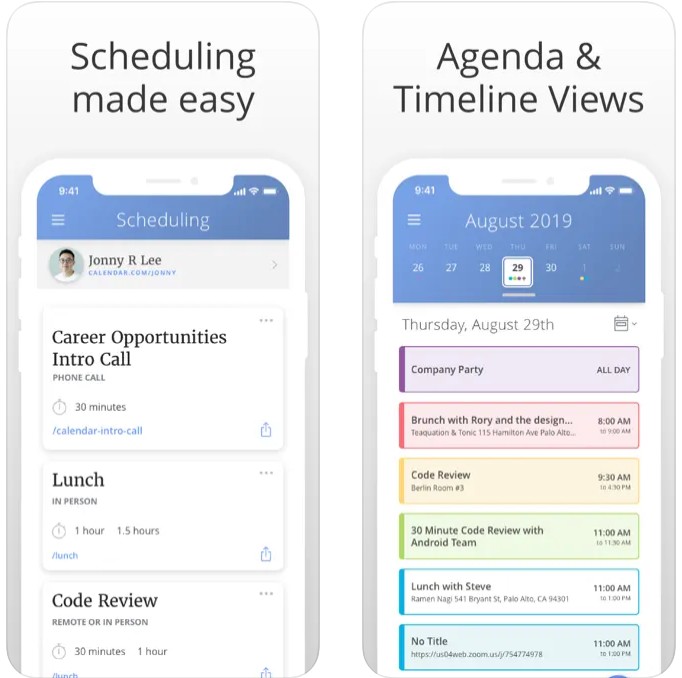 DigiCal Calendar
It is another calendar to always be aware of your do's and meetings without carrying a thick paper notebook with you.
Users can make plans for different periods. Become a master of planning and wait for upcoming events.
The service also has an interesting function. Those who love sports can subscribe to the calendars of sports matches and add the dates of the matches to their calendar.
Users also have the possibility to include a timetable for TV programs, holidays, and so on.
The developers have added 6 amazing widgets that will help you always remember scheduled meetings and tasks. Add the widget you like to the phone's home screen and the app will become even more convenient
The weather forecast is what many similar calendars lack. And here it is. Now users can plan all their events according to the temperature and possible rains or snowfalls.
Advantages:
There is a dark theme to using the app at night. It is possible to synchronize with other calendars.
A palette of 42 colors for task separation.
Users can add a schedule of sports events, TV programs, holidays, and more to their calendars.
Drawbacks:
Users often have errors during synchronization with other calendars and services.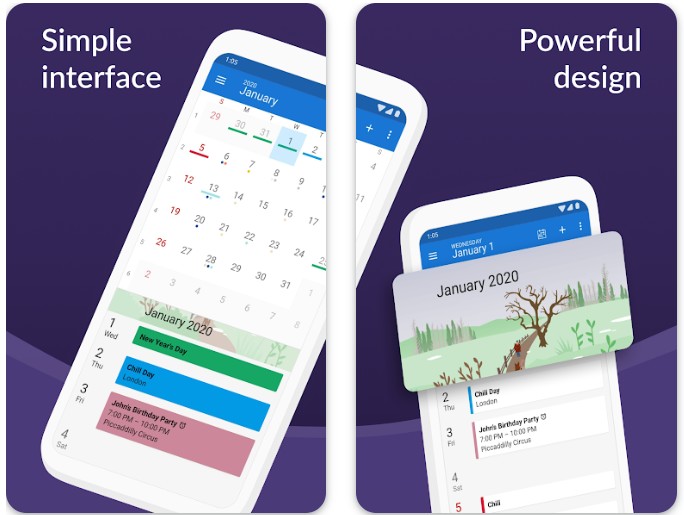 TimeTune – Schedule Planner
This app will make sure that users always complete all tasks on time and do not forget about their scheduled meetings. Change your lifestyle and become more productive with TimeTune.
The service used differs little from the use of other similar apps. You can upload your free time for all daily activities, morning yoga, evening work, or reading. Plan your day and make your life more organized.
Then you can see the statistics and find out what you spend the most time on. This way you will be able to correct your tasks and meetings.
Users should enable notifications to receive reminders about a new meetings. It can be accompanied by sounds, vibrations, or even a voice. You will never forget about the plans.
The tag system is well-developed in TimeTune. Each task can be marked with a certain color and icon.
Advantages:
Easy-to-use app design.
Users can set up time blocks for different activities.
There are a large number of tags.
Drawbacks:
There are few opportunities for scheduling meetings.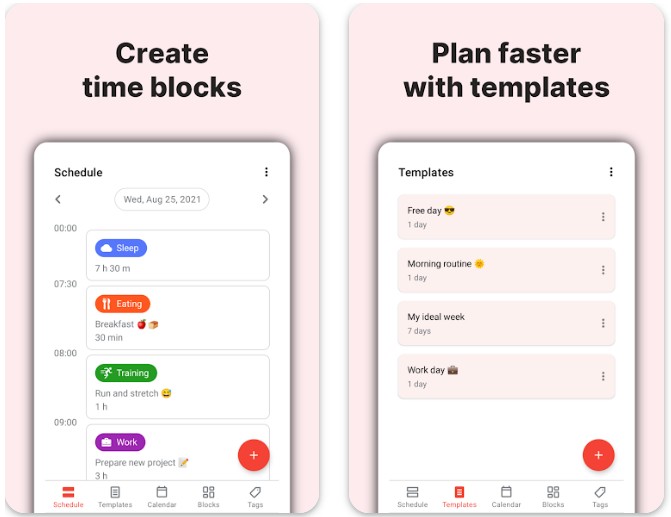 Calendar AI: Planner&Agenda
The service makes it possible to plan all events and meetings so that users feel as comfortable as possible. No task should become a problem.
Why AI? The artificial intelligence will help users to keep track of their plans and schedule of their colleagues and closed people, and will not allow them to plan an appointment with you if this time is already occupied by other events.
Moreover, AI can give you a brief biography of the people you have an appointment with. It will find information about them: a job title, a social media profile, some career details, and so on.
It is very useful. After all, it is better to know with whom you will solve important issues.
The calendar completely handles its main task. Users easily set up all their events and meetings with this service. It is very simple and does not take much time.
With this app, it becomes possible to cooperate with colleagues at work easily. The developers have created features such as adding topics, various discussions, and announcements that you and other members of your work team will see.
However, not only the working one. Students, friends, or family members will also find this service convenient for their daily lives.
Advantages:
The app has a clear, modern, and easy-to-use design.
AI will help users to schedule tasks and meetings, as well as get important information about other people.
There is a great system of cooperation with other calendar users.
Drawbacks:
Sometimes users can have errors in the app.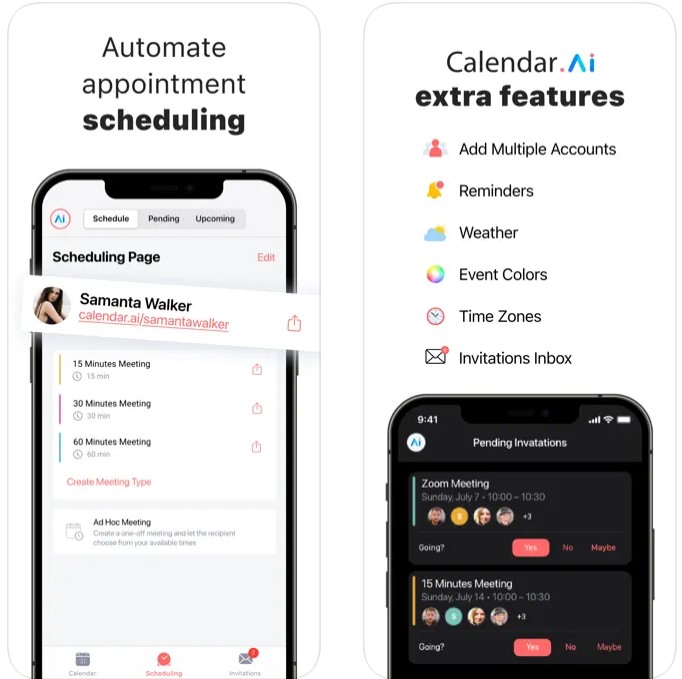 You may also like: 8 Free Group Scheduling Apps & Websites
Any.do – To do list & Calendar
If you are looking for something more flexible, with many different functions, this app most likely meets your needs.
As soon as you wake up in the morning, open the app immediately. It is important to start the day properly and productively. Make a list of tasks and necessary meetings right in the morning.
Creating a new task is quite simple. Just briefly describe the goal, set the date and time, and the people who will also take part, and don't forget about the tags.
After you have done this, go to a special messenger and discuss the details with the team members. Not every similar app can boast of such a feature.
The developers have tried to make collaboration with the team as convenient and stable as possible. Add people, and set tasks and deadlines. plan meetings. It has all the tools for productive work.
Sometimes having a schedule on your phone only is not enough. That's why the service allows using the app on a tablet, PC, laptop, or even a smartwatch.
It is only necessary to synchronize all devices and you will always be aware of upcoming cases.
But it is possible to solve not only work issues but also everyday ones. Users can compose a shopping list, make reminders about going to the doctor, and that sort of thing.
Advantages:
There are a large number of different functions that are useful both for work and for daily routine.
It is possible to quickly create new records about forthcoming meetings and tasks.
Users have a calendar with the help of which it is easy to see all the events.
Synchronization with other gadgets is available in the app.
Drawbacks:
There are some troubles with getting notifications and sharing calendars with other people.


Time Planner: Schedule & Tasks
This app is for those who always have a million plans, none of which have been fulfilled.
A special feature of this app is its design. Users can create bubbles with tasks for the day, planned meetings with work colleagues or gatherings with friends, as well as new habits.
Click on the plus button to create a new bubble, and specify everything you need: a goal, a brief description, a time, and a place. Now it's up to you. Complete the task and feel free to cross it off the list!
For those who are used to a more standard calendar view, the developers have left it. The schedule for the day and the month look like in a typical calendar.
You can stay productive by combining the bubble-shaped task design and a traditional calendar where all upcoming meetings and events are tagged.
Advantages:
The app has functions not only to schedule meetings and events but also to develop a habit.
Bubble design is a new approach to planning and organizing a productive life.
It is also possible to make shopping lists and similar ones.
Drawbacks:
Users will have to spend some time before they can figure out how the app works.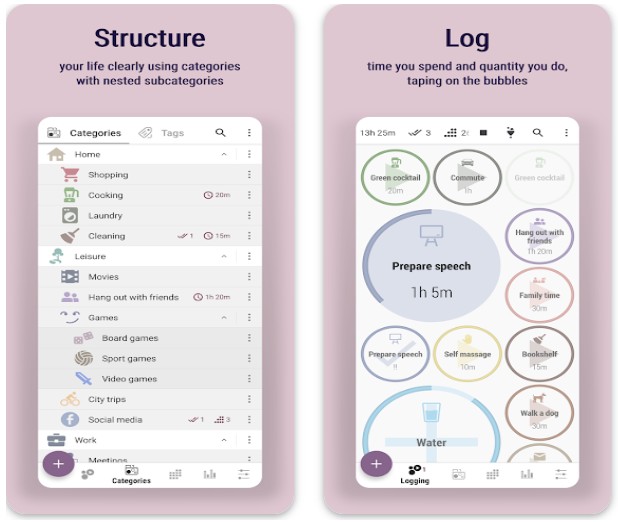 The service allows you to create and share plans with family members, friends, and, of course, colleagues.
Creating a record of a general meeting does not take more than a couple of seconds, it's a few taps on the screen – and now you can share your plans with other people.
It also works quickly with the creation of tasks, event planning, as well as a shopping list.
Users can also create different calendars for different purposes. For example, a working one to contact colleagues, and a family one to plan a weekend with relatives.
Add a widget to your phone's home screen so that you don't forget about your scheduled tasks.
Advantages:
Users can quickly add a record of an upcoming meeting or event.
Clear and intuitive app design.
It is possible to synchronize with other calendars and gadgets.
Drawbacks:
There are not many colors to divide events by tags.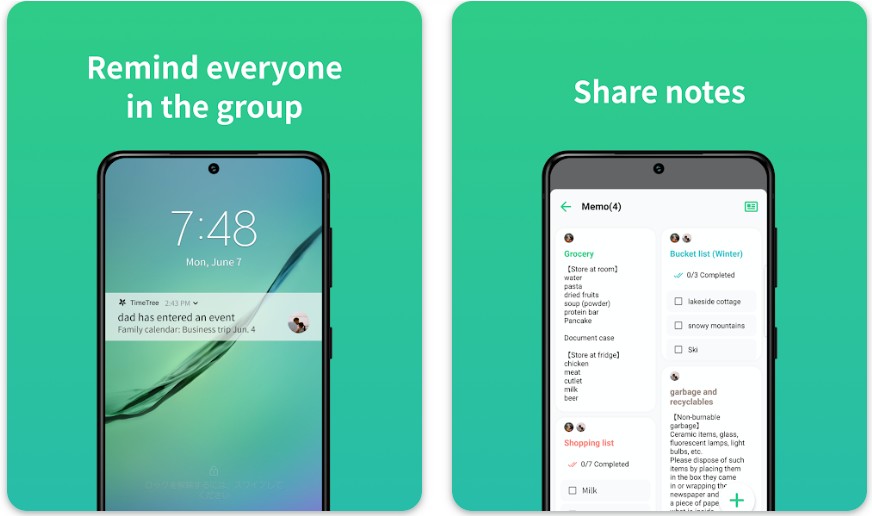 CatchApp Meeting Scheduler
This service allows you to schedule meetings and organize free video calls.
Install the app on your phone, log in and create your first scheduled meeting. To do this, you will need to choose a person who will participate or even a whole group of people. Specify the time and place.
It is possible to arrange a physical meeting in a cafe or conference room. Or use a video call in the app. You can also invite colleagues or friends to hold a meeting via social networks.
Send meeting invitations via email or SMS. This way the messages will reach the participants of the meeting.
The design of the app is not so modern, but it is quite intuitive to use.
Advantages:
The app is completely free.
It is possible to hold online meetings directly in this app.
Drawbacks:
Sometimes the app gives an error at the login stage.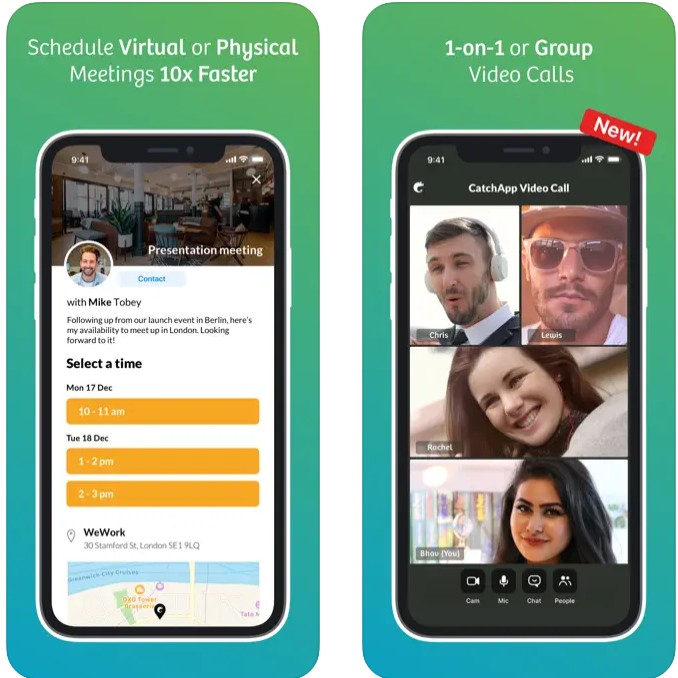 You may also like: 11 Best event planner apps for Android & iOS
Calendly Mobile
Let other people know when you have time to hold a meeting. This service will become a connecting thread between you and colleagues during business meetings.
It is possible to synchronize with other services in which you make your schedule. There is also a calendar where you can mark all future events and decide when it would be best to have a meeting based on this information.
With the help of Calendly Mobile, it is very easy to organize meetings. Users can set up time between appointments, and create private meetings, and group and one-on-one meetings.
The developers have added an important function for determining the time zone. Therefore, you can easily find out at what time it will be convenient for each member to hold a meeting.
Advantages:
Users have the option to set what time they are free for meetings.
There is a wide range of functions to notify colleagues about an appointment.
Drawbacks:
Users notice that sometimes there are some errors and freezes.