Today we cannot imagine our life without a phone, and especially without the Internet!
Thanks to these innovations, we can find any information. But most importantly, a worldwide network helps us to escape from every day worries. Are you a fan of bowling games? Do you like to play bowling and shoot down the pins, but you do not have enough time to get out of the house?
Then take your phone, go to the Internet and check the list of 15 best free bowling game apps for Android & IOS. Sit back and choose a game that is right for you!
There is a large number of virtual bowling games and each has its own features! But we have chosen the best for you! Enjoy reading!
You may also like: 8 Free Pool Table Games for Android & iOS
PBA Bowling Challenge
Are you ready to get serious with the bowling? Then this app will take you to the next level. You will be astonished by the excellent and realistically looking graphics here that contains even the tiniest elements.
You will be starting from the regional championship, ending with a big world cup.
Moreover, this is one of the few bowling games that have a multiplayer mode. Here you will find dozens of tournament, competing with stronger and stronger rivals. Overall gameplay is quite realistic as well – the movements of objects were made by using real-life modeling.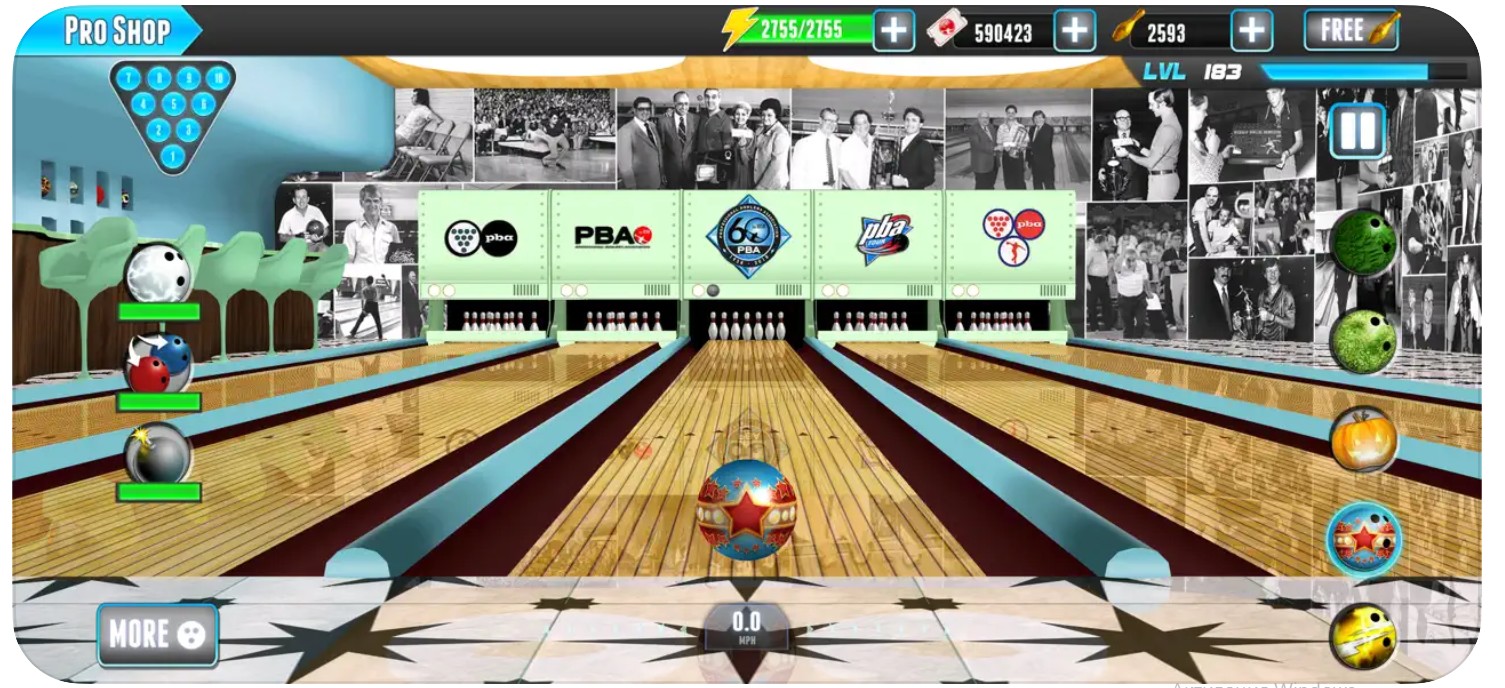 You may also like: 9 Best tennis games for Android & iOS
Bowling Crew
The bowling game that is trending right now. Cool gameplay, excellent animations, stylish design – all those factors will make play this game even those people who are not into bowling.
The game contains lots of fantasy-like elements – so if you are looking for something realistic this is not going to be your choice. The multiplayer mode is available as well. There are thousands of players competing with each other every hour.
Join them and explore all the locations provided in this game.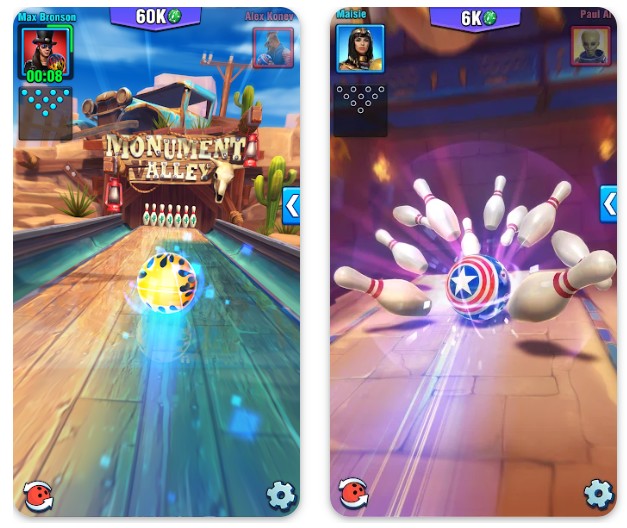 3D Bowling
Let us introduce one of the best games of bowling with one of the best departments. During the game, you will be accompanied by pleasant music, and three-dimensional graphics will not leave you indifferent. In this game, there are about 5 different clubs and a huge amount of bowling balls. Play and put new records!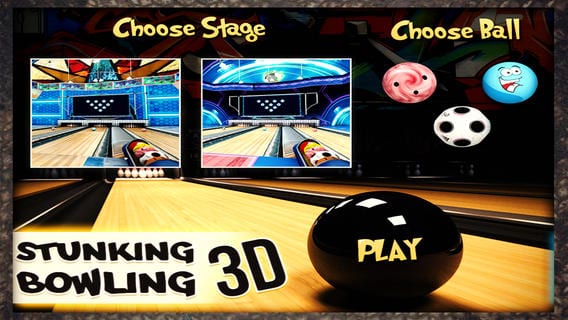 Let's Bowl 2: Bowling Free
Download this game and you will not regret! Crazy graphics and cool effects are waiting for you. Rises to a leading position!
The game is very easy to operate. Therefore, it is open to all players of all ages. Gain experience and move to the next level.
You have the opportunity to earn a lot of money and spend it to buy additional tracks or balls, each of which has its own unique properties. Take a break from business, and play bowling right in your mobile phone!!!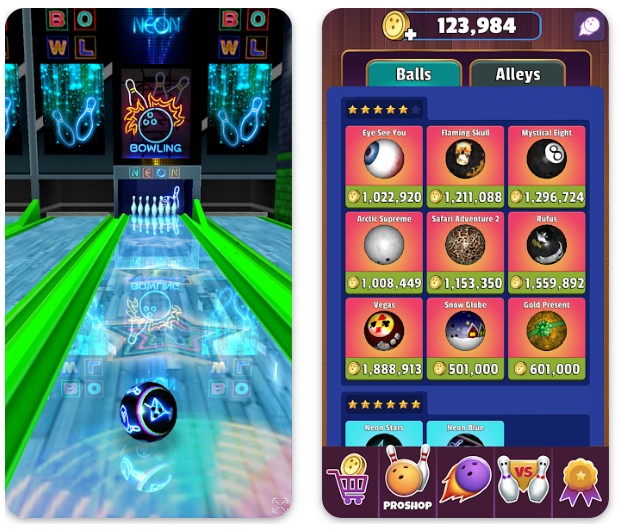 Ball-Hop Bowling Classic
You will enjoy an exciting game full of dynamic and unpredictable things! Do you enjoy movement and sport? Then download Ball-Hop Bowling Classic and improve your proficiency.
Clear graphics, three-dimensional shapes – a real game of bowling should look like in this way!
The physics of the game is amazing. App' creators worked on its realism. Play and win with the free app Ball-Hop Bowling Classic.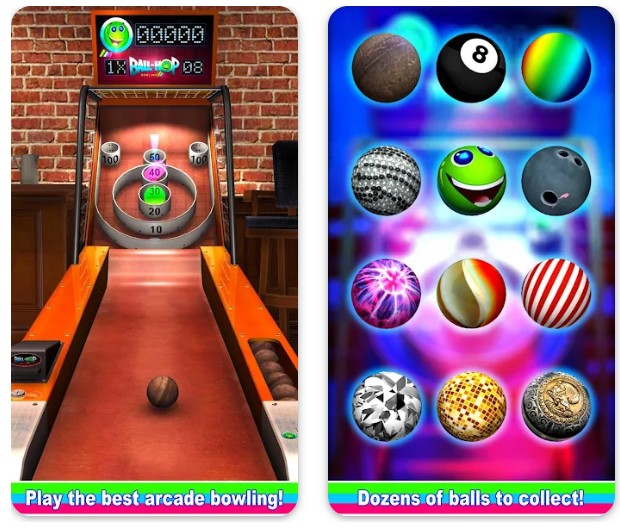 Rally Bowling Free
With this game, you will not notice how quickly not only the minutes but hours pass. You will find 42 great 3D prizes, 24 kinds of bowling balls, 12 tracks, as well as a memorable game physics and beyond.
The daily bonuses create a special charm to the game. Collect coins and complete different levels!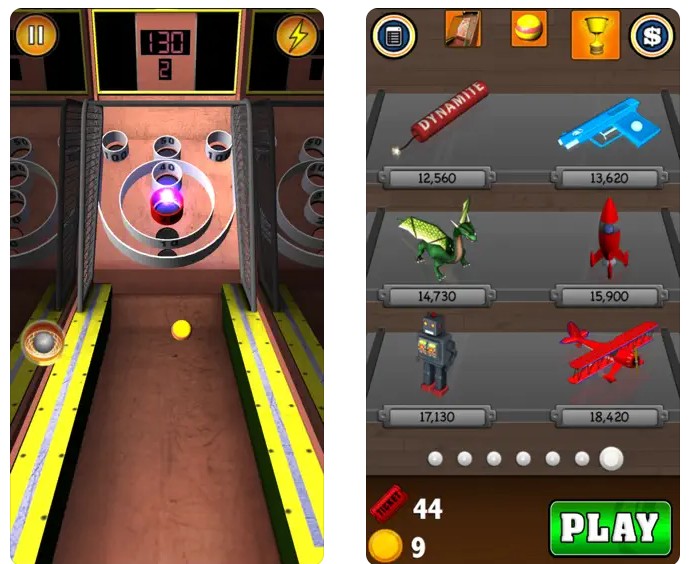 Cave Bowling
Become a caveman and play bowling alley. Try it, it's fun! Rules of the game are the same as in the usual bowling. But there are no smooth paths and only the crazy obstacles.
Shoot down the pins and collect the bones. However, do not fall into the audience with prehistoric people!
Strange little creatures will help you to throw the balls. Featuring sound, cool graphics, more than 60 levels, and a global ranking board! Plunge into the world of antiquity!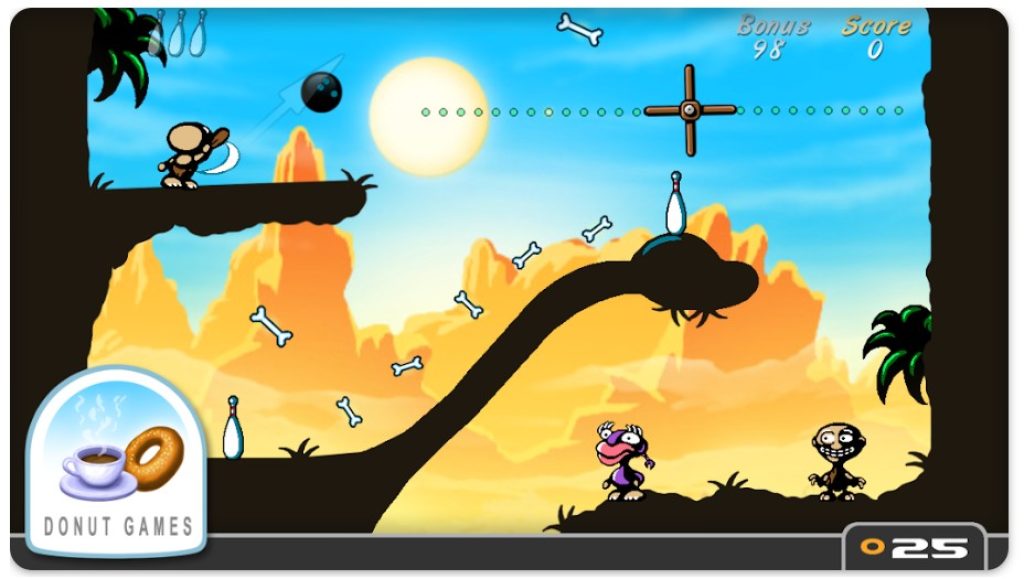 Trick Shot Bowling
There are 10 pin games, 24 free bowling balls, which differ in weight and speed. Find your perfect ball for bowling to become a true champion! It is so easy to do with the ability to control the rotation of the ball with one touch of a finger!
Your cast will be the most accurate! The special features of this game include – touchpad or mouse control, cool graphics with 3D, and much more!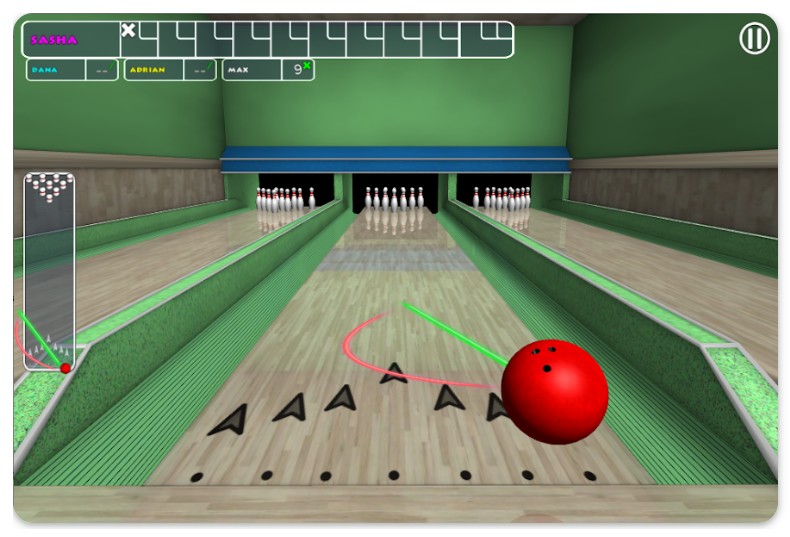 You may also like: 11 Free Football Manager Games for Android & iOS
Bowling by Jason Belmonte
Bowling by Jason Belmonte is a popular mobile game that promises to deliver a realistic bowling experience that is both fun and challenging.
The gameplay is nuanced and requires some skill to master. Players have to swipe their finger across the screen to throw the ball, and the direction and speed of the swipe determine the direction and speed of the ball.
There are also different bowling techniques that players can choose from, such as the two-handed technique that Jason Belmonte himself uses.
The game offers a variety of different challenges, including tournaments, leagues, and practice modes, so there is always something new to try.
Advantages:
Realistic gameplay.
Fun challenges.
Drawbacks:
It can become repetitive.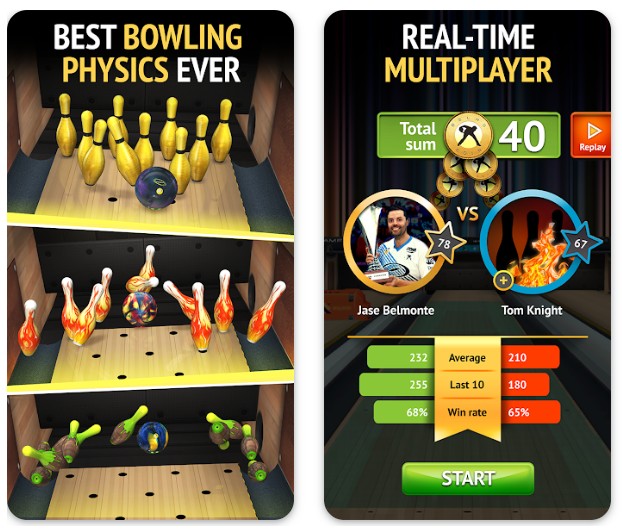 Arcade Bowling Go 3
Bowling Ball Game is an app for you to play bowling while you're laying on a sofa.
The gameplay is quite simple and easy to understand. Players use their finger to swipe the ball towards the pins, and the goal is to knock down as many pins as possible.
You get three chances to knock down all the pins, and the game becomes more challenging as players progress through the levels.
The sound effects are quite basic, and the background music can get repetitive after a while.
Advantages:
Drawbacks:
Repetitive gameplay.
Intrusive ads.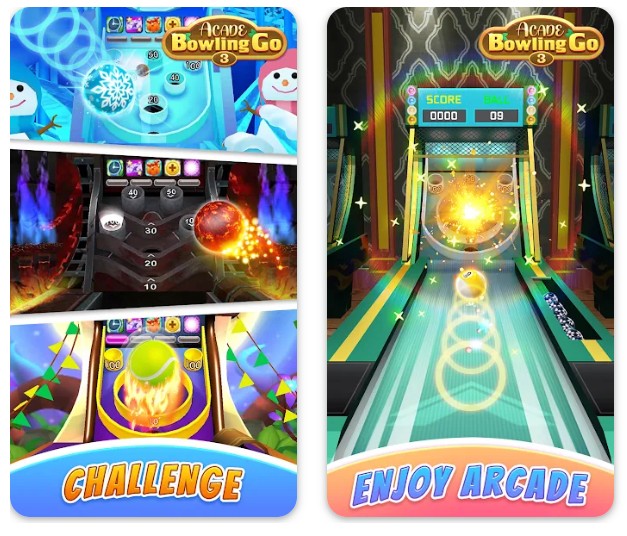 Galaxy Bowling
This is a 3D game with very authentic graphics. The thing is that it has its distinctive element that makes everything looks a little bit in a cartoon style. If you like the graphics like this, then you should definitely check this app out.
By the way, you might be a little surprised, why this game is called Galaxy Bowling.
The more points you win in the game, the more bowling tracks you can unlock. By the way, another distinctive feature of the graphics here is that it transmits the reflections of the light quite naturally. In order to throw the ball, just swipe the finger on the screen of your smartphone.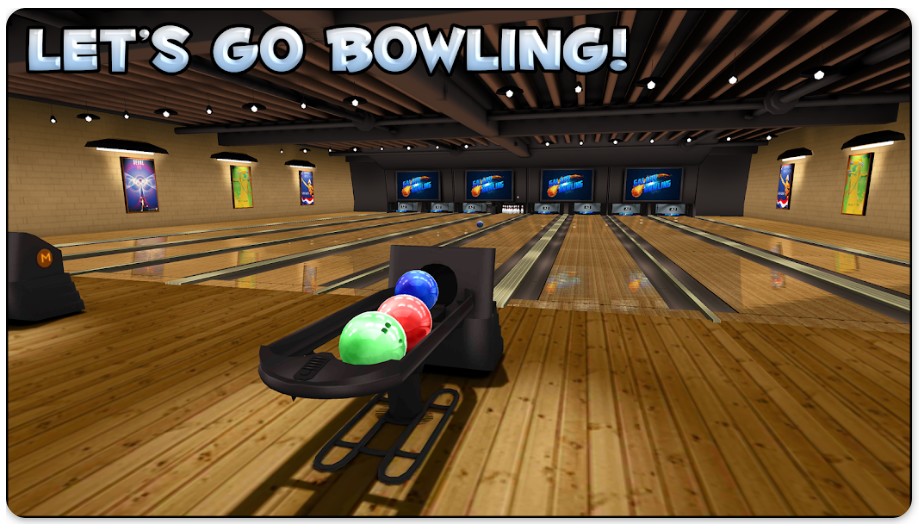 Bowling Club™
For those who want more action – here you have an exciting game by Bowling Club. Here you will always be playing against one opponent. What makes this game especially fun is that it has several game modes: Drunk Bowling, Domino Bowling ad Strike Master.
And if you have a thing for the ball design then this is your gem also. There are more than 100 different types of balls that you are going to play with.
The graphics are cartoon-like, but it is still high-quality with details and bright colors. Pass the levels, gain points, and win the world championship!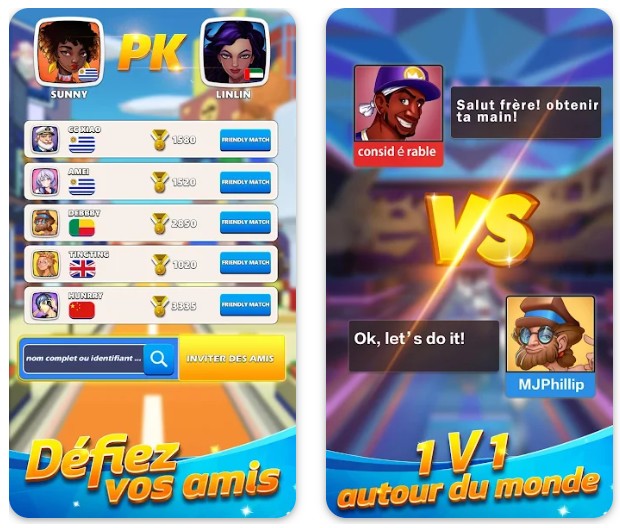 Bowling 3D Extreme
The advantage of this app is that it combines the cool graphics with even more cool gameplay. This is a very classic bowling without any extra elements and with the beautiful design of balls. In fact, this game is really similar to the one that you will find the last on this list, however, this one has more gaming modes.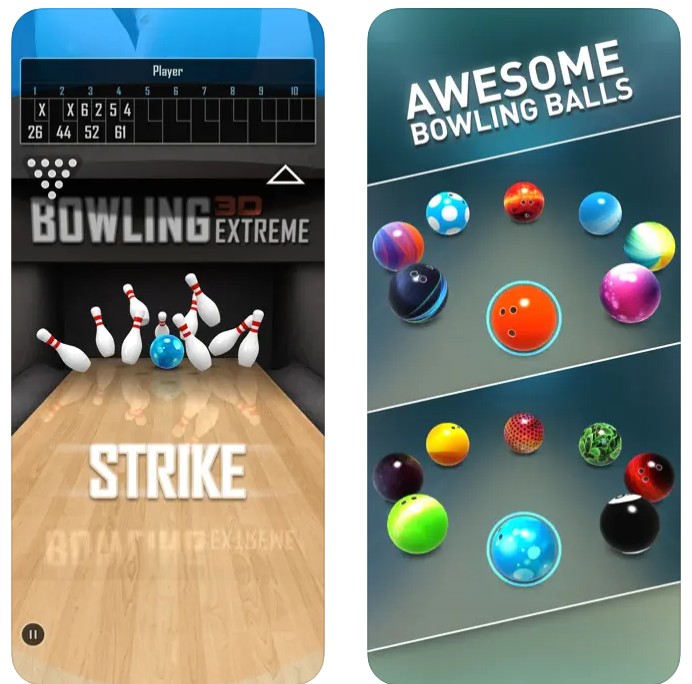 Bowling King
Bowling King is a great bowling game in which you can play with your friends in real-time. In this game, you can play in multiplayer mode with players from all over the world. The game will give you easy control and a lot of bowling clubs in different parts of our planet, where you can choose from more than 60 balls and set your favorite track.
Challenge the best players and climb to the top of the leader board and achievements. In addition to bowling, play mini-games machines and roulette. Earn over 120 achievements and gain enough points.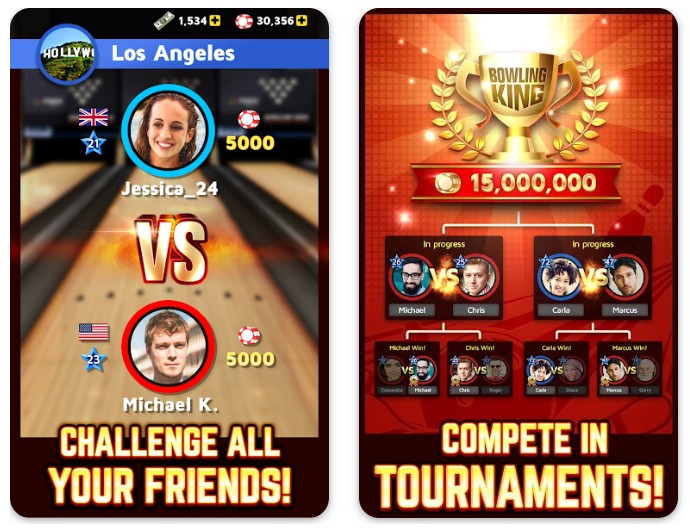 You may also like: Top 6 strip poker apps for Android & IOS
Real Bowling 3D by EivaaGames
If in the bowling games you are looking for a realistic graphics and stylish design and you're not that concerned about gameplay, then you should check this app out. Pay attention to the design of balls. You can choose the one you like or play in a random mode.
In total, there are 16 unique balls.