Want a baby monitor, or security camera but don't have a webcam handy? Did you know it's possible to use your smartphone as a webcam?
That's right, you can not only take selfies with the front camera but can also turn it into a webcam with the help of a good webcam app.
Try to experiment with your shots using these best trippy camera apps.
There are apps that can convert your smartphone into an internet remote camera. You can watch the live streaming from your camera remotely and keep track of multiple live video and audio feeds from your house and send it to a Mac, Windows computer, another mobile device, or even to the web.
So keep reading to discover the best webcam apps for Android and iOS users.
Ez iCam
Ez iCam is a webcam app that enables you to see what your smartphone camera sees in real time.
Using this app you will be able to record videos and take photos remotely through Wi-Fi. Along with that, you can use this app to download some files from your camera and then share it on social networks.
So as you can see, Ez iCam can broadcast any files you could ask for. That way you can capture videos from your computer on Wi-Fi without any troubles.
Along with that, this app gives you the opportunity to customize lots of settings. You can set up the brightness and contrast so that the recording goes easily. The app also provides the night vision mode to protect your eyes in the dark and make the app a black and white.
Besides you can not only use the app to see what your smartphone camera sees in life but also view some photos and playback videos. You can also set up video settings and change the video resolution to its size and white balance.
Speaking about the interface, it's pretty minimalistic and easy-to-use, so you won't have any trouble dealing with this app. Give this app a try – you won't be disappointed.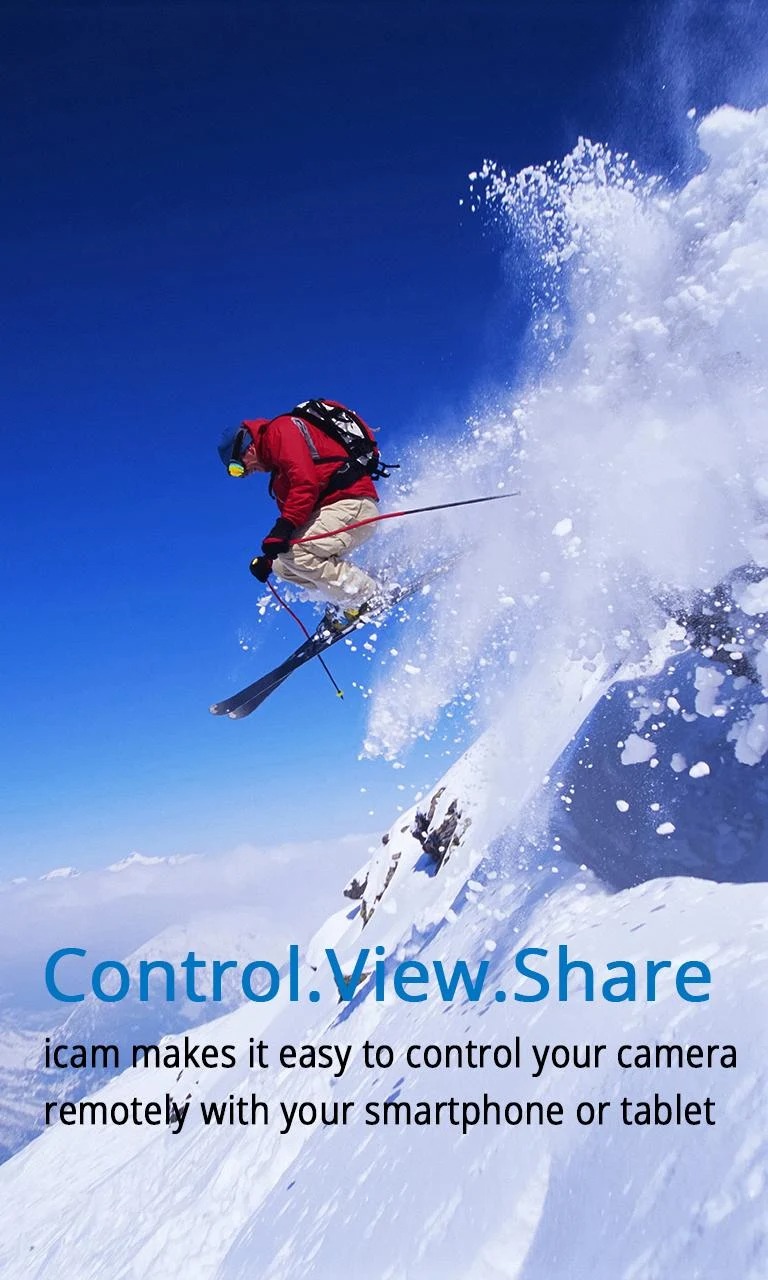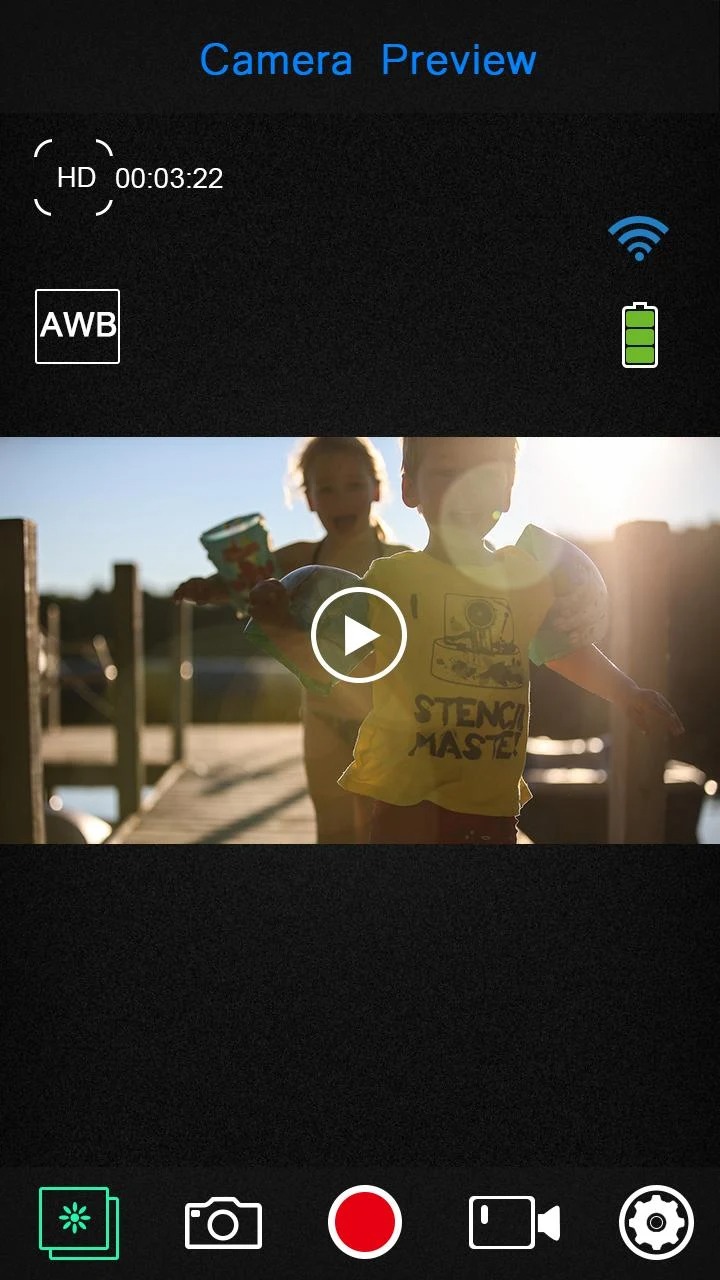 You may also like: 14 Best spy camera detector apps for Android & iOS
iSpy Cameras
iSpy is a webcam app that enables you to view thousands of different cameras all over the world for free. It can also work with webcams and mobile phones.
As you install the app you getting access to the large variety of security cameras that you can monitor. Using this app look through cameras from your PC or a smartphone.
Along with that, that app gives you the opportunity to see public cameras from all over the world and control it from your smartphone through your internet connection or WiFI.
However, you won't get any details about the camera so you won't exactly know the street they are installed on but you still can control it to see the place from different angles.
The app does everything for you to feel comfortable so it has a built-in search that enables you to search for a particular camera using location and keywords. And all of the cameras will show you life situations o they are not pre-recorded.
The app was originally made to improve tourism so everyone could be able to view the particular places in different corners of the world that has public cameras installed. You will also be able to rate different cameras, leave your comments about it, and even put them in your favorites. To sum it up, iSpy is a must-have app that worth trying.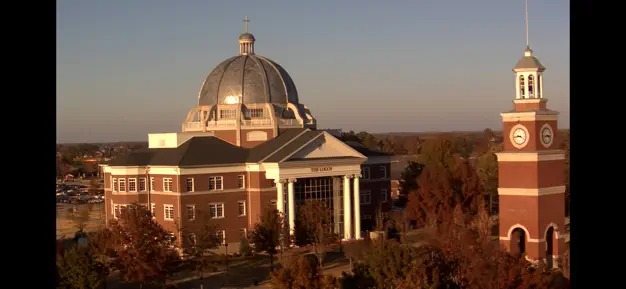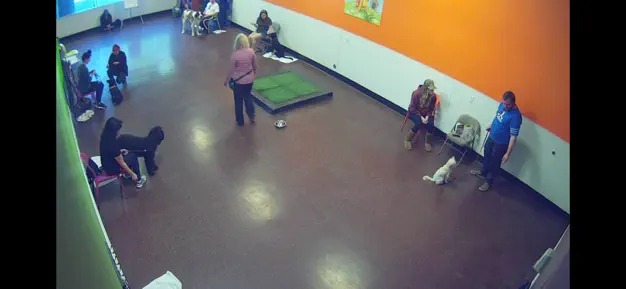 DroidCam Wireless Webcam
This is one of the main popular webcam apps for Android. Well, not to say that this is the most simple app ever, but it provides wider possibilities for connectivity than the other apps. Another bonus is that DroidCam doesn't have any limitations and you can use it freely.
The app is remarkable for an old-fashioned interface, that reminds the one that you had on your old computer. There are some possibilities for the camera settings – when you are using the webcam mode, you can choose whether you want to zoom the image or rotate it or reflect.
You can also record the videos on this webcam without any watermarks. By the way, you can even record the video and use the DroidCam in the background – this way you will save the battery charge. You can connect to the webcams around using the WiFi or USB cable. As you could guess from the name, DroidCam is available only on Google Play.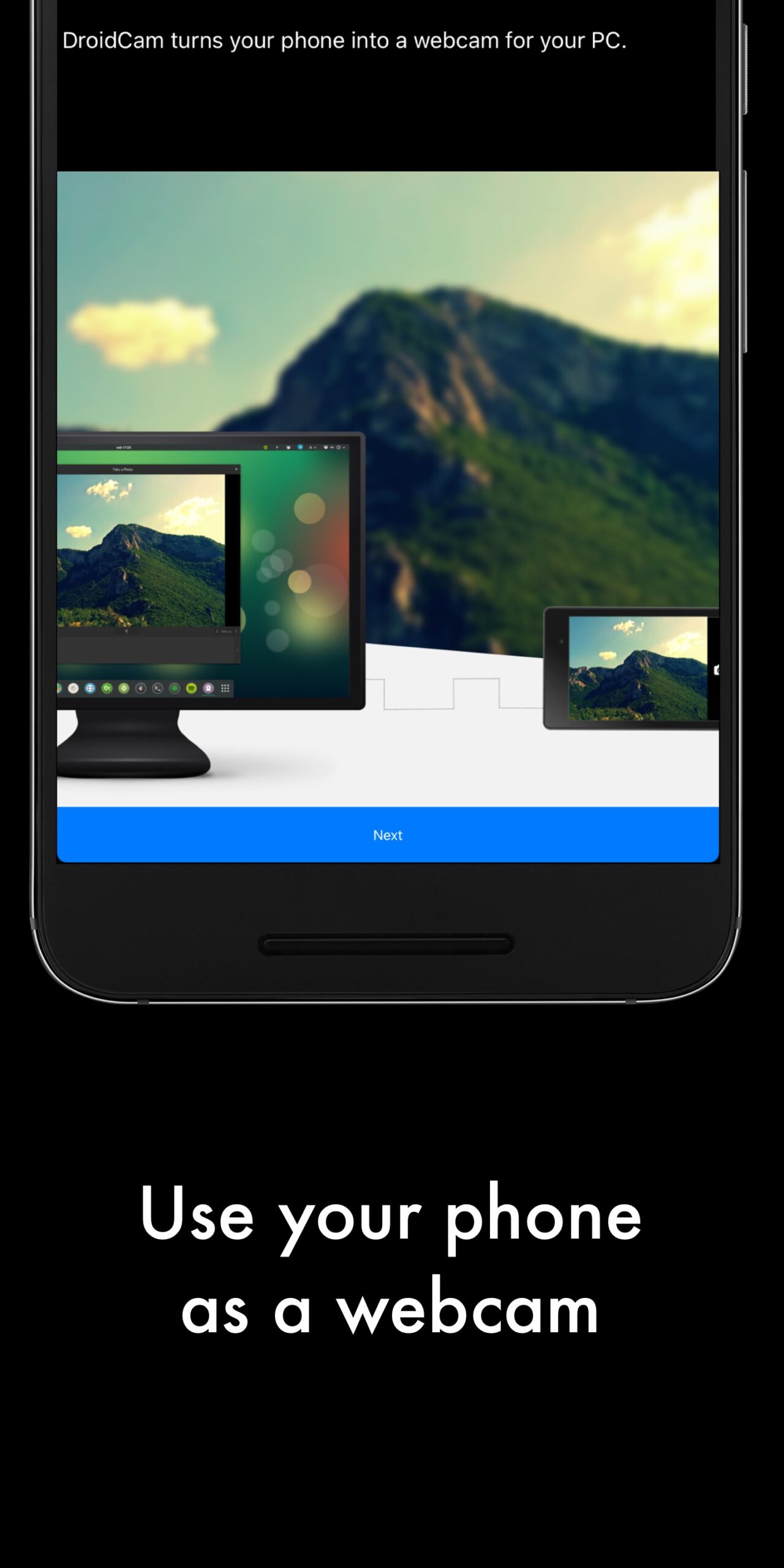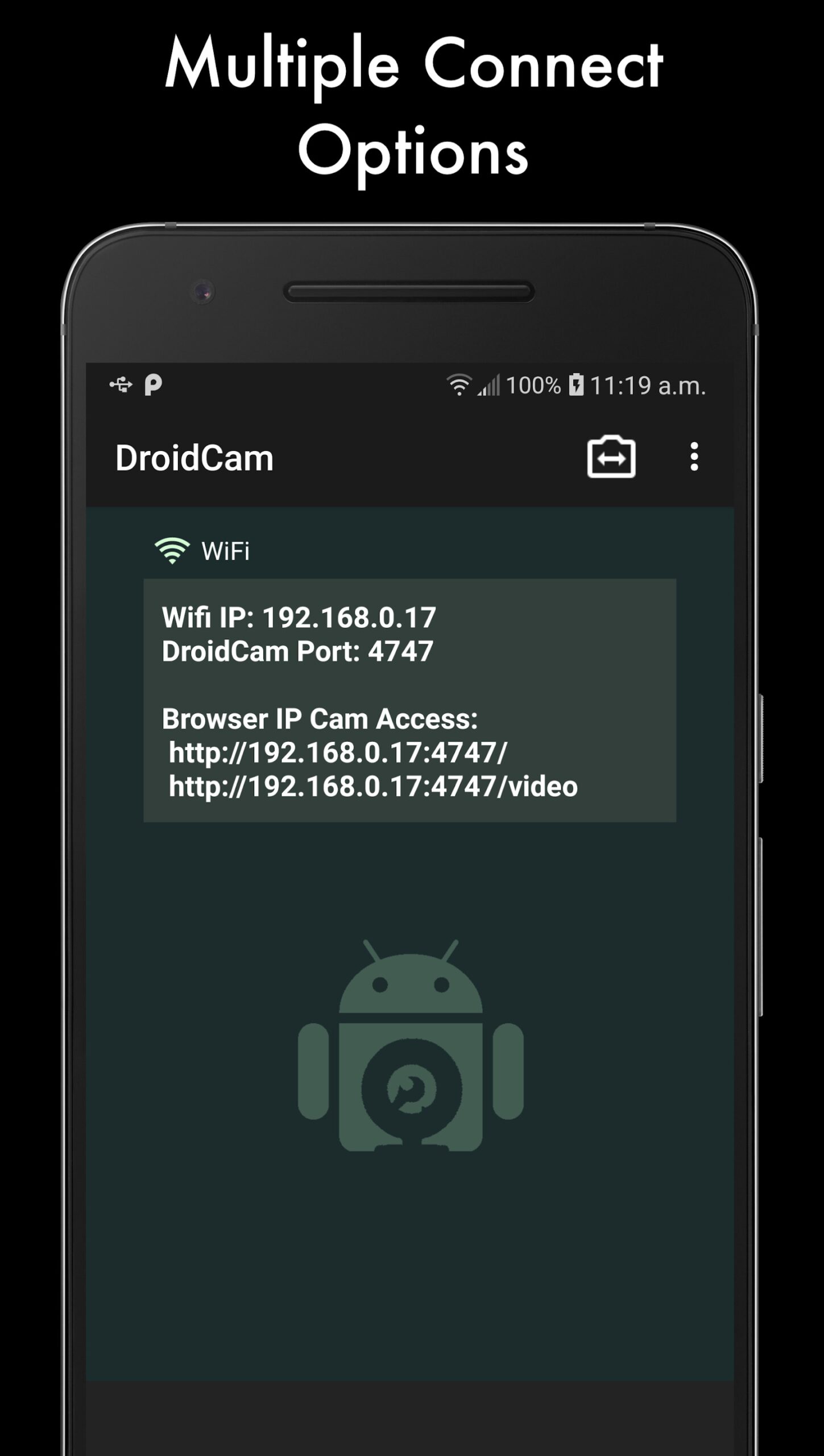 iVCam Webcam
VCam is a webcam app that enables you to deliver different photos and videos in high–quality. Using this app you can transfer video in different standard sizes so you won't have difficulties with HD videos.
With the help of this app, you will get the opportunity to adjust audio and video quality settings, frame rate, and even support of different modes like portrait or macro. Along with that, this app supports various modes for face beauty, screen mirroring, and flash.
This is an easy to use app that gives you the opportunity to attach your smartphones came to a PC with no wires and use it as a webcam. Besides the app absolutely user–friendly so you won't meet any complications using it.
Using this app you will be able to replace your regular USB webcam so that you can integrate it with your smartphone. Besides, there are plenty of different options of how you can use this app. It can perfectly work as a baby monitor or security camera at the same time.
You can also adjust different video settings – from screen orientation to frames, sizes, audio quality, and video quality. All in all, iVCam is a nice webcam app that gives you lots of features. This app will give you a great high–quality webcam alternative for your smartphone so try this out.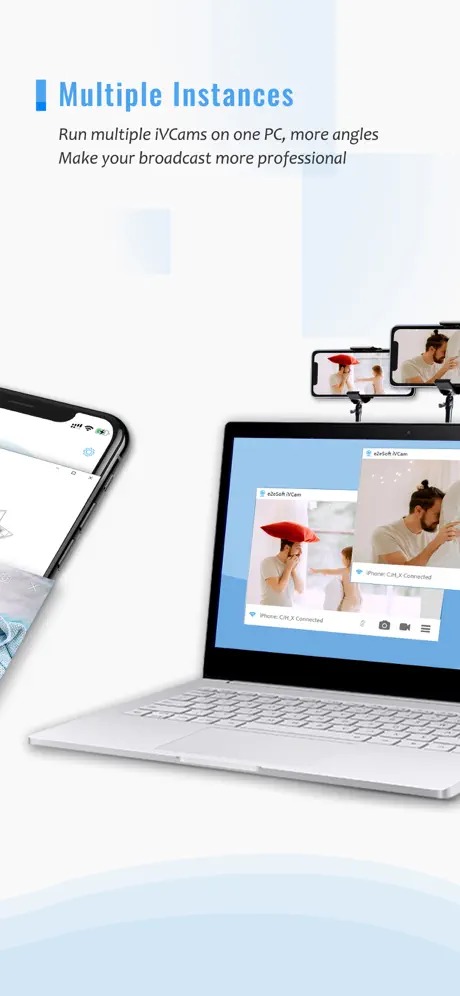 Iriun 4K Webcam for PC and Mac
Iriun 4K Webcam for PC and Mac is a unique mobile app that allows you to turn your smartphone into a high-quality webcam for your computer. With this app, you will be able to conduct video chats, stream, record videos and conferences, and take part in webinars and online classes.
One of the main features of the app is the support for 4K resolution. You will be able to enjoy high-quality images in good resolution, which guarantees clarity and detail even on large screens. Thanks to this, you will be clearly visible on the other side of the screen.
The app allows you to save videos in different formats, making it versatile. It also features autofocus, which guarantees a clear image even when the distance between you and your device changes.
The app can be connected to your computer using a special program that you need to download to your device from the official marketplace. Next, the smartphone and the computer can be connected to each other over the network.
In addition to the basic functions, the app allows users to adjust the brightness, contrast, saturation, and other parameters of the image to make it as clear as possible.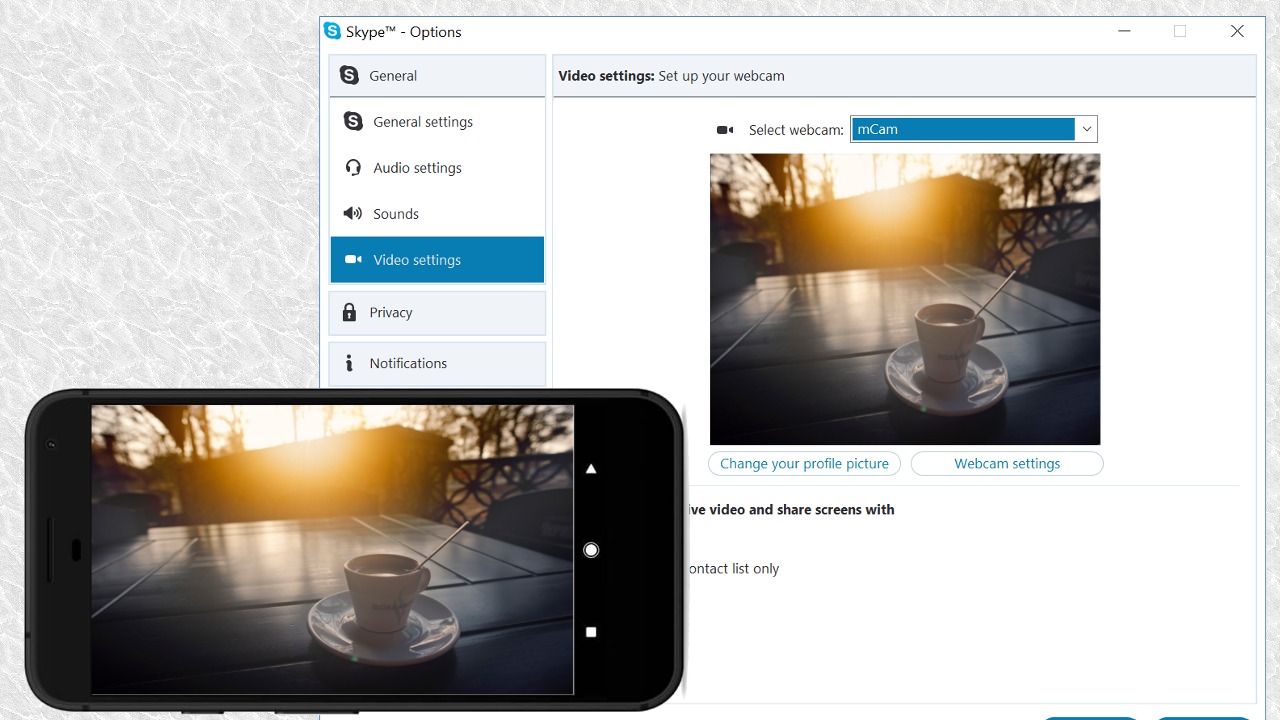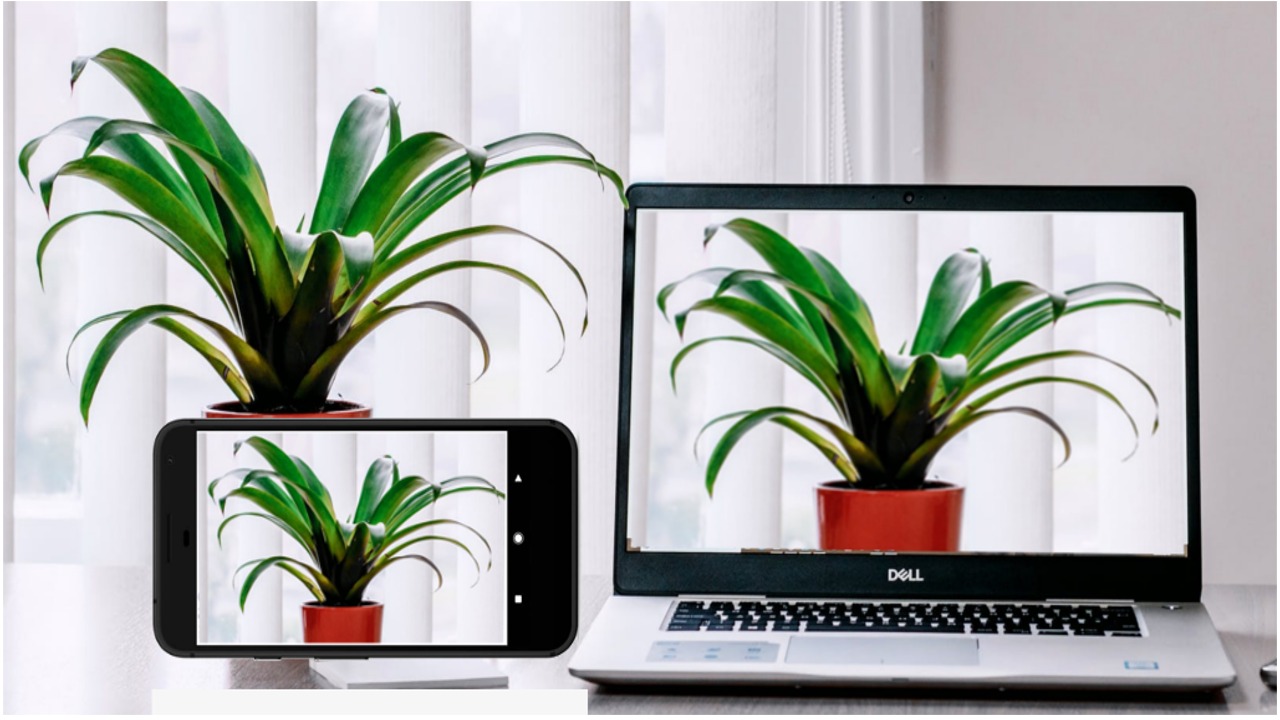 FineCam Webcam for PC and Mac
FineCam is a mobile app that allows you to use the camera on your smartphone as a webcam on your Windows or MacOS. Thanks to this you don't have to buy special equipment for video conferencing, broadcasting, online learning, video recording, and other activities.
After installing the program on your smartphone and PC, you need to connect the devices to the same Wi-Fi network. Then you can launch the program on your smartphone and follow the simple instructions on how to use it.
After setting the parameters, you will be able to use the camera of your mobile device as a webcam. The program provides high-quality video and sound, allowing you to keep the image clear and crisp during video conferences and online broadcasts.
Change basic camera settings by adjusting brightness, contrast, and saturation to get the best video quality. Extra features such as autofocus, slow motion, mirror image, and more are also available. Record videos, take screenshots, and add various effects and filters to your images.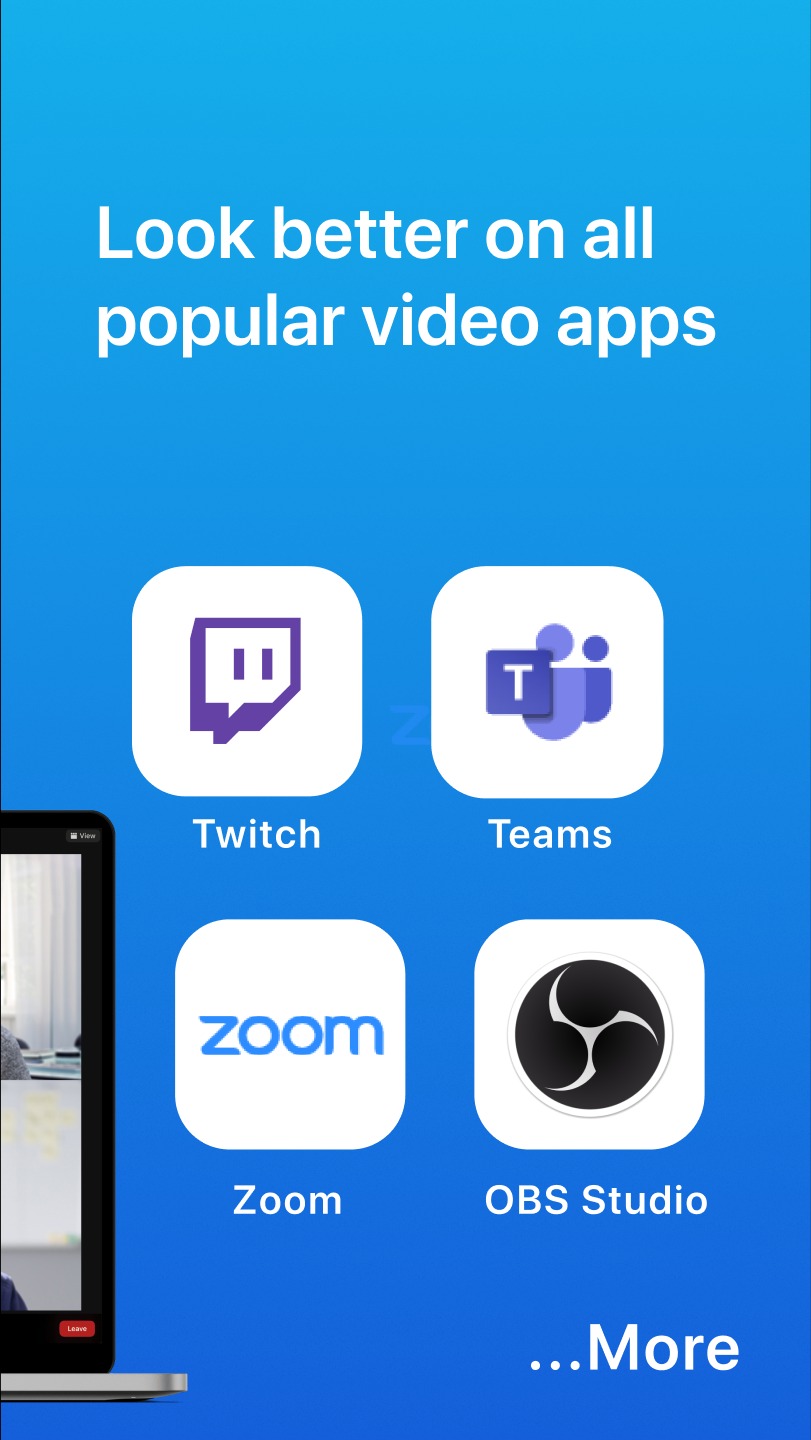 You may also like: 11 Best Panoramic Camera Apps for Android & iOS
IP Webcam
IP Webcam is one of the greatest webcam apps you can find on the market. It can basically turn your smartphone into a high-quality network camera. Using this app you will find various viewing options that enable you to easily get different views on your screen.
It also gives you the opportunity to view your camera on any of the web browsers. The app works simply – it transfers the video stream through Wi-Fi and with multiple filters.
One of the greatest features of this app is its ability to support audio so that you can even record audio on your videos. There is also a great mode of motion detection that works along with sound trigger and sensor data. Besides, IP Webcam will give you the ability to record videos in HD quality with 1080 resolution, but it also depends on your device.
Using the IP Webcam app you can use your smartphone for plenty of different purposes. You can use this app whether for Skype sessions or as a baby monitor and this is not the limit. As you can see, this app is multifunctional so you can bet on it.
Along with that, IP Webcam is very easy to use even though it has plenty of functions. It is also quite customizable so you can always choose which camera to use, and whether the sound will be streaming or not. To sum it up, this app does everything it claims to. That way, if you're looking for a nice webcam app this one is a must to try.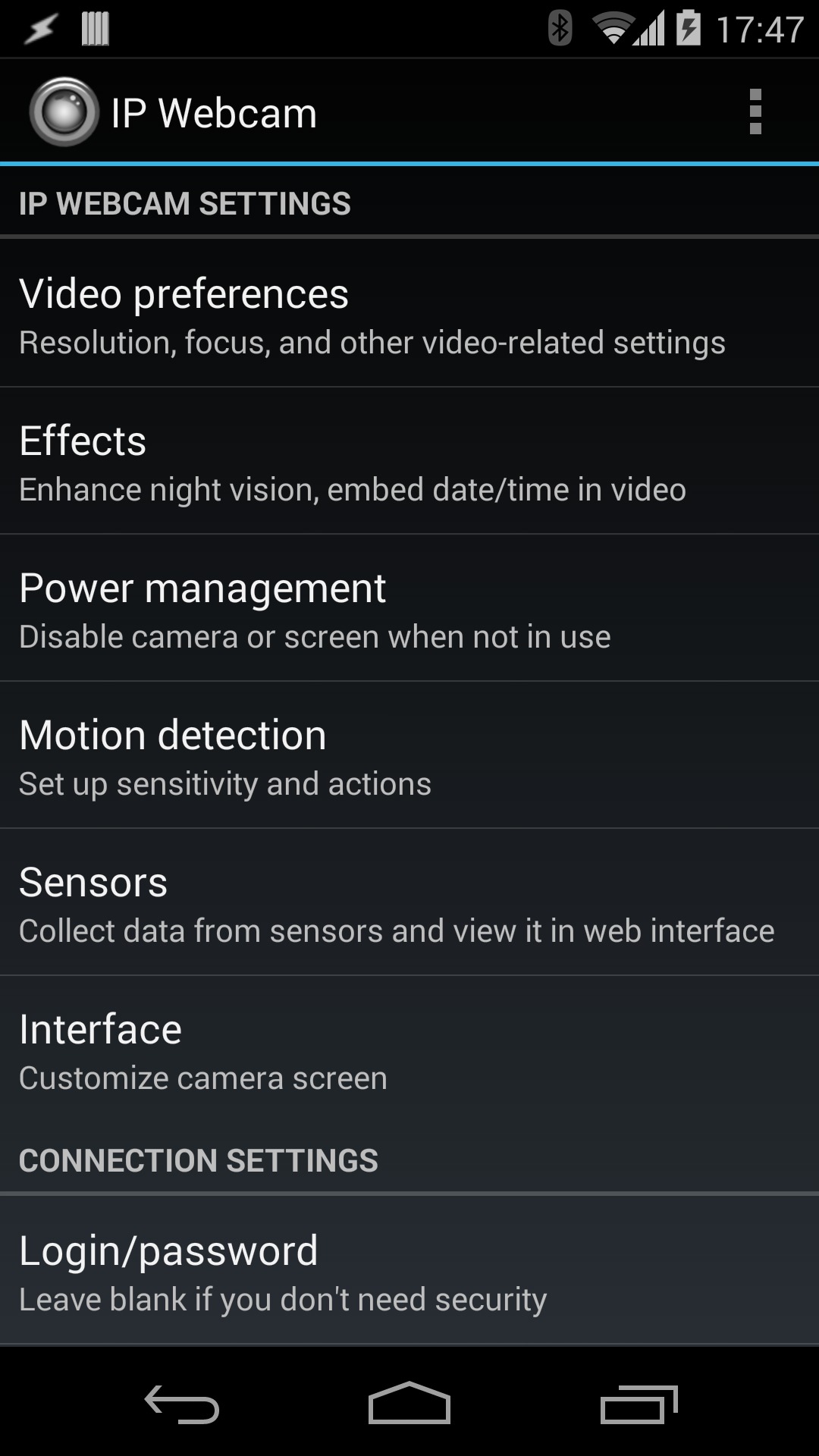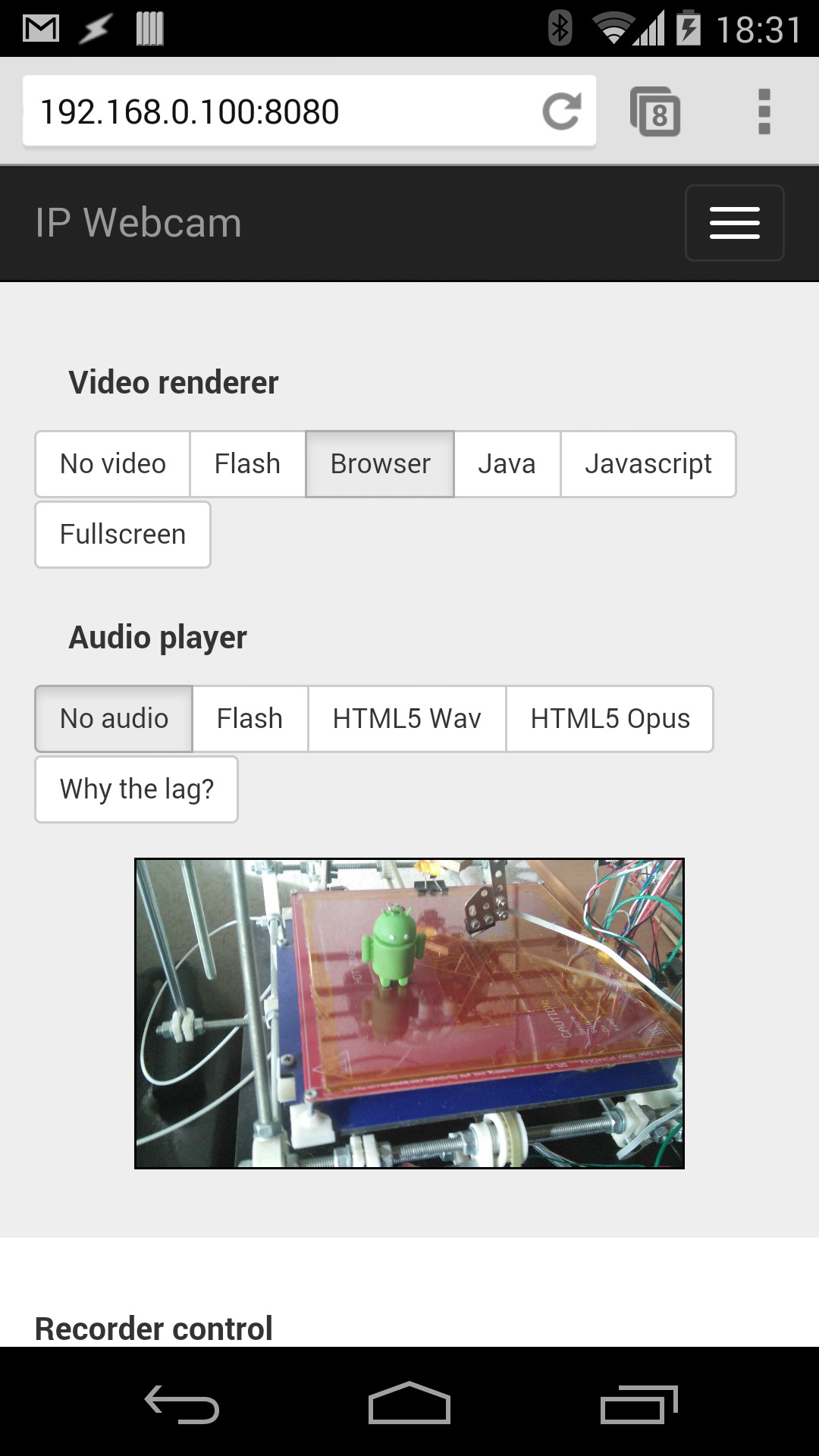 WebCamera
WebCamera is a nice webcam app that enables you to turn your smartphone into a high-quality wireless webcam with a microphone.
As you install the app all you need to do is to connect it to your PC through a Wi-Fi. After that, you will be able to share all the important moments of your life that cannot be caught on your regular built-in laptop camera.
That is because this app is wireless so it's easy to move around. So with the help of this app, you can shoot high-quality videos right on your smartphone.
Along with that, the WebCamera app supports different messaging apps so you can quickly share all your videos. This app also has a connection with plenty of video production software such as Boinx TV, CamTwist, and Camtasia.
Speaking of video resolutions, this app has three different ones so you can always have a choice depending on the situation. Another great feature of this app is that it has CD-quality audio and the 30 FPS video. To sum it up, this is a great webcam app that enables you to get high-quality videos so you should definitely try it.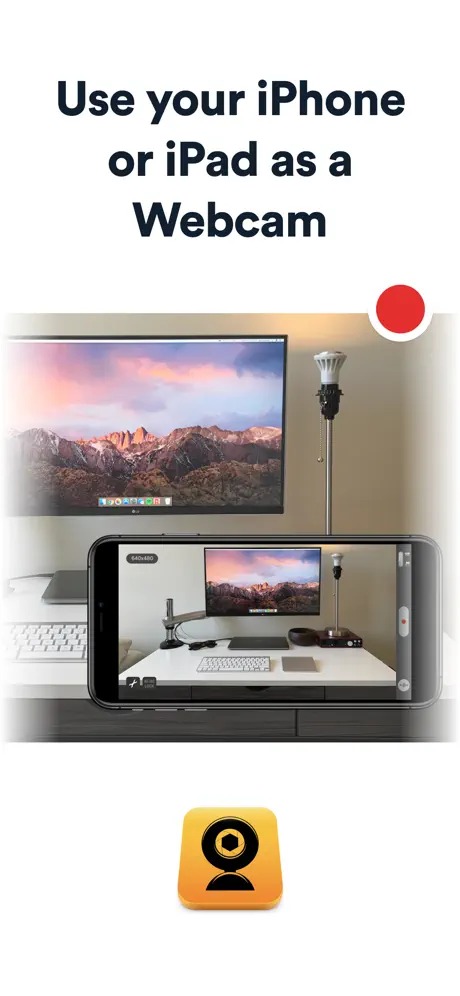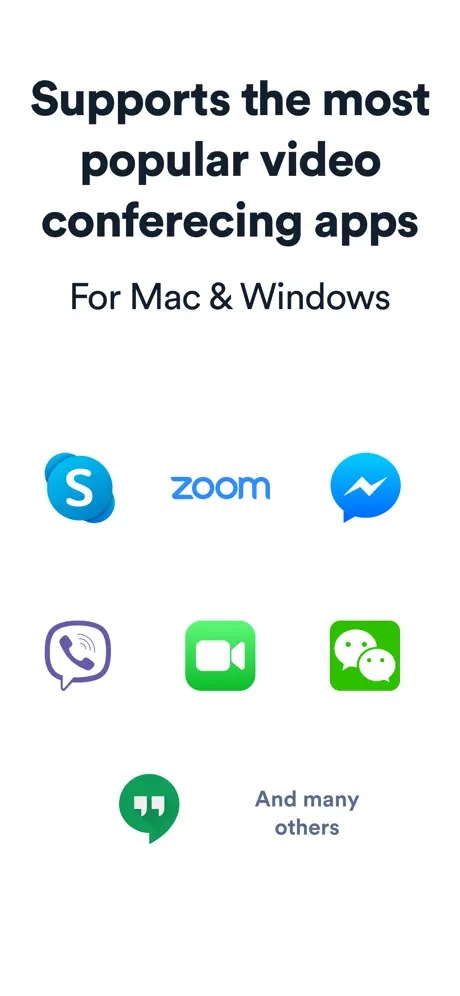 Live Camera- Wifi Webcam for PC-Zoom, Skype
Do you often has to participate in online conferences using Zoom, Skype, and other platforms from your PC? Does that happen that for any reason your PC doesn't have a good web camera and this is the crucial point of your presentations? Then don't worry and just turn your cellphone into one using this app.
The app works with a PC client that can used for connecting to your video calling application. You can also use Splitcam and add a browser camera to make it work with the app. What is more, there is a possibility to use LiveCamera as an IP webcam virtually on all networks using an Internet Browser.
The app provides live streaming videos in HD 720p quality. The app is totally free, so don't expect any annoying watermarks or usage limits.
Moreover, you can always put the Live Camera app running in the background without any interruption of the process. All you have to do for that is to connect your phone to the same WiFi network as your PC and then you are free to turn your device into a webcam.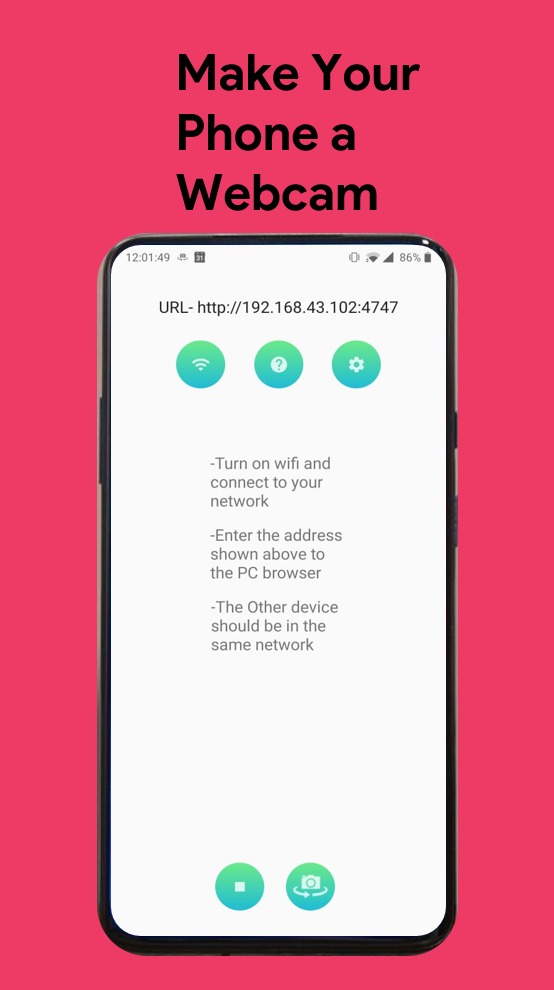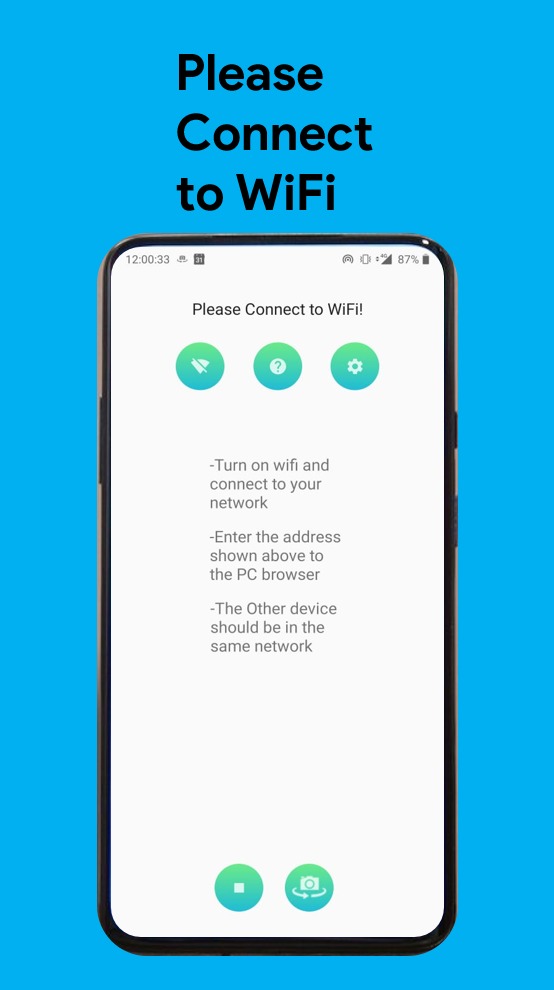 Livestream
Livestream is a nice live broadcasting app that enables you to watch and stream various events via your smartphone. This app also gives you the opportunity to stream your own content through different social networks like Facebook and Twitter.
This app is by far the greatest way to stream videos in real-time.
Using this app you will be able to get unlimited streaming service with no ads and 24/7 user support. Along with that, the Livestream app offers you plenty of tools and features including white labeling and multi-bitrate streaming.
Moreover, the Livestream app gives you the opportunity to whether to run your streaming content on your own website or to use any other popular platform.
Speaking about the functionality of this app, it will give you lots of ways to expand your creativity and make your content look more professional. You will also be able to watch various events from thousands of broadcasters around the world, so you won't get bored. That way, you will have the opportunity to follow your friends or any accounts that you like to get notified when they go live.
Along with that, you can communicate with your viewers as you stream using a built-in chat. This app is very user-friendly and it is easy to get started with. It is also beautifully designed and really fun to work with. To sum it up, Livestream is a great app that does exactly what you may be needed from an app like that. Give it a try!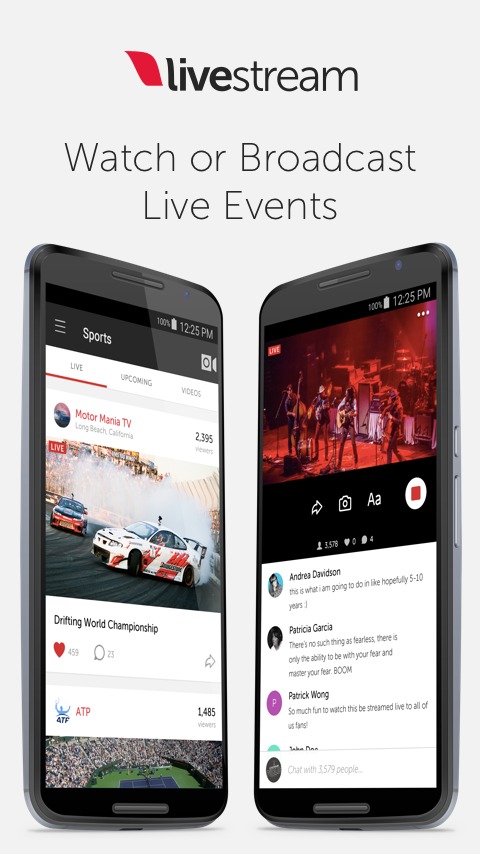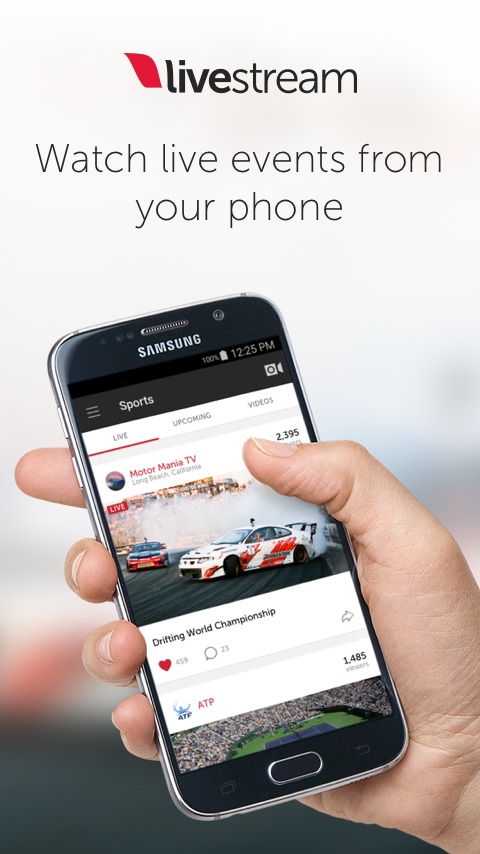 Camy
Moms can probably prove that baby live cameras became lifesavers. We all know how worried are parents about their children, especially about newborn babies. But being around your child each second 24/7 is impossible, right? Moreover, the baby should have good sleep as well.
Now you can leave your child sleeping in his/her bed and have an eye on him/her because you have this app. This is quite a multifunctional tool. First of all, it can connect to the external cameras, installed in the room where the baby sleeps and broadcast what is happening there live.
Secondly, the app can turn your whole in a device like that, and what you need to do is to choose the right mode. Your app will turn into a camera and will be recording everything that is going on – then you will have to connect your device to some other external devices in your house.
Apart from that, the app can serve as the regular camera – use it to perpetuate the best moment of your and your children's' lives! For better convenience, there is a night mode, so you will be able to watch your kid even in the darkness (but here lots of things depend on your phone's camera).
And who said you can use this app to only watch your kids? Use it to watch your pets as well when they are home alone! On the right side of the screen, you will find the basic settings, which allow to zoom the camera, turn on/down the microphone, rotate the image, and crank up the brightness.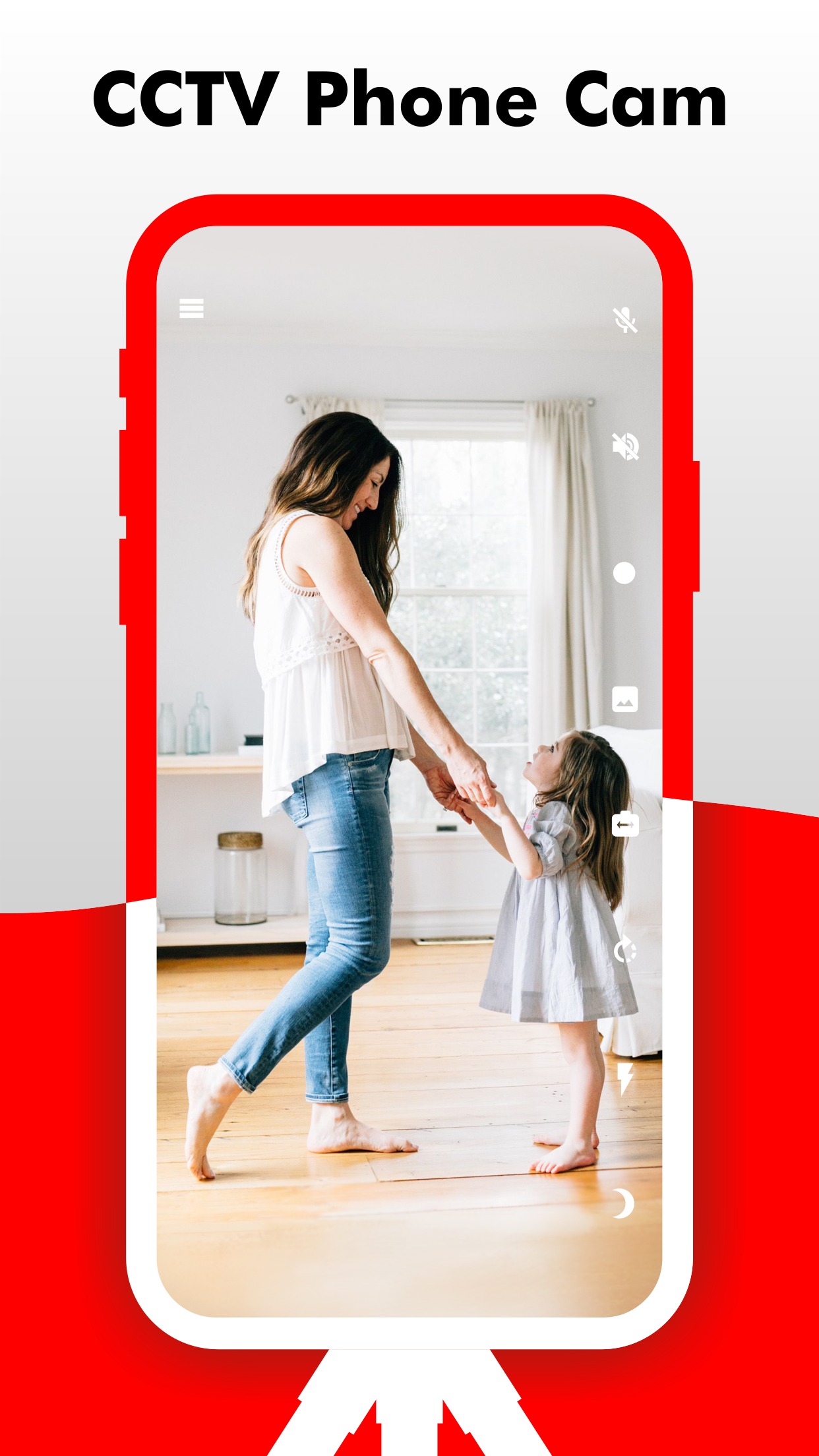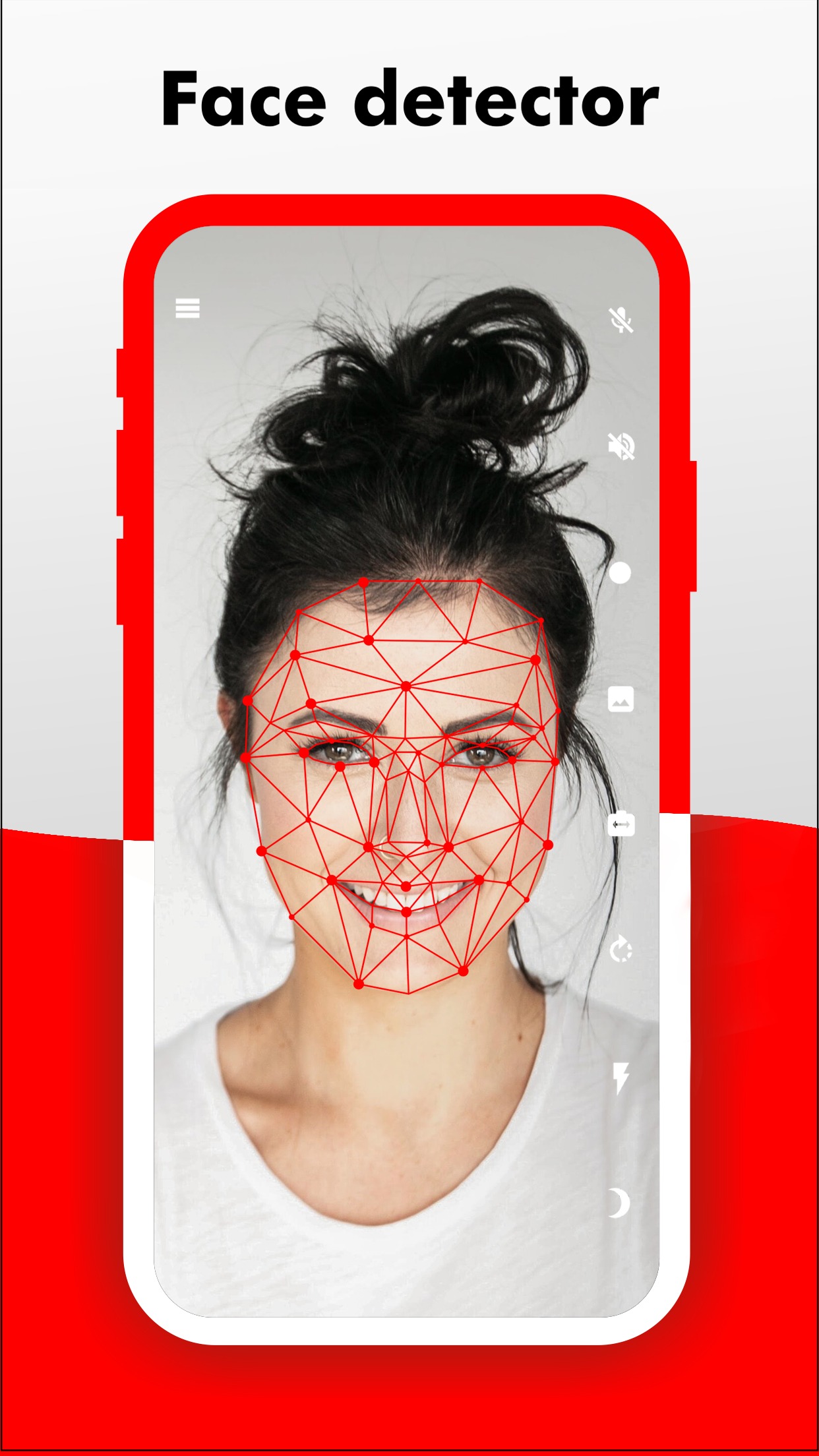 You may also like: 13 Best Apps for Video Chatting like Facetime
AtHome Camera: Home Security
AtHome Camera is a good webcam app that enables you to remotely view your smartphone's camera feed on your PC and it also works both sides.
To start using this app, you will need to install the software to your PC to coordinate all your devices in one place. As you install the app, you'll see that it might work from two different angles – streamer and a viewer. You can easily get access to your account from a computer, smartphone, tablet, or Smart TV.
AtHome Camera is a nice way to use your smartphone as a webcam. This app gives you the opportunity to keep track of your home when you are out. That way, any time some incident will occur, the app will quickly send you an alert.
Along with that, it is possible to use this app for lots of different purposes. It can be used as a baby monitor, nanny camera, pet camera, and much more. Literally everything and everyone that may need an off-site control you can keep an eye on with the help of this app.
Moreover, AtHome Camera has a great motion detection mode so that you can get an instant notification if there is movement on your camera. It also has a great security policy so no stranger will be able to get access to your cam.
Another great feature of this app is that you can customize this app to record at any time of the day or night, for example when you're at work. That way you can monitor your cameras only when you need it the most.
To sum it up, AtHome Camera is a worthy webcam app that enables you to keep track of everything that is going on at your home so that you can be sure that it's safe. So if you want to have full control of your house, try this app out.