Traveling by car is always fascinating. You can get new experiences, have fun with friends, see new places and much more. Of course, it can also be work-related trips – business trips, and so on.
Even your work itself can be related to cargo transportation or long-distance travel! Being left without fuel in the middle of the journey is the most unpleasant thing that can happen to a person, so it is necessary to know exactly how much fuel you need.
To ensure that you know the exact figures, fuel and gas calculator apps were designed. They help many drivers plan their travel budget, calculate their route, and find out exactly where they will need to stop.
We've put together a few good services to help you calculate the exact amount of fuel you need. We offer you 11 free fuel and gas calculation applications for iOS & Android.
You may also like: 11 Best Apps to Connect Your Smartphone to Car Audio System
Fuel economy calculator
Fuel economy Calculator is an application that does not give you anything unusual. Here you get the easiest fuel calculator, which is needed only for calculations. The main thing is that the application is supported on many devices, so you can really use it everywhere.
In the application, you can calculate the expected amount of fuel needed for a certain distance, as well as find out how you can save it.
The whole interface is a regular calculator, in which you enter your values in certain boxes – for example, distance and fuel consumption of your engine. As a result, you can find out how fast you can go or how much gas or petrol you need.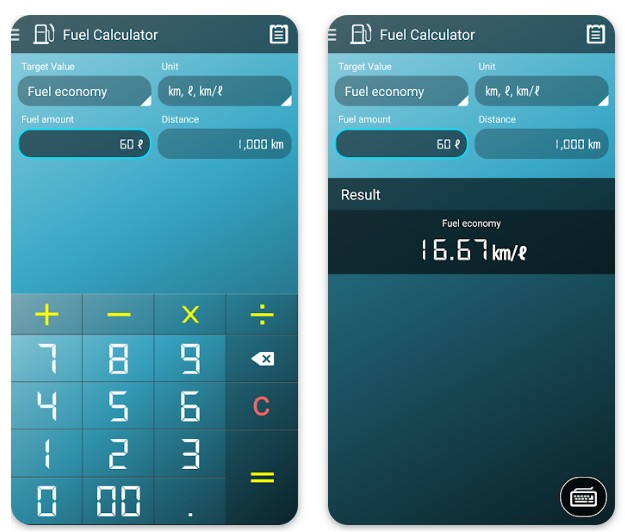 You may also like: 11 Best car locator apps for Android & iOS
Drivvo
Drivvo is an application designed specifically for economic drivers. Here you can save money on maintenance, as well as control absolutely all consumables necessary for your driving. In fact, Drivvo will be a financial manager specifically for your car or other vehicles in use.
We mentioned "vehicles" for a reason – you can manage several vehicles at once in the application. The gasoline calculation will be done for each of them separately.
In Drivvo you will clearly see how much money you spend on gas stations, as well as how much fuel you use normally. Knowledge will help you save – now you'll know where your money is going.
Drivvo will help you with the calculation of fuel and even with preventive maintenance, reminding you of it at a certain time.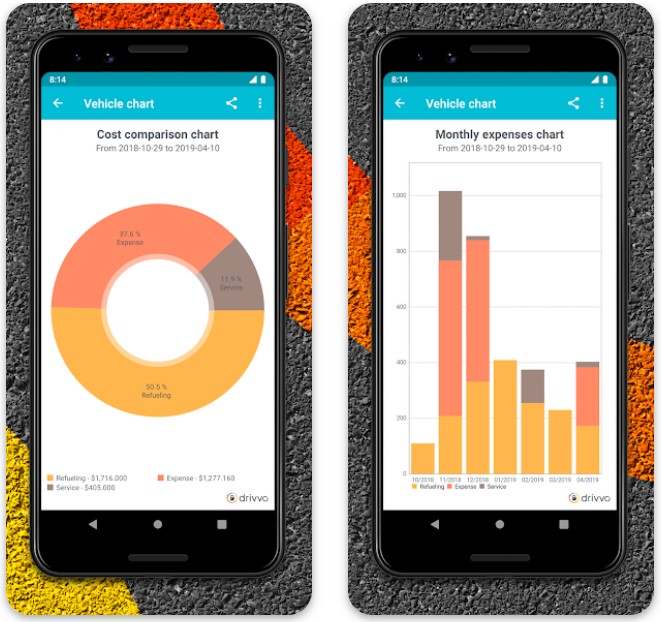 My Car
Financial manager for a car – it sounds like a separate job for a certain person. In fact, even the application can become your financial manager.
For example, the My Car app manages all the information about your car as well as stores all the expenses. Expenditures can be completely different – fuel, warranty, inspection, and more.
All data in My Car is presented as charts of different data. This way you will know at what time your car requires more money than usual.
Fuel consumption is fully monitored in My Car – you can add notes yourself – for example, which petrol station is the cheapest to buy. Further, you can search for information on the history of events, as well as import data from other services.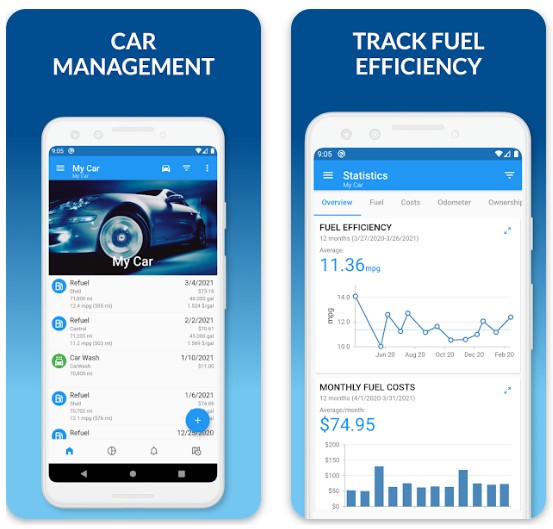 Fuel Tracker Gas & Mileage log
In addition to fuel consumption, it is important to look at the mileage of your car. Fuel Tracker is a good tool for tracking all such indicators, so you can easily see all your expenses. The application allows you to calculate all your gas and fuel costs, so you can even save a little.
When buying gasoline you should simply enter the data in the application – the sum of your purchase and the odometer value at the moment. In Fuel Tracker you will be able to explore the purchase history.
Fuel Tracker also tracks your current location in order to more accurately calculate your mileage. You can sync an application between multiple devices so you can access your data all the time. Fuel consumption is displayed by several parameters – volume, consumption per 100 km, and more.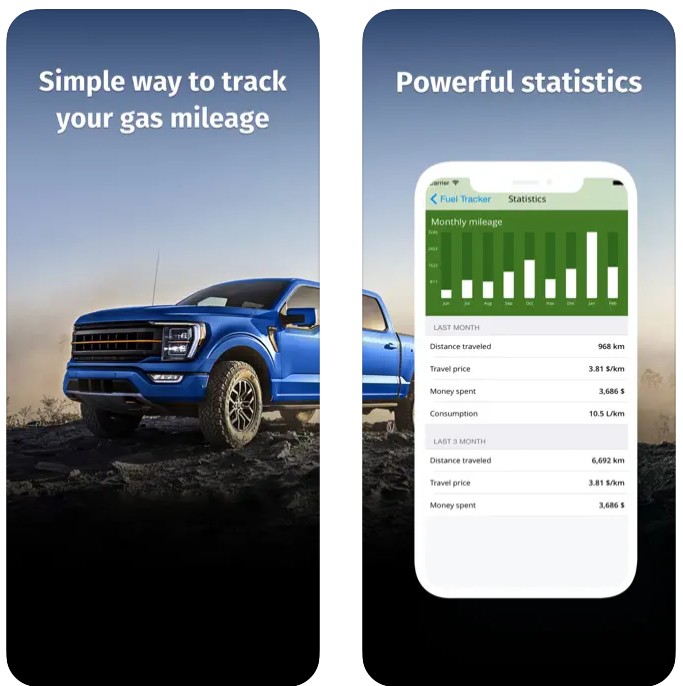 Gas Manager – fuel consumption
The first attractive thing about the Gas Manager application is its interface. The application is very stylish – everything is displayed in bright colors on a dark background and the user immediately likes it.
Most importantly, here you control your fuel consumption, calculate the required volumes, and also monitor the amounts spent on refueling. Like the previous application, you will need to enter your refueling data into Gas Manager yourself – the amount and odometer readings.
This data will be used by the application to calculate your car's odometer values. You will clearly see how much money you spend on servicing your vehicle. You will also see a calendar in Gas Manager that shows you all the dates on which you have visited a petrol station.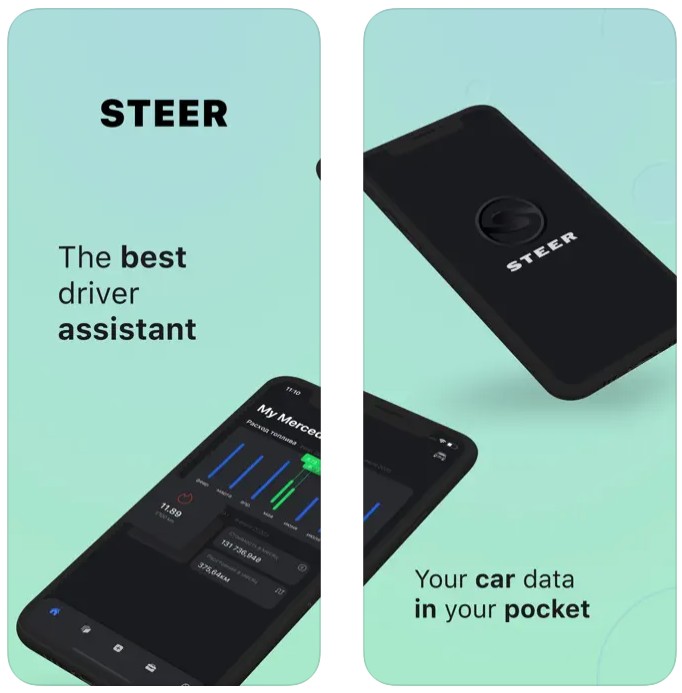 You may also like: 11 Best Apps to Buy Used Cars by Owners (Android & iOS)
My Cars (Fuel logger++)
In case you do not need a beautiful and fashionable design of the application, My Cars may well suit your needs. Here you will find simple and intuitive functionality that will help you to track fuel by several parameters.
It takes into account the prices that are set for fuel in your area, its efficiency, and even the dates of your refueling. The type of refueling – full or partial – is also indicated.
All categories you set up yourself, taking into account what is more important for you at the moment. All information can be viewed in the form of clear charts and statistics.
My Cars will remind you of the nearest service and the need to replace something in your car. For the most demanding users, there is the Pro application, which provides enhanced functionality for a price.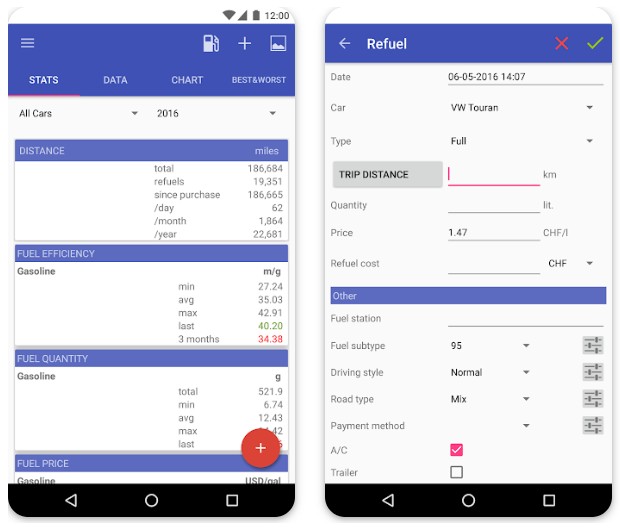 Simply Auto
Simply Auto is a complete and functional application to control your vehicles. You can have several vehicles, monitor their technical condition, as well as give them away for repair in time.
Of course, in addition to these functions, you can also monitor the regularity of your refueling, fuel consumption, and even track all the expenses on the car.
During refueling, you will have to bring receipts to Simply Auto. By the way, you can also save them after you have refueled. All reports can be emailed to you for easier viewing and tracking.
All data is instantly synchronized with your cloud storage and saved as reports or charts. Simply Auto allows you to track your fuel savings even depending on the station you have been to. It's also worth noting that personal and business trips can be separately recorded in the application.


Fuel Manager by KB2 SOFT
Fuel Manager is an application for Android devices that helps you manage your fuel costs and determine your budget for the time period. If you exceed your budget, the app will warn you so you can take action.
The calculation can be done for two types of fuel – gas, and petrol. You will be able to compare how much you spend on each type of fuel, as well as calculate the mileage of the car, choose a certain path in terms of cost and calculate fuel.
In case you are interested, you will be able to change the theme of Fuel Manager design – there are 16 different colors in total. Well, as in many similar applications, tracking in Fuel Manager can be performed for several cars at the same time – even if they use different types of fuel.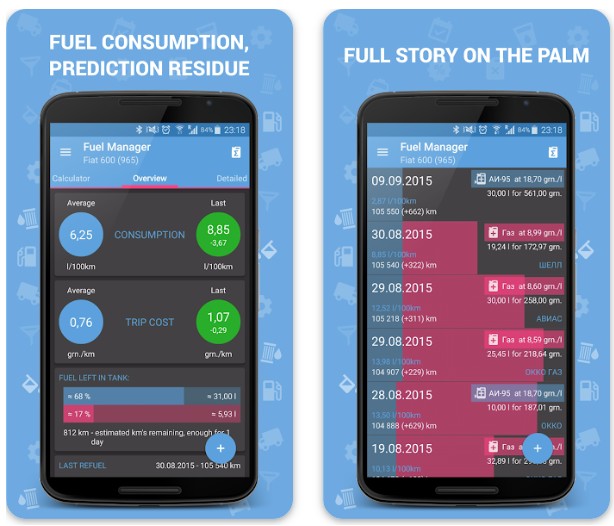 FillUp – Fuel Log
We would like to point out right away that FillUp has no modern design and cannot boast of anything beautiful. On the other hand, you can easily track all your fuel consumption by entering all the information about filling in the tables.
You will need to enter sums and the current value of the odometer and this data will help you further calculate fuel savings and improve its efficiency. It will be possible to add different data for different vehicles.
FillUp will automatically calculate how much fuel you spend on average to travel a certain distance and also sum up the expenses for the current month. In the bookmarks, you will have a separate report file, which you can share by e-mail.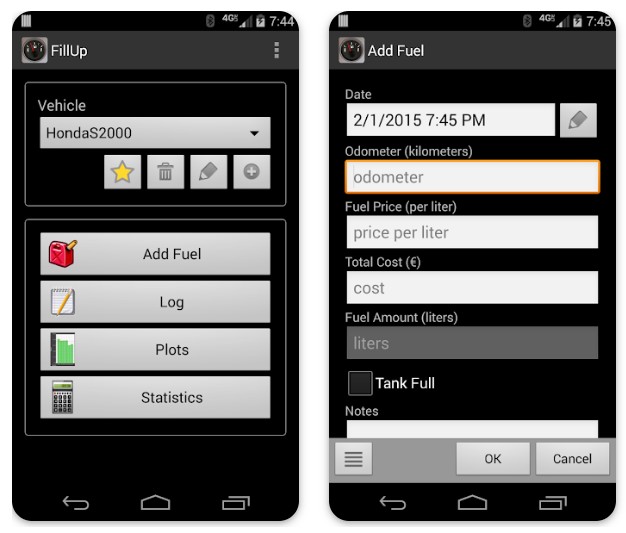 Fuelio
Fuelio is a more modern and modernized application that has a familiar and clear user interface. Bright details are immediately noticeable and help you understand the main information about your car.
Fuelio keeps track of the mileage you drive, and, of course, fuel costs and fuel consumption. Because people don't always record their petrol or gas expenses, you will see detailed information on your smartphone.
Fuelio supports working with different types of fuel, making overall expense charts specifically for you. Consumption is calculated both between petrol stations on different days and by the distance you are going to travel.
All statistical information is presented in the form of diagrams that are understandable at first glance.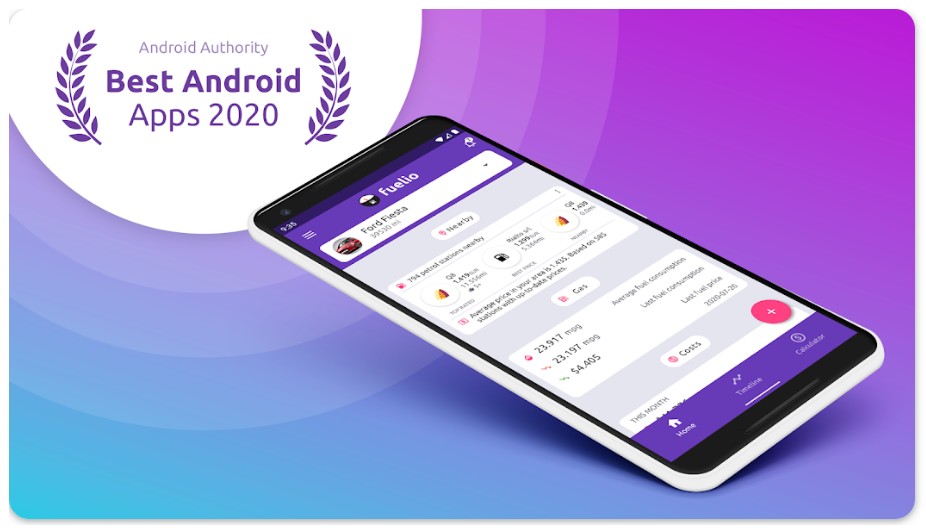 You may also like: Top 10 scientific calculator apps for Android & iOS
Fuel Calculator by Oleg Vedernikov
When you go on a trip, you should first consider all the expenses that await you on the way.
Of course, one of the main expenses will be fuel – because without it you simply can not drive! Fuel Calculator is a special application that allows you to make calculations based on different criteria.
Initially, you will need to choose what you want to calculate – it can be distance, fuel consumption or the amount to be spent.
Depending on your choice, you will need to fill out basic information – for example, the cost of fuel per gallon or the distance you need to travel. Fuel Calculator will do all other calculations on its own, providing you with the final result. After that, you will know exactly how much money you will need.