Want to hone your dynamic skills? Then keep reading this article!
There are great BPM calculator apps for Android & iOS that let you count the tempo of any song or anything that could be measured in BPM. Frankly speaking, these apps may be helpful for different people — from those needing to count their heart rates to DJs and drummers wanting to hone their dynamic skills.
We've gathered together the 7 best apps in that category you may try. Take a look!
liveBPM
Let's start with liveBPM — an app that will hone your sense of rhythm.
This is a tempo-monitoring mode to help drummers and other musicians to count beats. The mechanics of this app is quite simple — it detects music via your device's microphone, counts beats, and displays the results on the screen in real time. It needs to be said, the app was tested by professionals, so you can be sure it provides you with accurate results.
As for the scope, the app identifies and handles most music genres. However, there are several conditions to get the best possible results with this app. First of all, the tempo should be steady and regular (for as much as possible). Plus, it's quite predictable that it's easier to define BPM in drums, bass guitar, and so on.
Speaking of the features, the app lets you track the development of the tempo, and you can record it to view the history. To be more precise, you get to view from 2 to 30 last mins of playing. Plus, you get to save the recs and clear the catch at any time.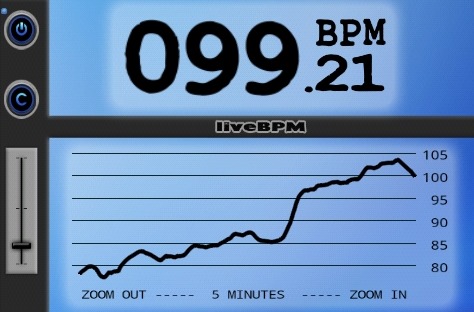 You may also like: 11 Best Soundboard Apps for Android & iOS
BPM Tap
This is a tempo-calculating instrument with a wide scope range.
Frankly speaking, this app lets you measure any tempo you need. Want to know what your heart rate is? Easy — done! Looking for a tool to identify music rhythms? This app has you covered as well! In other words, anything that can be measured in beats per minute can be measured by this app.
The mechanics of this app are quite simple — all you need to do is to tap anywhere on the screen to start counting. Then, you need to keep taping for the app to calculate the average BPM and once it gets stable — you can stop. There's also a built-in metronome that you may rather enable or disable in the settings.
In case you want to start over you may rather tap once to reset or repeat continuous taping for immediate counting. The app has a simple and quite stylish UI that you can customize by your will. For instance, you can change the background color and highlight intercity if needed.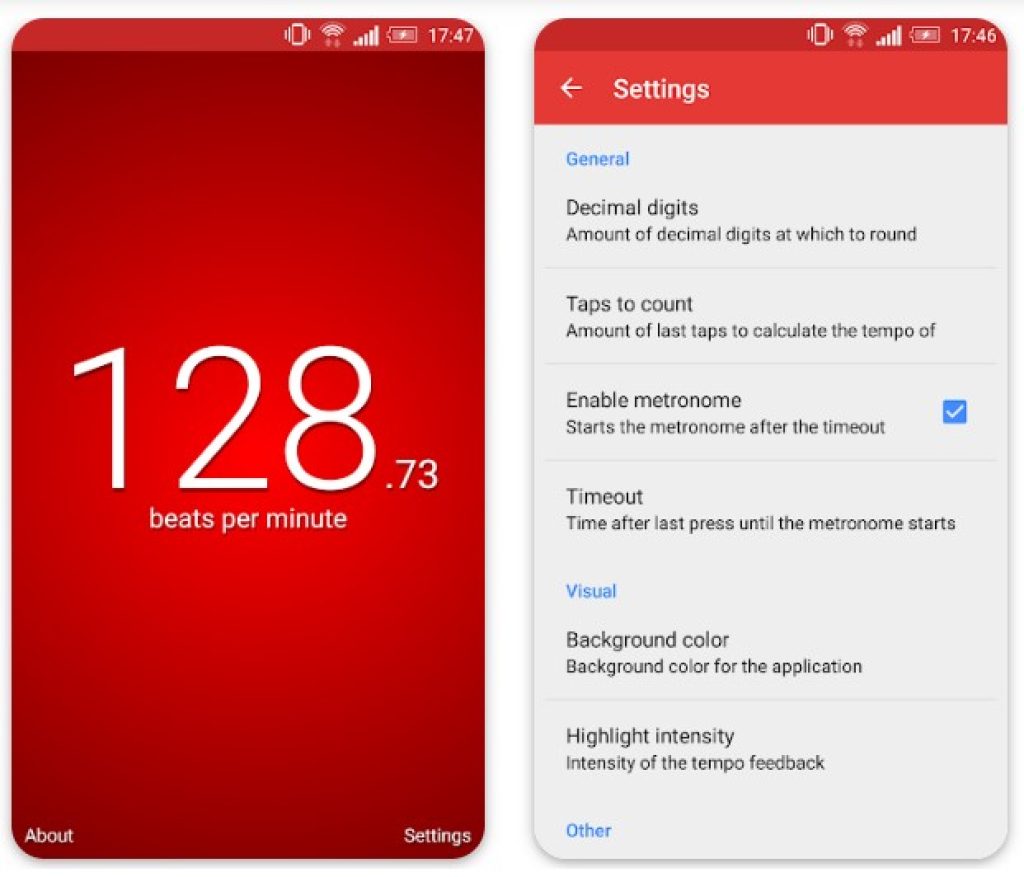 Check also: 8 Cool Drums Simulator Apps for Android & iOS
EDM BPM Counter
Next, there's an iOS app made to help DJs and musicians get more dynamic.
This is an ultimate BPM and EDM counter that covers over 100 genres of music. For example, the app covers such genres as drum & bass, techno, trance, house, and lots of subgenres as well. Plus, this list gets regular updates. The app works simply — it uses your phone's microphone to detect the music and calculate the tempo in real time.
All you need to do here is to pick the right genre and tap on the start button. You can also mix the genres if there's no right one on the list yet. And when you'll need to reset the counter you just need to swipe and start a new track. The app doesn't keep any records in your personal history though so keep that in mind.
Besides, you get to share your taps with pals. The app has a fun bright interface that changes color along with the temp. You may also add tempo flashes n the settings if needed or pick a static bg instead. Besides, there are plenty of themes you may unlock but some of them are only available for pro subs.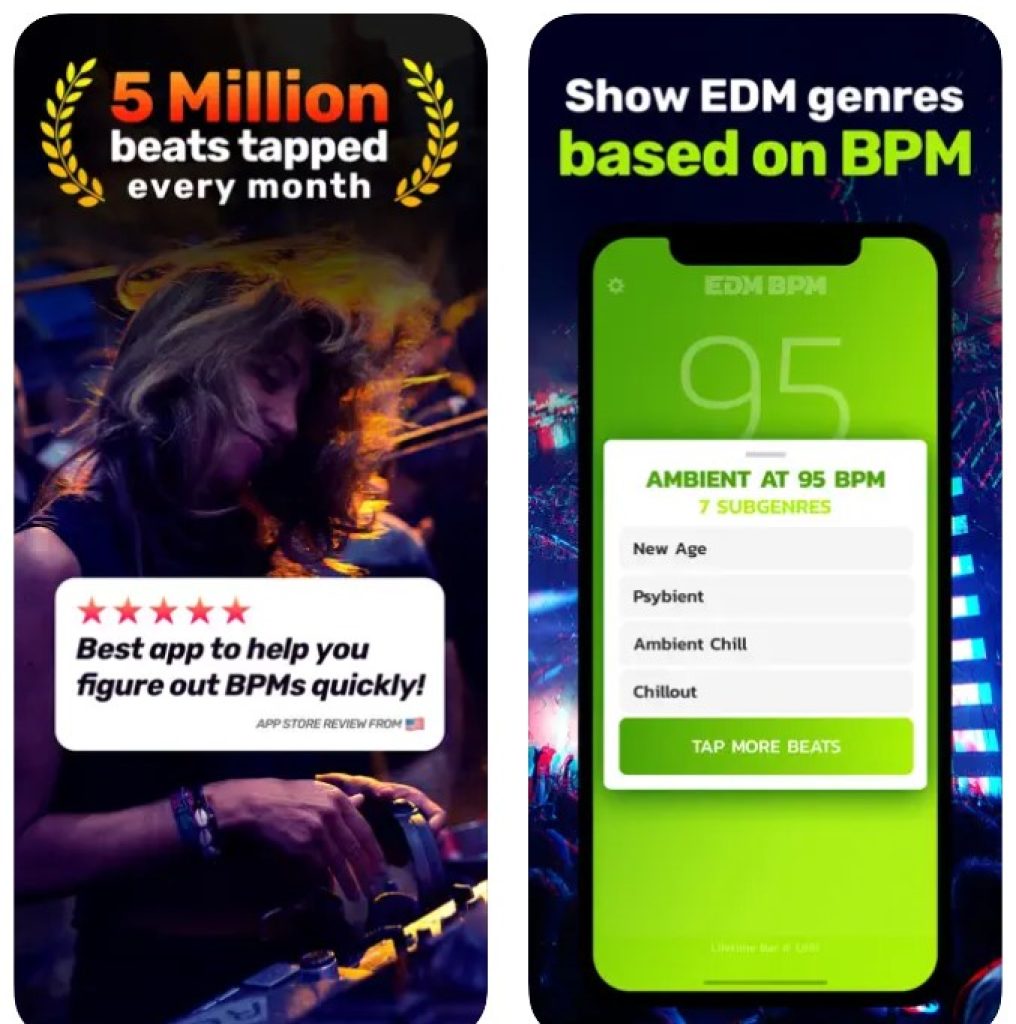 BPM Counter
If you're a fan of the minimalistic interface — this app is your cup of tea.
Apart from the previous app, this one doesn't have any flashing themes — it's just a plain white background with a massive green button. In other words — the app's only focus is its functionality and gets the job done quite well.
The app doesn't have any scope on itself, so you can use it for anything — from counting your heart rate to DJying.
The chains are standard — you need to allow access to your microphone, so the app could count the tempo. Then, just tap on the button to start counting and wait till the number is stable. In most cases, the results of this app are as accurate as they can be but if you want to be sure — keep the tempo constant and clear.
And if you wanna measure a new track just tap on a reset. It needs to be said, the app shows previous values right before the reset, but it doesn't save them in your history. There's also a built-in press counter if needed. The app is fully free with no ads or sub-packs.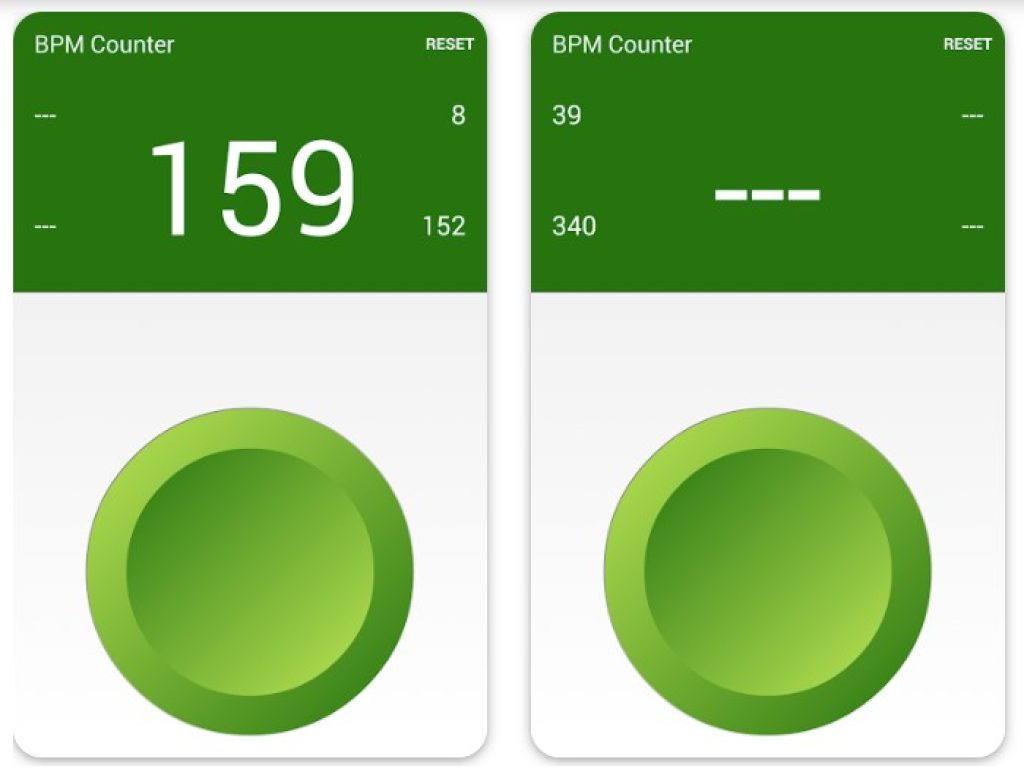 Tap Tempo
And lastly, we have a BPM counter that provides you with accurate measurements.
The functionality of this app is quite standard — it measures the tempo of any song — you just need to tap along with it. Needless to say, the app works best for such instruments as drums, bass guitar, and all that. Plus, you t should make sure the tempo is steady and regular to avoid all the potential mistakes.
Beyond that, the app covers a built-in metronome for all the measured BPMs. This tool will make a repeated sound to show you how fast the music should be played. Herewith, the metronome is optional, so you may turn it on and off in the settings. You may also customize the number of taps to count if you don't want it to be unlimited.
As for the interface, it's quite minimalist and intuitive so no worries about that. Beyond that, you now get to save the full list of counted BPMs and name them for better navigation. You can also sort the list by name or score. The app contains ads, but you can remove them by paying.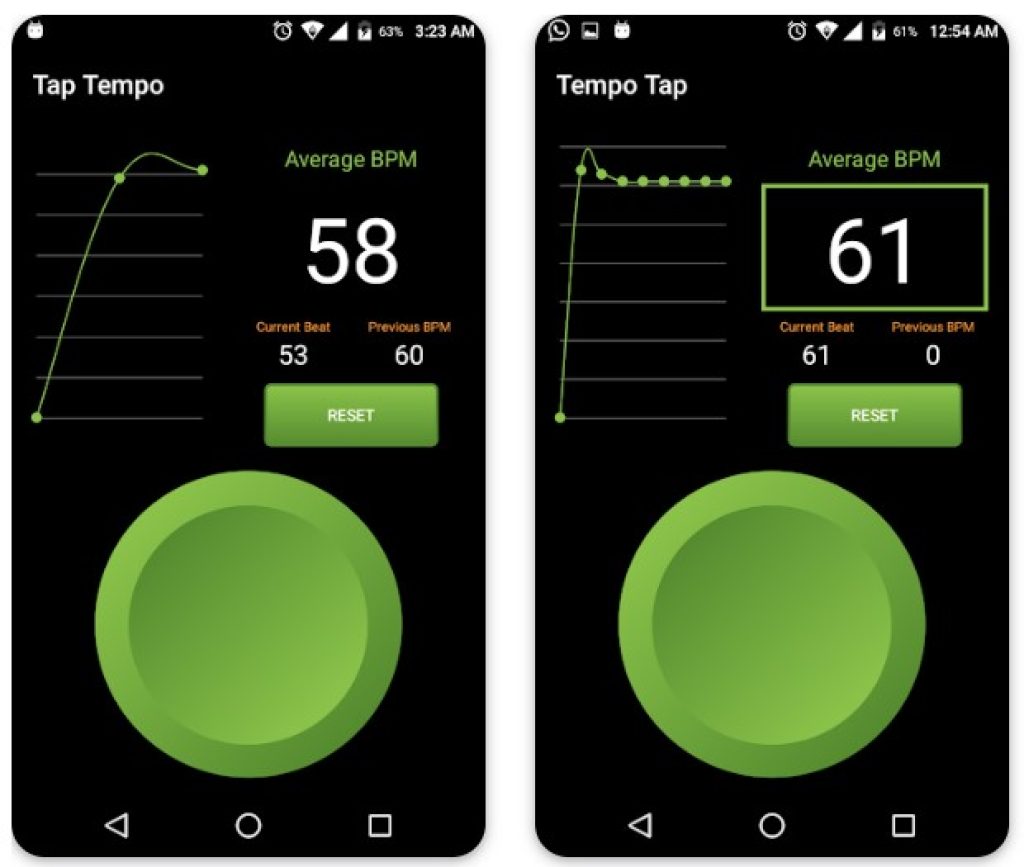 BPM Detect – Tempo & Metronome
This is a simple app for BPM detection with a simple interface. It allows users to quickly analyze the rhythm of any melody or beat.
The app is relatively effective at detecting the tempo of a song but its accuracy isn't comparable to professional audio software. It can detect the BPM of a song in real-time as it plays and also allows users to manually tap the tempo to get a more precise reading.
As we mentioned before, there is nothing unusual about the design of the app. Users can simply open the app, select the BPM to detect mode, and then either tap the tempo or play a song to have the app detect the BPM automatically.
The metronome function can then be set to match the tempo, allowing users to practice their music or mix tracks with precision.
Frankly, this app barely can be used for any professional purposes. Its accuracy and simplicity make it a valuable tool for regular users who just want to have fun.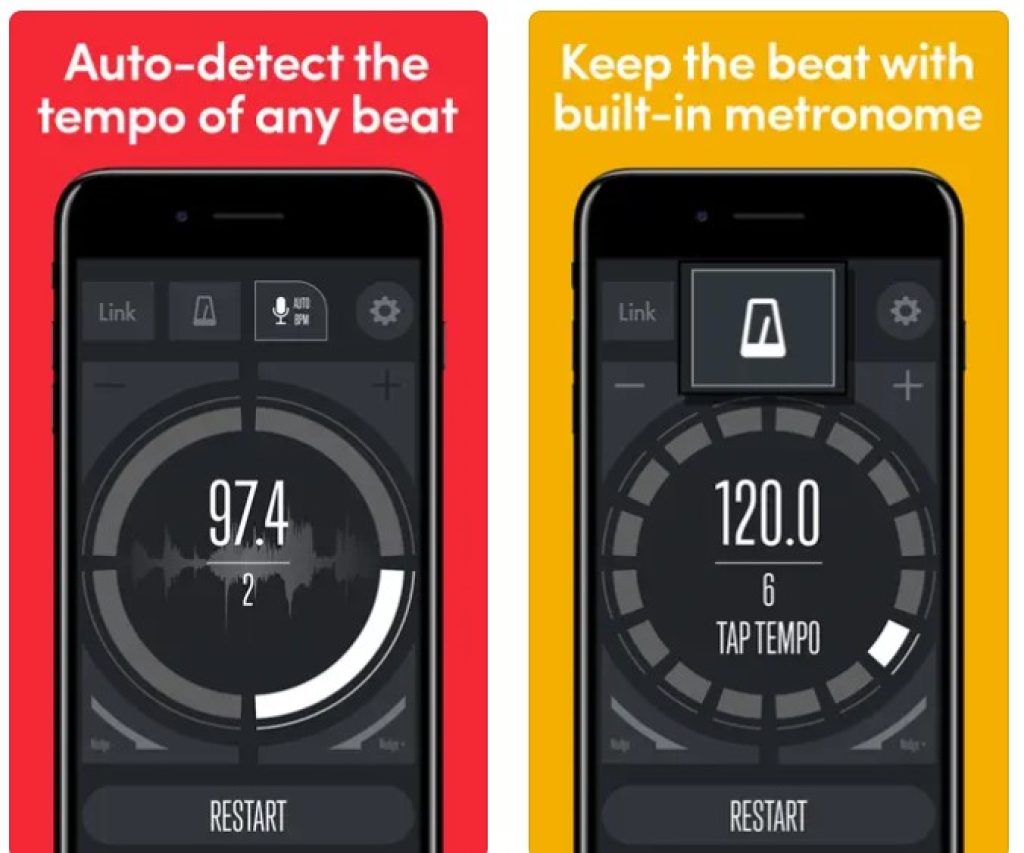 You may also check: 11 Best music composer apps for Android & iOS
Simple BPM Detector
The name is this app speaks for itself. It is an optimal choice for those who don't need any superior software and who just want to detect the BPM quickly.
Its accuracy is good enough for most applications. It can detect the BPM of a song as it plays, and also allows you to manually tap the tempo to get a more precise reading.
The functionality of the app is not very diverse. You just need to open the app, select the BPM detect mode, and then either tap the tempo or play a song to have the app detect the BPM automatically.
The app displays the detected BPM in real time and allows users to adjust the sensitivity of the detection algorithm for more accurate results.
We can't say for sure if this app will be suitable for professional musicians, because it has limited functionality. But it's a nice choice for the broad audience.